Multi-Vendor eCommerce Marketplace: The Definitive Guide [2022 Edition]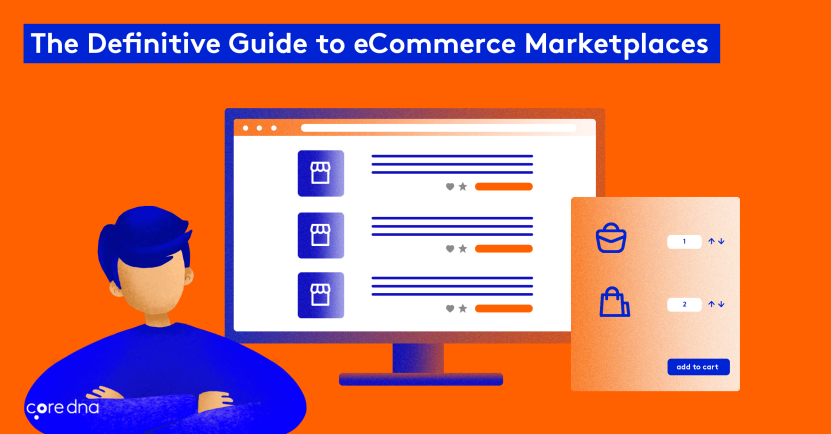 eCommerce sales are predicted to reach $5 trillion in 2021, up from $4.2 trillion in 2020. Given the extraordinary growth eCommerce has enjoyed recently, many businesses have been eager to launch their own stores and get their products in front of more customers.
However, rather than launching your products on platforms like Amazon, eBay and Etsy, the opportunity has never been greater to follow their lead and build your own eCommerce marketplace instead.
In this post, we'll explain the ins and outs of multi-vendor eCommerce marketplaces, show you why you should create your own and highlight some of the key things you should consider when building it.
Want to create your own multi-vendor eCommerce marketplace? Here's what you'll learn in this post:
What is a multi-vendor eCommerce marketplace?
A multi-vendor eCommerce marketplace is an eCommerce store that includes multiple vendors selling their products and services.
Essentially, it is similar to an online mall that houses multiple vendors.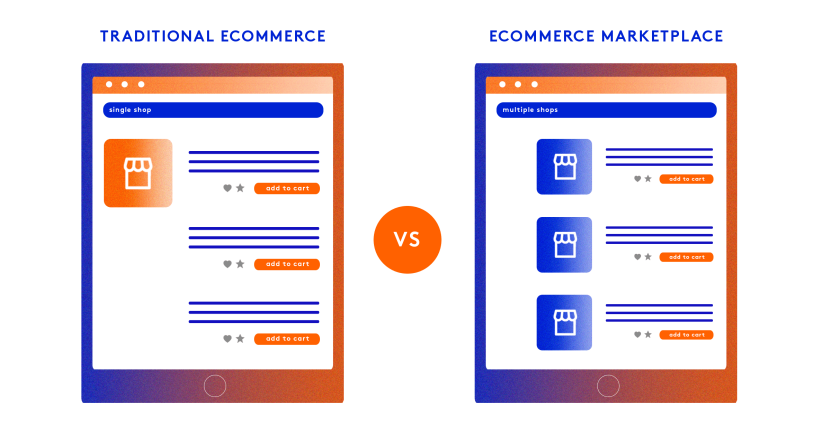 (Traditional eCommerce vs Marketplace)
In this model, the marketplace operator connects buyers and third-party sellers and receives a commission in return. This enables other eCommerce stores to gain more exposure for their products from the marketplace, while the marketplace owner focuses on managing the customer experience.
Why should you create your own eCommerce marketplace?
Consumers want more control over their shopping experience, and an eCommerce marketplace can provide them with just that. Here are some of the benefits that impact both marketplace owners and their customers:
You can provide customers with access to a wider variety of products and services, increasing the chances of getting sales.
A marketplace can provide better customer data that enables you to better segment customers and improve engagement.
A marketplace enables you to test new products and brands more easily.
Your eCommerce business can use a diversified monetization model. For example, you can choose to charge third-party sellers a commission or for having a premium listing on your marketplace.
The marketplace model is easier to scale than a single eCommerce store due to the lower inventory investment required.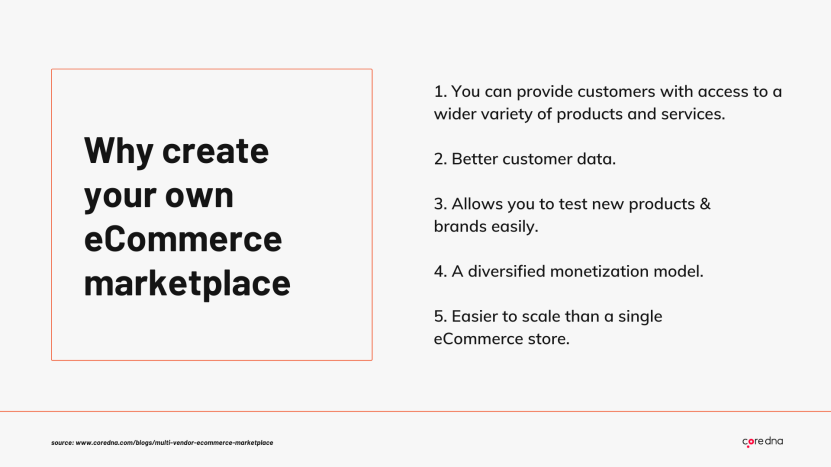 The different types of eCommerce marketplaces
eCommerce marketplaces come in various types. The main categories include: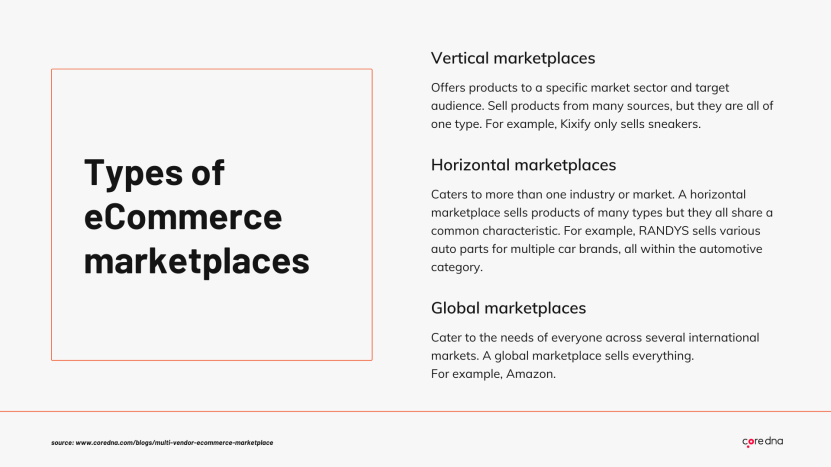 1. Vertical marketplaces
A vertical marketplace offers products to a specific market sector and target audience. Vertical marketplaces cater to niches and sell products from many sources, but they are all of one type.
For example, Kixify is a vertical marketplace that sells only sneakers.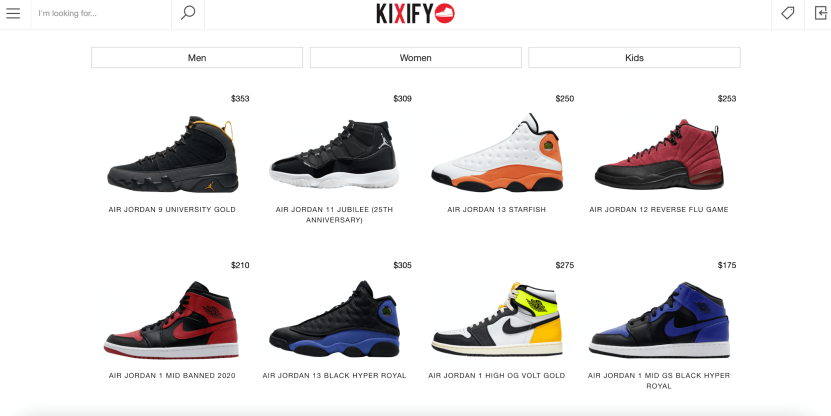 2. Horizontal marketplaces
On the other hand, a horizontal marketplace caters to more than one industry or market. A horizontal marketplace sells products of many types but they all share a common characteristic.
For example, RANDYS sells various auto parts for multiple car brands, all within the automotive category.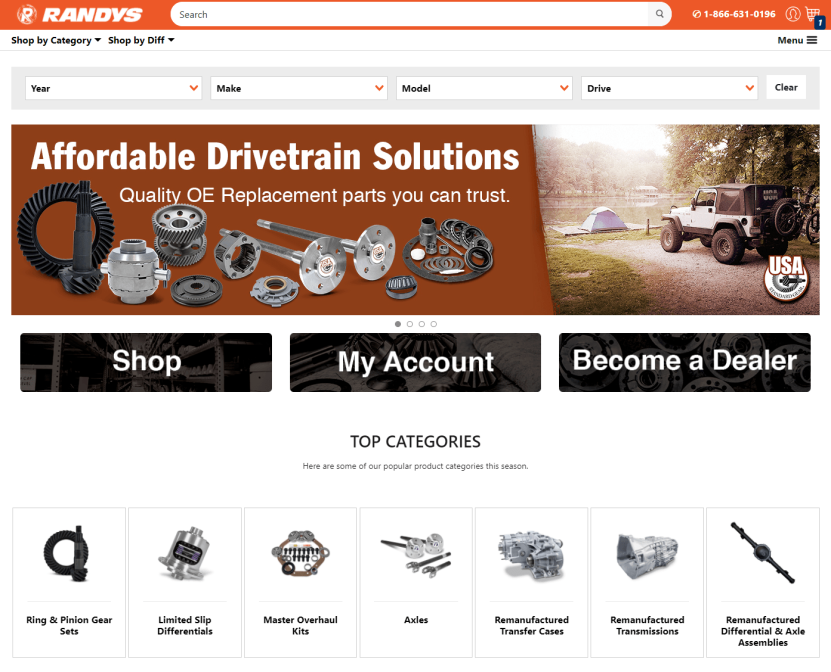 3. Global marketplaces
Global eCommerce marketplaces cater to the needs of everyone across several international markets. A global marketplace sells everything.
For example, Amazon sells multiple products, across numerous categories and ships to almost every location worldwide.
The different eCommerce marketplace business models
Choosing to open an eCommerce marketplace is a significant first step, but it's necessary to understand the various business models.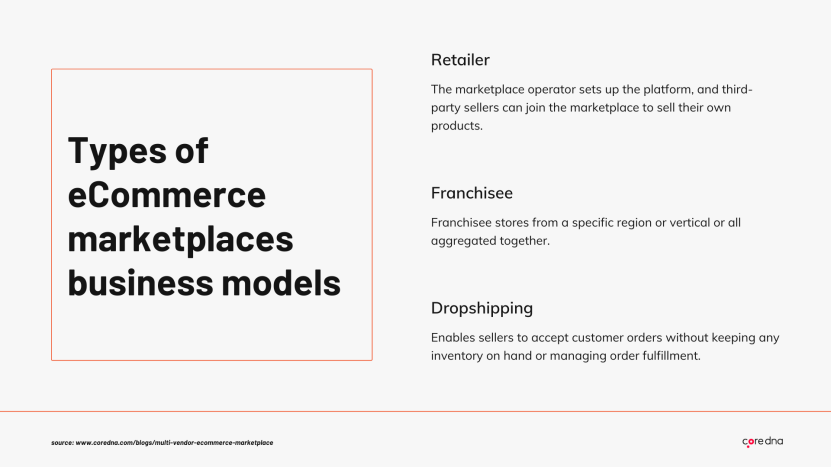 1. Retailer model
In the retailer model, the marketplace operator sets up the platform, and third-party sellers can join the marketplace to sell their own products.
The third-party partners sell a product and another party, whether a manufacturer, wholesaler or another retailer delivers the product on their behalf.
The customer benefits tremendously in this model as the product they receive, including return shipping labels and more include the 3rd party seller's branding. From the customer's viewpoint, they purchased the product from the 3rd party seller even though they went to the marketplace to place the order.
This model is exactly how Amazon operates, whereby third-party sellers list their products on the platform. A visitor goes to Amazon, makes the purchase, and then Amazon organizes the shipment and delivery. But the product the customer receives is branded by the seller they purchased from.
2. Franchisee model
Another eCommerce marketplace model is the franchisee model where franchisee stores from a specific region or vertical or all aggregated together. This model enables the marketplace operator to provide localized marketing and content to drive sales.
eCommerce marketplaces using the franchisee model can also double as a B2B marketplace. They can use a communications engine that keeps all franchises within the marketplace up-to-date and informed about various changes.
Similarly to brick and mortar franchises, training can be provided for a network of stores within the marketplace. It enables the various stores to have a standardized method of marketing and communication to customers.
3. Dropshipping model
The dropshipping method enables sellers to accept customer orders without keeping any inventory on hand or managing order fulfillment.
One party sells a product to customers, and another party such as a manufacturer or wholesaler delivers the product to the customer. Typically inventory is located in another warehouse for drop-shipped orders.
Similarly to the retailer model, the product they receive, including return shipping labels and more include the 3rd party seller's branding. From the customer's viewpoint, they purchased the product from the 3rd party seller even though they went to the marketplace to place the order.
Dropshipping is made possible through split orders. The third-party seller makes a purchase in bulk from the manufacturer. Rather than ship the entire inventory to the third party seller, the manufacturer splits the order and ships to the third-party seller's customers instead.
For example, Nigeria's Jumia marketplace provides shipped from overseas products where shoppers can make purchases from international sellers and have the products delivered to their door.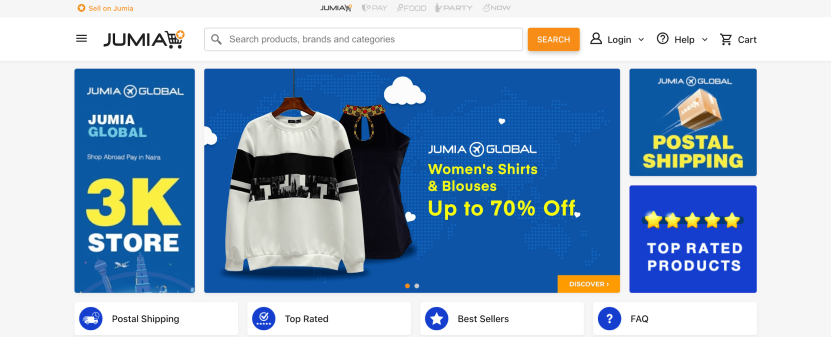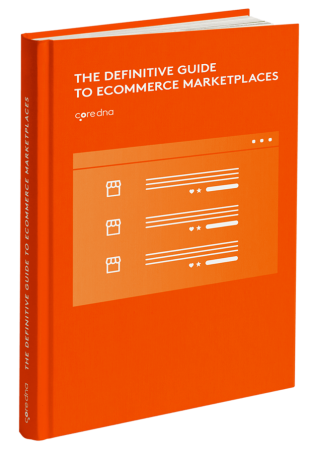 Save this guide for later: The definitive guide to multi-vendor eCommerce marketplace
The ins and outs of multi-vendor eCommerce marketplaces, different types and models, and how to create your own eCommerce marketplace.
How to create your own multi-vendor eCommerce marketplace
Now that you know the ins and outs of a multi-vendor eCommerce marketplace, here are the steps to build one of your own.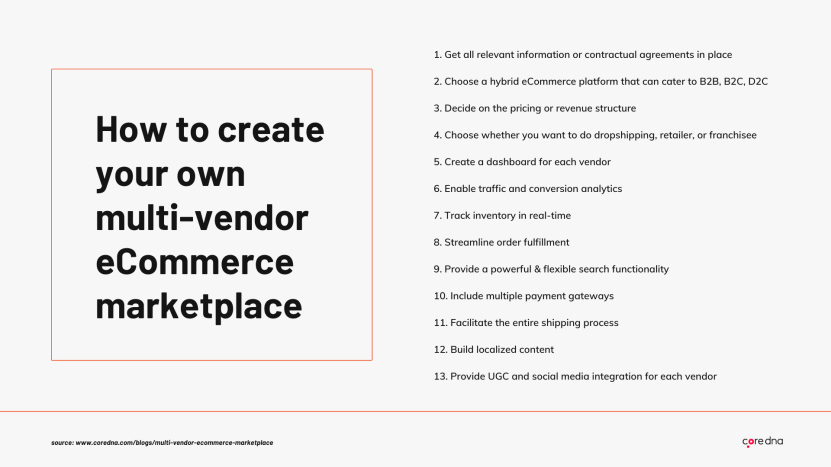 1. Get all relevant information or contractual agreements in place
When running a multi-vendor store, it's important to remember that you will need to handle the customer experience.
Create a plan and a subsequent system that enables you to deal with customer service, product returns, management of product availability and ensure product quality and service standards are upheld.
Shipping is another area that eCommerce marketplace operators will need to consider. Therefore an understanding of how to deal with shipping, specifically regional shipping agreements that impact the locations, distance and weight of products you can ship.
2. Choose a hybrid eCommerce platform that can cater to B2B, B2C, D2C
Building an eCommerce marketplace means that you will need to cater to various customer types depending on your chosen model. Some third-party sellers may be selling to a B2B audience and others to a B2C audience.
Ensure the platform you choose allows you to manage the entire marketplace and customize settings for various groups of suppliers. Some of these settings include shipping and payment methods, as well as fees.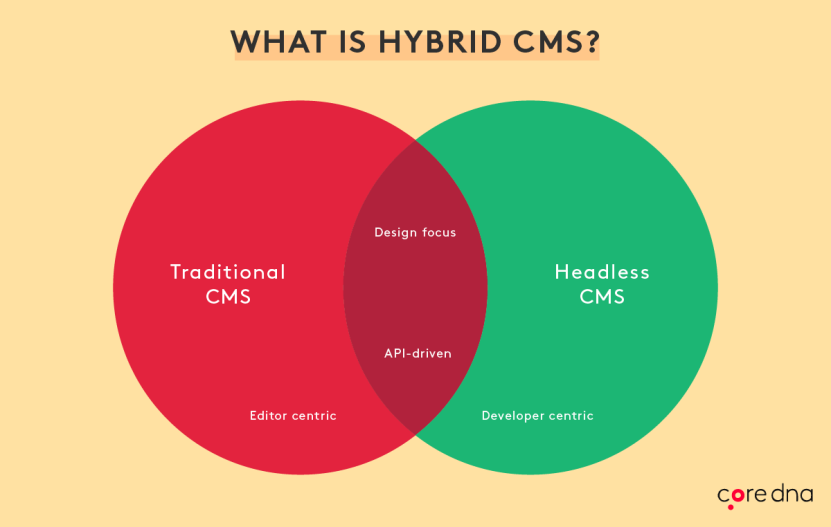 (Source: Hybrid CMS: A Headless CMS, But With a Front-End)
3. Decide on the pricing or revenue structure
We hinted earlier that there are different ways to generate revenue and earn money from your marketplace. Here are some pricing structures you can consider:
Commission-based: The marketplace operator receives a commission for every product sold by a vendor.
Subscription-based: Vendors pay the marketplace operator a subscription fee for listing on the platform.
Advertisement-based: Featured product listings are given a more prominent place on the platform.
Payment processing charges: The marketplace operator charges a fee for processing payments.
Logistics: Logistics and shipping services are offered to vendors for a fee.
All of the above: Marketplace operators can use some combination of the potential revenue channels mentioned to provide an even better vendor and customer experience.
4. Choose whether you want to do dropshipping, retailer, or franchisee
Each of the marketplace business models has its unique benefits:
Dropshipping is good for:
When you have core products that must have the retailer's brand and aren't the easiest to store and ship. Also, some products enable procurement teams to negotiate deeper discounts if they commit to dropshipping.
Retailer is good for:
Products found in complementary categories, core products with multiple subcategories, and long-tail products that don't require extensive marketing or advertisement to sell.
The retail model is also suitable for testing new products or categories or selling products that have a shortage.
Franchisee is good for:
The franchisee model works best when a store sells an extended range of products since not every franchisee can offer everything in the sales catalog.
This model's additional advantages are that sales and shipping can be standardized, and there can be a consistent customer service experience across all franchise stores.
A centralized distribution model also enables regional distribution to provide customers with more products from the local franchisee, and income can be allocated to specific locations.
For instance, if you purchase a franchise, you can receive eCommerce revenue, which makes allocation of online revenue fairer and more applicable to the specific area.
5. Create a dashboard for each vendor
If you want your vendors to get the most out of their stores, enable each seller on the platform to have their own separate dashboard.
This would allow them to manage their profile page info, product listings, payment methods, and rates, shipping info, and extract personalized reports that can improve their sales performance and thus the performance of your marketplace.
6 Enable traffic and conversion analytics
Enabling traffic analytics for your vendors lets them know where their customers come from and understand what's helping them convert customers.
7. Track inventory in real-time
Make it easy for your sellers to manage their inventory on your platform. One option is to include real-time inventory syncing to keep inventory levels up to date on the storefront as products are ordered, and changes are made in the backend.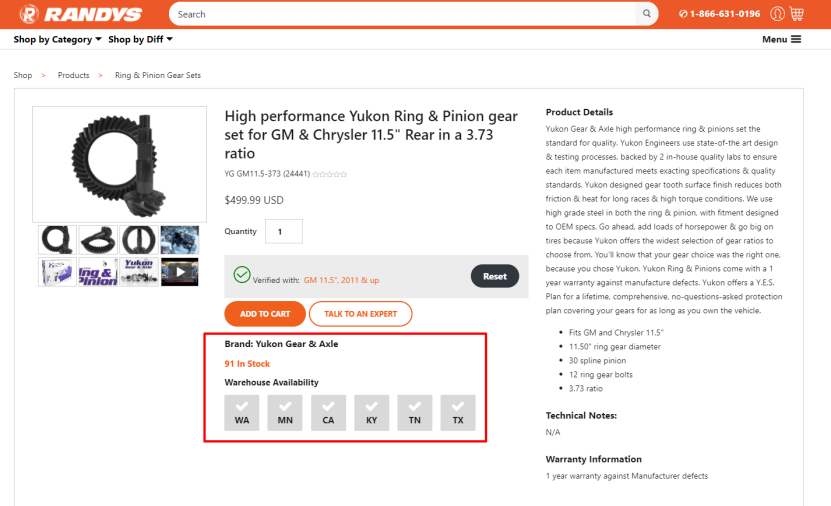 (Our client's website – Randy's – show stock availability and warehouse availability in real-time)
Integrating software like ChannelAdvisor can make handling eCommerce marketplace inventory a more straightforward process for your vendors.
Core dna's ChannelAdvisor plugin can read stock levels from the time the page loads or when an item is added to a cart.
It can import ChannelAdvisor orders, sharing catalogs and product and inventory details to multiple marketplaces (e.g. Walmart, Target, Amazon) while coordinating sales between them.
This feature enables a business to standardize how orders are taken. All vendors can log in to Core dna and share required information to warehouses, accounting software and more. Managing stock is also simplified as low stock email notifications can help vendors to control their store cases.
Amazon provides one of two options that allow a seller to either list a product and have Amazon deliver it to the customer or list a product and then have the seller provide delivery.
The latter approach requires the brand to fulfill the orders themselves after receiving a notification. With one marketplace, this can be a challenging task at times, or with multiple marketplaces, this can also be almost impossible.
With ChannelAdvisor and Core dna working together, all brand data and orders can be synced in the same location. As a headless commerce platform that supports multiple integrations, Core dna can then be used to manage accounting, warehouses and other processes effortlessly.
8. Streamline order fulfillment
Vendors may choose to have fulfillment handled in different ways. By enabling vendors and customers to receive notifications, vendors can immediately when an order is placed, and customers can receive updates about their order status.
9. Provide a powerful and flexible search functionality
Customers will want an easy way to search for the exact products they want. Provide a flexible search option that facilitates localized and personalized searches.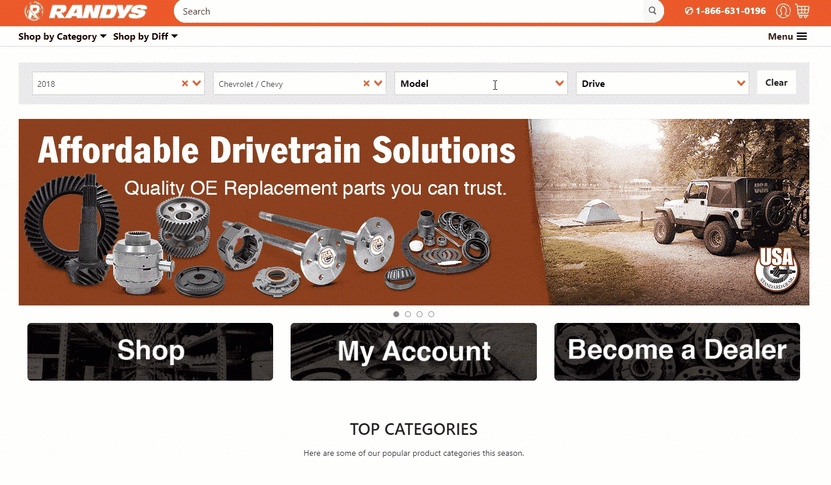 (Randy's customers are care mechanics and engineers, so they're making it easy for them to find the parts they're looking for)
10. Include multiple payment gateways
Customers need multiple ways to pay. Your eCommerce marketplace should support this and provide them with options to pay using major credit cards, Stripe, PayPal or another popular payment method.
11. Facilitate the entire shipping process
Make shipping easy on your vendors. Allow them to have standardized pricing or set up national contracts so that people in regional areas aren't disadvantaged. Create easier ways for them to manage packaging, returns process or dealing with product warranties.
12. Build localized content
Even if your eCommerce marketplace only targets a specific niche, you will probably have customers from various regions and countries. Improve the customer experience for those customers by providing localized content.
13. Provide UGC and social media integration for each vendor
Content marketing through user-generated content or social media are some of the key traffic drivers. Incorporate these options into your marketplace for each vendor to help them stand out from the competition within their niche.
How to launch your eCommerce marketplace
Capitalizing on the eCommerce movement can require brands to rethink their initial approach to which products they will provide and how they will manage to bring traffic to their stores.
Launching an eCommerce marketplace can provide another opportunity to get more products in front of more customers and target members of a specific market without taking on the burden of sourcing more inventory yourself.
Core dna's API-first eCommerce platform provides everything you need to get your marketplace up and running, integrate external software and provide personalized and localized content to customers and drive traffic to your marketplace.
Learn how to get more eyeballs on your products and convert more customers in our guide: eCommerce Content Strategy: How To Build a Content Strategy That Skyrocket Your Traffic & Conversions.
Watch video demo