eCommerce Shipping: The Definitive Guide [2022 Edition]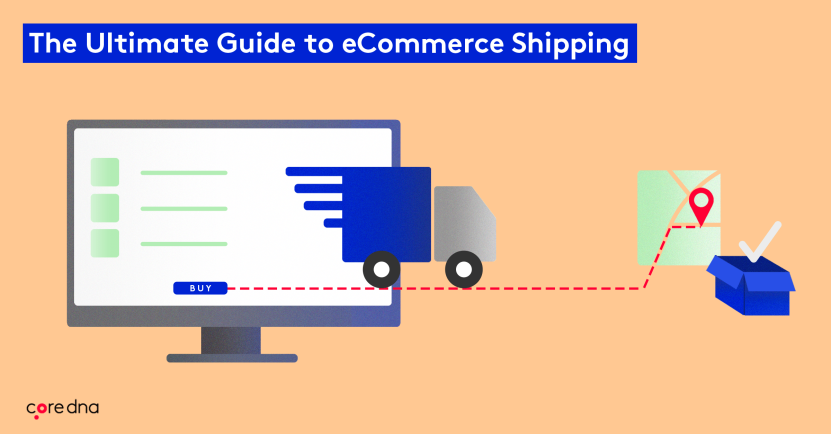 Understanding product-market fit and how to promote a digital store are usually top of mind for anyone involved in eCommerce, but these aren't necessarily the most important factors.
Brands that want to establish themselves think of product and marketing but often overlook the importance of shipping.
In this guide, we'll outline what you need to know about shipping and the steps you can take to do it right.
Want to learn more about eCommerce shipping? Here's what you'll find in this article: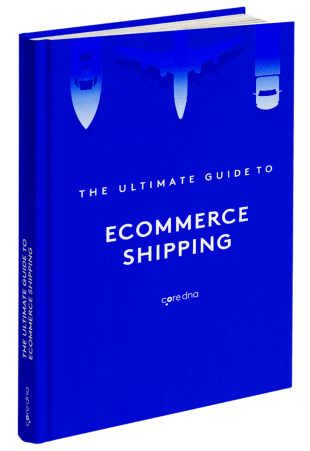 Download this guide: The definitive guide to eCommerce shipping
In this guide, we'll outline what you need to know about eCommerce shipping, best practices, and how to reduce shipping costs and delivery times.
Why it's vital to get shipping right
In 2019, up to 62% of customers in the US described fast shipping speed as one of the factors in a positive digital experience.
How do customers define 'fast', you ask? It's fair to assume that Amazon Prime's offer of same-day and next-day delivery on millions of products across the US and other regions has set the bar pretty high. In a post-Amazon Prime era, shipping that takes several working days seems agonisingly slow for the everyday consumer.
To meet the rising expectations of modern online shoppers, eCommerce brands need to deploy an eCommerce shipping strategy that's fast, transparent, easy-to-understand, and (if possible) cheap.
How shipping impacts purchases
Statistics show that shipping plays a massive role in cart abandonment. Around 41% of shoppers abandoned their cart because shipping costs were higher than expected, and 26% left their cart because shipping time was too long.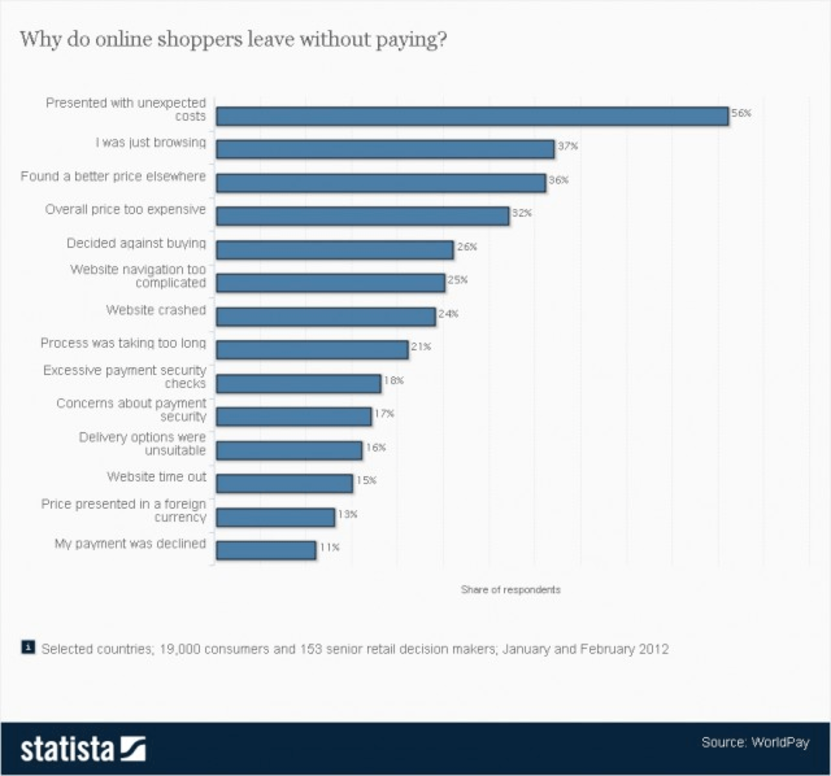 Now that we've explained how important a role shipping plays in the success of an eCommerce store let's dive into the types of shipping methods you have to choose from.
Different types of eCommerce shipping methods
The shipping method you choose for your business will depend on several factors including your product, audience and budget. Ultimately, customers value speed, and wherever possible, that should be the primary driver in the shipping method you decide on.
Each of these shipping methods has varying periods for delivery, but a key factor is when the customer made the initial purchase.
1. 2-day shipping
The concept of 2-day shipping was popularized by Amazon, the juggernauts of the eCommerce game and then adopted by everyone else who wanted to compete. In this shipping method, a product can usually be expected to be delivered within two standard business days of the customer placing the order. In some cases, it may only mean that the product is shipped within two days.
2. Same-day shipping
Same-day shipping is a delivery method where products are delivered on the same day as that the customer made the order or at least within 24-hours.
3. Overnight shipping
When a customer chooses overnight shipping, the expectation is that the delivery is guaranteed the next business day. In some cases, this may be referred to as next-day shipping or 1-day shipping.
4. Expedited shipping
Any shipping method that is faster than standard constitutes expedited shipping. It guarantees that products arrive faster than with conventional shipping methods. In the case of standard shipping, products may move from warehouse to warehouse or some other checkpoint. Expedited shipments go from pickup to delivery in most cases.
5. International shipping
When an item is shipped from one country to another, then this is known as international shipping.
6. Freight shipping
Freight shipping refers to the transportation of large goods via air, land or sea. Shipping freight is usually reserved for items that are over a specific size and weight threshold or bulk items.
How to calculate shipping costs
Several factors can affect the price it takes for a product to arrive at a particular destination, including its size, distance and more.
1. Calculate the dimensions & weight of your product
The amount of space that your package takes up or its density plays an enormous role in the shipping costs, as this directly implicates how much space a package will take up in a vehicle, or how much weight it would add to an aircraft, for instance.
Dimensional weight (DIM) is a pricing technique used to calculate shipping costs. It is calculated using the L x W x H (length x width x height) of the package divided by a specific rate. The actual weight of the package may also become a factor.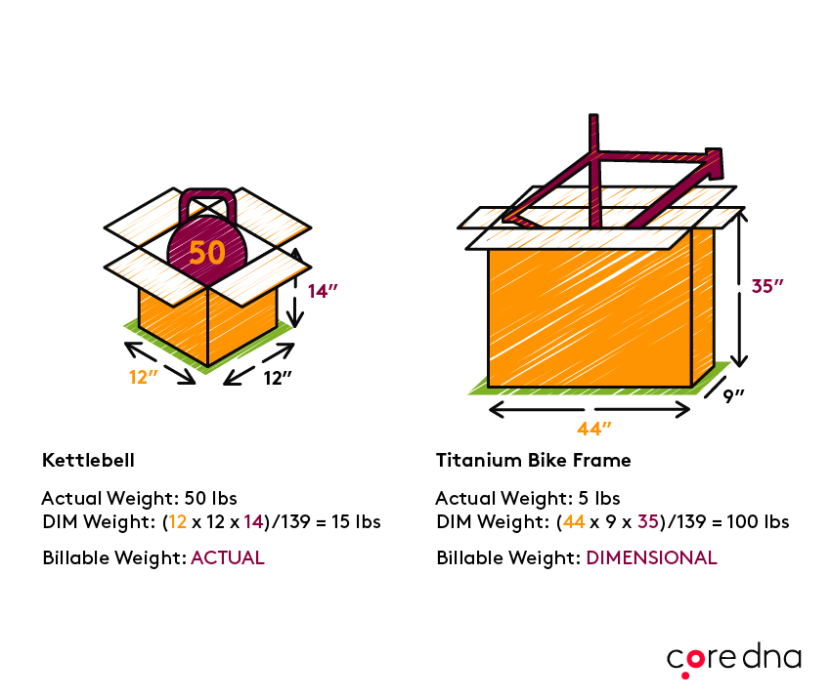 2. Take into account the destination
Size and weight are critical but where you're shipping from and where you're shipping to matter as well. A general rule of thumb is that the longer the distance the package has to travel, the more expensive it will be.

For instance, an eCommerce company based in Houston, Texas, will charge different shipping rates for a customer in California compared to a customer in Japan. This is simply because Japan is further away, and requires either an aircraft or ship to reach, all of which incurs further costs relating to fuel, the vehicles used, and the handling costs involved with moving the package from one vehicle to another at docks or airports.
3. Add shipping carriers costs
While factors including package dimensions and the customer's destination impact the cost of shipping, not all shipping carriers will charge the same amount.
FedEx for instance, may charge $14.40 to collect a package from Houston, Texas, and deliver it to Japan. DHL, on the other hand, might charge $15.90, for the exact same package. It's important to note, however, that in other cases, such as domestic or more local shipping, DHL may well offer a cheaper price than FedEx.
4. And finally, handling fees
This includes the workers in the warehouse moving packages around, generating shipping labels and other activities that go on in a fulfilment center. The cost of all of these additional steps is known as a handling fee.
As mentioned above, handling fees can add to the cost of shipping, as each time your package is handled at a warehouse, dock, airport, or similar destination.
Handling and administration costs will be incurred. As a rule of thumb, the longer the distance between the eCommerce company and the customer, the more chance there is of the package coming into contact with multiple handlers, thus pushing up the overall shipping fee.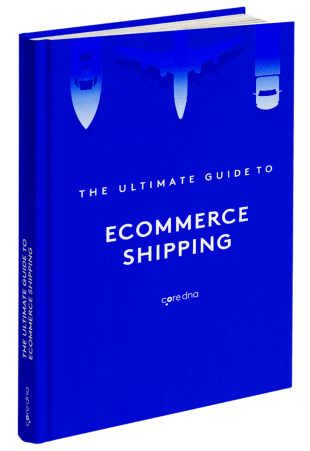 Download this guide: The definitive guide to eCommerce shipping
In this guide, we'll outline what you need to know about eCommerce shipping, best practices, and how to reduce shipping costs and delivery times.
4 eCommerce shipping best practices
Here are a few best practices for eCommerce shipping to consider.
1. Offer free shipping
Free shipping is almost seen as the holy grail of eCommerce.
But free shipping doesn't fit into everyone's business model, so it's not necessarily something that can be implemented across the board.
A few ways to test out the free shipping concept while still maintaining a budget is by offering free shipping on orders above a specific dollar amount, for a limited time, or for a limited number of buyers. That way, you can make your customers feel appreciated while minding your margins.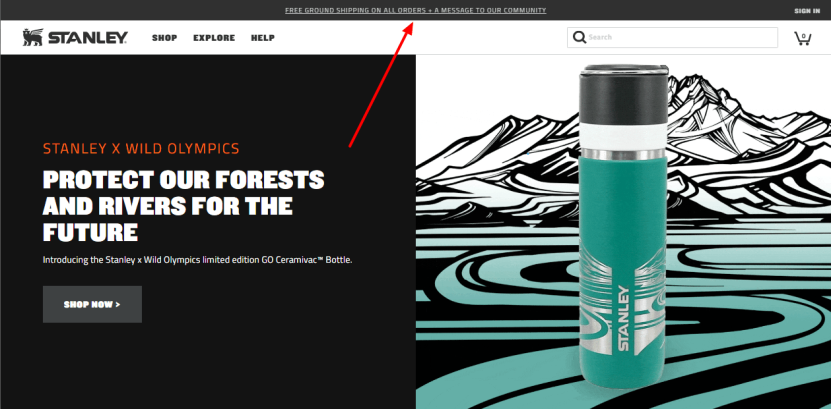 2. Make shipping costs obvious & transparent
One of the reasons that customers tend to abandon digital shopping carts is because of unexpected shipping costs when they go to checkout.
Don't leave it as a surprise fee late in the checkout process. Instead, offer up your shipping costs or options when the customer visits their basket…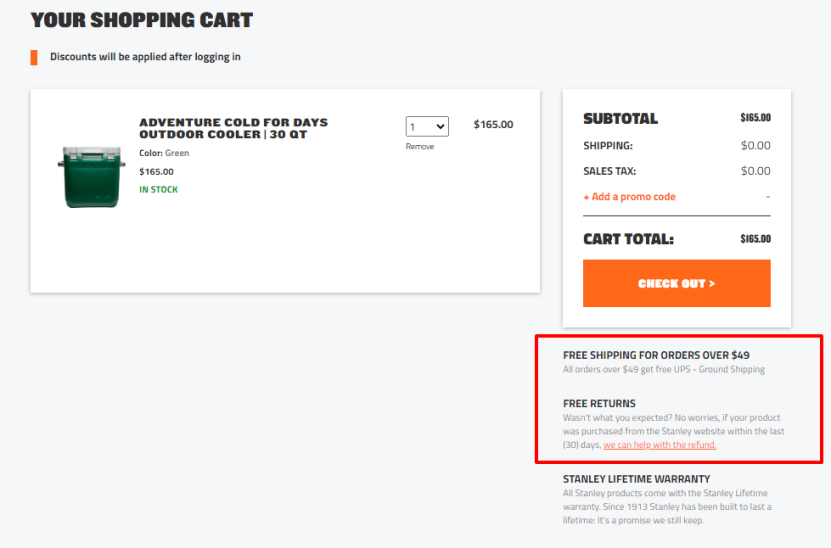 ….or immediately after the customer shares their delivery address.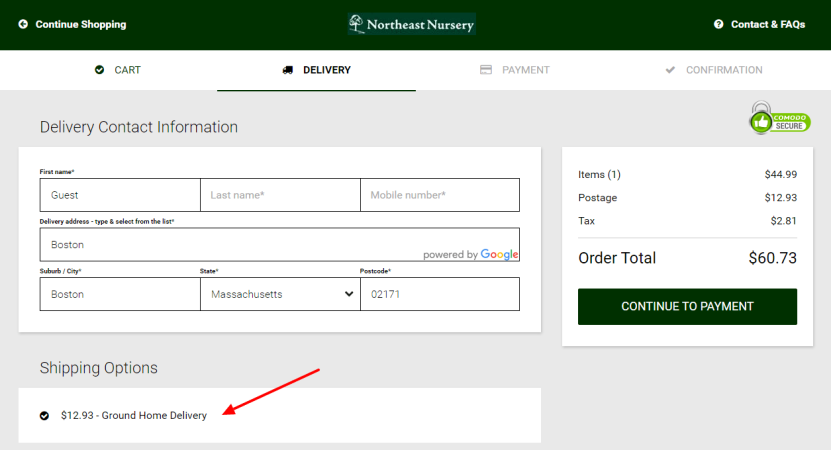 3. Show expected delivery times
If you advertise 2-day shipping, but then it turns out that the item might take five days instead due to other factors, then you need to make that clear.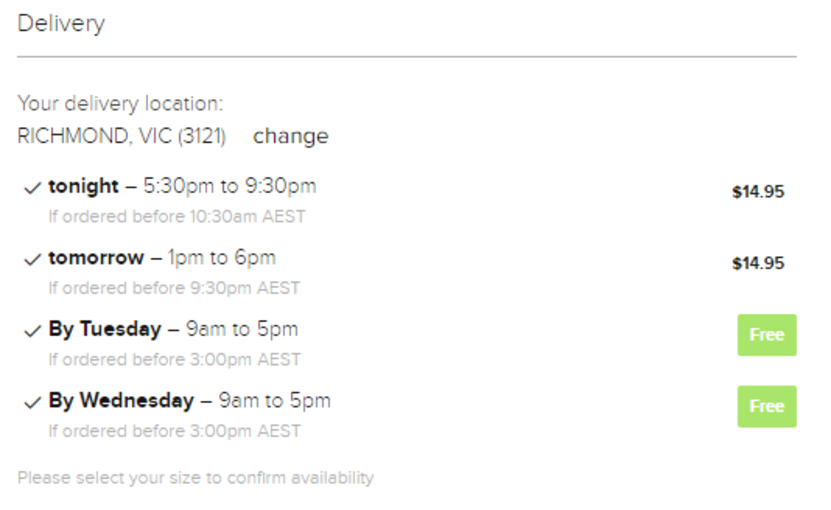 For instance, the COVID-19 pandemic impacted eCommerce shipping times drastically, and brands made these delays appear to customers via emails, notices on their website's homepage, and at the time of checkout.
4. Keep customers in the loop via text or email
Once a customer makes an order and receives confirmation via email, then that shouldn't be the last time they hear from you. You can keep them updated during the entire shipping process via email or text. You can also go one step further by adding tracking codes to your packages and adding it to an update email.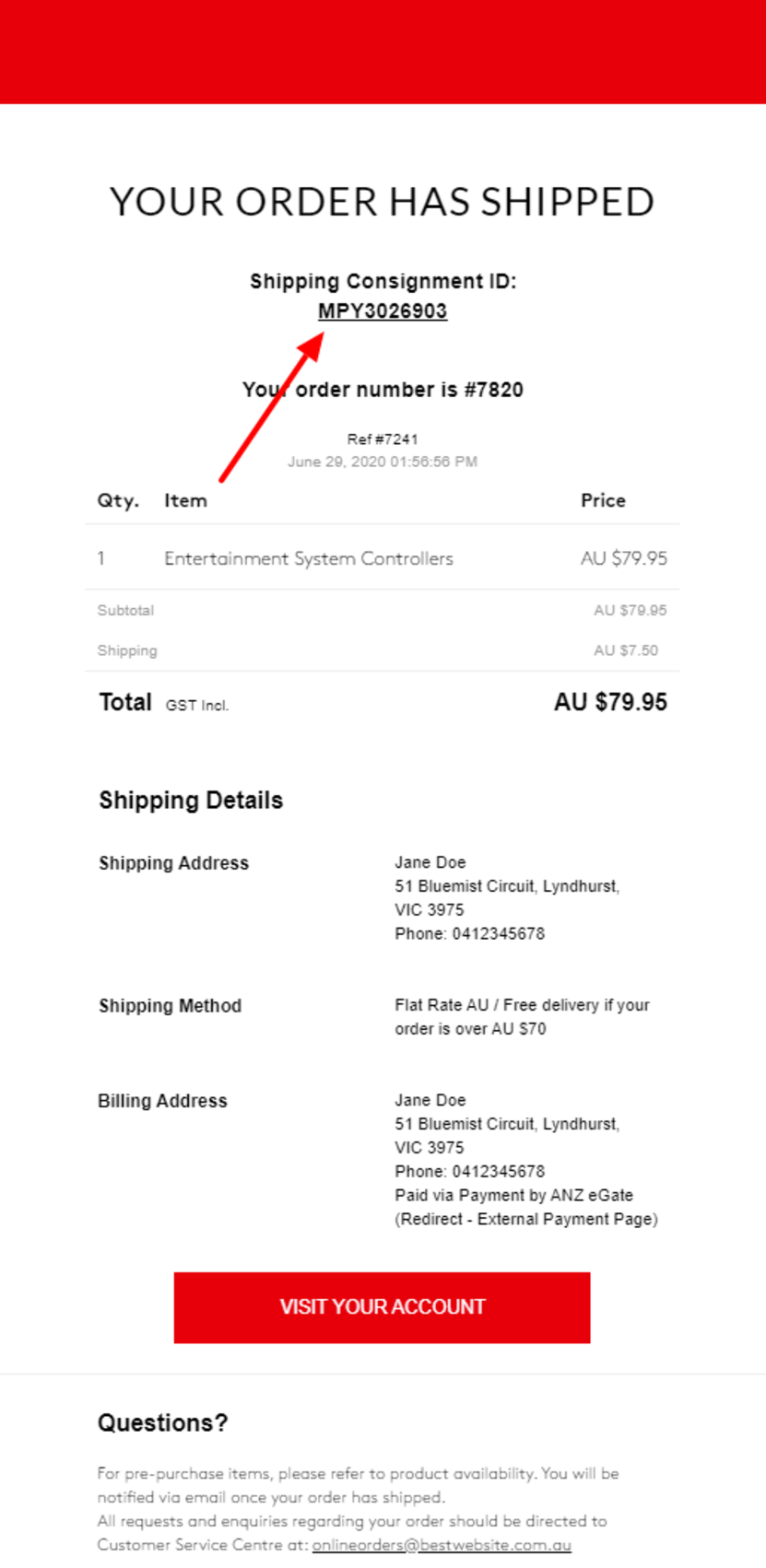 (One of the templates our customers use to email customers)
Watch video demo
How to reduce shipping costs and delivery times
Implementing various shipping best practices are sure to delight your customers, but there are some steps you can take that will help your bottom line as well and make it easier for you to give your customers what they need.
1. Source products closer to home
For an eCommerce store, margins are everything. This means that brands typically source their products from overseas countries where items are cheaper to make but also take much longer to get to be delivered.
If you can find a supplier that is closer to your primary warehouse or fulfilment centre then this can significantly reduce the time and cost it takes to get a product into the hands of your customer.
2. Review carrier options
Conduct a review of your shipping partners and their services regularly. There may be better options available that suit your needs, or, different carriers may be more reasonably priced depending on whether you're shipping domestically or internationally.
Finally, you can reach out to your preferred carrier(s) to negotiate for a custom price for your customers.
3. Buy packaging in bulk
If you buy your packaging materials in bulk you can save a lot of money, just make sure your inventory and orders have enough volume to match.
4. Reorganize operations
Making adjustments to your operations, such as distributing your inventory across multiple regions, has helped companies like Amazon slash their shipping prices. With inventory closer to numerous locations, then it reduces the distance between inventory and customers, thus reducing shipping costs.
Outside of opening multiple warehouses strategically across a region, you can also focus your energy on finding bottlenecks in your shipping strategy. Is one particular warehouse causing delays? Is your local airport taking too long to check your boxes over security concerns? Set up a meeting to establish relationships with the managers and teams in question to help get things moving more swiftly.
5. Leverage third-party logistics (3PL)
Third-party logistics refers to the use of an outside party to handle the storage, distribution, warehousing and fulfilment of your orders.
Think FBA (Fulfilled by Amazon), and similar services. If you don't have to worry about running out of warehouse space, security, or the actual delivery process, you can focus your energy on other tasks, like improving the online eCommerce customer experience.
An eCommerce shipping case study: How a B2B eCommerce company automatically handles split shipping and orders for more than 50k product SKUs
Running an eCommerce enterprise takes a lot more than just fancy website design. With Core dna's marketer-friendly digital experience platform, managing your global eCommerce business can be done in one digital location — and Northeast Nursery is one example of how this can all come together.
Northeast Nursery, a farming and gardening product supplier, had complex shipping scenarios they needed to strategize for.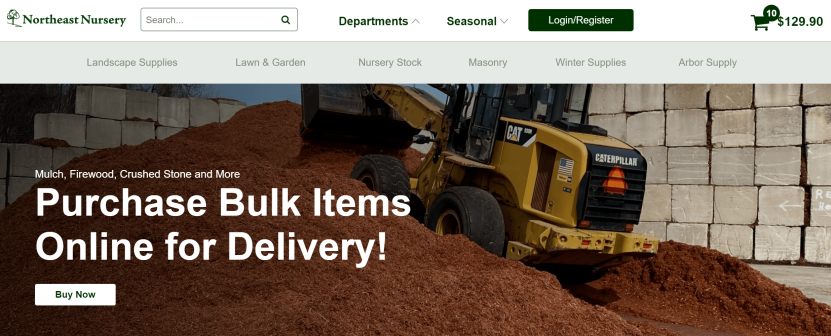 The company needed an eCommerce platform that could handle thousands of product SKUs, while also supporting both B2B and B2C eCommerce models.
The company also wanted customers to be able to track orders and receive accurate price quotes. Plus, Northeast Nursery needed to integrate with a number of back-end systems, including a heavily customized Oracle ERP system.
Finally, since most of their B2B customers access the site from a mobile device, Northeast Nursery's website needed to be mobile-optimized and search engine optimized out-of-the-box.
Thanks to our zone-based shipping module, Core dna was able to meet the company's demands on all fronts. Here's how it all came together.
1. Different rates per zip code


Northeast Nursery was able to configure different shipping costs depending on the zip code of the customer, automating the process of shipping fee calculation.
The company also offered customers the option to schedule a dump truck delivery, or to schedule an in-store pickup.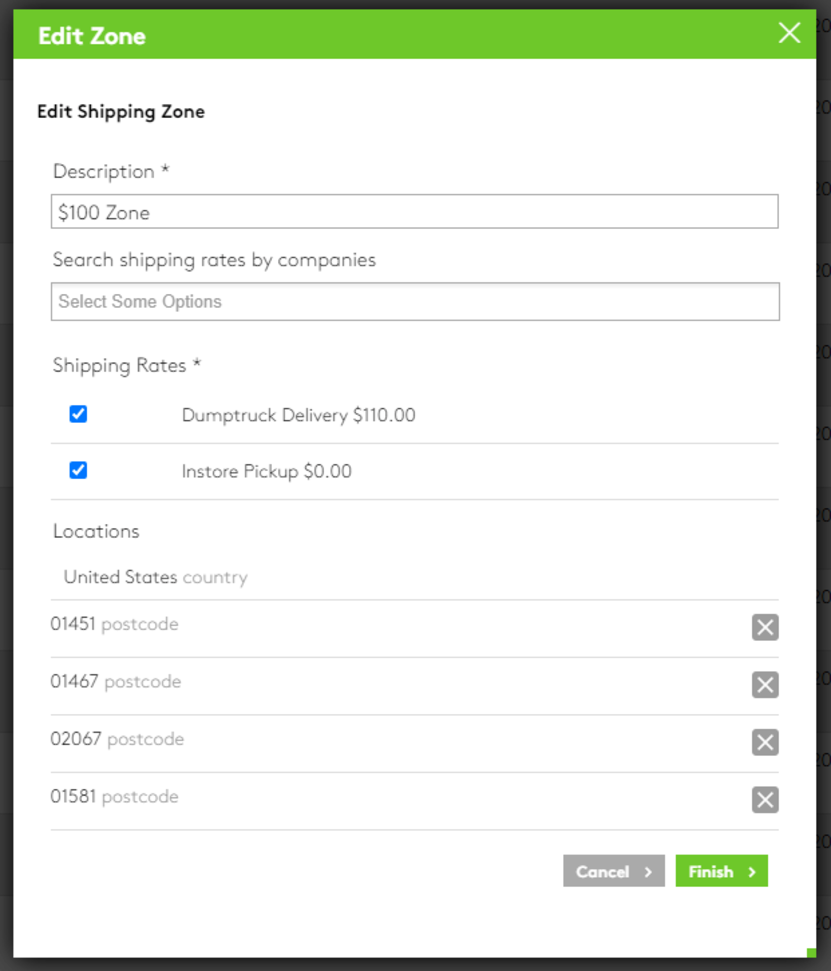 2. Accounting for product weight and size variations
With products ranging tom gardening gloves to a ton of mulch, Northeast Nursery offers a massive range of products of different weights and sizes.
Obviously, not all of these products can be shipped the same way, nor will they cost the same to ship. Once again, Core dna's zone-based shipping module allowed for a workaround.
Now, the company's website automatically knows which form of packaging and delivery method to use, based on the product's weight, which is part of the information linked to each product.

Northeast Nursery can quickly and easily edit or add new package options, allowing for maximum dimensions and weights before products get bumped up to a larger container, leading to a higher shipping fee for the customer.
And these two features are just a small sample of what Northeast Nursery uses Core dna for. They also take advantage of our:
B2B & B2C eCommerce applications
Order management
Product configuration
Personalization
Sophisticated discount and cart rules
Inventory management
Powerful search options
Integrations with 3rd party applications
…. And many more
Watch video demo
Scale your eCommerce business with the right eCommerce platform
Delivering (ahem) customer-delighting shipping options isn't simply a case of writing the right words on the right checkout pages. You need the technological foundation that enables you to do things like integrate with third-party platforms and instantly calculate shipping costs.
As a headless commerce solution, Core dna's API-first approach to eCommerce is trusted by internationally recognized manufacturers, direct to consumer brands, and eCommerce companies.
Want to learn more about growing your eCommerce business? Read our ultimate guide to growing and scaling an eCommerce business.