B2B eCommerce Guide, Strategies and Best Practices
When many think of eCommerce marketing strategies and trends, they point to B2C brands as primary examples. But, B2B brands are very open to the possibilities of eCommerce, and B2B eCommerce continues to grow at a rapid pace.
According to Statista, B2B eCommerce sales in the United States alone were expected to reach $1.2 trillion by 2021, up from $1 trillion in 2019.
But with the impact of COVID-19, the statistics show even more positive news for the B2B eCommerce space, with 57% of purchasing managers spending more on marketplace eCommerce sites, with 22% spending significantly more. Furthermore, B2B eCommerce sales have grown from $1.1 trillion in 2019 to $1.3 trillion in 2020.
However, selling to other companies versus selling to consumers can be a very different ball game, particularly when it comes to the customer experience, marketing, and messaging involved.
In this article, we'll explain the differences between B2B and B2C eCommerce and take a look at B2B eCommerce strategies, best practices, and also debunk a few myths.
Want to learn more about B2B eCommerce? Here's what you'll find in this article:
Watch video demo
What is B2B eCommerce?
B2B eCommerce is a business model where businesses sell to other companies online. This is unlike B2C eCommerce, where businesses sell to consumers. In the B2B eCommerce model, sales cycles tend to be longer due to the presence of multiple stakeholders, larger order sizes, and higher costs, among other factors.
One industry known for B2B eCommerce is the manufacturing industry, where businesses manufacture parts and sell to other businesses in bulk.
For example, microchip manufacturers build parts and sell them to other businesses. The microchips for Apple iPhones are made by one company. Apple purchases these chips, uses them in the creation of the iPhone which is then sold to the end consumer.
In the B2B world, purchasing companies tend to rely on businesses with a strong reputation or brand; Alibaba, Quill are two examples of B2B companies with a strong brand.
Alibaba is a famous company among B2B buyers, whether those buyers are small businesses or medium enterprises. Alibaba connects manufacturers of various sizes, usually from China and other countries in the Eastern hemisphere with international buyers around the world.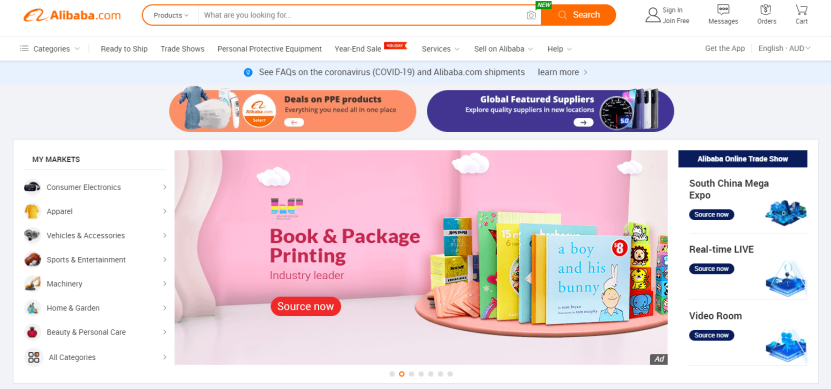 Meanwhile, Quill is an American office supply retailer that provides services to small and mid-sized companies across the United States (Sidenote: check out our breakdown of Quill's $1 Billion D2C strategy).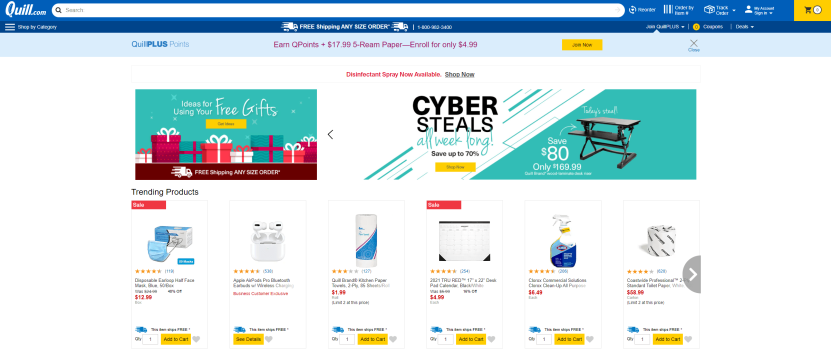 The growth of B2B eCommerce isn't only down to brands recognizing the power of selling over the internet. Unexpected situations such as COVID have forced many companies to pivot their offerings and become D2C, or in this case, D2B. These changes have also accelerated the goal of many B2B organizations to begin digital transformations.
While manufacturing companies have traditionally dominated as the primary B2B eCommerce brands, that doesn't mean your B2B business can't benefit from the business model as well. B2B eCommerce is about segmentation and providing the right product for the right persona.
Just because you're not a manufacturing company doesn't mean your customers can't benefit from larger quantities or different product variations.
What are the main differences between B2B vs B2C eCommerce?
Given the size of the eCommerce landscape, it can sometimes be challenging to spot the differences between B2B and B2C. However, there are a few key differences in the buying experience that make each type unique.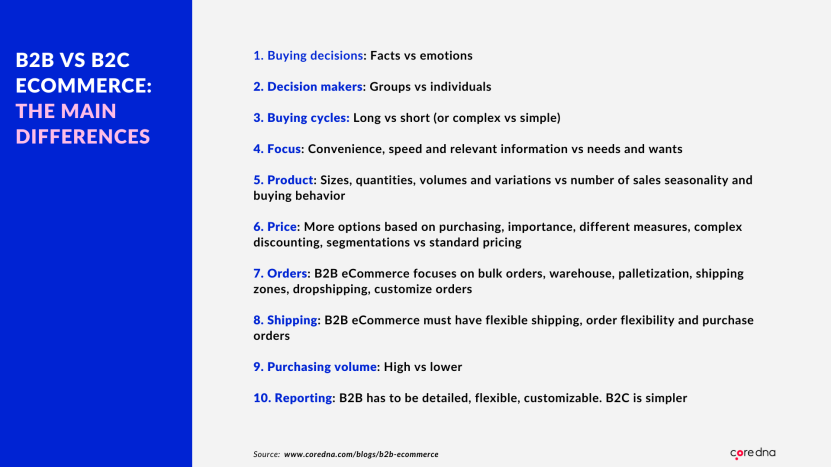 1. Buying decisions: Facts vs emotions
Buying decisions in B2B eCommerce are planned and logical, not based merely on the spur of the moment decisions like many B2C purchases. Purchasing decisions for B2B are based on the schedules of multiple departments and require clear cut information to decide if the investment is indeed worth it.
2. Decision makers: Groups vs individuals
Groups of multiple people make B2B purchasing decisions. Various departments will use the final B2B product after it is purchased, so the choice of product needs to fulfill several different needs.
The decision-maker in B2C is a single person usually purchasing to fulfill an emotional desire or only one specific need.
3. Buying cycles: Long vs short (or complex vs simple)
Buying cycles in the B2B landscape tend to be long and complicated. This is because the process involves several departments and individuals, both as the seller and the buyer. Multiple decision-makers need access to information that is most relevant to them.
Also, B2B buyers form partnerships and stay with their suppliers for an extended period of time whereas B2C relationships don't typically involve many repeats.
The size and price of orders also mean that buyers must take extra due diligence to ensure the quality of the product. On the other hand, the B2C process is much shorter and more straightforward.
4. Focus: Convenience, speed and relevant information vs needs and wants
B2C buyers consider their needs and desires when deciding on a product and then pick the product that best fits those needs. The process is focused on how much the product can benefit them.
For B2B buyers, the focus is on the impact the product will have on the business' bottom line. Buyers will take into account several factors such as the ease of transaction, how convenient it is for them, the speed of communication and the ability to complete the transaction as well as how much information is available about the product.
5. Product: Sizes, quantities, volumes and variations vs number of sales seasonality and buying behavior
B2C eCommerce is heavily dependent on changes in customer behavior. The more emotional and impulse-based buying process means that sellers need to focus on things such as seasonality, how many orders they can sell, how fast they can sell them and the amount of stock they have in inventory.
In B2B eCommerce the stakes are slightly different. Speed and customer behavior hardly come into play. Instead, how many different sizes and quantities are required, as well as the volumes and product variations which each buyer will require for their business are factors considered by suppliers.
6. Price: More options based on purchasing, importance, different measures, complex discounting, segmentations vs standard pricing
B2C products are priced in a way that allows them to be moved quickly. The sticker price is usually the end price unless there are occasional discounts meant to continue moving products.
B2B pricing includes many more options based on purchasing intent. Some products are given more importance to a business than others and the partnerships dynamic between B2B buyers and sellers means that different agreements are put in place to sell these products for each customer. Price discounting can be a bit more complex and involve higher discounts based on the length of the partnership.
7. Orders: B2B eCommerce focuses on bulk orders, warehouse, palletization, shipping zones, dropshipping, customize orders
Placing an order for a B2C product means that a small package is likely sent to the customer's door. For B2B purchases, orders are usually made in bulk as the purchasing business will buy based on their projected inventory and revenue.
This means that other factors come into play, including the warehouse where the order is placed, the shipping zones where carriers can ship, and how much customization is required for the order.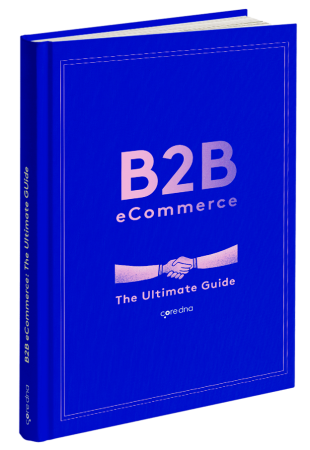 Download this B2B eCommerce guide
What is B2B eCommerce, common mistakes you're probably making, some myths you probably believe in, best practices you can steal, and more.
8. Shipping: B2B eCommerce must have flexible shipping, order flexibility and purchase orders
Just like shipping in B2C, distances play a huge role in shipping capacity and shipping price. However, there is more flexibility when it comes to shipping in B2B.
B2B eCommerce companies can use flexible shipping and adjust shipping rates based on the shipping zone or size of the products being shipped. For B2C customers, these rates are automatically calculated, and there is usually no room for adjustment.
9. Purchasing volume: High vs lower
Purchases in B2C commerce are usually for an individual, meaning that a small supply of the item in question will be purchased. On the other hand, B2B eCommerce purchases tend to be much larger in volume since the companies will use them to sell to other customers.
10. Reporting: B2B has to be detailed, flexible, customizable. B2C is simpler
Reporting for B2C eCommerce only includes that a product was sold and the price it was sold. The idea is to report the event of a sale and nothing more. In B2B eCommerce there are much more details which need to be included.
3 types of B2B eCommerce models
B2B eCommerce is a business model of its own but there are also some other sub-models or types of B2B eCommerce.
1. Wholesale B2B
Wholesale is one of the typical examples of B2B commerce, where a business sells to another company in bulk. This could mean a discounted price, allowing the second business to sell individual items at a profit, or it could be like the previously mentioned microchip manufacturer, where parts are needed for the mass production of a product like the iPhone.
2. B2B2C
In this model, a manufacturer can partner with a B2C brand to sell their products online or in-store via the B2C website or stores. For example, when customers purchase Adidas shoes from FootLocker or another retailer.
3. B2C2B
A new emerging model is B2C2B, which involves pivoting from D2C to wholesale and B2B, or adding this onto existing B2C models.
For example, eCommerce stores which begin as smaller D2C brands sell their products to niche audiences. After gaining initial traction and proof of concept, popular brands can enter into a partnership agreement with a company such as Walmart to begin selling at a larger scale.
Goals of having a B2B eCommerce website
So what are the goals behind B2B eCommerce?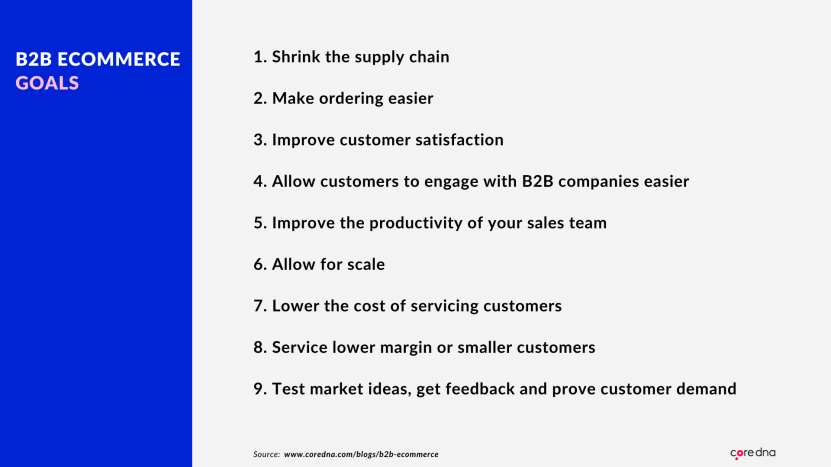 1. Shrink the supply chain
B2B supply chains can be large and complex, involving multiple intermediaries. With an eCommerce model, the supply chain is shrunk since companies can introduce automation to remove many of the manual and tedious processes.
2. Make ordering easier
Buyers can make orders online without having to rely on a third party or even a sales representative to help them complete their order. Approvals, status updates and any shipping information can all be sent digitally, reducing the burden on both parties in the transaction.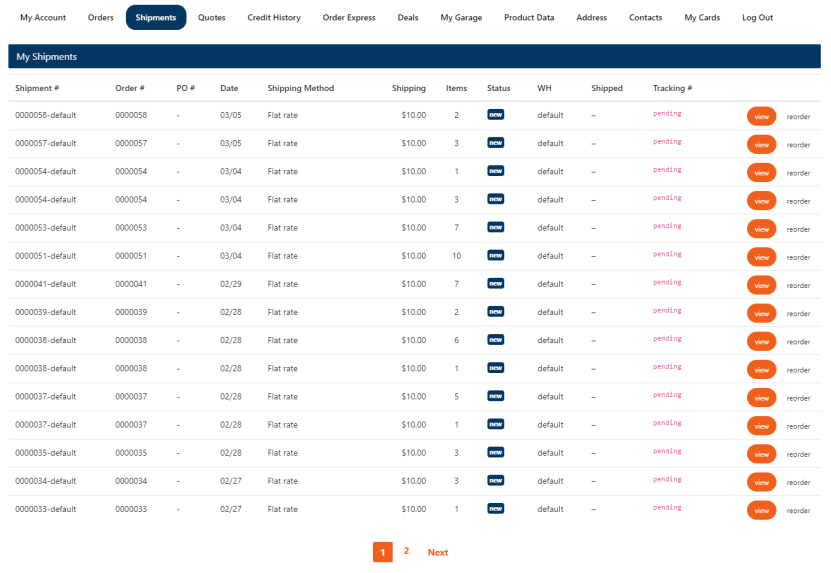 (One of our B2B eCommerce client – Randy's – allows their customer to reorder straight from their customer portal)
3. Improve customer satisfaction
With B2B eCommerce, companies have easier access to cross-functional data and analytics that relates to content, sales and more. This data can be used to provide customers with a more personalized and comprehensive experience.
4. Allow customers to engage with B2B companies easier
Business today is conducted 24/7, even if employees aren't in the office, businesses need a way to engage with each other. Through B2B eCommerce, companies can continue to engage with their customers through several different content channels, including written blog content, video, live chat and more.
5. Improve the productivity of your sales team
Get your sales team to focus on the most productive tasks rather than chasing leads. B2B eCommerce companies can facilitate self-service, which allows customers to move along the funnel themselves and receive assistance only if required.
This removes many of the manual sales initiatives, and follow-up calls many teams deal with when they don't have an eCommerce platform. Ultimately, businesses will be able to reduce the cost of sales, improve speed and remove any bottlenecks that prevent them from turning leads into customers.
6. Allow for scale
More productive sales processes lead to more room for growth and scaling. The added productivity gained from implementing eCommerce can allow B2B businesses to improve their data gathering skills and focus on the right initiatives that lead to growth. By having a better understanding of their customers, they can better anticipate and meet growing market demands.
7. Lower the cost of servicing customers
eCommerce allows brands to provide more valuable information to their customers, remove unnecessary blockages in the customer journey and focus their sales teams on the most profitable tasks. All of this reduces the cost of servicing customers and improves the overall customer experience.
Also, conducting business digitally allows brands to cut the costs associated with the ongoing servicing of client partnerships.
8. Service lower margin or smaller customers
Every customer a B2B business serves will not have the same margins or budgets to work with. By streamlining the processes online and automating many previously manual and outdated processes, B2B companies will have added capacity and resources to service their smaller customers.
9. Test market ideas, get feedback and prove customer demand
Selling online allows B2B brands to tease their customers with new products and test ideas quickly. Rather than creating a product and then hoping it sells, it's possible to pre-sell a product online and gauge potential interest before manufacturing on a larger scale.
Who benefits from B2B eCommerce?
Customers, suppliers and third parties are all able to benefit from B2B eCommerce
1. Grow the customer experience
The customer experience is greatly improved as a result of B2B eCommerce. First of all, with an entire catalog of products online, customers have access to more diverse product options than they did before. This also makes it easier to compare and contrast products and provides them access to earlier versions of products to test and trial before purchasing.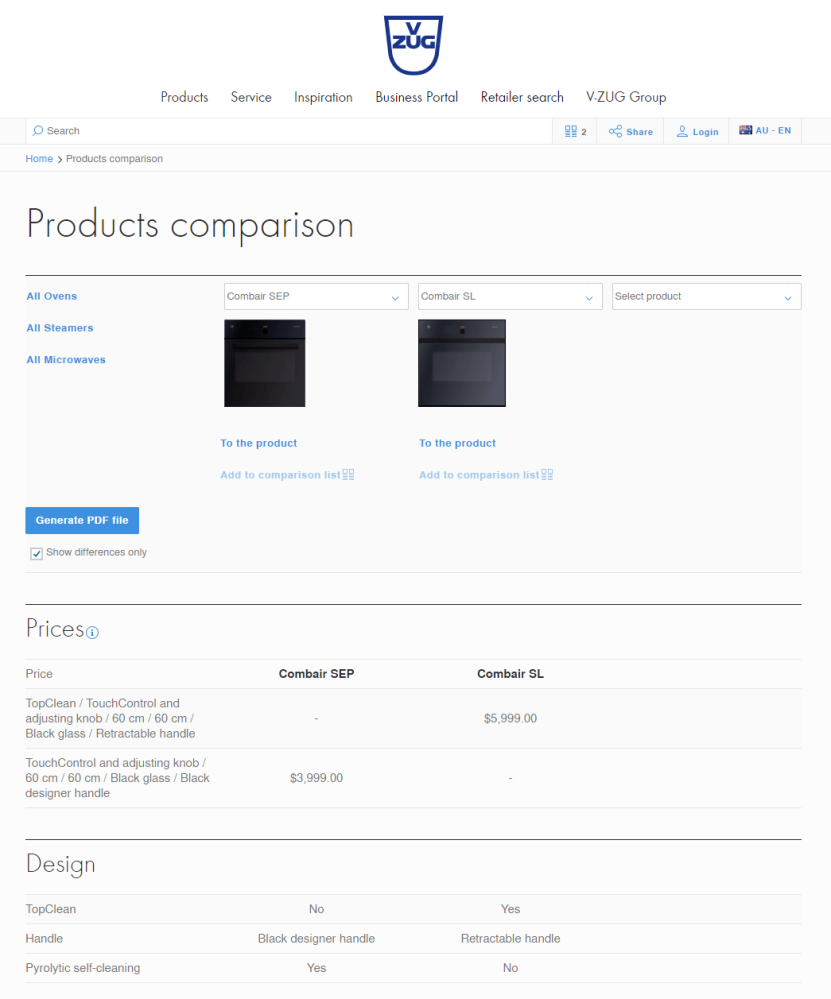 (Our client – V-Zug – allows their customers to compare the products and download the comparison in PDF)
Ordering is also much easier since orders can be placed, statuses updated, and shipments tracked using many digital devices. Customers are able to readily engage with their suppliers and provide additional feedback that can aid in future product development.
Also, customers can access order history and other details via an online account instead of several different email chains.
2. Suppliers gain more control over their processes
Suppliers can make improvements to their supply chains and cut out unnecessary and time-consuming tasks. Not only does this aid productivity, but it also helps them to manage their resources better.
B2B suppliers will also be able to improve control of their manufacturing processes and better anticipate the need for new inventory.
The improved customer experience provides a win-win situation where brands can lock customers into more extended and beneficial partnerships, which can, in turn, lead to larger deal sizes. Also, having an online presence allows companies to access a more diverse range of customers, thanks to increased brand awareness.
3. 3rd parties can enter new markets
Even though the customers and suppliers are the primary beneficiaries of B2B eCommerce, that doesn't mean third parties aren't able to benefit as well. Some companies will be in a position to offer complementary products to others.
Their increased online presence means that there is growing access to new markets and also the ability to extend services to new customers or collaborate with other companies to improve overall buying power. Some brands will also be able to join a larger marketplace and increase their reach.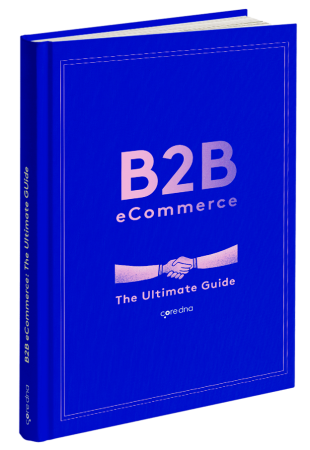 Download this B2B eCommerce guide
What is B2B eCommerce, common mistakes you're probably making, some myths you probably believe in, best practices you can steal, and more.
B2B eCommerce myths; debunked
Many companies have been hesitant to engage in B2B eCommerce before due to several myths about the difficulties of doing business online. Here are some of the most common myths and misconceptions that are holding B2B businesses back and how to overcome them.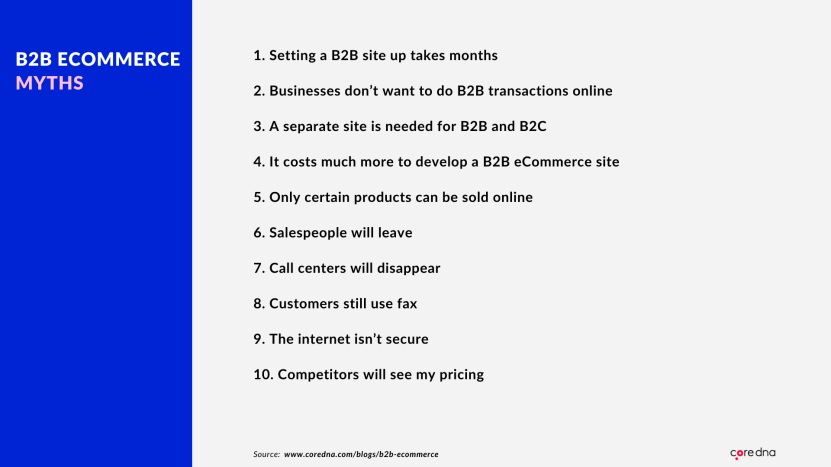 1. Setting a B2B site up takes months
In today's environment, launching a B2B eCommerce platform is much easier than ever. Previously many brands would have needed to create custom-coded software solutions to manage their B2B eCommerce sites.
Now, headless CMS platforms are available to manage the backend and allow you to customize the frontend capabilities of your eCommerce store in a matter of days or week.
2. Businesses don't want to do B2B transactions online
Some believe that B2B is better done offline because of the pricing and shipping requirements of transactions. B2B eCommerce makes conducting transactions much easier and more secure. By streamlining your operations, businesses can reduce transaction complexity and also communicate with each other more efficiently.
3. A separate site is needed for B2B and B2C
Rather than launch separate sites for B2B and B2C, companies can use a hybrid platform to manage customized portals using one single interface.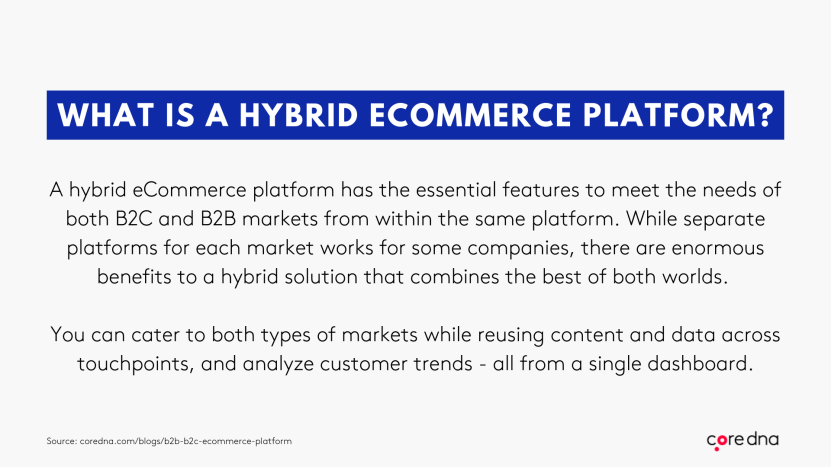 4. It costs much more to develop a B2B eCommerce site
Developing a B2B commerce site doesn't require a lot of money to launch. SaaS models and multiple integrations mean that it's possible to create a fully-connected and globally scalable eCommerce website without too much hassle. With the right platform and process in place, you can launch a website that meets your customer demand and provides omnichannel exposure for your brand.
5. Only certain products can be sold online
Today's digital environment means that every product can be sold online. While some may argue that their customers need to feel the product, it's relatively easy to order samples from many B2B suppliers before selecting a larger order. Also, customers are increasingly favoring options such as video to get a 360-degree view of a product before purchasing.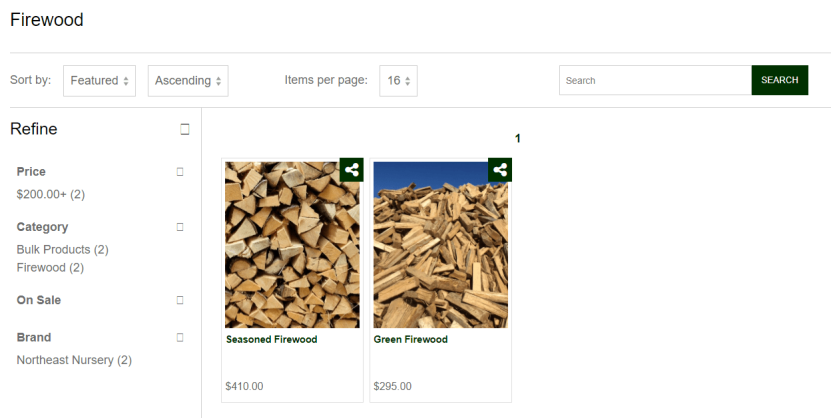 (Our client, Northeast Nursery, sells wood and other gardening supplies online. If you can sell a log of wood online, you can sell anything online)
6. Salespeople will leave
When you go digital, your salespeople will become even more critical. However, rather than having them going door-to-door to sell products, you can have them at the end of the process closing leads that have been attracted to your online store through content.
7. Call centers will disappear
Just as sales personnel become even more important in closing deals, your customer service representatives will still be critical to facilitate the best experience for your customers. However, instead of focusing on
8. Customers still use fax
Modern eCommerce platforms make it possible for you to communicate with your customers in a variety of ways - even those who still rely on less popular methods such as fax.
9. The internet isn't secure
It's true that there are dangers on the internet when it comes to running an online business, however, by partnering with the right eCommerce platform it's possible to overcome these security challenges and provide your customers with the secure transactions they require.
10. Competitors will see my pricing
Getting the most out of eCommerce takes more than just the lowest price. The key is to create the optimal experience that entices your customers to buy from you. This experience isn't something which your competitors can easily copy.
B2B eCommerce mistakes you're probably making
When you get B2B eCommerce right, it's a tremendous opportunity to set your brand up for future success. However, it's necessary to steer clear of the following common mistakes.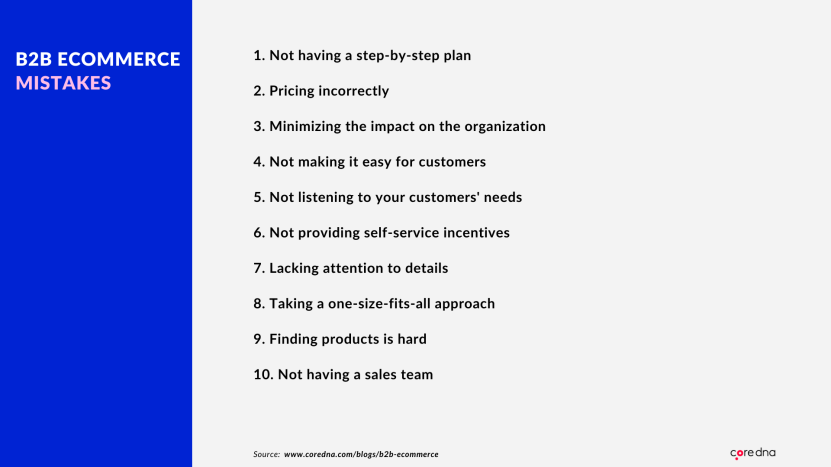 1. Not having a step-by-step plan
Launching a B2B eCommerce website is a simple process, but it can quickly get complicated without the right plan in place. It's impossible to build everything at once. Instead, break it down into steps starting with the areas most critical for your success. After those essentials are in place, then you can add more details.
2. Pricing incorrectly
Many brands may often try to impose pricing to protect their existing business; a process also known as price setting. In reality, it costs less to sell online because your salespeople don't have to go door-to-door anymore, and the price should reflect that.
Ultimately, there's no one-size-fits-all strategy around pricing, and it needs to be customized to your business, products and customer requirements.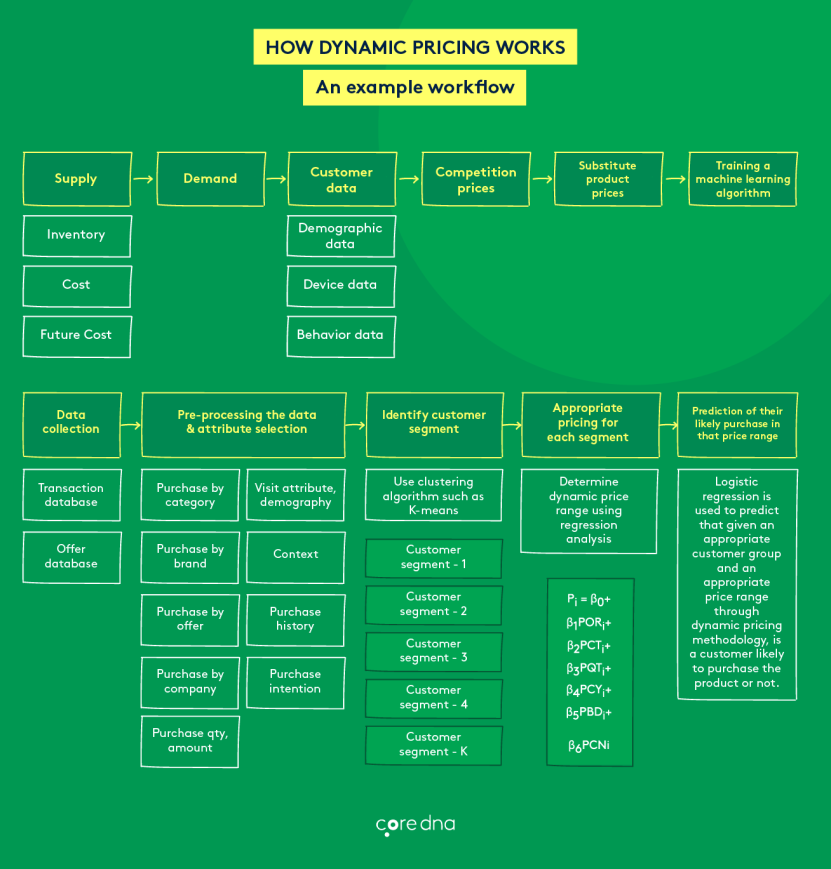 When selling online, it's essential to consider customer value, buying cycle, and cost to the company before finalizing price.
3. Minimizing the impact on the organization
Shifting to an online sales business model can be beneficial, but just like any digital transformation process, there will be an impact on the organization and the people within.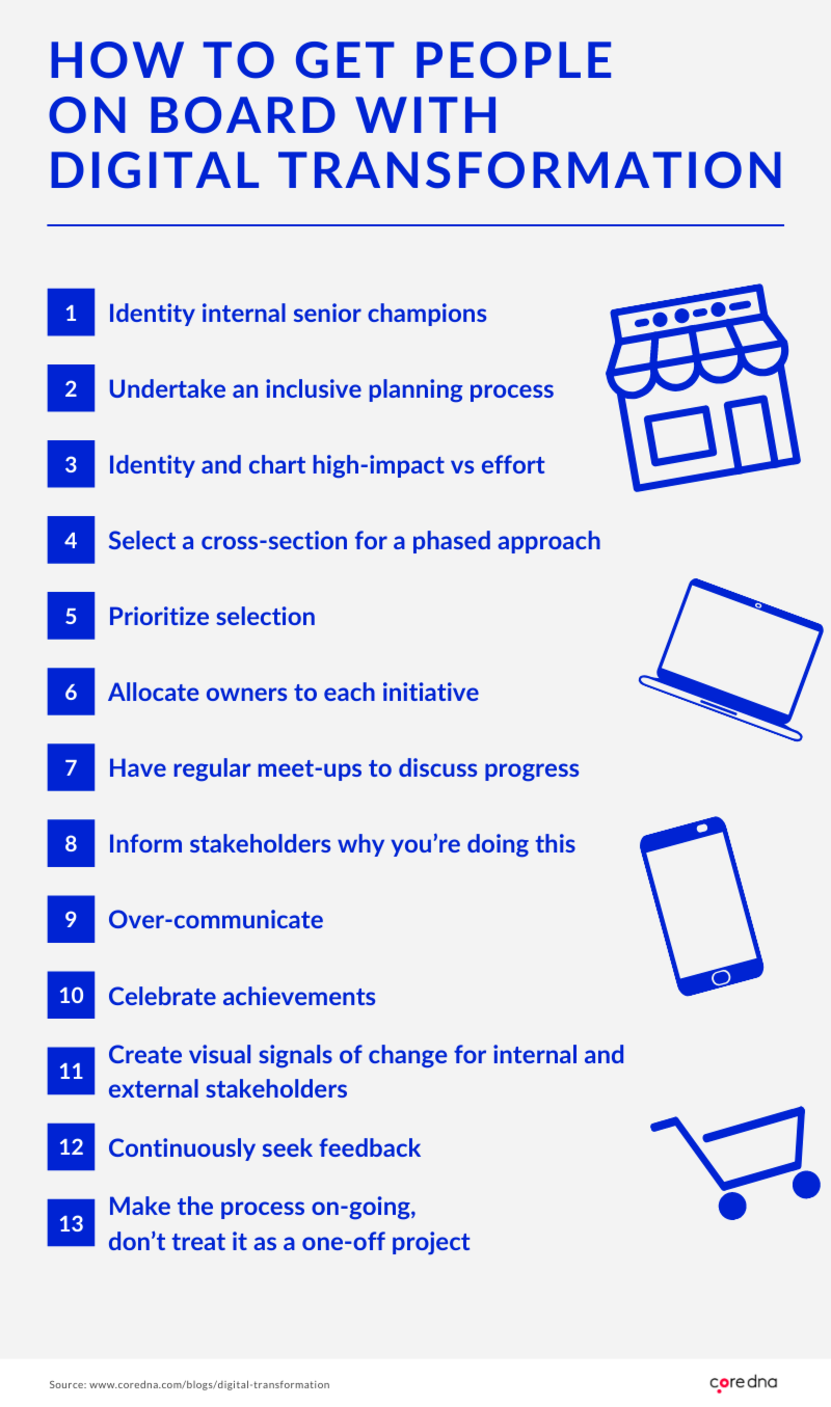 Brands need to determine how best to sell the message to the staff, implement changes and train personnel. Also, for companies not accustomed to dealing online, considerations need to be made as to how to educate your customers, reposition your offering and restructure the organization.
4. Not making it easy for customers
The goal of B2B eCommerce is to make the buying process easier for your customers. Brands can run into trouble when they don't provide the right documentation and training to customers, refuse to educate them on new initiatives and don't simplify the ordering process.
Also, selling online means that it's possible to provide access to a broader product catalog and larger product SKUs.
5. Not listening to your customers' needs
Businesses fail to exist without their customers. Therefore, it's necessary to value the time and opinions of customers and include their feedback when producing or improving product offerings.
6. Not providing self-service incentives
Self-service options can significantly improve the lives of customers and sales personnel. eCommerce enables brands to provide self-service options, and they should be incentivized to use these options to their benefit.
7. Lacking attention to details
Making purchases online can be easier for B2B customers, but only if suppliers pay special attention to the details. Companies should strive to build trust and remove concerns people have for their businesses. Businesses can do this by focusing on eliminating any errors in the process and ensuring there are no bottlenecks that derail the customer experience.
8. Taking a one-size-fits-all approach
Not everyone will be new to the B2B eCommerce process. Therefore it's necessary to segment user bases and provide customized offerings for each segment. For experienced users, one option is to give a function to make it faster to complete orders and streamline the process.
9. Finding products is hard
One flaw that makes selling online difficult is low product visibility. Visitors may navigate a site in one of three ways.
Browse: In this stage, they don't know what they're looking for and simply hunt in an orderly way to find what they need.
Search: They think they know what they want, but are still unsure. However, they can't be bothered browsing.
Targeted: They know their SKU and want you to make it easy to get to the checkout.
No matter which way your visitor is browsing, your user interface needs to be set up appropriately for them to get what they need quickly and efficiently.
10. Not having a sales team
Yes, you have a website, but a sales team is much more critical now. Rather than spending time just taking orders, your sales team is there to open new doors and help serve larger customers. Adequate equipped sales representatives can understand what the customer needs and point them in the right direction with the help of your website.
B2B eCommerce marketing best practices
If you want to get the most out of your B2B eCommerce business, then follow these best practices.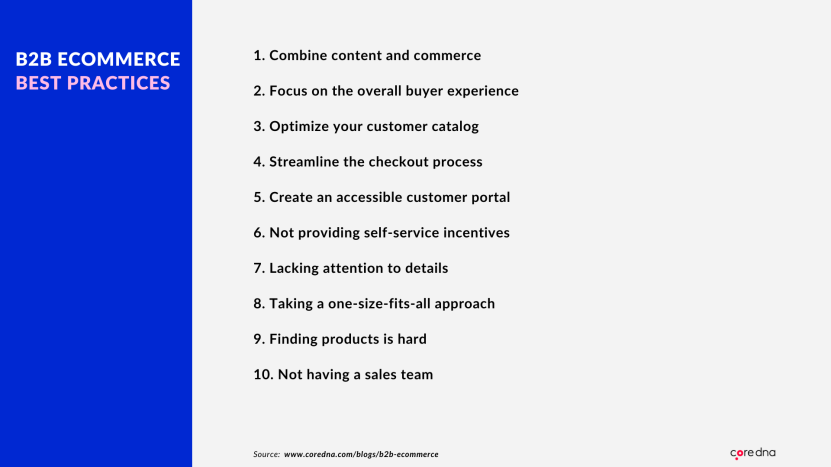 1. Combine content and commerce
Don't just leave the generic manufacturer content. Instead, take the time to write unique and engaging content that attracts customers, educates them about your products and encourages them to purchase from you.
With eCommerce it's now easier to use different media types, including product pictures, product sheets and video to provide the kind of content your audience wants. Then you can use your audience to help you publish unique case studies for each customer segment and attract more customers.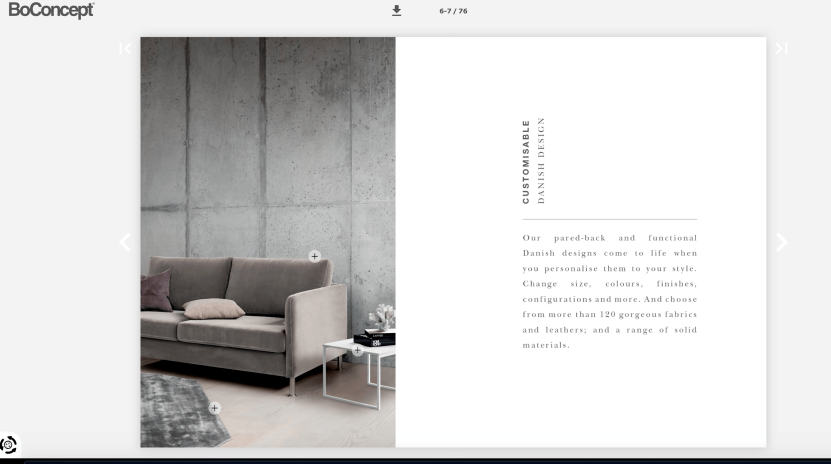 2. Focus on the overall buyer experience
Build a buyer-focused FAQ that answers the questions they will have about your product. Create personalized content based on groups so that each group receives the content that is most relevant to them. Use reviews and ratings as part of your content strategy to provide social proof to your other potential customers.
Also, make it easier for your customers to find you by investing in an SEO-friendly platform. This includes paying attention to page load times, having structured data implementation, creating a short, clear and SEO-friendly URL structure and more to place your website at the top of search results.
3. Optimize your customer catalog
Your catalog should make it simple for visitors to find what they're looking for. Use customized pricing (e.g. request a quote) based on segments and display recommended products based on viewing or purchasing habits.
Also, make site navigation and search intuitive and dynamic. For example, by showing products stock count, your customers can have a clearer idea of what to do for inventory planning.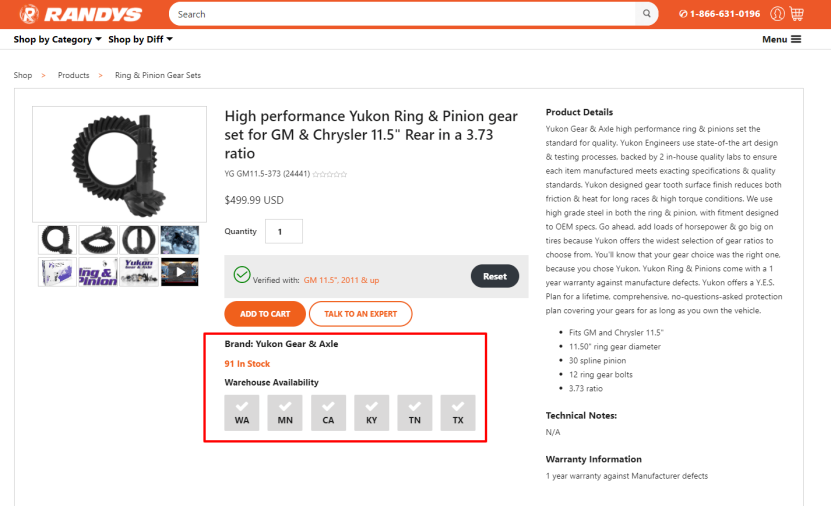 (Our client's website – Randy's – show stock availability and warehouse availability)
4. Streamline the checkout process
Make the process as simple as possible by allowing customers to pay in increments, split shipping to different zones or destinations or split payments as necessary.
5. Create an accessible customer portal
Your customer portal should make the ordering process as intuitive and user-friendly as possible. Allow customers to see purchase history and track orders from their account and provide ways for them to customize their orders as they see fit to improve the portal experience. It should also have additional features that enhance the buying experience.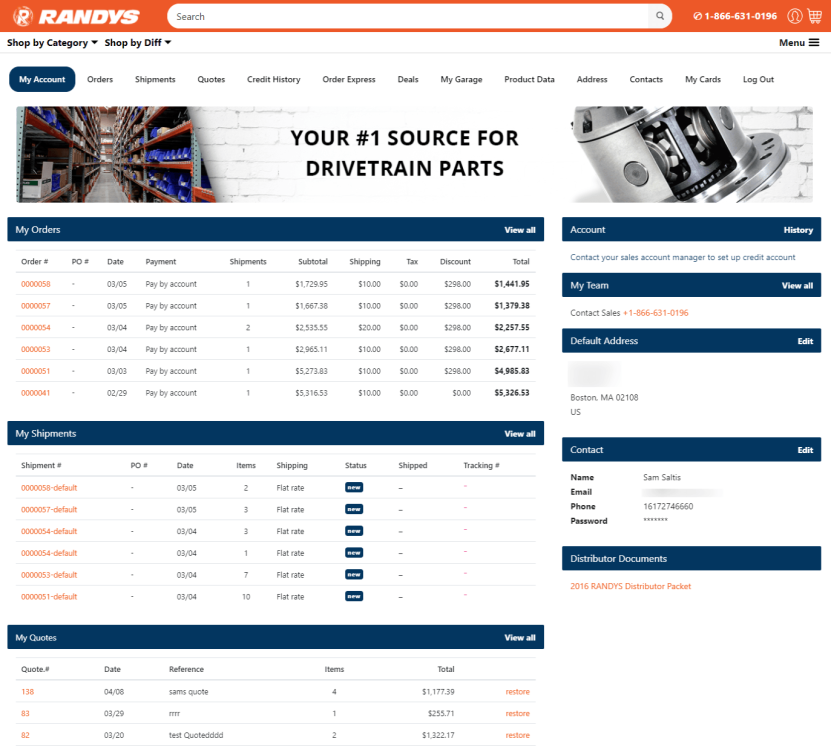 (Randy's B2B eCommerce customer portal)
6. Allow bulk ordering
The goal of B2B eCommerce is to make it easy for your customers to order products online. Don't limit them to a few sample sizes and then require them to connect to a representative over the phone to make a larger purchase.
7. Allow reordering and auto replenishing
Repeat customers tend to maintain the same order sizes outside of a few peak seasons. The ability to repeat a previous order with the click of a button can save plenty of time.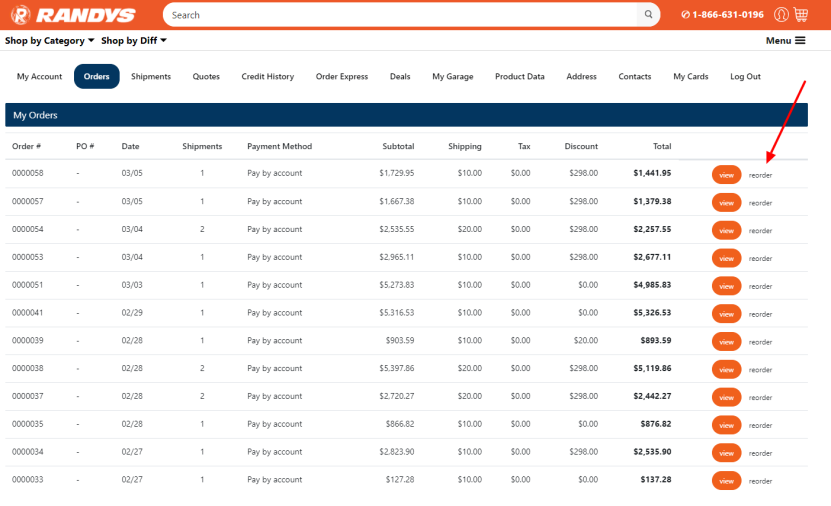 (Customers can easily reorder in their customer portal)
8. Facilitate customized pricing (e.g. request a quote)
While many buyers will already know exactly what they're looking for and the exact price point they need to pay for certain order sizes, many potential customers will not. Give them a way to get this pricing information.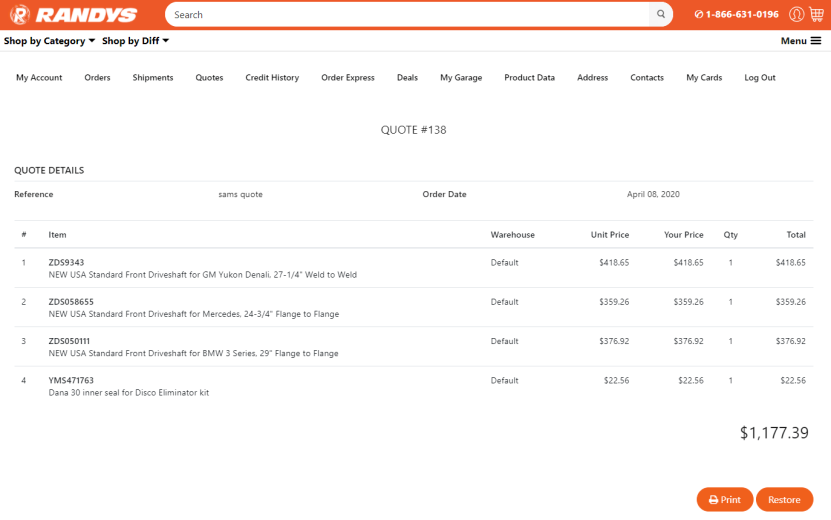 (Customers can ask for a quote and save quote, which they can access in their customer portal)
9. Allow paying in increments
Large purchase orders also have large bills attached to them. Make it easy on your customers by allowing them to break down costs and pay over a period of weeks, months or the duration of your contract.
10. Allow split shipping to different destinations
While D2C businesses send products directly to a customer's door, many B2B companies will place orders with one supplier but need to ship products to several locations where many smaller stores are located.
11. Build a unique customer experience
Customers should be able to reach out to a representative to have their questions answered and problems resolved as soon as possible. Companies can also find ways to personalize content for groups of customers and create a B2C-like shopping experience that includes customer loyalty programs which reward the most prominent partners.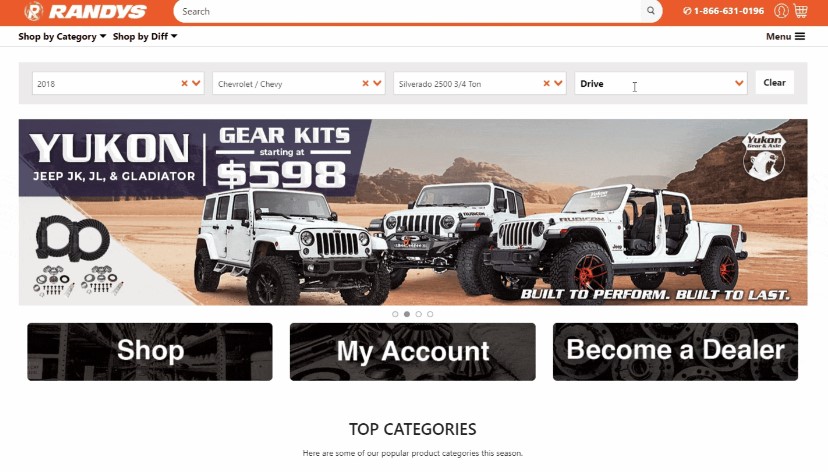 (Randy's customers are care mechanics and engineers, so they're making it easy for them to find the parts they're looking for)
Watch video demo
Execute your B2B eCommerce strategy with the right tools
B2B eCommerce can help catapult your brand to the top of the food chain in your industry, or at the very least, provide an enjoyable experience for your current customers.
Regardless, knowing the benefits and tactics for executing a B2B eCommerce strategy is only half of the battle. In order to set your brand and your customers up for success, you need to implement your strategies with the right tools.
Core dna's headless architecture can help you customize the commerce experience whether you want to sell locally or globally, and integrate your inventory, shipping and more to help you capitalize on features that other recognized eCommerce companies continue to maximize.
Learn more about getting started in eCommerce by reading our ultimate guide to growing and scaling a successful eCommerce business.