A content platform your marketing and tech teams will never outgrow
Unify your visitors experiences across all channels. Create, manage and distribute content at scale.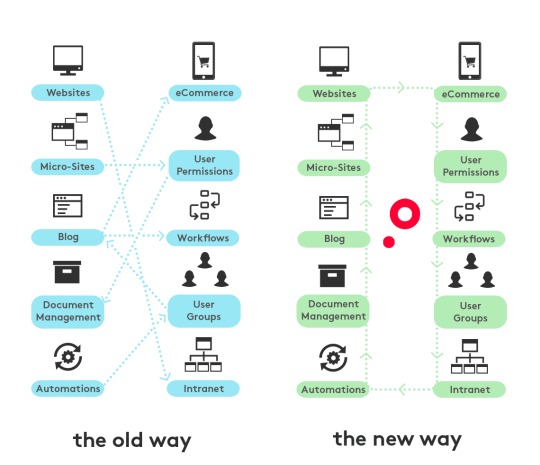 Headless CMS: The Definitive Guide
Deep dive into headless CMS. Over 35 pages of information and insights.
A modern approach to developing and distributing content
No more switching systems and installing plugins. All the tools you will ever need to create personalized and unique website experiences integrated in one place.
A headless architecture to create user experiences that run on any channel and platform
Deliver API-driven experiences and customizations for both users and admins. Take advantage of our decoupled environment to create an omnichannel experience for your customers.
Build content for everyone, a group, or just an individual
Use our personalization engine to target current and prospective customers, boosting the odds of engagement and conversions by appealing to the individual's likes, needs and interests.
The complete content management platform
Features to simplify content creation and distribution.

Structured content management
Create your content once using a structured approach that properly reflects your business. Then distribute everywhere.

Live preview
With live preview see changes to your website in real time. Manage content within your brand guidelines.

Schedule Content
Set posts and pages to be automatically published. Admins can set a specific date and time in the future for the post to be published. Posts can also be backdated.

SEO and performance options
From customizable URLs to canonical tagging to image optimization. Everything you need to create SEO-friendly websites.

Centrally manage media assets
Centrally manage media assets, let Core dna optimize and deliver to your visitors.

Workflow and automations
Centrally store your information, distribute everywhere using our Hooks engine, API integrations and scheduler.
Easily connect with other systems
With pre-built integrations to 3rd party systems, you can use our Web Hooks engine to connect with your legacy systems, do file transfers or connect with the latest API technology.
Never replatform again. Always stay ahead of your competition.
Get access to our advanced cloud platform that includes auto-scaling, caching, and Content Delivery Network (CDN). 26+ updates a year for patching, security updates, and new features - all driven by our customers.
Featured CMS insights
From our insights blog posts
Frequently asked questions
For many organizations the need for a Content Management System (CMS) boils down to two main factors;
Internal pressure: the desire to easily create and manage content in a more efficient manner and an awareness that solutions are available (at a price that is not preventative to using them)
Legislation: As across the globe governments are tackling the accessibility of information and forcing organizations to comply.
However, it is important to recognize that CMS solutions themselves have also evolved to the point where they are now:
Easier to deploy with pre-built, modular applications
Stable products that are constantly developed by dedicated developers
Less costly (which in turn improves the return on investment)
Standards enforcing - so that the legislative requirements can be met using the tools
Strategically significant to organizations operations.
When selecting a CMS, customers have the following problems:
Generic Content Platforms. Too many generic CMS make it difficult for marketers to create content, manage images, preview their work and collaborate. They also lack proper security and audit features, so it is hard to control and track what people are doing.


Frustrating for developers. Many are inflexible systems that require heavy customization and 3rd party apps to get your website connected with other systems without custom interfaces making it hard to share information and create workflows.


Poor Performance. Visitors are often left waiting for the website to load. Errors appear without reason. You're learning about security issues through the news. You just don't trust the software.


Limited Support. It's 3 am, your site is down, but most alternatives only offer 24 hour email support--no chat, and live voice (if available) won't wake for 3-4 hours. Can you spell F.I.R.E.D?


Incomplete Products. They sell you a car with 3 wheels--their system won't get your job done… without countless 3rd party apps, or dreaded plugins (each with various levels of non-support, no single point of accountability. or risk of serious security holes). All because the vendor didn't "complete" their product.


Too Pricey. When you combine costs for upgrades and add-ons, custom development to get what you want, it costs MUCH more than they let on.
These are the 5 reasons to consider Core dna
BEST in Content Management. Includes integrated features like page builder, built-in blogging, dynamic forms, collaboration, multilingual content capabilities, international domains, plus several modern features that make creating and publishing content easy.


Most flexible Developer Ecosystem. Includes industry standard tools like version control, flexible IDE, GIT Collaborate, multiple environments for development and QA, flexible front end frameworks, or use server side frameworks to deliver unparalleled speed and performance.


World-Class Performance. With leading security practices like web application firewalls and load balancing, Core dna provides the reliability and security your team needs to operate in the digital world today.


Industries BEST Support & Professional Services. Core dna excels with their top of the line support and services. Of course there are guides to help you get started and documentation for onboarding, however the outstanding features to love are:


BEST of all… NO Plugins or 3rd party app Hell. Eliminating system and plug-in incompatibilities, conflicts, unexpected errors, degraded performance, poor support and ongoing security impacts to your website typical with 3rd party apps and plugins, Core dna delivers a clean native system without requiring any custom development. It is a COMPLETE product.
Core dna is an enterprise platform.
What this means is that all the aspects of the technology are provided for your business. There is no need for you or your team to develop or manage any technology or pay for added apps or plugins.
All the applications to run your website with all the updates.
Advanced infrastructure with high availability.
Auto-scaling to handle large spikes in traffic.
Build content at scale
See how Core dna can accelerate your Content strategy.