Multi-Channel Marketing Vs Omnichannel Marketing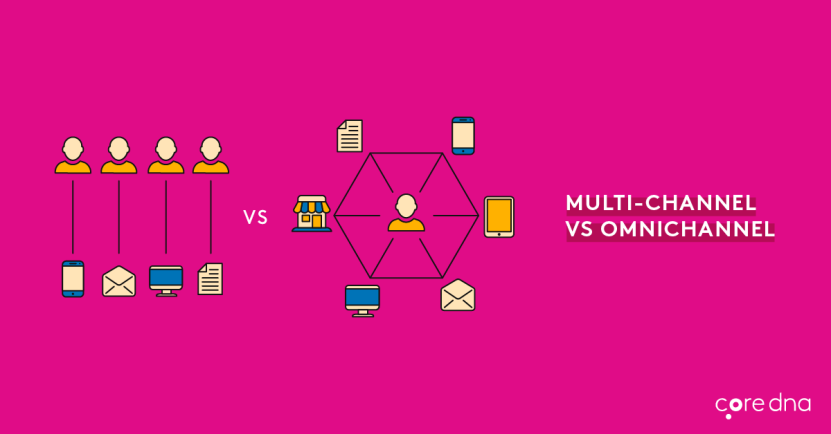 After already discussing multi-channel and omnichannel marketing strategies in depth, it's time to dive into the differences between the two.
Our main reason for doing so is the surprisingly large number of online publications that are mistakenly using the terms multi-channel marketing and omnichannel marketing interchangeably.
At first glance, both of these strategies do not appear to be any different from one another. But they are, fundamentally, two very distinct marketing strategies, and it is crucial for you to know the difference between them.
This article aims to differentiate between the two strategies and identify which is the best one for your company in an era where consumers are demanding content through a plethora of connected devices and touch points.
In a hurry? Jump into a specific section:
Multi-channel vs omnichannel: What's the difference?
As we said in the intro, it's not uncommon to see the phrases "multi-channel marketing" and "omnichannel marketing" used interchangeably, as if they're completely synonymous.
Since the two strategies sound similar, it is very easy to assume that both the terms can be used interchangeably — but that would be a mistake. To truly understand the difference between the two marketing strategies, let's us first define what they are.
What is multi-channel marketing?
In the simplest of terms, multi-channel marketing refers to the ability to interact with prospective customers through various channels, including social media, mobile, direct mail, print ads, landing pages, and websites. Each channel operates independently from the other marketing channels, and each abides by their own outlined strategy and goals.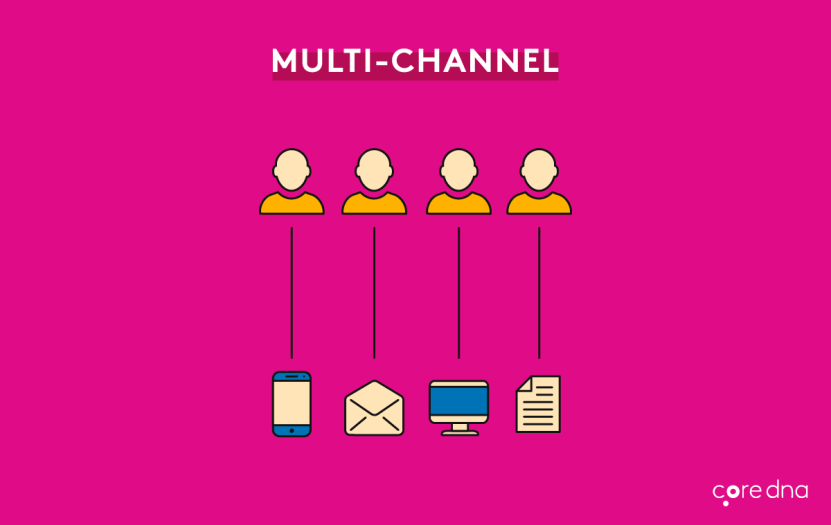 In comparison to single-channel marketing, which focuses on one platform to engage with its target market, multi-channel marketing allows brands to expand its reach to a multitude of channels and interact with prospective customers who may not use the single platform that is targeted via single-channel marketing.
Let's take in an example:
Brands that focus on a single marketing channel, like radio advertising for example, will only ever reach people who listen to the radio stations they advertise on. On the other hand, companies that spread out to multiple channels will inherently be able to increase their overall reach across radio, social media, email, and so forth.
Multi-channel marketing is much more effective than single-channel marketing, not just in terms of reach, but because consumers prefer to engage with brands that utilize multiple channels. According to Sailthru, three out of four customers prefer to engage with a brand via multiple channels. Similarly, 73% of consumers do use multiple channels to engage with their favorite brands when provided with the option to do so. So it's not just that being present on multiple channels allows companies to reach additional audiences (it does), but it also enables said companies to meet the expectations of their existing customers, as well.
And since the multi-channel approach provides a greater opportunity for engagement, brands can achieve a revenue boost. In a report by Invespcro, multi-channel shoppers spend three times as much as their single-channel counterparts.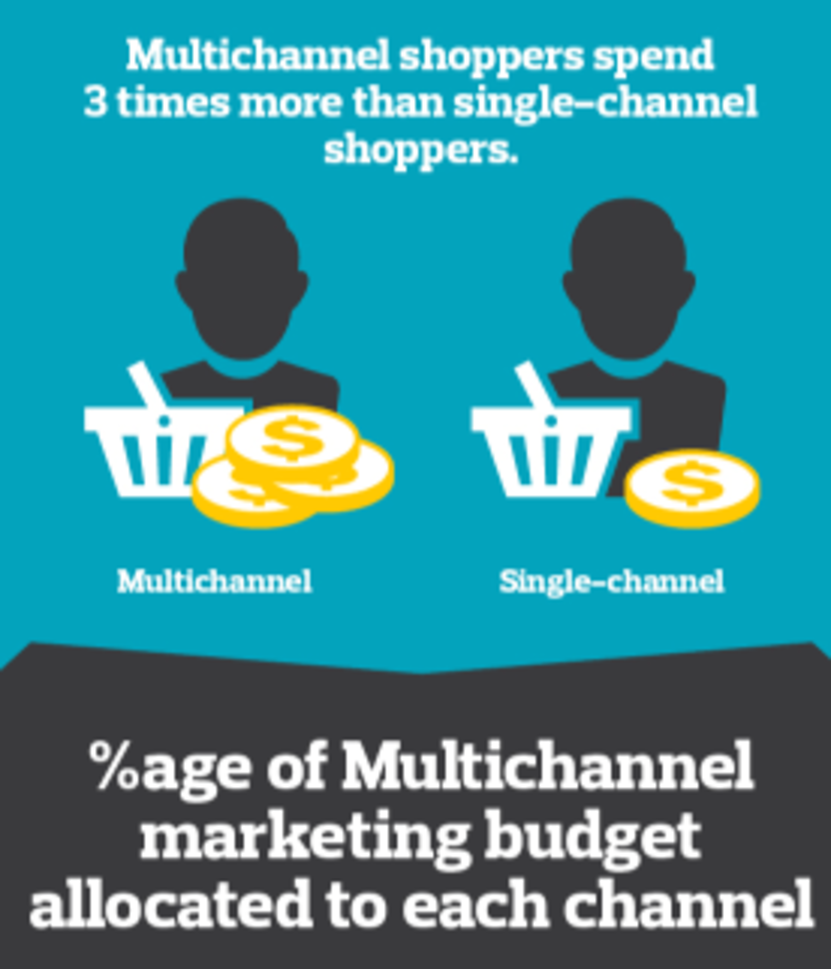 (Source)
Later on in this article, we'll go over some of the basic ways in which companies can optimize their multi-channel marketing campaigns. For a more in-depth guide to doing so, you can again check out our guide on selling more via multi-channel marketing.
What is omnichannel marketing?
Similar to multi-channel marketing, omnichannel marketing involves interacting with customers via various channels. But omnichannel is focused on delivering a multi-channel sales approach which provides customers with an integrated experience.
So, unlike multi-channel marketing where each channel operates separately, the omnichannel approach involves integrating all the different channels together so that it can provide a seamless, connected experience.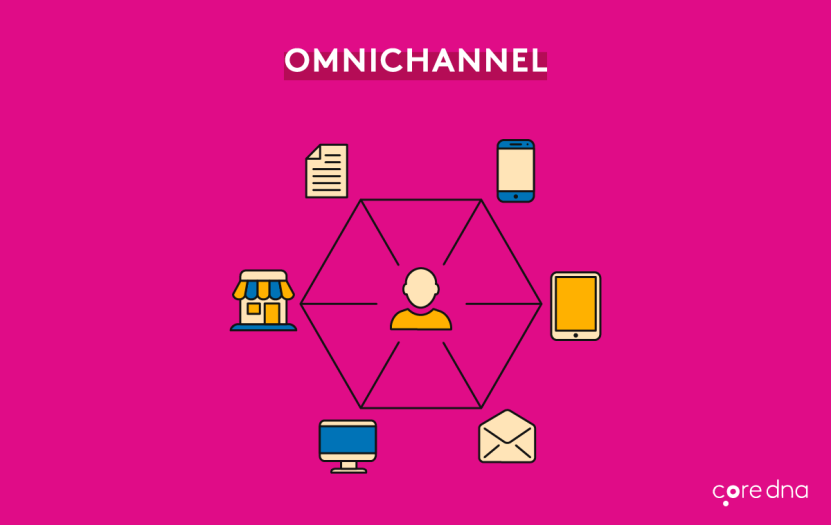 The goal of omnichannel marketing is to provide a streamlined and consistent experience to consumers as they hop from channel to channel - which they do. According to Harvard Business Review, 73% of consumers utilize multiple channels throughout their path to making a purchase. Business2Community backs this up, explaining that 71% of brick-and-mortar shoppers use their smartphones to discover supplemental product information (such as pricing, product specs, etc.) while shopping in a physical store.
Similarly, the modern consumer simply expects companies to provide an omnichannel experience to them. Case in point, 60% of millennial consumers expect a consistent experience across multiple channels (online, physical, and everything in-between).

(Source)
Meeting these expectations, of course, can be huge for marketers: According to the aforementioned data collected by Business2Community, companies that successfully implement omnichannel marketing strategies see an astounding 89% retention rate.
As is the case with multi-channel marketing, the vast majority of marketing teams understand the importance of providing a ubiquitous and consistent experience to consumers through a variety of channels. Still, nearly half of marketers surveyed admit that they aren't currently prepared to reach their full potential in terms of omnichannel marketing.
Again, we'll provide a few overarching tips for proper implementation of omnichannel marketing a bit later on. If you want to dig in further to these strategies right away, check out our guide on creating a streamlined customer journey.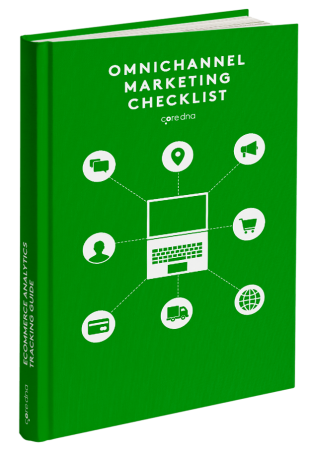 Bonus material: 17-step checklist for omnichannel marketing success
The 3 key differences between multi-channel and omnichannel
To fully understand the difference between the two marketing strategies, here are three important differences to keep in mind.
[Difference #1] Customer vs. channel
The aim of the multi-channel approach is to simply spread your brand's message across all the available number of channels. Think of it as casting the widest possible net to attain the most customer engagements - the more engagements you get, the better. The most utilize channels in the multi-channel approach is social media and email.
With the omnichannel approach, rather than focusing on the number of channels to expand its reach and engagement, it centers their attention on the customer. The aim of the omnichannel method is to integrate with all channels that it uses to engage with the customer to deliver an overall personalized customer experience throughout each and every channel.
[Difference #2] Consistency
As omnichannel focuses on delivering a better customer experience, this brings about the second major difference between the two strategies: consistency. Brands that apply the omnichannel strategy ensures their customer receive the same personalized experience and message via each and every channel.
Since multi-channel operate each channel separately, it results in a lack of integration causing confusion and impersonal experience, which often leave customers feeling frustrated.
By applying a consistent brand image and experience through each channel, it heightens the sense of familiarity and improves the relationship with the brand. Marketers who implement the omnichannel strategy must ensure every internal department are on the same page when conveying their message to their customer.
[Difference #3] Personalization
The multi-channel approach simply spreads the message and encourages the customer to complete a call-to-action. The omnichannel method also does this but with the additional effort of continuously getting to know the customer. Omnichannel gathers data from the consumers to learn about them and pinpoint areas that require more effort so that it can deliver their desired customer experience.
Above all, omnichannel wants to foster towards an effortless buying experience for their consumers.
Marketing strategies for multi-channel and omnichannel marketing
While we've covered a number of strategies for both marketing methods previously on our blog, let's take a moment to quickly go over some of the overarching tenets of each strategy.
[Strategy #1] Tenets of multi-channel marketing
When making the jump from single-channel to multi-channel marketing, there are a few things you need to keep in mind at all times.
Most importantly, you absolutely need to know which channels your target customers typically utilize. For example, it would make no sense for a company whose target demographic consists of baby boomers to become present on Snapchat; similarly, a company targeting teens and young adults likely wouldn't fare well by focusing on direct mail marketing and radio advertisements to generate a buzz.
Similarly, you need to consider which channels your target customers expect your brand to be present on, as well. When you have identified your channels, you then need to optimize your message each device accordingly.
[Strategy #2] Tenets of omnichannel marketing
When it comes to omnichannel marketing, the tenets we mentioned above still apply - but there's more. In addition to knowing where your customers are, knowing what they expect from you, and optimizing your presence on each channel your brand is active on; you also need to focus on using each of these channels to enhance the customer experience, as well.
It's not just about being present on multiple channels - it's about the value your presence brings to the customer via each of these channels.
But another tenet that plays a critical role in your omnichannel marketing strategy lies in your marketing teams. Unlike the multi-channel strategy where each channel is assigned a separate marketing team, the omnichannel strategy gets all the marketing teams together to work all the channels. In other words, the omnichannel marketing helps to de-silo your marketing team, which results in better communication between team members, so they are able to provide a streamlined and consistent experience.
The multi-channel and omnichannel customer experience
Companies that implement multi-channel and omnichannel marketing tactics provide vastly different experiences to their customers.
The typical customer experience of multi-channel
The multi-channel experience, on the consumer's end, unfortunately, can be quite isolated - and potentially disjointed.
To illustrate this point, let's go through a hypothetical example:
John is looking to purchase a new table saw. He visits the website of a large hardware warehouse to read up on his various options. After setting his sights on a specific model, he calls the location closest to him to see if they have it in stock. After waiting on hold for a good five minutes, the service rep informs him that the location does, in fact, have the item in stock. He drives over to the store's physical location, and speaks to a different representative - telling them exactly what he's looking for. This individual (not knowing John had already done his research and spoken to another service rep on the phone) then spends ten minutes explaining the various differences between a few different models of table saw (again, information that John has already learned on his own). While John ends up leaving the store with the item he had planned on purchasing, the experience was quite frustrating for him, and he vows to do business with a competing company the next time he needs to purchase hardware equipment.
The company in question, in the above example, provided a number of different channels for John to engage with. However, each of these channels clearly operates independently of one another. Also, the internal teams are siloed within this multi-channel approach, and it resulted in the customer feeling extremely frustrated.
The typical customer experience of omnichannel
Now, let's illustrate what a similar situation might look like when engaging with a company that implements an omnichannel approach to marketing:
John is looking to purchase a new table saw. He visits the website of a large hardware warehouse to read up on his various options. After setting his sights on a specific model, he adds the item to a wishlist within his in-store account. He then opens the store's app on his smartphone, which allows him to check whether the item is available at the physical location closest to him. The app confirms that it's available, but John wants to double-check by speaking to a representative via phone call (which the app enables him to quickly make). The representative confirms the product's availability, and tells John to simply come to the customer service department to pick the item up. He drives to the store, heads to customer service to finalize his purchase, and is out the door within five minutes.
In this scenario, the customer had complete control over the entire experience - and got exactly what he wanted with as little friction as possible. Because the company put the customer at the center of the experience - and put less focus on forcing the customer into doing the company's bidding - the customer ended their journey completely satisfied.
Additionally, because the members of the team were able to communicate with each other, they were quickly able to focus on providing what John wanted - not what they may have thought he wanted.
The pitfalls of multi-channel marketing and omnichannel marketing
Implementing either multi-channel or omnichannel marketing initiatives doesn't come without obstacles.
In the interest of enabling you to anticipate and avoid these pitfalls, let's quickly go over some of the most common ones marketers encounter.
[Pitfall #1] Resource-consuming ventures
Whether going to the multi-channel or omnichannel route, such marketing initiatives will cost your company a good amount of time, money, and energy upfront. This is one of the main barriers companies face when implementing either form of marketing in the first place.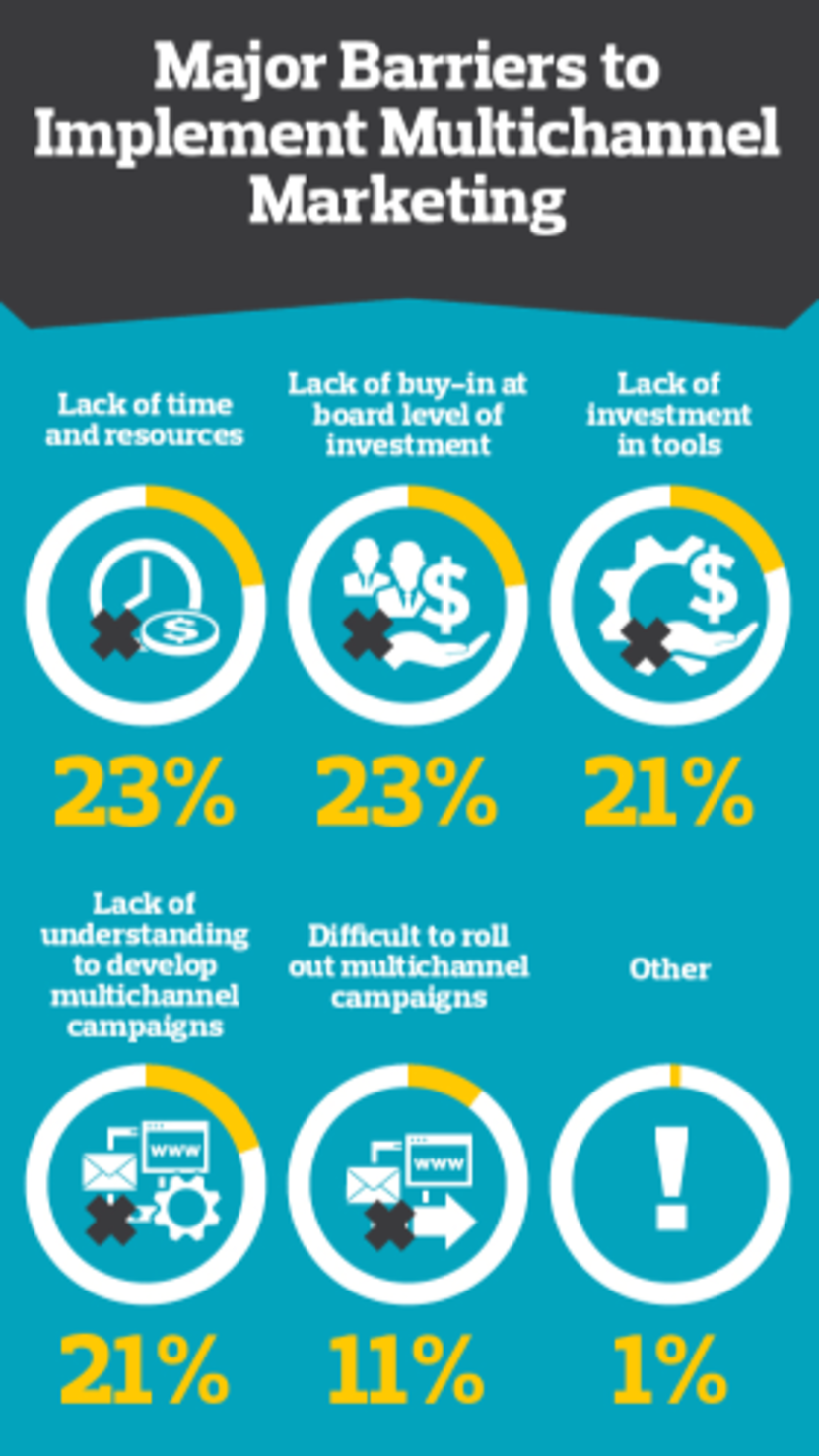 (Source)
Obviously, the more channels you utilize, the more resources you'll need to invest in order to do so effectively. Moreover, this investment will likely multiply as you become more functional on each channel (as with omnichannel marketing).
That said, you'll want to approach each of these initiatives with a game plan that includes:
Exactly what you'll be doing throughout the initiative
An understanding of how much time, money, and energy you'll be investing
An understanding of what you stand to gain from the initiative (both in monetary and other terms)
Without these plans hammered out, you could unintentionally break the bank on ventures that could end up going nowhere.
Note:
This is where investing in a
headless CMS
comes in handy. A headless CMS enables you to publish content across multiple channels (think a smartwatch, app, Amazon Alexa, and so forth) easily, and without having to re-create content from scratch for each device. If you want to know more about headless CMS, let us know.
[Pitfall #2] Siloed teams and siloed information
Siloed data and isolated marketing teams are two major obstacles in the way of delivering excellent multi-channel and omnichannel experiences. Because your marketing and sales team are now working across different touch points, it's easy for your operation to become disjointed.
If your Claire is in charge of social media management, and Gerald is in charge of messaging on the website, mobile app, newsletter, and smartwatch app, it's possible that your brand's messaging will be haphazard. The bigger your team, the more this issue compounds itself.
With that in mind, you'll need to focus your energy on:
Ensuring all team members understand the importance of communicating and remaining on the same page
Providing opportunities for such communication to take place
Having an agreed-upon point of reference — like a documented content strategy
In turn, not only will your marketing teams be able to better deliver their initiatives to your customers, but your organization will be in a position to truly understand what your customers actually want from you.
[Pitfall #3] Becoming creepy
There is risk involved in being too omnipresent in your customer's lives, especially without their permission. According to a 2017 survey conducted by RichRelevance, 69% of US consumers say the use of artificial intelligence to automatically purchase products for consumers is, essentially, way too invasive. Additionally, 50% of respondents feel that chatbots and other such technology that mimics human interaction are also rather off-putting.
While the modern customer is typically more accepting of innovative marketing techniques and the like, don't assume that to be the case at all times. The solution? Introduce personalization methods in stages to ease your audience in, and to gauge their level of comfort as their personalized experience expands.
[Pitfall #4] Falling short of GDPR compliance
Even though omnichannel experiences are universally seen as "better" than single-channel and multi-channel experiences, you need to be sure that you're delivering those experiences with each customer's permission — especially if you're dealing with EU-based customers.
You need to be collecting, storing, and using customer data in line with GDPR — a 2018 EU law that we've discussed in detail.
Download our 17-step checklist for omnichannel marketing success
The verdict: Omnichannel or multi-channel?
Since customer experience has been predicted to overtake both price and product in the year 2020, the omnichannel strategy is the clear winner since it has been proven to increase customer retention and revenue for your brand.
In fact, according to Emarsys, companies who have deployed a well-defined omnichannel customer experience strategy have achieved 91 percent higher year-on-year increase in customer retention, in comparison to organizations who don't incorporate an omnichannel strategy.
But why?
The IoT-era has introduced us to a plethora of devices and touchpoints, from smart speakers to smart wearables — and this is one trend that isn't expected to fizzle out. These devices have drastically disrupted how consumers converse with brands, and how marketers interact with their customers.
With the modern consumer zigzagging from smartphone to Amazon Echo to smartwatch — and back again, It's no longer sufficient for businesses to have an isolated presence on each device. What's needed is a comprehensive, seamless, and enjoyable customer experience that spans the digital landscape. And for that to work, you'll need a future-proof digital experience platform that's built to deliver omnichannel experiences.
inline form