How to Plan a Marketer-First Digital Transformation Strategy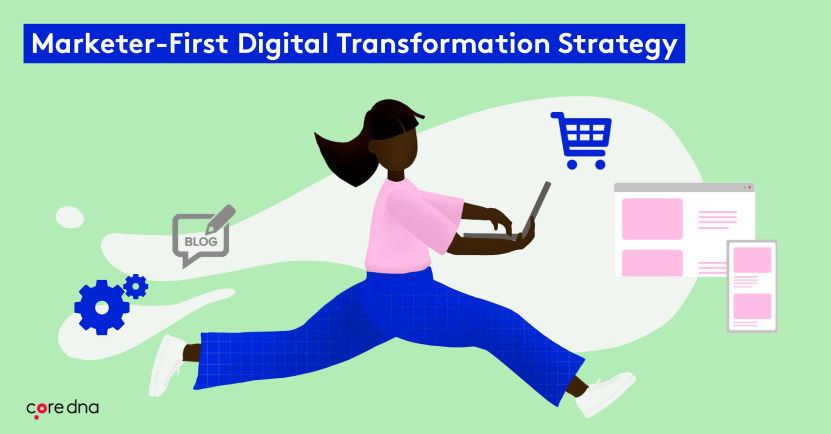 Undergoing a successful digital transformation is at the forefront of every organization's list of priorities — and for a good reason. However, a successful, forward-thinking digital transformation strategy needs more than just technology; it needs the right technology.
As markets shift and new technologies emerge seemingly overnight, the need to embrace eCommerce, digitize products, and provide an omnichannel customer experience has seen more and more companies begin the process of digital transformation.
The customer experience is mostly dependent on the content that the customer consumes. How much content is available? How personalized is it? Is it accessible across channels? These are the fundamentals of a successful digital experience. With that in mind, there is one team within your organization that should spearhead your digital transformation; your marketing team.
In a hurry? Here's how to plan a marketer-first digital transformation strategy: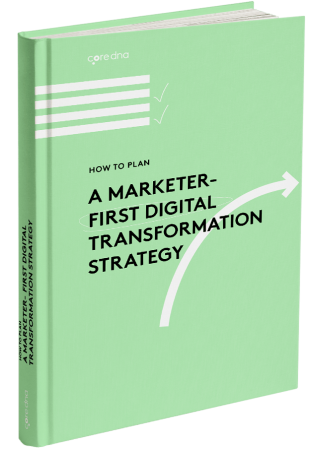 Download this guide: How to plan a marketer-first digital transformation strategy
A 4-step approach to planning a marketer-first digital transformation strategy.
Your DXP will make or break your digital transformation strategy
Customers are demanding more from companies than ever before, which is what makes executing a digital transformation roadmap so tricky.
On the one hand, the focus needs to be how a business operates, making sure that everyone has access to the resources to do their job effectively. It means staying on top of what competitors are doing and then making adjustments to course-correct along the way if necessary.
But that only handles the operational side of the business. The customer, and the content they receive digitally, is the most critical aspect of digital transformation.
Customer interactions need to be almost flawless, or brands risk losing them to the nearest competitor. In today's environment, where a treasure trove of content is available at your fingertips, brands need to ensure that their content is personalized and their presence is omnichannel.
In the eyes of many, personalization can often seem complicated or even invasive if not done right. But it doesn't need to be that way. Companies like Amazon and Netflix have popularized personalization to the point that customers prefer it and will consider a brand that doesn't attempt to do it as not being up to the task.
Up to 80% of customers are more likely to do business with companies that engage in personalization. So it's safe to say that it should form a big part of any digital transformation plan.
Just as personalization has become normalized, so too has the omnichannel experience. Consumer behavior has evolved to the point that brand interaction can happen anywhere at any time. So brands need to make sure that the customer experience is up to scratch and appears seamless no matter where a customer chooses to interact with them.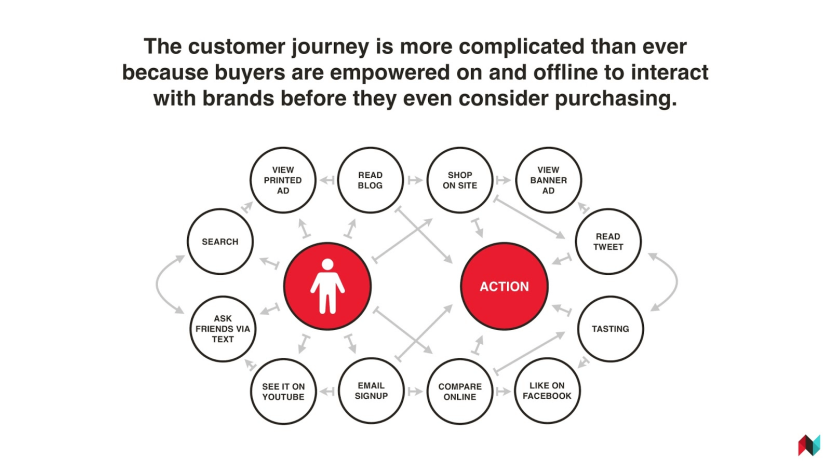 The customer journey doesn't stop, it's a never-ending cycle, and any digital transformation exercise needs to take this into account. Marketers are typically the ones tasked with creating these personalized omnichannel experiences for customers, so making sure your DXP meets their needs is essential.
Why your digital experience platform (DXP) should be marketer-first
Whether you build your digital experience platform using one or multiple vendors, one thing remains a constant. You need to prioritize the needs and wants of your marketing team.

Here's why:
1. You need speed on your side
Speed is paramount for the customer today, and consequently, it is also the same for marketers. As page load time increases from 1s to 3s, the probability of a visitor leaving a website jumps to 32%.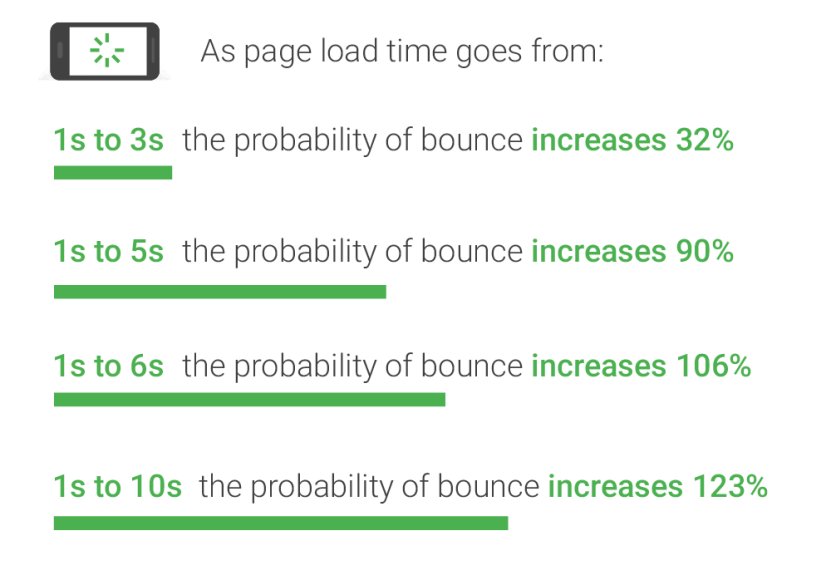 Almost one-third of site visitors potentially leaving your site because of a few seconds of lag time? This is something that no organization can afford. The right CMS plays a massive role in just how fast your website is.
2. Omnichannel content delivery is a must
When marketers had fewer channels to worry about, WordPress was the best option among traditional CMS. It had everything marketers needed to create content and manage websites.
New ideas could be fleshed out in meetings and then campaigns implemented within a few short moments.
Sure, WordPress was tightly coupled with your website, but there's no doubting the speed at which content creators could work. As we shifted more towards omnichannel and the need for content across more channels, however, WordPress struggled to keep up.
From an eCommerce perspective, platforms such as Magento have struggled to adapt to a market that thrives on speed, security, and omnichannel marketing.
To fill the gap, headless CMSs rose to the occasion to meet this need for content delivery across several channels, enabling developers to use API calls (such as GraphQL or REST) to push and pull content to any front-end.
Unfortunately, the pure headless CMS was never meant for marketers. Developers found easier workflows and ways to connect content to multiple devices at the same time, but marketers struggled to adapt to the lack of user-friendly options.
3. A customer-first content strategy wins hearts and minds
As more brands adopted pure headless systems to feed their need for omnichannel marketing, something unexpected happened. The element of speed was lost. Ironically, the same brands that fled traditional CMS for pure headless solutions found themselves in a similar situation to those who opted to stick with a traditional platform.
Take one of our clients, Stanley PMI, for example, a manufacturer of vacuum bottles, mugs, thermoses, cookware that has been around for over 100 years.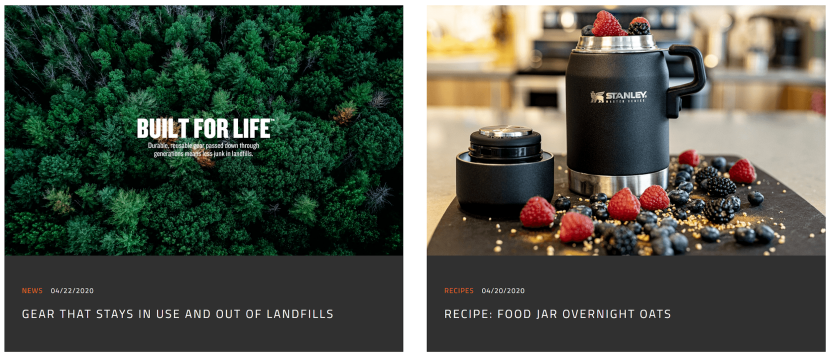 As a company that has been around for more than a century, Stanley understands the need to adapt to change. They recognized when their website was no longer doing the job and upgraded it with a marketer-first mindset, optimizing for user intent with a focus on specific buyer personas that matched their visitors.
In keeping with a customer-focused strategy, Stanley also moved to update their site UX. As consumers shifted to mobile, so did they, upgrading their mobile site so that it became more user friendly.
For Stanley, things really began to change once they started to double-down on their content marketing efforts. With a new mobile site and an already upgraded version for desktop, Stanley could focus their efforts on implementing a new SEO-focused approach.
Armed with a headless CMS that was made for marketers, their team could pump out content for their blog, social media channels and more. Traffic began to soar as they created new assets for their blog, including evergreen posts and guest posts on industry-related blogs.
They also found success in promotional campaigns, shared videos and user-generated content on their website and social media platforms.
Several campaigns are run across all of these channels, meaning that marketers need to be able to work fast to get the most out of each piece of content they publish without relying on other departments.
The revamps to their overall UX helped boost their conversion rate to 0.93% and reduce their bounce rate to 34.83%.
But, the overall UX isn't the only big change Stanley-PMI has made. In mid-October 2017, Stanley migrated to Core dna. That's when their website began to really change.

To better serve their customers both online and offline, Stanley PMI also leverages Core dna to build and integrate a workflow for order processing, which includes integration with fraud protection software Signifyd (fraud protection), third-party logistics company Norvanco, and Channel Advisor, and eCommerce aggregator.
In a nutshell, the Stanley PMI uses Core dna's hooks module to build custom integration with whatever software or service they need to serve their customers. In fact, the ease of Core dna's hook module has motivated PMI to channel orders from all their marketplaces, such as eBay and Amazon, into Core dna, allowing them to manage their entire eCommerce operation from Core dna alone.
How to plan your marketer-first digital transformation strategy
Thankfully hybrid headless CMS, also known as decoupled CMS, which can serve as the base of your digital experience platform (or in some cases, your entire digital experience platform), are attempting to fulfil that need for speed. But not all content management systems are built equally.
Here's how to ensure you choose a DXP that supports a marketer-first digital transformation.
1. Business strategy: Evaluate (and prioritize!) your marketer's needs
Headless content management solutions have become the industry standard. Having to meet the needs of customers has meant that any organization executing on a digital transformation strategy will have a headless CMS to meet this demand.
However, you can't begin your search for a hybrid headless solution that suits your needs if you don't know what your needs are.
The first step in drawing up a suitable shortlist for a hybrid headless solution requires that you talk to your CMO and other stakeholders about their pain points with current options.
Here are a few things that marketers will need across the board as part of any hybrid headless CMS platform.
A marketing center-piece: The CMS platform needs to be at the heart of everything that your team does when it comes to marketing. So many aspects of your business from content management to digital asset storage to community management, eCommerce and events run through your marketing team. The CMS they require needs to be able to connect all of these pieces so that everything runs smoothly.
MarTech stack integration: The likelihood that your CMS will be able to replace everything that your marketing team needs to function is low. In today's digital environment, organizations that favor a best-of-breed approach are the ones that win. Your hybrid headless CMS solution needs to be able to integrate any necessary components and software pieces to keep your marketing team in contention.
User-friendliness: Finally, and perhaps most importantly for the marketing team is the user-friendly interface. Where pure headless solutions fell flat was in the lack of marketer-friendly tools for creating, editing and publishing content. A hybrid headless CMS should have these features by default, but you will need to check in with your CMO to understand better the specifics of what they need.
2. Technology strategy: Go hybrid, not headless
A digital transformation strategy without speed and agility is a poor strategy for a 2020-and-beyond world. That's why a hybrid headless CMS beats a pure headless CMS nine times out of ten.
When the headless CMS first came on the scene, it was a developer-first tool that required lots of technical support. Marketers needed to rely on IT departments to get the most out of the system and for those platforms that remain pure headless, that remains the case.
If you take your chances with a CMS that started as a pure headless solution, you're taking a gamble on a vendor that once chose to prioritize development over marketing, and is only just now catching up with the needs of the market.
A headless CMS makes use of various APIs to connect the backend content repository to multiple frontend channels and deliver content. But in a CMS that was built with developers in mind, the interface will likely be clunky to deal with for marketers.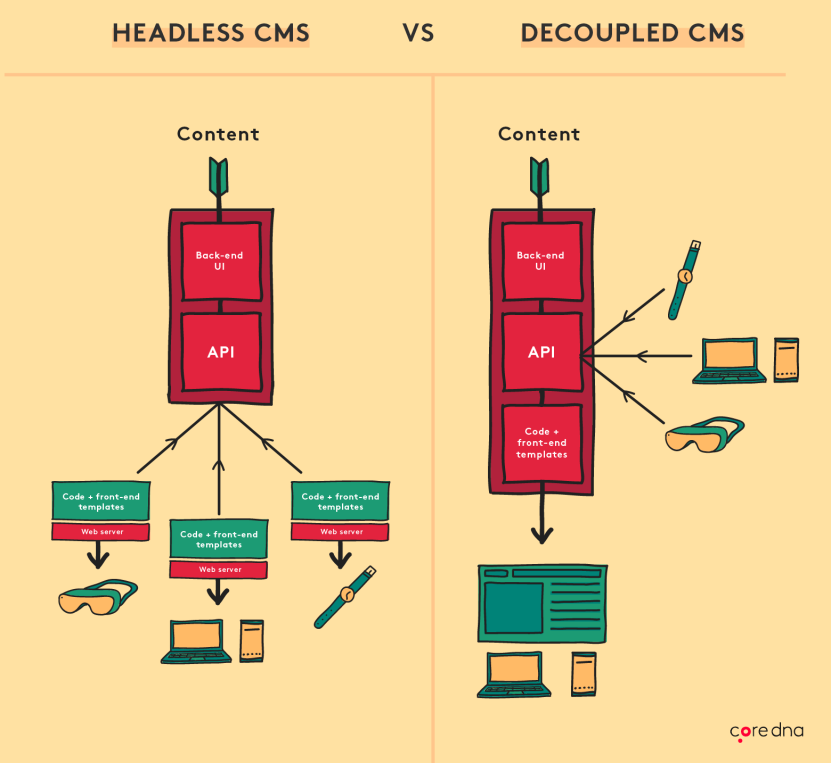 Marketers value speed and the ability to create content without limitations or anything slowing them down. A CMS that was built as a pure headless platform may eventually offer marketer-friendly tools, but if it was built for developers first then it may still cause them a headache to work with.
3. Customer experience strategy: Ensure your marketers can integrate with their favorite tools
While a digital experience platform has capabilities that extend beyond simple content management, that doesn't mean everything is going to be included out-the-box.
Marketers need the ability to collect data from multiple digital touchpoints and then use that data to help create better experiences. Not to mention, other additions can make workflows faster with the help of integrations.
Every headless CMS has APIs, so the ability to integrate with other tools isn't the problem. The CMS vendor you choose however should have actual working integrations with the tools you already know and love, tools like Slack, Salesforce, and Hubspot.
Tools and integrations such as this are an excellent way for your team to speed up content marketing efforts so it's perfect if your CMS provider can meet you halfway.
At the very least, having ready-made integrations for email and analytics, as well as a CRM and eCommerce tools like Salesforce and ShipStation are what your marketers are going to need.
Fun fact:
Our Hooks engine, you can literally integrate Core dna with ANY business system (e.g. ERP, CRM,
shipping
, etc.) as long as they have an API.
4. Implementation strategy: Take your marketers along for the test drive (and beyond)
Gathering a checklist from your CMO with details about the right tool to meet digital transformation needs is a great place to start in your search for the best CMS solution.
But while a tool may check all the boxes, you're never going to be entirely sure until you take it for a test drive.
When it comes down to having your product demo with your prospective vendor, make sure your marketing stakeholders are present and look for:
Do they like the look of the UI/UX?
Is the WYSIWYG editor up to scratch?
Is there content previews, drag-and-drop page layout editing and more?
These are just some of the features that your marketing team will need if they are to meet your content needs, so ensuring that your prospective vendor has them is crucial.
Prioritize the marketing team, but don't neglect the departments and partners handling front-end design, UI/UX, and of course, your CTO and his or her team of developers.
Watch video demo
Going customer-first means going marketer-first
Making your DXP marketer-first is important if you want to get the most out of your content, but at the same time you can't forget the needs of your developers if you want to have a successful digital transformation.
Core dna offers a platform with broad functionality that's equipped for both marketers and developers and can scale along with your business. You can combine all of your web properties into an easy-to-manage DXP.
Your marketers will have the capability to craft content with ease since it was built with them in mind. They will also have the tools necessary to engage with your customers, learn from them and create the personalized experiences they desire.
Successful execution of your digital transformation strategy requires effective leadership and the empowerment of your people with the right tools. Start on your digital transformation roadmap with a hybrid headless solution that is meant for the content creators that power it.
Ready to get deeper into the mechanics behind choosing the best digital experience platform to support a marketer-first digital transformation? Read our ultimate guide to choosing the best CMS in 2020.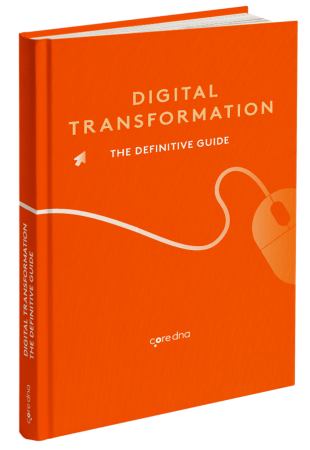 Digital transformation: The definitive guide
Everything you need to know about digital transformation, PLUS a bonus digital transformation sheet that we use internally to track chart vs effort tasks.