The Frugal Guide to Content Marketing (Part 2): How To 'Frame' Your Content For Maximum Traffic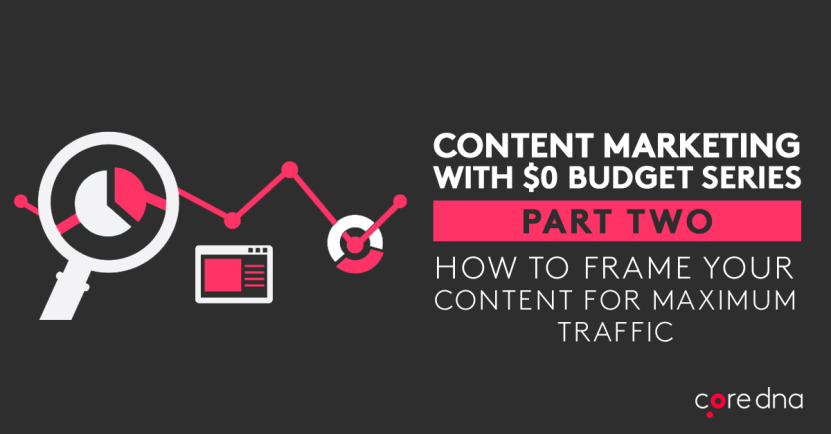 In the first part of our Frugal Guide to Content Marketing, we outlined the best ways for you to source content topics; without spending a dime on customer research.
In this next installment, we're going to spell out how to create content that achieves your desired business outcomes, rather than just sitting in a corner of your blog looking pretty.
The holy grail of content marketing is developing a piece of content that grows wings, takes flight and "goes viral". This is not easy, but there is some science to developing content that will be shared and will drive activity back to your website.
But you have budget and time constraints right?
Read on for 5 content development frameworks you can create in little time, zero budget and are proven to drive traffic.
In a hurry, here are all the content types that you need to try: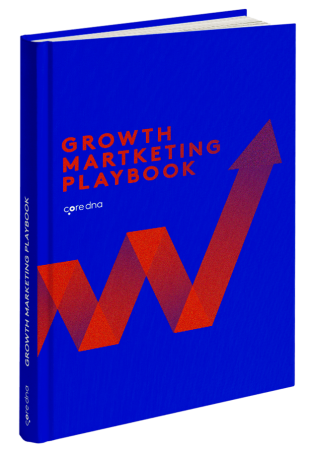 The ultimate growth marketing playbook
The exact 41 strategies we used to grow from 4-figure to 6-figure traffic in one year.
[Content type #1] Curation - Be the BuzzFeed of...
Let's be real, creating original content is HARD. It takes time and can get expensive.
So why do it all yourself? Clever, insightful curation of other people's content can add plenty of value for your audience.
There is an art and skill to 'borrowing' the work of others and by filtering and organizing information relevant to your audience, you are delivering a useful service.
Even if you are generating a lot of your own original content, sharing the work of others (ie. curation) is a handy technique for building community and letting your readers know that it's not all about you, all the time.
Mike Kaput says it best: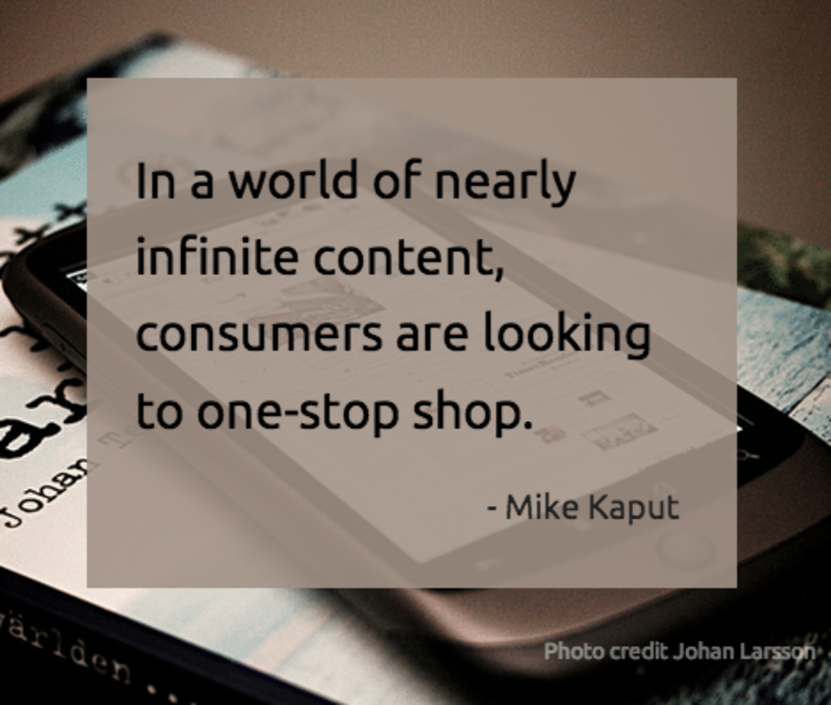 Content curation is so essential that 68% of content marketers rely on curated content as part of their content marketing strategy.
BuzzFeed, founded in 2006 by former members of the Huffington Post editorial team and board has become the king of content curation. In July 2016 Quantcast reported over 472m global visits. The media giant has 3 different curation teams, focused on the News, "Buzz" and Life categories, each with 5-8 members.
But they are not alone in focusing on content curation. Here are a couple of other publishers worth checking out who are betting the farm on curation:
1. Greatist: a fitness, health, and happiness startup.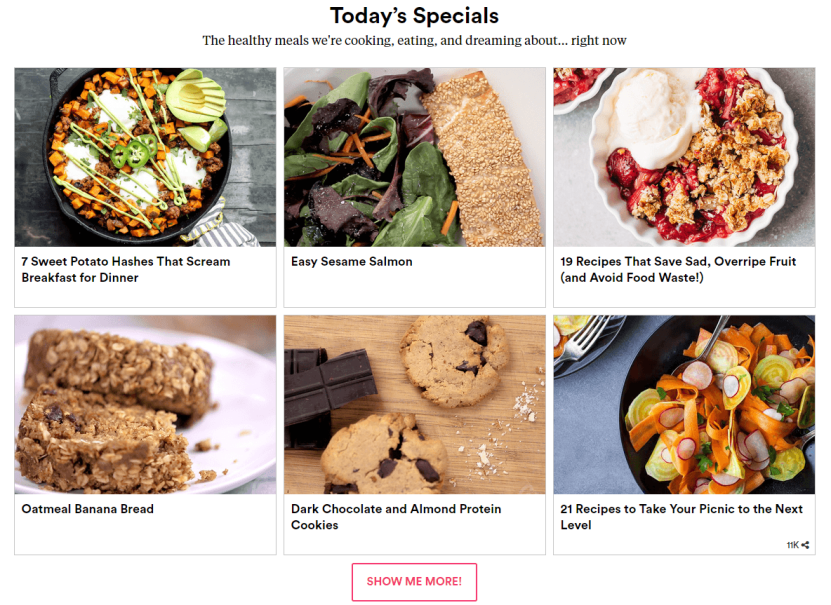 These guys are now averaging around 10 million unique monthly visitors. Here's the awesome part - 50% of that traffic is coming from organic search. Social networks contribute less than 25% of total traffic, which means if you can get your basic SEO and keyword research right, you'll rank for a lot of keywords.
2. Tip Hero
If you've been on Facebook lately, we're sure you've seen Tip Hero videos and articles popping up on your newsfeed. They are absolutely dominating Facebook. They have a whopping 12 million fans on Facebook and in January 2016 their website saw over 10 million visits.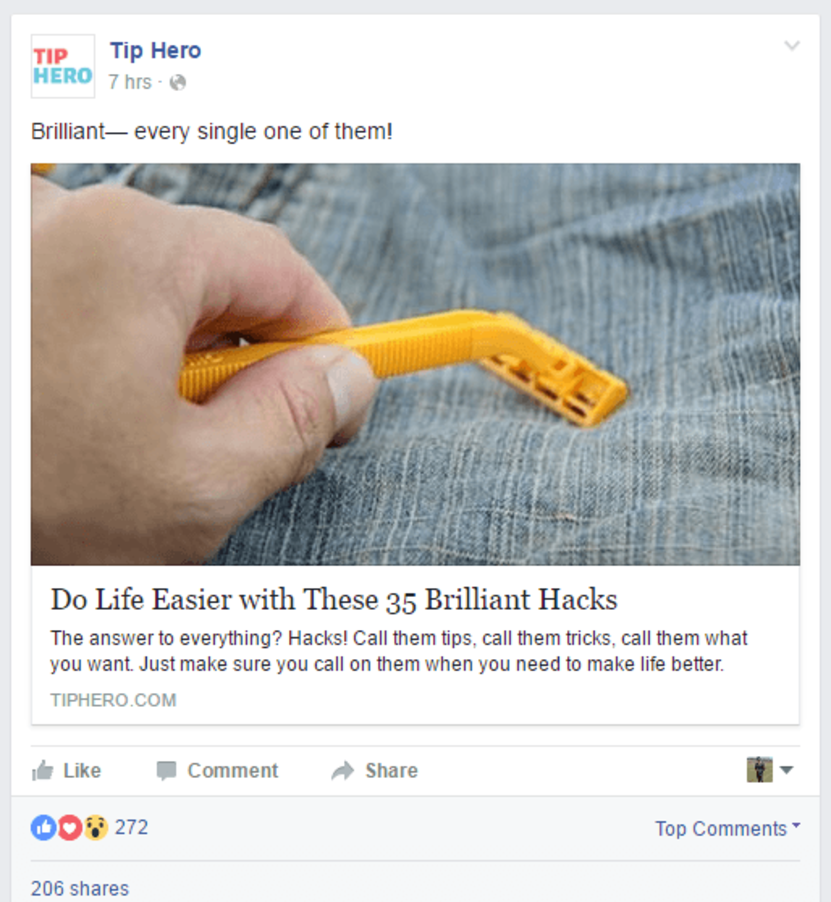 Further resources to assist in your content curation efforts:
[Content type #2] Indulge their eyes with visuals – Infographics or Gifographics
Humans are visually stimulated beings. We process visual data better than any other type of information.
The fact is, we process images 60,000 times faster than text, and 90% of the information transmitted to the brain is visual.
To take this further, NeoMam Studios studied why people crave infographics so much.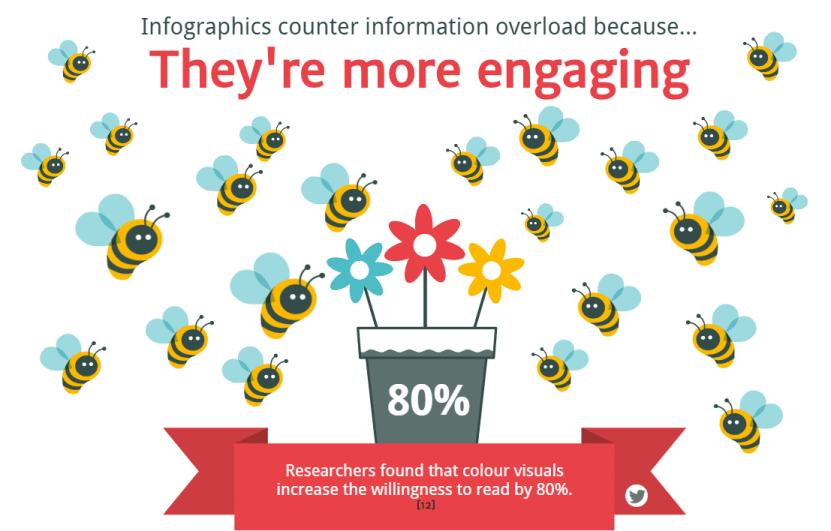 Here are some great examples:
1. Here Pup
Here Pup (previously Chewie Says) is a dog news sites. They post news about and for dogs, helpful tips and tricks, newsworthy events, etc. This infographic, Can My Dog Eat That, got more than 11k social shares, 33 backlinks from 13 referring domains, and a mention from BuzzFeed!

2. FCE Pest Control
You can't get much more mundane subject matter than pest control. Mike Bonadio, who runs an SEO agency in NYC, was the agency for Organic Pest Control NYC. This infographic, DIY Organic Garden Pest Control, got more than 2.7k social shares, 108 backlinks, and a mention on LifeHacker.

Here are some free tools you can use to create infographics:
Further resources to creating infographics:
[Content type #3] Multiply your 'share triggers' with quizzes
8/10 of the most shared articles in 2014 were quizzes
The New York Times most viewed post in 2013 was a quiz.
1,900 is the average shares per quiz.
Bottom line - quizzes work.
There are 2 types of quizzes that you should create:
1. Graded quizzes
You've probably seen a few (or many) of these popping up on Facebook. These quizzes give participants a chance to show how knowledgeable they are on a particular subject.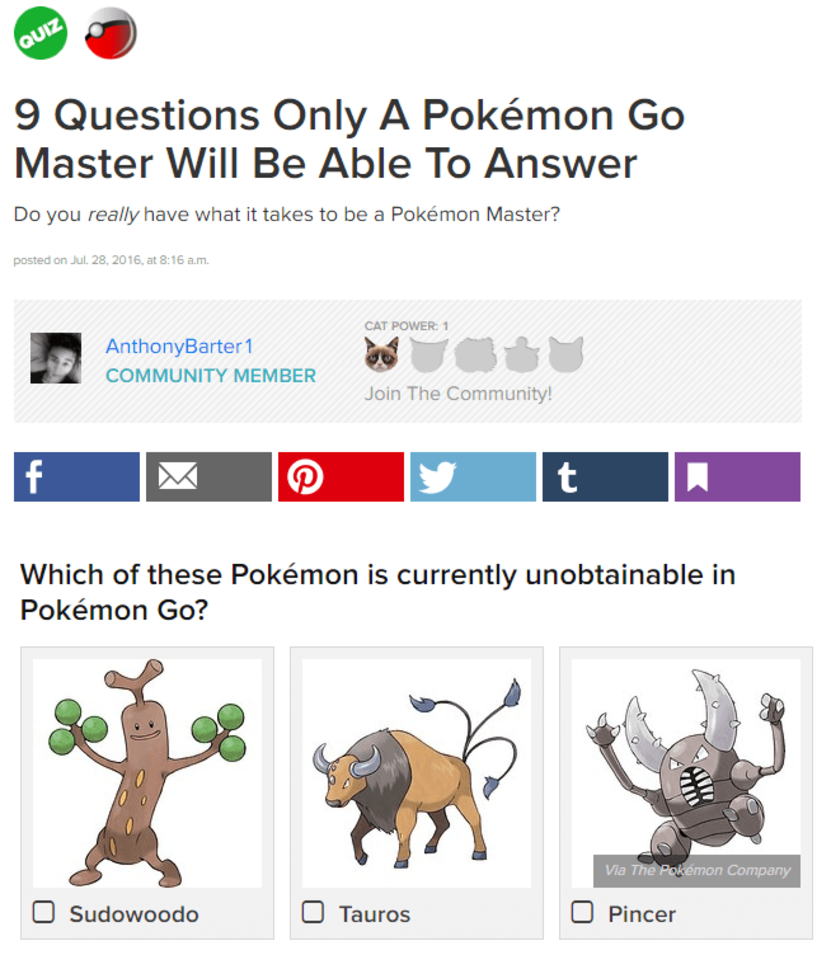 2. Outcome quizzes
You know the type - What career should you have, what kind of dog are you, what city should you actually live in. These quizzes give participants a form of validation and insights into their personality.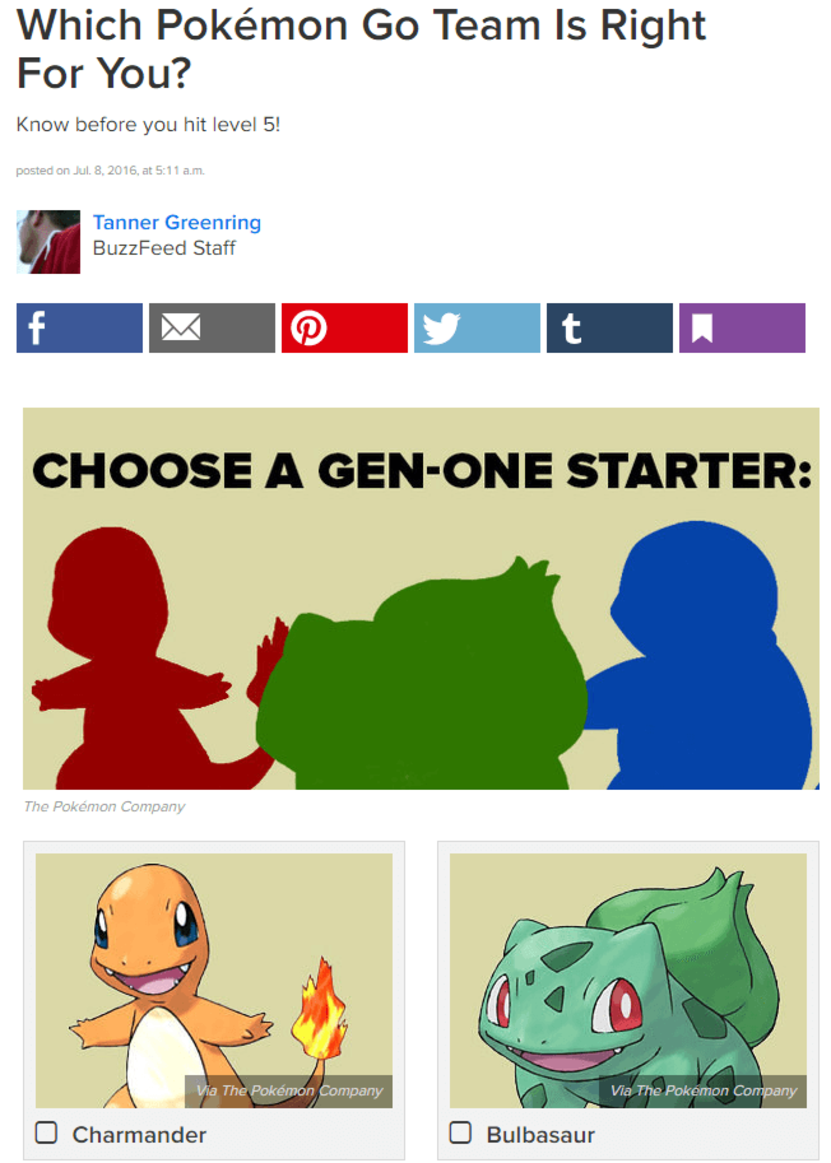 Here are some (free) online tools you can use to create quizzes:
Further resources to creating quizzes:
[Content type #4] User Generated Content (UGC)
This type of content, much of the heavy-lifting is done by someone else - your own customers.
Think about it, you're turning your own customers into your best marketers.
Social media has made it a breeze for businesses to crowdsource content.
People share almost any and everything on Facebook and Instagram, so it's not exactly hard to get their buy in.
Millennials are completely on board with User Generated Content. In fact, they expect to lean on it for most of their decision making. 44% of millennials won't make a major electronics purchase without the aid of UGC. 40% won't purchase a car without it.
Other studies actually show consumers trust user-generated content more than all other forms of media.
But, what happens if you don't have much
Examples of UGC done right:
1. Quest Nutrition
Quest is the maker of the popular protein bar, Quest Protein Bars. Their Instagram is populated with content from their own customers. They continuously feature customers' snaps on their Instagram feed.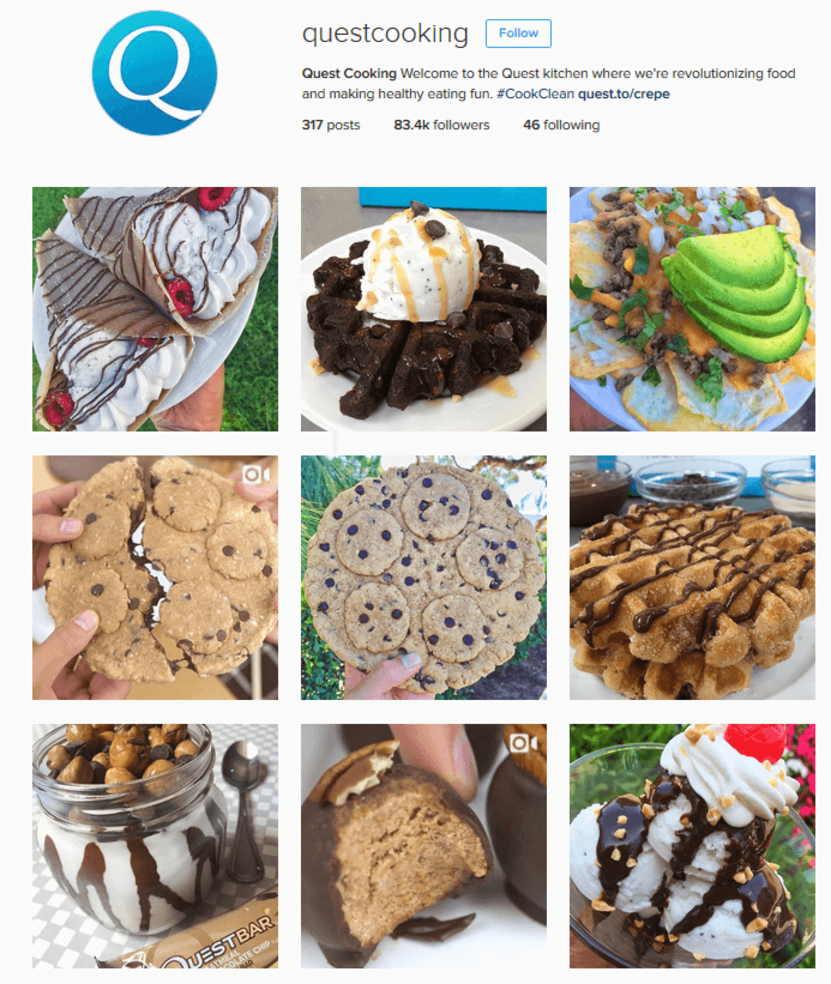 2. Clarks
Clarks is a popular footwear eCommerce company in Europe. They created a contest and got together with 8 bloggers (HINT: Influencer marketing strategy) from Central Europe to reveal how they wear their Clarks collection. People can submit their content by using the hashtag #shoesie and #clarks to Pinterest, Twitter, and Facebook.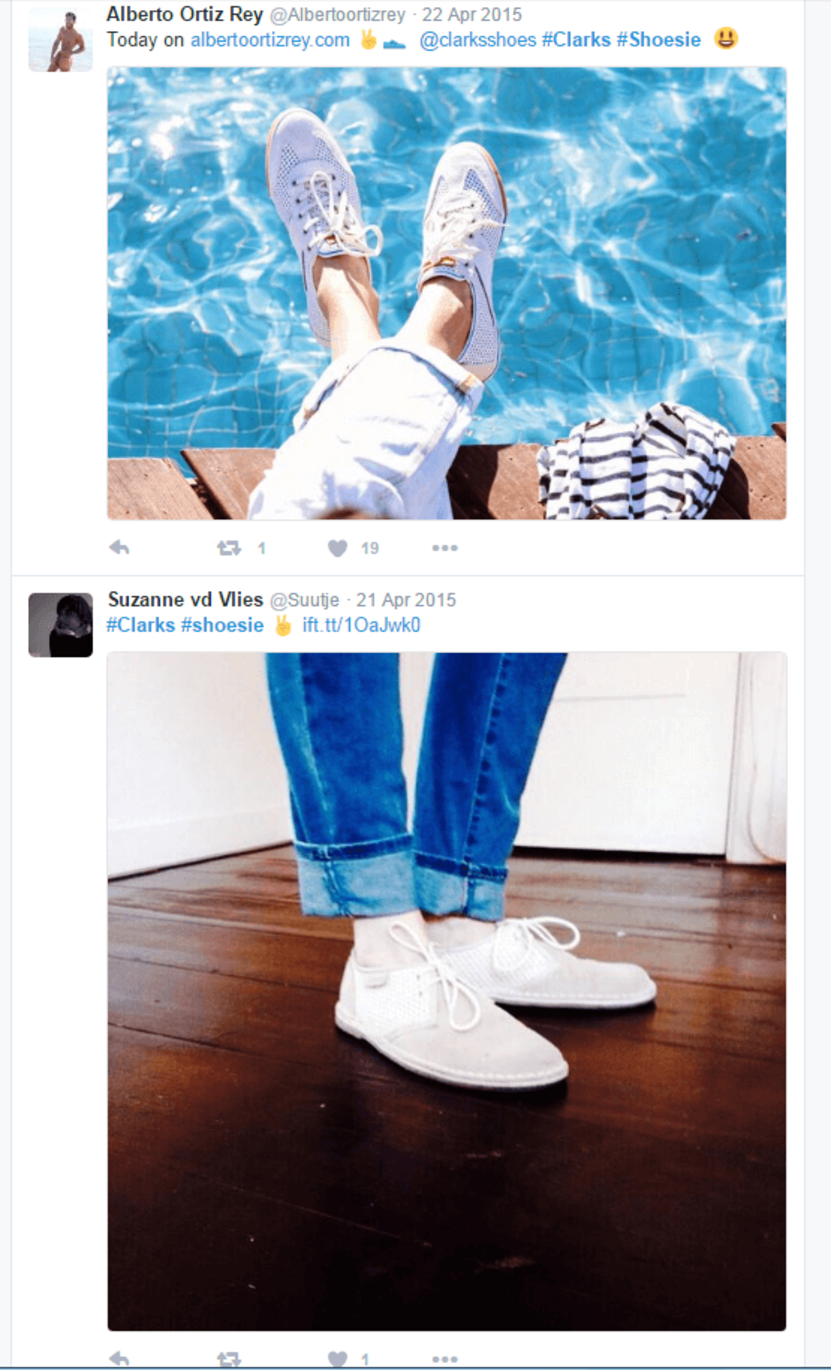 Further resources to support your research into getting UGC happening for your brand.
[Content type #5] Repurpose your content into SlideShare
SlideShare is often referred to as "The Quiet Giant of Content Marketing".
If you're in B2B industry, then you're in for a treat. It takes the crusty old PowerPoint presentation and breathes new value into it.
SlideShare is an absolute goldmine when it comes to generating leads, traffic, and building SEO authority.
And here's the best part, you don't have to create new content. Simply repurpose your old content and publish it to SlideShare.
Examples of great SlideShare content:
1. Buffer
41,000 views for 10 minutes of work. Kevan Lee of Buffer created a slide deck for a blog post that is yet to go live, and the best thing is, he didn't do any promotion! That slide is now looking at 370,000 views and counting.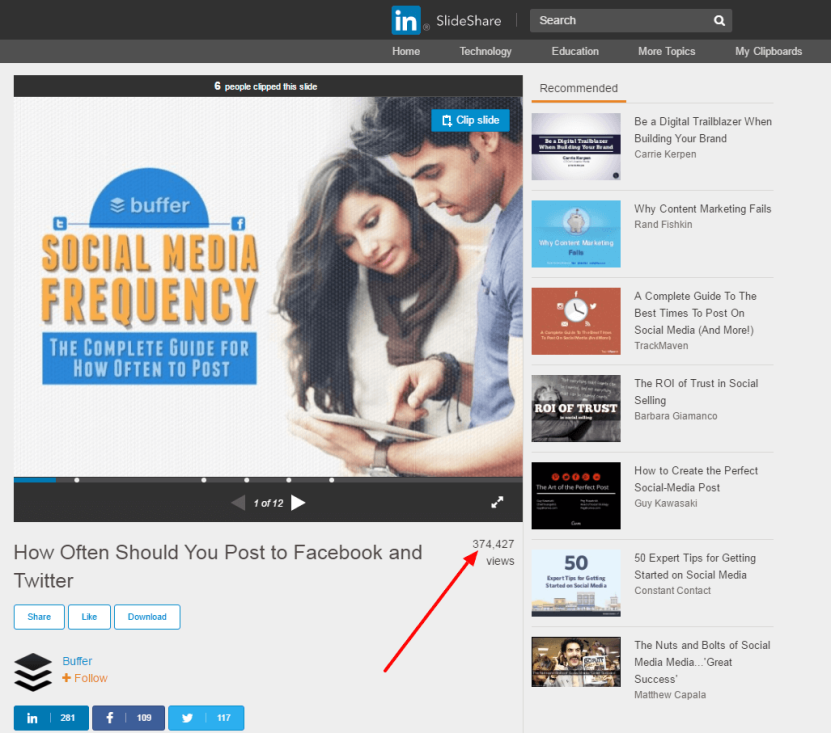 2. Traffic Generation Cafe
Ana Hoffman of Traffic Generation Cafe published 9 presentations on SlideShare, and here are the numbers that go with it - over 200,000 views, several first-page rankings, 1,400 clicks to the website and her Facebook fan page, 400+ new Facebook fans, second largest referral traffic source. All of that in 30 days.
Further resources for checking out Slideshare for your content marketing.
Watch video demo
Conclusion
Now you should be clear on some great opportunities to curate and create content that people want to share, all without spending budget. Do you have any other methods that we left out? Share your expertise with our readers. We'd love to hear from you.
Next week, we're going to delve into the final part of this series and show you how to promote your content with literally ZERO dollars.