Content and Commerce: Exploring The Secrets of High-Growth eCommerce Brands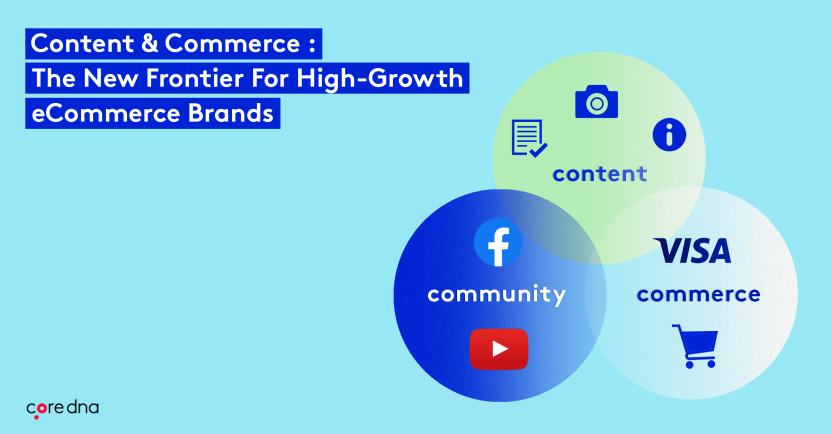 Content has the power to educate, entertain, inform and much more. No matter the form that content takes, whether a blog post, ebook, podcast, video, webinar or something else, it can have a tremendous impact on the consumer.
This is precisely why, content marketing — the process of creating and sharing valuable content to attract an audience — has continued to grow in popularity and effectiveness, with 70% of marketers investing in it.
In this article, we'll dive into what is content and commerce and explain how you can use the combination to your advantage.
Want to learn more about content and commerce? Here's what you'll learn:
What is content and commerce?
Content and commerce is the publication and promotion of helpful or valuable content as a conversion-driving strategy. It is synonymous with other terms such as content-led commerce or good old eCommerce content marketing.
While digital marketing only rose to prominence after companies discovered the power of the internet, content and commerce has been linked for quite some time.
Michelin Star is a term thrown around in the restaurant industry to signify the quality of the experience at a restaurant. Still, it originated as a marketing strategy from the Michelin Tire company.
In the year 1899, when the Michelin brothers sought out a way to sell more tires for their company, they launched the Michelin Guide, which included ratings for hotels and restaurants.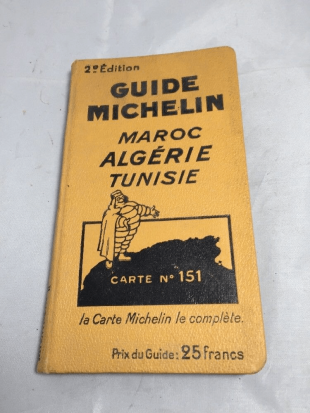 They hoped that it would entice the few car owners at the time to travel longer distances, and put more wear and tear on their tires, thus requiring them to buy new ones. While the goal was to get more customers to buy their product, the publication they created became a prime example of what we consider content marketing today.
The wittingly-written newspaper ads of the past have also been digitized. But, customers don't want to be sold to in the same way that they were before. Instead, they want to be given relevant information that can be useful to them now and then encourage them to purchase when they're ready.
For instance, a brand selling hiking equipment may publish an article on North America's top 10 trails to hike in 2021. Such content is both relevant and helpful to the brand's target market and serves as a way for the brand to show thought leadership and industry expertise while reminding readers that they sell hiking equipment.
Avoiding silos: Why content and commerce must co-exist
Content and commerce may sound like separate terms, but they are a lethal combination and should co-exist.
Combining content and commerce into one platform and preventing them from being siloed makes it easier for you to deliver results by viewing products and media content in one location.
Use a headless CMS to help create this cohabitation and connect your inventory management and other eCommerce tools to your CMS platform where you can manage the information contained on your product pages and the content published to other channels.
Why content is vital for modern commerce experiences
The modern commerce experience embodies the concept of the customer is always right.
Customers of today prefer to do their research before purchasing from a brand. The reason being that they are constantly bombarded with advertisements at every turn, from television to social media platforms. Instead of letting brands dictate what they should buy, customers are in a much better position to do so themselves.
Customer shopping behavior has also evolved. Rather than be sold to, people prefer to build a connection with the brands that they love. Consequently, brands are no longer competing based on price, but instead on the relationships they have with their customers.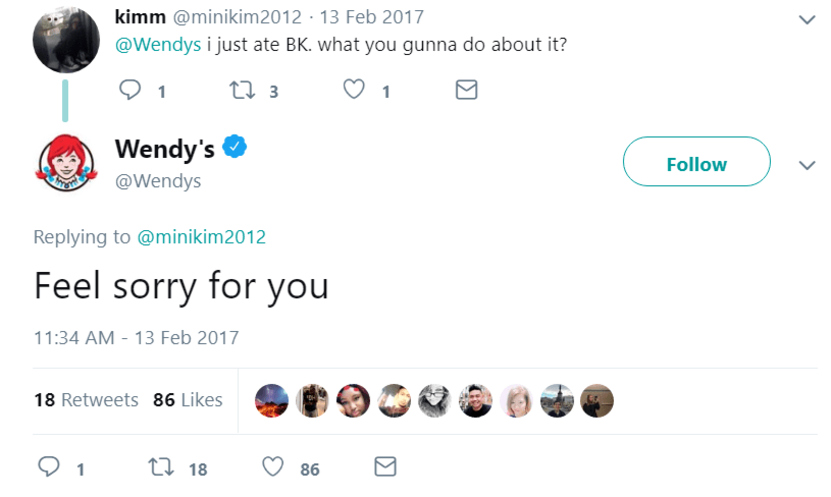 Brands that respond to their customers' questions and engage with them on social media, for instance, have soared in popularity in recent years.
Ultimately, the brands that provide their customers with the best content experience will win in the end. So how can you make sure that your brand is left standing?
How to combine content and commerce
Content is one of the critical drivers of eCommerce spending with companies that utilize content marketing, enjoying an almost 6x increase in conversions when compared to those that don't. Here are some ways that your brand can get the most out of content and commerce.
1. Content minimalism
While longer, more detailed content is useful for informing buyers, ranking on Google, and demonstrating product features, there is another school of thought (particularly in the luxury eCommerce scene); less content is more.
By keeping the content on your product page short and simple, you may increase the perceived value of your product. ConversionXL research indicates that white space creates a higher perceived value - in this case, price - of the product in the user's mind.
For example, Rent the Runway by keeping their content short and their images background-less, have created white space on the page, providing that "less is more" feel.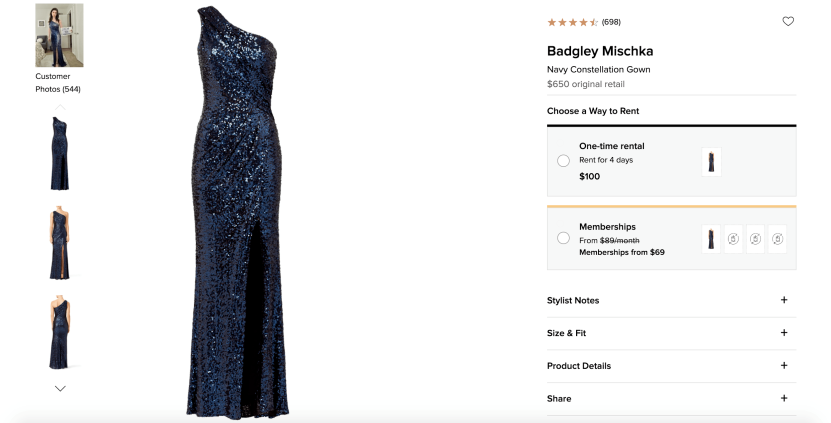 Actionable takeaway
Try reducing the amount of excess content on your product pages and only focus on the key elements that provide value to the visitor. With a few tweaks of the design, other details can be placed in a drop-down menu on the side for easy access.
2. Educational or inspirational content
Informational or inspirational content can come in many forms. For many, it can be long-form content like instructional or how-to guides, down to short pamphlets, checklists, and FAQ pages. These guides can help brands establish themselves as the go-to experts within a particular industry.
By publishing content around your product or industry, you become a source of knowledge and insight for those interested in the space, thus building trust and giving you as the content producer a chance to gather customer data, like emails and phone numbers, in exchange for the helpful content.
One example of a company providing valuable educational content is Beardbrand. Beginning in 2012 with a YouTube channel to debunk the negative stereotypes surrounding beards at the time, Beardbrand has since grown to 1.63M subscribers with hair and beard care tips and styling tutorials.
The wealth of information on its YouTube channel has spurred growth on its website, where the company sells a variety of grooming kits and beard-related products.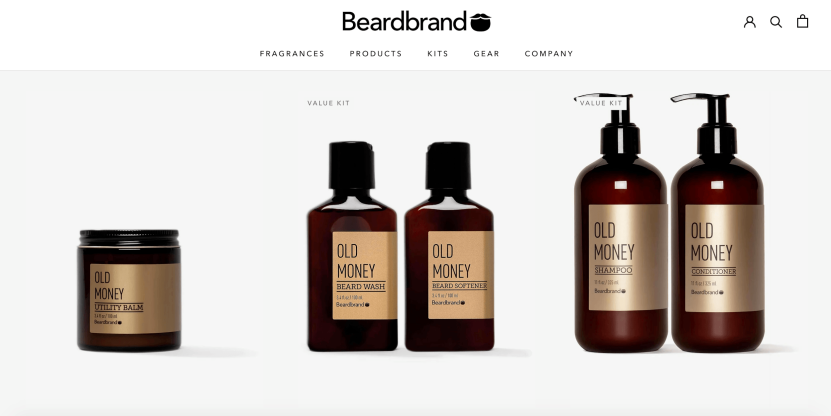 Actionable takeaway
Pick a channel and start producing educational content in whichever form works best for your brand. Build the trust of your visitors and show them how your products can help them.
3. Hyper-personalized experiences
Experiences aren't the same for every person, and people don't always make purchases for the same reasons as everyone else, that's why brands need to personalize their experiences.
When most brands think of personalization, a standard and easy method is to personalize email marketing. But that's expected nowadays, the next step is hyper-personalization, personalizing offers and messaging based on past purchase, geo-location, and other factors.
One way to aid with personalization efforts is through the use of a headless CMS. Using headless commerce, brands can pull customer data and product information from a variety of third-party tools, enhancing personalized experiences in a way that traditional CMSs can't.
Let's take the master's of personalization, Amazon as an example. They pull data from various touchpoints to build personas and serve each persona with different messaging and products.
The use of multiple touchpoints is vital as it allows them to paint a clear picture of what their customers are after, no matter if they visit them from a desktop, mobile, tablet or using Amazon Echo.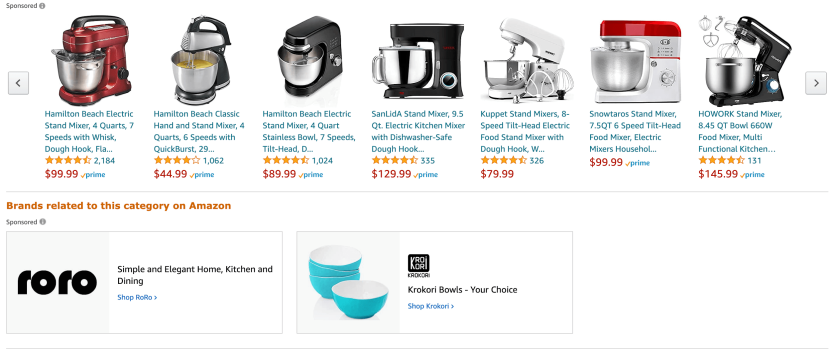 Actionable takeaway
Start personalizing your website experiences based on their behaviour on top of demographic. Gather data from your digital experience platform to give your motivation-based personalization more context.
4. Content-rich product pages
Your product page is the information warehouse for your products. How well you fill it with valuable information can make the difference between visitors leaving your website or converting into buyers.
Using content to make your product page(s) stand out is an excellent way to differentiate yourself and your products for the competition.
This differentiation could come in the form of long, detailed descriptions and stories about the product, unboxing/demonstration videos of the product, or short case studies housed on the product page itself.
Bellroy has an interactive widget on their landing page that demonstrates the thinness of their wallet compared to a traditional wallet.
Secondly, their product pages contain more than just a picture of the product with a few flashy shots. A video of the product page, images with a product model, detailed product descriptions and yet more images demonstrating just how much can be fit into the wallet.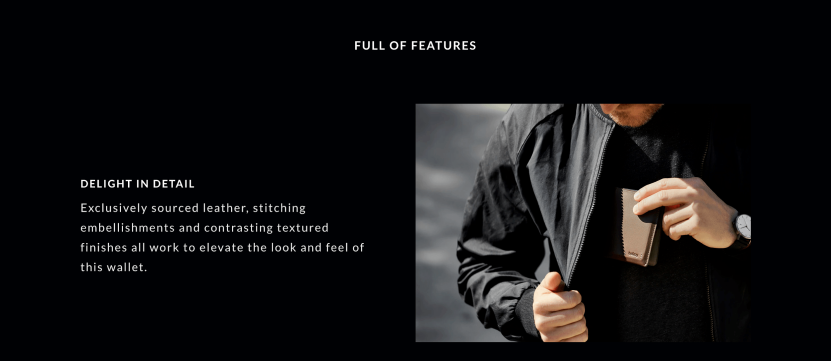 Actionable takeaway
Don't limit your product pages to a picture and a few details about size or fit. Take the page as an opportunity to showcase the capabilities of your product and highlight the specific areas that make each product standpoint with richer descriptions and details.
5. Case studies and testimonials that tell a story
Testimonials, particularly in-depth case studies that go beyond surface-level quotes of praise help potential customers understand how a product or service helps the end-user. It also gives your brand a chance to tell a story about a valued customer and a product or service that demonstrably works.
Case studies and testimonials don't just tell a story; they also offer social proof. Most consumers use the opinions of their peers and others to determine the quality of a product.
If 9 out of 10 people swear by a product, then chances are it's going to be a good one. A study from Harvard indicated that for every one-star increase in a Yelp rating, there is a 5-9% increase in revenue.
ChowNow, an online ordering system for restaurants, leverages the power of storytelling on their testimonials page. While they have short quotes that praise the work they did, these quotes are accompanied by video testimonials and longer case studies that truly highlight the value they're able to deliver for their customers.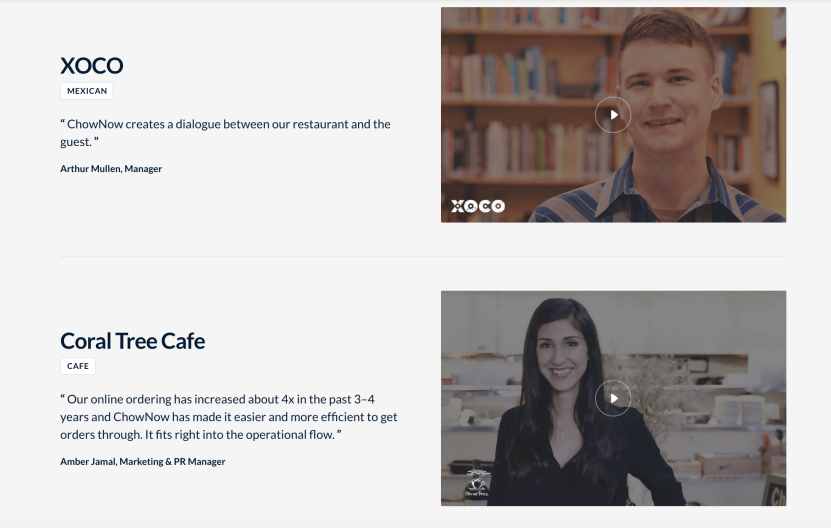 Actionable takeaway
Follow up with your happy customers and invite them to help you create more in-depth testimonials in the form of video or case studies. Their unique insights to those specific use cases can make the difference between a potential customer choosing you or a competitor.
6. Online catalogs
If your brand has a long list of products, excellent web design can help, but an online catalog could make all the difference.
An online catalog enables eCommerce brands to do far more than showcase products (after all, you have a website for that). A catalog can be used to enhance the customer experience, particularly when it comes to the research phase of their buying journey. 94% of B2B shoppers do online research at some point in their buying process, and what better place for them to start than with your company's catalog.
BoConcept, a Danish furniture retailer, features an interactive online catalog, showcasing its products in style. Their magazine-style content page gives the look and feel of a classic catalog, yet still allows them to showcase their products uniquely compared to other retailers.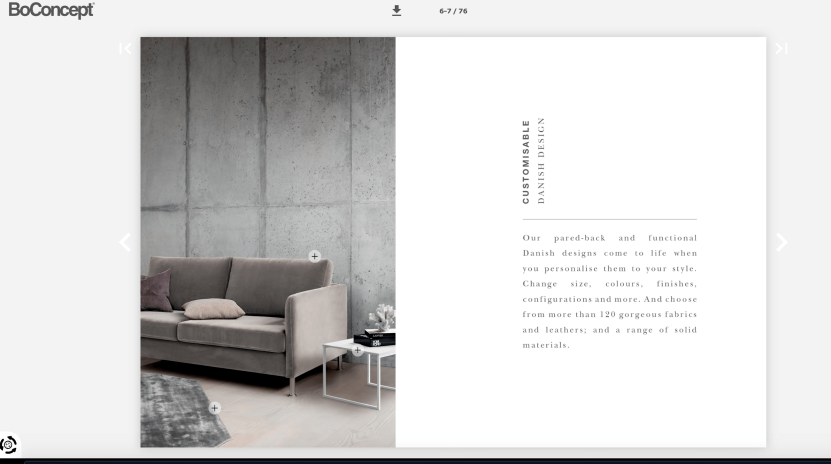 Actionable takeaway
Turn your product database into an online catalog that allows customers to see everything you have to offer and properly compare products to find what they are looking for.
7. Terminology glossaries for industry-related keywords
Selling in a detailed, historic, or a rather complex niche? Then there's likely a long list of terminologies that shoppers need help understanding. By creating an extensive glossary listing all the relevant words and phrases related to your industry, your brand can become a source of insider knowledge.
Asian online fashion company Zalora does just that with their extensive glossary of fashion terms. Their A-Z listing of descriptions of everything fashion-related provides detailed descriptions of terms such as 'Bertha Collar' and 'Kilt'.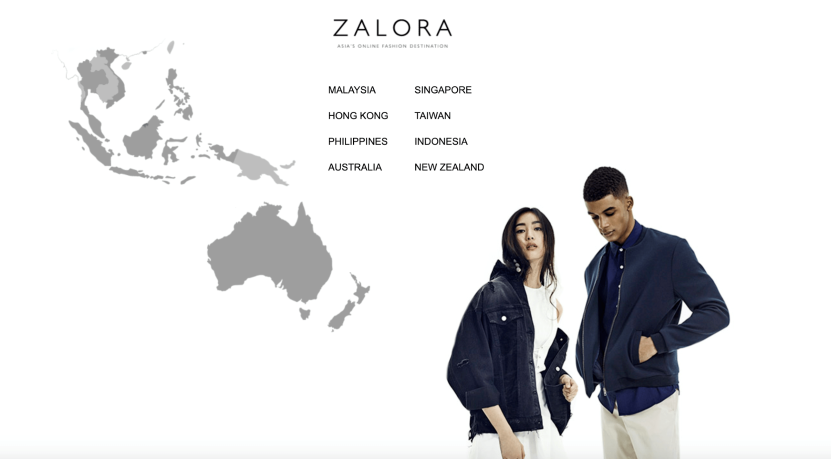 Simultaneously, you can go a step further and use your products to give the reader real-life examples of each term where possible.
Actionable takeaway
Use glossaries as another opportunity to become an educational resource for your customers by answering questions or giving them information they can't find elsewhere.
8. Quizzes that move users down the funnel
eCommerce quizzes are a quirky yet surprisingly engaging form of content marketing. BuzzSumo data shows that on average, a quiz gets shared 1,900 times.
That's just an average quiz. Some of the top-performing quizzes that BuzzSumo tracked were shared nearly 4 million times. Meanwhile, a quick look at Buzzfeed's most-read articles in March 2017 reveals something interesting; The top four most-read articles were all quizzes.
Quizzes are relatively quick and easy to build and are excellent if you're also looking to expand your reach on social media platforms like Facebook, Twitter, or LinkedIn.
Airbnb Trip Matcher provides an interactive quiz to determine your next destination. With questions like what your airport dress-code is to the movies, you might choose on a flight they provide some details about what might work best for you.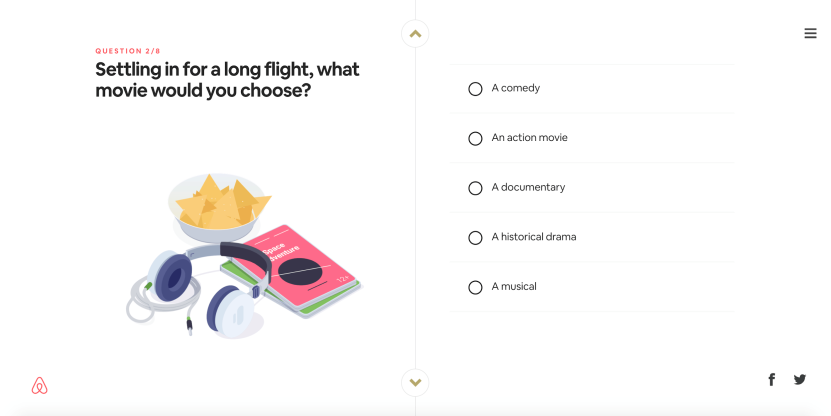 Actionable takeaway
Set up quizzes to conduct research and use the data collected to come up with even more content ideas to keep your audience interested.
9. Build a relationship with influencers and customers via podcast
Content doesn't have to be in the form of the written word or even video. With a podcast, a retail brand can literally tell stories, interview influencers, describe experiences, and connect with buyers in a way that's still relatively fresh in the eCommerce space.
The goal of content in the eCommerce world is to build relationships, and nothing does that quite like a podcast. Many listeners are happy to tune into their favorite podcasts during down-time or as an interesting distraction from menial tasks.
Podcasts interviews, in particular, can provide hidden details from expert sources which many listeners wouldn't have had access to otherwise.
Luxury department store Harrods may be known for its expensive assortment of shops, restaurants and more, but in its podcast, True Tales of Luxury they peel the layer back on what luxury stands for.
Renowned artists, surgeons and chefs have some of the guests on their podcast and provide a new way of entertainment that eCommerce brands can learn something from.

Actionable takeaway
Reach out to influencers and thought leaders who are popular in your industry and invite them to join you on your next podcast. Their insights can be invaluable for your audience and their audience could become interested in your products as well.
10. VIP-only video content
Roughly one-third of customers prefer to learn about a product by watching a video. It saves time, allowing them to digest information quickly and lets them be sure that their product will look the same when it is delivered to them since they can view it from multiple angles. But video content doesn't have to be limited to product descriptions and unboxings.
Given the impact that influencers have on buyer decisions, interviews with brand ambassadors and VIP-only content can help move the needle in your brand's favor and provide an alternative type of content to list on your website.
Pura Vida's influencer and brand-ambassador content have been significant to their organic sales and a lesson on how to use macro and micro-influencers together.
For a company that sells bracelets, their videos showcasing people camping, sailing, travelling and doing other activities turns an otherwise mundane product into an exclusive community.

Actionable takeaway
Create exclusive, behind-the-scenes content for your members and brand ambassadors.
Watch video demo
Start simple, and never stop publishing
The world of content marketing is vast. You could publish a blog post, a quiz, a video, a podcast, or perhaps all of the above. Taking a lesson from our own content marketing journey here at Core dna, the best advice we can give you is start simple, and stay consistent.
We'd also urge you to revisit our first suggestion, educational or inspirational content, which can come in the form of blogs and guides. Once you get comfortable publishing such content regularly, then, and only then, is the time to think bigger.
Content can be the primary driving force behind eCommerce activity, but that content should always be created to benefit the customer first of all.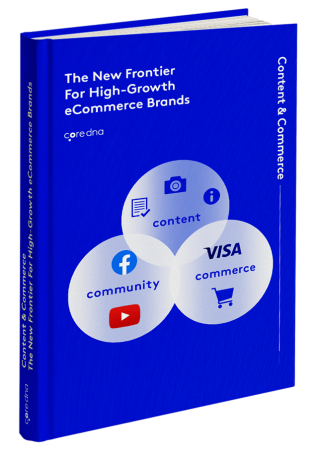 Download this content and commerce guide
What is content and commerce, why it's the new frontier, and actionable strategies to combine content and commerce, and more.