eCommerce Product Videos: 7 Ways to Use Video Content On Your Product Pages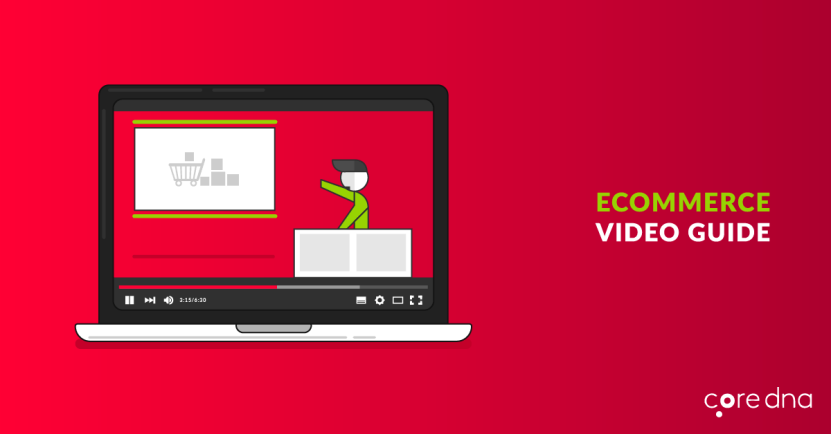 If a picture is worth a thousand words, how many words is a video worth?
Video content has become a powerful form of content marketing: more so than product specs, copywriting or even photos.
Videos give sellers a creative way of demonstrating their products, and also give buyers a look at the products in action. Videos also help products gain exposure, as search engines become tailored to video content and social media allows for easy sharing of product videos.
In a hurry? Here's what you'll find in this article: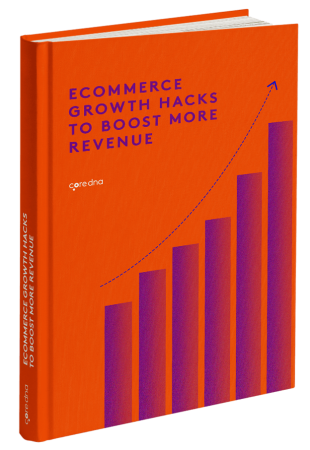 eCommerce growth hacks to boost more revenue (Plus 11 BONUS growth hacks for you to try in 2022)
It's time to start generating some real returns, with the following underrated - but tried and tested - eCommerce growth hacks.
Can product videos increase conversion rates?
The goal of any product website is to convert visitors into buyers. Videos have proven to be great tools at accomplishing that mission. According to the website analytics company Kissmetrics, website visitors who view a product video are up to 85% more likely on average to purchase that product. One online retailer reported an increase of 144% in the likelihood of their website's visitors to purchase their products after viewing videos on those products.
Does video content affect SEO?
In 2011, Google launched their "Panda" update. The new update not only expanded the world's most popular search engine's capabilities beyond simple text into allowing users to search for video content.
According to SearchMetrics, a search engine industry analytics company, a larger fraction of users are searching for video content over text or photos. The report also shows that users stay on pages that have video content for longer periods of time, and that pages with video content have a lower "bounce rate" (i.e. rates of visitors leaving the page immediately upon visiting it) than pages without video.
Video content and social media
Another powerful aspect of product videos comes from their compatibility with social media. Sellers can post their product videos on their social media sites, allowing customers to see the products for themselves before they consider their purchase. Buyers can also post the videos of the products they like and share them with their social networks, which expands the product's reach to a wider audience.
7 eCommerce product videos that will boost your conversions (plus best practices for each)
Here are some types of videos that eCommerce companies use to highlight their products:
[Product video #1] Unboxing videos
One of the most popular types of product videos is the "unboxing" video. These videos walk the buyer through every step of the process, from removing each component, to putting the pieces together, to displaying the finished product.
A 2014 Wall Street Journal article stated that Google displays more than 20 million search results for "unboxing", and that unboxing videos had more than 10.3 billion views up to that date.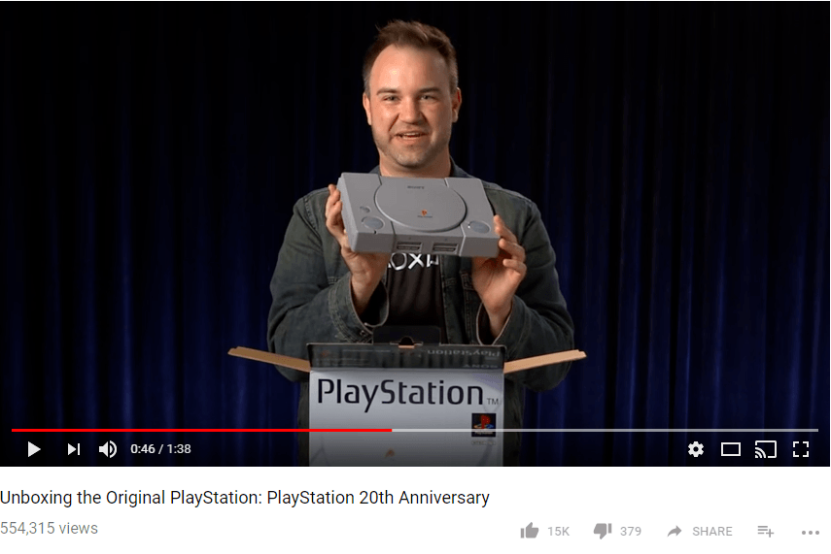 (PlayStation doing an unboxing video of the first original PlayStation to celebrate their 20th anniversary | Source)
Why unboxing video works:
Customers will discover exactly what comes in the box
Showcases the physical product and accessories
A chance to show some brand personality
Best practices for unboxing videos:
Show the packaging as the customer will receive it in the mail
Go through the unwrapping/opening process (relatively) slowly, build some suspense!
Describe and explain the purpose of each piece of the product as you unbox it.
[Product video #2] Product tour videos
A product tour offers an in-depth explanation of a product's features and benefits. For simple products, these short videos (5-10 minutes) can offer buyers useful details on how the product works.
For more complex products with numerous features, a series of short videos allow the prospective buyer the chance to pick and choose which features they want to see, rather than wading through a long presentation to get to the information they want.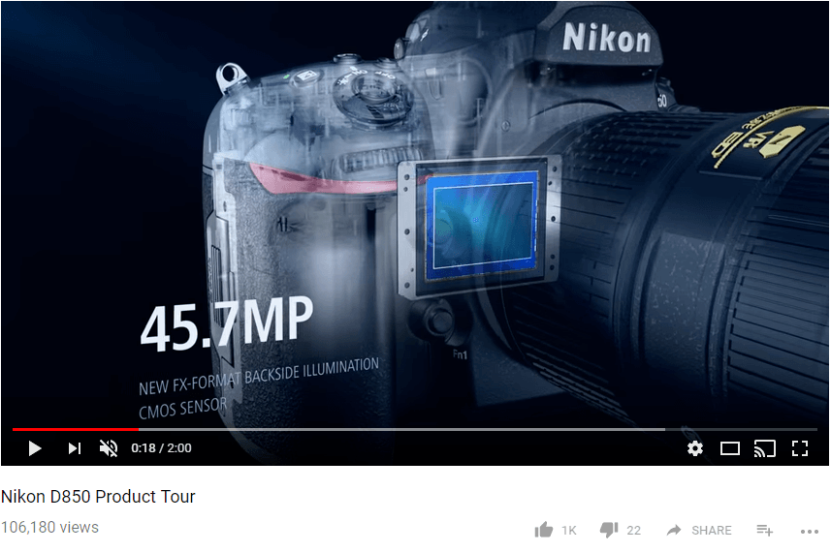 (Nikon doing a product tour video of Nikon D850 | Source)
Why product tour video works:
Shows and explains key features of the product
Long-form video for customers who need convincing
Low-cost way to record a product video
Best practices for product tour videos:
For simple products, explain the purpose, benefits and features of the product in one short video
For complex products, have an introductory video, then create more video content around specific features and uses
Show your product in action if possible

[Product video #3] "How to" videos
Product demonstration and "how to" videos can be highly effective at giving customers the knowledge they need to use the product, while also offering them peace of mind prior to the purchase.
These videos use the time-honored practice of storytelling: show, don't tell. Instead of creating videos that feature speakers touting the product's virtues, a how-to video allows the customers to see for themselves how effective the product can be, which makes their purchasing decision that much easier.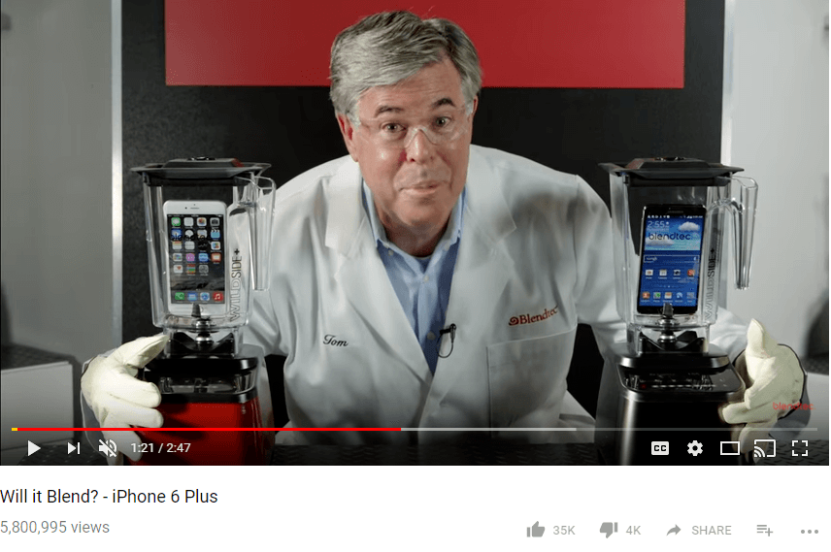 (Blendtec taking "show, don't tell" mantra to a whole new level with this "how-to" video | Source)
Why "how to" video works:
Showcases the product in context, showing exactly how it can be used in reality
'How-To' content is known for its popularity online
Could be made into a series, showing how the product can be used in different situations
Best practices for "how to" videos:
Segment the video into short steps, and make sure each step is easy to follow
Create a series of How-To videos if your product has multiple uses
Throw in some personality!
[Product video #4] "Lifehack" videos
"Lifehacks" are short tips or tricks that can save customers time, effort, or money. These videos may also teach customers about ways to use the product that may not have previously occurred to them.
The more useful the customers believe the product to be, the more likely they are to make a purchase. Lifehack videos are also popular on social networks, as one member of the network shares the video with their friends, and those friends pick up it and pass it on.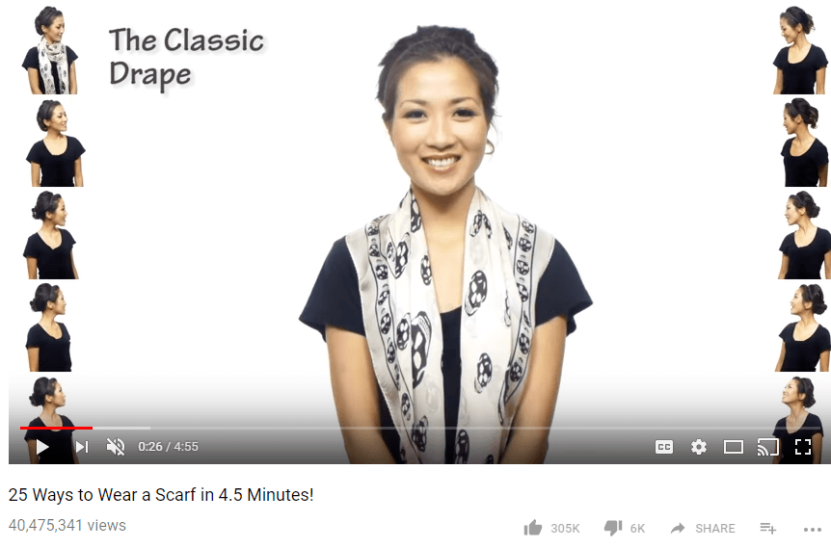 (If I had an eCommerce company selling scarves, this is the type of product video I'd make | Source)
Why "Lifehack" video works:
Shows how the product can save the customer time or money
Lifehack videos are typically short and are therefore more easily shared across social media
Could be made into a series, showing how the product can be used in different situations
Best practices for lifehack videos:
Talk briefly about the real-life scenario you're trying to "hack"
Throw in some comedy if possible
Segment the video into short steps, and make sure each step is easy to follow
[Product video #5] Production line videos
Videos that feature the process behind the product can also engage viewers. These videos give buyers a "sneak peek" into how the products are created, assembled, and packaged for shipping.
They can also show the quality of the workmanship, materials, and labor that go into making each product, which gives viewers an intimate look into how their favorite products are made and build a connection to the brand.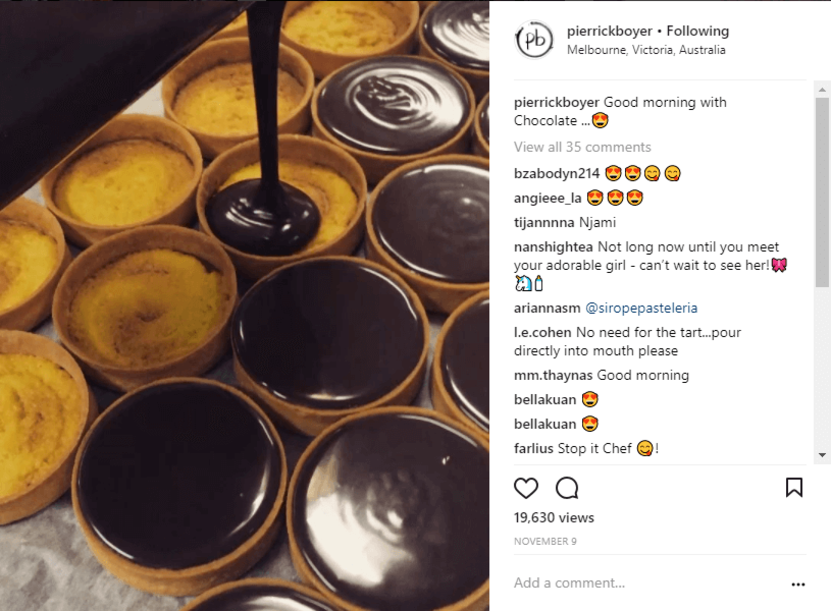 (A popular Melbourne-based pastry chef, Pierrick Boyer, likes to share the "behind-the-scene" videos of his pastry shop, Le Petit Gateau | Source)
Why production line video works:
Gives customers a 'sneak peek' behind the curtain
A chance to show off environmentally friendly materials or practices
A good opportunity to inject some brand personality
Best practices for production line videos:
Talk about the materials used to build your product
Show each part of your product being assembled, with raw footage of the production line
Throw in as many facts about your product's materials and production as possible, and why it all matters
[Product video #6] Customer testimonial videos
Testimonials from satisfied customers can be among the most effective ways to persuade prospective buyers. While written reviews and star-ratings are highly useful, videos featuring customer testimonials give the product a level of credibility and trust that viewers may not find in even the most well-written product review.
Testimonial videos also give prospective customers a human connection to the product when they see people like themselves using and enjoying the product.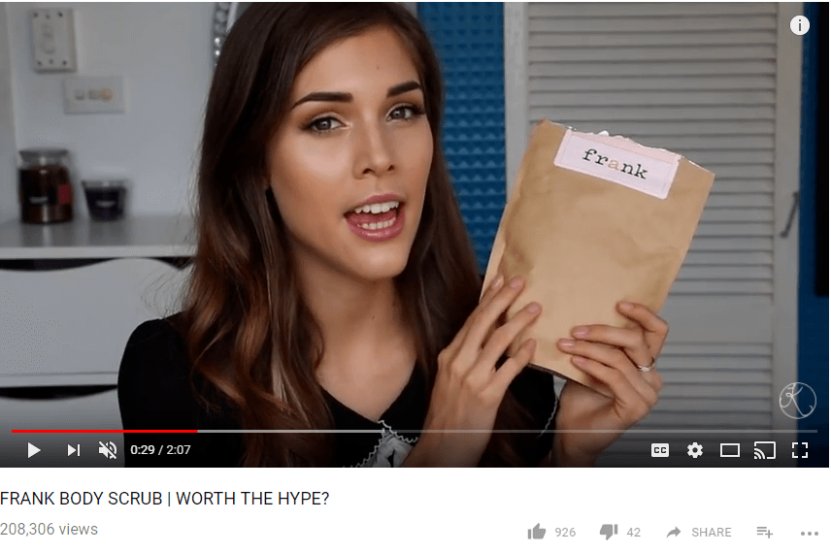 (Frank Body has a lot of these customer testimonial videos | Source)
Why customer testimonial video works:
Testimonials are proven conversion boosters
A good way to get your existing audiences re-engaged with the brand
Customers can give fresh perspectives on why the product is useful
Best practices for customer testimonial videos:
Only use real customer testimonials, faked videos almost always look like faked videos
Allow the customer to talk, don't prompt them unless necessary
Show the customer using the product
[Product video #7] Customer unboxing videos
In addition to the company's own unboxing clips, videos featuring customers doing their own unboxing can connect to prospects. Customer-filmed unboxing videos give prospects the experience of opening and handling the product for themselves, in an unfiltered and impartial setting.
A customer can show the excitement and anticipation of opening the product in their unboxing video, so the viewer can pick up on those emotions and associated with the product.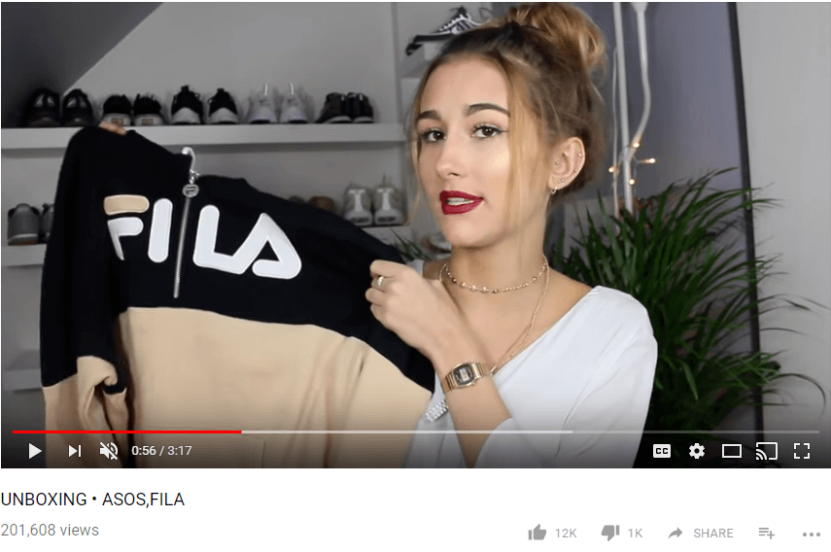 (Unboxing ASOS and JD Sport | Source)
Why customer unboxing video works:
Combines the benefits of an unboxing video and a customer testimonial video
Authentic customer reactions caught on camera
Shows that your brand interacts with its audience
Best practices for customer unboxing videos:
Interview the customer before and after the opening of the package
Allow them to experience the unpackaging process unaided for authenticity
Show the customer using the product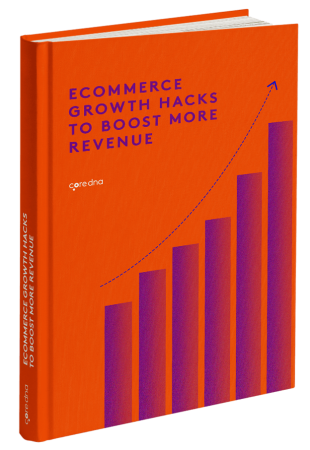 eCommerce growth hacks to boost more revenue (Plus 11 BONUS growth hacks for you to try in 2022)
It's time to start generating some real returns, with the following underrated - but tried and tested - eCommerce growth hacks.
3 tips towards effective eCommerce video content
The visual commerce platform experts at GoodVidio offer some advice on how to create effective product videos, as well as on how to present those videos for the maximum impact. Some of their advice includes:
[eCommerce video tip #1] Make video part of product pages
Place the product videos on the individual product pages. Just as you would place the photos and specs on the page, the videos that display that product should go on that product's page.
[eCommerce video tip #2] Show, don't tell
A product video should be more than a series of still shots and voice-over narration talking about the product's features and benefits. An effective product video gives the viewer the experience of holding the product in their hands.
[eCommerce video tip #3] Short & sweet
A powerful product video does not need to be long to be effective. Most product videos run less than five minutes. This timeframe should give the video enough room to demonstrate the product, engage the customer, and direct them to the purchasing system.
A well-executed product video can engage viewers, keep them entertained, teach them about the product and convert them into buyers. They can also reinforce current branding efforts and create an identity for any online retailer, regardless of size, as they give the customers a unique experience with the product before they buy.
How are you planning to boost your sales with video content? Let us know in the comments below!