How Frank Body Used Content Marketing to Make $20 Million in Sales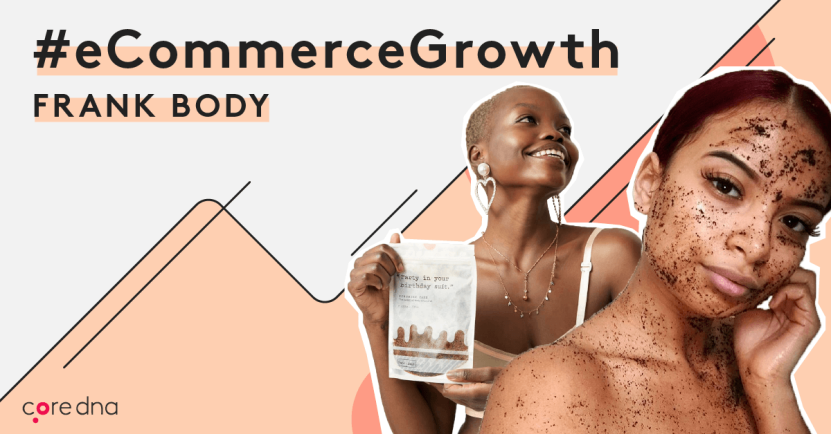 Does content marketing work for eCommerce businesses?
It's an interesting debate and one that many online entrepreneurs struggle to grasp.
Selling products online is, for the most part, a very metric driven endeavor. The margins on product-based consumer businesses are relatively small compared to their B2B counterparts. Sure, the benefits of content for B2B businesses have been proven time and time again, but consumer brands are more skeptical.
We get it. Metrics such as traffic, conversion rates, profit margins, and business growth are addictive. Once you setup your store and switch on an AdWords or Facebook campaign it becomes an optimization game. You can directly attribute every cent you spend to sales and over time minimize those costs, giving you better margins and accelerated growth.
But here's the problem with a growth strategy that depends on paid acquisition:
Paid ad campaigns, especially in search, are targeting consumers who place importance on price. They are searching for the best deal. This is not always how you want to position your brand in the market.
The profit you make from ad campaigns is always reliant on an algorithm that is designed by a third-party who wants to make more money (Google or Facebook). This means that at any point in time your cost per sale could rise and your margins drop. Which will naturally happen as competition increases on these platforms.
We're not saying you should switch off your ad campaigns completely, but instead consider combining them with a content marketing strategy that drives brand trust and decreases your reliance on paid acquisition.
Still don't believe that content marketing will work in the consumer product space? Here's a case study of Australian beauty brand Frank Body that might twist your arm…
Click the link below to jump to a specific strategy: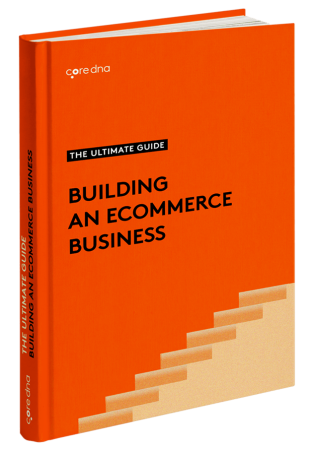 The ultimate guide to growing & scaling an eCommerce business
Everything we've learned throughout our 18+ years journey in a 30,000-word PDF guide.
Frank Body's undeniable success with content marketing
Before we dive into the tactical side of Frank Body's content marketing strategy let's have a look at who they are, where they have come from, and why they are worthy of a case study.
Franky Body's founders Jess Hatzis and Bree Johnson started this unique beauty brand when Johnson's husband and co-founder of the business, Steve Rowley, noticed a number of female customers at his Melbourne-based cafes asking for the leftover coffee grounds to use as an exfoliator.
With a small investment of $5,000, they created a single product, their coffee body scrub, and started to sell it on social media platforms - with no marketing budget.
Here's what has happened since their launch in 2013…
Pretty impressive from such humble beginnings, right?
Well, much (if not all) of that success can be attributed to the founding team's ability to grow a memorable brand backed by content.
Here are 5 things eCommerce businesses can learn from Frank Body's content marketing strategy:
[Tip #1] Penetrate a hyper-competitive market by being known for "one thing" first
The problem with marketing that targets every man and his dog, is that just about everyone ignores it! Of course, your products could be beneficial to a broad spectrum of potential customers, but when your budget is limited and you are trying to build a brand you need to narrow your focus. Especially if you are operating in a hyper-competitive market like Frank Body were.
Not only did Frank Body target a demographic niche (Millennials and Generation Z) from the very beginning, but they made a name for themselves in a super-specific vertical - coffee-based skin products.
Your target demographic and initial value proposition can't be thought about in isolation. They go hand-in-hand. For example, Frank knew that the coffee-based body scrub they could manufacture was cruelty-free and avoided the use of toxic synthetics. These are two things that their target audience care about, so they emphasized them in all of their content: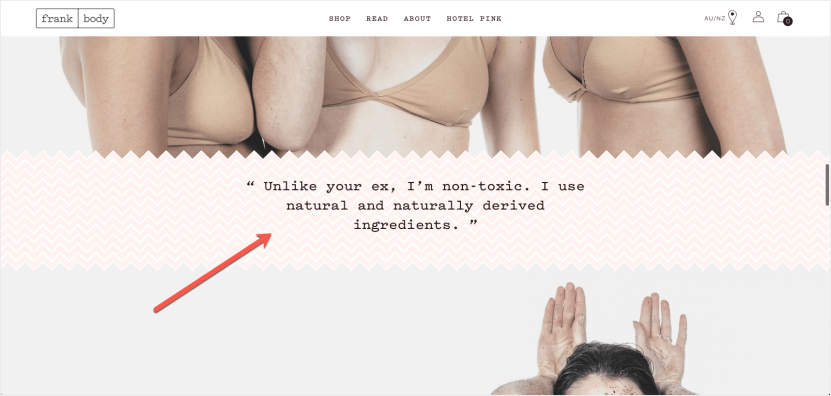 Now, Frank Body has a range of different beauty products. They were able to expand their product line once they had traction. But they are still "the coffee scrub" company. And that's how people recognize and associate with the Frank Body brand. Through quality production and great customer service, they have earned permission to sell other products to the same customer group.
If they had released all of these products at once from the beginning, before truly getting to know and understand their Frankfurts, there would be no memorable association with what they do. People would bundle them up with every other beauty product provider on the market. Penetration would've been much harder and cost a lot more to achieve.
This is hardly a new concept but it's a refreshing reminder. Apple were the computer guys. Google mastered search. Amazon sold books. Frank gave us coffee scrub.
Actionable takeaway: Start narrow and earn the right to spread your wings. Identify one thing that you can do better than anyone else in the market and obsess about it.
[Tip #2] Persuade people to care about your product by showing that you relate to their lifestyle
As an eCommerce brand, you are selling more than just products, you are selling goods that support and improve the lifestyle of your customers. Any brand that doesn't understand that is left fighting over the scraps and bidding on price.
Once you have a definition of your customers from a superficial point of view, start to dig below the surface. What are their interests beyond the hobbies that your products facilitate?
Frank knows his audience. He understands their lifestyle. He gets what they care about. He proves that he shares their values. He shows that he lives the same life.
Frank Body's customers don't care about coffee scrub, they care about fashion, healthy skin, natural products, coffee, and being a bit cheeky. So their content strategy aims to capture that lifestyle.
They have even created Pinterest boards solely focused on these interests: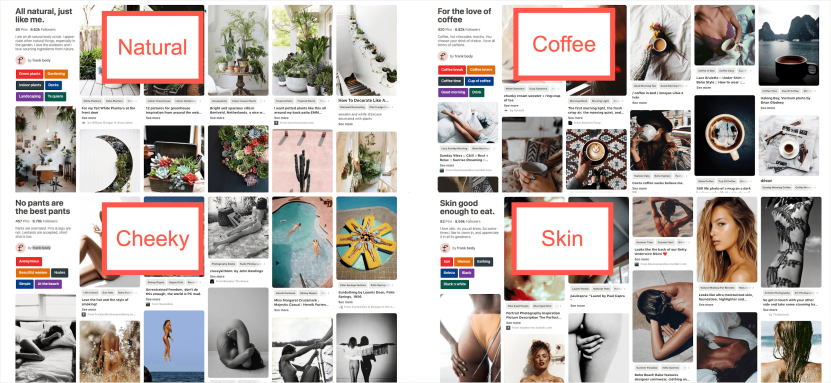 People are buying more than a body scrub… they are buying a lifestyle. An opportunity to connect with others who are similar to them and label themselves by the hobbies and interests they are most proud of.
All of the Frank Body marketing is underpinned by four interests that their customers share; Skin, Life, Health, and Love.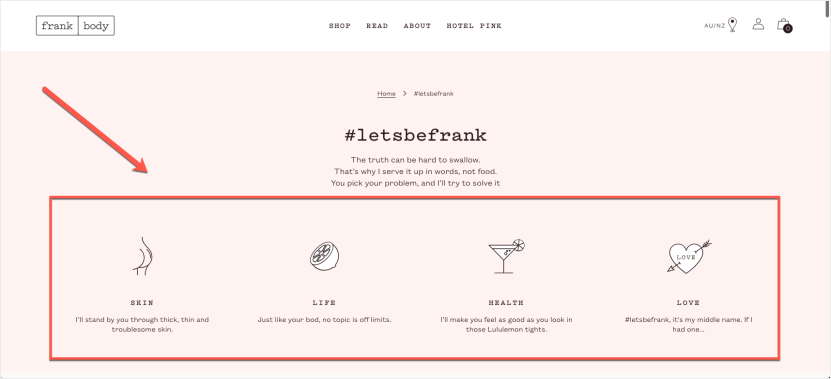 Actionable takeaway: Don't focus on your product, focus on your customers lifestyle. Find the values and beliefs that you and your customers share and dedicate all of your marketing and product development resources to articulate these beliefs and improve your customer's day-to-day life.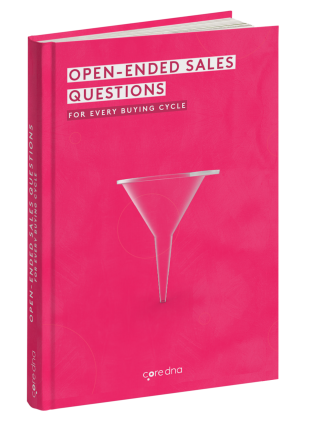 Learn from our Open-Ended Sales questions
You can download this PDF guide for free


[Tip #3] Create a movement that aligns with your customers values and desires
At the core of any great marketing strategy are the fundamental beliefs and desires we hold as humans. One of those desires is social acceptance.
Social acceptance can be seen in everything Frank Body does with their content marketing and branding - even if it isn't entirely intentional.
From the jargon-free language, they use in their copy, to the cheeky way they call all of their customers "babes", to the appreciation of beauty in all forms… it's all about creating an environment where everyone is accepted.
In a materialistic society that is driven by misleading social media "lives", fake enjoyment, and constant insecurity, Frank and their community are friends and supporters. They recognized that their customers were craving something different. They were searching for a community, a product, a lifestyle that was real and authentic. Frank found a way to talk to that desire through colors, stories, photos, videos, and user-generated content. It's a movement against all of the things millennials hate about society and everyone is getting on board.
This statement from one of the Frank Body founders typifies this sentiment:
"We love seeing all our babes being natural, cheeky and having fun with frank in the bathroom and never taking skincare too seriously."
They amplify their customer connection by showing off their customers having fun on their website with a "babes in the wild" section: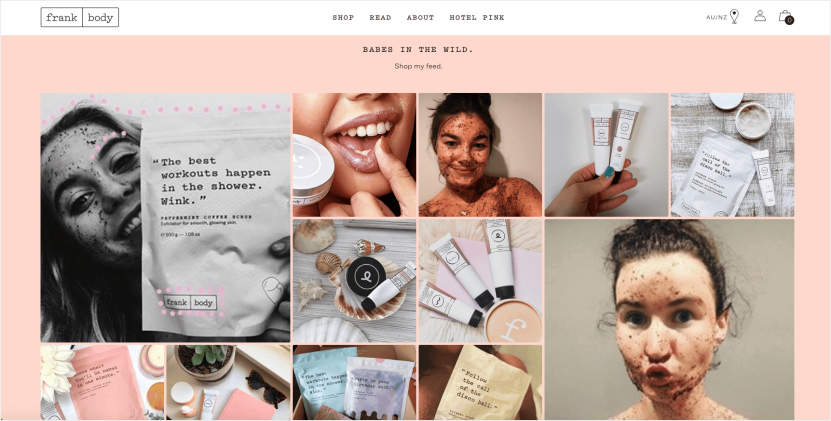 Frank Body created a character called "Frank" who is relatable. This voice and personality are carried throughout all of their marketing efforts. You will see them regularly refer to the brand or product in the third person, using personal pronouns such as "me" or "I".
"Skincare was boring until I came along"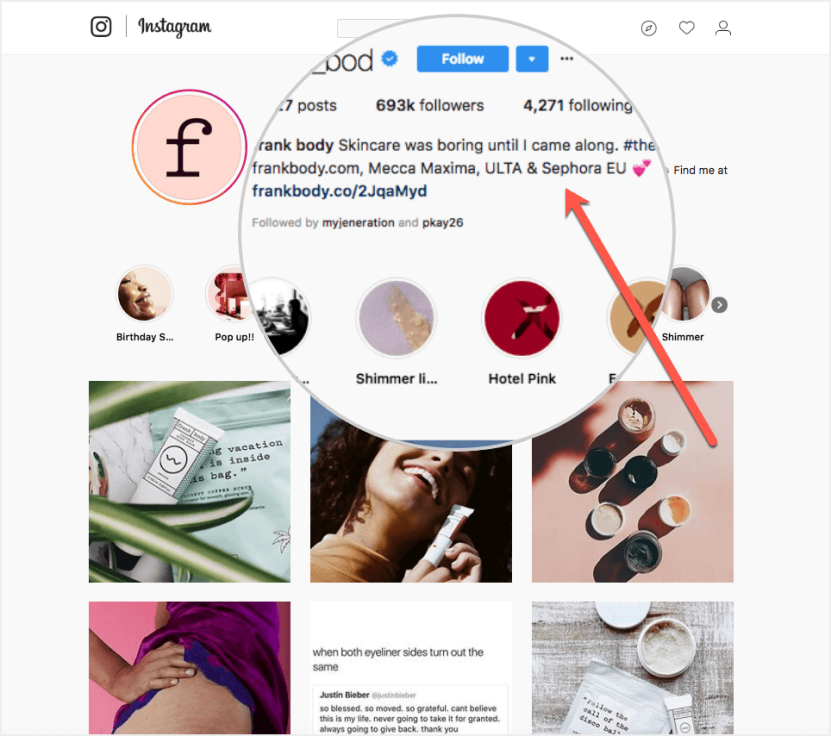 "All of my products contain coffee, because every babe needs something to undo the fact she hasn't slept in ten years."

Before Frank came along the beauty industry was overwhelmed by corporate and scientific jargon. These customers were craving honesty and transparency, and Frank Body gave it to them by cutting out the fluff and being lighthearted.
Frank created a movement, not just another beauty product.
Actionable takeaway: Unearth the fundamental human desires that your customers hold, document those desires in a set of brand guidelines, and align everything you do so it talks to those desires. Your selection of social media platforms, style of content, colors, fonts, customer service responses - everything.
[Tip #4] Find and collaborate with people who have established trust with your ideal customers
Working with influencers is not a new growth tactic for eCommerce businesses, but the way Frank approached it was interesting.
From the very beginning, this brand focused on "authentic" content created by others to boost their brand awareness. Before they even had a website Frank Body sent thousands of sample products to those they considered Instagram micro-influencers in Australia - predominantly makeup artists and beauty bloggers.
Below is one example of an authentic influencer post on Instagram from @avivadrescher, who states upfront; "This is NOT an ad. I'm obsessed with @frank_bod products".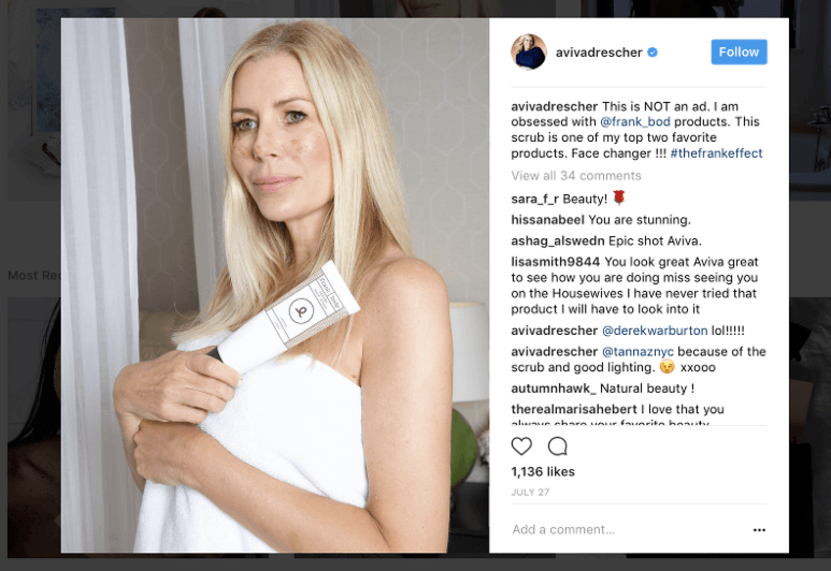 But sending your product to a few Instagram influencers isn't going to be enough. There were three things that Frank Body did that made their influencer collaborations successful:
They had a great product that was unique and new in the market. Influencers were excited to try it out.
They emphasized the need for "real" responses from these influencers. All they asked for was feedback and a share on their Instagram page if the product resonated, which it did. This shows a trend away from "polished" influencer posts, towards a more authentic sharing of our experience with a product.
They combined this influencer campaign with a customer-focused user-generated content campaign, leveraging the same hashtags and style for the imagery. This ramped up the believability of these influencer posts.
The results? This original influencer campaign went nuts. People that followed these micro-influencers were envious. They wanted the product themselves and couldn't wait to order it.
Actionable takeaway: Don't just aimlessly send out products to influencers and expect to go viral. Focus on those who have influence over your narrow customer group, emphasize the "one thing" that you do better than anyone else, and make the whole experience believable by backing the quality of your product.
[Tip #5] Turn customers into ambassadors with incentives and prizes
To track their initial influencer campaign, Frank Body created a unique company hashtag - #thefrankeffect. After launching, they continued to use this hashtag in their marketing (including their packaging) to encourage user-generated-content (UGC) from customers.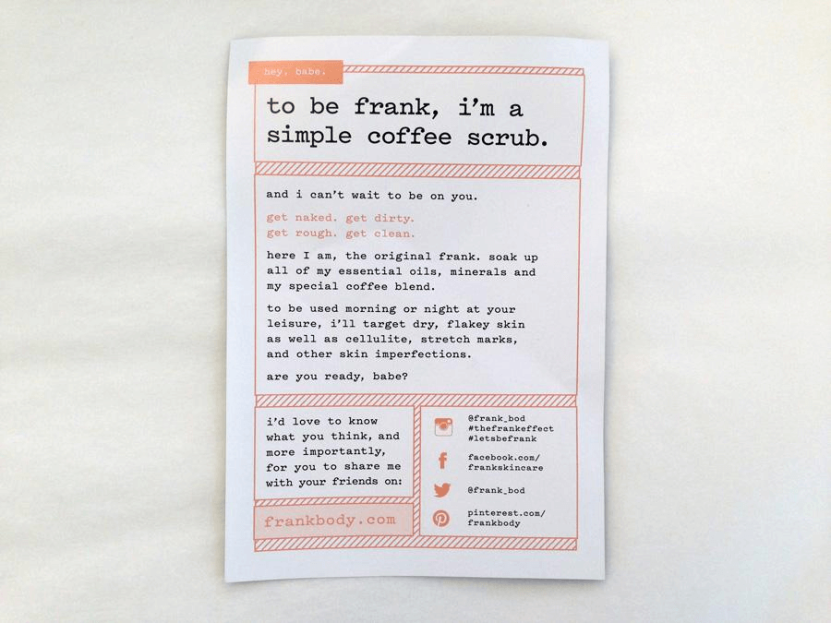 "We had a very deliberate UGC strategy from day 1 - and we now have over 100,000 consumer-generated images living under our hashtags #letsbefrank and #thefrankeffect."
They wanted their customers to be product ambassadors and incentivised them to do so with monthly prizes. Frank would celebrate these customers by publishing a "Frankfurt of the month" across all of their distribution channels. Including a standalone Instagram page created just for customer transformations - FrankFeedback. Genius!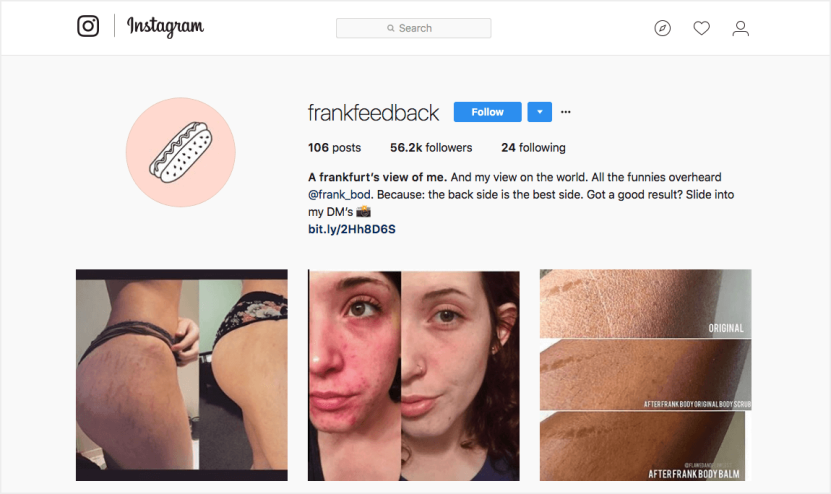 As this library of UGC grew, the brand became immediately recognizable to young, millennial women who all shared a passion for healthy skin and natural products.
This UGC strategy was pretty simple in theory… they created a branded hashtag and encouraged customers to share photos of themselves lathered in their flagship product - the coffee scrub. But here's the thing…
Creating a hashtag and letting it loose with your customers means you no longer control the content. This is a double-edged sword. If you have a great product, responsive customer service, and a way to influence the messaging, then UGC can be powerful. It can also go haywire with bad press if a customer has a bad experience.
Even with all these different creators, Frank enabled users to stick to a consistent tone. Each image showcases women of all shapes and sizes smiling, laughing, making silly faces (which is Frank's character) and having fun with their product. Because of the quality and specificity of their product in the market, all of these images were positive representations of the brand.
"We utilize earned content across every aspect of our digital brand from social to our website, in order to tell a consistent story and show new consumers that the people who use the product really are the heart and soul of Frank Body."
The benefits of user-generated content like this can't be understated. First of all, the content is free - you don't need to spend any time or money creating it. Plus, each and every one of those 100,000 UGC photos and videos is building trust with the friends and families of the creators. The credibility of the brand is in the hands of real people, not a faceless corporate brand.
Actionable takeaway:
Don't dive head-first into a UGC strategy without first identifying the risks and finding a way to control the boundaries of the content. Otherwise, it could have an adverse effect on your brand.
The quickest - and possibly the easiest - way to incentivize your customers and turn them into brand ambassadors is to
create their own personalized discount codes
, which they can share with their family, friends, and followers.
Here's a quick overview
of how the Discounts engine on Core dna works.
Let's be frank...
All of these content marketing tactics are great in theory, but in isolation they are pointless. Consistency is the glue that connects all of these disparate tactics together as one cohesive strategy.
Frank Body's product development and packaging, font selection, colors, language, FAQ's, about page, blog, social media profiles, hashtags, and customer support all sing to the same tune. They work in sync to capture the essence of what Frank is all about - hero-ing the customer and selling the lifestyle.
Even as they have grown from humble beginnings to over $20 million in revenue, the essence of the brand has been sustained. Those core values, beliefs, and unique personality still shine through.
Copying them isn't the answer, of course. But there are a number of underlying principles that are present in this success that you can apply to your own content marketing efforts.
What can your eCommerce business learn from a company that went from 0 to 20 million in 5 years?
Watch video demo