eCommerce Growth: 18 Underrated Conversion Strategies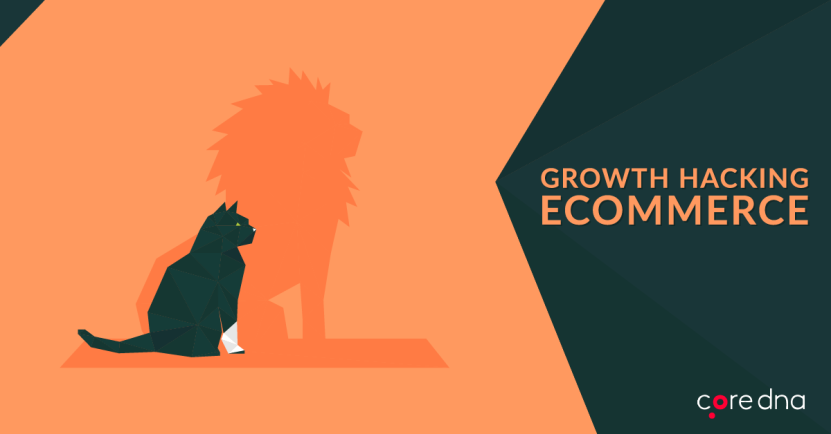 Amazingly enough, before "growth cheat codes" was a thing, companies managed to grow and increase revenue and profitability all the time!
Ignore the hype around "hacks", which everyone from interns to experienced marketing consultants are promoting (including myself, on occasion), and instead, focus on your aim of generating more eCommerce revenue.
eCommerce brands are increasingly reliant on Facebook Ads and Google AdWords to pull in traffic, but that approach is not only costly, it can also leave you too reliant on advertising spend and could result in too many costly first-time clicks, without enough actual buyers to make a profit.
No one in marketing has time for those sort of false-positive metrics. It's time to start generating some real returns, with the following underrated - but tried and tested - eCommerce growth "cheat codes".
In a hurry? Here are the eCommerce growth strategies we swear by: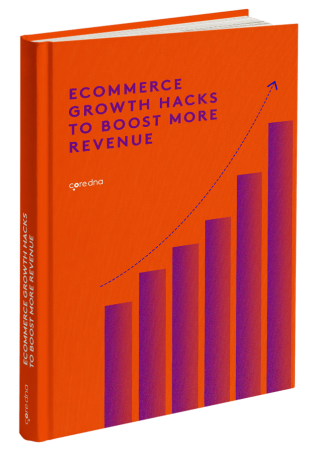 eCommerce growth tips to boost more revenue (Plus 11 BONUS growth strategies for you to try in 2022)
It's time to start generating some real returns, with the following underrated - but tried and tested - eCommerce growth strategies.
1. Create buyer FOMO with live customers metrics
Taking FOMO one step further, some brands use technology to show how many people are also viewing the same products/deals when other web visitors are online. Or they show items that have been recently purchased. Creating a sense of urgency through limited offers or visual time countdowns has been shown to convert more buyers. This is an excellent way to social proof your website and makes your store look like it has a thriving community.
Have you tried installing a FOMO plugin (fear of missing out) that prompts visitors every time a purchase is made through your eCommerce site or setting a pop-up with a time-limited offer code? If you have a customer on the fence, these could be effective ways to encourage a purchase.

Must-read resources:
- 9 Essential Ways to Use Scarcity to Increase Sales
- 23 Tactics to Create Urgency and Grow Your eCommerce Conversions
2. Use a solution-focused SEO title
The first thing that both your readers and search engine algorithms see with regard to your website (and all of its pages) is its title.
With that in mind, you want to be sure that your title is eye-catching, and that it describes to your potential customers what they should expect from engaging with your brand.
Check out the following example from OppoSuits: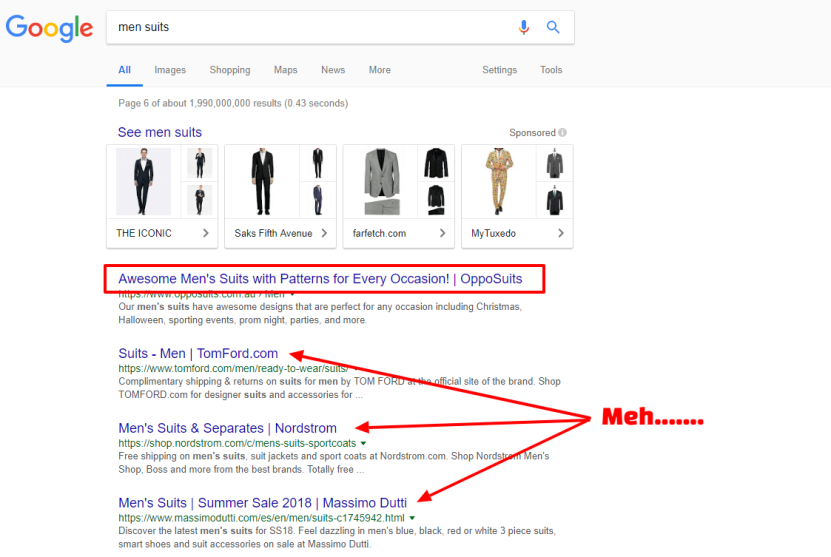 Rather than focusing on the brand name, OppoSuits front-loads its page title with a benefit. In doing so, the company stands apart from other boilerplate SEO titles.
Unless your brand is a household name, this is incredibly good practice. For example, clothing company Gap can get away with a page title that reads "Shop Gap for…", since consumers looking to shop at Gap's online store will simply type in Gap.com. However, if an individual isn't looking for a specific brand, and instead uses a non-branded search term such as "women's summer clothing," using a solution-focused SEO title will boost your CTR, which we all know is one of Google ranking factors.
Must-read resource:
- Is SEO Dead? The Answer Is Yes, And No
3. Offer live chat functionality to boost visitor trust
Smart Insights found that visitors who use live chat convert at roughly 8x times the rate of non-chatting visitors!
You might be asking, "aren't those live chat software expensive?". Look, it doesn't have to be an exclusive live chat product, you could easily integrate something like Facebook Messenger – just like Mustad Saddleworld (pictured below) or Zendesk Chat (formerly Zopim).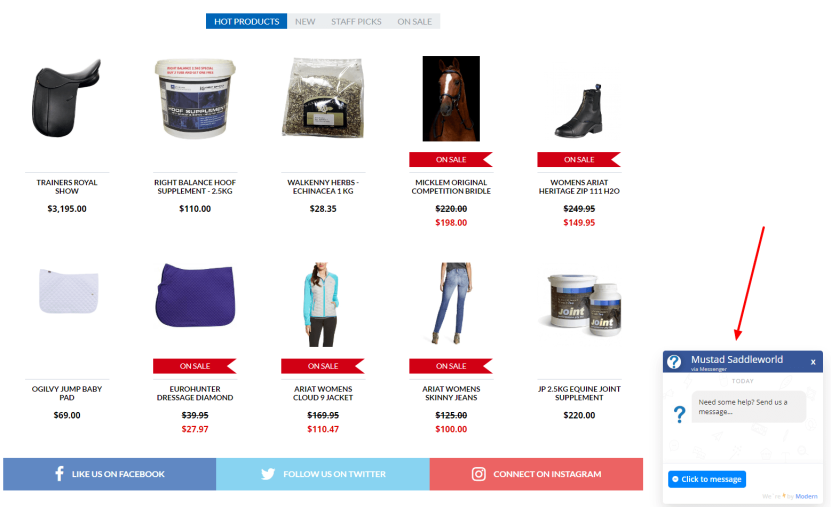 In fact, according to the same study by Smart Insights, 63% of visitors are more likely to return to a website with live chat features, and 38% of those surveyed completed a purchase as a result of the help they received through a live chat channel.
Must-read resources:
- eCommerce Live Chat: To Live Chat or Not to Live Chat?
- 7 Tips for Delivering Memorable Live Chat Customer Service
- Live Chat: 12 Tips You Need Before Getting Started
4. Hook new customers with "Loss leaders"
A loss leader is a product that a company sells at a loss, knowing full well that it'll make up for the loss on future sales of products that are complementary to the original product.
A few examples:
Video game systems are sold at a loss, with actual video games (which cost pennies to mass produce) making up the bulk of profits for gaming companies
Similarly, each sale of Amazon's Kindle loses money for the company, while subsequent purchases of ebooks easily allow the company to recoup this loss
Manual razors are loss leaders, while razor blades are cheap to make and need to be replaced every couple weeks at most.
Printer companies lose money on every printer sold - but easily make up for it by selling ink cartridges at a huge markup.
The trick, here, is to find a "main" product to sell that attracts customers, and offer it at a relatively low price - then identify a large amount of "smaller" products that go hand-in-hand with the larger item to sell on a more consistent basis. As the above examples illustrate, these "smaller" products are typically consumable (e.g., razors and ink cartridges), or offer variety (e.g., different video games and ebooks).
Must-read resource:
- Inventory Management Strategies: Using Smart Pricing To Get Rid of Excess Stock
5. Turn visitors into customers via social posts
Customers need to know that others buy/love/need your products or services. In fact, it's quite possible that social proof online may play a larger role in converting visitors as buyers can't physically see customers in your shop.
It is therefore far more important to be on top of your social proof as your visitors are far more likely to purchase an item if they can read and see other have already converted.
Out in the real world, that 'social proof' is easy to validate: We see other people in coffee shops, cafes, restaurants, bars, shops, we can see they are also buying, so why not treat ourselves?
We can't do that online as easily. At least not without social proof such as testimonials, positive reviews, and online feedback. Make your social proof prominent. Ideally, on the homepage, around the product/service pages, and everywhere else you can display this information. Daniel Wellington does a great job of showcasing their products in a social context.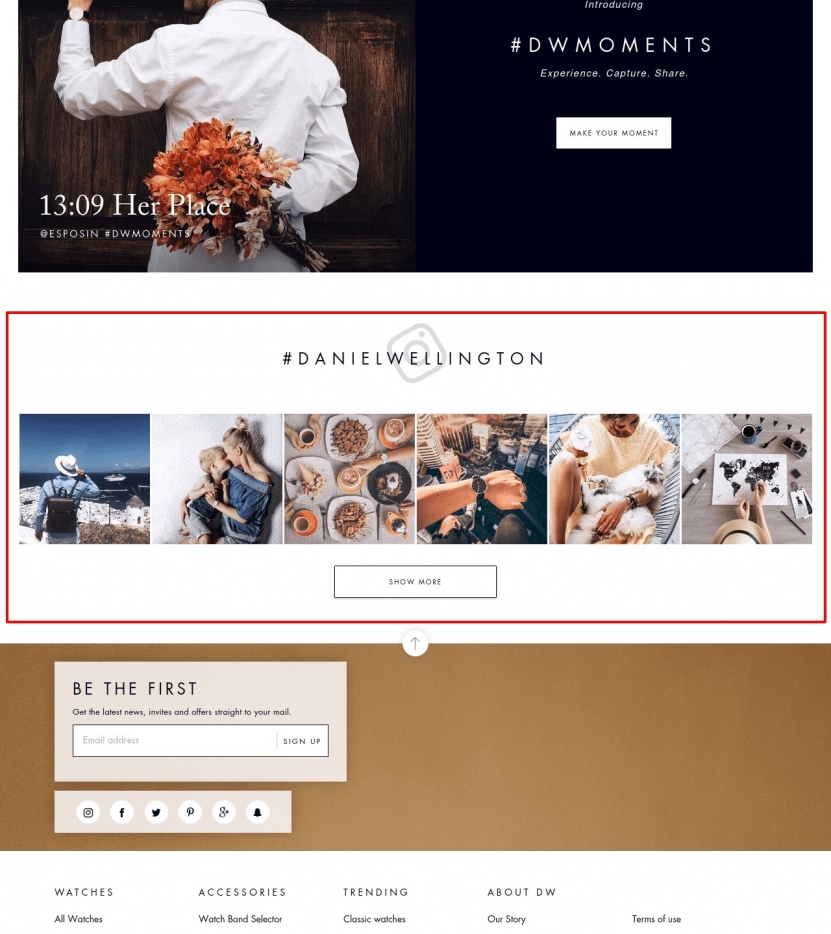 You could also improve your website's social proof through displaying customer-supplied pictures and social posts about your products, clearly highlighting your social following to visitors or alternatively, drive traffic and focus to high seller products.
Must-read resources:
- How User Generated Content Can Help Online Retailers Beat The Big Guys
- 29 Proven Ways to Use Social Proof to Increase Your Conversions
6. Answer FAQs on category pages
To illustrate what we mean here, take a look at this screenshot from motorcycle gear shop RevZilla: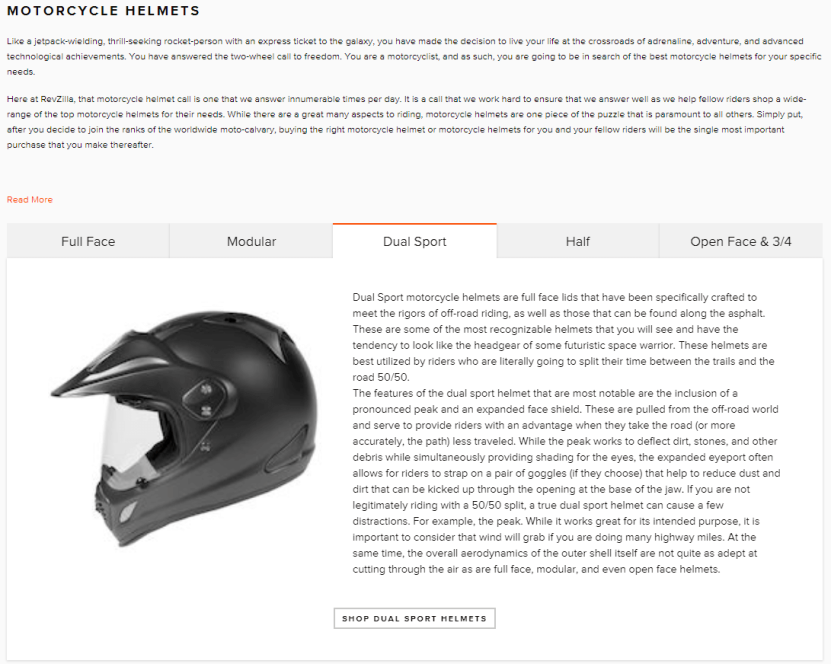 Clearly, the company went to great lengths to provide as much information as possible to its customer via this section of its site.
The funny part, though, is that this page isn't some subsection of the company's site that its visitors might never end up seeing. It's the bottom part of the category page for motorcycle helmets.

In addition to the above information, RevZilla also uses its product pages to point its visitors to further info via blog posts and videos: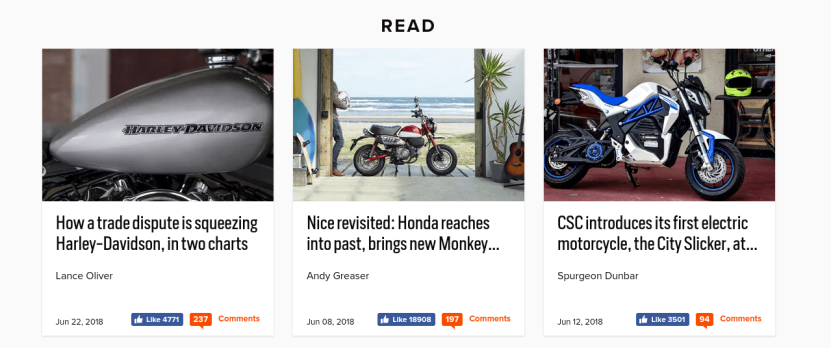 As mentioned, providing all of this info on a single page allows customers to easily find everything they need to make a purchasing decision. If, on the other hand, RevZilla had simply placed all this information on separate pages (as is typically done), there's a pretty good chance that most people wouldn't take the time to click around the site to find what they were looking for - and would simply navigate away from the site altogether.
The takeaway, here, is to use every opportunity you have to educate and inform your visitors with regard to the products you offer. And definitely don't make it difficult (even in the slightest bit) for them to find this information, as a good amount of your visitors aren't going to dig very far in order to find it.
Must-read resource:
- 15 Proven Writing Techniques that Work GREAT
7. Ensure your website loads in under 3 seconds
Slow websites kill sales. New web visitors, especially those who aren't familiar with your brand, don't need an excuse to click back.
A delay of 1 second can reduce conversions by 7% - so anything as high as 3 seconds will have a massive impact on revenue. Increase your website loading speed to under 3 seconds, and you could generate a conversion bump of 21%.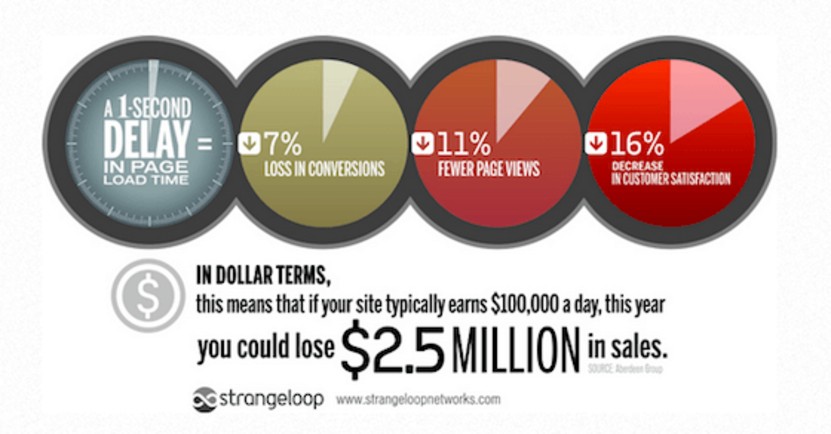 Test your site using Google. It will give you pointers on how to improve performance by carrying out a series of extensive website speed checks.
Must-read resources:
- 11 Low-Hanging Fruits for Increasing Website Speed (and Conversions)
- The Ultimate Guide to Page Speed
- How to Choose The Best eCommerce Platform: The Ultimate Guide
8. Include comparison guides for similar products
Since you likely offer a number of products that are similar in many ways - but also very different in others - you want to provide a way for your visitors to easily compare and contrast each while they come to a purchasing decision.
(This, of course, goes along with what we just said about providing easy access to information.)
For example, Keurig provides the following chart comparing three different versions of coffee makers: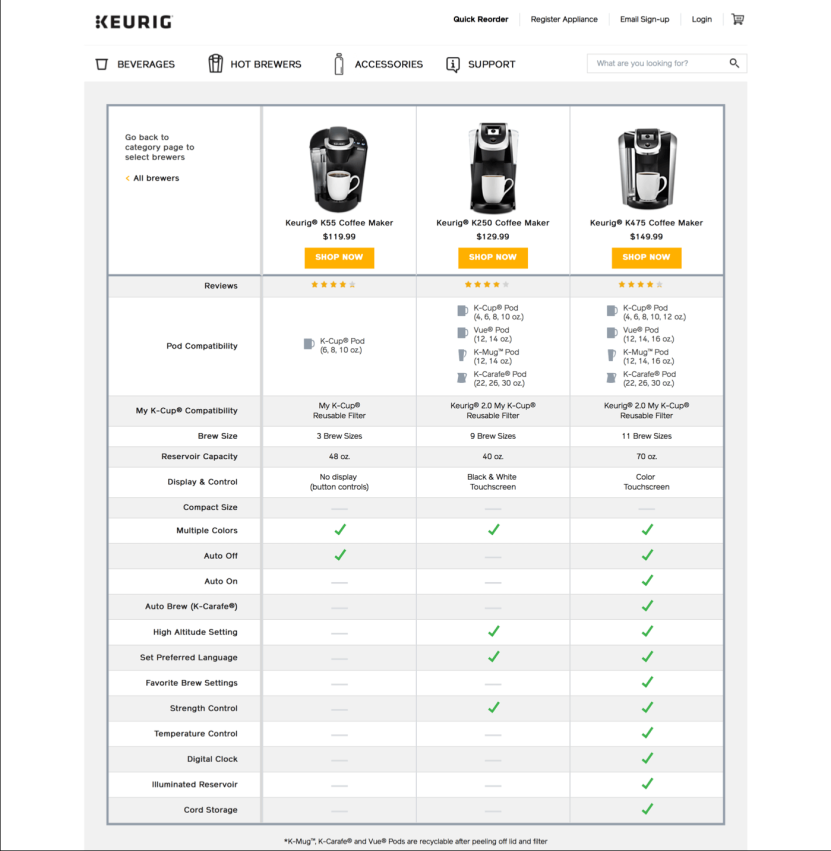 Comparison charts allow you to provide an objective overview of your products, in turn enabling your customers to decide which one suits their specific needs.
It's worth noting that such charts can be used to upsell customers who may have originally been checking out the baseline version of a product, but quickly realized the benefits of going with a more advanced model. Conversely, those who may have originally been hesitant to purchase the more advanced version of a product might be easily convinced to purchase a less-expensive model - which, of course, is better than having them walk away empty-handed.
9. Focus effort into generating customer reviews, case studies & testimonials
eCommerce brands need testimonials to keep that social proof strong. Whereas, software (SaaS) companies, training and service providers need to go one step further.
Adding client logos alongside positive testimonials with the relevant social proof (e.g. names, job titles, headshots, logos, etc.) and in-depth case studies can help convert shoppers.

Don't force visitors to other 3rd party websites to read your reviews! To further validate your social proof and trust, display third-party platform review integrations such as reviews.co.uk and Feefo reviews prominently throughout your website. If your budget is small, focus your effort to drive reviews through free channels such as Facebook and Google Reviews. These will all help to curb visitor doubts and convert more buyers.
If your budget is small, focus your effort to drive reviews through free channels such as Facebook and Google Reviews. These will all help to curb visitor doubts and convert more buyers.
Must-read resource:
- Customer Reviews: Why They Are a Deal-Breaker & 5 Simple Ways to Get Them
- 14 Advanced Tips on Increasing Your eCommerce Conversion Rate (with Examples)
10. Get the reviews you want by suggesting specific topics you'd like them to address
Pretty much every entrepreneur knows the importance of generating customer reviews and testimonials.
But it's easy to make the mistake of collecting a bunch of reviews that really don't say all that much. You know the type: "XYZ Company's (product) is better than any other brand I've tried!" "Five stars, no doubt about it!", blah, blah, blah.
These generic reviews are problematic for a few reasons. For one thing, as we said above: they don't provide any real information about the product or service being offered - or the provider, for that matter. Along with this, they're quite impersonal; since the person reading the testimonial doesn't know all that much about the person providing the review, they have no reason to think that their opinions will align. Along with this, such generic reviews are pretty easy to "fudge"; even if such a review was actually given by a real customer, a potential customer has little reason to trust that the review is accurate.
At any rate, the onus is on you - the eCommerce store owner - to solicit reviews and testimonials that actually have substance to them. When reaching out to current customers, you'll want to suggest specific topics you'd like them to address (e.g., the product's quality, their on-site experience, any interaction they may have had with your customer service team, etc.). That way, you can provide more focused testimonials on the applicable pages - rather than just as a collection of testimonials on a single, separate page on your site.
11. See your homepage as a digital dashboard for your site
No matter which page a web visitor lands on, sooner or later they're going to visit the homepage. Don't over complicate this page. But at the same time, don't miss anything. Keep things simple and help users navigate to where they want to go.
Everything on or around the homepage is important for increasing conversions, including the main menu and footer. Avoid overloading web visitors with huge blocks of text or too many videos, especially if they auto-play!
Make sure the navigation is simple so visitors can find what they want easily. Display your social proof early and make it easy enough for them to purchase/sign-up within seconds of visiting your homepage.
Things to consider when building your homepage:
Clearly display your contact details
Highlight what makes your company different!
Show your unique selling points (FREE delivery + returns, etc)
Display your main categories above the fold
Avoid distracting visitors with banner movements and silly animations
Brand it up to the max - give it some soul with real images and logos

Must-read resource:
- The Anatomy of The 'Perfect' eCommerce Site [Infographic]
12. Negotiate "Advertiser access" to influencer's Facebook page
You undoubtedly know how effective a strong influencer marketing campaign can be, right?
Of course, if a popular figure in your industry mentions your brand organically - that is, without being paid by you to do so - well, that's even better.
Now, when an influencer mentions your brand in a post on one of their social media channels, you're going to want to milk every bit of value you can from it. To do so, you'll want to reach out to the influencer to see if they'd be interested in providing you access to their advertising account (in exchange for payment, of course). Once you have advertiser access to the influencer's account, you'll be able to boost their post about your brand to target audience's as defined by you and your influencer.
It's a win-win partnership:
On the influencer's side of things, they'll be getting some free advertising (since you'll be paying for the ads). On your end, though you're paying for the ad behind the scenes, the ad in question will appear to consumers as social proof (since it will be coming from the influencer's account rather than your own).
Must-read resource:
- eCommerce Facebook Ads: How MVMT Grew From Zero to $90 Million in Under 5 Years With Facebook Ads
13. Underpromise your customers but ALWAYS strive to over-deliver
Over-delivering is something every business that wants growth should strive to achieve. What does that look like for an eCommerce company?
Free shipping above a minimum order value is now the most common trick, however, what about offering a free bonus gift or exclusive downloadable content? Focus on consistently delivering great customer service - show you care, especially if there is a problem with an order - on social media, online, via email and every relevant channel.
Why not create a FREE easy returns policy? At the very least, make it so easy for your customers to contact you via live chat, ticketing, email or telephone that they can do it in their sleep and strive above all else, to respond quickly and professionally!
As an eCommerce business, the closest point to touching your customer is through your product packaging. Don't forget about how you present and deliver your orders.
Strive to create a memorable unboxing experience that will leave your customers wanting it again and again. If you're a small eCommerce site that is making a product, why not add a quick personalized hand-written thank you note to each order - it will make sure your customers feel super special.
Always reply to reviews whether they are good or bad. It's a huge cliché, but you really do have to go that extra mile now social media has made the internet so transparent. If your reviews are not all 5 star, don't worry, a few 3-4 star reviews are okay, it shows that you are a real business!
Must-read resources:
- What Can We Learn from the 7 Best Unboxing Experiences?
- How to Write a Killer Customer Thank-You Note
- How to Use Your eCommerce Return Policy to Increase Sales
14. Turn influencers into your money-making affiliates
For eCommerce sites that maintain a blog, one effective way of gaining visibility for your brand is to create a roundup post, in which you feature other brands that offer ancillary products or services that relate to your offerings in some way or another.
Say, for example, you sell products related to health and fitness. You might decide to create a roundup post such as the following: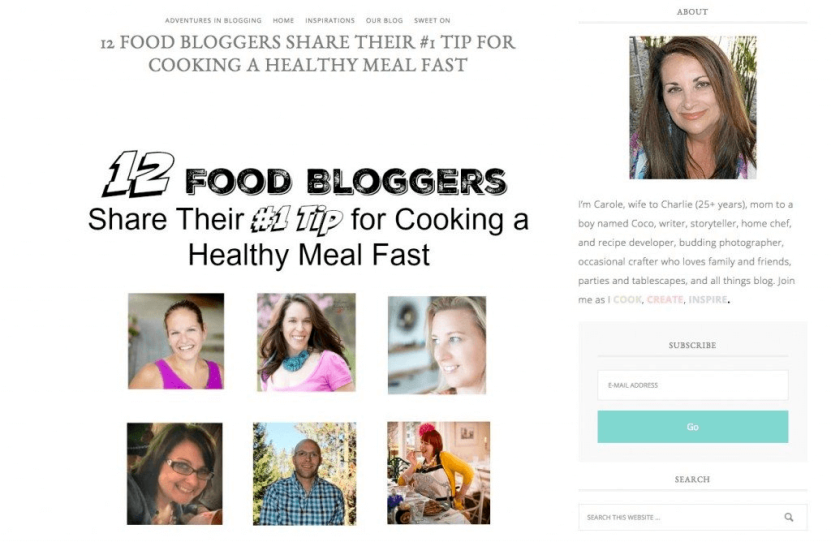 You'd then provide each of the individuals you featured with an affiliate link to your site (or to a specific product, if you so choose), which they can in turn use on their own site and social media channels to point their followers toward your online store.
This tactic is essentially a win-win situation for your company and for the influencers you partner up with: not only do you present them to your audience as thought-leaders in their industry (as they do for you, to their audiences), but they also stand to generate additional revenue every time one of their customers makes a purchase on your site using their affiliate link or code.
Must-read resources:
- How Frank Body Used Content Marketing to Make $20 Million in Sales
- How We Drove a 6% CTR For Two Up-and-Coming eCommerce Startups
- The Best eCommerce Content Strategy & Plan To Skyrocket Your Traffic and Conversions
15. Drive repeat orders through targeted, genuine loyalty schemes that are focused on users' behavior
Most loyalty schemes need customers to make at least 8-10 purchases before they get something for free (or a discount). There is nothing worse than having to buy 10 things before you get one free - most customers simply won't bother!
During a recent study at a local car wash, a set of customers were simply given a blank loyalty card that showed on the 9th visit they would receive a free car wash.
On the other side of the study a separate set of customers were given loyalty cards with two pre-stamped visits, they too also received a free car wash after 9 visits. The study highlighted that those customers who were given a pre-stamped card came back time and again, with repeat business increasing 178% compared to the customers with unstamped cards!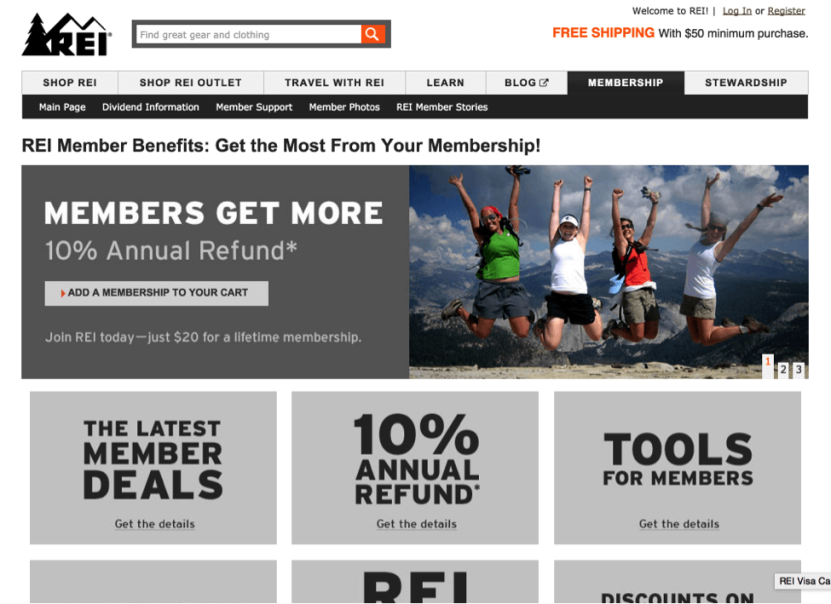 When creating your own loyalty scheme for your eCommerce business, focus on your users' behavior and repeat purchase rate. There are many different types of eCommerce loyalty schemes for example; the point system and paid loyalty schemes, however, each type has its own merits.
However, if you have nothing else to offer your visitors or the product is a one-time purchase, don't bother. Invest this time into over-delivering on every new order.
- 8 Powerful Customer Loyalty Programs for E-Commerce (w/ Examples)
- eCommerce Analytics Tracking: How To Be a Data-Crunching Marketer
- eCommerce Promotion Strategies: How To Use Discounts And Coupons [With Examples]
- This is How You Can Use Predictive Analytics to Sell Smarter Through Email
16. Take the stress out of submitting forms - Reduce the input fields
Customer data is power. It means you can sell more, target more accurately and feed data into drip email marketing campaigns. Asking customers or prospects for too much information is the quickest way to lose them - period. Think about optimizing every form on your website and even at the checkout!
At the minimum, get a name and email address (and payment details, as needed) - but don't ask for more than necessary. Neil Patel shows us that removing don't ask for more than necessary. Neil Patel shows us that removing one input field can increase conversion rates 26%. It's simple, ask less and your customer will buy more.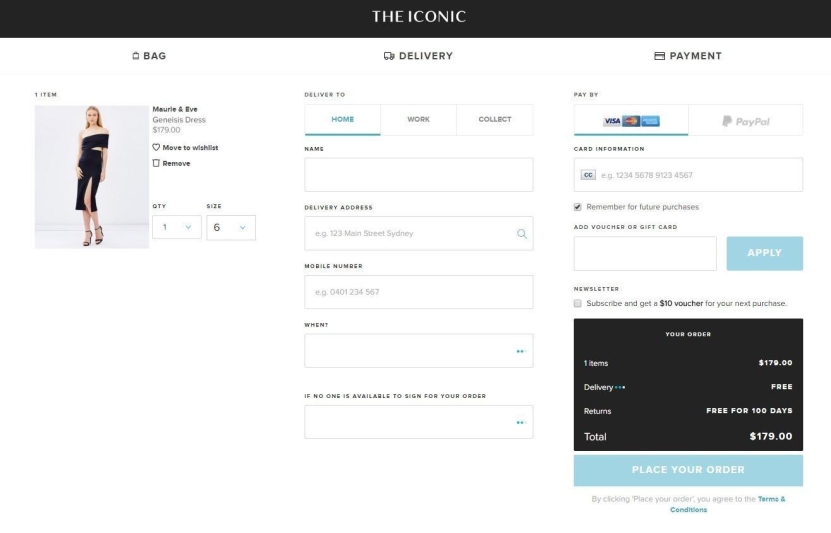 Must-read resources:
- How to Design an eCommerce Checkout Flow That Converts
- The Anatomy of The Perfect Mobile E-Commerce Checkout Page
17. Show visitors the TRUE discount value (Or offer a price match guarantee)
How do we know we are getting a good deal? One simple but effective way is to show what visitors would have paid before a discount is applied or automatically given.
It seems to too simple to miss but it's surprising to see the number websites that miss this trick. Clearly stating how much the item would cost without the applied discount can drive conversions and show the true value of the discount.
If you're not running any discounts, have you thought about offering a 'price promise guarantee' on all products? It's an easy way to take the thought out of your customer's head about finding it cheaper elsewhere.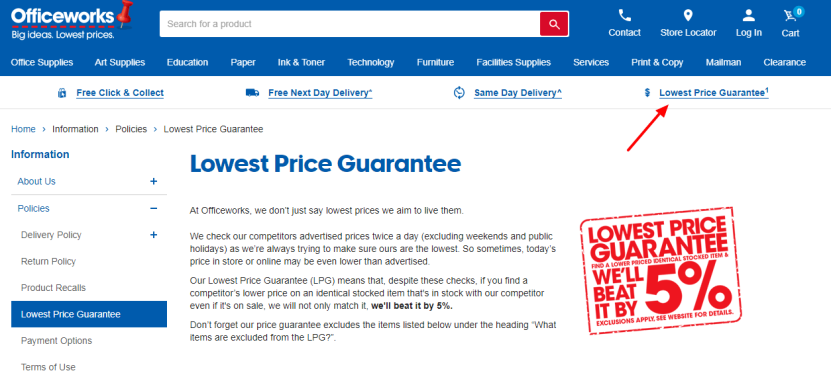 Another way to present discount value is to offer FREE delivery over a certain order value, however, don't forget to tell the visitor how much they might be saving. You can implement this by adding the original delivery cost at checkout and then applying the discount.
Although there are many types of eCommerce discounts that can help drive sales, increase new customer acquisition and boost conversions, a business can quickly become too reliant on sales. Be careful not to damage your brand image, overly relying on 'price-driven' shoppers and decrease profitability.
Must-read resources:
- How to Keep Customers Around Longer and Buying More: The Magic of Discount Ladders
- How to Set Retail Discounts For eCommerce
Side note:
Want to see how you can create and manage discounts and coupons in Core dna?
Click here
.
18. Partner up with other brands to do "Giveaway loops"
While basic contests and giveaways via a company's Instagram and other social media channels can be effective in their own right, participating in loop giveaways is a surefire way to expand your brand's audience.
Here's how it works:
First, you need to find brands to partner with that would be interested in collaborating on the giveaway. While you don't, of course, want to partner with your competitors, you'll want to consider working with brands that offer products and services that complement your own. For example, if your company specifically sells women's dress shoes, you might want to partner up with companies that sell jewelry, makeup, handbags, and more.
(Note: You want to aim to partner with at least five companies - but it's possible to create a successful loop giveaway involving 20 or more companies. If you're able to generate a good amount of participation, the more companies you work with, the better off you'll be.)
Once you have your partners all set, each of you will begin the contest on your own social media page by prompting your followers to follow a different account. Essentially, you'll create a loop that looks something like this:
A tells its followers to follow B
B tells its followers to follow C
C tells its followers to follow D
D tells its followers to follow A
(Note: of course, that this loop can start anywhere - as long as it ends in the same place. For example, followers of C will begin on C's page, then go to D, A, B, and then back to C.)
On your post, be sure to explain the following:
The rules of the contest (i.e., the steps your followers will need to take)
The potential prize participants can win (or, at least, an explanation of how a winner will be chosen)
The deadline for entering and completing the assigned tasks
As is probably obvious by now, the main benefit of running a loop giveaway is that your brand will be seen by anyone who participates in the contest (this, of course, is why it's beneficial to get a decent number of companies to participate). While not every follower of every brand will participate in the contest, you'll inherently gain a new potential customer out of everyone that does.
(Also worth noting is that those who participate are likely to be qualified leads, since their engagement level with a partner brand is clearly quite high.)
One last thing to note, here:
Because loop giveaways require participants to take a number of steps (as opposed to simple "single-entry" giveaways), the prize(s) you give away should be rather substantial. The good news is that, since you'll be partnering with a bunch of other companies, you can split this cost accordingly.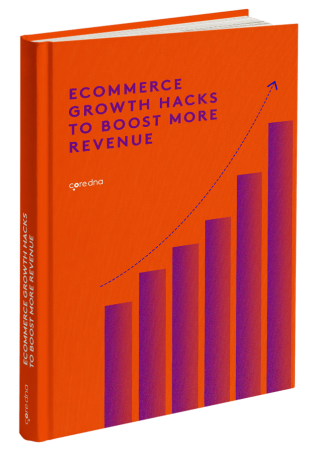 eCommerce growth tips to boost more revenue (Plus 11 BONUS growth strategies for you to try in 2022)
It's time to start generating some real returns, with the following underrated - but tried and tested - eCommerce growth strategies.
Conclusions
Let's quickly run through that list of underrated eCommerce 'cheat codes' again:
Demonstrate social proof in real-time
Use a benefit-focused SEO title
Install Live Chat to make it easier for customers to ask questions
Attract new customers by selling products at a loss
Show your web visitors how much others love your products/services
Answer FAQs on your category pages
Work hard to increase your website's loading speed
Create comparison guides for similar products
Create case studies, reviews, and testimonials to support buying decisions
Solicit specific product reviews
Simplify your homepage - see it as a dashboard
Boost influencer's content that features your brand
Under-promise and over-deliver on every order
Turn influencers into affiliates
Build a genuine loyalty scheme around your visitors
Reduce signup and checkout input fields to drive engagement
Make it easier for potential buyers to clearly see the discount they are getting
Partner up with other brands to create "giveaway loops"
As you can see, there are many tactics to help drive revenue growth from your website.
As a bonus tip, you should also spend some time working on conversion optimization. Testing various parts of your website can have a huge impact on your conversion rates, and in turn, this improves your bottom line figures. The great thing about improving conversion rates is you don't need to increase traffic - tiny percentage changes can make a huge difference in your website's profitability!