eCommerce Facebook Ads: How MVMT Grew From Zero to $90 Million in Under 5 Years With Facebook Ads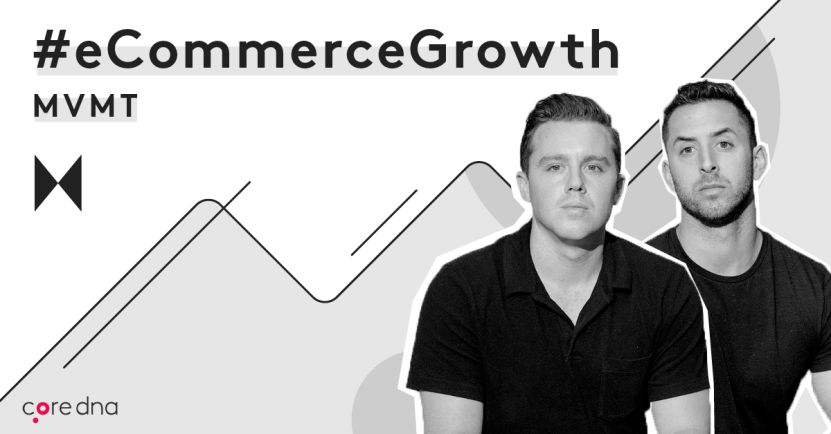 Zero to $90 million in under 5 years — That is the definition of scaling fast.
Labeled as the "fastest growing watch brand" in the world by Forbes, MVMT (pronounced 'Movement') is making a big splash in the eCommerce watch market.
MVMT founders Jake Kassan and Kramer LaPlante dropped out of college in 2013 with a dream of "shaking up" the watch industry. They were fed up with overpriced designer watch brands that ostracized a big part of the consumer market.
Sure, it's another story of industry disruption, but it's also a story that epitomizes the potency of digital marketing when it's executed correctly.
A snapshot of MVMT's digital success story
All of these metrics are great to look at, but the one you really care about is the $90 million in revenue that we mentioned at the start of the article. Because that's what matters… how you can use social media to generate growth in sales.
The problem for most eCommerce businesses as they try to scale is not that you don't appreciate the importance of social media advertising. You get that it's a critical part of your growth. But you are disenfranchised with the outcomes you've seen. Basically, you've sunk a ton of money into Facebook ads without much of a return.
What makes MVMT's social media strategy so successful?
Facebook and Instagram ads at scale
Facebook is an advertising behemoth, reporting revenue of $9.16 billion in the second quarter of 2017 — a 47% increase on their 2016 numbers.
This steady and continual growth for Facebook's ad offering is no surprise considering 93% of digital marketers use Facebook advertising regularly, with Instagram the next in line at 24%. Oh, yea and Facebook owns Instagram… so their market penetration when it comes to social media advertising is crazy.
With this market coverage and the fact that the apparel industry sees the lowest Cost-Per-Click (CPC) on average, it makes sense that MVMT doubled down on Facebook ads. But when they partnered their Facebook ads strategy with Instagram distribution, things really started to take shape. According to MVMT's ad manager Steven Dinelli, Instagram advertising improved the brand's cost per action by 20%.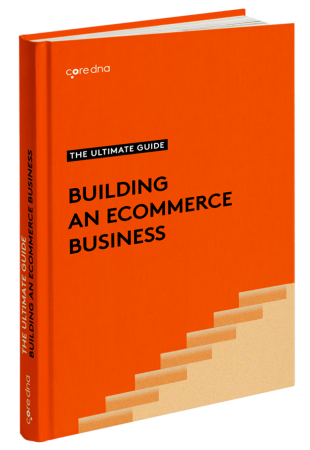 The ultimate guide to growing & scaling an eCommerce business
Everything we've learned throughout our 18+ years journey in a 30,000-word PDF guide.
Here are 10 things eCommerce businesses can learn from MVMT's Facebook ads strategy:
[Tip #1] Share your "Rags-To-Riches" or "Mission" story
It's commonly recognized that brand contributes to your performance in organic search results. This isn't a guesstimate from branding strategists and marketers, but a proven concept. Google favors websites with high-quality backlinks, considerable social signals, and high click-through rates. All of which relate to the presence and power of your brand in the marketThis makes it hard for new brands to compete from an SEO perspective with more established players. But it also emphasizes the importance of building a brand, so that in the future you can leverage that recognition to drive organic traffic to your website, as well as improve your ad click-through rates and a whole lot of other supplementary benefits of branding.
Since being founded in 2013 MVMT have grown a recognizable brand all over the world, as can be seen by the stats quoted at the beginning of this article. They have done this by putting their founders front and center as the face of the brand and it creates a personal connection with consumers. It drops the "corporate barrier" and provides something for people to resonate with.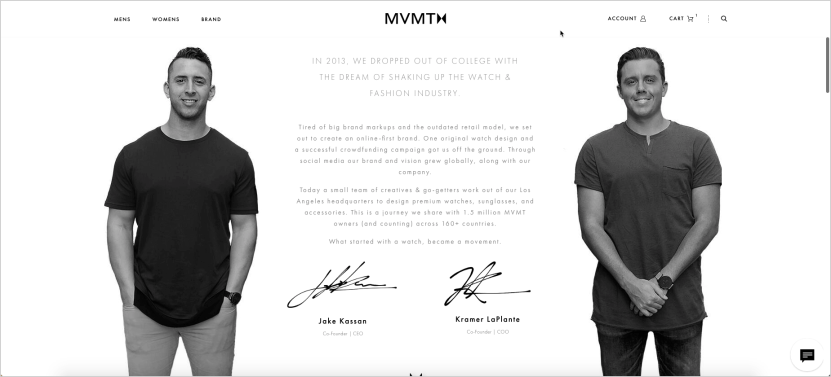 The personal story of Jake and Kramer has penetrated the online world. It's a feel-good story of two college dropouts who had $20,000 in debt before starting the fastest growing watch brand in the world. This story has seen MVMT featured on some of the world's biggest news publications including CNBC, Forbes, and Entrepreneur.
A strong brand has undoubtedly had a positive impact on the performance of MVMT's Facebook ads strategy.
Actionable takeaway: Don't be afraid to tell your story. The more you promote your story, the better your brand recognition will be. And as we all know, higher brand recognition = decreased ad spend.
[Tip #2] Sell the lifestyle (not the product)
When it comes to the day-to-day grind of running an eCommerce store that is driven by data, it's easy to forget about the things your customers actually care about. The brand-consumer relationship can become transactional very quickly if you take your eye off the prize. Transactional eCommerce businesses are reliant on price shoppers, discounts, and tiny margins.
Instead of selling the features of your products, sell a lifestyle.
Take one glance at MVMT's Facebook feed and you'll know what we are talking about. There is a distinct pattern in the content they create and the ads they run. All of them feature stylish millennials having fun and living the "private jet lifestyle".
In this instance, the MVMT lifestyle is one of luxury and high-end products, without the hefty price tag of other watch brands. A compelling pitch.
They capture the essence of this lifestyle by using images of people's faces and showing off MVMT watches alongside other stylish products: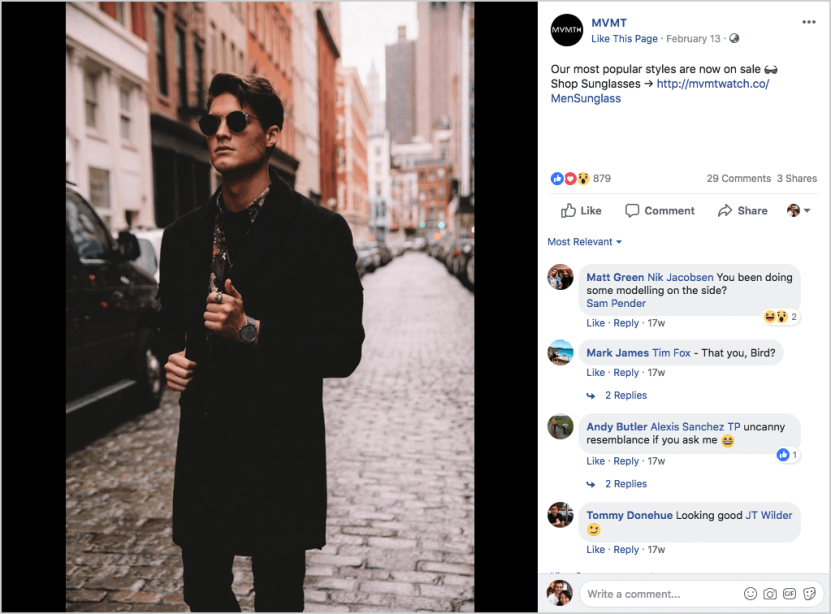 "When we see a face, we are automatically triggered to feel something or to empathize with that person" – Sabina Idler
Actionable takeaway: Don't focus on your features, instead seek to understand your customers' aspirations and recreate those aspirations in your Facebook ads.
[Tip #3] Get magazine-quality photos (and videos)
MVMT's visuals, for the most part, are professionally taken photographs that hero the product (and the customer). Not only are these visuals clean, crisp, and enticing, but they also establish brand consistency across all advertising platforms.
Here is an example of an MVMT Facebook ad that shows off their professional photo style: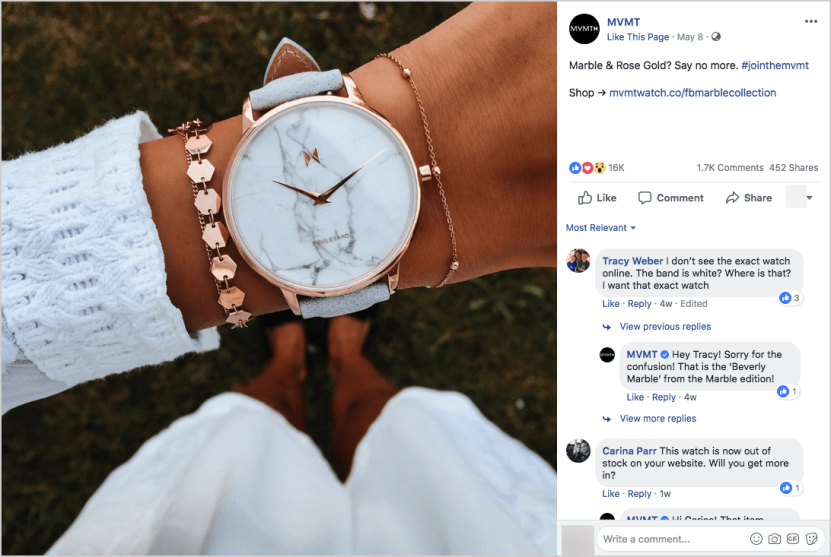 And one optimized for Instagram: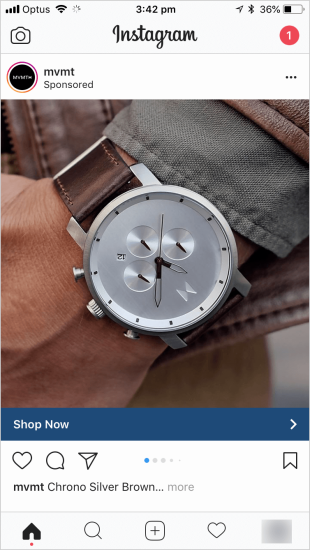 As you can see, they're not just taking a few snaps on their iPhone in a dark room and uploading them to Facebook. These are expertly captured magazine-quality photos, every single time.
Actionable takeaway: Don't skimp on the quality of your photos and imagery, invest in professional design and photography so that customers see you as credible. Remember, first impressions matter.
[Tip #4] Keep your copy short and sweet
Your Facebook ad copy should be short, sweet, and extremely clear. The most popular Facebook ad headlines are 5 words long, and the average ad post text is just 14 words long.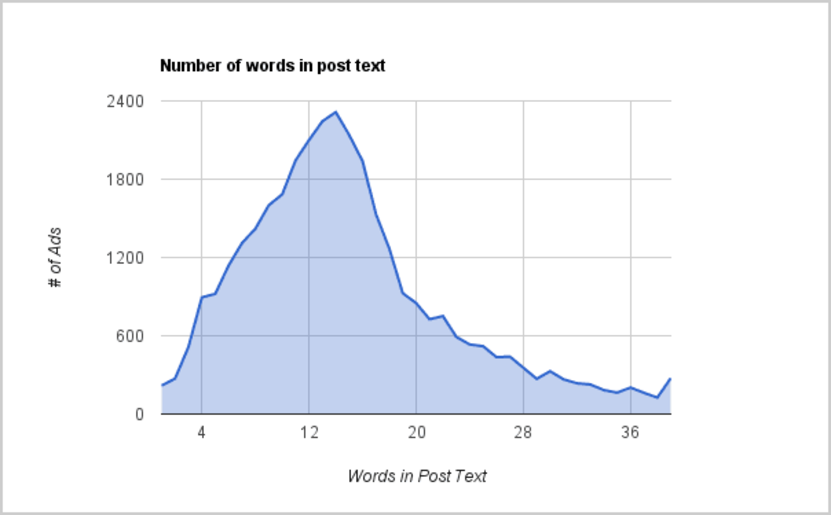 You have to remember that your prospects are scrolling through their Facebook feed and you are interrupting their experience with an ad. For a split second, you get their attention. You need to articulate your value as clearly as possible in that split second.
It only takes a quick glance at MVMT's captions to see that they got the memo on this tip. Almost all of their ads use short statements in the caption: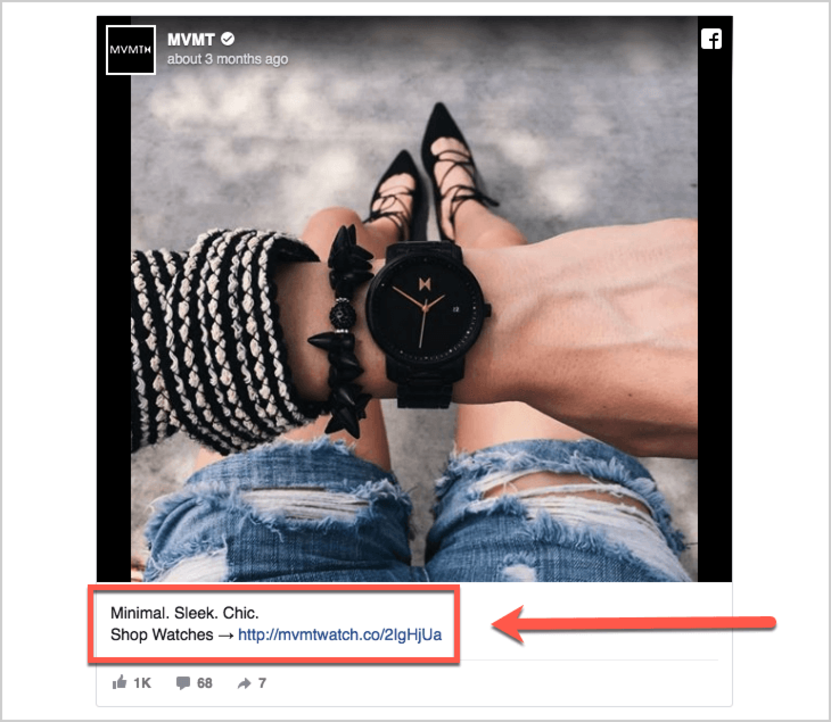 Actionable takeaway: Keep the copy for your Facebook ads short and to the point so you don't lose people's attention.
[Tip #5] Split trial your ads (one element at a time)
Split trial your ads is an integral part of a high-return Facebook ads strategy. Effective split tests can deliver significantly better returns. For example, here is one split test where a simple image change resulted in a 77% higher ROI.
Below is one example of a split test from MVMT where they have used the same text and call-to-action with different image variations. Both images are high-quality photographs, but one shows the watch on a male's hand, whereas the other shows off the watch by itself:

Interestingly, the watch by itself got significantly more engagement with double the comments.
Actionable takeaway: Test different variations of your ads, one at a time. Start with the ones with the highest impact on CTR and ROI.
[Tip #6] Avoid ad fatigue with different formats
Comparing ads for overall performance and ROI is one reason MVMT diversify their content, but it's not the only one. Using different types of visuals and messaging enables them to engage with alternate audience segments.
For example, some MVMT customers might resonate with user-generated content from customers, others might prefer high-quality product photos, or some might like to interact with video content. By appreciating the differences in their target audience and their preferences, and creating ads accordingly, MVMT is able to spread their influence to a wider market.
Here are a few ad variations that MVMT use in their strategy:
Multi-product photo with props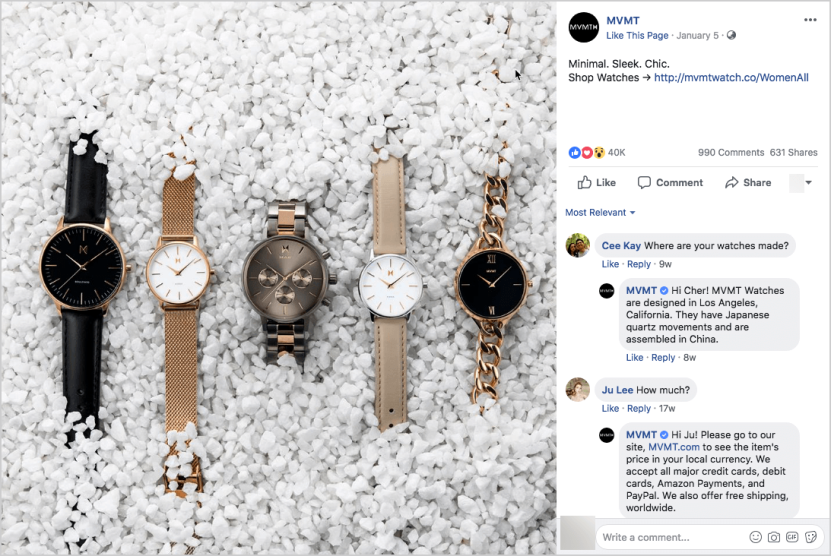 Product carousel ad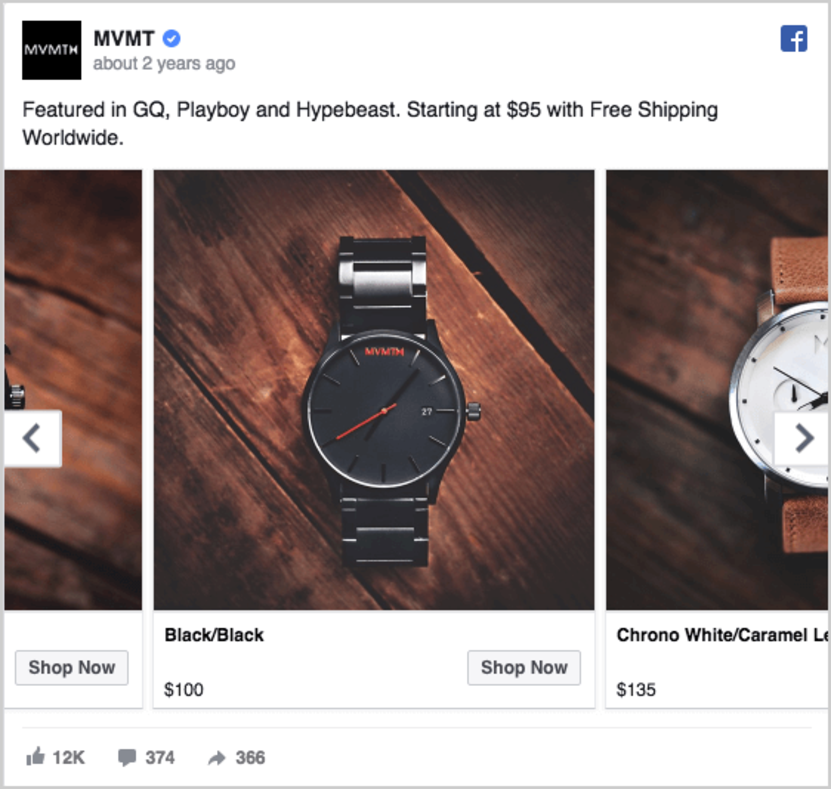 Product + image text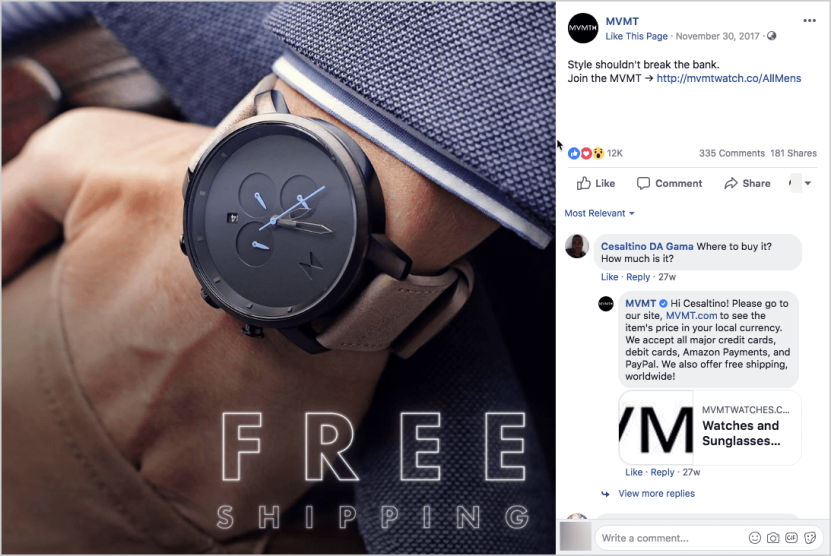 Actionable takeaway: Vary your ad formats so that people don't get bored or disengaged with your offers. In fact, create as many ad variations as possible from the beginning so you don't have to wait on designers to come up with different ads mid-campaign.
[Tip #7] Be consistent with color palettes, tones, and messaging across all platforms
As well as having a story that people connect with, the team at MVMT have developed a memorable visual identity. Look at their Instagram page and you'll see what we mean: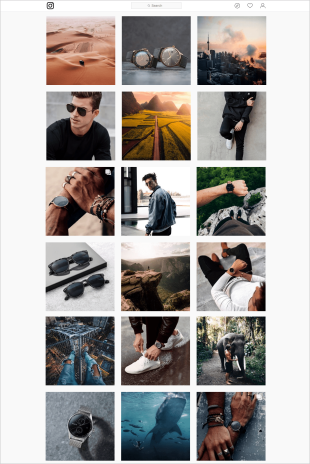 Even though the visuals are diverse, there is a distinct theme and color palette that MVMT are quite obviously trying to make their own. It's hard to overlook the natural connection consumers make between quality visuals and a quality end product. All of this builds brand equity.
The consistency of the MVMT brand doesn't stop with their Instagram feed. In fact, it is engrained everywhere you look.
Google, Facebook, Instagram, Twitter, in the news, on their website. Literally everywhere you come into contact with MVMT you will have a similar experience. Whether it's the re-telling of their story or the delivery of their product images, it's all consistent and powerful. This creates brand recognition and develops trust with customers.
High trust = lower cost per click/conversion/sale with Facebook ads.
Actionable takeaway: Create brand guidelines for colors, fonts, tones, and messaging and ensure that all of your marketing content adheres to these guidelines.
[Tip #8] Hack your social proof with "Dark Posts"
The concept of social proof is critical to your Facebook ads strategy. If you run an ad on a post with zero likes, comments, and shares, then prospects question the credibility of your offer. On the other hand, if you have lots of engagement and positive commentary on a post, it flips that equation on its head. Eliciting that "I want what they have" feeling.
MVMT smartly uses native posts on their Facebook page in their ad campaigns, rather than creating ads directly in Facebook ads manager. This encourages more engagement because the posts don't look like ads. By getting more engagement they tap into the power of social proof.
Below is an example of two posts published a couple of days apart on the MVMT Facebook page, the left post was run in an ad campaign and the right one wasn't:

Actionable takeaway: Create ads using Dark Posts (or unpublished page posts) so you can "save" all those likes, shares, and comments for social proof.
[Tip #9] Make your customers the hero
It's not often MVMT break their stylistic photography approach to Facebook ads, but when they do it's for good reason.
On the odd occasion, they will feature user-generated content (UGC) in the form of happy customers wearing their watches. UGC is a concept made famous by brands such as GoPro who use content created by their customers as the backbone of their entire marketing strategy. For MVMT, these images look far more down to earth and "real" than their typical ads.
Here is one example of this in action from MVMT on Facebook: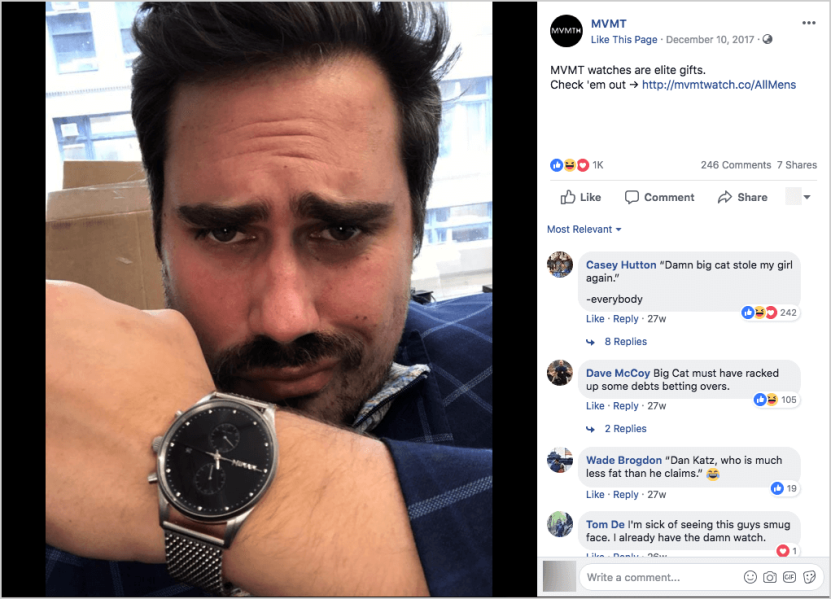 Marketing is much more effective through the words of someone else (a customer) rather than you or your team.
Another area they have made the most of content created by users is with a branded hashtag. There are over 100,000 posts on Instagram alone that use #mvmt: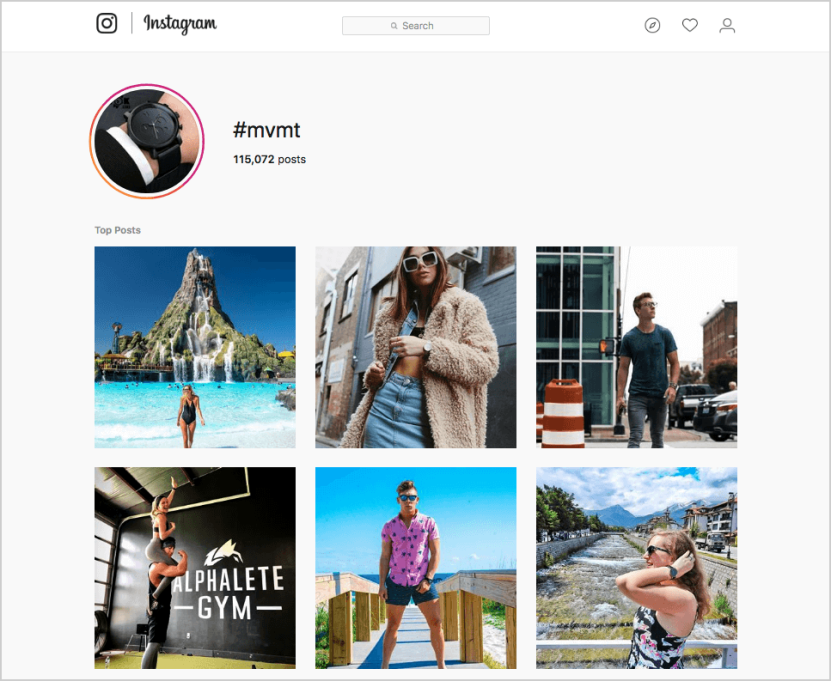 Using a branded hashtag adds an element of virality to your Facebook ads strategy - it's the social media version of word-of-mouth marketing.
"Leveraging your community, in whichever way you can, is key." - Jake Kassan, Co-Founder of MVMT
Actionable takeaway: Don't rely on brand messaging and sales offers, shine a light on your customers to leverage the power of word-of-mouth.
[Tip #10] Be ultra responsive and reward loyalty
Customers are at the center of MVMT's entire approach to Facebook ads. This customer-centric approach is fundamental to growing a strong brand on social media that people want to engage with and share.
For example, MVMT have their finger on the button ready to reply to customers whenever they have a request on Facebook. Responsiveness is critical when you are running large-scale ad campaigns and people want answers.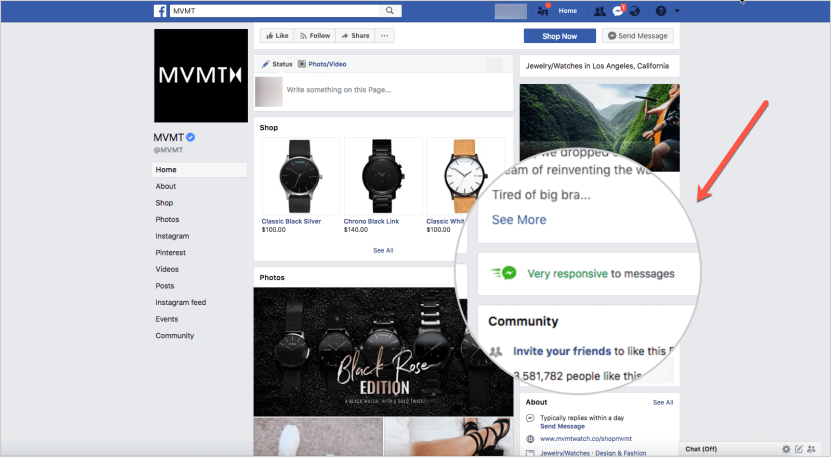 The speed of your customer service responses can be the difference between a new customer and a lost customer. It can be the difference between a repeat customer, and someone running as fast as they can towards a competitor's website.
The fastest growing eCommerce brands of our time recognize the importance of responsiveness. It's no longer ok to wait a few days to get back to people. Consumers want an answer and they want it yesterday. MVMT understands this consumer trend and are delivering above and beyond with their customer service.
Another cog in the MVMT customer-centric approach to Facebook ads is their referral program.
Having a customer referral program isn't exactly a new tactic, but what MVMT do a little differently is offer brand advocates a monetary voucher when they refer a friend. Plus, the new customer gets the same perk!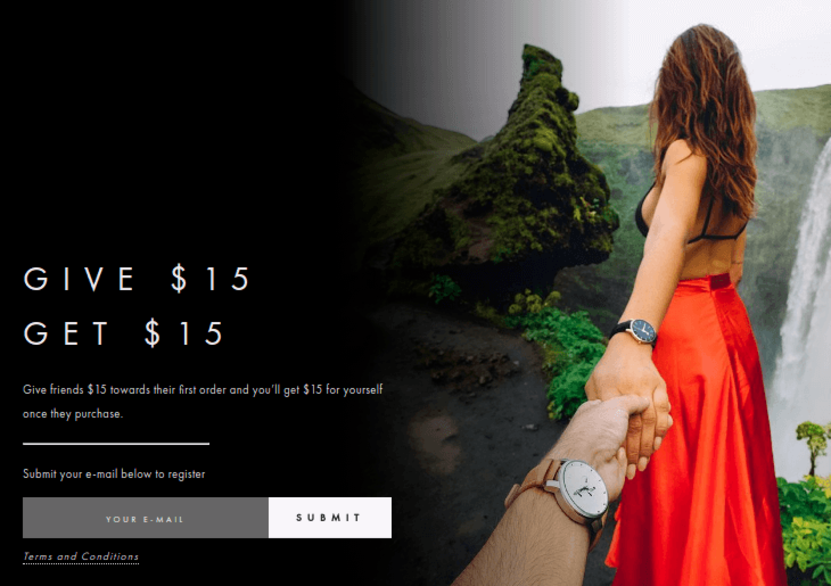 It's a simple add-on to a great social media and branding strategy, but it emphasizes MVMT's dedication to its customers.
Want to see the 70+ MVMT's Facebook ads we used to reverse engineer their strategy?
Conclusion
MVMT's Facebook ad strategy goes above and beyond, which is exactly why they're experiencing such rapid growth. Here are some key takeaways that you can use to help grow your eCommerce business with Facebook ads:
Only promote high-quality content: When it comes to Facebook and Instagram ads, don't skimp on the quality of your content. Take professional photographs, test image variations, and encourage your customers to join the party.
Build an identity: If your brand doesn't have a distinguishable identity right now, then drop everything and start building it. Articulate a story that people will connect with and distribute your message consistently with on-brand content across the platforms that make the most sense.
Put customers first: Above all else, care about your customers! Reward them for their loyalty and always be responsive to their requests.
What fire step are you going to take to own your Facebook ad campaign?