I'm in B2B. You Want Me To Do What With Snapchat?!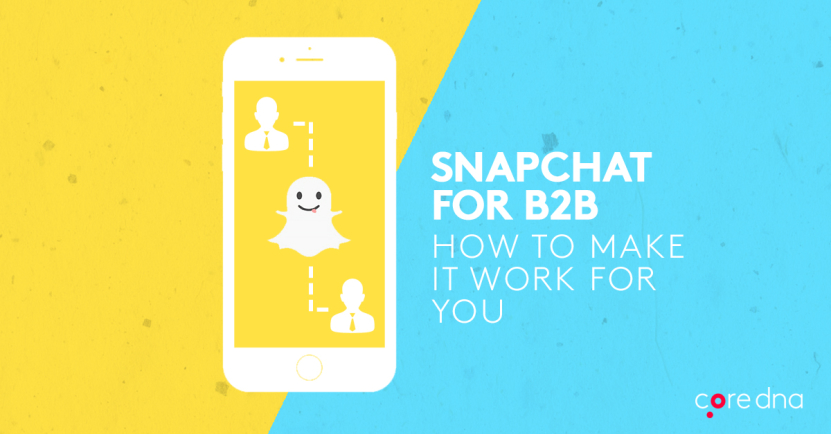 You've heard of Snapchat. It's for sexting right?
That would have been a fair assessment 12-18 months ago, but it's quickly earning respect as an essential brand marketing tool.
It's clearly been a hit among the 20-something crowd but is now transitioning into an increasingly commercial platform. The platform has inked partnership deals with major mainstream publishers such as MTV, News Ltd, CNN, National Geographic and The Food Network. They are fast implementing new and innovative interactive advertising options.
Snapchat has been valued at over $10 billion by reputable VC firm Kleiner Perkins Caufield & Byers, which forecasts huge growth potential via older demographics.
But you could be excused for thinking that Snapchat might be a better platform to promote a B2C based message. We think you B2B marketers should also take a look. Here's why and how you can get started.
In a hurry? Jump into a specific section: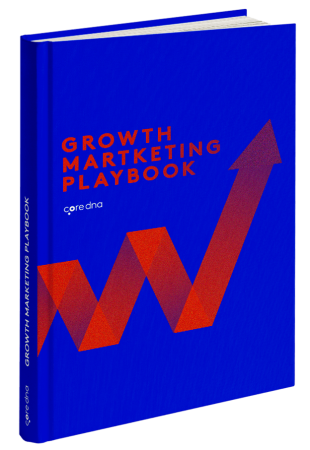 The ultimate growth marketing playbook
The exact 41 strategies we used to grow from 4-figure to 6-figure traffic in one year.
Why Snapchat for Business to Business (B2B)?
Most new technological breakthroughs are initially written off for being 'too limited', 'too obscure', or just plain 'too silly'.
The diffusion of innovations explains how these once derided ideas or new developments build enough critical mass, they spill over into the mainstream; eventually winning over the mass market 'early and late majorities' that initially resisted.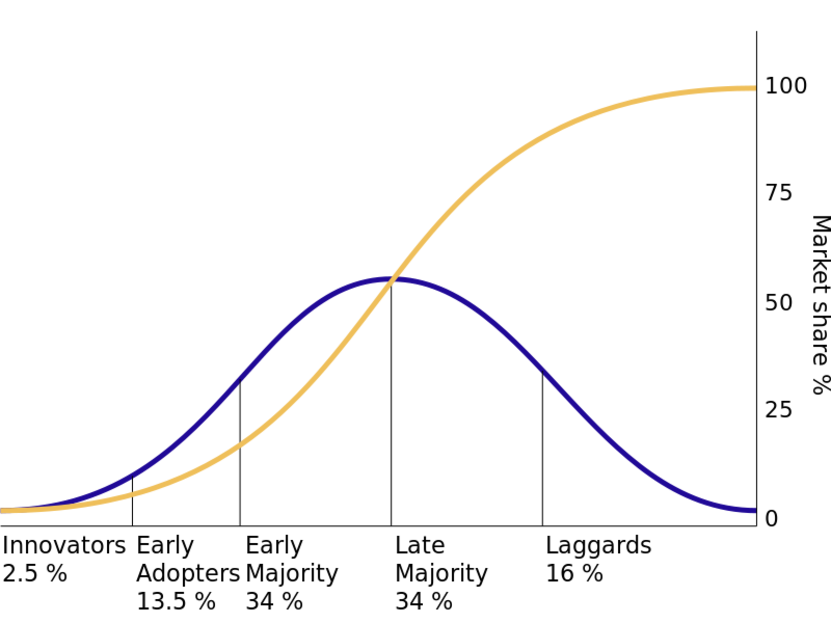 It's no different than Twitter when celebrities hopped on. Or Facebook when your parents did.
Sure, TODAY most Snapchat users are fairly young. Seventy-one percent of Snapchat users are currently under the age of 25, but this is merely the aforementioned diffusion of innovations curve at work. The kids are the innovators and early adopters. It is simply a matter of time before the Early Majority joins the party, wanting to soak up the cool factor. Before you know it your parents is on Snapchat, along with the rest of the Laggards.
But let's talk about attention.
At a time when most other social channels (*ahem* Facebook) are restricting a brand's ability to reach its own fans (without forking out the dough to advertise), Snapchat boasts an extremely engaged user base by comparison.
Snapchat users are engaged on the platform for up to 20 minutes a day. Today there are billions of content pieces shared daily on Snapchat.
And it's expected that the platform is already 'aging up' as it continues to grow quickly to around 200 million daily users or more.
Add to that its unique blend of benefits including immediacy, engagement, authenticity, and geography, and you're looking a platform poised to continue becoming more mainstream.
All of this sounds good in theory. But how, practically, do you start using it to hit your B2B marketing objectives?
Let's take a look at a few examples.
Practical B2B Snapchat Examples to Explore
Finding compelling examples of B2C companies using Snapchat is relatively easy.
B2B is a little tougher. However, there are a few that offer a glimpse into the eventual potential for B2B firms. Whilst you are focused on business to business communications, you are still talking to people. And people respond to engaging storytelling. Snapchat offers such a window into your brand.engaging storytelling. Snapchat offers such a window into your brand.
One of the best examples comes from early adopter Mark Suster, a VC with Upfront Ventures and blogger at Both Sides of the Table.
He'll regularly put together short 10-15 second clips with tips on fundraising, tech PR, recruiting, and even small interviews with colleagues.
Mark even recently released Snapstorms.com, which is a collection of all of his videos from Snapchat for people who don't want to login to the app (but would like to view the video content anyway).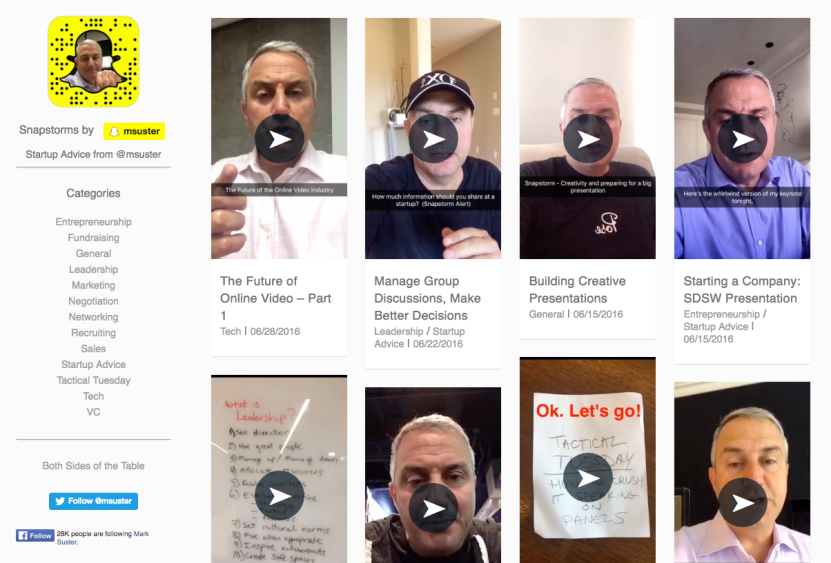 Another example comes from Gary Vaynerchuck's Vayner Media, a social media agency that takes more of a 'behind the scenes' approach to showcase life at their agency.
Service firms are notoriously difficult to gauge or compare with competitors (because what they offer are intangibles). So it's common to instead shed light on the people, the assets within a company that makes it a special place to work.
Vayner Media shine a light on different team members, allowing each to put their own spin on what daily life is like.
Gary is extremely bullish on Snapchat's future for video consumption, recently claiming in Inc. magazine:
"There will be some plumber in America who becomes famous by doing two-minute videos broken up in 20 sections on how to fix things yourself."
He believes that platform is similar to YouTube, which has been a huge success for brands doing how-to videos.
Even industry stalwarts like Goldman Sachs are getting in on the action.
Finance and investment are not the most visually appealing sectors so they're using Snapchat heavily for recruiting.
Their goal is to break away from the old 'Wall Street' stigma that might scare away potential applicants. They use the medium to highlight more progressive than expected policies like casual dress, open-offices, and flexible schedules. They also use a 'Campus Story' to identify and engage with potential college seniors early in the process to attract the best of the best.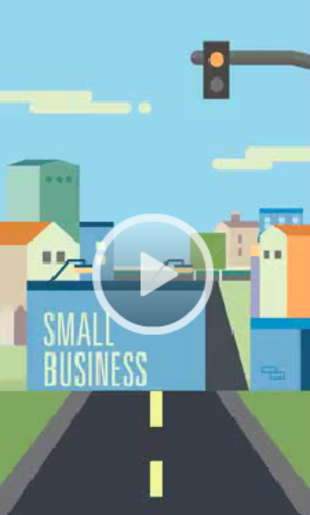 Each of these examples is relevant, practical and can be easily implemented with a little creativity. Here are a few more ways to make Snapchat work for your B2B organization.
How to Make Snapchat Work for B2B
If you're brand-new to Snapchat, start with these compelling guides from Mark Suster and BuzzFeed to learn how the platform works.
Snapchat is quirky and there's a bit of a learning curve in how to both consume and publish content like a pro. Once you've mastered the basics, here are three other ideas to explore.
Snapchat for B2B Tip #1: Limited Time Offers
Zembula claims one of the most psychologically powerful features of Snapchat is how it emphasizes FOMO (the fear of missing out) because that content will disappear after 24 hours.
That makes it a compelling way to provide contests, coupons, and other scarcity-based promotions that people have no choice but to pay attention to.
Similar to the short half life of a tweet, Snapchat users are primed from the beginning to pay especially close attention to things that won't be around 24 hours later.
For example, a Hammock company ran an interactive contest that had users submit their own Stories, with over 100 people responding and 130+ views in the tiny 24-hour window.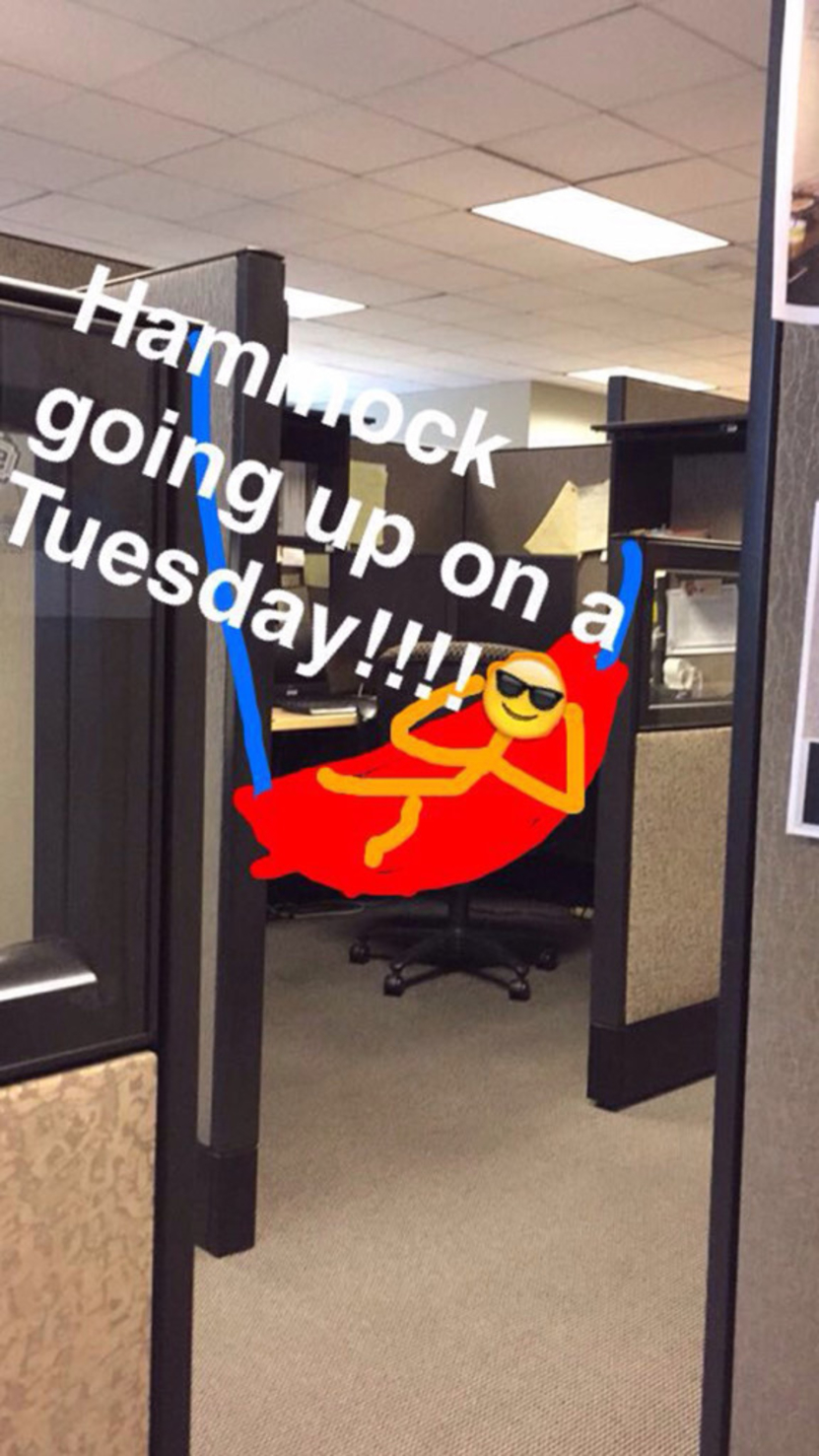 Snapchat's ephemeral nature makes it the perfect venue for 'flash'-based, interactive campaigns, promotions or contests. Read this thread on Inbound.org for more ideas.
Snapchat for B2B Tip #2: Augment, Don't Replace
Currently, there are difficulties with browsing and content discovery on Snapchat (as pointed out by Relevance).
To mitigate these issues, they recommend keeping your Snapchat use aligned with a central theme or campaign and using the tool to supplement 'omni-channel' campaigns.
For example, you wouldn't (or shouldn't) post the same exact message to Twitter, Facebook, and LinkedIn. Instead, tweets should be short and direct. Facebook messages highly visual and personally engaging. While LinkedIn would focus more on the business implications. In each case, you're tailoring the message and content form to the appropriate channel's audience.
Same holds true for Snapchat. Tailor the primary messaging (limited-time, short video clips, location, etc.) and use other platforms to help cross promote the activity.
Snapchat for B2B Tip #3: Location-Based Content
Snapchat is obviously mobile-first. That's important because it means that they incorporate mobile-specific features like your built-in maps GPS.
That allows Snapchat to use powerful on-demand geofilters you can use to attract and dominate the areas around you.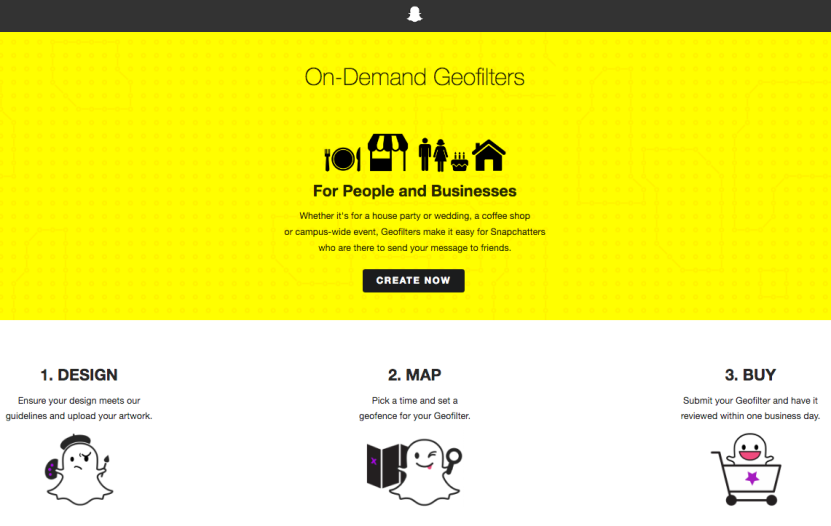 A perfect use case includes conferences, where you can stream conference content (and after-hours entertainment) for increasing your own brand awareness.
Intel recently did something similar by giving people tours at the popular Consumer Electronics Show.
While fashion designer Valentino had Ben Stiller and Owen Wilson reprise their infamous Zoolander roles at Fashion Week in Paris, complete with a 'Blue Steel' geofilter that made it easy for nearby people to discover and share the exclusive event.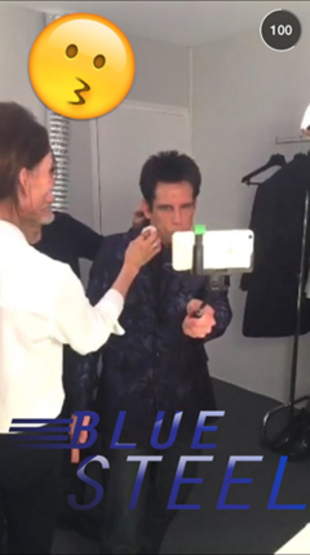 In Conclusion
Snapchat is already a hit among millennials.
But it's also poised to grow out of its humble beginnings and become a mainstream tool deserving its own attention and strategies.
Its unique features, combined with increasingly high engagement rates, make it an intriguing option for B2B brands who are looking for new options to engage with potential customers or stakeholders like Scott Britton mentions in this post.
We'd love to hear how Snapchat is fitting into your broader content plans and strategy.
inline form