11 Biggest Content Marketing Mistakes I See People Make (Yes, Even You!)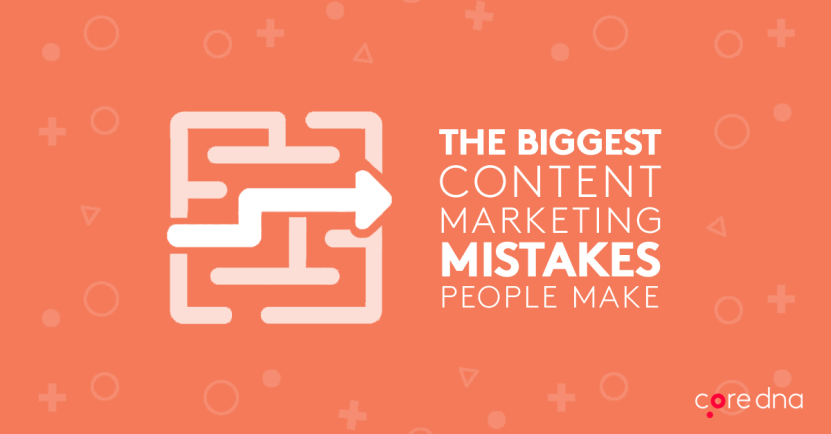 "Content marketing is all the marketing that's left" – Seth Godin
You've read downloaded a cornucopia of checklists, a gaggle of eBooks, went to a few conferences, and subscribed to plenty of pithy podcasts on the subject.
And yet, you are probably making the same mistakes as so many others giving content marketing a red hot go.
No judgment. I've made all these mistakes and probably still make some occasionally. Here are 11 content marketing mistakes we all make, and the recipe to fix each one.
In a hurry? Here are the content marketing mistakes we see time and time again: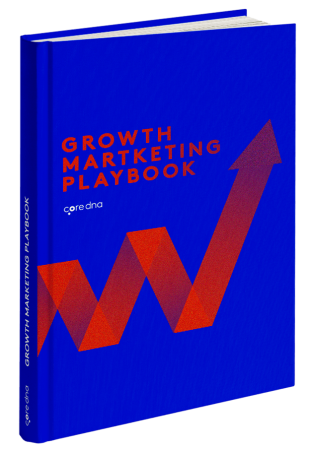 The ultimate growth marketing playbook
The exact 41 strategies we used to grow from 4-figure to 6-figure traffic in one year.
Content marketing mistake #1: Lots of action, but no master plan (or vice versa)
Good content marketing is the marriage of two factors – an effective strategy and great tactical execution.
An effective strategy is your master plan. For example, listening to your target audience via community forums, gaining insight, and identifying how you can tailor your communications to meet those audience needs. It means setting goals to help you achieve that objective.
Tactical execution is the series of actions you will take to achieve those goals. This might mean making a tactical decision to devote an hour per day being an active participant in the Facebook groups that your target niche are spending their time.
Action but no strategy:
You've been cranking out great content day in, day out. People are reading it, liking it. But there are little to no conversions. Your ROI is low.
The needle isn't moving. Why?
With over 250 million pieces of online content created every single minute, you can't just produce content and expect it to get the attention you desire.
"Content strategy is the infrastructure of content marketing. Without answers to 'why' & 'how' the result is chaos." Rebecca Lieb
How do you create a successful marketing strategy?
Follow quant-based marketing framework by working backwards from your end vision.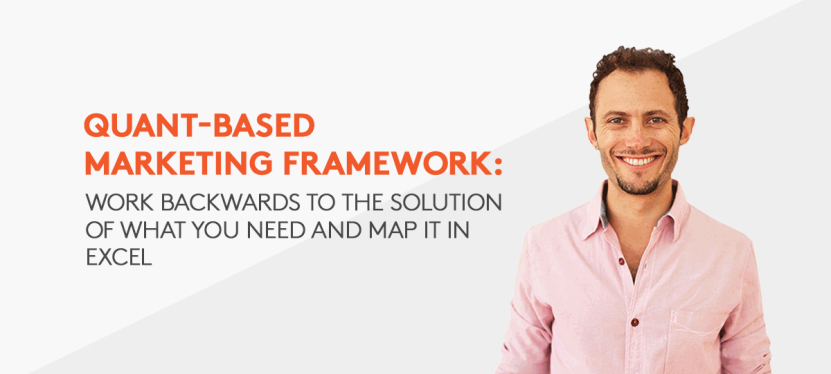 First, figure out your S.M.A.R.T goal.
S - Specific
M - Measurable
A - Assignable
R - Realistic
T - Time-based
A S.M.A.R.T goal is something like, 'increasing subscription monthly revenue by $22,000 within 3 months', not 'becoming a millionaire in 2 years'.
Once you've figured that out, go backwards. Calculate how many leads you'd need to reach that goal and what tactics you'll need to incorporate. Break it down into tiny, manageable steps.
Strategy but no action:
"The longer you're not taking action the more money you're losing." Carrie Wilkerson
Spending all your time making plans will not help you. Make a plan and start working on your tactics to achieve the plan. Don't let the fear of content not being good enough stop you from reaching out to your audience.
As Seth Godin says, "Waiting for the thing that cannot be improved (and cannot be criticized) keeps us from beginning. Merely begin."
Wilson Hung of SumoMe did an excellent job of incorporating both an effective strategy and excellent tactics towards reaching a S.M.A.R.T goal - '1000 email subscribers within 90 days'.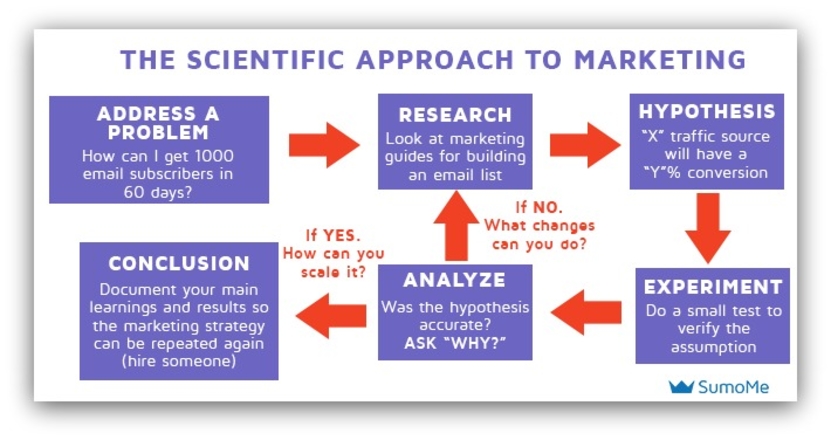 He worked backwards from the goal, devised a strategy based on it and decided to pursue platforms such as Quora and Reddit as he felt they were the most workable.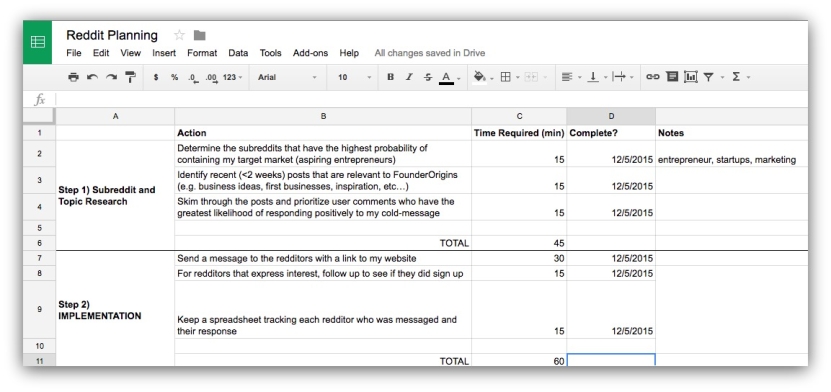 This entire process was so effective (and well-documented) that he gained 1000 subscribers in one month solely by answering questions on Reddit. Impressive, right?
Content marketing mistake

#2: Content equals blog posts
Content rules all, right? An old phrase that still rings true, as long as you are not just talking about any old content. Variety is the new ruler of rulers.
60% of marketers create at least one piece of content each day (eMarketer) but this encompasses written, image based, and audio content. Online content can include:
1. Whitepapers
2. How To Guides
3. Checklists
4. Short rants
5. Webinars
6. Short form videos (e.g. Vine)
7. Longer form videos (e.g. YouTube)
8. Memes
9. Infographics
10. Case Studies
11. GIFs
12. Social media posts
13. Podcasts
14. Photographic images
15. Animations
Go beyond a blog post. Think about what would appeal to your target customer and then play to your strengths in terms of content creation.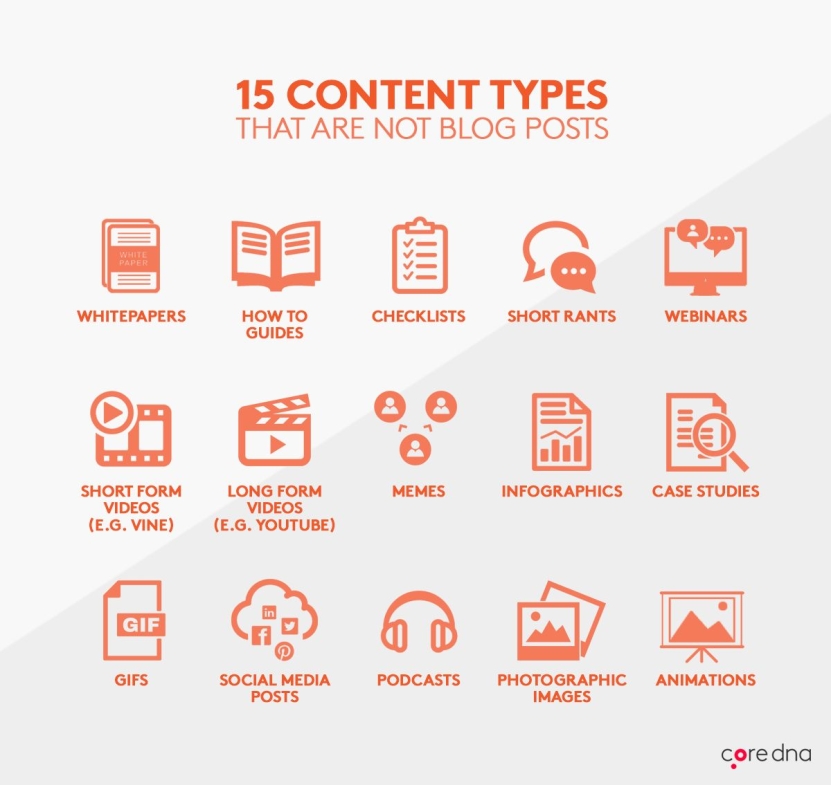 Content marketing mistake

#3: Purely hypothetical buyer personas
'Marketing Manager in healthcare industry.
35 – 45 years of age.
Lives in Albuquerque with a wife and two kids.
Struggles with work automation.'
You've no doubt heard about the importance of creating a buyer persona, but if the above example is the extent of your audience insight, then you don't know your customers...at all.
You need to go much deeper to understand their motivations and challenges to create content that they actually want to see.
But how do you create a thorough buyer persona or customer profile?
Conduct customer surveys:
Ask questions to your current customer base. Create a survey of 10 to 12 questions that will give you insights based on their goals, the journey that brought them to you, their hesitations before purchasing, their concerns about your product or your industry, any preconceived notions or assumptions.
Doing phone & in-person interviews:
Instead of emailing all your existing customers, try to catch them on the phone or conduct an in-person interview. This will help you navigate the conversation to the important parts of your research and gain extra insight that may have been lost in the one-dimensional emails answer.
Web & exit surveys:
Use survey pop-ups that ask customers about their experience or why they're exiting without making a sale (or whatever your conversion goal is). You can use tools such as Qualaroo or Survicate to do this.
Create interesting and to-the-point questions keeping your goal in mind – is the fulfilment of your customer's needs important to you or the obstacles that are keeping customers from purchasing?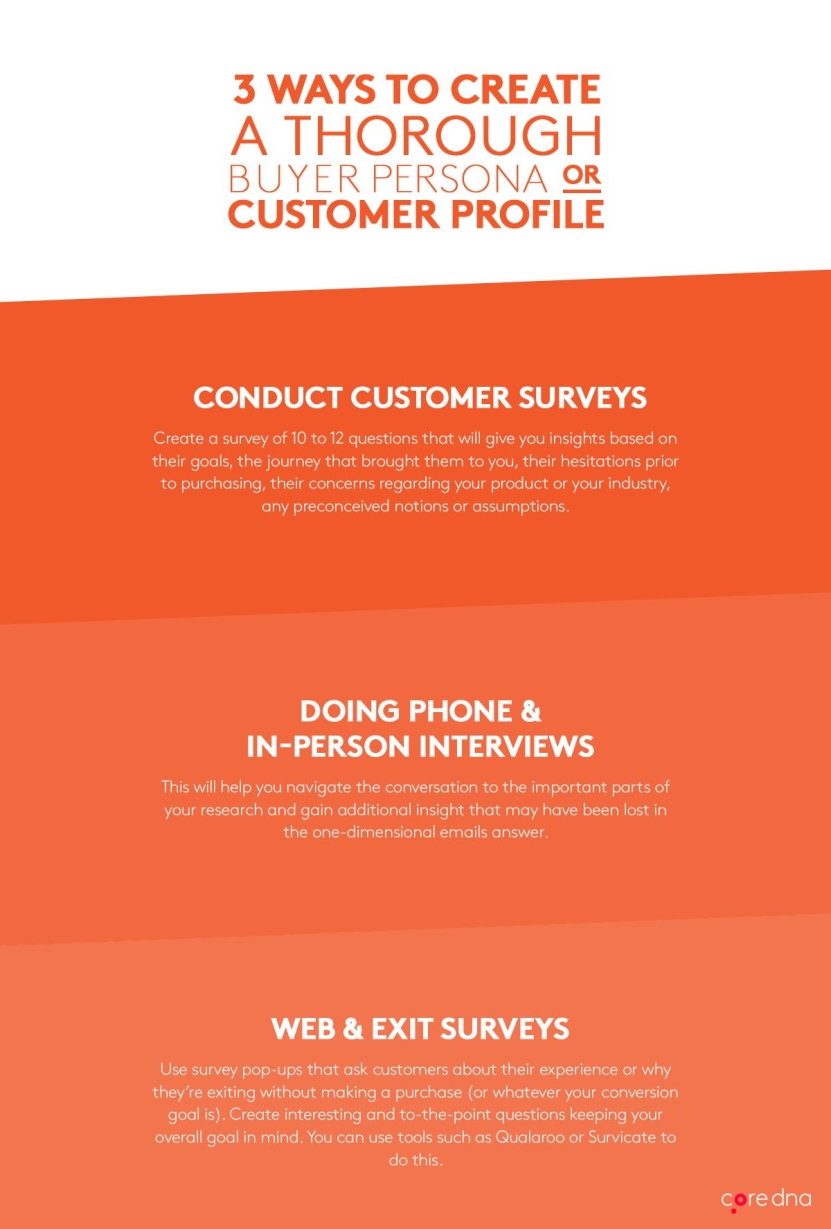 But what if you don't have a large enough customer database to question and gain insight from?
Benji Hyam from Grow and Convert has a fantastic workaround: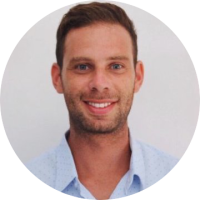 Benji Hyam:

1. Come up with a narrow focus for your target audience segment. Instead of just saying marketers, try to get as specific as possible, marketers who run growth at venture-backed startups with over $10M in funding.

2. Do research on LinkedIn, Data.com, or other data service to figure out companies and ideal people to contact. Try to identify people and companies that would be ideal clients for your product or service.

3. Cold outreach to the point of contact at the company you think would be a good fit asking if you could have 15-20 minutes of their time to talk about their company, and their current X strategies (mobile, marketing, retail) - whatever industry they're in.

4. Ask questions about the challenges they face in their role, and/or the challenges related to the problem your product or service solves. Ask about who would make a decision to buy if they were to purchase a product or service like yours. The goal should be to get as much insight as you can about the buyer and the ideal company that would buy from you.

5. If your product or service is in prelaunch, then you can also show them mockups and ask for their initial impressions, see what questions come to their mind, ask open ended questions, etc.

[Via Grow and Convert]
Content marketing mistake

#4: You don't understand your audience (see mistake #3) so your content is not helpful to them
According to a 2015 study by IBM, 63% of customers don't feel understood by the brands they love. The study further went on to explain the massive gap between what businesses perceive about their consumers and what their customers actually want.
And this is where all their marketing efforts go to waste.
They think that they know their audience really well and are connecting with them, but they're not.
Instead of targeting senior level marketers through sophisticated content, they're creating how-to guides for entry level marketers. They're wasting time and resources creating content that is not attracting their target audience.
Delve deep into your audience's mind and craft content how, what and when they like.
The focus of creating (and promoting) content is to attract the right audience, so make your content all about them.
Content marketing mistake

#5: Content Published = Content Marketing
You've done thorough research.
You know your target audience and what they want to see from you,
You've produced an excellent infographic (rather than just a blog post).
You've hit Publish.
Annnd you're done….
Nope. You're not done yet.
As Nigel McHugh aptly says, 'Content is king but distribution is queen, and she wears the trousers.'
Unless you put your content out there in front of your target audience through different social media, email, forums, blogs, and other marketing channels your content is unlikely to make a big impact.
Shrewd marketers follow the 80/20 rule religiously.
Spend 20% of your time creating amazing content and 80% of time promoting the heck out of it.
1. Reach out to influencers in your niche. Ask for their feedback.
2. Contact people who have created and shared content similar to yours.
3. Mention these people when sharing your content on social media.
4. Share multiple times on social media.
5. Be active on community sites and share your content when it's relevant.
That's why people like Brian Dean, Derek Halpern, Jonathan Dane, and Benji Hyam are able to get hundreds (if not thousands) of shares and traffic every time they publish a post.
Stop focusing solely on creating content and spend more time marketing it. It's 'Content Marketing' after all, not 'Content Publishing' or 'Content Creation'.
It's called 'Content MARKETING', not 'Content Creation' [Click to tweet]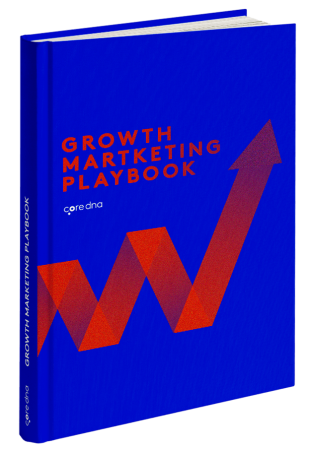 The ultimate growth marketing playbook
The exact 41 strategies we used to grow from 4-figure to 6-figure traffic in one year.
Content marketing mistake

#6: Focusing solely on SEO
It's 2016 and SEO is still a big deal.
But is it the only thing that matters in content marketing? Breaking news; the answer is NO.
In 2007 you could get a lot of reach by simply publishing content consistently, By focusing on search engines and posting content twice a week you could have developed quite a following. Because of this, many content marketers got hyper-focused on SEO, and they remain so today. Nathan Collier calls this "SEO Myopia".
Fast forward almost a decade, fighting for search engine ranking is a competitive battle. With over 2 million blog posts written every single day, you can't rely solely on SEO to increase your reach.
Publishing on a regular basis has ZERO effect on your rankings. If it did, eZineArticles would be dominating the SERPs. Focusing on just creating exceptional content, or Content 10x as coined by Rand Fishkin, will not work either.
Everyone's doing that.
You need something different. Something that makes your brand stand out. A point of difference.
Take a look at how Danavir Sarria of Copy Monk is educating his audience. He writes about marketing and copywriting, and he knows that this is a boring, over-saturated market.
He made a name for himself by using comics to illustrate his blog post. Entertainment and education at the same time. His first comic/article went viral instantly and grabbed the attention of several big names in the industry.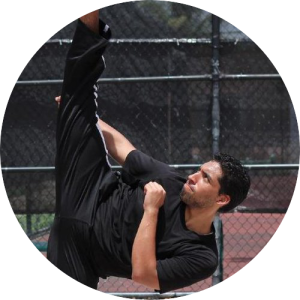 Danavir Sarria:

It made a huge impact. It not only gave me my first 100-200 email subscribers, but it helped me build an insane amount of influence within the copywriting community.

All of a sudden, people "remembered" who I was and some influencers started to notice me.

That, plus it gave me huge motivation to continue.

Today, people remember me mostly because of my comics.

Long story short, I wouldn't have gotten that type of huge impact with any other form of content.
Use SEO to increase your rankings, but understand that SEO has evolved. It is no longer just about engines, but also about users. Find a legit way to appeal to your audience and you will see your reach increase.
Content Marketing Mistake #7: Crappy content
Let's be honest for a second. You see hundreds of posts every day from blogs you've subscribed to, but how many could you truly classify as great quality?
Your readers can easily distinguish between content written solely for SEO purposes and value-based content. You shouldn't disregard SEO. But add value first, and then worry about SEO.
There is a content crime worse than writing purely for the sake of SEO, however. That is;
You publish a piece of content solely to fulfill the KPI that promises to publish a certain number of posts each month.
Content for content's sake will not win you any fans and will more likely see you lose subscribers and brand equity in the process.
Ten blog posts filled with the usual fodder will not help your case; try a single blog post with tons of value and actionable information instead. And make that single piece of content work harder than 10 bad posts by turning it into different media formats (Mistake #2). Spend the budget of 10 bad posts on promoting that single great one.
Your first priority should always be great content that adds value and educates readers. Everything else comes after that.
Content marketing mistake

#8: Expecting instant results
As Dave Gerhardt mentioned in his article on Drift, 'Blogging for your business is an investment, not a get rich quick scheme.' [Click to tweet]
Content marketing requires effort. You can't publish a couple of blog posts and expect to see an increased ROI, a mounting audience and tons of subscribers immediately.
The chart above shows the breakdown of traffic to Drift's blog in July by the month that the post was actually published.
10.5% of July's blog traffic came from November's posts, another 10.5% came from March's posts, 15.8% came from April's posts, and so on.
The bottom line is this: in content marketing, you harvest what you sow. [Click to tweet]
Content marketing mistake

#9: Trying to do too much
A profile on Medium. Your blog. Guest blogging. LinkedIn. Twitter. Facebook. YouTube. Vlogs. Podcasts. Webinars. Blab. And on and on.
There are so many channels you can utilize to produce and publish your content. Each is beneficial in their own ways. You make a costly mistake trying to cover all these channels and media, and end up stretching yourself too thin. You launch a YouTube Channel or a podcast, publish a few times, and then let it taper off because you don't have the time or resource to commit.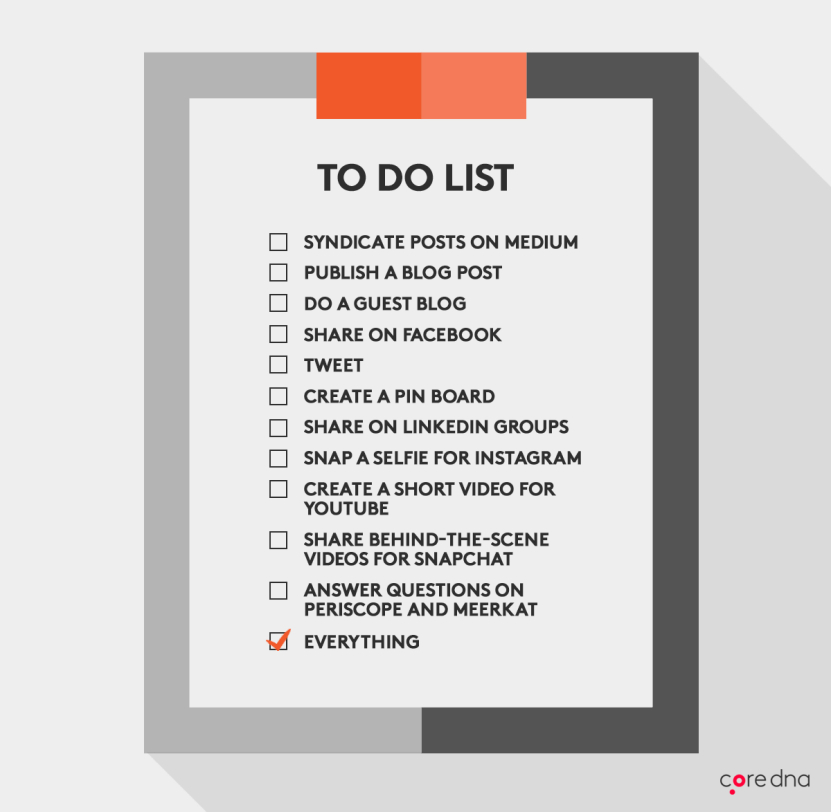 Instead of hitting all channels that come to mind, choose a couple to start with. If writing is your forte then start off with a blog, eventually branch out to guest blogs, and start posting on social media.
Focus on one medium, publish consistently and win an audience base, before jumping over to the next avenue.
Content marketing mistake

#10: Content that sells too hard
"Behind every piece of bad content is an executive who asked for it" ~ Michael Brenner
Hard-selling rarely works in content marketing.
How often has your boss asked you to create content that "promotes our business a bit more obvious"?
They want to see results (fast) and believe that using content with a more immediate acquisition hook is the way to get some short term ROI.
But, that's not what your audience came to your blog for.
They wanted to see content that helps them to do their job, makes them a better person, and solves their problems.
It's easy to blame your boss. Understandable that you want to keep your job so you've done what you're told. But as a content marketer, it's actually your job to educate them on what works and what doesn't. And over-selling your business' products or services in a piece of informational, top of the funnel content, doesn't work.
There are a lot of great posts on how to convince your boss to invest in 'real' content marketing (there's even a website dedicated to it), but the summary is this:
1. Personalize your pitch: Find some common ground topics that your boss is interested in, and relate them back to content marketing
2. Educate them: No one's going to buy something that they don't understand. Cover the basics, make sure you are both on the same page, and talk about the 'philosophy' of content marketing (helping, educating, teaching, and entertaining)
3. Explain why it makes sense for the business: Talk about how your customers (and potential customers) can benefit from the content you create and how the content can help achieve the business goals.
4. Understand why they say "no": List all the common objections (i.e. content marketing is too expensive, our industry is 'boring', etc.) and be prepared to tackle these objections by giving them some alternatives/solutions.
5. Start with a pilot program: Get some quick wins via a small budget, short term trial to get off the ground. Build up from there. Senior Executives are much more inclined to give a little test project a go rather than signing on to a long-term strategic commitment.
Content marketing mistake

#11: Slavish devotion to best practices
"The best time to tweet is at 5 pm during weekdays"
"You should send emails on Tuesdays, Wednesdays, and Thursdays"
"You should change that CTA button to red"
We marketers are spoiled with best practices. If your job is to make your brand stand out, doesn't it seem a little odd to do what everyone else is doing?
The main reason why people follow 'best practices' is because it's safe.
A world of 'playing it safe' is a world without innovation. Warren Buffett doesn't get where he is right now by playing it safe. To get great results, we MUST take a few risks.
Do you have a hypothesis that you've been meaning to test? Well, test it! It's okay to be wrong. Just learn and evolve from it. Be agile.
What works for other companies, may not work for you. You simply have to test to see what works best for YOUR company.
watch video demo