Influencer Marketing Strategies You Need To Stop Using (And Ones You Should be Doing Instead)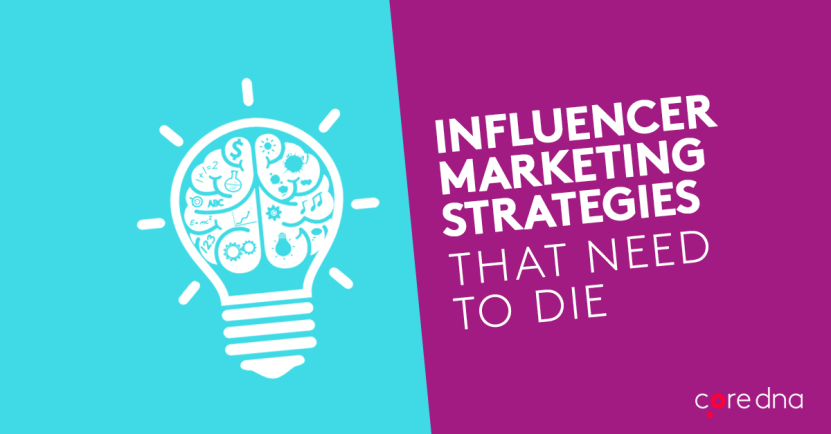 Influencer marketing can either be an ingenious way to break through the noise or a complete waste of time and money.
It all depends on your execution.
The problem is that's incredibly easy to innocently use a misguided approach that sabotages your efforts.
And even in some cases, you squander resources on ineffective partnerships that fail to pan out for your bottom line./p>
In today's post, we'll take a look at seven better ways to do influencer marketing.
But before we get to those, here are a few tactics you need to recognize and avoid at all costs.
In a hurry? Jump into a specific section: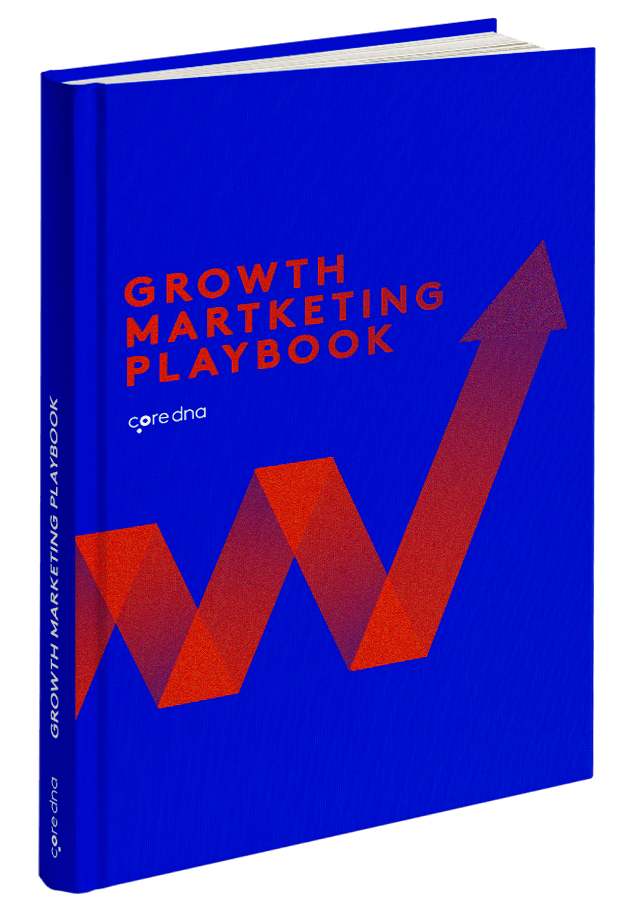 The ultimate growth marketing playbook
The exact 41 strategies we used to grow from 4-figure to 6-figure traffic in one year.
5 bad influencer marketing tactics that need to die
Influencer marketing isn't overly complex. But they can be tricky. There are a few seemingly innocent behaviors that if you're not careful, can hurt your chances before even starting. Here are a few examples.
[Bad tactic #1] Using the 'latest' outreach template
The digital marketing arena is incredibly open compared to some other spheres of business. It is rare elsewhere to find people as willing to share their "secret sauce" to help you improve your business.
This is a great trend but the over-sharing of wisdom has led to an unexpected downside; Experts have made their content so actionable that it frequently produces a highly prescriptive approach with exact scripts and templates on offer.
These may be a great place to start – especially if you're relatively inexperienced and looking to get a push in the right direction.
But there is a problem.
If it's a free script being offered online, that means everyone else is using it too. Communicating the same templated email that an influencer is likely to have already seen three other times this month isn't the best way to create a first impression.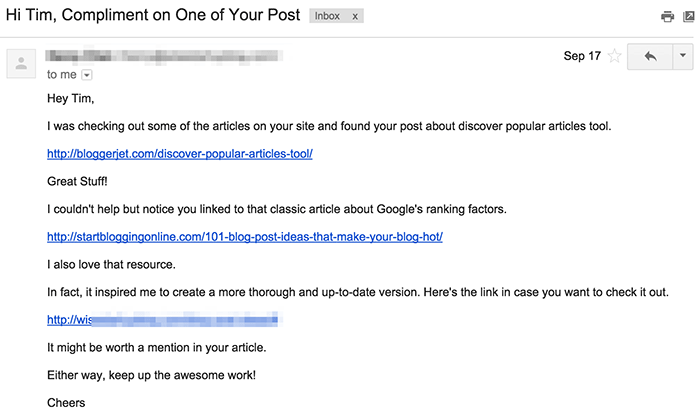 Tim Soulo:
"What would you call it – Outreach or SPAM?
I deleted it without even reading. It's not that hard to notice a 'template':
Hey. You're cool. I read your blog.
I saw this post: https://post1
It links to this post: https://post2
I have a similar post: https://post3
Please link to it
Yeah, sure… *Delete*"
[Via
Ahrefs
]
This templated approach also commonly lacks context. What's unique to your interaction with this individual? What's the relevancy and compelling reason for reaching out?
Getting to the point, quickly, is key to most influencer outreach attempts.
[Bad tactic #2] Social faux pas
The irony within the term social media is that people often behave in a most anti-social manner. Click to tweet
Instead of treating a social network like a real-life party with real people having real-world interactions, many brands simply broadcast one-sided communications without the promise of proper engagement. We're thinking automated direct messages that spam inboxes or using excessive hashtags that make for poor readability.
These are akin to walking into a party, yelling out your barely decipherable point of view and running out before anyone has time (or inclination) to respond.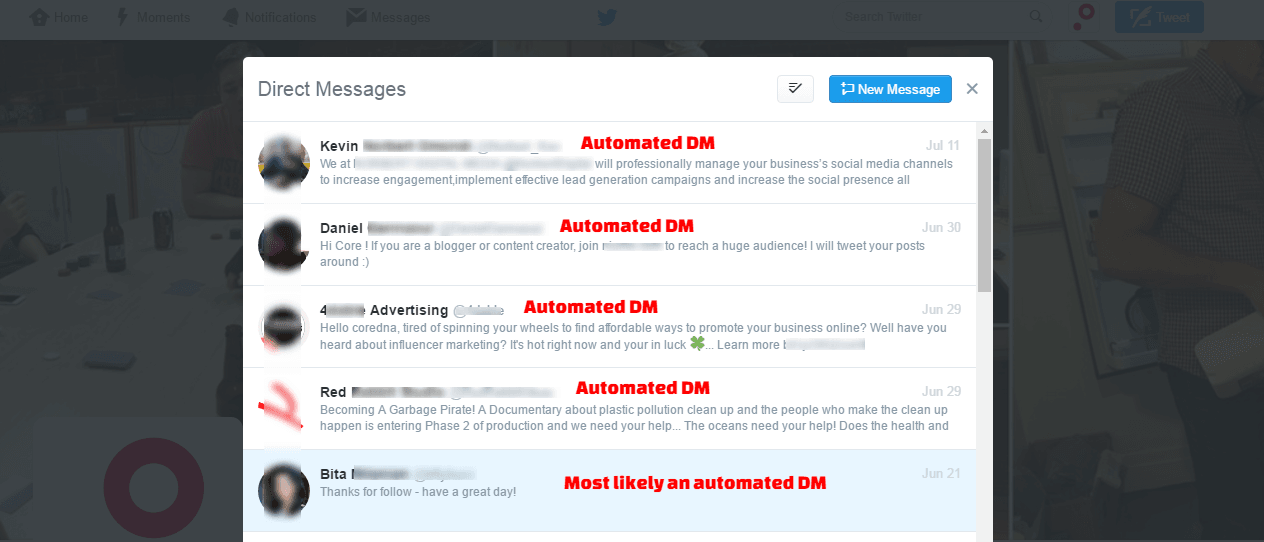 These misguided and inappropriate tactics damage your credibility.
And they're a clear signal to influencers that you're probably not someone they want to associate with.
[Bad tactic #3] Expert Round-ups that don't add value
Praise and reciprocity (as we'll dive into soon) are good.
However, faint praise and platitudes are not.
A great example of the fine line between the two is the expert roundup post. Done well, you've unselfishly promoted a group of experts (with whom you hope to establish a relationship) with no obvious strings attached.
But done poorly and it becomes evident to all that you're merely making a cheap attempt at pandering to some influential characters in your industry whose audiences you hope to piggyback.
Here's an example of expert roundups done right by Michael Pozdnev. In the post, he details the process he used to create his first blog post that captured 3,247 visitors, 156 email subscribers, 860 social shares and 74 comments (and counting).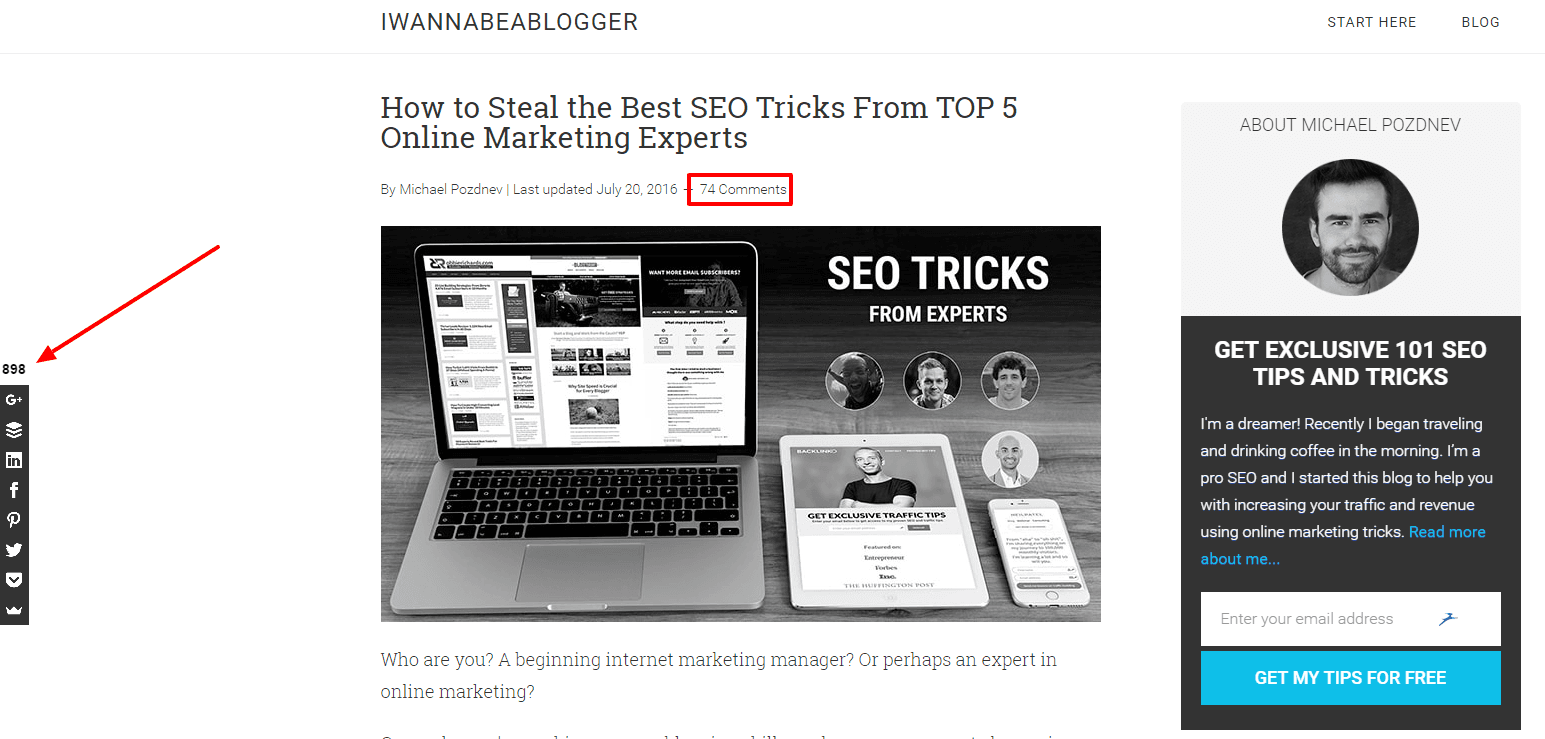 Michael's post excels because it offers a ton of value before diving into the expert advice. It walks you through a process, step-by-step, detailing at length how to create a successful blog post. Only then (after a few thousand words of useful insight) does it jump into the expert tips that build and enhance the work you just read.
Expert roundups can act as a great excuse to introduce yourself to influencers, while also proving popular with most readers.
Once again, credibility is key. Losing that by trying to capitalize on obviously phoned-in efforts isn't a great way to start a partnership.
[Bad tactic #4] Leaving trite blog comments
Participation in blog comments is a proven tactic to develop relationships with influencers, particularly when legitimate commentary.
Nowadays, however, the tactic has been corrupted. A vast majority of blog comments can be classified as spam, trolling, or shallow praise (like 'Nice blog post!').
That said, effective blog comments can be a powerful way to create a connection with an influencer.
Michael Pozdnev (again) highlights a few simple techniques, such as helping the influencer find and fix an error on their site. He calls it "The BFF Method".
Michael was kind enough to give us a summary of his BFF Method:
Michael Pozdnev:

1. Define a blog post that you want to promote
2. Search for similar topic blog posts
3. Start with the blogs you read the most
4. Find posts that have at least 10 or 20 comments
5. Use the Scrape Similar extension capabilities (scrape the commenter data)
6. Find the contact email address
7. Build a relationship
8. Reach out to bloggers
9. Boom! You've got new friends, shares, comments and subscribers

Ryan Stewart also shares a specific outline to writing high-value blog comments that bring in multiple benefits, including high-value traffic, contextual links, and new social media connections.
For example, you should leave a name (not a keyword) and an email address. However, you should counterintuitively NOT leave a website URL (as it will quickly differentiate your comment from all the others simply trying to spam the blog). The comment body itself should pick up on one topic from the post and take it much further (up to 500-1000 words in some cases) to showcase how much additional thought went into your reply.
Ryan Stewart:
"I landed a comment link on a high authority blog + additional social exposure. Not bad for a blog comment, right?
But wait, there's more!
A few weeks later, I got the following Tweet from Robbie
I responded to his Tweet, which was featured in his next blog update, complete with a link to my site"
[Via
Ahrefs
]
[Bad tactic #5] Asking (instead of giving)
The whole premise of influencer marketing is to be associated by your desired audience with someone who is influential in their world.
If an influencer truly fits this description, then chances are they're a busy person.
One of the most common mistakes when approaching an influencer is to ask for something from them, without explaining what's in it for them.
How do you do that? Build the network before you need it.
Prior to writing an in-depth round-up post, we worked on developing relationships with potential influencers like Stuart McKeown (Founder at Gleam).

It wasn't an attempt to selfishly ride on his coattails, but rather a genuine offer to share his content and help promote the awesome work he's doing. Because it was good.

It was only after helping him and swapping a few emails that we felt comfortable enough to ask for something in return.

Kicking off your introduction by giving first, like helping them with a problem or difficulty, can help grease the wheels when it comes time for your payback. The best influencer marketing tactics are built on a foundation of reciprocity.
Here's why that's important.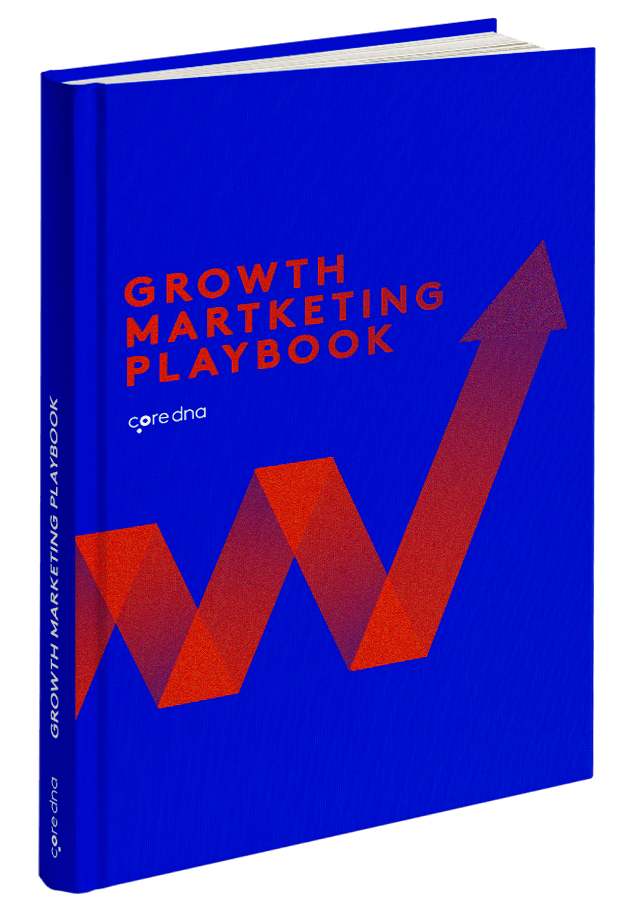 The ultimate growth marketing playbook
The exact 41 strategies we used to grow from 4-figure to 6-figure traffic in one year.
Why reciprocity is the key to a successful influencer marketing campaign
Robert Cialdini's Influence is universally acclaimed as the seminal work on the science of persuasion.
Not the bad tactic, get-rich-quick attempts we've noted, but a deeper level of persuasion that works for all parties involved.
The very first principle in that book is reciprocity, a concept that loosely translates into an innate desire for people wanting to repay their debts.
Cialdini recounts several anthropological stories that show how earlier human societies thrived off providing food for each other (while also ingraining this principle at an early age). Many of these help explain while you feel compelled to give the local street vendor a few seconds of your time when they offer free samples.
Then he moved on to show how a few real experiments can explain many common negotiating tactics that are still used today.
For example, reciprocal concession happens when you start with a seemingly big or strong request, only to backtrack a little and downgrade the request (making it seem much smaller in comparison – even though it was your plan all along).
The underlying aim of reciprocity isn't to trick anyone, but to create a win-win relationship. (Despite how corny that business-school jargon sounds.)
And it's the perfect frame of reference for most popular influencer marketing campaigns. Here are seven examples.
7 influencer marketing examples you should be doing instead
The best win-win (there's that phrase again) scenarios start with finding out what the other party needs.
Maybe it's money. Maybe it's content. Maybe it's technical expertise.
Whatever the case, finding that out and then offering it to them (in exchange for a seemingly smaller ask) is an easy way to strike up a new influencer partnership.
Here are a few examples of how to do this practically.
[Influencer marketing example #1] Co-creating content
Brands themselves can often act as influencers if their footprint and exposure are wide enough.
Trouble is, the biggest and best don't need your money. And they don't need your technical skills.
But often, they are starved for good content.
It's becoming so central to brand activities, that it's forecasted over half of all companies (51%) will have an executive (C-Suite, VP or Director) responsible for a company's content marketing strategy by next year alone!
Offering to provide content expertise through co-hosting a webinar, co-authoring eBooks or whitepapers, and even video interviews can help provide them with a rare asset they might struggle to produce on their own. And it also positions you as the go-to-expert in front of the audience of potential customers.
Many companies like Moz and Kissmetrics commonly work with individuals for new webinars on a recurring basis.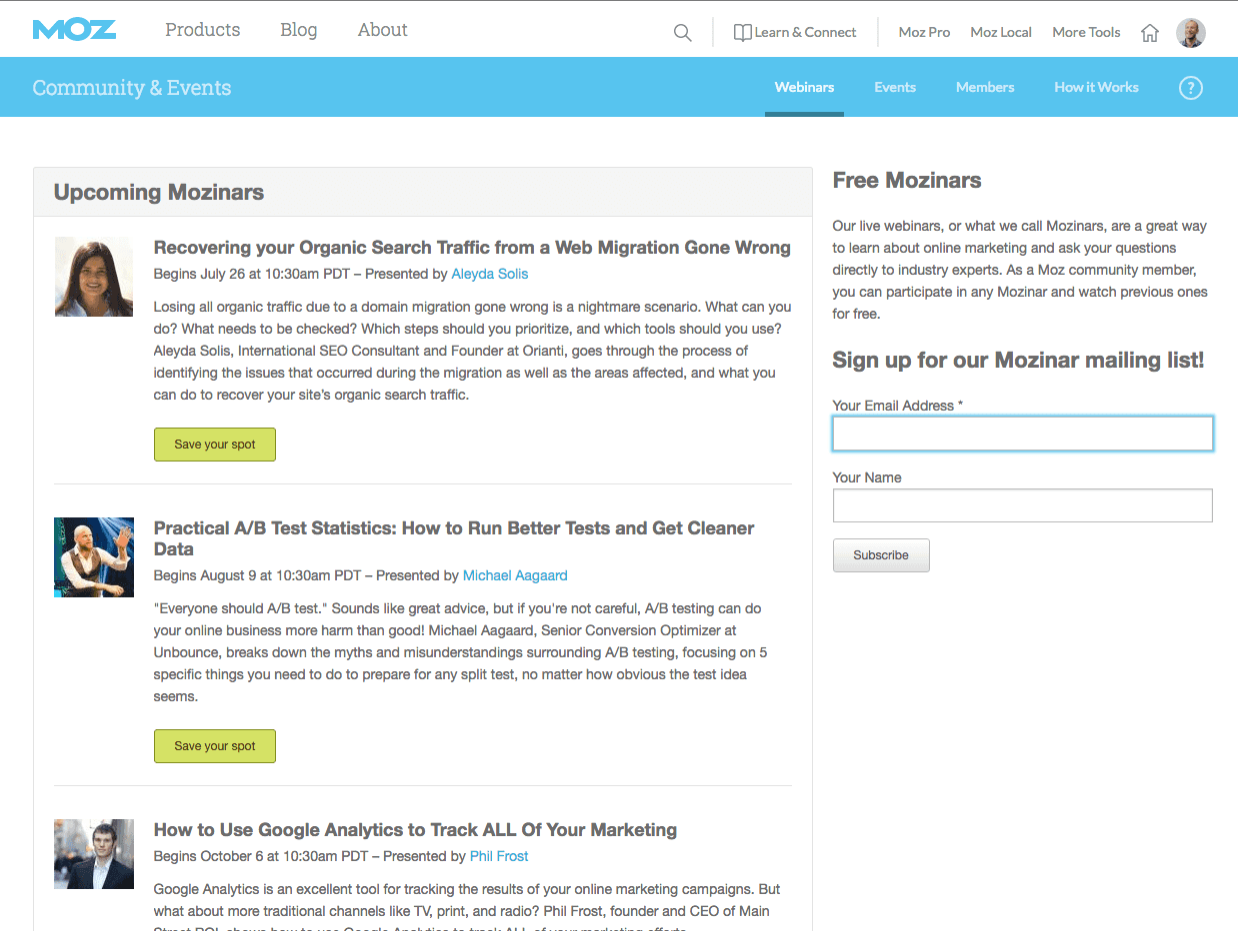 Another example is Mention's webinar with Sujan Patel, who helps to bring exclusive content to their audience (while also increasing exposure to new audiences).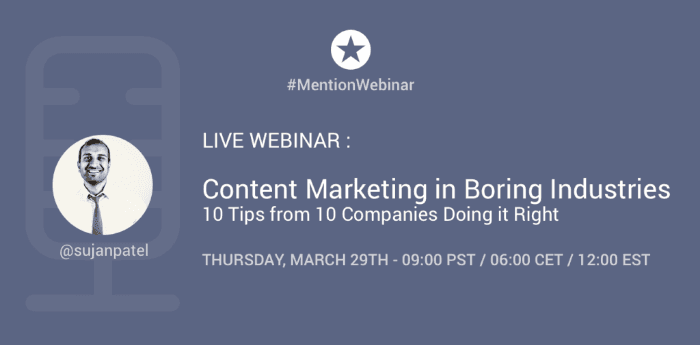 [Influencer marketing example #2] Content syndication with influencers
Piggybacking the last tip; journalists, bloggers and any other media-based people who create content for a living are always on the lookout for a good hook.
At the basic level, simply finding industry publications that openly accept guest submissions can help (a) fill their quota without (b) expanding much additional energy.
On a high level, these content syndication activities again help solidify your status as a topic expert with credibility that others should follow (hopefully elevating into your own influencer status one day).
That's what Bryan Harris from Videofruit did for huge companies like Kissmetrics, offering to take their excellent written content and create compelling talking-head videos to help people consume the information, quicker and easier.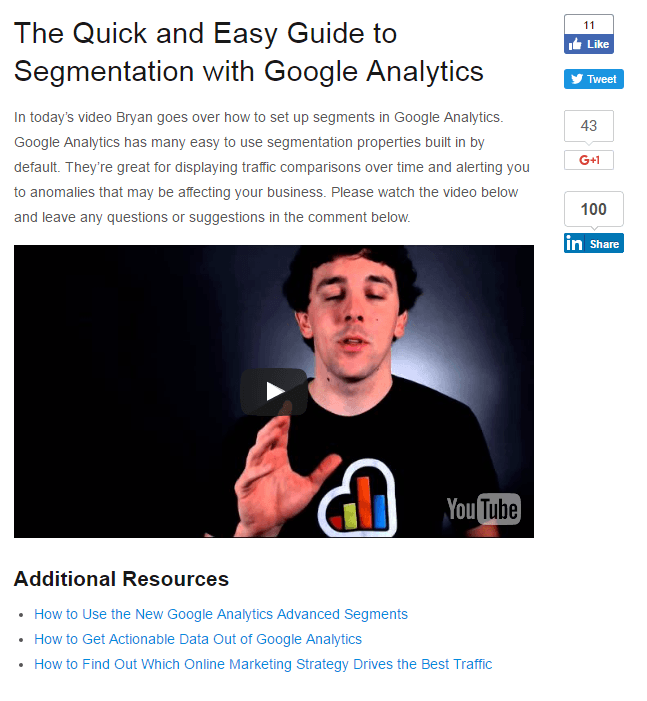 [Influencer marketing example #3] Sponsoring content
Blog-based influencers provide plenty of exposure, visits, and pageviews. In some niches, these bloggers have become household names.
Direct-sponsorships are common on YouTube, where you can work directly with the influencer to have your name and product mentioned (or even used) in the content.
For example, Michael Kory has sponsors like MVMT Watches that he mentions in each show, while also using their products (think product placement) like MyProtein when appropriate.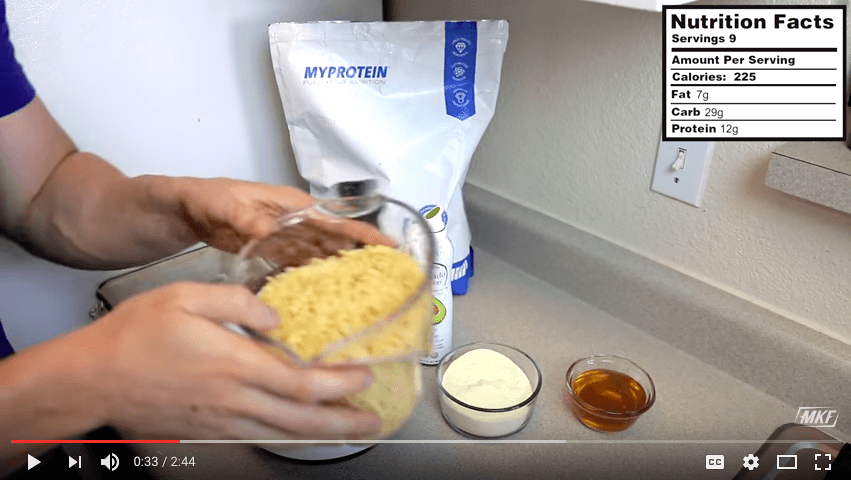 This style of sponsorship isn't as expensive as you'd think, unlike TV or radio ads. And it's far more targeted.
While the potential for conflict of interest is clear, if done correctly it can be a seamless alternative for bloggers to bring in additional revenue while giving you the chance for massive exposure.
Use Followerwonk to find the most socially engaged in your industry to build an initial prospecting list. The ones with the highest engagement, typically have the best active audiences too.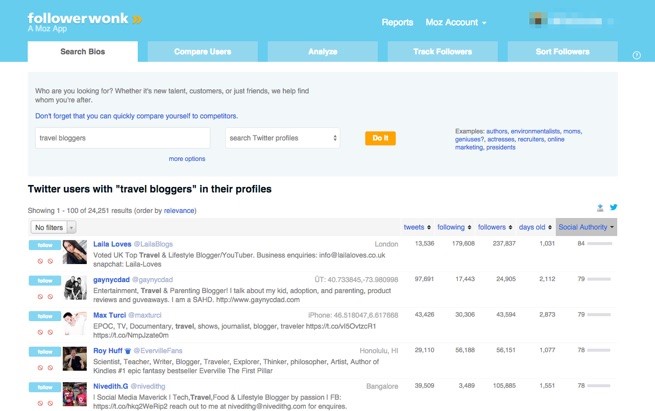 Ross Simmonds was able to grow Hustle & Grind Instagram account to more than 90,000 followers by buying shout outs and product placements.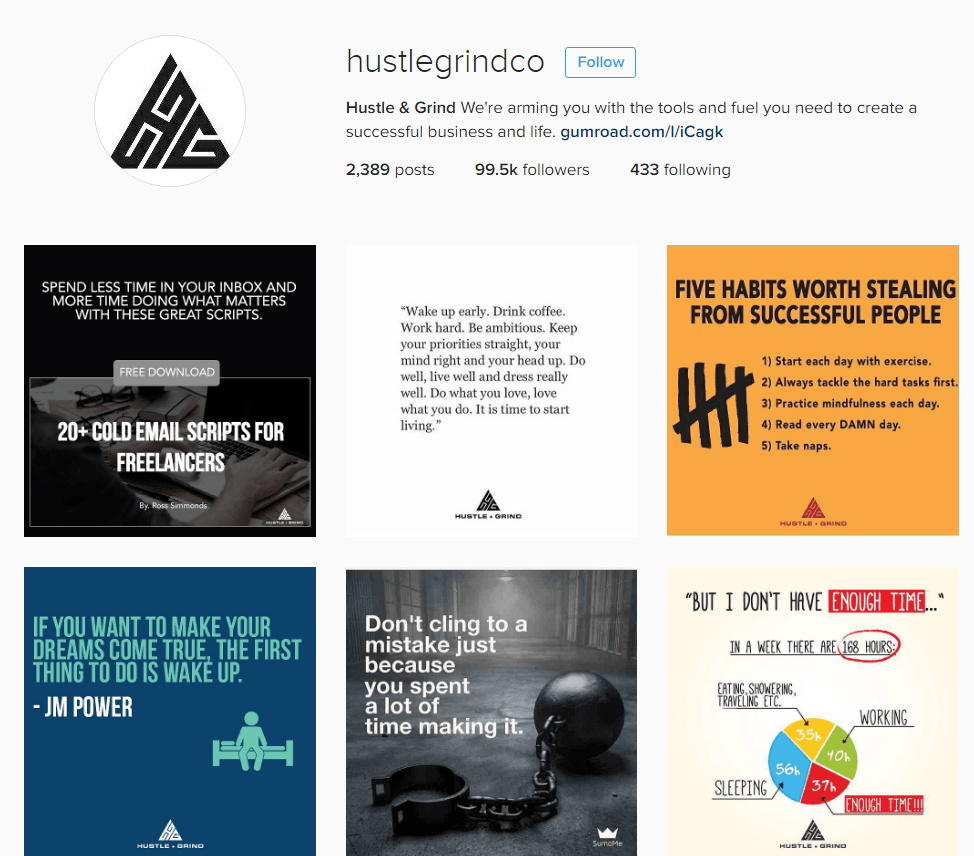 But how do you choose and approach these influencers? Do you go after the big names straight away? Here's what Ross had to say:
Ross Simmond:
"You don't want the mistake of aiming for the account with 100k+ followers when you only have 10,000. Instead, aim to build a relationship with someone with 20,000 followers by commenting on their photos, liking their pictures and giving them a shout out now and again
Once the relationship has been established, you will truly begin to form a connection. Or at least, that's what we've found in the relationships we've built on Instagram.
Today, we share shout outs back and forth with other accounts who are also committed to creating and distributing great content."
[Via
reddit
]
[Influencer marketing example #4] Brand ambassador roles
Native advertising is a tiny example of working with individual influencers.
You can elevate this same tactic into a larger, ongoing role as brand ambassadors too.
For example, Taco Bell recently worked with Snapchat influencers to tease their latest Super Bowl ad. Retailer Target works with style influencer Emily Henderson to help curate looks and styles for their furniture pieces.
Nordstrom is hosting launch parties for Julie Sariñana and her new line of clothes that will debut.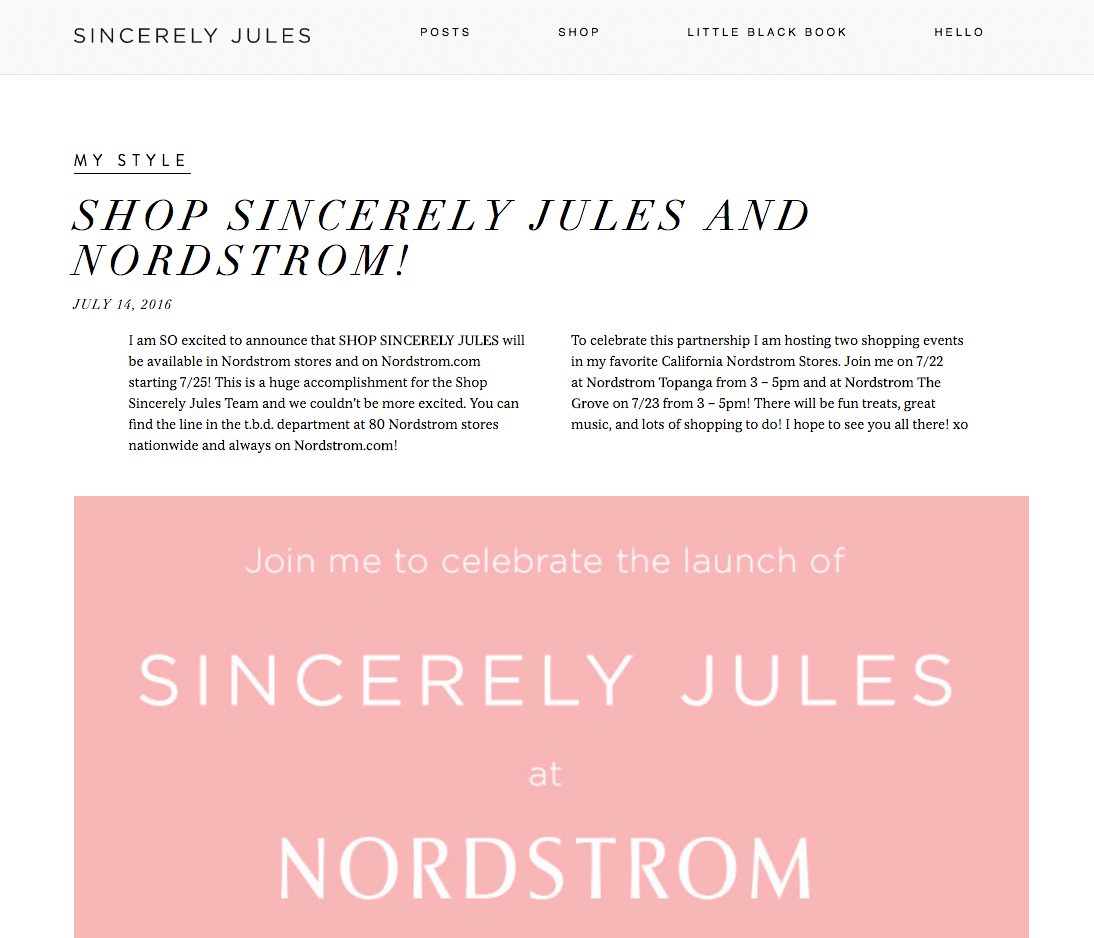 Brand ambassador roles can be both relatively informal or formal (with specific requirements by each party), but at the end of the day, it's simply about creating a good partnership where each party benefits.
[Influencer marketing example #5] Co-hosting offline events
So far we've covered influencer marketing campaign examples that work well for fun, interesting industries.
But what if your business isn't particularly glamorous? Like a boring tax accountancy? No problem!
Start with who your ideal customer is. For the sake of argument, let's assume high net worth individuals, which in your geographic area, tend to be people in commercial real estate. Now you have a place to start!
Think through (a) all of the people involved in a commercial real estate transaction, or (b) all the other potential advisors someone in commercial real estate would need to work with on a regular basis. An attorney is the first that comes to mind.
Awesome. Where do you get one of those?
Fire up the LinkedIn Sales Navigator and start browsing for the specific types of potential partners you're looking for.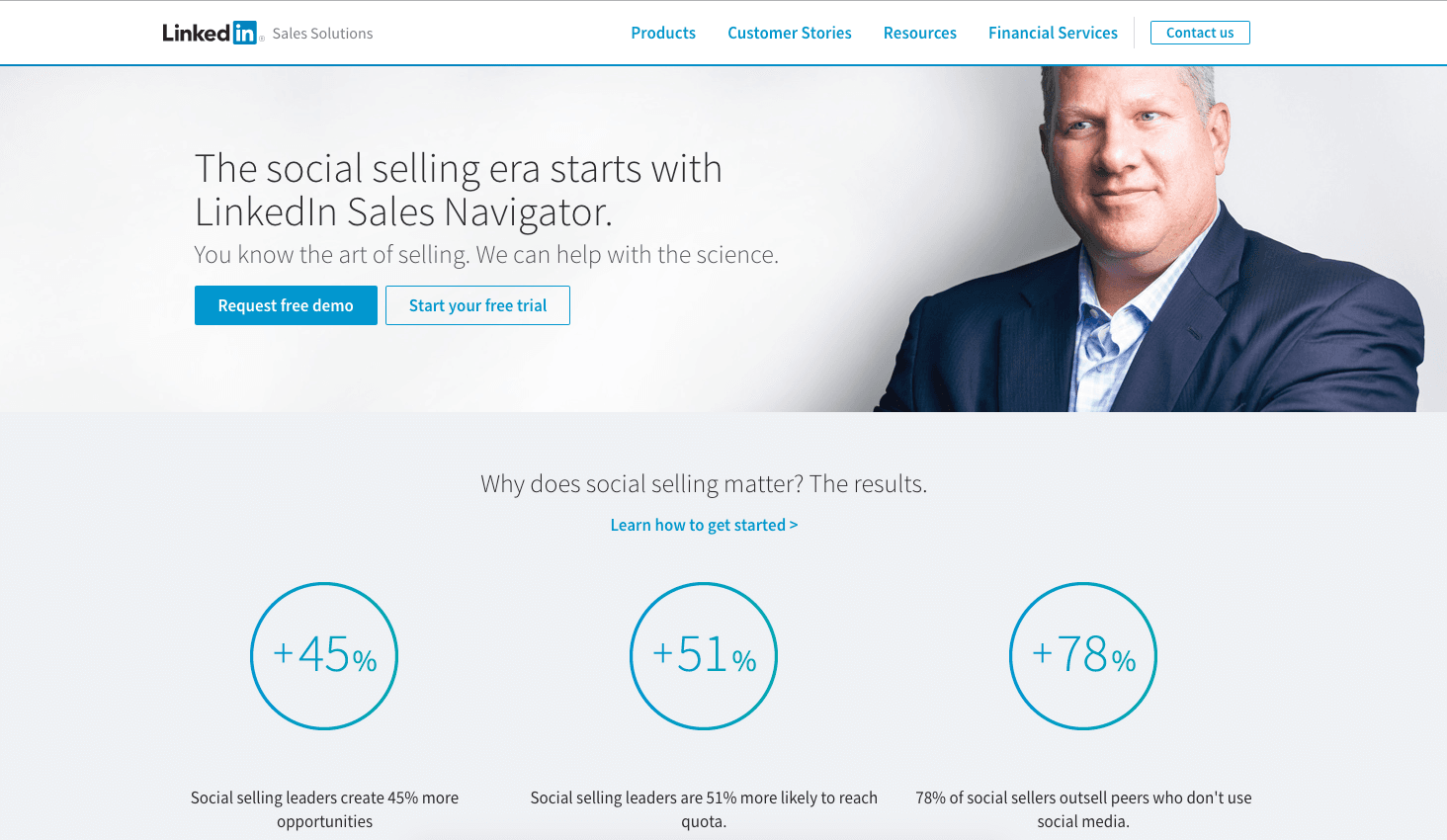 LinkedIn's toolset will display the best matches who you're connected to, along with second or third-degree connections too. You can identify who these connections-in-common are, and get a quick introduction.
Co-hosting events or seminars with other complementary businesses like this is an easy way to increase your own exposure to potential clients.
[Influencer marketing example #6] Contests & promotions
Including influencers into your contests and promotions can breathe new life into an often tired, boring old PR tactic.
For example, you can run a contest specifically for influencers. That way the influencers who'll ultimately benefit directly will be more inclined to put in extra effort to win whatever it is you're giving away.
In the past, I ran a contest that sent 4 bloggers to a few different major U.S. cities on a West Coast road trip. Not only did the bloggers compete to be considered initially (via YouTube videos, social shares, and more), but then they also produced original content for us (and partners) during the trip itself.
Or you can just get them involved in an advisory-type role to help create content or promote the campaign to their potential readers who might be interested in getting involved. You can even run exclusive ones for each influencer specifically to increase the perceived value.
For example, Content Promotion Summit, a 12-day event with 60+ content marketing and social media experts, brought to you by Sujan Patel's startup, ContentMarketer.io. One of the hosts, Cody Lister recently announced a promotion for the event: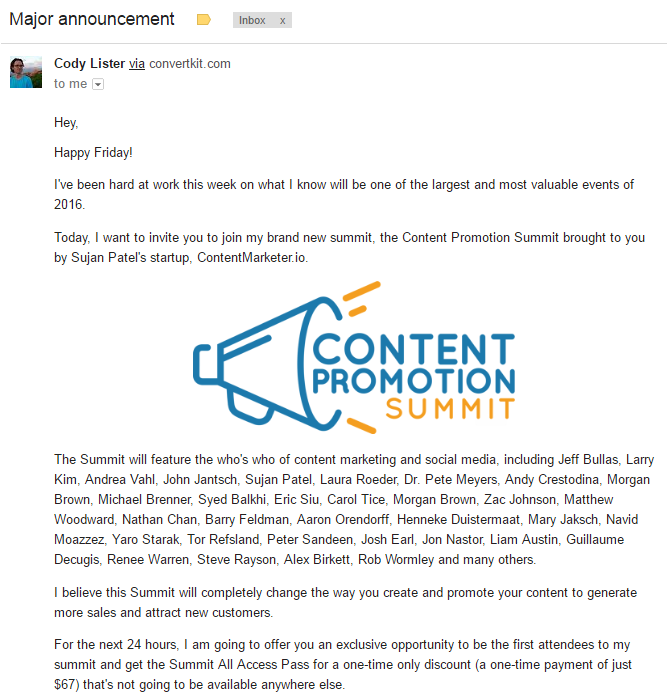 And before you know it, Will Blunt of Blogger Sidekick (who happens to be one of the speakers) sent out the promotion as well: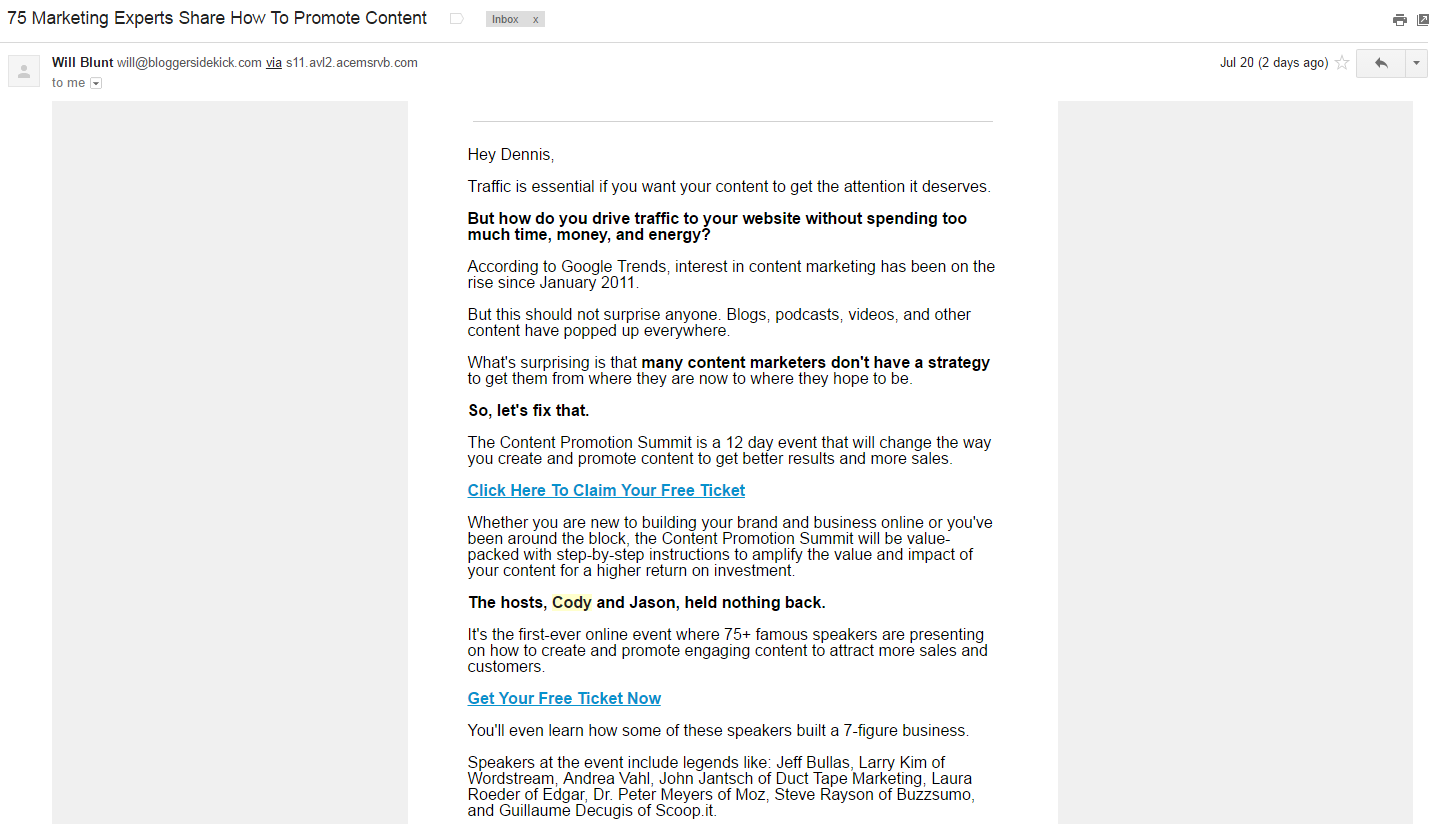 [Influencer marketing example #7] Partnerships with other companies
Money isn't the only consideration in an influencer campaign (as we've seen). However, it is a powerful one.
By partnering up with other companies, you're quite literally offering them more customers, especially if they are complementing your product. And this legitimate money-making opportunity can be a lucrative, low-hassle new income stream for some influencers.
An example includes the excellent Moz Perks, which helps introduce one company's customers to other products they should try.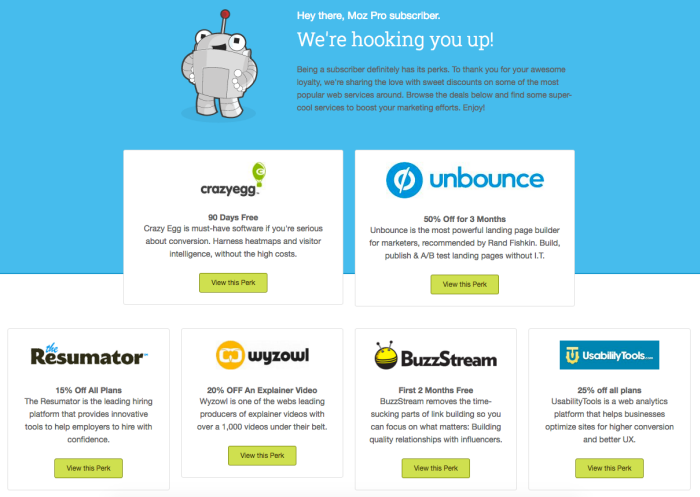 Another example comes from Groove, which has similarly set-up partnership deals with many popular software tools that their audience could benefit from.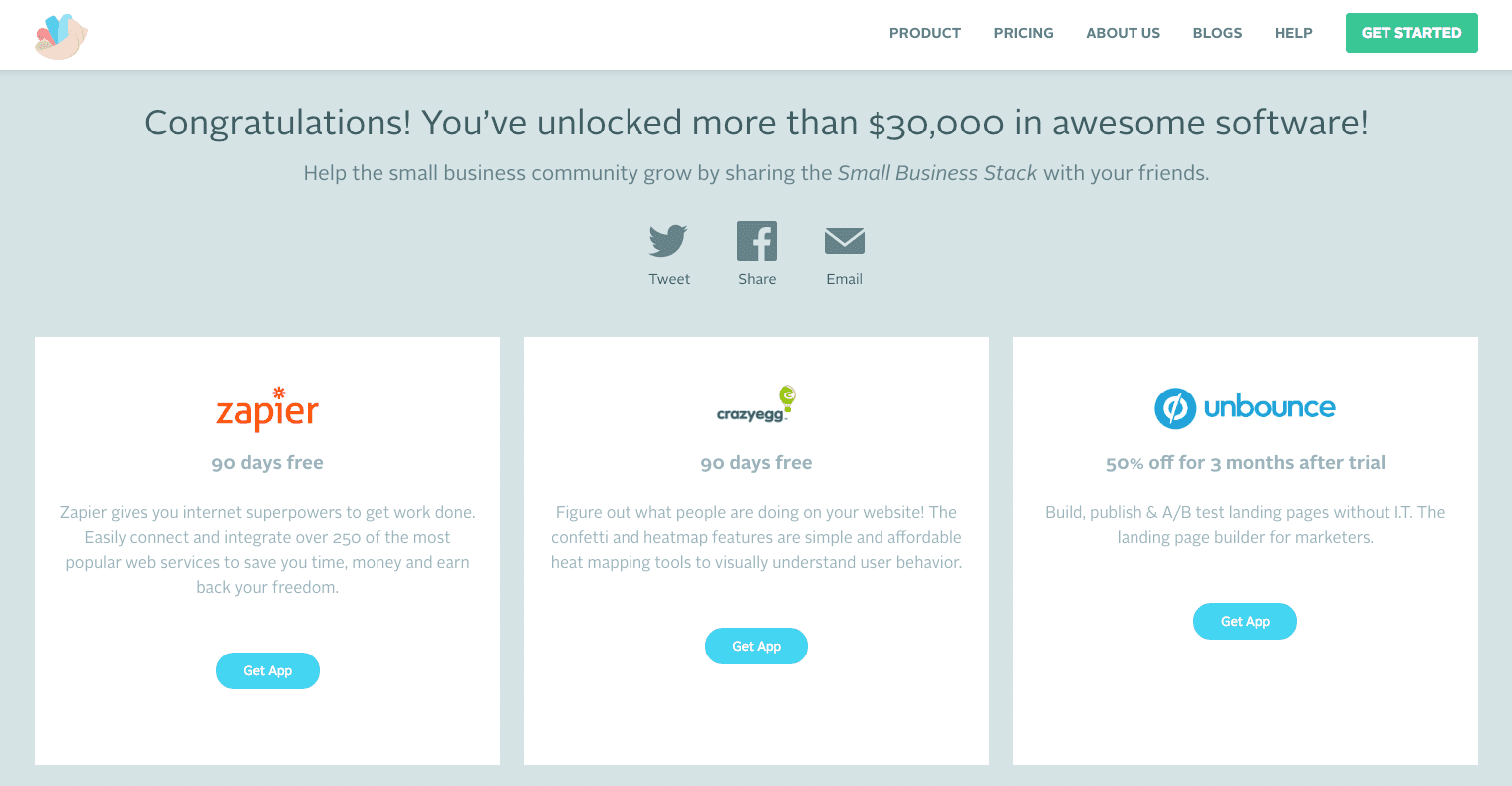 In case you're wondering about the ROI, here's what Alex Turnbull, CEO of Groove, had to say:
"Putting together the Small Business Stack was a huge win-win-win: we helped thousands of startups and small businesses get access to software they might not have been able to afford otherwise, we've given valuable exposure to dozens of really useful SaaS companies, and we've gotten 10,000+ new subscribers and heaps of goodwill in the startup community."
Watch video demo
Conclusion
Working with influencers is a powerful way to gain access to potential customers and clients.
But it can be tricky to pull off successfully, especially if you follow misguided advice like spamming people with automated messages.
Instead, the key is to focus on reciprocity. In an ideal world, the influencer should quickly understand what's in it for them, and how that can help you in return.
Often that's through helping the influencer with content, expertise, access, or money. And in return, you get their blessing and endorsement, which often translates into exponentially more visits, views, and sales.
As obvious as it sounds, keeping the influencer's needs front-and-center (while reinforcing that through all of your actions) is the simplest way to fostering these good working partnerships for years to come. So, to recap, here are the influencer marketing tactics you might want to try:
Co-creating content
Content syndication with influencers
Sponsoring content
Brand ambassador roles
Co-hosting offline events
Contests & promotions
Partnerships with other companies