4 Key Customer Experience Metrics (And How To Use Them For Your eCommerce Business)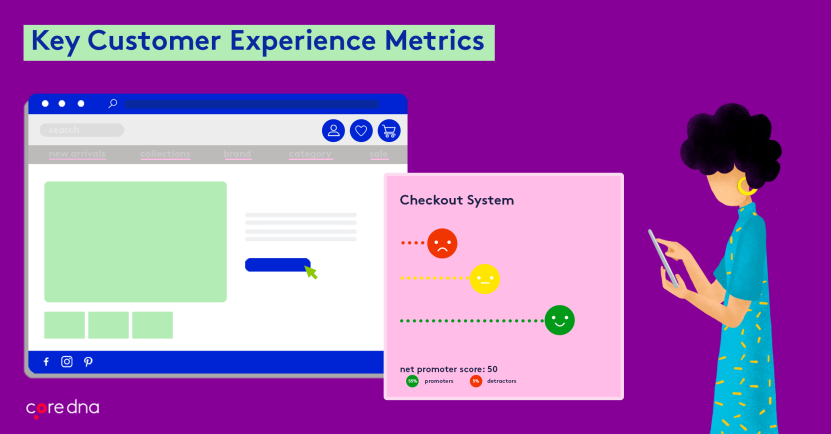 Today, marketers are engaging their customers through a multi-channel marketing strategy.
By communicating offline and through their website, social media presence and other online channels, they are interacting with their customers. Therefore today, customer experience (CX) has become one of the foremost metrics that marketers want to measure.
Marketing executives and company leaders want to invest in creating an optimal customer experience. By offering customers the experience they expect helps in converting them into loyal customers and advocates.
Want to learn more about customer experience? Here's what you'll learn in this article:
We've created a nice dashboard to calculate these metrics, so you don't have to
What is customer experience?
You can describe it as what the customer thinks about the interaction they had with the company they are doing business with. These interactions can be either positive or negative.
For example, consider someone walking into an Apple Store, they would expect a higher quality of service compared to a random mobile store. Why? Because Apple stores are known for offering personalized attention to their customers.
Key customer experience metrics you need to track
There is a variety of different metrics that are used by companies to measure customer experience. Here are the four most common (and important) customer experience metrics:
1. Customer Satisfaction Survey (CSAT)
How satisfied are you with our products and/or services?
Chances are you must have heard or read this question often. The reason you have is that businesses want to know whether their customers are happy with the product or service they recently used.
This is known as customer satisfaction or CSAT. It's a metric that businesses use to find out the degree to which a customer is satisfied. Surveys are used to find out how customers feel about the product or service that they recently bought and used. Were they satisfied? Was it according to what they were expecting?
Customers rate their experience between highly satisfied to highly unsatisfied (there can be variations). Here's one we found that is being used by Hertz on their website:

Why is it important to use CSAT?
Imagine if you are running a business and do not know whether your customers are satisfied with your product or service. By using CSAT surveys, you can not only find out if they were unhappy with you but also come up with strategies on how to turn them into happy customers.
Remember, today any customer can leave negative feedback that can be read by hundreds before you can control the damage. That's why we need CSAT.
But it also helps you in identifying customers that are happy with your service too. You can focus your attention to retain these customers as they share positive feedback about you with others and are more profitable as well.
What to do with CSAT?
Using CSAT to detect negative feedback and unsatisfied customers can be of great value for your business.
It's important to react fast and resolve things quickly. Starting a conversation and determining what went wrong can help you regain trust from customers, not to mention detect any faults in your sales system/process and improving on it.
2. Net Promoter Score (NPS)
Companies today love it when customers become brand advocates. Why?
Because today, potential customers like to read reviews and ask their peers before making buying decisions. And finding good things about your business helps them in their decision-making process.
With Net Promoter Score or NPS, businesses can figure out their customers' satisfaction level and how they perceive their brand.
Through NPS, businesses can identify customers that are going to be their brand ambassadors: Individuals that will recommend their products or services to others.
To find out the NPS, businesses use a survey to see what the customers think about them. There is a single question using the below format:
"How likely is it that you would recommend (name of the product/service) to someone you know?"
Answers are collected on a scale of 0 to 10 with 10 being the highest indication of customer loyalty with the brand.
How to use Net Promoter Score (NPS)?
The first step is asking your customer on a scale of 0 to 10, whether they are going to recommend you to their friends or family.
After you have compiled the results, you are going to categorize your respondents on the same scale but in three different groups.
The first one is for "detractors" which lie between 0-6. Then you have the "passives" that in between 7-8 and lastly you have the "promotors" that are set at 9-10.
Here's how Drift is using NPS to measure customer satisfaction: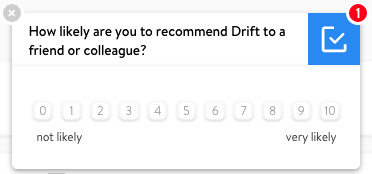 As the category names suggest, promotors are your best customers, they are enthusiastic about your brand and will tell their friends, family, and peers about your business and bring in more customers.
Passive customers are those that are on the edge, indifferent about your business and might switch to your competition if they find them more lucrative.
At the end are your detractors. They are usually angry or unsatisfied with your brand and will leave a bad review, share their bad experience with others, and end up creating negative word of mouth.
Why do we use NPS?
Customers today can easily share their negative feedback with others. A bad review on Yelp.com or a Facebook page review with a single star and bad comment can shun away any new potential clients.
Potential clients want to know what others are saying about your business. With NPS, you can easily find out your brand loyalists, focus on customers that had a bad experience and find ways to improve their experience to try and retain them.
There is always more value in retaining your existing customers as getting a new one can be 5 to 25 times more expensive to find.
What to do with NPS?
As written above, collecting the NPS score gives you the idea of who your best customers are. Since they love your brand and product, there are more than a few options you to choose from when dealing with them.
You can:
Ask them to leave a review on your website or third-party review sites
Promote your other products and try to upsell
Get them to share your content and products on their social media
For those who left a score in a passive or detractor zone, it's important to switch your attention to their feedback. Ask questions or even include the optional "Why did you select this score?" in the NPS form.
Putting the extra work on those customers can pay dividends:
Follow up ASAP to their feedback and it's crucial to personalize your communication
Identify key points they make and act on it
We've created a nice dashboard to calculate these metrics, so you don't have to
3. Customer Effort Score (CES)
Customer Effort Score or CES helps businesses in determining the level of effort that is required by customers to complete a task, use a product or a service like using a feature of an app or calling the support helpline.
The concept and use of customer effort scores are central to user experience. It allows decision-makers to focus on steps and process a client goes through. In today's digital age, customers prefer experiences where they don't have to put in too much effort and everything is as streamlined as possible.
They can become easily frustrated if there is too much effort required. That is why some businesses spend more and more money and time to improve their user experience and as a result, thrive.
CES is measured by sharing a survey after an interaction has taken place. This can be immediately after a customer had purchased a product or used a service. It can also be used after a call with customer support and is used when a business wants to find the overall experience with them in general.
It is usually a statement about the interaction and asks the customer to rate their experience on a scale (usually 1-5).
"How easy or hard did you find your experience using (the product or service)?"
Why do we use Custer Effort Score (CES)?
CES is a metric that helps businesses know whether they are creating customer loyalty.
When there are positive experiences, customers like to purchase again from you. Meaning, more positive experiences result in improved loyalty and retention.
By measuring CES, businesses can learn how to reduce customer effort and improve their experience. This results in a positive word of mouth and higher customer lifetime values
What to do with CES?
It's simple, analyse the amount of effort it takes for your customers to take action and purchase/resolve something. Just ask yourself, does a customer really need to give you all that info or open all those additional pages? What can you do to remove those obstacles?
Remove less important steps in your funnel and streamline the process of purchase. Ask additional questions through support, create personalized tasks and keep a customers feedback for the future.
Take a closer look at your workflow and see if there is room for optimization. Perhaps giving your support team a bit more responsibility and additional training can help you lower the customer effort score and improve their loyalty.
4. Customer Churn Rate
One of the most important metrics for businesses is to find out the customer churn rate.
Customer churn rate helps you to know the percentage of customers that are no longer using your product or service within a specific time frame. By calculating the churn rate, businesses can find out how many customers left it in a month, quarter or a year.
Consider this, if your business started the month with 500 customers and at the end of the month, you had 400 customers, your churn rate was 20% which means you lost 20% of your customers.
Now if each customer was worth $20 per month, then you lost $2,000 in revenues for that month.
Here's a nifty calculator that you can use to find out your business churn rate.
Why is customer churn rate important?
Every business is going to lose customers, that's a fact that every business owner knows. And losing 20% of customers doesn't necessarily need to look threatening.
But, getting new customers is an expensive affair. Retaining an old customer is a much better option since having just 5% of returning customers can greatly help in increasing revenue. Knowing your customer churn rate is important. Having a number allows you to understand the loss of revenue, customers and gives you better a better insight to make decisions to reduce the churn rate.
What to do with customer churn rate?
If a company is having problems with a high customer churn rate, there are solutions that can help reduce this number.
For example, analyse your initial approach. Are you doing everything possible to make the customer feel appreciated and wanted? Step up your game from the start of their journey. Offer advice, suggest related or similar products, etc.
The issue might also be your customer support. Are your employees regularly trained or at all? Not everyone has the right skill set to deal with demanding customers and even if they are experts in the field, people skills also need to be learned.
Analyse your churn rate, find out where and why you're losing customers and don't forget, even if your churn rate is not very high, you should do whatever is in your power to impress your customers and show them that you care.