International eCommerce: How to Grow Your Business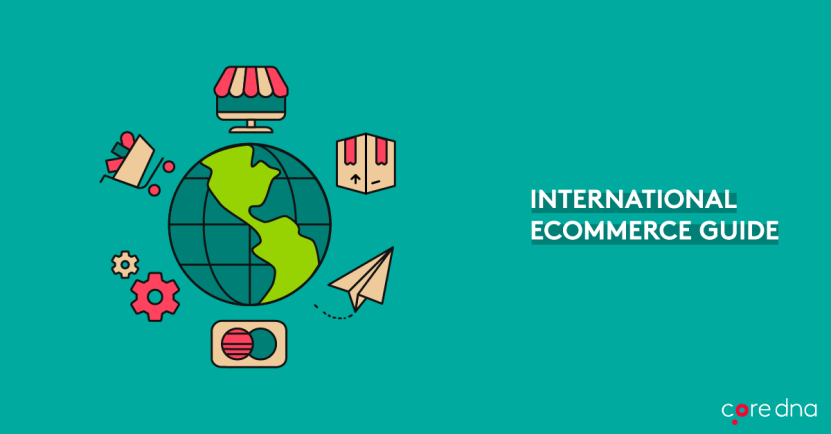 Worldwide eCommerce sales grow year on year.
By 2021, they will equal $4.479 trillion. In 2017 alone, China was responsible for 67.1% of all eCommerce sales worldwide.
If you have saturated your home market, it's time to think about expanding into international markets. After all, there are over 7.5 billion people in the world, and only 325 million of them are in the US.
And international consumer markets really are growing at a rapid pace. Yet, it seems US companies aren't expanding at the same rate as other developed countries.
Only 1% of the 30 million companies in the US sell internationally.
If you're one of the 99% that hasn't expanded overseas, perhaps you don't know how to begin. Or even if you have an idea of how, you may not know how to do it efficiently and successfully.
Well, lucky for you, here's your comprehensive guide to going international with your eCommerce store.
In a hurry? Here are 11 steps to succeed at international eCommerce: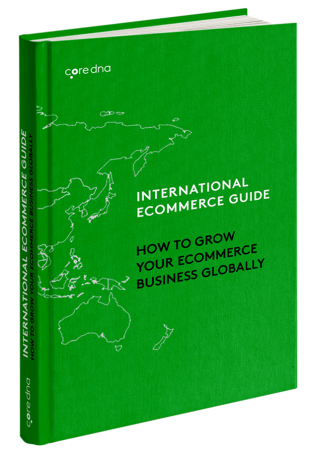 Download our checklist: How to grow your business globally
An 11-step formula to enter international markets.
1. Research international markets using these free tools
Before you can expand, you need to do some research to understand if your business will be successful on an international level.
Greg Sandler of a global branding company, ThinkGlobal Inc. says:
"Going global offers American companies new horizons for growth, but it also requires thoughtful analysis and market research that supports the decision to do business in another country."
Your research will indicate whether your expansion will be worthwhile financially.
This was the case for Hickies, a revolutionary shoelace product company founded in Brooklyn. They decided to run a Kickstarter campaign to see which markets were interested in their product.
And they were surprised to find a considerable interest coming from Japan. This interest proved Japan to be a market they could tap into. So, where can you find the research you need?
First, test interest from other countries using Google Trends.
Let's say your eCommerce store sells headphones. A search for the term in Australia shows that interest is on the up: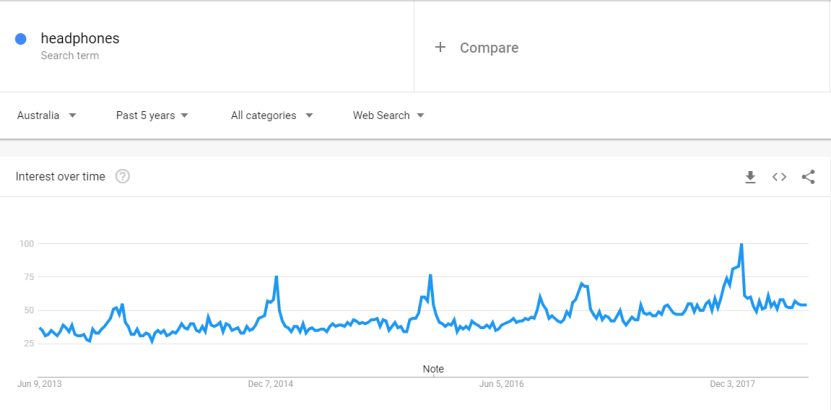 This could indicate that there is a market for your product down under.
"Instead of flying blind, conduct this research (Google Trends) on your products to make sure that countries are worth the investment" – David Zheng
To go one step further, dive into your data on Google Search Console. Go to Google Search Console dashboard > Status > Performance report, then segment by country.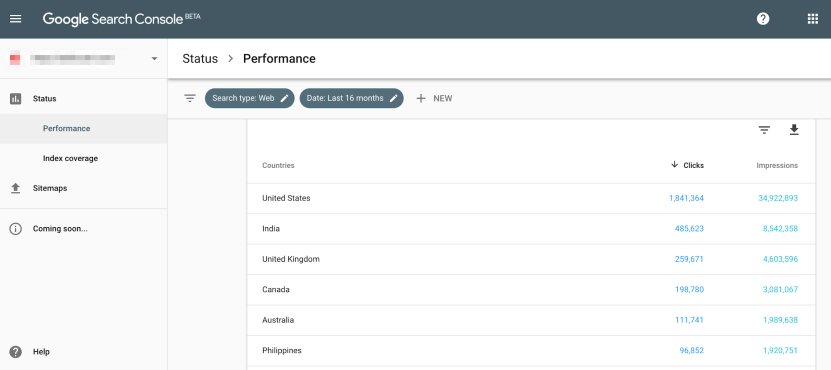 If you want to keep swimming, tie this data to your Google Analytics report. Head over to your Audience reports to break it down by geographic region.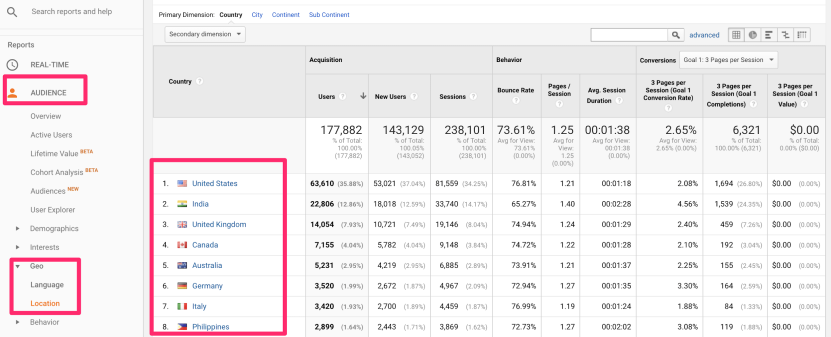 Next, you conduct a competitor SWOT analysis in your potential target markets to identify gaps.
And, you may want to consider doing a focus group. Greenbook and Customer Research International offer international focus group options.
In the end, you should be able to answer these questions:
What countries are currently visiting your site?
What countries are buying products similar to yours?
Who are your competitors?
Do your products need to be modified?
What distribution channels can you use?
What will be your duties, taxes, and other costs?
Key takeaway: Analysis and market research are a necessary starting point. Use tools like Google Trends, Google Search Console, and Google Analytics to pull data. Research prevents you wasting time and money and provides insight into new markets.
2. Dip your toe in the water
Now that you've done your research, you have a good idea at what countries may perform well. However, you don't want to push into five, ten, or twenty new countries all at once. You need to start small.
Think of your international business as a growing child, you crawl, walk, then run. These stages gradually increase in intensity. You can't run before you can walk.
Go into one or two markets first to test the water, then expand.
Matt Janaway, CEO of Marketing Labs, says this is where many businesses go wrong:
"A huge mistake I see too often is when startups spend 100% of their digital budget on making their website look nice. Instead, use 10-20% of the budget on the website and 80% on generating high-quality traffic. You can then reinvest the revenue you generate from the traffic increase back into the design and let it pay for itself."
Don't blow your entire budget on one big change, which you don't even know will serve you yet. Instead, try small changes such as simply introducing international shipping on your existing site.
For example, begin by offering international shipping options by creating an account with DHL, FedEx, UPS, or USPS. This way you're setting shipping expectations with your global shoppers about duties and tariffs.
For example, with Core dna's Zone Based Shipping feature, you can set up zones that correspond with that country/state/suburb's shipping rates. Plus, it allows you to limit to where a product can be sold to (i.e. you want to sell only in certain areas in Melbourne, Australia).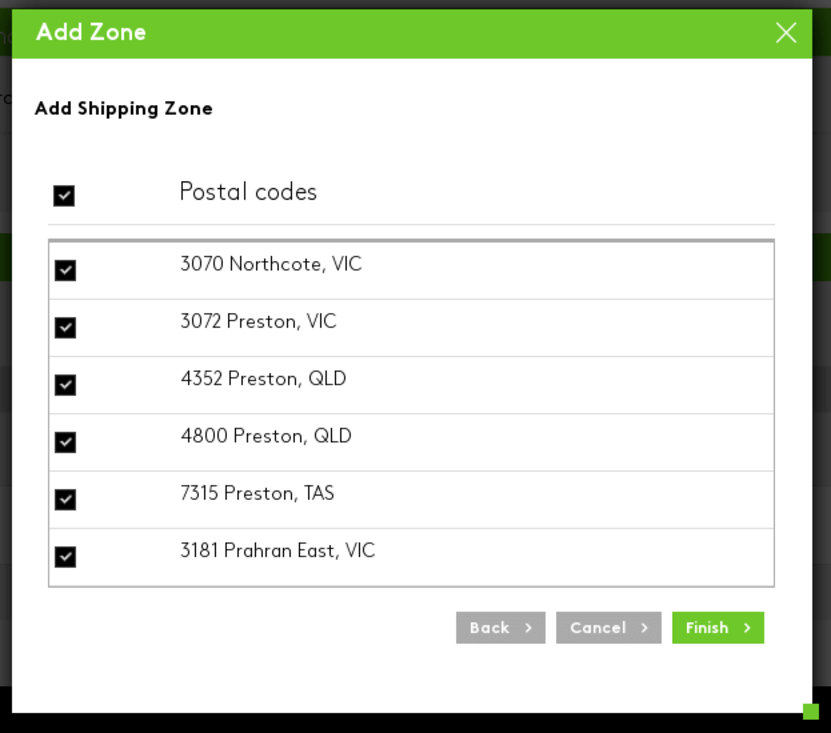 This way you can gauge the interest of international shoppers and reduce potential returns through transparency.
Key takeaway: Make small changes now, and you can reinvest what you make from those small changes to grow. Don't run before you can walk, and don't even try to walk before you can crawl.
3. Use international marketplaces (to start with)
When you start to expand, you may lack knowledge and resources. An easy place to test your global presence is an international marketplace, such as Amazon, eBay, or Daigou.
After all, Amazon has over 300 million customers worldwide. So, through it, you get access to a significantly broader market for your products.
There are other benefits, too.
You don't have to worry about the logistics of fulfilling international orders just yet. Amazon Global, for instance, takes care of fulfillment and shipping. Plus, they provide 24/7 customer support in the local language.
Here are the countries you can sell in with Amazon: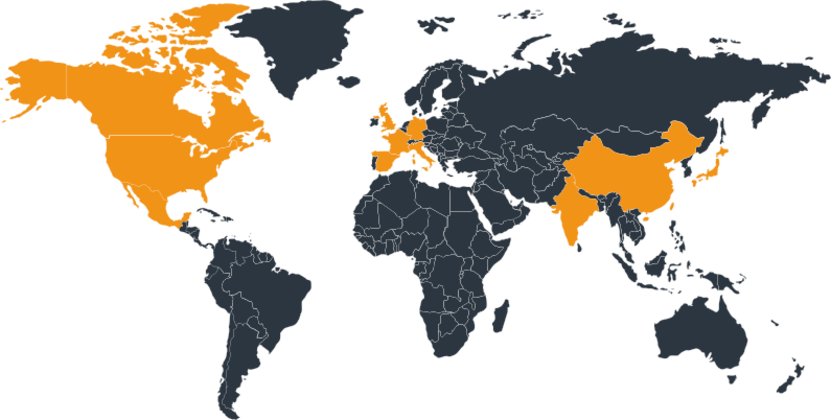 Bling Jewelry went from selling in the US out of her NYC apartment to selling across North America, Europe, Japan and China on Amazon. They doubled their sales doing it.
And, many businesses have already achieved success selling globally on other marketplaces.
For instance, UK company FreestyleXtreme "went from 0 to 1,000 NZD within a few days of listing on the New Zealand based TradeMe online marketplace platform." And they achieved similar success selling on French marketplaces, La Redoute and Cdiscount.
How can you mimic the success of this company?
Along with the big name marketplaces like Amazon and eBay, investigate local marketplaces in other countries with similar offerings.
Here is a list of global marketplaces to consider:
AliExpress
JD.com
Taobao
TMall
VIP.com
Key takeaway:
Online marketplaces
are a great place to start garnering interest in other countries and learning about international selling. They can save you time, money, and effort when it comes to logistics. Worried Amazon taking a bigger piece of the pie? Read our
how to compete with Amazon guide
.
4. Localize E.V.E.R.Y.T.H.I.N.G.
When you're serious about expanding internationally, you'll have to think about how you're going to integrate your brand and grow in other countries.
Localization is the key to success. This means doing things like providing individual subdomains or even sites in each country you plan to sell. The top 25 websites in the world now support an average of 54 languages.

If you want to be one of the leading players, you have to localize.
ASOS is a fantastic example of a company at the top of their localization game. It's a British retailer, but around 60% of its business comes from abroad. Their international strategy is the reason why they've done so well.
They utilized in-country teams, locally-relevant offers, created dedicated websites in strategic markets (e.g., Russia, Australia, US, France), and adopted local currencies.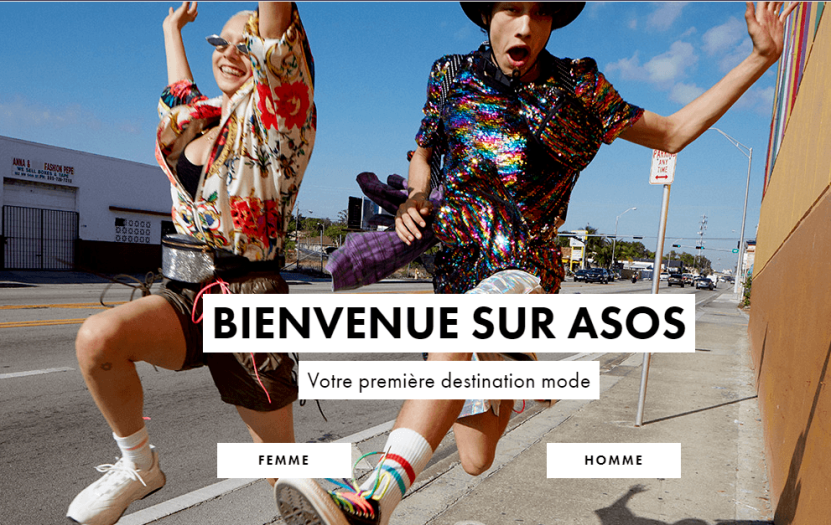 Core dna' s client – Tivoli Audio is another global eCommerce company that added a special touch of localization. They created geography-specific price lists and policies.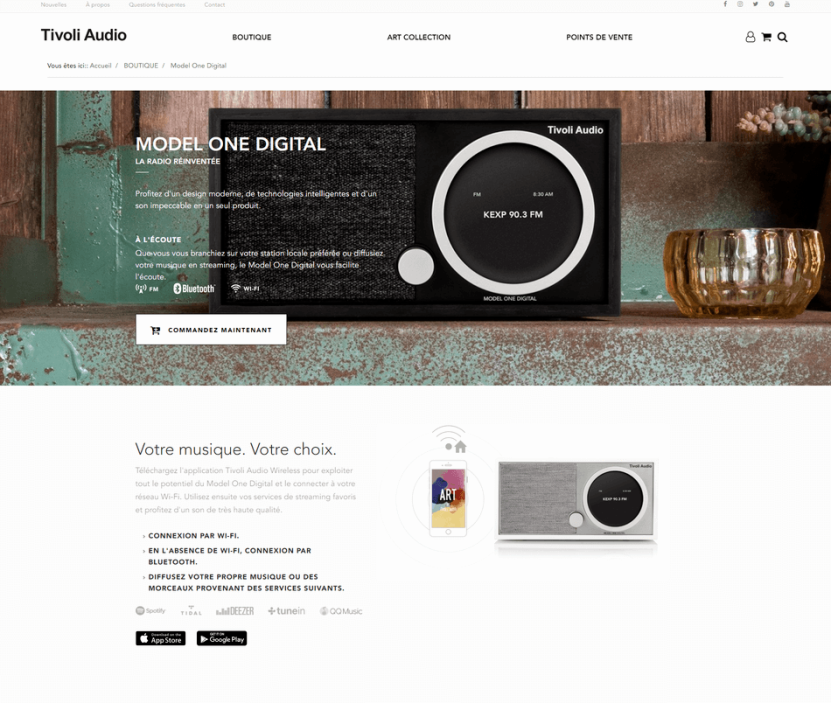 Also, you'll want to build an eCommerce website tailored to each of your international target markets. From transactions to merchandising products based on shopping habits, you want to provide a unique, personalized experience for each geographic location.
If you want to succeed in other markets, then take inspiration from ASOS or Tivoli Audio. Consider trends and perceptions in other countries. Use quality translations when developing dedicated websites.
Also, think about financial obstacles such as local VAT laws. And finally, you'll want to deploy a strong international SEO strategy.
Key takeaway: This is how big brands have achieved success. If you're serious about expanding, localization is an absolute must.
5. Set up THEIR preferred payment options
During the process of localization, you will discover that consumers in different markets prefer different payment methods.
You could risk losing out on sales if you don't allow people to purchase using their preferred payment method. At the end of the day, people just want to be able to checkout easily. You may not think it's a big issue, but…
US shoppers prefer credit cards (66%), while China prefers digital payment methods such as Alipay (86%).
Every country is different. And when you expand your payment options, it could lead to more sales.
This happened for eCommerce hobby shop, HobbyKing. They partnered with a company called WorldPay to provide more payment options. They streamlined debit and credit card payments as well as offering PayPal and UnionPay, a Chinese financial service.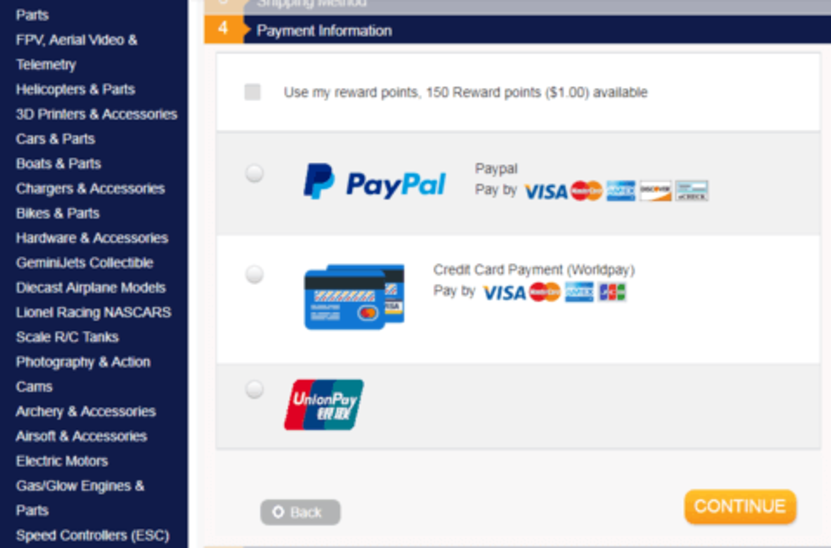 They also plan to introduce Boleto (Brazil) and Alipay (China). The result: A 12% increase in payment acceptance. What you need to do is find out which payment methods are most popular in the markets you intend to sell.
Key takeaway: Setting up the preferred payment options for consumers from other countries is a simple way to encourage sales. Digital payment methods, in particular, are popular in foreign markets.
6. Set up international shipping options
International shipping is going to be a crucial element you have to think about. It will affect your bottom line and levels of customer satisfaction. The solution is to find local shippers within a country.
Christopher Moore of Floship says:
"By choosing a fulfillment partner with a warehouse location close to your target country, you can even ship your orders faster in that country. This, in turn, means you can compete more favorably with local retailers."
International eCommerce is a goldmine waiting to be tapped. Don't let small obstacles like a language barrier or shipping costs stop you from taking advantage.", he continued.
Local shipping is simply more convenient, cheaper, and improves delivery time which will make your customers happy.
Thamesbury, an eCommerce store that sells luxury cufflinks, partnered with a global fulfillment company to help in the Asian market. Through this collaboration, they achieved a 20% increase in shipping speeds.
The moral of the story is, if you can't find local shipping options yourself, use a fulfillment company to help you. And don't forget to establish an international returns policy.
Key Takeaway:
Offering the best international shipping options is how you run an efficient international eCommerce business. Collaborate with a global fulfillment company to benefit from their experience and connections. Using Core dna's New Order Hooks, you can execute shipping orders once the customers place their order.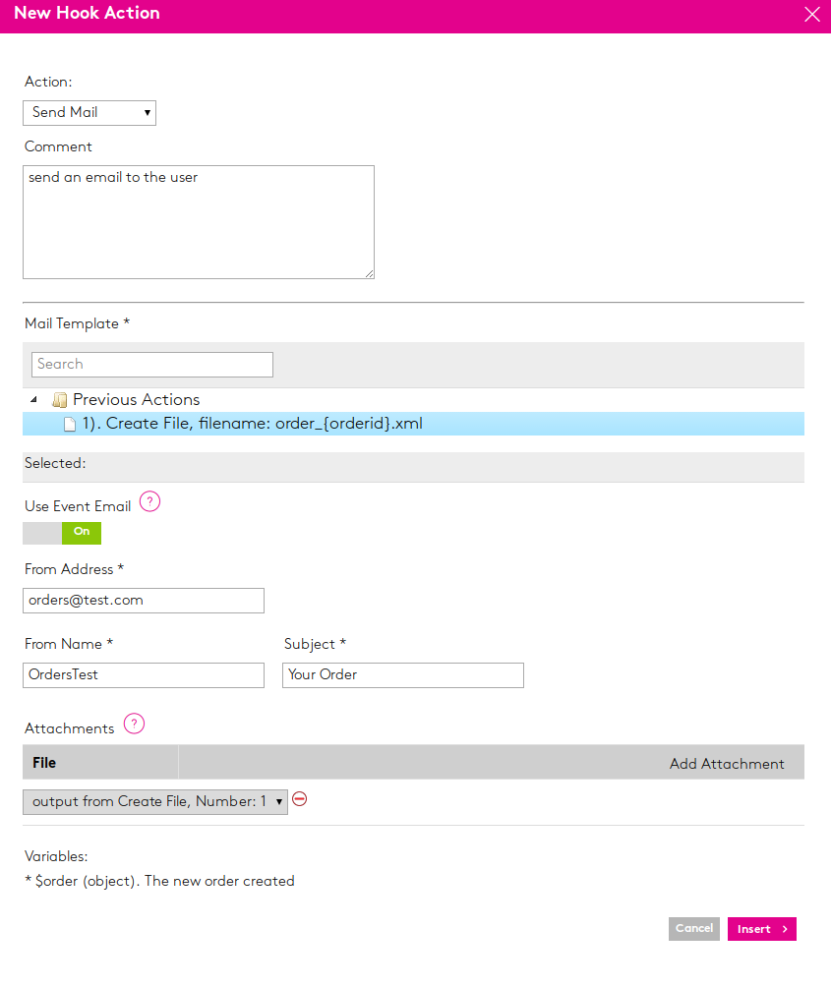 7. Prioritize mobile commerce
It's not just desktop traffic to your eCommerce store that you have to worry about. Mobile commerce (Mcommerce) is on the up.
In 2017, eMarketer estimated "mobile commerce will account for more than 70% of eCommerce sales in both China and India, and 59.0% in South Korea. In Germany, the UK and US, Mcommerce will comprise at least one-third of total retail eCommerce sales."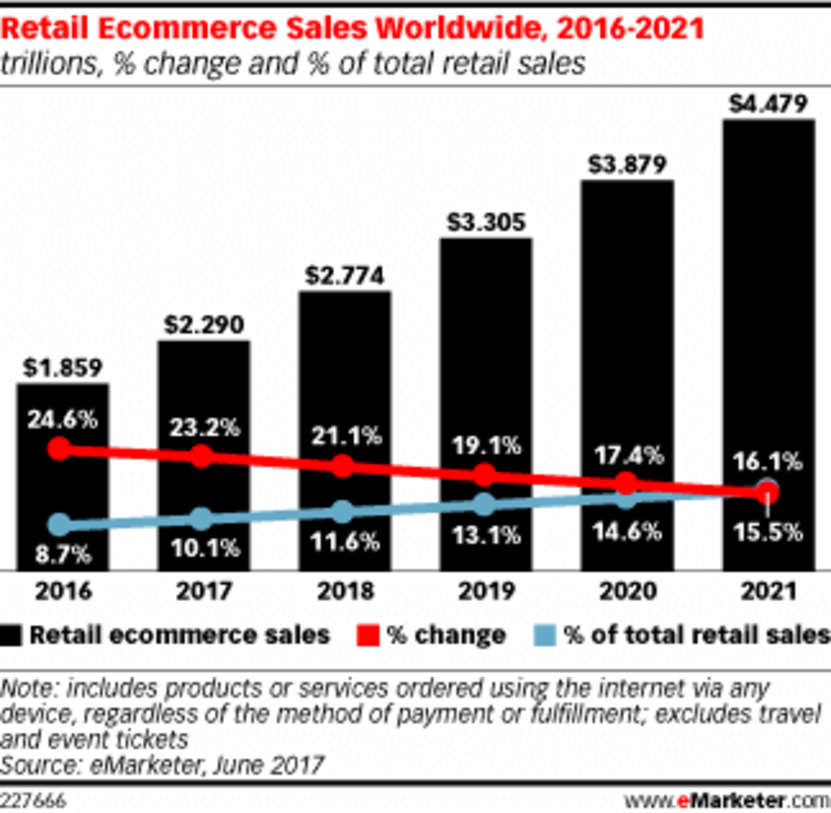 However, the need to match the rising consumer shopping preferences on mobile devices has left eCommerce websites feeling the pressure.
Today, it's not just about having a mobile-optimized website. It's about designing a clean mobile-first site, building a mobile app (or progressive web app), and personalizing the experience.
"Responsive design is good, but mobile design optimization is better" – Allen Burt
This is where having a headless CMS (decoupled content management system). It allows you publish for multiple formats (desktop, tablet, mobile) all at once. As we continue to progress further into IoT, brands will utilize this across VR, smartwatches, and more.
Here's a quick case study of when Walmart redesigned their mobile site.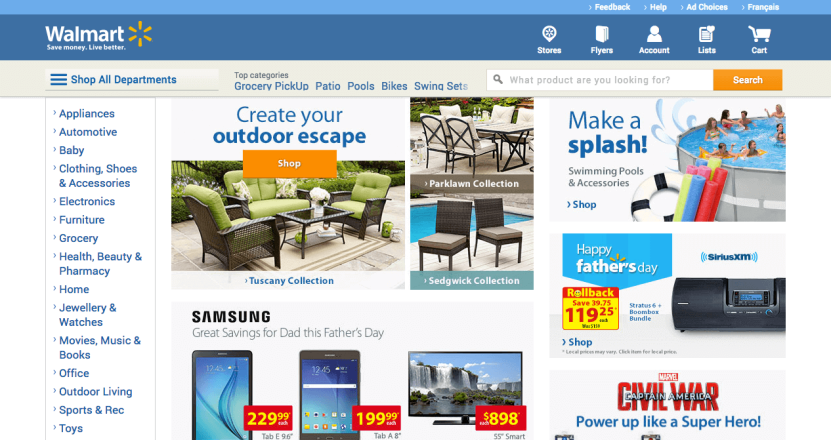 Walmart's target demographic is mostly moms, and they discovered that moms are one of the largest groups of tablet owners. But there was a big problem: Walmart's website looked horrible on tablet.
When they redesigned the site they saw a 98% increase in mobile sales.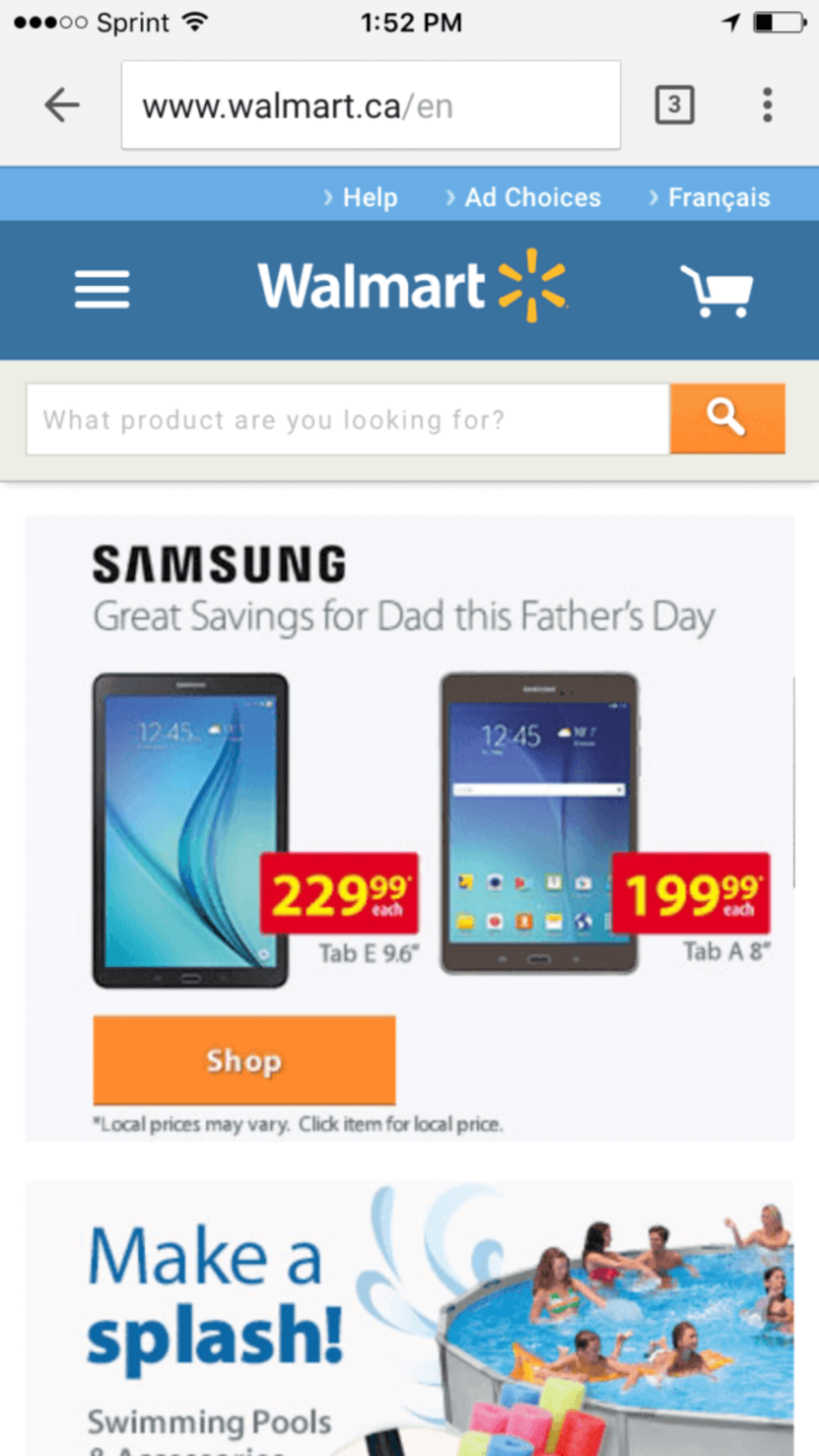 The new design makes the right content a priority. Notice the electronics at the top?
The team at Walmart began to learn about their mobile users' purchase patterns. So, if their target audience of moms is shopping from a tablet, they prioritized electronics and summer pool items over outdoor furniture.
Nike is another good example of a company that prioritize mobile commerce.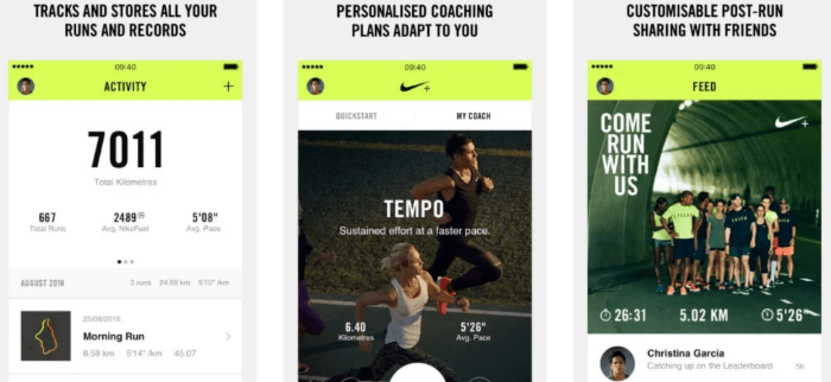 In 2006, Nike partnered with Apple to connect their shoes with Apple's iPod to track workout performance, called Nike+. Nike+ is then turned into a personalized app that was built around retention and loyalty programs.
They described the program as, "Everything you want from Nike, all in one place. Products and events reserved for you, expert advice from the world's greatest athletes, and your own personal Nike shop."
They created a community where users could connect to the rest of Nike app suites like their Training Club, Nike+ Run Club, etc. (Hint: That's what a great omnichannel experience looks like).
And it's not just mobile sites that brands are getting involved in; mobile apps are making their way onto the international eCommerce scene too. According to Criteo's commerce report, 44% mobile sales are coming from shopping apps.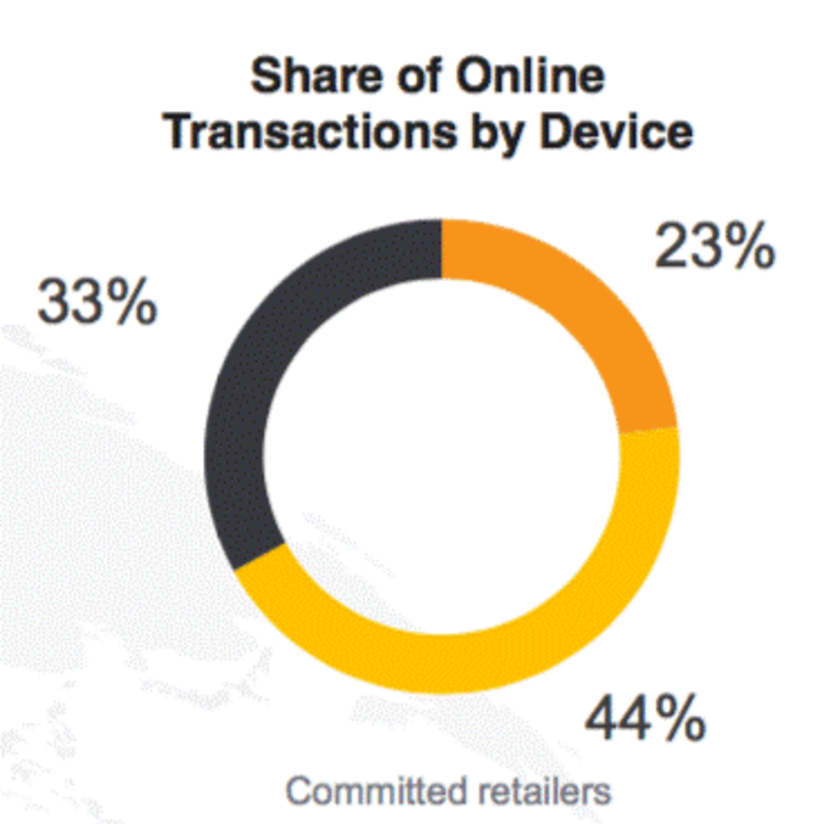 Brands like ASOS and Gucci are getting involved in the app game. Gucci uses emojis and virtual reality to drive more in-app purchases.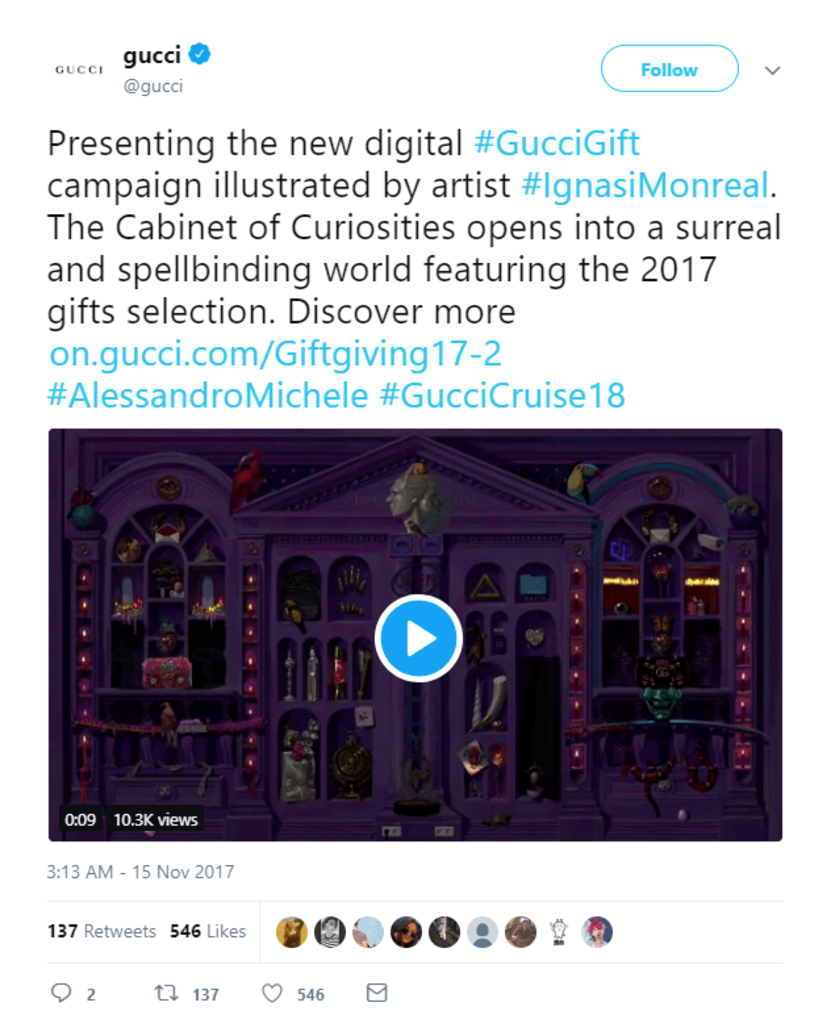 (Source)
And, Warby Parker uses iPhone X's face mapping technology to recommend glasses for a person's face shape.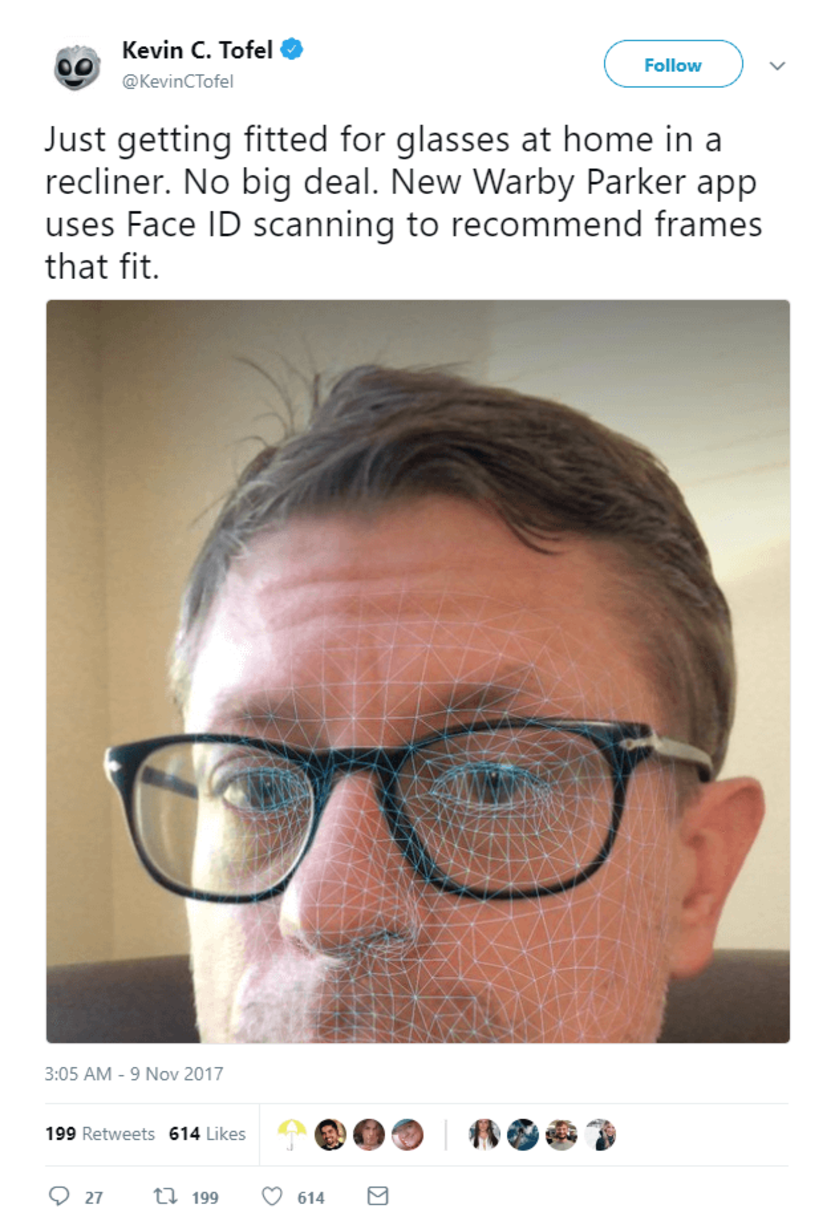 (Source)
Considering mobile accounts for so many sales in countries like China and India, you should integrate mobile into your international sales strategy.
Key takeaway:
Mobile offers a range of opportunities to make money - take advantage of them. Think about prioritizing your mobile site for a personalized user experience, consider tapping into the mobile app arena to create loyal customers and drive them further down your sales funnel, and make sure your
eCommerce platform
is able to scale according to your needs.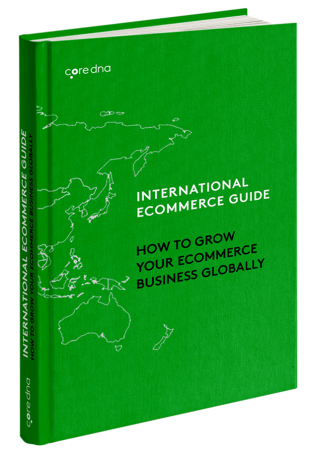 Download our checklist: How to grow your business globally
An 11-step formula to enter international markets.
8. Expand on social media
A challenge you will undoubtedly face when taking your eCommerce store international is…
How on earth are you going to grow an audience for your product? The answer lies in social media. You see, there were almost 2.8 billion social media users in 2017, which equals a 37% penetration.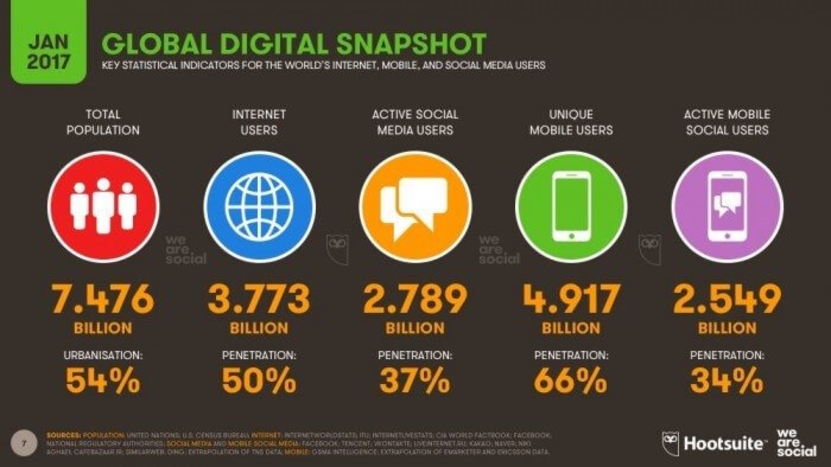 There's huge potential there as a means of increasing your reach. IKEA is a global organization with a brilliant localization strategy. This extends to their social media, too. They have a global presence on social media, including dedicated pages for different countries.
Take a look at their Spanish Instagram page for instance: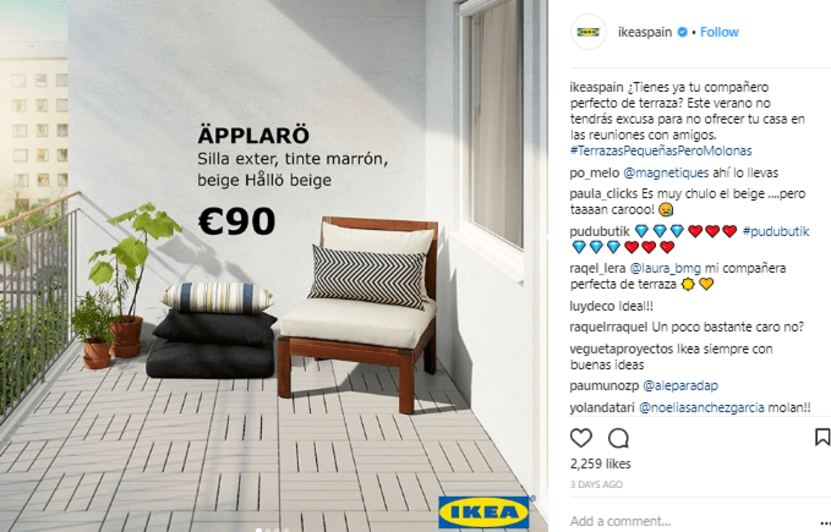 And, Red Bull creates their own country-specific social channels. For example, they built a Red Bull Italy Twitter account.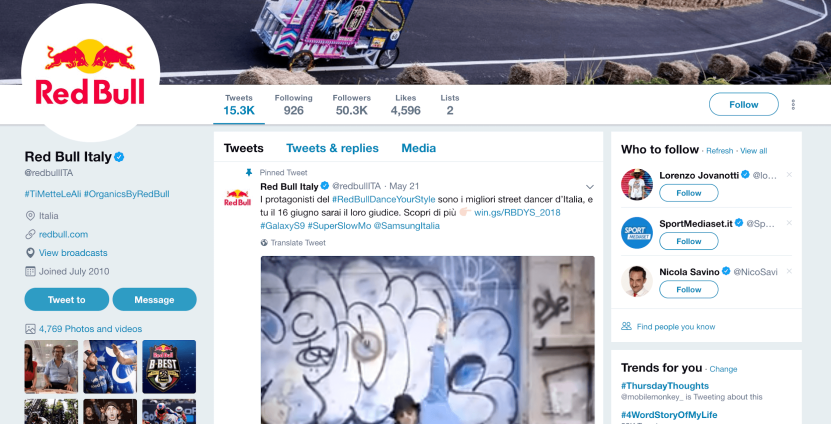 Red Bull even makes an effort to sponsor events in different countries to keep their global presence going like they did for The Great Britain Swim.
Like ASOS and Red Bull, you should use social channels to acquire and engage international customers. More specifically, try to target customers with localized messages. You can utilize LinkedIn and Facebook geotargeting features your messages to tailor your content.
You may also want to consider expanding into social networks for specific countries. For example, QQ is a social networking site in China. VKontakte is basically Russia's Facebook. And, Taringa is Facebook for Latin American users.
Key takeaway: Social media is one of the best ways to generate a global following for your brand. It's also a means of localization that will embed your brand in people's consciousness. To capture the local aspect of your social accounts consider creating content specific to that country or build a separate account. And, research the most popular social networks for each country so you're where your audience already is.
9. Collaborate with local influencers
Continuing with the theme of marketing to a global audience…Which other routes can you take if you struggle with social media?
Well, I think I've given the answer away with that subheader - local influencers. Influencer marketing has gone from strength to strength in recent years.
92% of marketers who used influencer marketing in 2017 found it to be effective. That is, of course, the vast majority. So, it must be good. And it can be useful on an international level, too.
Steve Olenski at Forbes says,
"For international campaigns, local brands and influencers should be able to gain a strong following in new markets."
In other words, you're using influencers who people trust to get your foot in the door.
Just look at what Coca-Cola did with their #ThisOnesFor campaign. They partnered with influencers across the world.
Here's an example from British soccer freestyler, Andrew Henderson.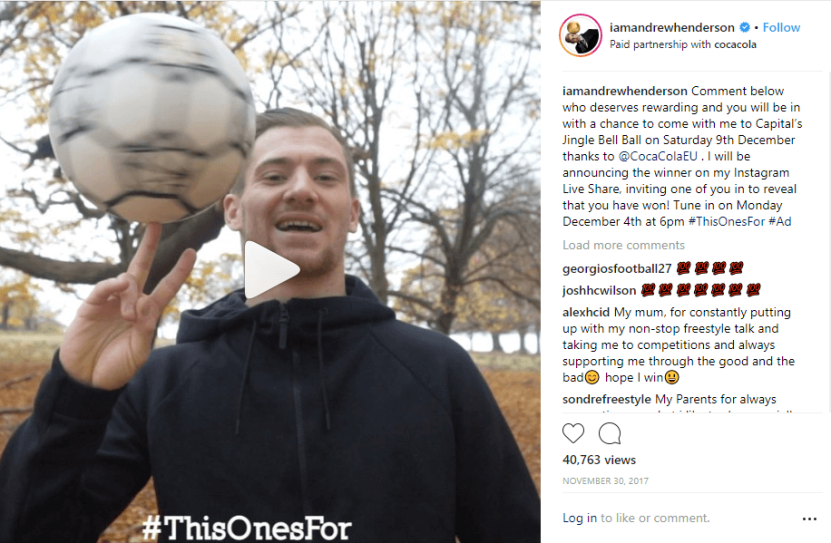 And, this one from travel Youtuber, Yannick Merckx.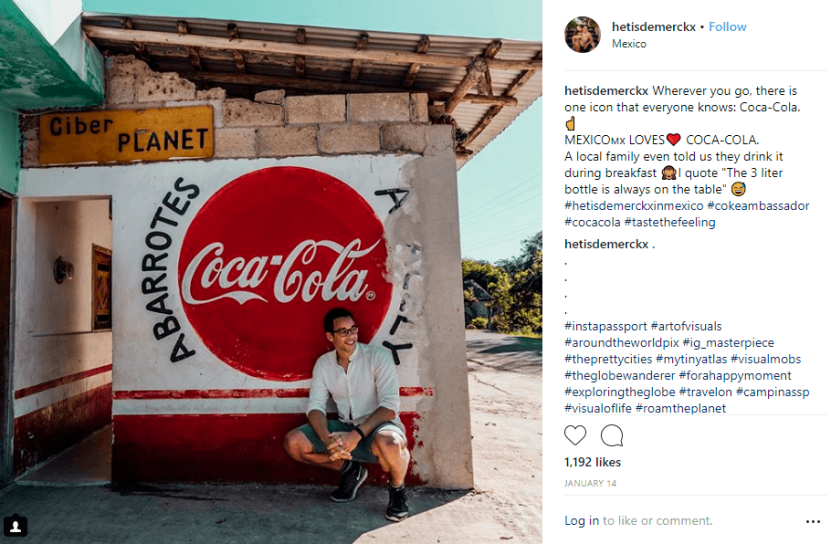 Coca-Cola used influencers all over the world to establish a genuine connection with its audience, wherever they might be.
If you hope to find influencers in other markets, consider exploring with an influencer marketing platform like AspireIQ (formerly Revfluence), TRIBE, or Speakr. Or, if you want to get really niche, find resources like GetCRAFT who specializes in the Asian markets.
Key takeaway: Use influencers to tap into existing audiences in new markets. They already have people's trust and popularity, which will then extend to your brand. Learn more about other big brands that are already going global. And, dive into influencer marketing platforms to make finding local influencers easier.
[Tip #10] Collaborate with your existing distributors
Your existing distributors will most probably jump at the chance to help you expand, as your success will be their success. Plus, by partnering up with your distributors on a larger scale, you can help them reduce their reliance on Amazon and Amazon-based retailers, potentially giving them a larger slice of the pie.
Tap into your network of distributors to see if they have any of the infrastructures you need to expand your reach. Some of your distributors may also be able to help when it comes to warehouse space and logistics in untapped geographic areas for your company. If you don't ask, you don't get!
"A company selling engineering components, for example, could expand its coverage by appointing a nationwide engineering distributor. Select distributors that cover geographical territories or market sectors that your sales force cannot reach," – Ian Linton
He continued, "Try to appoint distributors that will give your product exclusive coverage. Develop incentive programs to encourage distributors to market your products effectively and provide any training and marketing support they need to succeed."
Key takeaway: Talk to your distributors about your plans, and see if they have any interest in making it a mutually beneficial process.
11. Get governmental support
Finally, you should conduct some research into what support your government offers growing companies. The Australian government, for example, offers export grants — called Export Market Development Grants (EMDG) — to companies wanting to dabble in exportation. In the U.S., you can take advantage of a number of grant programs to help your company test foreign markets and overcome obstacles to trade.

Key takeaway: Your government might want a chunk of your revenue at the end of the tax year, but they can also help you propel your company into new markets — so make sure you take advantage of any grants made available to you.
Watch video demo
Conclusion
When you've peaked in your home market, the natural progression is to expand internationally.
The steps you need to take to do it and do it well are as follows…
Research international markets, in which you might be successful.
Start small because you can always reinvest later and grow further.
If you're looking for an easy place to start, then try international marketplaces.
If you want to have the kind of success big brands have achieved then localization is the key factor.
Set up local preferred payment options to encourage sales.
Set up international shipping options to increase efficiency.
You can make a lot of sales abroad by optimizing for mobile commerce.
And when it comes to growing an audience, social media and influencer marketing are the optimal routes.
Tap into your existing network to find opportunities
Don't forget to check how your government can help you grow