The Amazon Survival Guide: Thriving in The Age of Amazon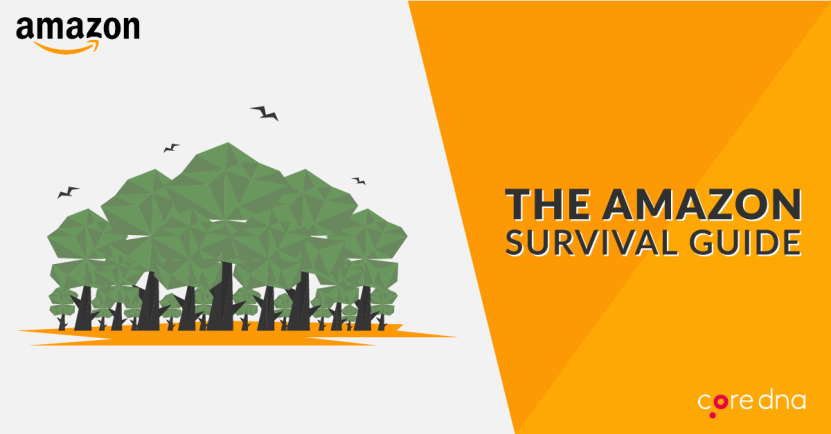 Amazon's dominance over the eCommerce market is almost scary.
44% of all product searches, in fact, start with Amazon. They own 43% of all U.S. online retail sales. That's almost half the market!
Not only that, but their most loyal customers are also incredibly brand loyal. Prime customers routinely spend twice as much as non-Prime ones. It doesn't matter which stats or stories you read. They're all the same in the end. Amazon dominates just about any market it touches. It's often the first and last destination.
But that doesn't mean they should be your only online marketplace option. In fact, you should actively avoid listing products on Amazon in many cases.
Here's why and what you can do instead to survive in the age of Amazon.
In a hurry? Here are 12 do's and don'ts on how to compete with Amazon and win!


Why moving your products to Amazon isn't the (only) solution
Amazon has ALL of your customers' data. All of it.
They know your pricing, profit, and sales volume. They know where your customers buy from, who they are personally, and what else they buy.
And they're starting to use that extensive knowledge for their own personal gain.
Former Amazon employee, Rachel Greer, recently explained that…
"Amazon has the ability to track both what people are buying as well as what they search for and can't find, giving the e-retailer a huge edge on smaller sellers."
Amazon is scaling their own private label, AmazonBasics, which looks eerily similar to some of the already bestselling products on their platform.
For example, Rain Design's laptop stand has been one of their most successful products to date. It has been a bestseller on Amazon for a decade.
A bestseller that is, until AmazonBasics unveiled a similar laptop stand and cut into Rain Designs' sales.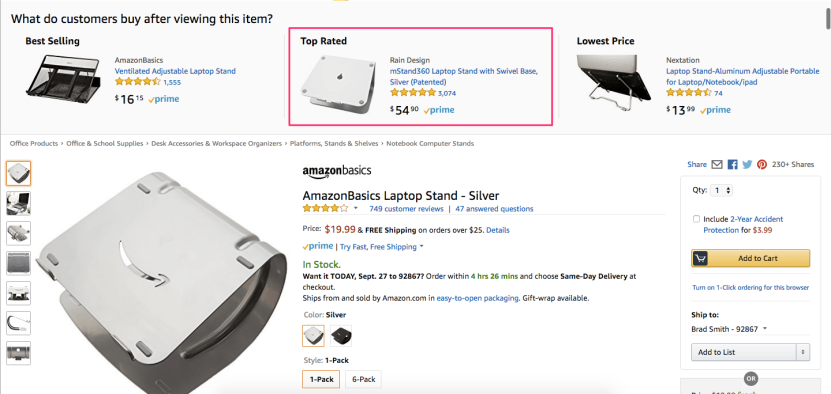 Harvey Tai, the general manager for Rain Design, told Fortune,
"There's nothing we can do about it because they didn't violate the patent."
Instead, Amazon is sitting back collecting data. They're spotting trends and predicting what customers will buy next.
What do you think will happen when your product(s) start gaining some traction? Amazon knows exactly how much money you're making on their platform.
They'll simply create their own version, just like the laptop stand above. Then, they'll slash the price in half. They'll add in their vaunted two-day shipping to begin eroding your market share.
And you'll be left in the dust. You can't compete with Amazon. Think this is just an isolated incident? Think again.
You can pick almost any product category off the top of your head right now. Do a quick search on Amazon, and you'll see an AmazonBasics alternative to the previous Best Seller.
For example, they're even dominating patio furniture with outdoor heaters. And they're price matching the competition down to the cent.

In a race to the bottom, where everyone is competing on price, guess who wins?
Amazon has pursued volume sales since the beginning. There's no one better at exploiting economies of scale - and picking up a few pennies on each product sold - because they can move millions of units a day.
Let's do another search. Check out printer paper for your computer and here's what you'll see:

This one is interesting for a few reasons.
Once again, AmazonBasics is coming in lower priced.
But they're also going to ship it in half the time of HP's version.
So guess which one you're going to buy? There's no question.
At this rate, it's not a matter of if, but when Amazon is going to enter your space. Just ask Walmart. What's the first thing Amazon is doing with the newly acquired Whole Foods? Slashing prices.
Not recklessly, but intelligently. For example, Amazon has been one of the leaders in dynamic pricing for years. They test and iterate pricing faster than anyone else.
Over Black Friday in 2013, Amazon changed pricing 2,840 times vs. Walmart's 922, Target's 354, and Best Buy's 336.
See who's on the very bottom of that graph in green? Toys R Us. The same retailer who now, a few years on, just declared bankruptcy.
These things don't happen overnight. They've been happening for years now. AmazonBasics actually dates back to 2009.
But now, almost ten years later, they're finally expanding aggressively. And, unfortunately, you often have limited control in dealing with their discounting strategy unless you're an established global brand.
You don't have to give up entirely on Amazon. However, you don't want to put all your eggs in their basket, either. (Unless you're ok with those eggs being sold for a lower price with a faster shipping time.)
The only way to go toe-to-toe with them is to go beyond simply listing products. Treat it like a real-time auction where every small optimization counts. That means you'll need to bring in expertise from your SEM people for ads/creatives with A/B testing.
PRO TIP:
Core dna offers many of these features for you. Traditionally, you'd need designers, developers, and marketers working together on a project that might take weeks.
Now, even non-technical users can quickly create sophisticated tests within just a few clicks.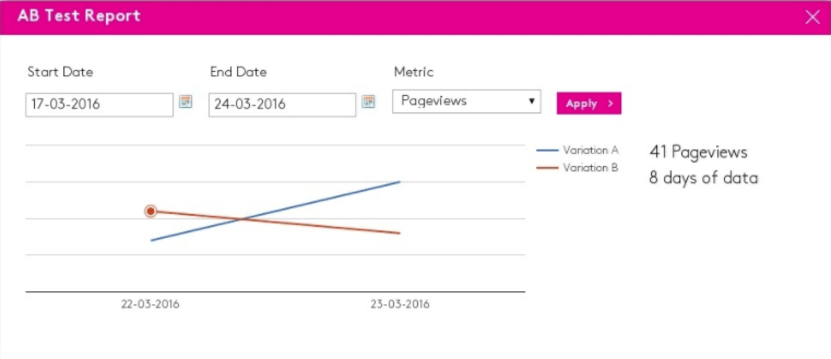 Best of all, they already
integrate with Google Analytics reporting
, too.
Beyond that, you can also diversify your strategy around Amazon. While they may be the biggest player, the good news is that Amazon isn't your only option out there.
In fact, teaming up with smaller niche marketplaces or taking alternative routes to securing loyal customers might be a better fit for your brand in the long term.
Here's where to get started.
Competing against Amazon? Here are the 8 things to avoid
Even though competing with Amazon is widely considered to be an unfruitful venture, it is still possible to go up against them. But to do so, we highly recommend that you avoid doing any of the following:
1. Don't sacrifice your margins
When going up against Amazon, the last thing you want is a race to the bottom; an independent retailer simply can't win that race. As we have already mentioned in this post, Amazon already has the advantage with Amazon Basics.
But aside from "beating" Amazon on this front, there's also the issue of sacrificing your profit margin. If you slash your prices until your profits are paper thin, your company's survival is at risk — whether you're cheaper than Amazon or not.
Identify a realistic minimum bottom line, and then stick to that for the sake of your brand's future. Don't worry, pricing is only one side of this multi-dimensional war with Amazon.
2. Don't sell the exact same products as Amazon
Amazon's product listing is just so vast that at times it is a bit of a conundrum to decide on what product to sell. If you are a reseller, there's no point selling a popular item such as a games console, as these types of products are already dominated by Amazon and other big named brands.
Always aim to sell a product that is either unique or niche. That way you're focusing your branding towards a particular target market, bypassing the more generic wares sold on Amazon.
If you have the resources, you should seek to create your own product — giving your brand a truly unique space in your industry.
To give you an example, Dan Andrews, founder of ModernCatDesigns.com, noticed how expensive and ugly-looking cat furniture was. Andrews and his business partner then set out to create their own line of contemporary cat furniture that blended in well with the interior of modern homes. You won't find their furniture on Amazon — unless it's commissioned by Dan Andrews and his team directly.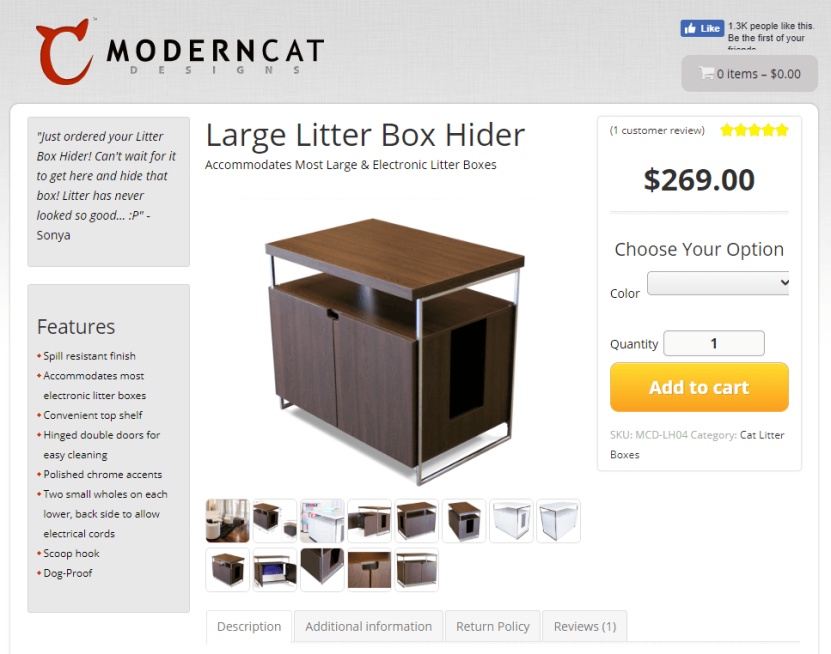 3. Don't wait until Amazon runs out of stock
There are times when Amazon will eventually run out of stock of a particular item. Many Amazon sellers have identified this as an ideal opportunity to "cash-in" before Amazon replenishes their inventory. But this strategy won't get you very far.
Not only will most Amazon shoppers prefer to wait for the stock to be replenished, simply because of trust, brand loyalty, competitive pricing, and shipping options.
But even if you do manage to capitalize on this opportunity, your business model is dependent on the results of a few days or weeks out of the year. It's also dependent on an Amazon shortcoming (running out of stock for more than a day or two), which, once fixed, puts you out of business.
4. Don't re-direct Amazon shoppers to your website
While selling on Amazon can help you gain brand exposure, you should be careful of re-directing Amazon shoppers to your online store. It's an Amazon policy violation, and it's a cheap way to gain traffic that the Amazon shoppers won't appreciate.
You're better off using your Amazon Store in the way Amazon intends you to; by promoting your brand and building trust within their ecosystem. If you do that correctly, and for long enough, those shoppers will eventually make their own way to your online store.
5. Don't add your promotional and marketing materials on Amazon product listings
Following up on the previous point, it's also against Amazon's rules to add marketing or promotional material to your Amazon product listings. This includes any images that contain promotional texts, title information that refers to a discount.
Accept that you're stuck to using Amazon's product listing template, and then aim to thrive within it. You can do that with:
High-quality product images and product videos
Compelling, entertaining, and descriptive copy
A high level of detail and description for the product
6. Don't have an overcomplicated checkout process
Amazon has pretty much set the benchmark for quick, convenient, hassle-free checkout. If your checkout portal involves filling in long-winded forms and going through multiple-stages, then you're more likely to see an abandoned cart than a completed purchase.
Do ensure you streamline your checkout portal on your website. You can also take advantage of integrating a number of payment gateways such as PayPal.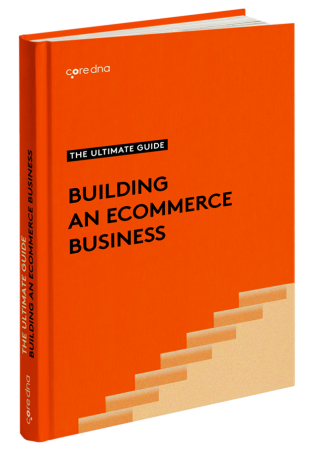 The ultimate guide to growing & scaling an eCommerce business
Everything we've learned throughout our 18+ years journey in a 30,000-word PDF guide.
7. Don't have a poor returns policy
Part of the reason why Amazon quickly rose to dominance was that they had a free and reliable returns policy for most of their products.
The prospect of giving your customers the option to return products totally free of charge can be a scary one. But making this offer immediately builds trust between you and prospective buyers. It shows that you're confident in your products, and it shows that your aim is to offering free returns immediately helps to build trust with your consumers.
8. Don't have unclear shipping policies
Amazon customers have become accustomed to multiple shipping and collection options. Your business probably isn't able to compete with same-day delivery, but you can make your shipping policies clear, and you can work on adding more delivery options.
Above all, stay honest and realistic with your shipping dates and pricing. If you can't compete on price and speed, compete on reliability.
What to do instead of competing head-on with Amazon
Amazon might be the all-mighty, but it's not the end-all-be-all.
While it may take a little longer to get up-and-running with different avenues, it's a good idea and an investment that will likely prove worth it in the long run.
Here are a few Amazon alternatives at your disposal.
1. Work with niche marketplaces
Yes, Amazon is the most dominant product marketplace.
But it's far from being the only one.
For example, e-retailer Walls Need Love works with a few niche marketplaces outside of Amazon, including Fancy, Touch of Modern, Wayfair, Etsy, and Urban Outfitters.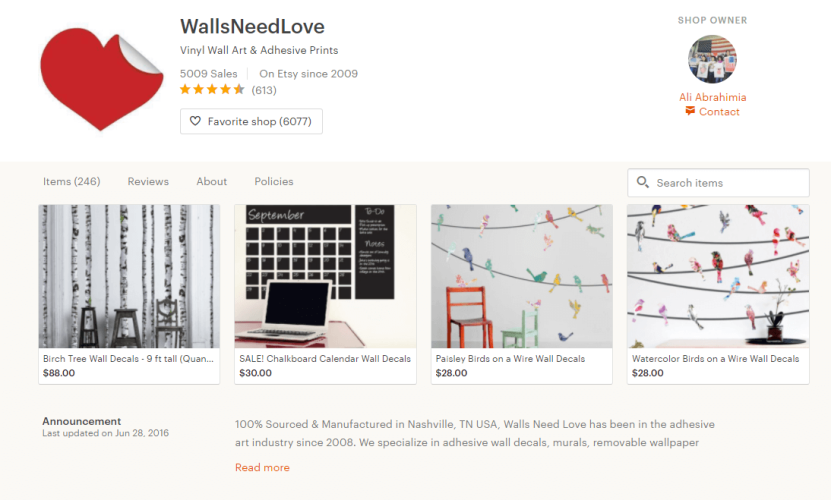 (image source)
As a small company, they can't afford to get into price wars. So they keep a close eye on both distribution agreements and profit margins before listing with them.
All marketplaces are a necessary evil. They demand discounts and a cut of the profits. But they're also one of the best (if not, the only) ways to build awareness for new brands in the early stages.
The trick is to diversify your options so a single platform can't make or break you (like Amazon). And then make sure the terms work for you and that the marketplace represents your brand and image well.

2. Build your own database and list
Spearmint LOVE sells baby clothing. Over the last year, they've seen an incredible 991% YoY growth.
And this monumental growth had nothing to do with Amazon.
How did they do that exactly?
They've been able to use Facebook and Instagram ads to build a pipeline of leads to sell directly to the end-user.
Spearmint LOVE is able to see an impressively low $5 cost per acquisition because they use a sales funnel.
For example, they use content-based top of the funnel ads to build up attention and interest around their products.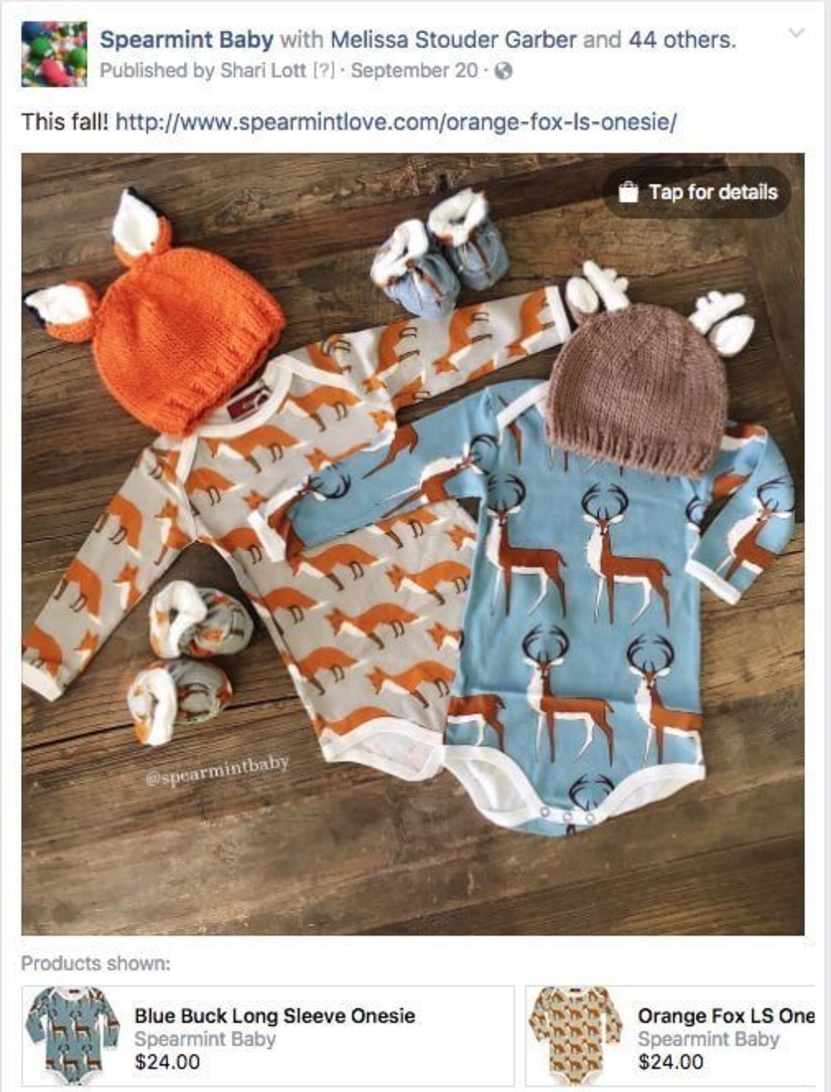 image source: Big Commerce
Then, they can use Dynamic Product ads to automatically retarget people who were just on their site. For example, you might check out the Grey Whale Long Sleeve Onesie.
And then a few minutes later, guess what catches your eye back on Facebook: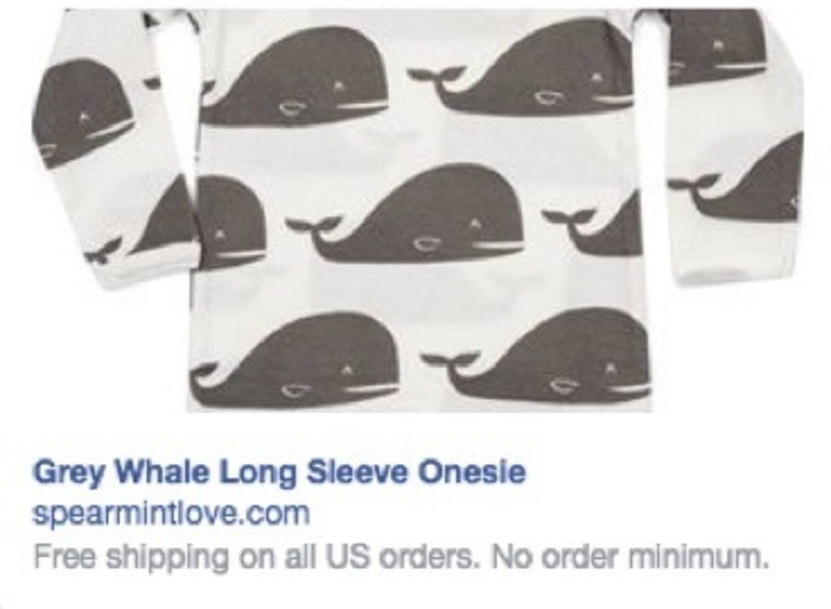 You can also create lookalike audiences based on your customers. These allow you to find brand new people who share a lot in common with the people who've already spent money with you.
Online advertising isn't a gamble. It works, and it should be an investment.
For example, the more tightly targeted your audience, the lower Cost Per Conversion you should see.
This experiment from AdEspresso shows that a 1% lookalike audience almost cuts the Cost Per Lead in half versus the 10% lookalike audience.
Now, imagine how that compares to an untargeted, random audience people usually go after.
3. Give people a reason to shop with you personally
There's a good reason people shop on Amazon most of the time.
The products are usually among the cheapest, the shipping is among the fastest, and the returns are among the safest.
So why would you, the consumer, shop anywhere else?!
That's the hard question to answer. How can you give people a better reason to shop through your site instead of a marketplace?
The easy answer is to promote exclusive offers, warranty deals, unique color variations, and more.
You could try looking at what the competition is doing. But that type of copy-cat mentality doesn't always work out well in the end. What works for them doesn't mean it will work for you.
Another trick is to look at how different companies in other industries are tackling similar problems.
For example, many of the same issues plague the travel industry. Aggregators like Expedia take a huge cut off the top.
Here's how the Bellagio in Las Vegas responds.
First, they offer to not just price match, but also give you a further discount if a third-party site lists their rooms for cheaper:
"We promise that if you find a lower third-party room rate within 24 hours of booking on our website, we will not only match that rate, but give you an additional 10% off the lower rate."
They don't stop there, though. They also list out a few additional reasons like no hidden fees, better payment terms (book now, pay later), longer cancellation policies, and other exclusive offers.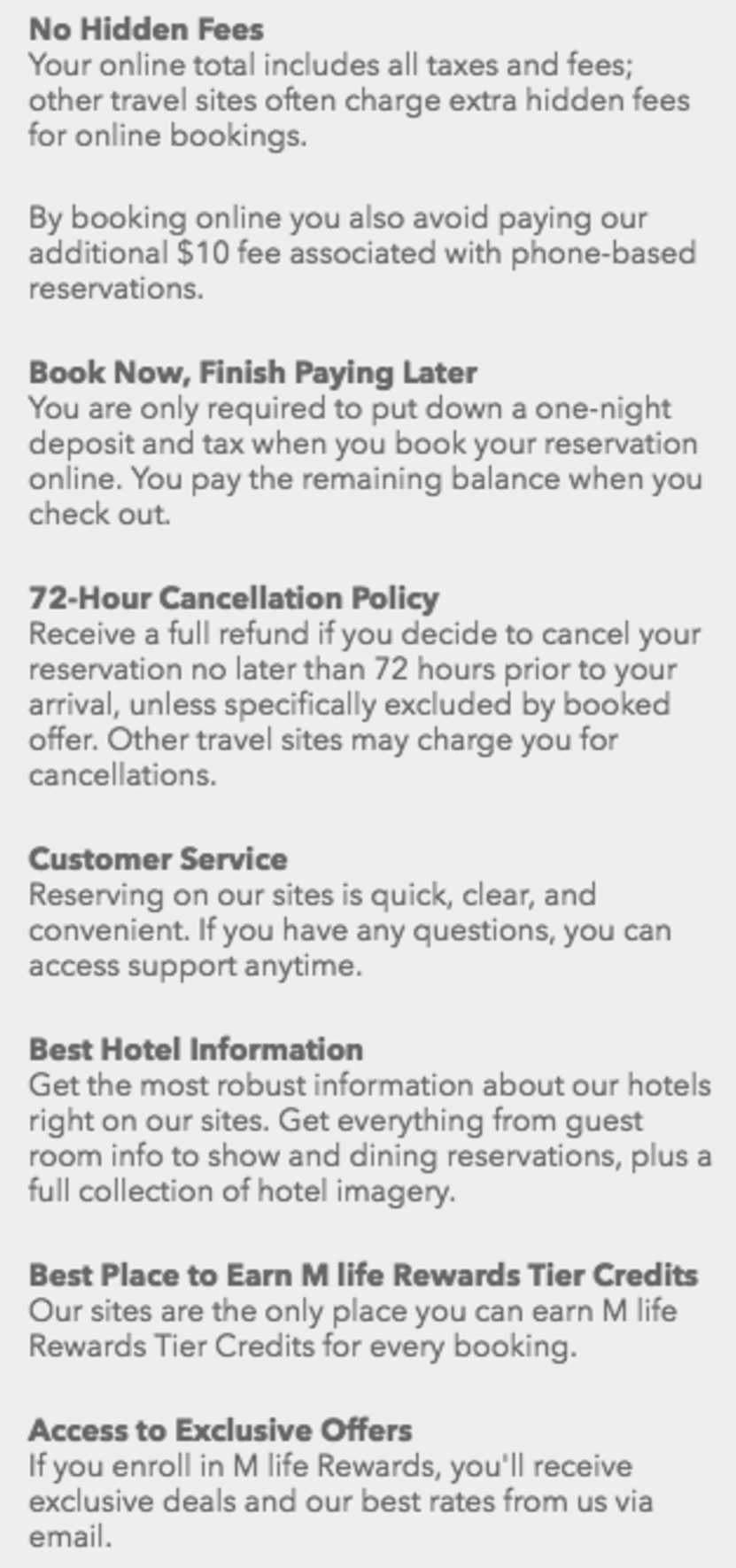 Hotels commonly use reward points that customers can exchange for bigger rooms, upgraded service, etc. Except, they won't give out points for people who book through third-party sites.
So in the first instance, they're rewarding you with extras. And then in the second, they're taking things away if you don't book directly through them. They've gone to great lengths to hand out benefits you can't get anywhere else, eliminating the need for you to book through another marketplace or site.
The other added bonus is that they own the entire experience. They're able to make sure the customer has a positive, consistent experience from beginning to end. This is what omnichannel marketing is all about - a seamless and consistent experience across channels.
Working with partners and other marketplaces - like Expedia, Booking.com, or Amazon - forces you to turn a lot of this control over and hope for the best. Amazon, for example, doesn't (generally) allow their merchants to "own" the packaging. Do you have a unique product packaging or unboxing experience that is a part of your brand? Yeah, you can't really do that with Amazon.
4. Restrict products on a competitive marketplace platform
Amazon is excellent for providing quick feedback. It's kind of like Google AdWords in that sense because you can get almost instant direction on what's working (or not working).
In comparison, waiting for the SEO ball to get rolling takes forever. That's why selling directly through your site in the early days often doesn't pay off.
So you can use Amazon and other competitive marketplace platforms for a quick test bed for new products. Then, you can also try using a hard minimum advertised price (MAP) to control how other sites price your goods.
For example, you can institute a price "floor" so that no matter what happens, your margins will stick within a generally-accepted range. That way, pricing should be consistent across different customer touch-points so some won't feel cheated if it pops up for less somewhere else.
But more importantly, it helps you hold margins firm.
The problem, of course, is holding sites and other retailers accountable. If you tell them shipments will stop if they drop pricing below a certain point, you need to be willing and able to act on that promise.
Ready-made software like TrackStreet and Mapp Trap can help monitor this for you.
Both will aggregate data from different sites and marketplaces to tell you exactly what people are charging across the 'net'.
They even feature an enforcement email service to make sure all parties are complying. It can help you automatically fire-off a consistent sequence of messages that range from policy notices to legal actions.
Watch video demo
Sell smart, and you might just survive
Amazon's dominance in the eCommerce world is unmatched, and they're not going anywhere anytime soon.
They are convenient for buyers, which makes them a convenient and enticing marketplace for sellers, too. The problem is that Amazon is continuing to cut into retailer's sales. Fees aren't the only issue or even the worst.
AmazonBasics is literally copying and pasting your products, while also offering better pricing and terms to consumers.
It's already happening in far-flung categories like patio furniture and printer paper. The solution is to diversify. Use Amazon for what they're good at, like getting you extra attention and instant feedback.
But you should also be exploring other niche marketplaces, going directly to the consumer by building out your own pipeline, using incentives to get people to buy direct, and even setting certain limits on these competitive marketplaces.
Weaning yourself off Amazon's power isn't easy. It won't happen overnight. But in the long run, it will be one of the best bets you have for a profitable, sustainable future.
So, to recap:
Work with other niche marketplaces.
Build your database and list. Remember the money is in the list.
Give people a reason to shop on your site. Have a think about different ways visitors can get unique experiences and values if they shop on your site.
Limit products on a competitive marketplace platform. Use Amazon (and the likes) as a testing ground and have a HARD minimum advertised price.
Do you have other ways to survive in the age of Amazon? Leave them in the comment section below.