Product Return Strategies: How to Turn Returned Items into New Sales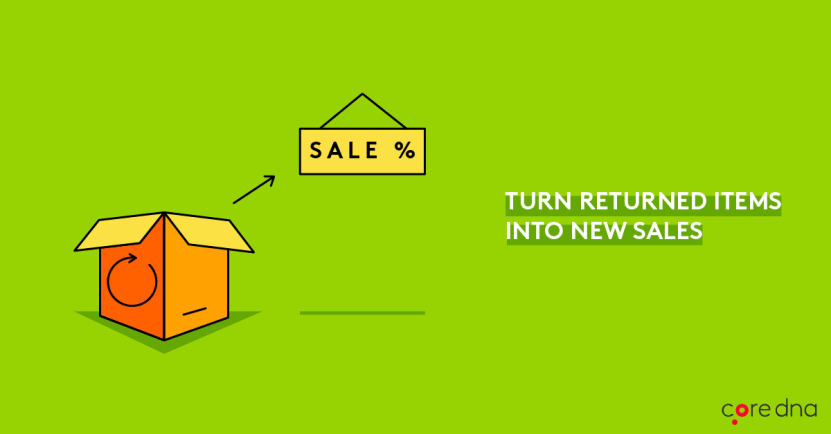 Returns — or in industry lingo, "reverse logistics" — are just a cost of doing business. There are always going to be customers who want to return an item, regardless of how good your product and delivery service may be.
The most important thing is the way you handle the return, from posting your return policies to the final resolution. Some companies save money in the short run by making their return policies such a hassle that customers don't bother, but guess what — they also don't bother to ever shop there again. That company has lost a potentially long-term, loyal customer, and maybe some organic PR through their word-of-mouth, in exchange for not having to deal with a returned item.
Doesn't seem worth it when you put it like that, does it?
That's going to be the focus of this article today: showing you how you can make the return policy a positive experience for the customer and a useful experience for you, and how to turn that experience into new sales.
Here's a quick list of our product return strategies:
A 27-point checklist to run an efficient inventory
[Tip #1] Write a crystal clear returns policy
First things first: Make sure your policy is crystal clear and well-advertised. Make sure you're as transparent as possible about every detail of your return policy. Here are some questions to get you started: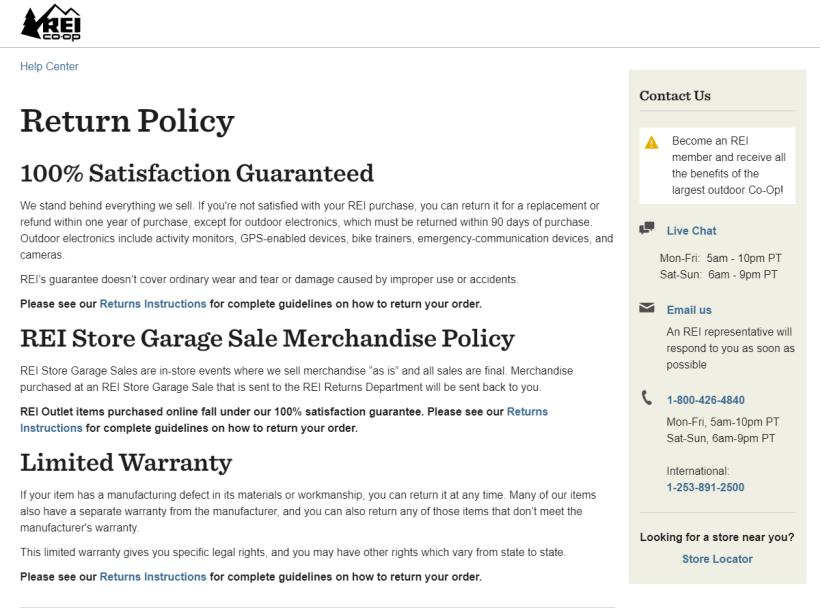 (REI has an excellent, straightforward return policy. Everything sold there is covered by a one year guarantee, except for electronics. Notice that the exception isn't in the fine print -- it's right there for customers to see)
Are there certain things that can't be returned, like high-ticket items or things on sale?
Is there a restocking fee? How much?
How long does the customer have to return the item? A week? A year?
Are you going to require that they have a receipt? That the tag is still on? That it's still wrapped?
What will they get — cash or store credit? Does that depend on certain things?
If they ship it back, who pays for shipping?
Every stage and detail of the returns process should be outlined from the very beginning. That way, you'll stay consistent, there will always be an answer to questions about returns, and your customers won't feel like they were misled.
[Tip #2] Make returns a breeze
You can only benefit by making the return easy for the customer. By making things too difficult to return, you'll only annoy them and lose their business. Making the returns process easy is thinking in the long term for your business.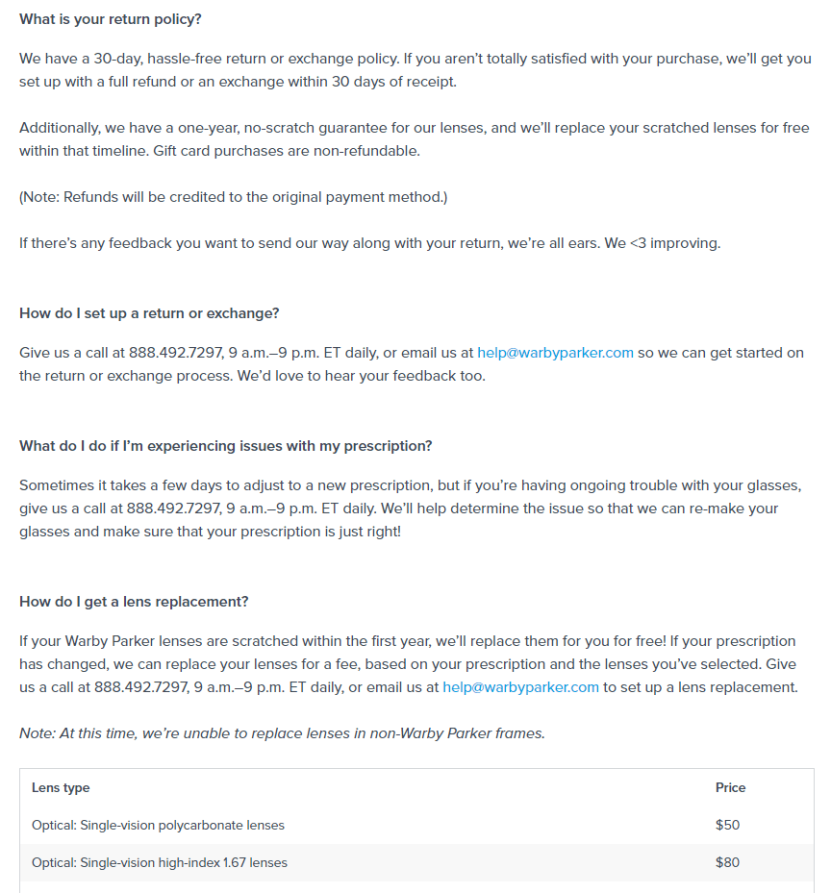 (Warby Parker takes returns seriously. You can tell because instead of trying to be as vague as possible they give you a phone number to call so you can talk to a real person, instead of just an email (but they have one of those too).)
But what does "easy" mean?
Give them multiple ways to return it
Have a brick-and-mortar location near them? Let them return it in-store. If not, let them ship it back and do the returns process online.
Give them a generous time frame
Life happens and people lose track of time — being stingy about when they can return the item is only going to frustrate them if they feel like it was too short.
Be flexible about receipts, tags, etc.
These days, it's easier than ever to just look someone up in your system and verify with a card. There's usually no need to force them to keep a receipt or tag on the item.
Include a prepaid shipping label
If you've decided that you're going to eat the shipping costs, it makes sense to include this sort of proactive and helpful move for your customer. The option is there if they need it, and they don't even need to spend the time going to your website, finding the returns section of your FAQs, and figuring out how to send the product back.
[Tip #3] Make it a learning opportunity
Use this interaction with your customer to learn as much as possible about why they're returning the item. The best way to do that is through active listening, empathizing, and asking follow-up questions. When a customer places a return, include a brief, thoughtfully worded survey that they can answer in just a couple of minutes.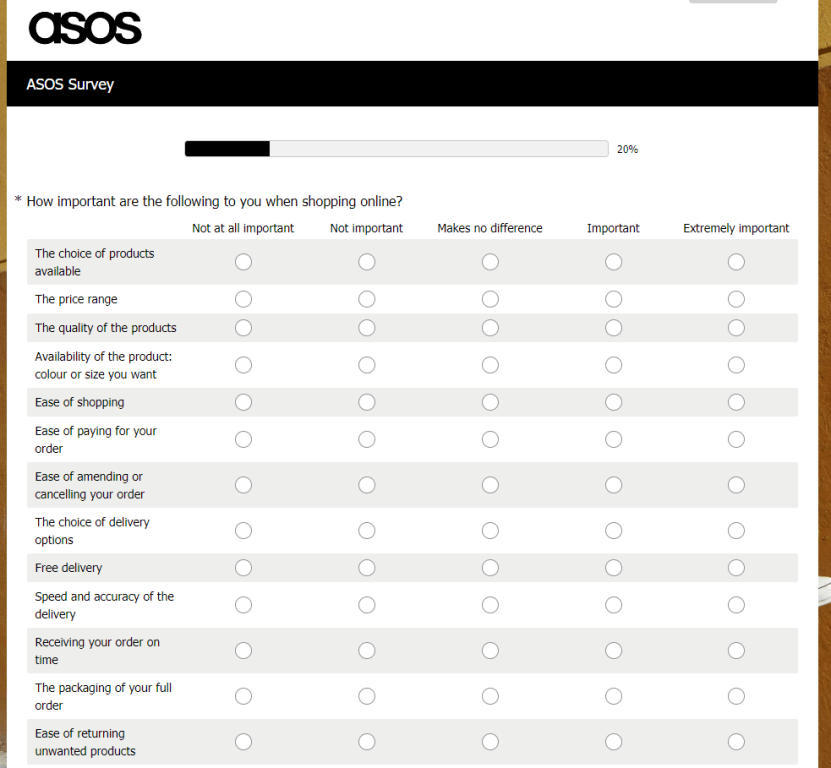 (ASOS, one of the biggest online fashion retailers, sends out a survey after every completed order, asking about general opinion on the store, product, website and app usability and additional features the site offers. My only critique: it's kind of long.)
First, active listening is genuinely listening and responding to let the customer know that you are hearing what they're saying. Giving affirmative feedback and summarizing and repeating what they say to make sure you're on the same page will make them feel heard. Let them tell their whole story before trying to fix the situation.
Second, empathize with them. They've ordered this product, they thought it was going to be exactly what they needed, and it wasn't. They've gotten online, or on the phone, or come in person to talk to you about it — let them know you empathize with their struggle. If they feel like you understand them, they'll be more receptive to solutions.
Third, ask follow-up questions. They'll give you a lot of useful information, but probably not all of it. Make sure you have a specific set of details that you want to learn from every customer, like why they're returning it, if there's something wrong with the item, and if they want to replace it, exchange it, or just get their money back. This way, you'll know what their expectations are, and you can work towards a solution with them.
Once you find out why, it will fall into two main categories, both of which you can get useful information from:
It's your fault
If it's your fault, the sooner you know, the better. Your product photos could be misleading, the dimensions could be wrong, the description could be off ... you won't know until someone tells you.
By getting this very simple data from the customer, you can avoid a lot of future headaches. If one of those things is wrong, you're going to have a lot of unhappy customers if you don't fix it.
It's not your fault
Knowing that it's not your fault is useful too — it lets you know that your processes are working fine, there aren't quality issues in your production, and this was just a run of the mill return. At that point, your focus is just on how to make that process as easy and positive for the customer as possible.
After finding out why make sure you log and keep track of all the information you get. You can use this data to look for patterns, like maybe one item is being consistently returned, or items from a specific warehouse are getting a lot more complaints about quality. Data is your friend!
[Tip #4] Make it a sale
As you've probably heard a million times, every interaction with the customer is an opportunity for a sale, and returns are no exception.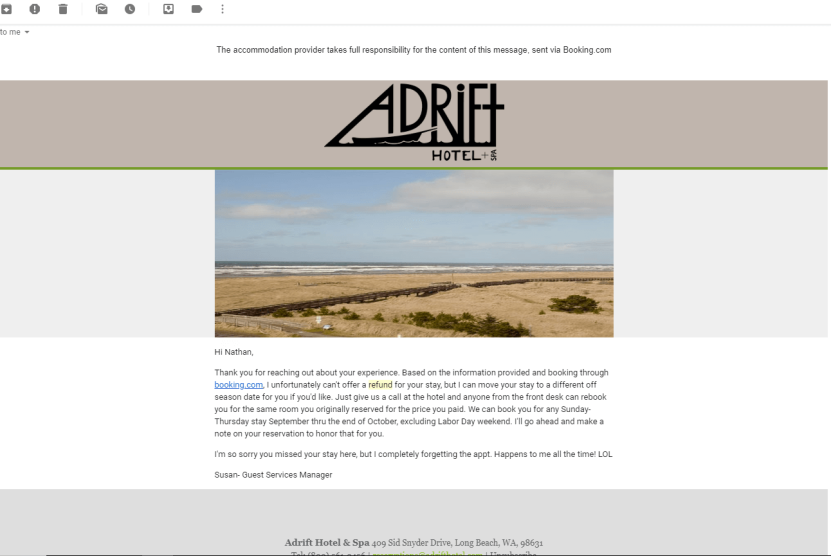 (The Adrift Hotel in Long Beach, Washington gets major points for listening to this customer when they asked for credit for a missed booking. Think about how your brand can mend any wounds and potentially grow a healthy relationship even in the case of disappointment.)
There are two ways you can make it into a new sale:
Exchange (and maybe buy more)
Presumably, the customer bought your item for a reason, to solve some sort of problem. It's pretty safe to say that whatever they bought didn't solve that problem for them. Figure out how to solve it with something else, and you've turned a loss into a break-even, or maybe a gain!
First, you can try to suggest another product, or products, that could solve their problem. After learning what they need, see if you offer something that will give it to them. What the customer ultimately wants is the solution to their problem, so see if you can work with them to make it happen.
Second, if there is no solution that you offer, try giving them store credit or a gift card. Especially if they've shopped at your store before, or they know they will in the future, this could be an appealing option for everyone — you won't feel like you've lost out on money, and they'll still get to return the item and get something down the road with the money they've already spent. Don't push this on them, but don't neglect to offer it as an option.
If you just sit back and accept the return and don't try to give them other options, you're losing out on a huge opportunity. They likely will still have that original problem when they leave the interaction and have to start all over again trying to find a solution — or, right there, you can do your best to work with them on finding a solution that makes everyone happy.
Future sales
This one is a little harder to track, but just as worth it. Even if you can't find an item the customer wants in exchange for their return, and therefore are taking a short-term loss, you can still make it a great experience for them and turn it into a positive sale.
If they leave the interaction with the feeling that you care about them, you didn't make their life more difficult for no reason, and you're a good company to do business with, that kind of impression of your company is priceless. The next time they realize they need a product that you offer, your business will be top-of-mind for them. Companies spend hundreds of thousands of dollars on ad campaigns with the same goal — all you have to do is provide a smooth return process.
A 27-point checklist to run an efficient inventory
A returned item is an opportunity
Returns are a great way to make a positive impression on your customer, and they're often overlooked by businesses that think returns aren't worth their time. What they don't realize is that returns can be used to make a positive impression, get future sales, and even collect invaluable data about your products and processes.
What do you do to make sure your returns process goes smoothly? How do you turn that interaction into a sale?
Want to see how high-growth eCommerce companies use Core dna's commerce platform? Let's chat.