7 Takeaways From Campaign Monitor's 2018 Email Marketing Report to Jumpstart Your Strategy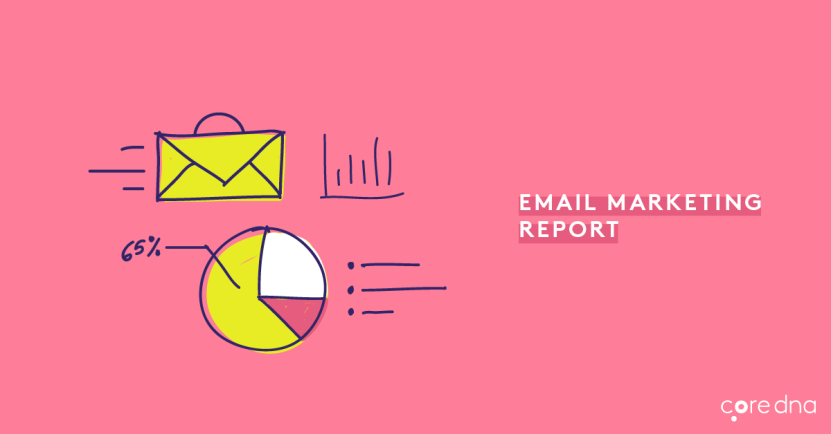 There is no doubt that email marketing efforts drive a large amount of revenue for brands. It is reported that email delivers an average Return of Investment (ROI) of 3,800%. It is also one of the most measurable and trackable marketing tactics we have. However, what is the true state of email marketing? Is the future still bright for all your email marketing efforts? How do other marketing tactics compare?
To answer these questions and more, Campaign Monitor published a remarkable email marketing industry report for 2018. To come up with the finalized assessment, they surveyed more than two hundred marketers and experts specializing in email marketing. They interviewed them about ROI, personalization, customer retention, and more.
The study includes many exciting discoveries about emails, and Campaign Monitor has published it here. If you are an email marketing professional, or just an enthusiast about email marketing in general, below are some of the best and most interesting takeaways from the report:
In a hurry? Here's the full list of our takeaways:
Download our growth marketing playbook
[Takeaway #1] Go beyond acquiring new customers
Bringing in new customers is essential any campaign—but so is retaining existing customers. According to the report, marketers today have finally understood the importance and power that lies in dedicating time, effort and resources to nurturing and growing relationships with current customers. However, some marketers still haven't gotten the message— 58% are engaging with either prospects or existing customers only.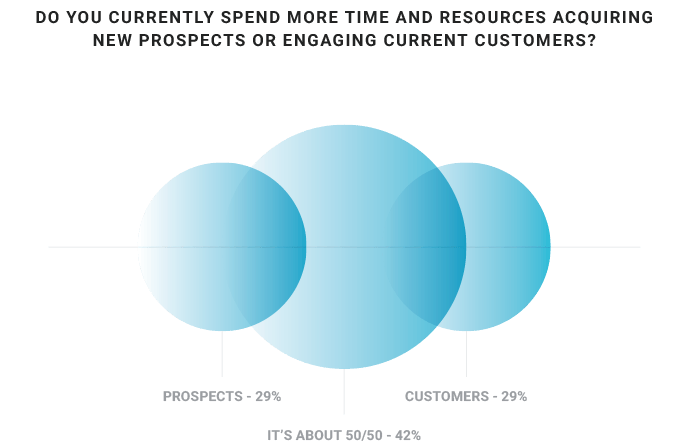 (58% are engaging with either prospects or existing customers only)
So, why should you give equal attention to new and old customers? Doing so will allow you to have two sources of income as opposed to one. Engaging with your former customers takes less time, effort, and money. Customer acquisition will cost you five times more than retention costs. The latter can also increase your ROI between 25% to 95% even when you increase retention efforts by only 5%.
You already have their data. Now, it's just a matter of how you use that information to win them back and purchase again. If you need inspiration for your customer retention campaign, Chris Hexton from Crazyegg listed 5 Killer Examples of Retention Email Marketing. One of those campaigns is from e-commerce giant Amazon. To drive old customers back, Amazon sends out a review email. The email is clean and simple with a straightforward call to action—rate the purchased product. You can apply the same tactic by targeting previous customers and asking them for feedback.
Recommended readings:
[Takeaway #2] Start your email marketing campaign now
Despite a significant spike in social media users recently—it is reported that there are more than 3 billion users this year—email marketing remains undisputed as the top income generator compared to other digital marketing channels.
According to the study, about 59% of marketers report that email marketing generates the most ROI than other platforms. Because of this, marketers will still invest and even increase their email marketing budget.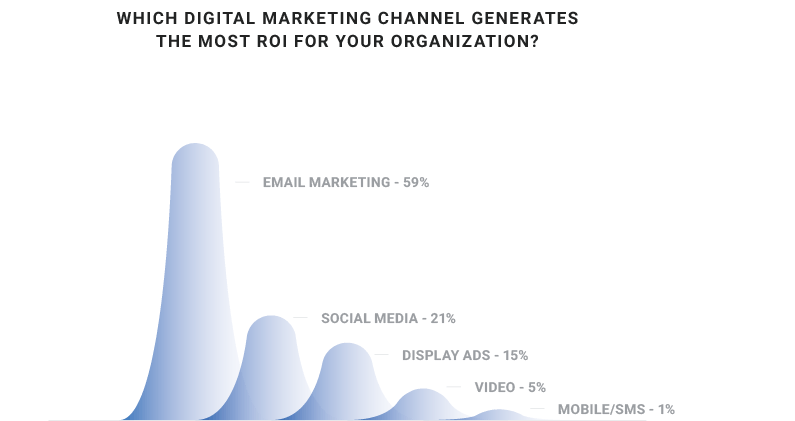 (59% of marketers report that email marketing generates the most ROI than other channels)
This only proves that email marketing is here to stay—despite the (debunked) rumor that "email is dead." Having a timely and relevant email marketing program will still help you dominate in an oversaturated digital marketing world that is constantly vying with the attention of consumers.
You can still, however, invest in other marketing channels. Together with a solid email marketing strategy, you can bring more unprecedented returns for your company.
If you are new to email marketing, you don't have to stress yourself out. You can familiarize yourself by reading The Modern Guidebook to Email Marketing. It is a 9-part step-by-step guide that discusses the different stages of developing and tracking an email campaign. For instance, how do you capture email leads? One way is adding a scroll triggered pop-up. It's a programmed website feature that will only appear when you reach a section or end of the page. To encourage visitors to complete the pop-up form, you can customize the message corresponding to their experience. Let's say, they are on the product page. Tweak the pop-up's copy or design and add special or limited-time-only discount code.
Recommended readings:
[Takeaway #3] Add a human touch to your emails
The report also emphasized the importance of personalization when it comes to sending out emails. Most of the survey respondents admitted that they don't personalize their marketing emails. This is despite several reports that personalization can lead to better click-through rates.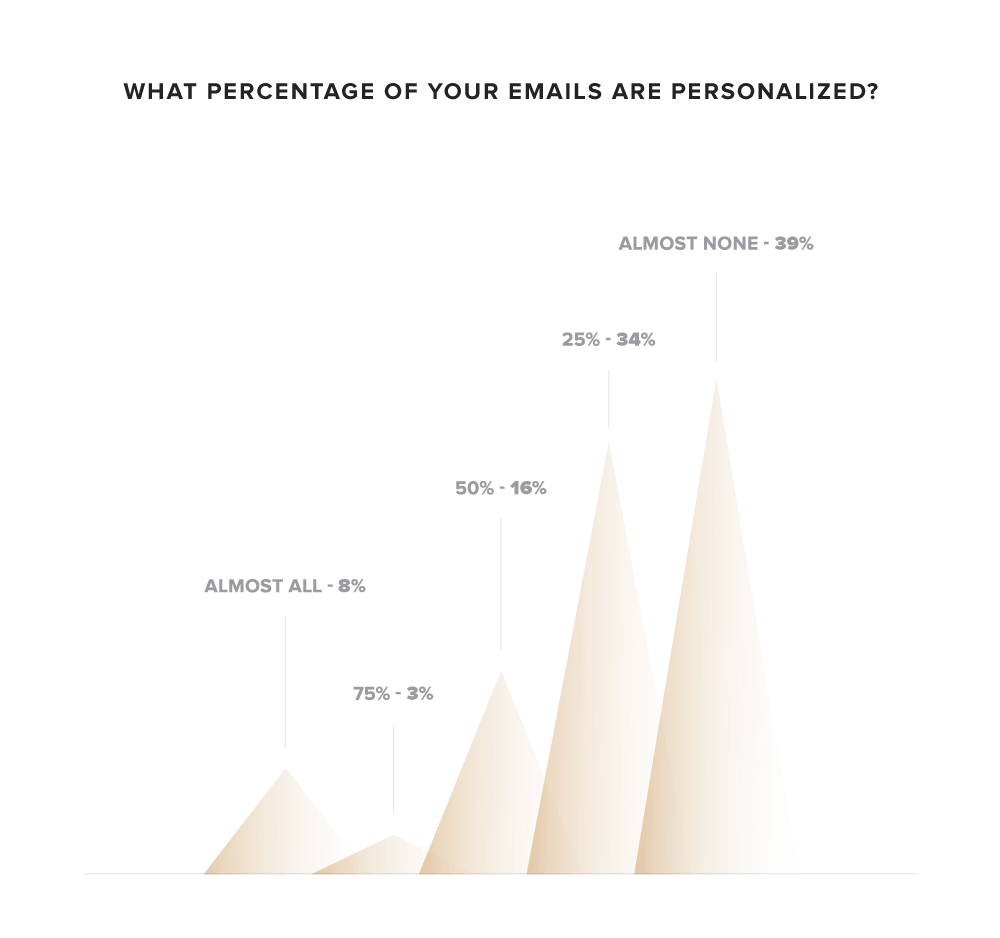 (Most admitted they don't personalize their marketing emails)
If you want to make your campaign personalized, don't just add the name of the subscriber in the subject line. You need to utilize customer data to make an impact. Consider their purchasing behavior, location, and other fundamental buyer interests. According to Campaign Monitor's The Power of Email Personalization to Reach Humans (Not Just Inboxes), you can personalize the copy and imagery of your email especially when you have customer information like location and gender.
If this information is not available, you can always gather them by tweaking your email subscribe forms. Aside from standard details like name and email address, you can also ask for birthday, location and content interests. In the end, emails will only work when you offer relevant and useful content.
Recommended readings:
[Takeaway #4] Group your email list through segmentation
List segmentation is the process of grouping your leads according to different variables like location, gender, interests, etc. Marketers who practice email segmentation reports higher sales (58% to be exact), along with boosted customer loyalty. Having a segmented list, however, doesn't mean you should disregard email quality and content. It is important to make your campaign relevant to the segmented target group so you can receive a better response from your leads and customers. However, even though marketers have already realized this critical point, based on data, they still have a long way to go.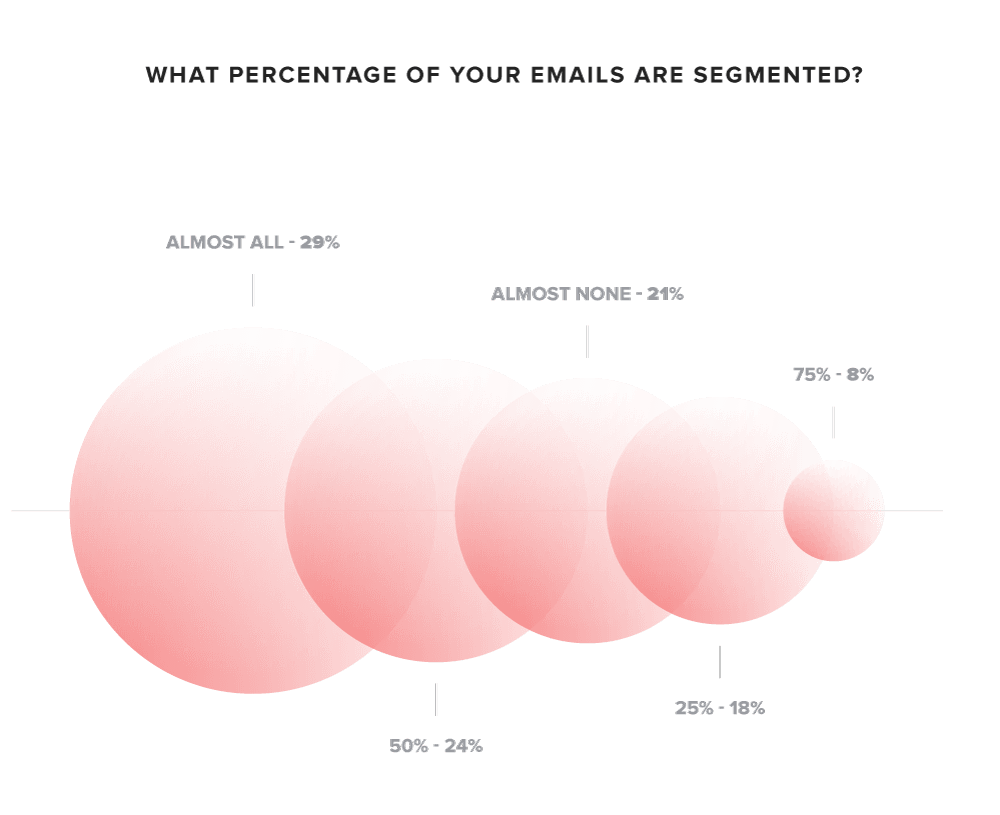 (Marketers who practice email segmentation reports higher sales)
Although segmentation may seem daunting, there are many techniques you can follow to do it correctly. You can start with analyzing data you have now, and segment according. You can consider these criteria when it comes to segmentation:
Possible and current customers
Based on demographics or location
Recent subscribers and inactive subscribers
Purchasing habits or history
In Using List Segmentation to Increase Engagement, there are six types of segments: geographic location, demographics, market, past email activity, workflow activity, and buyer persona. Each one can help reach a specific goal. Let's say, you want to understand what type of content your subscribers will most likely click and read. You can find out by reviewing open and click-through behavior.
Recommended readings:
[Takeaway #5] Send two versions of your campaign
A/B testing allows you to precisely determine which of the two variations of your campaign attracts more engagement and conversion. If you haven't tried A/B testing, you can start by experimenting with the subject lines of your email. Send out two versions and see which among the two gets higher open rates and click-throughs.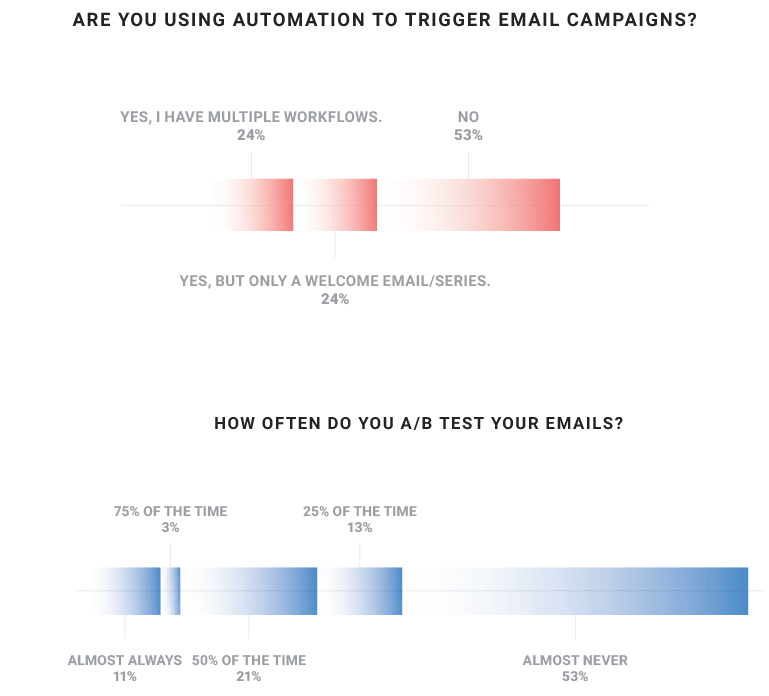 (51% of the surveyed marketers don't use automation as a strategy)
What other email elements should you test? According to A/B Testing Fundamentals: How to Get Started, you can also experiment with sender's name, content and copy, and dynamic content. If you want to dive deeper into A/B testing, you can also experiment with your segmented list.
In addition to the low number of marketers using A/B testing, 51% of the surveyed marketers don't use automation as a strategy to re-engage with acquired leads and current customers. Automated email can be anything from a reminder of email activation, abandoned cart, and even thank you and on-boarding messages.
Recommended readings:
[Takeaway #6] Always measure your campaign
Although email marketing helps deliver relevant and useful content in order to enhance customer relationship, marketers still believe that generating sales remain to be their means of measuring success. At the end of the day, the success of every company will still depend on their sales and on how they keep their customers happy and satisfied so that they continue to make purchases.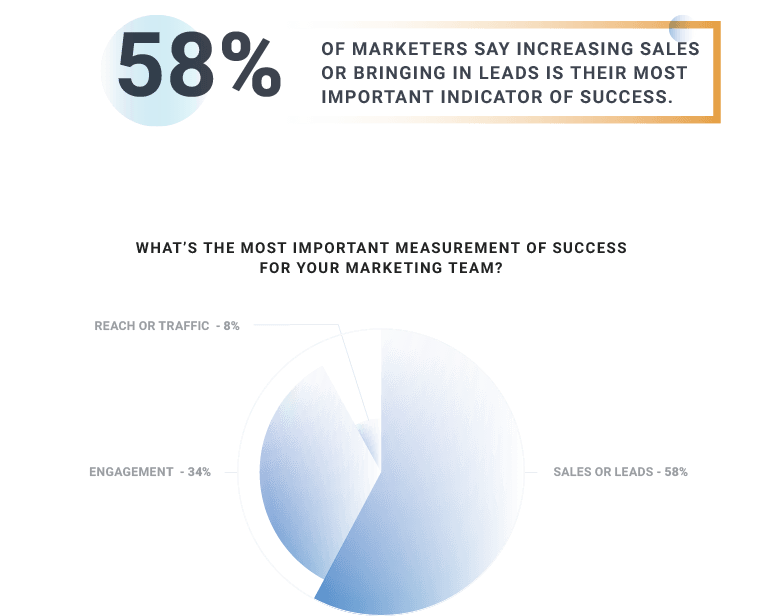 (Sales or leads are the most important KPI for marketers)
Email marketing campaigns and goals can be different from one brand to another, however, every marketer should keep track and measure their progress. In the 10 Metrics Every Email Marketer Needs to Know, you need to set your eyes on open rate, click-through rate (CTR), conversion rate, bounce rate, number of unsubscribes, list growth rate, spam complaints, email sharing, engagement over time, and ROI. Use the results of these metrics to fine-tune your strategy and ultimately, reach your goals.
Recommended readings:
[Takeaway #7] Master the basics before using AI
The report also revealed that even though strategies such as chatbots, live video, AI, and many others have become available, investing in these still isn't a priority for most marketers.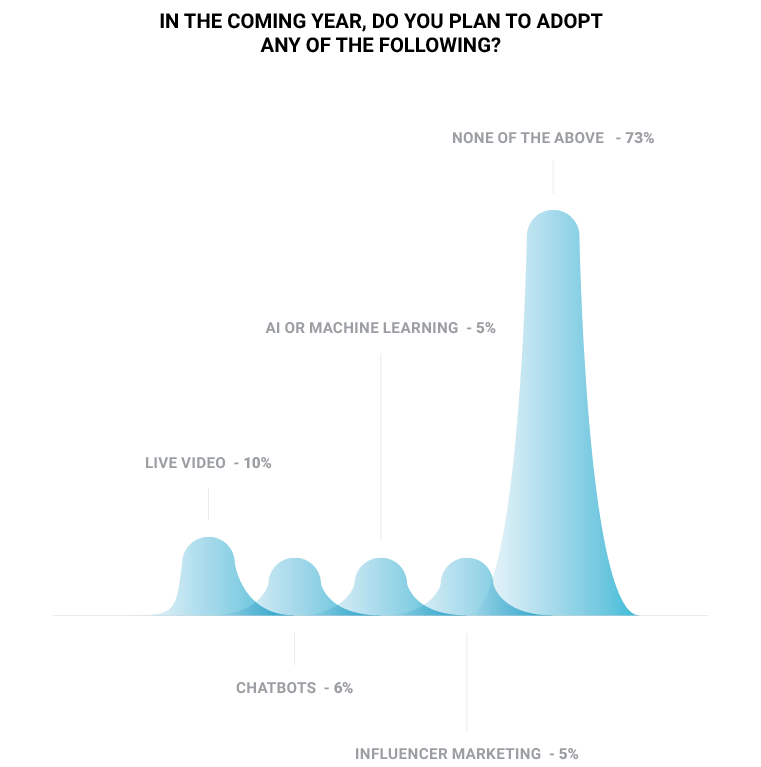 (Chatbots, live video, AI aren't priorities for marketers)
The truth is that marketers still don't have the right amount of resources available to invest in these new tactics. This is why they are still planning to stick with the fundamentals and master them before using such tools.
Anyone can learn and master email marketing. If you need a little help, you can check out Campaign Monitor's resources. They have over 20 helpful email marketing how to's and guides to develop and improve your email campaign. You can find it here.
Recommended reading:
Wrap up
The number of email users will continue to grow as the years pass by - it is expected to reach almost 4 billion users in 2019. With that rate of growth, competition will become even stiffer for email marketers.
To stand out, don't just stick to old, tired email marketing tactics. Instead, continuously change and adapt according to the email marketing climate. The findings in the 2018 Email Marketing Industry Report provides a clear and in-depth status of the industry, and how far marketers still have to go in order to take advantage of data-driven strategies and realize their impact.