Here's How AI and Machine Learning Will Affect the Future of eCommerce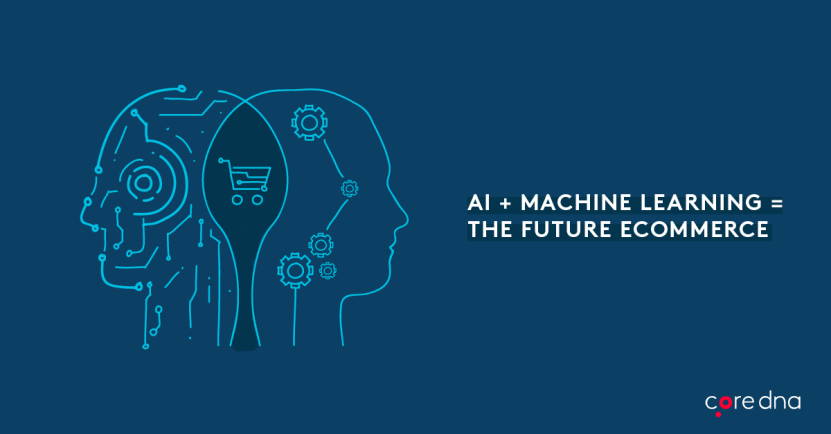 eCommerce is a $2 trillion market, and we expect Artificial Intelligence (AI) to push this number even bigger. Here's why:
AI can help merchants make better future predictions about sales, provide better customer support, and retarget customers who got away.
When you first launched your online store, the last thing you probably thought is that one day you'd have to work alongside robots! Well, that day has now arrived in the form of AI and machine learning.
AI is going to have a major impact on the eCommerce sector, with data showing that — out of all sectors — eCommerce is one of the top ones that is ripe for AI investment.
AI will ensure that customers enjoy an easier, more seamless, more convenient, more personalized and faster shopping experience than ever before. Rather than fear the robots, merchants need to work alongside them.
Of course, for eCommerce merchants, it's not so much the technology itself that matters. You don't have to be an expert in AI here. What matters fundamentally are your conversions and sales. Let's take a look at how AI and machine learning are going to affect the future of eCommerce.
In a hurry? Here are 5 benefits of using AI and machine learning for your eCommerce business:
The ultimate guide to growing and scaling an eCommerce business
1. Improved customer service by offering it 24/7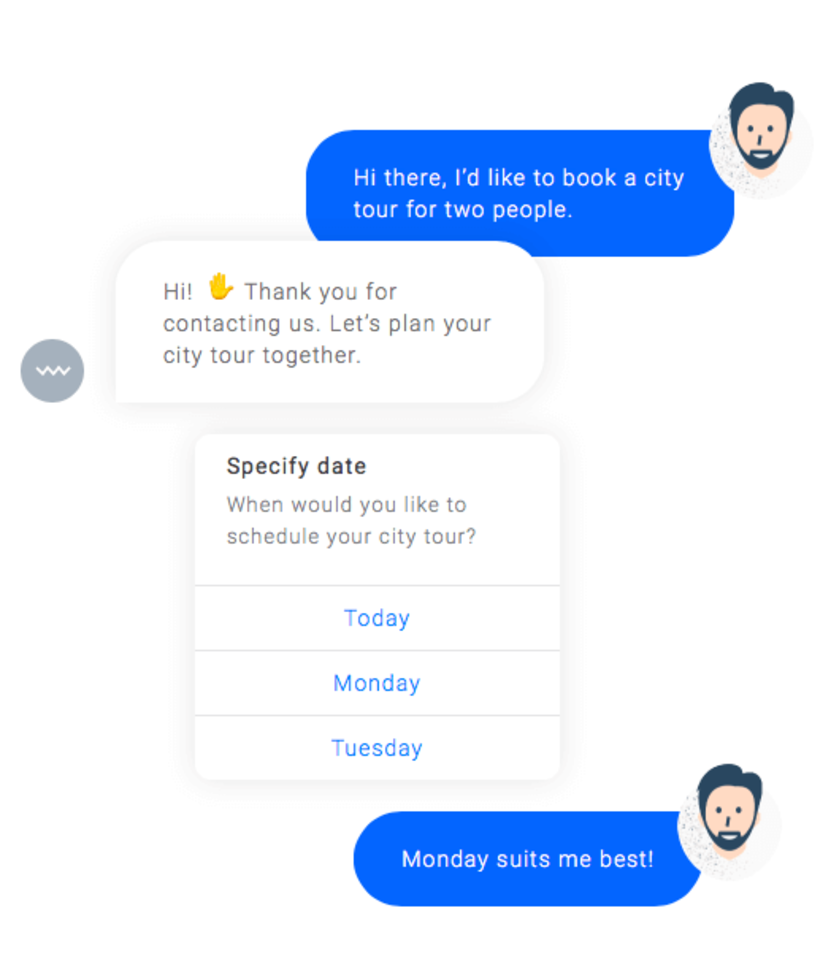 (Around the clock customer service with AI and machine learning | Source: BotEngine)
The thing about your eCommerce store is that it's always open.
This means that it's even open when you're sleeping!
A few years back, this would have represented a problem: Who would have been there to respond to customer queries as quickly as possible? Would you be the one scrambling out of bed at 3 am, stubbing your toe on a desk and blinking furiously at your phone as you try to respond to a customer in Thailand who's demanding to know if you ship to Bangkok?!
Then, once you're back in bed at 3:18, your phone buzzes again. This time it's a customer from Kuwait. Damn those infernal time zones and stubbed toes.
Fast-forward to 2018 and we now have AI in the form of chatbots to provide better customer service.
Chatbots are arguably the most accessible form of AI. They respond to customers instantly, and because they use machine learning to learn more about each customer specifically, they're able to provide satisfactory, personalized answers that nudge a customer closer towards a conversion. Chatbots collect data, track behavior, and they help to provide a seamless shopping experience.
Moreover, because chatbots are essentially a clean slate at the beginning, it means you can inject them with your company's values and personality so that they're an extension of your brand. This helps a "robot" to make a proper connection with your customers. No more delays, no more impersonal connections. Instead, more conversions.
Actionable takeaway
Make a start by imbuing your chatbot with your company's values. Create an experience for the user that's reflective of your brand, while making sure that the bot's responses are short, direct, and always moving a customer closer to a resolution of their problem(s).
2. Facilitate smarter searches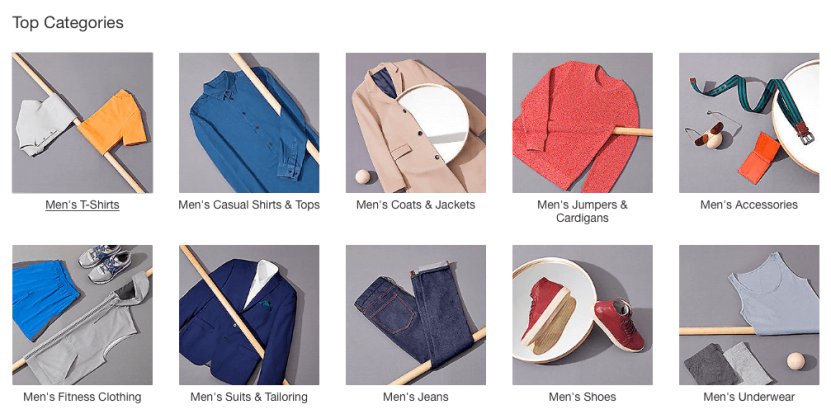 (Tailored searches and suggestions | Source: eBay)
Ever tried to find something in an online store and gave up?
It happens to all of us — but it shouldn't be happening now that AI is here.
In physical stores, human assistants are typically on hand to direct us to what we want. eCommerce stores can't replace human assistants, but they can use AI and machine learning to boost their store's searches so that they can understand both long search terms and a customer's intent.
Not just this, but machine learning can accurately predict what a customer wants and then tailor its suggestions to fit their needs. As such, search shifts from merely decent to excellent.
Going further with this, voice search is something to keep an eye on. While it hasn't disrupted the eCommerce sector just yet, research suggests that voice search might make up half of all searches by 2020. According to studies, American smart speaker usage is made up predominantly by just a few things: finding restaurants, playing games, controlling home smart devices … and adding things to our shopping list.
Shopping via voice search is a total game changer so different from anything that's come before, and it's important that you keep your eye on the ball with this one.
Actionable takeaway
Make sure that your search box is easy to find and add an autocomplete feature. This improves the search experience because it limits the number of things a user needs to do to find what they want. It also prevents misspellings and missed opportunities for both the customer and the merchant.
Let users search within a particular department too, and improve your product labeling and metadata to boost the accuracy of your search results.
3. Get hyper-personalized with product recommendations

(AI & machine learning allow you to have a hyper-personalized product recommendations | Source: Amazon)
AI can crunch customer behavior on any website, using algorithms to make an accurate prediction in regards what products our customers will like. Then, it makes a recommendation that your customer is more likely to act on.
Amazon already does this. It uses your browsing history and your purchase history to recommend you more products that you'll like. Not only is this good for Amazon; it also benefits you the customer. Instead of being greeted by tons of products you have zero interest in, you're able to quickly sift through things there's a high chance you will be interested in.
It's this kind of hyper-personalization that customers want in 2018 and beyond. Away from the eCommerce sector, Netflix is another example of how AI-driven recommendations work. Using a customer's past behavior and preferences, Netflix will recommend more shows it thinks they'll enjoy. When you consider how many shows there are on Netflix, this use of AI saves the consumer so much time.
This kind of tailored recommendation represents a huge leap forward from the times when eCommerce retailers could only recommend the same bestsellers to everyone. This meant that conversions were down because we weren't able to tailor our recommendations to specific customers.
Actionable takeaway
To improve your own store's recommendations, display a list of suggested products that are based on a customer's past browsing history. Add a "frequently bought together" feature, as well as a "related to items you've viewed" feature.
You can also personalize the user experience by displaying items that are related to past purchases.
4. Take a load off with better inventory management

(Predict your stock with AI and machine learning | Source: Delivrd)
If you've got an overstock, you're losing cash. If you've got an understock, you're missing out on sales. It's the kind of seesaw that all eCommerce merchants have had to wrestle with at some point.
Ah, if only the robots could help us.
Inventory management is a real pain in the butt and it can even be the downfall of eCommerce stores. 46%of US companies have admitted that they don't track their inventory, while more than $1 trillion of capital is tied up in inventory.
Whether you've got an overstock or an understock, inventory management can pull the rug from under your feet. When done manually, it's hard-to-impossible to make accurate predictions about sales. As a result, we end up with a cash flow problem.
Once AI is in motion, forecasts on future demands become a lot more precise. This allows you to control your supply chain with ease, and it also ensures that you know more about your customers and their behaviors. As a result, shrinkage is reduced, and you get to save time and cash.
Actionable takeaway
To improve your inventory management, it's a good idea to switch from qualitative forecasting methods to quantitative. This is when you use an inventory management tool to make better decisions that are based on the past performance of your products.
Assess your carrying costs when the time comes to ordering inventory, too. When you know what your carrying costs are, it's easier to maintain a healthier level of inventory.
Use your tool to help you avoid overstock or understock, too. Both are these can be super costly, but they're a common occurrence, especially in the eCommerce world.
5. Understand your customers better
Forget trying to understand the opposite sex, if you can't understand your customer, you're losing.
AI can improve brand loyalty by learning more about your customer than you ever dreamed was possible. Using machine learning, it crunches and analyses customer data which you can then use to make better merchandising and marketing decisions.
Ultimately, AI assesses individual customer inventory and behaviors to predict exactly what they want. It can dive into complex and vast journey analytics and uncover opportunities that you didn't even know existed so that you're in a position to provide a hyper-personalized experience.
The more you know about your customer, the easier it is to give them what they want.
Actionable takeaway
Segment your email lists so that you send more personalized emails that hit the spot better with the right customers. Another idea is to install a chatbot (as mentioned above). The more a chatbot interacts with a customer, the more data it collects. You can then use this information to offer customers more of what they want and less of what they don't.
The ultimate guide to growing and scaling an eCommerce business
AI is for today, not just tomorrow
All in all, AI and machine learning is going to affect the future of eCommerce, but it's also going to affect the present. It's here now, and the time for merchants to work alongside it is as soon as possible. Fortunately, it isn't as complex as it first sounded. Once you've taken the time to learn how it works, it's then a case of implementing it so that the customer experience is vastly improved.
Want to see how high-growth eCommerce companies use Core dna's commerce platform? Let's chat.