14 Advanced Tips on Increasing Your eCommerce Conversion Rate (with Examples)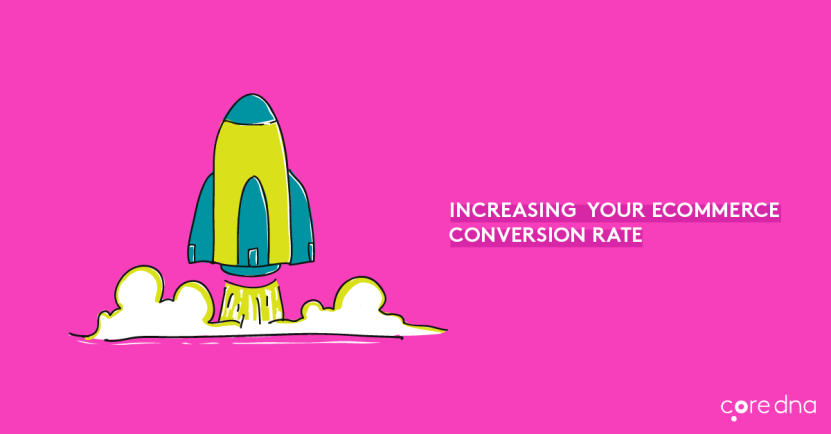 The average eCommerce store typically sees its conversion rate hover around the 2-3% mark.
But your goal isn't to be average, right?
So, let's take a look at some of the most effective ways to increase your eCommerce site's conversion rate and be better than the typical conversion rate.
How to increase your eCommerce conversion rate
We've recently discussed some of the biggest mistakes we see even experienced eCommerce store owners make from time to time here on Core dna's blog.
Today, we're going to turn that article on its head and provide some actionable tips and advice regarding what to do to start generating more conversions — even without increasing your visitor numbers.
Without further ado, let's dive in.
Here are 14 different ways you can increase your eCommerce conversion rate:
[Tip #1] Apply persuasive design and copy
While most of this article will be focused on the more "down-and-dirty" tactics for increasing your conversion rate, we want to begin by discussing the more overarching topic of site design in general.
Simply put:
If your site isn't designed in a manner that keeps your visitors on the page — and moving forward with their transaction — none of the other tactics we're about to discuss are going to make much of a difference.
That said, your site needs to be:
Visually appealing
Visually persuasive
The "appealing" part is pretty straightforward. Needless to say, the modern consumer is more likely to engage further with this site: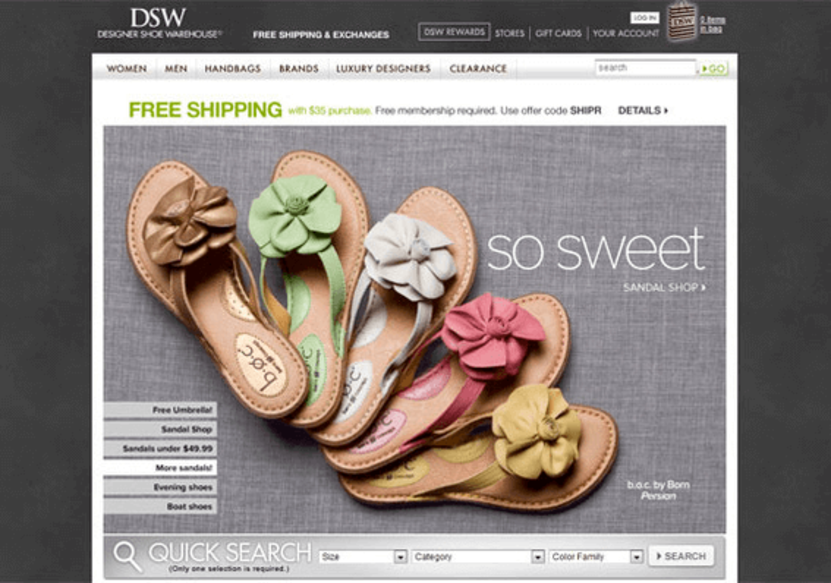 (DSW clean design | Source)
Than with this site: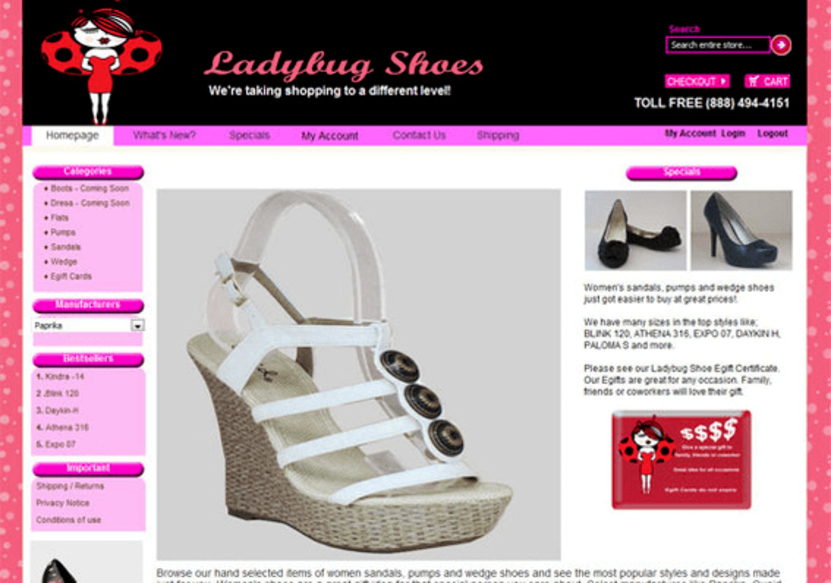 (Ladybug Shoes could use a bit more oomph | Source)
While we could certainly take a deeper dive into why the first example is just that much more appealing, let's just say it has a certain je ne sais quoi that the latter clearly does not.
Visual persuasiveness, on the other hand, is a little more nuanced. Essentially, the goal is to pull your visitors' eyes to a certain part of the page — typically the part which will allow them to move a step closer toward converting.
Take a look at Away's homepage: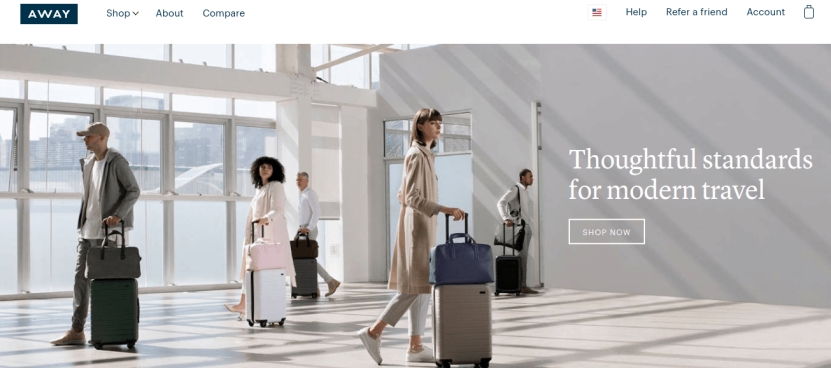 (Away's homepage is clean, simple, and compelling | Source)
Typically, the visitor's attention will be drawn to the following elements almost immediately — in the following order:
The main image
The inlaid text
The call-to-action button below the inlaid text
While this homepage does provide a number of clickable options, it's crystal clear what new visitors are "supposed" to do right from the get-go. Now that's persuasive design.
The goal of persuasive copy is quite similar:
Keep your visitors engaged and moving forward with a transaction.
Now, when we say "persuasive," here, we don't mean that your copy needs to be salesy or anything like that. Rather, it all comes down to ensuring your brand's "voice" shines through every single word on your website.
Take a look at the following example from ThinkGeek: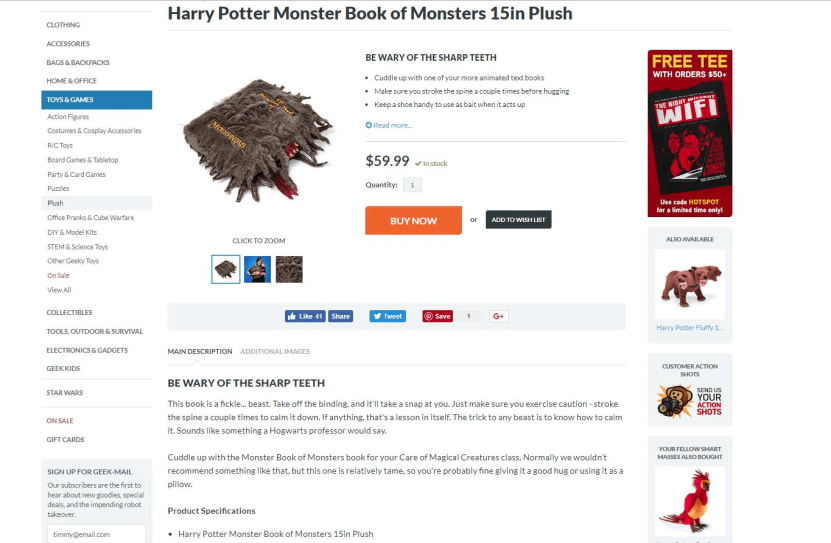 (ThinkGeek product page's copy would please Harry Potter fans | Source)
There's no doubt about it: The copy on this product page was written by a Harry Potter fan, for a Harry Potter fan. It basically screams, "Hey! We're just like you, and we love this product — so we know you will too!"
Boom. Sold.
[Tip #2] Make navigation simple and easy
If you walked into a brick-and-mortar retail store that had its products strewn about haphazardly, you almost certainly would turn right around and walk out.
Well...the same goes for your eCommerce store:
If your visitors aren't able to find what they're looking for quite literally at the click of a button, they're going to navigate away to a competitor's site almost immediately.
Of course, the more products you offer, the more important this is. Take a look at this example from IKEA: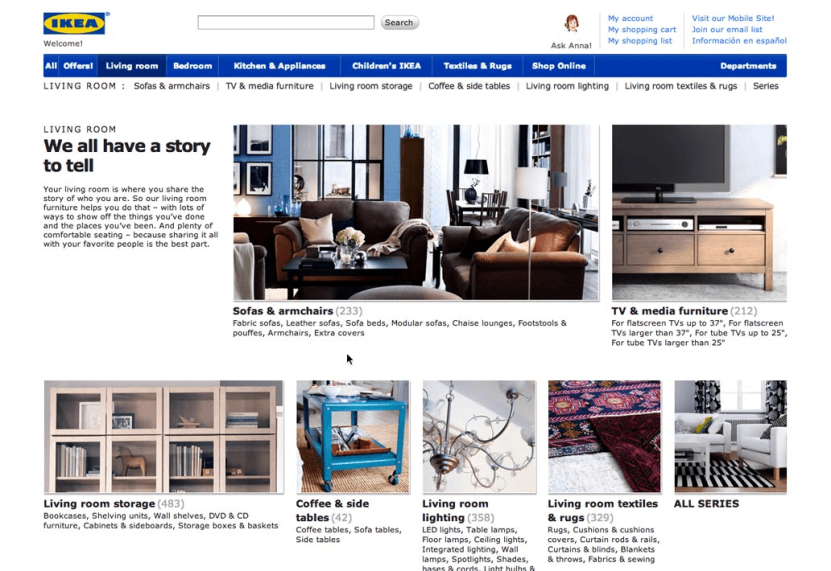 (IKEA's navigation menu is like a rabbit hole, in a good way | Source)
Using the navigation bar at the top of the screen, visitors are easily able to venture to the intermediary product category page they're looking for. From there, they'll be able to dig deeper into the specific products offered within each individual category.
Now, this is all well and good for those who are merely browsing your site for products they may like. For those who know exactly what they're looking for, you need to provide a robust search solution.
While there are a number of factors to consider when optimizing your site's search functionality, your main concern is, of course, in ensuring your visitors are presented with the most relevant products relating to their search term. As we'll discuss in a bit, this is why your product pages need to be well-put together, complete with vital information presented in a way that matches your customers' search queries.
[Tip #3] Personalize, personalize, personalize
We recently talked about this at length on our blog, so check out that post for a much deeper discussion on the topic of personalization.
That said, there are two overarching ways to personalize your visitor's experience:
Providing dynamic content
Providing pathways for your visitors to take
Essentially, tools for creating and delivering dynamic content allow you to present tailored content, offers, and product recommendations to your visitors based on factors such as their demographic and geographic data, their on-site behavior, and their history with your brand.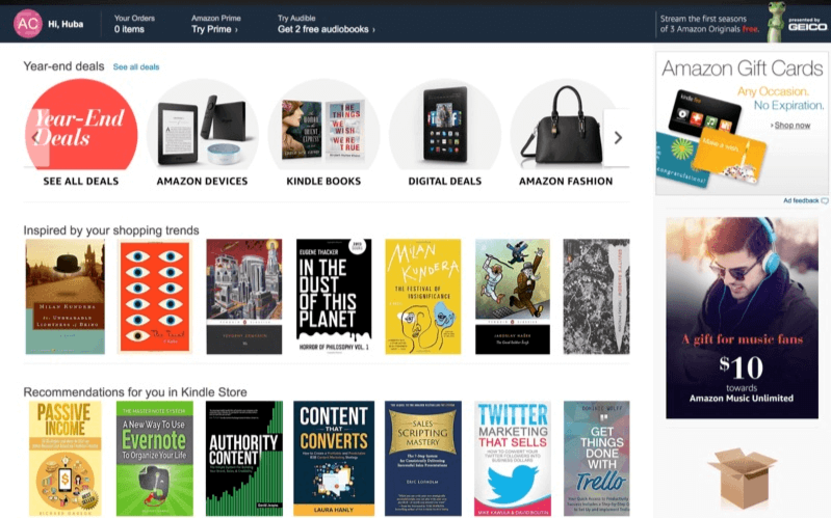 (Amazon is - still - the king of eCommerce personalization | Source)
In terms of providing pathways for your visitor to choose from, you'll want to consider the "types" of consumers you typically attract. Essentially, you'll be pointing them to "collections" of products that relate to each other — but aren't necessarily in the same product category.
For example, check out this newsletter from online clothing store Esprit:

In this newsletter, Esprit allows recipients to choose which clothing style fits them best, then shop specifically for products that match said style.
We'll revisit this notion a bit later on, when we discuss upselling and cross-selling.
[Tip #4] Allow shopping via social media platforms
Your brand almost certainly has at least some type of presence on the various social media platforms out there, right?
While simply advertising and/or creating an organic presence on channels such as Facebook and Instagram aren't exactly anything new, more and more eCommerce companies are turning to these channels to actually sell their products directly to their followers.
This is an especially lucrative venture if the products you offer fall in line with the type of content that's typically shared on Instagram. That is, if you're in the clothing, fashion, or culinary industries — or really any industry that relies heavily on visual presentation — you should be looking to make your Instagram profile shoppable.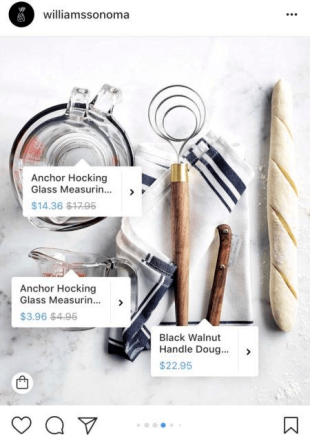 (Make sure your Instagram feed is shoppable | Source)
As we mentioned earlier, a major overarching way to increase your conversion rate is to make the journey from visitor to customer as seamless as possible. By providing your followers with the option to make a purchase as they're scrolling through their social media feed (which, let's be honest, is a pretty normal occurrence), you almost make it difficult for them not to leap toward a conversion.
[Tip #5] Be as informative as possible
This is another overarching tip that you should apply to your overall operations across the board:
If you want your prospective customers to feel comfortable doing business with you, you need to keep them "in the know" in many regards.
As we said earlier, robust product descriptions are a must. Since your potential customers aren't able to physically handle your products before they purchase them, it's your job to use your product descriptions to bring them to life.
Not only that, but sometimes — such as in the example below — it's necessary to provide a robust description, anyway: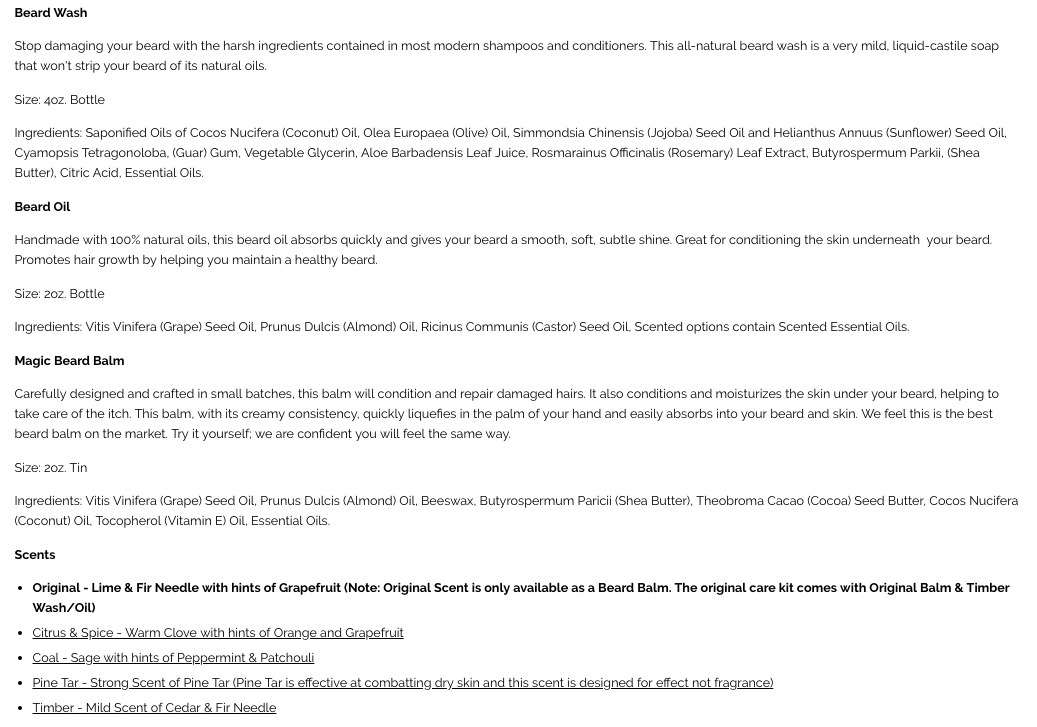 (Comprehensive product page description | Source)
Have I ever used beard wash, beard oil, or "magic beard balm" before? No. Do I know what to expect should I decide to? Well...now I do.
Pro tip: You know best what features are most important to your own products. Make sure you communicate this to your customers well.)
Another tactic to consider is providing an in-depth Frequently Asked Questions page, or including answers to FAQ on specific product or category pages as appropriate.
(Revzilla's category and product page SEO strategy | Source)
Here, RevZilla provides a ton of information about its products based around questions and comments the company has collected from its customers. As we said, your customers need to know as much as possible about your products before they consider buying them — so make sure you give it to them.
In addition to in-depth product descriptions and information, you also want to be upfront and informative when it comes to logistical information, such as payment options, delivery times, and shipping and other fees.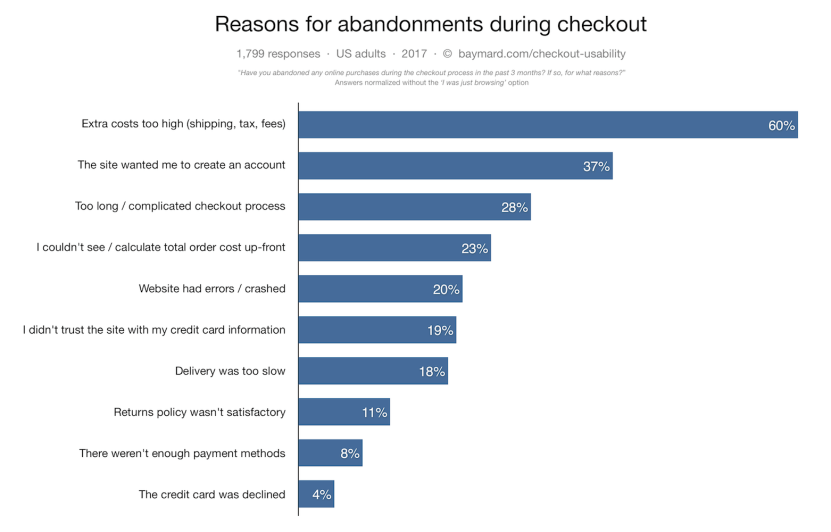 (Reasons for abandonments during checkout | Source)
As you can see, extra (read: "hidden") costs are by far the number one reason consumers abandon their shopping carts. Also on the list: an inability to view the total cost of an order upfront, and uncertainty with regard to payment options.
We'll address these issues a bit later on, but for now it's important to understand that choosing to hide these fees and other such info until the last moment simply won't do you any favors; if anything, it will only cause your potential customers to put less trust in your ability to provide for their needs.
[Tip #6] Showcase various forms of social proof
According to a study conducted by Nielsen, 84% of consumers trust recommendations from friends, family members, and peers over any other type of marketing or advertising content.
That said, you'll want to find every opportunity you possibly can to present the social proof you've collected over the years showcasing your brand's excellence.
Such social proof can take a variety of forms, including product reviews: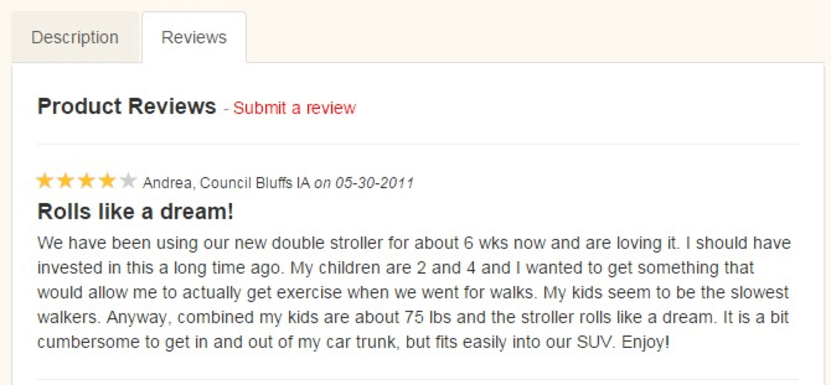 (Product reviews as social proof | Source)
Expert testimonials: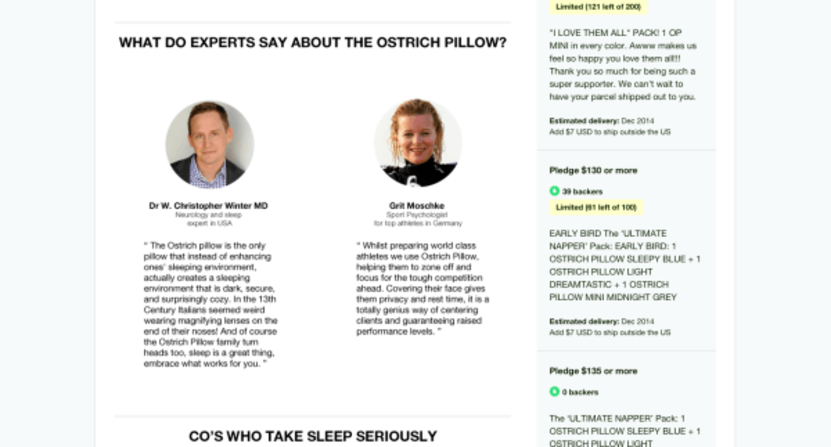 (Expert testimonials as social proof | Source)
And celebrity endorsements: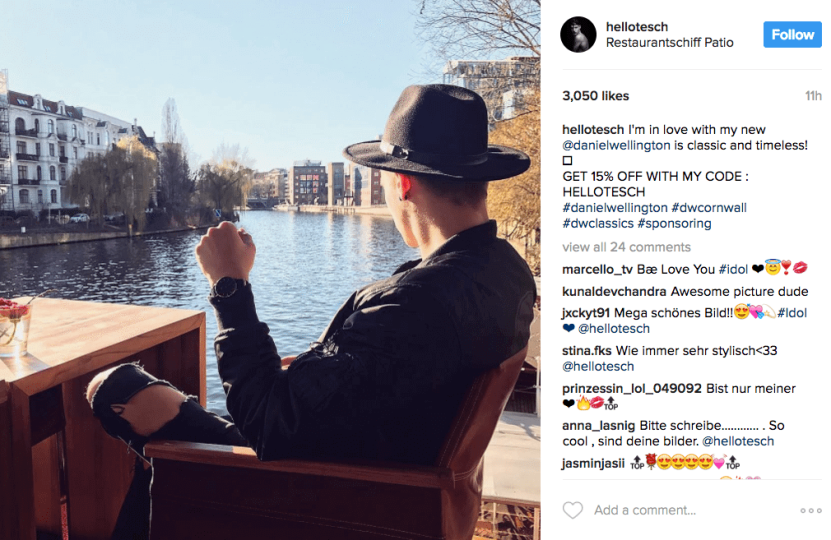 (Celebrity endorsements as social proof | Source)
You also don't want to ignore the propensity of individuals to "go with the herd," either. That said, simply showcasing your best-selling or hot-ticket items can also act as social proof, simply for the fact that other people are buying it.
[Tip #7] Use Scarcity, urgency, and exclusivity to your advantage
Speaking of hot-ticket items that are currently flying off your shelves, implementing tactics such as scarcity, urgency, and exclusivity can be great ways to get your potential customers to make a purchasing decision — and do it quickly.
While the three terms relate to one another, they differ in how they're implemented.
With scarcity, you're communicating to the consumer that there are a finite number of a certain item left in stock — and you aren't exactly sure when the next shipment will come in: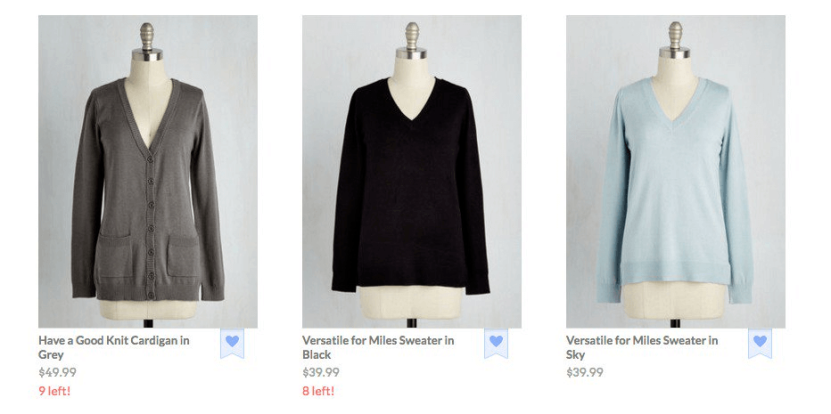 (Show how many products left as scarcity tactic | Source)
With urgency, you're putting a time limit or deadline on your customer's order, after which point a certain offer — such as a discount or fast shipping — will expire: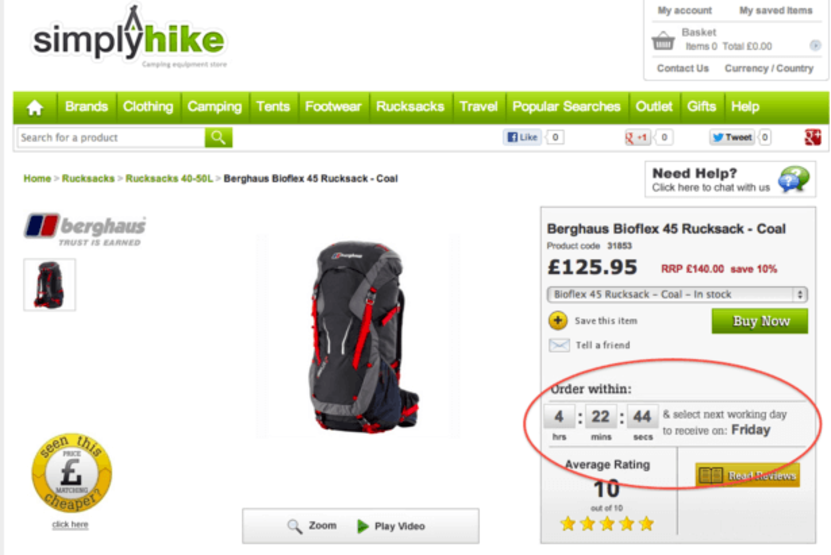 (Limited time offer as urgency tactic | Source)
This also works around the holiday season, when time is of the essence for gift-givers: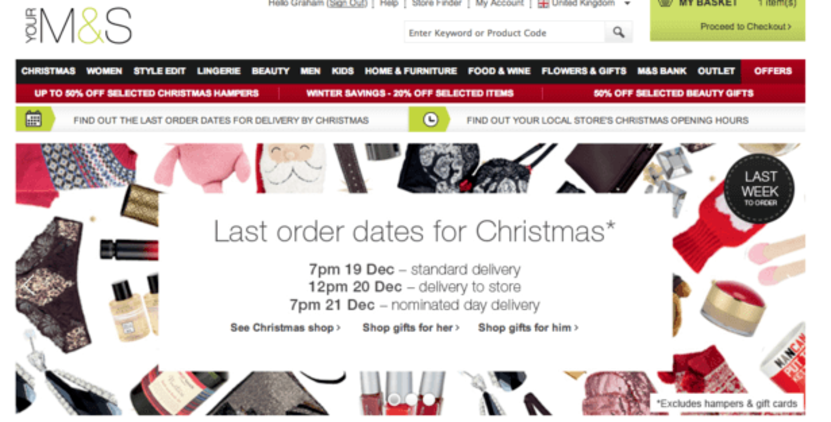 (Limited-offer on holiday period as scarcity tactic | Source)
Finally, exclusivity is all about playing to the consumer's desire to be part of the "in" crowd (in one way or another). Here, Sephora promises a free exclusive gift to customers, available only during their birthday month: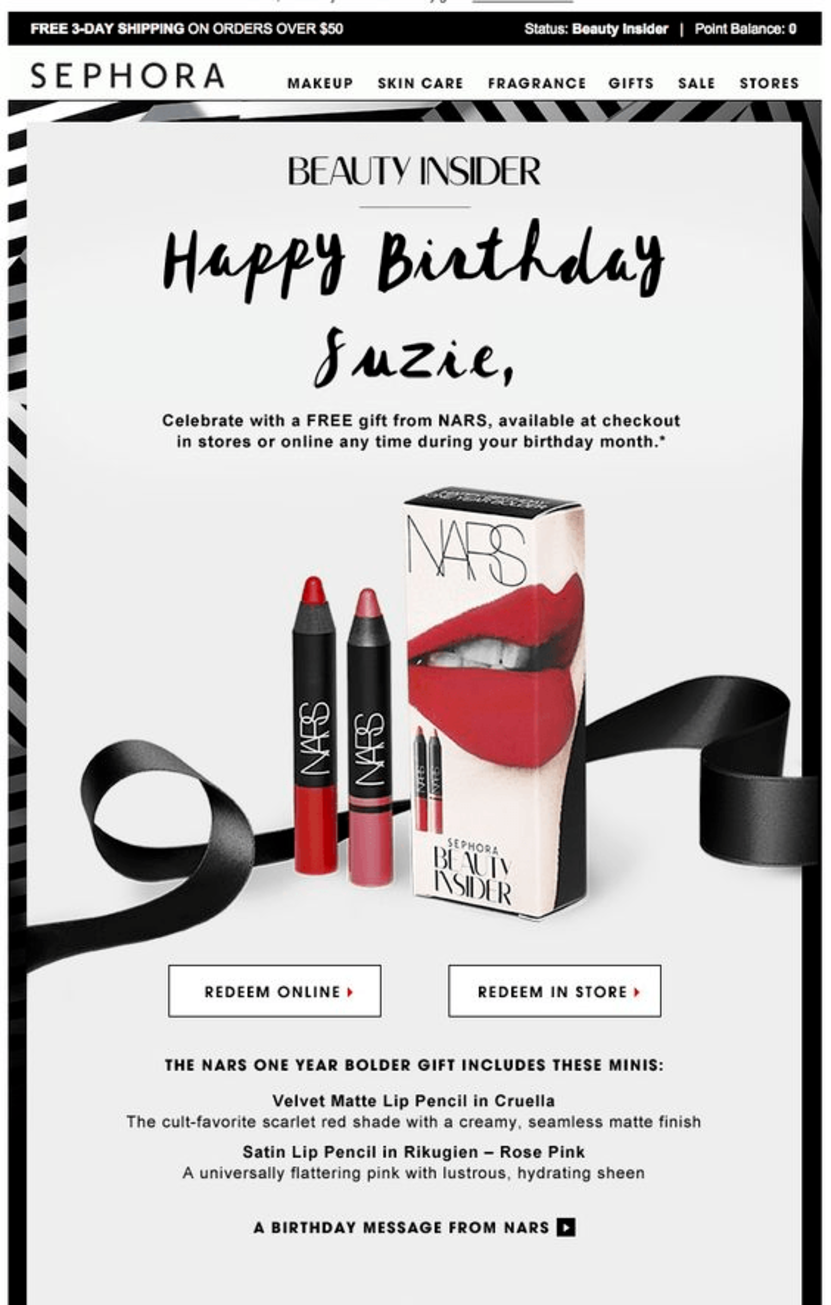 (Sephora's exclusive email offer | Source)
In each of these cases, the message to the consumer is clear:
Act now, or the opportunity will slip away for good.
[Tip #8] Provide multiple discount options
Perhaps the only better than a discount, in the eyes of the consumer, is the ability to customize the discount they're about to receive.
On the other hand, it's quite disappointing for a consumer when they receive a coupon or offer in their email, load up their virtual shopping cart...and then realize the offer doesn't apply to their purchases.
That said, it can be beneficial to provide your customers with at least a bit of control over when and how they use a specific discount offer. Not only does this add a bit of personalization to their experience (as we discussed earlier), but it also incentivizes them to "experiment" — potentially leading them to make additional purchases they hadn't originally anticipated.
Target provides a prime example of this on the company's main site: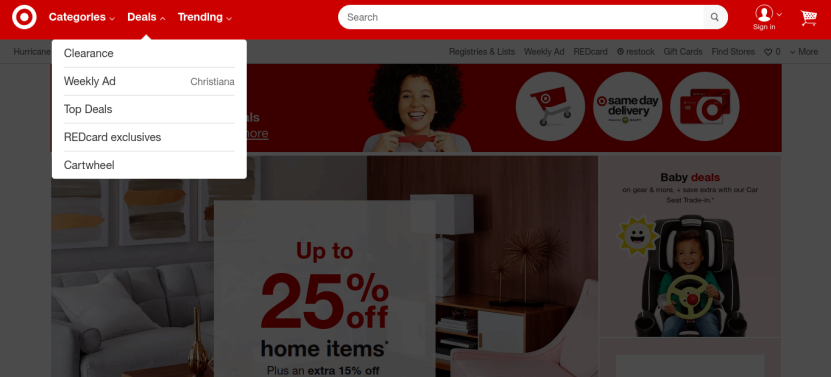 (Target offers different deals | Source)
Here, Target provides five different ways for its customers to save. The most intriguing, for our purposes, are the sections on REDcard exclusives and Cartwheel deals; in these sections, the loyal Target customer is presented with deals that only those with a membership are privy to.
Another prime example, which we've discussed before, comes from office supply retailer Quill. Basically, Quill allows its customers to collect electronic coupons in a virtual "clipboard," and experiment with different ways to apply them in order to save cash.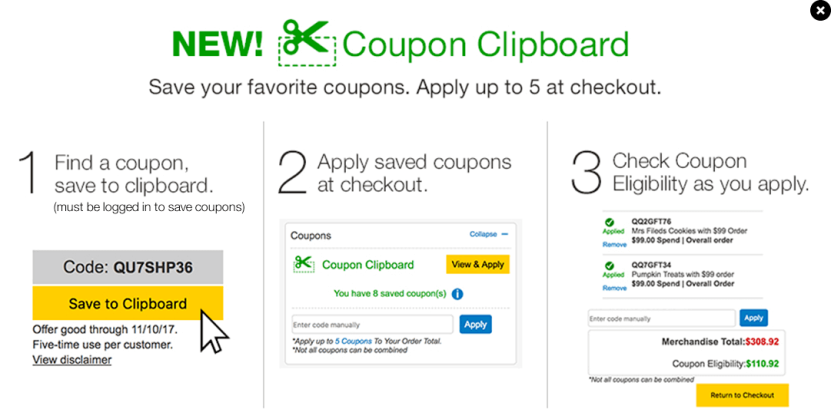 (Quill's coupon clipboard strategy | Source)
Not only does this put the customer in the driver's seat in terms of discovering the optimal combination of coupon usage, but it also adds transparency to the process: through its Coupon Clipboard, Quill makes it very easy to tell which coupons can be applied at a given time, so that customers are never caught off-guard and left disappointed.
[Tip #9] Offer discount thresholds
There are essentially two ways in which to incentivize additional purchases from your customers:
Discount thresholds
Free shipping thresholds
The premise is rather straightforward: You simply offer either a dollar amount or percentage off the individual's total purchase once they spend a certain amount in a single transaction, or you provide free shipping once they do so.

(Discount threshold | Source)
For one thing, making such an offer may negate any hesitation a given customer may have had with regard to making a purchase. Additionally, you'll also be increasing your AOV in the process.
Now, the trick here is, of course, to determine the exact spot to place your threshold. On the one hand, you don't want it to be so low that your profit margin shrinks up; on the other hand, if it's too high, most of your customers won't bite.
The best course of action is to determine your current AOV, as well as your sought-after AOV, and experiment with deals that incentivize purchases that are incrementally higher and higher over time. Since you'll be keeping your "deal" amount the same, you'll continue to widen your profit margin as time goes on.
[Tip #10] Implement upsells, cross-sells, and downsells
Upselling and cross-selling are two other ways to both increase your AOV and nurture your hesitant customers toward conversion at the same time. Since it's not exactly hard to see why upselling and cross-selling leads to an increase in AOV, let's focus on the latter point.
Let's say you run an eCommerce company that sells clothing and similar fashion items:
A potential customer navigates to your store looking to purchase an entire new outfit. They click over to the section of your site dedicated to jeans, and find a pair they love. However, you don't include other product recommendations on your product pages, and the customer is running out of time to check out your shirts and hats before their lunch break is over. They'd rather put their order on hold and buy everything all at once, so they navigate away; unfortunately, they forget all about it that night, and don't return to your site for quite some time.
Now, if you had provided some recommendations for them, and a shirt or two caught their attention, they almost certainly would have quickly added everything to their cart and been able to check out before heading back to work.
The lesson: Sometimes your customers want to spend more money — and they won't spend any less than they anticipate. You don't need us to tell you that you need to be taking full advantage of these opportunities.
On the other hand, sometimes your customers definitely will want to curb their spending, and opt for the less-expensive version of a certain product. So, when providing product suggestions, it can also be prudent to suggest products that cost less than the one they're currently viewing. While this may decrease the value of their current order, it's certainly better than seeing them leave without making a purchase at all.
[Tip #11] Provide a persistent shopping cart
A 2017 study found that roughly 33% of eCommerce customers use at least two devices throughout their journey to conversion.
With that in mind, it's clear that you need to provide a persistent shopping cart for your customers in order to streamline the process for them. As we just alluded to in the previous section, you want your customers to be able to pick up right where they left off in a specific shopping session — whether it be a couple hours, days, or even weeks later.
(Note: You do, however, want to limit the length of time your customers' carts stay active, as this will eventually bog down your network. Additionally, you want to be sure your customers know how long their carts will stay active; in fact, this will provide a sense of urgency.)
[Tip #12] Show your visitor's progress
Let's go back to the graph we presented earlier: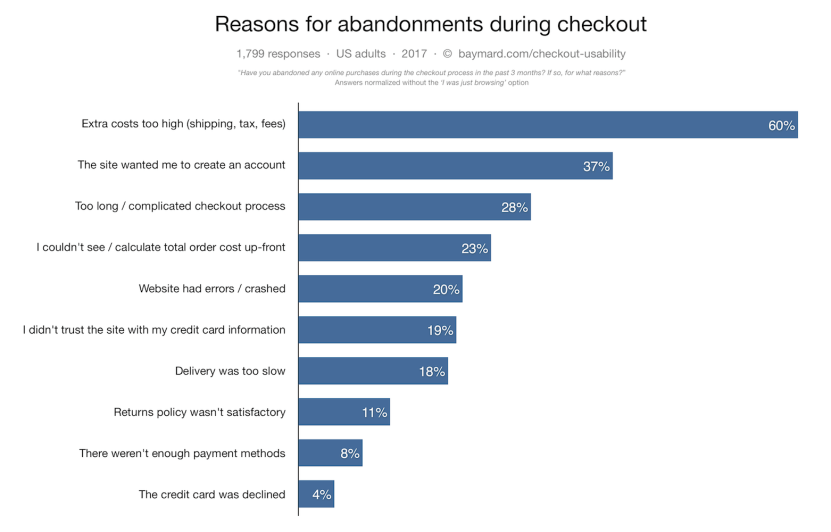 The number three reason consumers abandon their virtual shopping carts:
The checkout process took too long, or was too complicated.
Now, we'll address how to shorten or otherwise streamline the checkout process in a moment. For now, let's assume your checkout process is quite streamlined — it's just that your customers perceive that it's taking too long.
This can be alleviated simply by setting your customer's expectations before they even begin the checkout process. Remember: Being upfront with them is always preferable to hitting them with unpleasant surprises.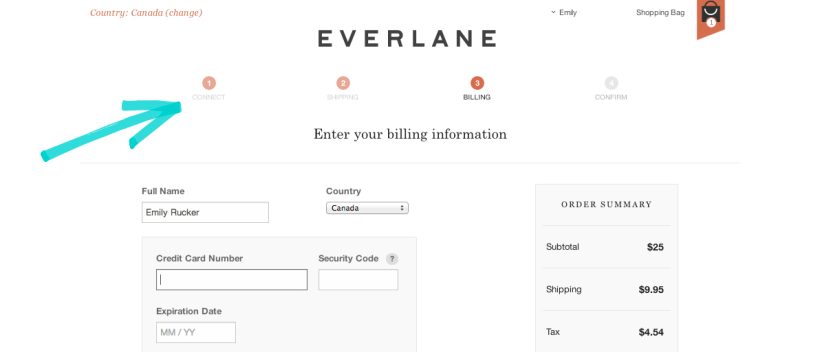 The basic premise is this:
If your customers have no frame of reference for how long the checkout process will take, they'll probably feel like it took "forever." If you provide a frame of reference from the get-go, they'll have a decent idea of how long it should take — and will probably be pleasantly surprised with how quickly they went through it.
[Tip #13] Allow for guest checkout
Scroll back up for a moment and review that chart once more.
Back? Did you notice the number two reason consumers abandon their carts?
You guessed it: The site in question required that they register an account with the company.
While, ideally, every single individual who makes a purchase from your site will want to continue doing business with your company in the future, it's simply not going to happen. Some might simply want to make a single purchase and be on their way; others may be purchasing a gift for their friend, and have no interest in your products themselves; still others just won't want to receive yet another newsletter in their inbox on a weekly basis.
Whatever the case may be, it's in your best interest to allow those who wish to check out as a guest to simply do so.
However, you certainly can — and should — provide multiple chances for them to register with your company, both before and after they've made a purchase. When providing these chances, make sure you're clear about what's in it for them.
Here, Sears promises a faster checkout process and a number of benefits for members of the company's loyalty program: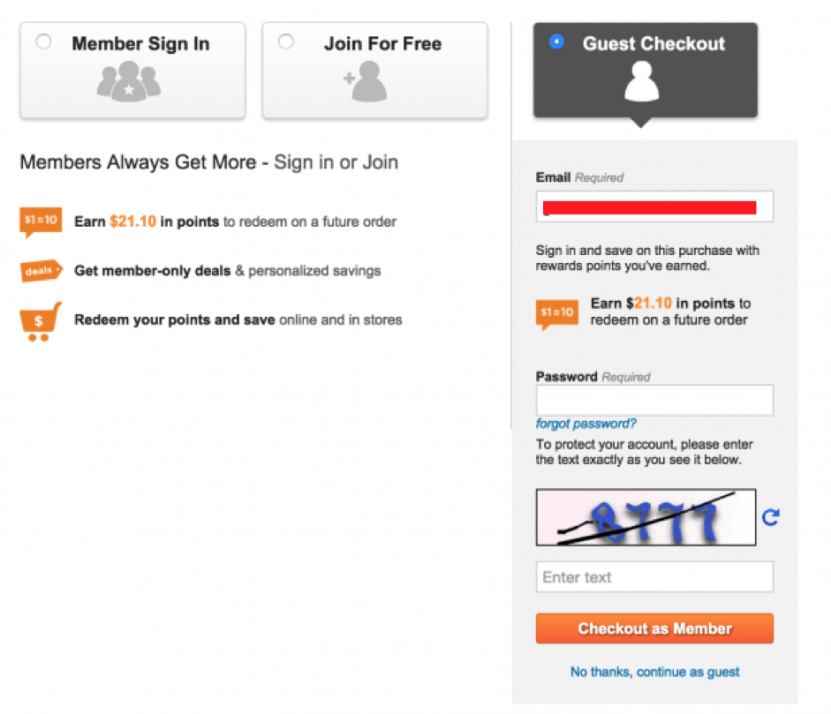 (Sears guest checkout | Source)
Once again: You want to shift the focus away from the reasons you want them to register, and allow them to focus on what they stand to gain by doing so.
[Tip #14] Provide multiple payment and delivery options
Nowadays — and especially in the world of eCommerce — there are a ton of different ways for consumers to make payments.
Of course, this doesn't necessarily mean you need to cater to all of them; not only will you spread yourself too thin in doing so, but there's a good chance that your customers won't use many — or even most — of these options in the first place.
That said, you definitely want to figure out which methods your target consumers do tend to use, and be sure to offer them with no strings attached. Not accepting a less-widely used or accepted option might not lead to too many lost sales, but not accepting PayPal or Apple Pay, by today's standards, can be an absolute killer.
Regarding delivery options, you essentially want to offer your customers a trade-off between cost and efficiency: If they're willing to pay more for shipping, you want to be able to deliver their shipment as quickly as possible; if they're willing to wait, you want to be able to offer cheap, or even free, shipping.
Repeat after me:
You do not want to lose out on sales because of a logistical issue regarding payment or delivery.
Fun fact: Core dna platform integrates with 50+ payment gateways such as PayPal and Stripe. Plus, you can automate the shipping process with cloud-based shipping software from companies such as FedEx, UPS, and Australia Post. Click here to see our integration feature.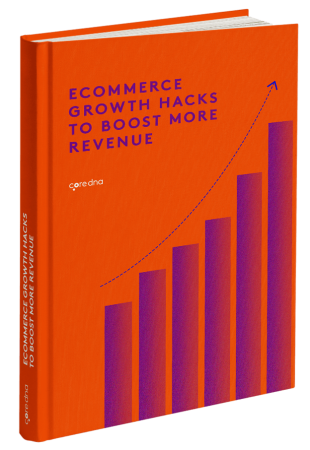 eCommerce growth hacks to boost more revenue (Plus 11 BONUS growth hacks for you to try in 2021)
It's time to start generating some real returns, with the following underrated - but tried and tested - eCommerce growth hacks.
Determine — and fix — your conversion killer
To wrap up, it's important to recognize that every eCommerce business is different — as are its customers.
That said, there are any number of reasons that your conversion rate might not be as high as you'd like — or as it could potentially be.
While the tips we discussed throughout this article should be enough to get you moving in the right direction, you should always be looking for ways to improve your site, as well as your backend processes. To do so, you'll want to stay in constant contact with your team, as well as with your customers — both those who are happy with the services you provide, and those who aren't quite as satisfied.
Once you've pinpointed an issue that may be causing a drop in conversions, take the time to fix it up — while leaving everything else as is. Once you've resolved the issue, you can move onto the next area of improvement — and keep on going until you've created a well-oiled, conversion-generating machine.
Want to see how high-growth eCommerce companies use Core dna's commerce platform? Let's chat.