D2C Marketing: Lessons From Quill's $1 Billion DTC Strategy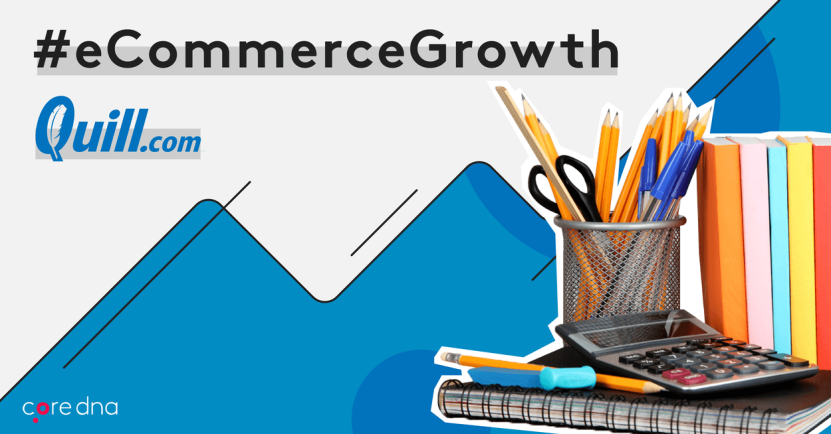 If you haven't noticed, the world of commerce has changed drastically over the past few decades - and even the past few years.
It wasn't all that long ago that consumers in need of a specific product - be it clothing, home furnishings, or office supplies - would have to head on over to their local retail store to pick out whatever they needed from a selection of competing brands.
Thanks in large part to the advent and ubiquity of the internet, direct-to-consumer marketing has become easier.
5 direct-to-consumer marketing tips you can use today:
What (exactly) is direct-to-consumer marketing?
Nowadays, both B2B and B2C customers can typically navigate to a retailer's website, add the exact product they need to their virtual shopping cart, and have it delivered to their home or office within a few days (if that).
This direct-to-consumer model of marketing and sales has benefitted both suppliers and consumers in a number of ways:
For one, because no "middleman" retailer exists in the relationship, companies are able to forge a more direct connection with their customers. In the traditional sales model, the supplier merely provided the product, while the retailer provided the overall customer experience. With the D2C model, suppliers are able to provide both an outstanding product and an outstanding overall experience to their customers.
This direct connection, in turn, also allows D2C brands to learn much more about their customers - and to make improvements to their products and services based on what they learn. Again, while not exactly impossible, this process is certainly much more difficult with the retail middleman getting in the middle of things.
Additionally, the D2C model all but ensures that messages from one side of the transaction are heard loud and clear by the other party - and that communications aren't being jumbled up by the middleman. For example, if a consumer has an issue with a product, they have no other option than to contact the supplier directly (as opposed to the traditional model, in which consumers may need to rely on the retailer to send the message along to the supplier).
Finally, suppliers that sell directly to their customers ensure that all of their products are available to all of their customers at all times. While a retailer might choose to offer a handful of products from a given supplier at a specific time (e.g., a clothing retailer only offering a brand's "summer collection" during the warmer months of the year), suppliers are free to offer any of their products to their customers on an as-needed basis.
Of course, for a company to be successful as a direct-to-consumer supplier, it needs to have a solid marketing plan in place in addition to offering quality products. Since, again, the D2C supplier takes on the responsibility of providing a top-notch experience to its customers, it will need to do a little more to set itself apart from its competition.
In this article, we're going to take a look at how one company in particular was able to do all this - and maintain relevance in today's Amazon-dominated world.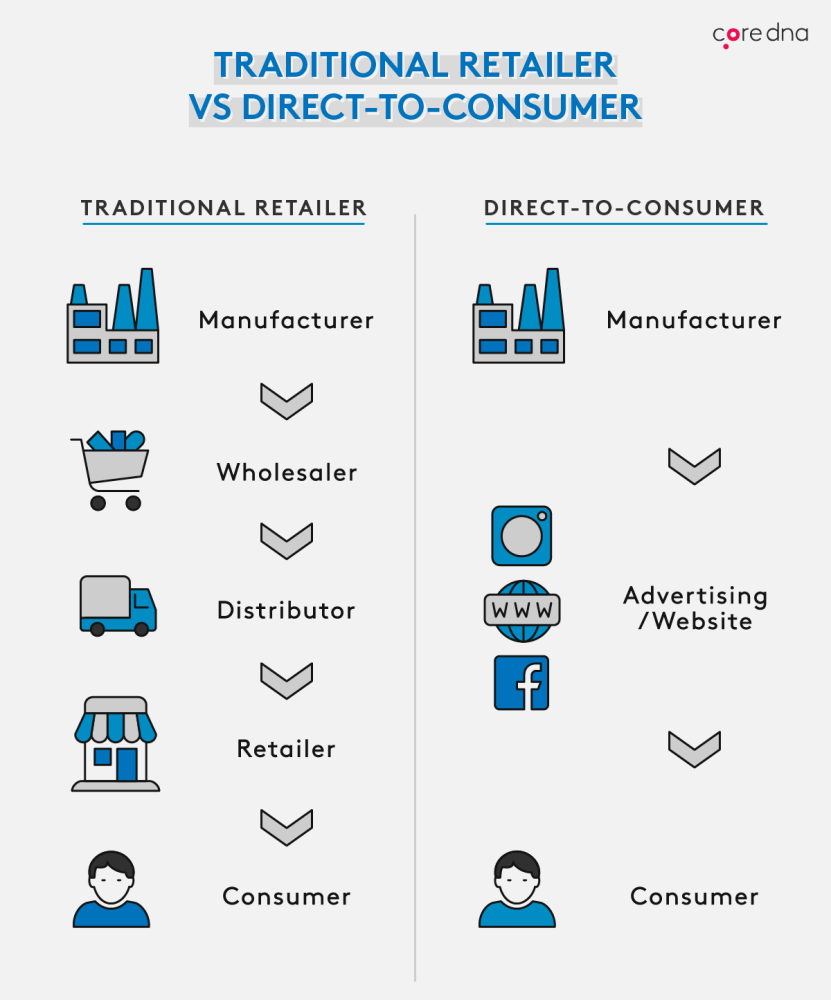 Quill.com: A case study in direct-to-consumer marketing
Quill Corporation - now known as Quill.com - has basically operated under the direct-to-consumer sales model since its inception back in 1956.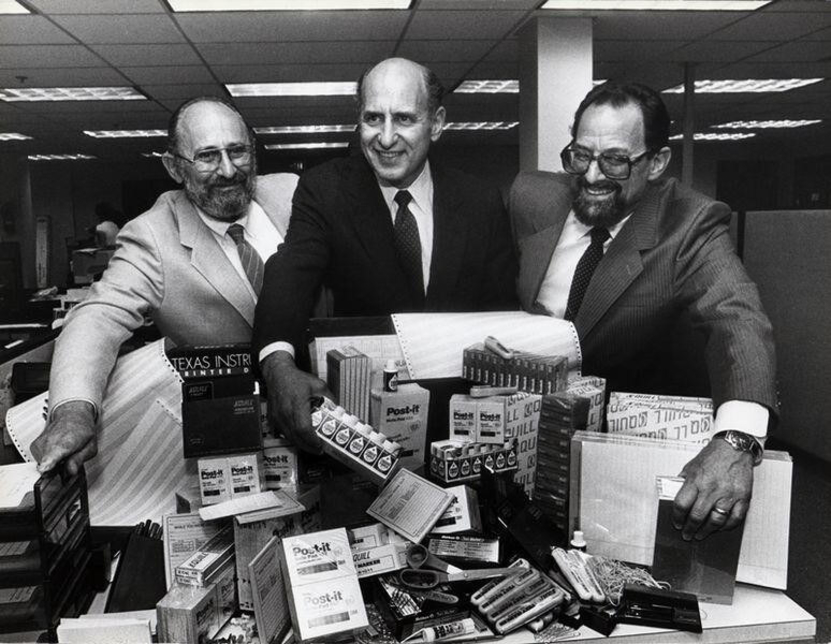 Having been bought out by Staples in 1998, Quill focuses on selling office supplies - from paper and ink, to electronics and furniture, to office snacks and consumables - directly to businesses, schools, and other such organizations. While the company does sell other brands' products (acting as a retailer in that way), its main focus is on selling its own, internally-produced products.
As mentioned, Quill was acquired by Staples in 1998, and, as of 2009, had generated over $1 billion in revenues. While retailers and online marketplaces such as Walmart and Amazon have, of course, seemingly taken over the world of eCommerce, Quill remains competitive in the office equipment industry due in large part to its innovative approaches to marketing. In fact, in 2017 Quill earned Gold Honors at the MarCom awards, as presented by the Association of Marketing and Communication Professionals.
With that in mind, let's take a look at some of the most effective campaigns and initiatives Quill has come up with over the years - and what other D2C companies can learn from Quill's successes.
[D2C marketing tip #1] Customer feedback "leaderboard"
As we said earlier, one of the main benefits of the D2C model is that companies can communicate directly with their customers — and vice-versa.
With this in mind, Quill began Quill Ideas: a subsection of the main site that allows customers to post comments and ideas regarding potential improvements the company could make to its services. They leverage this area of their website to collect and analyze the voice of their customers.

Now, when a customer provides feedback via Quill Ideas, the message doesn't just get sent over to the company's team - it gets posted right on the Ideas page for others to see. From there, other members of the Ideas community can vote whether or not they believe the comment has merit. Those who wish to do so may also provide their own perspective on the subject.

While having a direct line of communication with the company (and other customers) is incentive enough to engage with the Ideas program, Quill also gamifies the experience a bit by providing a "leaderboard" featuring those who have provided the most feedback: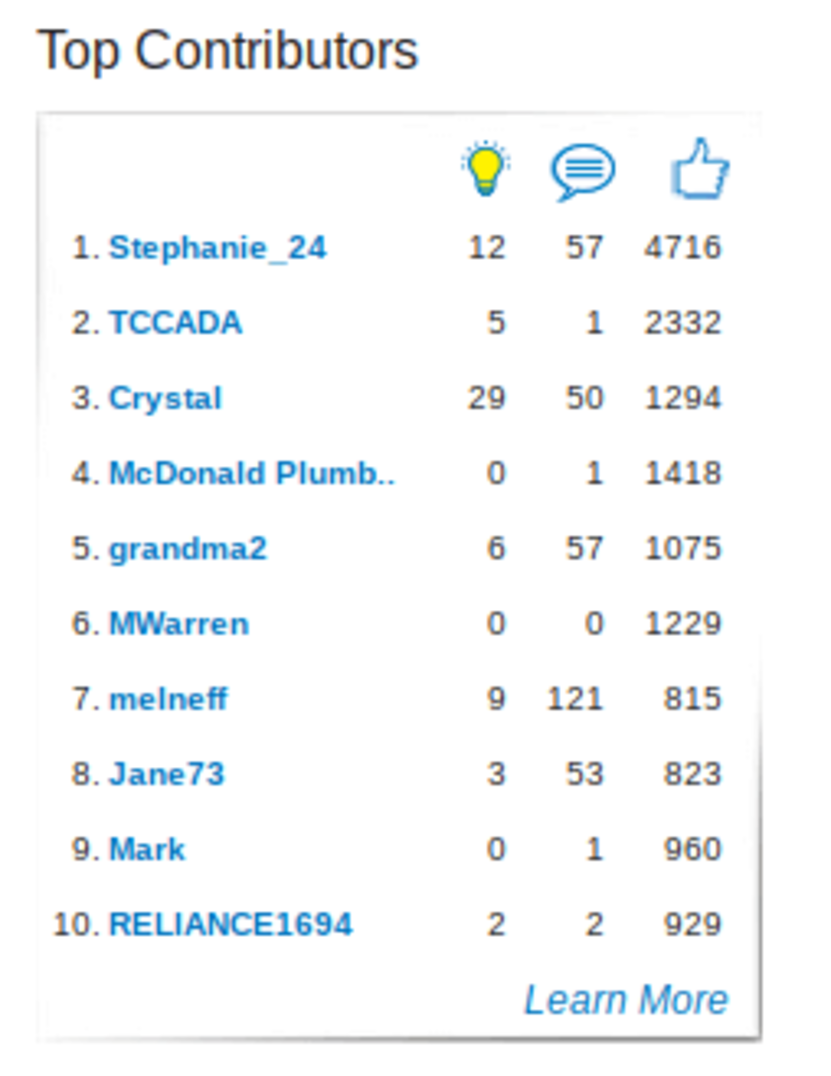 Finally, Quill provides acknowledgment and encouragement to those who have participated, showcasing the Ideas that the team has decided to focus on at the present moment: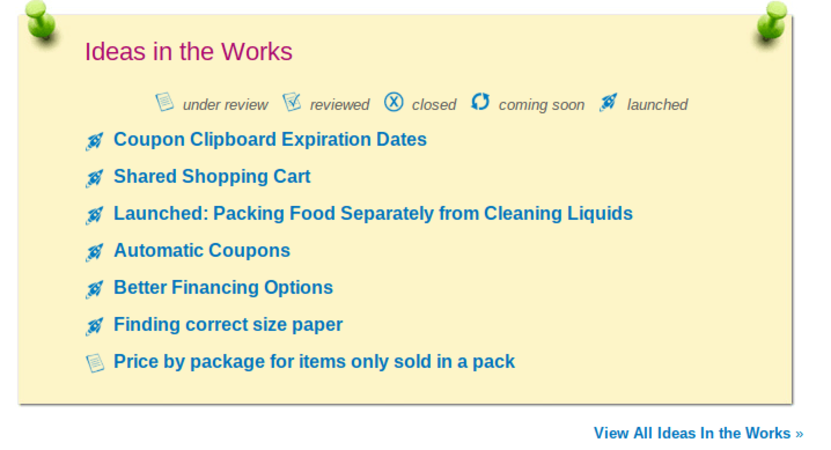 Actionable takeaway
When introducing Quill Ideas back in 2014, Quill.com President Sergio Pereira had this to say about the new initiative:
"The result, we hope, will be a sustainable flow of ideas, as well as a closer relationship with customers who will have a greater say in how we serve them." - Sergio Pereira
As evidenced by the above screenshots, Quill Ideas has allowed the company to generate a ton of feedback from its customers (whether they're providing full-on suggestions or simply supporting suggestions made by others). This, in turn, has allowed the organization to be able to focus on developing future initiatives and campaigns that are seen as valuable in the eyes of their customers (making it much more likely that such campaigns will be worth the initial investment).
As we touched on above, it's also worth noting that, since a customer's comments are actually published (rather than seemingly disappearing into the ether once they hit the "send" button), this creates a sense of validation among those who take the time to provide such feedback. In other words, these customers know their feedback is being seen, read, and taken seriously - rather than just ending up in an inbox that's been collecting virtual dust for years.
All this being said, the lessons to take away from Quill Ideas are:
Go beyond soliciting the traditional product reviews, customer surveys, and feedback forms. An innovative approach to soliciting feedback may draw in additional commentary simply because of the "novelty factor.
Present opportunities for customers to provide customer feedback in a way that shows their words actually matter. Not only might this make consumers more likely to provide feedback in the first place, but it also increases the likelihood that their feedback will be authentic and meaningful, as well
Of course, you should always use what you learn from your customers to improve your products and services. Along with this, you also want to be sure your customers know you're taking their suggestions to heart. As you go about making improvements based on customer suggestions, be sure to let them know what you're working on - and that you appreciate their taking the time to provide the suggestions in the first place.
[D2C marketing tip #2] Champion a cause your customers care about
One thing that will immediately stand out to anyone who spends more than a couple minutes on Quill.com is how environmentally friendly the company is.
Case in point, the company dedicates an entire section of its website specifically to green, eco-friendly products.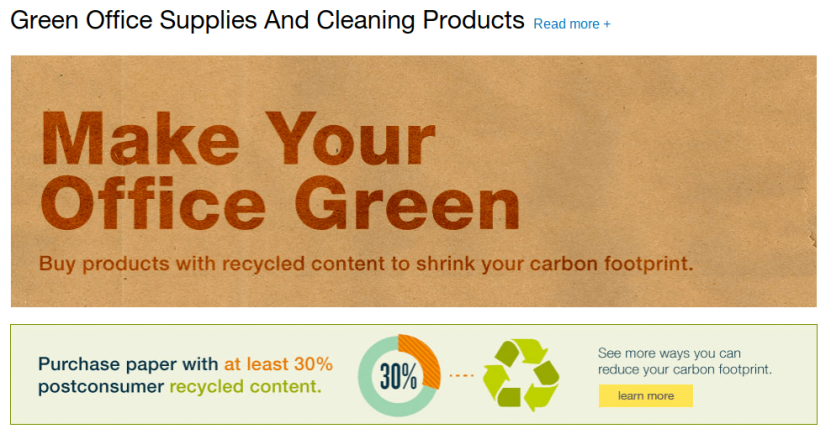 From paper, ink, and other smaller supplies, to mailroom packaging and even office furniture, Quill allows eco-conscious consumers to purchase the products they need while remaining confident that they're doing as little damage to the planet as possible.
Additionally, Quill actually incentivizes eco-friendly purchasing and overall behavior through its ink and toner recycling program: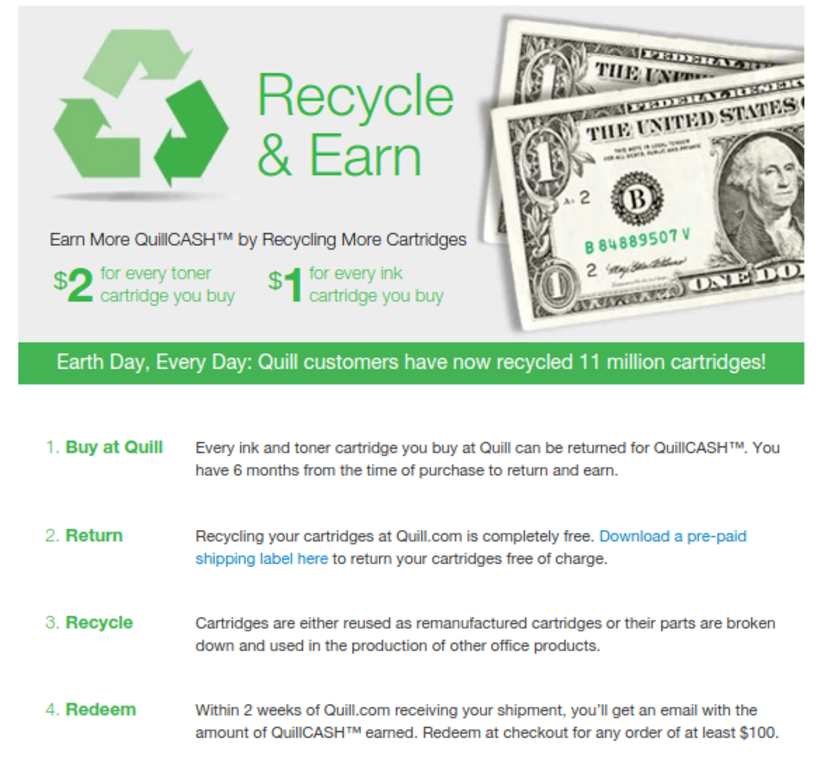 As shown in the above image, those who return their used ink and toner cartridges to Quill will receive QuillCASH, which essentially equates to store credit off of future purchases. So, not only does Quill reward those who would have recycled their ink cartridges anyway, but it also makes those who might not have done so more likely to, at the very least, consider going the eco-friendly route in exchange for a discount off their next purchase.
(A quick note: If you noticed, the discount only applies to purchases of over $100. This, in turn, incentivizes customers to increase their order value.)
In addition to all this, Quill also provides informative and educational content revolving around green living and office operations such as the following infographic: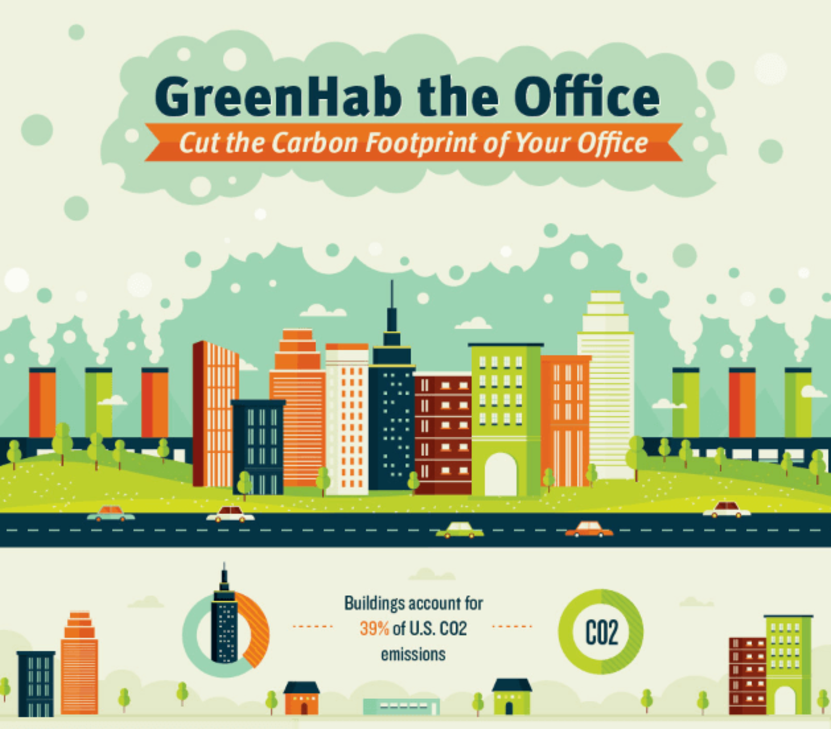 Actionable takeaway
Now, we're not saying that your company should be focusing on being more environmentally conscious, per se.
(Although, we're not not saying that, either.)
The point of showing how Quill has championed the eco-friendly cause is to showcase the importance of finding a cause you care about to promote and support through your organization.
Maybe it's "going green," or it might be feeding the hungry. Perhaps you want to improve living conditions for military veterans, or provide better conditions for schoolchildren. Speak with others within your organization, and try to pinpoint a specific cause you'd like to focus on. Additionally, reach out to your customers to see what areas they're interested in helping out with.
Once you find a consensus between your team members and your customers, it's important that you go all-in with your new initiative. You don't want to come off as if you're championing a cause just to score brownie points with a certain demographic. Just as Quill does with its eco-friendly initiatives, you want your cause to be reflected throughout your organization - from the products and services you offer, to the educational content you provide, and beyond.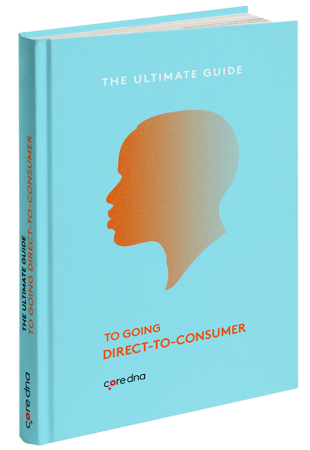 How to take your business direct to consumer in 2021: The ultimate guide
Strategies, insights, and tips on how to start and scale a direct-to-consumer business.
[D2C marketing tip #3] Provide robust product search and suggestion functionality
As we've said, one of the main products Quill offers are ink and toner cartridges for printers and copiers.
Now, as you probably know, not all cartridges are the same. Some are made only for use in printers or copiers made by a specific brand; others can only be used in specific models made by a certain brand; others can be used in a variety of printers — but may offer better quality if matched with a particular brand.
The point is, finding the absolute best ink or toner is difficult if you're not 100% sure what you're looking for. With this in mind, Quill's team developed a section of their site specifically dedicated to helping their customers do so.

While those that know exactly which cartridge model they're looking for can easily type in the model number to get what they need, those who aren't sure have the option of browsing through three different drop-down menus to narrow down their search. Once they've selected their machine's brand, series, and model, they'll automatically be brought to a results page showcasing their various options.
What's more, registered Quill customers can save their information, allowing them to quickly navigate to the appropriate product page(s) for their printer/copier/etc. when in need of a replacement cartridge.
In addition to this user-friendly browse/search function, Quill also uses this section of its site to provide more in-depth information about cartridge choice, which is GREAT for SEO:

Furthermore, for customers that purchase ink or toner cartridges made by a specific brand, Quill provides them with additional information regarding the benefits of using that specific brand's products:

As we've spoken about before, by using a product or category page to provide answers to frequently asked questions and other important information, Quill keeps its users on a single path to purchase (rather than forcing them to "click around" to find the answer they're looking for).
Actionable takeaway
There are two main lessons to take away, here:
You want to make it as easy as possible for all of your customers to find the exact product they're looking for one your website. When focusing on this initiative, your best bet is to keep your "newbie" customers in mind; that is, you want to design your searching and browsing functionalities so that even those who know next to nothing about your products can easily find what they're looking for - and feel confident that they've made the right purchasing decision.
"When designing and developing your eCommerce site, keep your 'newbie' customers in mind" – Click to Tweet
It's important to keep in mind that the more product options you offer your customers, the more difficult it will be for them to make a decision (no matter their level of expertise). In other words, unless a customer comes to your site with a specific product in mind, your numerous options may cause them to experience analysis paralysis - in turn causing them to not make a purchase at all.
To combat this, as Quill has done, you'll want to provide as much information as you possibly can about your products. Going beyond the obvious (e.g., product specs), you also want to provide information regarding typical use cases for individual products. This will allow those who know what their goals are, but who don't know which product will best help them do so, find the exact product that will best help them accomplish their goals.
[D2C marketing tip #4] Built-in "pin your coupons"
While most (if not all) direct-to-consumer and other eCommerce companies offer coupons, discount codes, and other such incentives to their customers from time to time, Quill takes things a step further by allowing users to collect and store coupons on their online store account.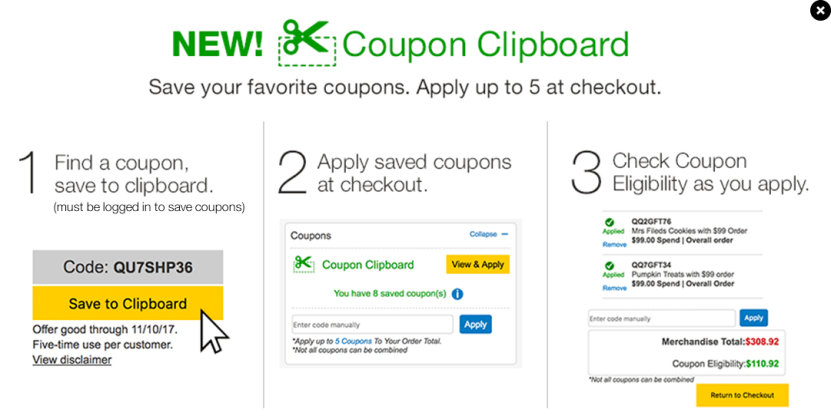 Quill's Coupon Clipboard allows customers to keep all their coupon codes in one place (rather than risk losing them after writing them down, saving them in a bookmark, etc.). Customers can then pick and choose which coupons to use when making a purchase (they can use up to five for a single transaction).
A few important things to note:
Coupon offers include discounts, QuillCASH eligibility, and free gifts from partner companies
Information regarding eligibility, expiration date, etc. is crystal clear, so there's little confusion as to which coupons can be used at a given time
Eligibility threshold is rather low - making customers more likely to utilize coupons (and go through with purchases they may not have, had they not been provided incentives)
When implementing each of the above features, Quill's team based their decisions heavily on market research. Again, Sergio Pereira:
"This enhancement is a direct result of our dedication to making every experience on Quill.com as simple as possible...Our customers are busy enough as it is. Finding and keeping track of coupons is not something they have a lot of time for."
Additionally, Pereira and his team continued to monitor the effectiveness of the program over time:
"Early feedback from market research and testing of the Coupon Clipboard has been very positive...We've also seen that many of our customers actually have fun trying to see which coupon combinations save them the most money."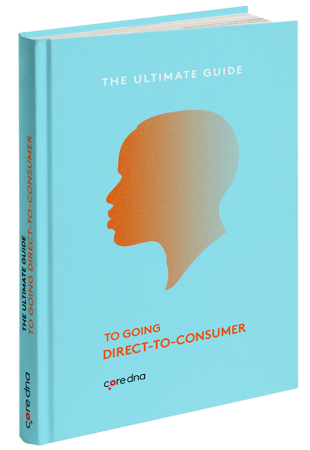 How to take your business direct to consumer in 2021: The ultimate guide
Strategies, insights, and tips on how to start and scale a direct-to-consumer business.
Actionable takeaway
While Quill's Coupon Clipboard initiative focused on providing customers with an easy way to apply discounts to their purchases, the lesson to take away here can be applied to all of your transactional processes, overall.
First and foremost, you want to be as transparent as possible regarding everything that goes into your transactional processes from the get-go. A few examples:
Providing shipping info long before they reach the checkout page
Explaining discount restrictions immediately once they add a product to their shopping cart
Identifying payment method options multiple times throughout the process
Furthermore - and this goes for more than just transactional processes - it's essential that you think like your customer when implementing new initiatives or processes on your site. In Quill's case, the team created the Coupon Clipboard to alleviate the struggle of having to rediscover long-lost coupon codes, and also to allow users to "experiment" with mixing and matching coupon codes.
In your case, well...it all depends on what your customers value. Whatever the case may be, dig into your customers' common needs, expectations, and frustrations as you implement new features into your overall services. And, again, be sure to revisit their suggestions from time to time to continue improving these services and initiatives over time.
Side note:
Want to see how you can create and manage discounts and coupons in Core dna?
Click here
.
[D2C marketing tip #5] Reverse product placement
Earlier, we talked about forging a connection with your customers by supporting a cause near and dear to their (and your) heart.
But you can also deepen your connection with your customers simply by having fun with them in some way or another.
Back in 2011, Quill did just that - in a rather tongue-in-cheek way. In conjunction with NBC, the office supply giant "rebranded" itself as Dunder Mifflin - the infamously inept (fictional) paper company that The Office is based on.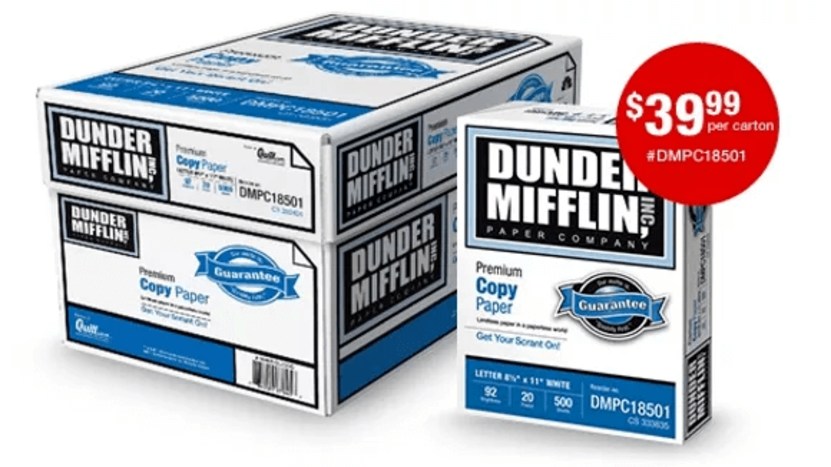 To jumpstart the "rebranding" (which, of course, was really a marketing campaign in disguise), Quill aired commercials in Scranton, PA (where The Office is set), as well as a number of other cities the show mentions from time to time. This ad campaign - along with a well-timed feature in the Wall Street Journal - led to virality via social media across the country.
The campaign, to be sure, was a huge success - which led Quill to expand its "rebranding" of products into a variety of other office supplies (it originally was just going to be focused on paper products). Surprisingly (or maybe not so much?), these "rebranded" products experienced double-digit year-over-year growth. Not bad, eh?
Actionable takeaway
There are a number of facets to the lesson to be learned, here:
For one thing, never underestimate the power of a pop culture tie-in. In this case, Quill implemented a "reverse product placement" strategy: rather than paying to have the brand's products featured in a movie or television show, the company adopted a phony brand name made famous by a popular TV show to gain exposure. Of course, to do something like this, you'll need to get permission from the creator to use their "brand"; on the plus side, though, you'll have their backing throughout the campaign.
It's also worth noting that, as we mentioned, Dunder Mifflin isn't exactly known as a successful (or even functional) company - which makes it even more hilarious that Quill adopted the brand name in the first place. Needless to say, this tongue-in-cheek, almost self-deprecating, humor resonated quite well with consumers looking for "limitless paper in a paperless world."
The overarching lesson, here, is to ensure that your brand's personality shines through in everything you do. As we talked about at the beginning of this article, one of the main benefits of D2C marketing is that you have a direct line of communication with your customers - meaning your brand's voice won't be "hidden" behind that of your retailers'. While your first order of business should, of course, be to provide valuable products to your customers, it's also important to keep in mind that the D2C company that can provide an enhanced experience to its customers will usually stand out above the competition.
Watch demo
The customer is the key to D2C success
Quill's ability to stay relevant and successful in the face of eCommerce giants like Amazon cannot be overstated.
To be sure, a lot of the company's success has to do with the creative and innovative ways its team approaches the customer experience. Again, while providing top-quality products to its customers comes above all else, the added value Quill provides through various aspects of its website is what sets itself apart from the competition - which is exactly what you should be aiming to do.
Want to see how high-growth Direct-to-Consumer companies use Core dna's commerce platform? Let's chat.