Let's End This Gated vs Ungated Content Battle Once And For All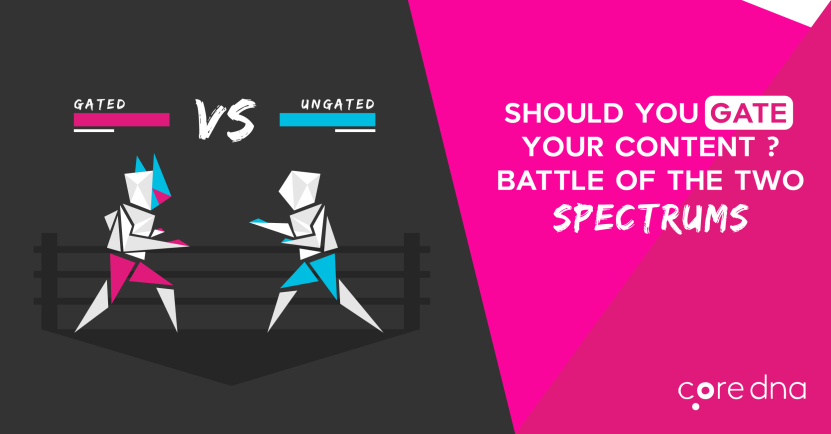 You're using some form of content to attract leads to your business, right?
You stress over creating exceptional content that your audience will devour in a heartbeat and hopefully, share with their friends. You punish your brain, day in day out, thinking about how to provide insights and advice that propels you above the competition and magnetizes leads to your funnel.
You want to get maximum exposure but you also need to get a return on your effort in so far as generating leads - you wrestle with the question:
To gate or not to gate?
This post will help you find your answer.
We'll dive deep behind the reasons for gating content, how to gate content for maximum ROI, and when to avoid it to prevent your sales funnel from starving.
In a hurry? Jump into a specific section: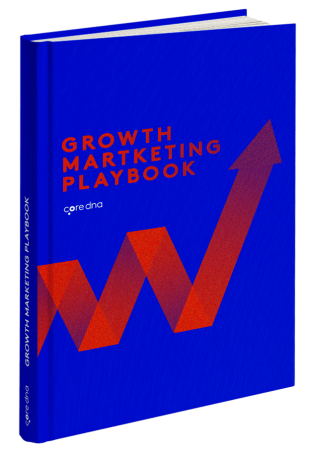 The ultimate growth marketing playbook
The exact 41 strategies we used to grow from 4-figure to 6-figure traffic in one year.
Why people "gate" their content (Hint: Because popular content isn't enough)
Inbound marketing is simply about creating super valuable content that people love, right? Well, not really.
Sure, it's about publishing awesome content. But even if your content gets thousands of views, tons of shares, and is showered with thankful comments, that still doesn't make you "successful" at inbound marketing...
Inbound marketing isn't a popularity contest. It's about generating highly qualified leads that turn into potential customers. So if that energy-zapping viral article you wrote doesn't deliver solid leads to your business, was it a waste of time?
But doesn't gated content restrict potential leads from your content?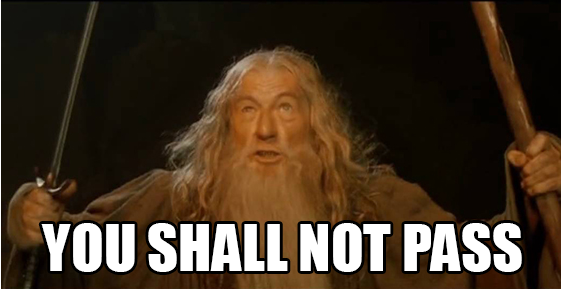 This is where the line between gated and ungated content gets a little "blurry". Some argue that:
"Gated content ensures only people who really want your content will opt-in. Which will definitely boost the quality of your sign-ups, and maybe even quantity (providing that you're gated content is that good)."
This is (Hubspot's '3rd founder') Mike Volp's view:
"If I can get 100,000 people to see that page and I can get 28,000 people to fill it out, 28,000 contacts may be more valuable than even 50,000 people seeing the content."
On the opposite side, you have marketers like Moz's Rand Fishkin, who openly share massively detailed guides; and marketers like David Meerman Scott that advocates tearing your content walls down because:
"A lot of people will see the form and say, "Forget it. I don't want to fill out the form. The vast majority of people are unwilling to share a piece of content that has a form in front of it. A lot fewer people will blog and tweet something that has a form on it."
So what's the right answer?
We'd love to say either gating or ungating content will boost lead acquisition, but the truth:
There's no cut-and-paste answer.
There are too many intricate variables in a business - and with its customers, to give a solid yes or no answer. It heavily depends on your specific goals and KPIs. Are traffic numbers, views, and brand awareness the goal? Or is all that worth sacrificing for to stack up more qualified leads?
The undeniable benefits of gating your content
Gated content benefit #1: More leads doesn't equal less SEO traffic
In the wake of multiple Google Algorithm updates, quality has eclipsed quantity when it comes to content. Numerous studies confirm a positive correlation between content with more characters and higher search rankings.
You might think search traffic to your pages will plummet because there's not as much long-form content readily available. This is true, less high-quality content can hinder SEO, but you can still combat this. How?
By offering a mouth-watering piece of "teaser" content on the download page.
Remember, people will determine whether your gated content is worthy of giving up personal information for, based on your existing content. So if your pre-gated content is weak, you can expect that to starve your lead gen; but if your pre-gated provides enough value, visitors will feel they have more to gain by handing over their precious contact information.
There's even a research that shows, sites that are publishing in-depth content and downloadable resources experience better results than sites that are just publishing content.
Gated content benefit #2: It can lead to direct sales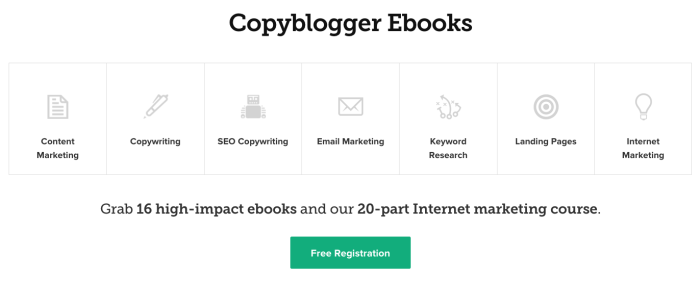 Rather than using the usual eBook or email course, Copyblogger wanted to offer something more valuable to their subscribers in exchange for their email addresses. This leads to a premium content library called "MyCopyblogger" that contains 15 eBooks and an extensive internet marketing course; it was accessible to registered users only.
The results?
They increased email signups by 400% and generated $300,000 in sales.
The lesson: When gated content is special enough, it can boost lead acquisition and direct sales.
Gated content benefit #3: Gated content itself serves as powerful segmentation tool
History shows that "divide and conquer" has been a great way to gain political power.
It's also a great way to boost marketing power. Just ask MailChimp.
When they analyzed the opening rates of 9 million emails, they found that segmented campaigns have a 14.4% better open rate than non-segmented campaigns.
Another testament to the power of segmentation is from an online retailer, Totes Isotoner.
They noticed most online shoppers came to their site and repeatedly visited one category more than others…so, they reached out to those shoppers with segmented email marketing pitches about their favorite category.
The results?
It's safe to say they didn't just boost their revenue; they tied it to a rocket and blasted it into outer space with a 7000% increase in email marketing revenue.
Segmented leads put your sales on steroids. They explode the potency of your offers, content, and sales messages by making them highly targeted. And the awesome thing about Gated content?
It naturally filters your leads into segments.
Take a look at Wordstream. Obviously, not all of its potential customers are going to be using the same advertising platform. Some may lean towards Google ads, others may be die-hard Facebook ad fans.
Gated content allows them to identify who's who, and follow up appropriately.
When reading a post about Facebook ads, here's what they presented: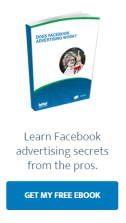 And when reading about PPC ads: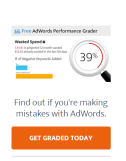 Now, when I enter their funnel, they're not barraging me with random content and offers, hoping that I buy. Nope. Thanks to gated content that identified what I'm interested in, they can strategically deliver customized content and offers that appeal specifically to me. Which means I'm ten times more likely to buy!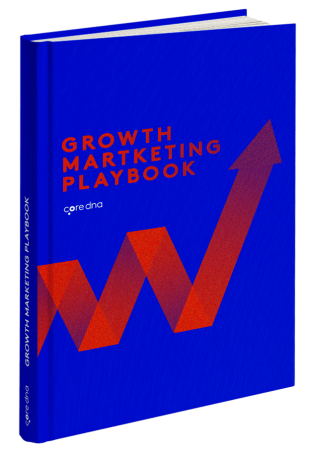 The ultimate growth marketing playbook
The exact 41 strategies we used to grow from 4-figure to 6-figure traffic in one year.
How gated content can be dangerous (when to avoid gated content)
There's a time and place for everything, and gating content is no different.
Like building a delicate tower of cards, the wrong move at the wrong time can undermine all your hard work. Gate your content incorrectly, and you'll innocently sabotage your lead generation.
Instead of attracting leads, you'll be repelling them, rapidly.
That's why you should avoid gating content if the following apply to you...
When to NOT gate your content #1: You don't have a solid customer persona
"With personas, businesses can be more strategic in catering to each audience, internalize the customer that they are trying to attract, and relate to them as human beings." (Krux marketing team)
Research from the Edelman group shows that brands and business are failing to grasp the most basic motivations, objections, and desires of customers. Their consumer marketing survey - which questioned over 11,000 people in over 8 different countries - found that 51% of people feel brands are doing a poor job of asking about and fulfilling their needs.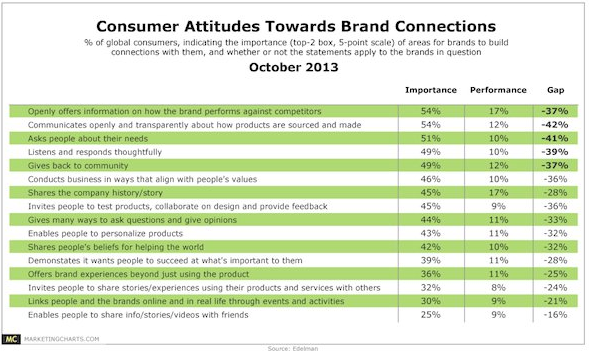 Further research even reveals that 40% of consumers say most promotions don't deliver anything of interest.
Personas are important: that's obvious. But as research shows, most businesses are lacking when it comes to creating and using them effectively.
Don't be one of those businesses.
Make sure you have an accurate picture of your customers' needs/wants before creating and gating your content. Not only will this save you time, but you'll shoot up the ROI of your gated content, because you'll know exactly what they're looking for, and how - and when - to give it to them.
When to NOT gate your content #2: You don't have ungated content to "Back you up"
So you've created a kick-ass piece of content ready to be gated. You're certain that your leads will benefit. In fact, they'd be silly not to opt-in. The info you're offering isn't available anywhere else online...
Time to start reeling in those leads, right?
Not so fast…
Remember, your pre-gated content will heavily influence your lead's perception of your gated content. It acts as confirmation that you actually know what you're talking about and can deliver something valuable. So be sure to have enough pre-gated content to back your gated content.
When to NOT gate your content #3: You're offering "Surface level" content to the surface of your funnel
Things like blog posts and basic videos should not be gated if your goal is higher traffic and stronger SEO.
Also, content that is meant to raise awareness or answer basic product questions must be ungated as well. Early in the sales funnel, people need to understand what the "thing" is and how it benefits them.
Therefore, gating content at this stage creates a premature sense of tension and distrust. A grave mistake is hiding information like (basic) case studies, FAQs, and product specifications behind gates. They do not belong there.
When to NOT gate your content #4: You're asking for too much at such a low commitment stage
People at the beginning of the funnel have lower commitment. They're more likely to abandon forms than those who are deeper in the funnel. For better ROI at earlier stages, emphasize transparency, use social proof, and - as mentioned above- use pre-gated content to persuade.
When to NOT gate your content #5: You haven't 'program-matized' the follow-up and nurture phase
If you don't have an automation follow up the system, gating is a bad idea. You'll be wasting resources by converting leads and letting them fizzle out, without making a single sale.
Make sure you have the following set up:
Automated email series: You need constant content to keep the relationship alive
Tracking and testing measures: You need to be able to constantly optimize
Triggered communications: This will allow you to automatically deliver tailored messages to warm, hot, and cold leads.
Here's when you should gate your content
Before you secure your content behind a digital wall, you'll need to first ask yourself:
Question to ask before you gate your content #1: What stage of the sales funnel is this content geared towards?
All content should be created with a specific stage of the sales funnel in mind. TOFU content like blog posts isn't ideal for gating. But an in-depth case study on how you've helped another company cut costs by 25%......
That makes for attractive gated content.
The deeper the prospect moves into your sales funnel, the more sense it makes to offer gated content.
Question to ask before you gate your content #2: What will you do with the information?
Collecting leads are important, but properly nurturing those leads is what converts them into paying customers. You need to know how you're going to separate different leads, and how you're going to follow up. The Wordstream example we looked at earlier does an exemplary job of this.
Question to ask before you gate your content #3: What does your analytics tell you?
Another simple method for deciding to gate or not is to simply take a look at your highest traffic content.
Pick the top three popular topics/piece of content, and ask yourself:
Do people still email/comment about questions in those high-traffic touchpoints?
Do you have more information to give about that topic?
If you can answer yes to both questions, you've got a green light for a very valuable piece of gated content.
Want to gate your content? Use this "Content pillar" principle to skyrocket ROI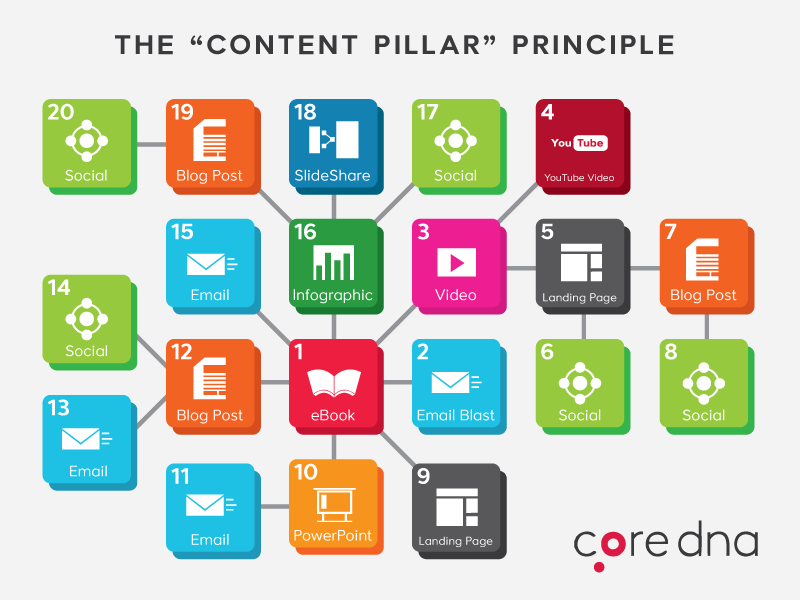 This is a powerful inbound marketing principle for optimizing gated content. It focuses on creating multiple pieces of content that collectively drive people towards one ultimate piece of gated "pillar" content. The idea is to make this "pillar" piece the center of most of your other content production.
Structuring content out of a content pillar isn't too hard. If you are writing an eBook, for example, just follow these steps:
1. Schedule interviews with thought leaders or experts on your topic. Make each of these an independent blog post, and then promotes each post.
2. Summarize the main points of your eBook in a video interview. You can promote the video on YouTube and embed it on your blog.
3. Conduct original research. Original research is a great way to gain credibility and create a meaningful, evergreen piece of content. Put your research results in an infographic, or chuck them into a presentation, even an insightful blog post. A kick-ass example of this comes from Ahrefs blog. They gathered data around the topic of "guest blogging" from a group of marketers and analyzed their results; it made for an insightful piece of content.
4. Develop gated landing pages. For each "main asset" in your content pillar, develop a quick and easy landing page. This broadens your site's total sitemap (which boosts SEO) and also gives your company multiple opportunities to capture the lead information.
5. Create email nurture campaigns around the eBook topic. Offer teaser subheads, answer questions, give content that relates to your eBook. Then promote it to new and old leads.
Watch video demo
Conclusion
Let's face it – content alone won't give you the same kinds of SEO and conversion results like it used to. Things have changed and matured.
You need a different approach to catapult above the noise and keep yourself on your customer's radar. That's best done with a strategical use of gated and ungated content laid out above. Use ungated content to draw leads into the top of your funnel, then nurture and segment those leads with gated content.