How To Create Long-form Content (Backed by Science)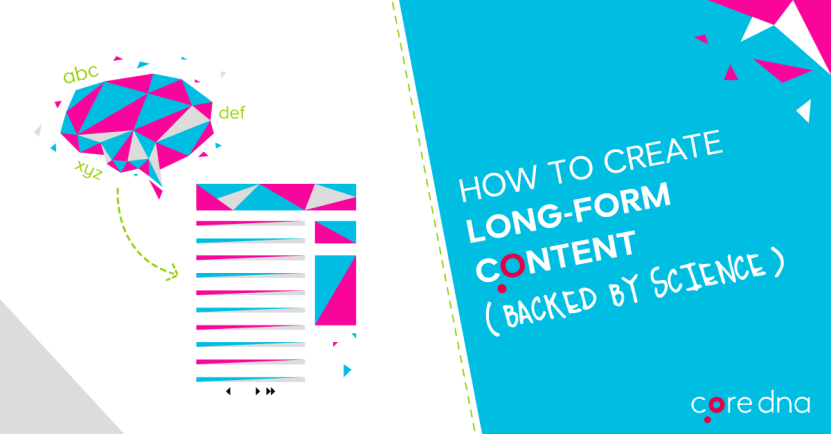 "No one reads online!"
How many times have you heard this statement?
Judging by our shortening attention spans and social media addictions, you might even be tempted to believe it.
The truth, however, is that not only do people read online, they also enjoy reading long-form content.
This is particularly true for businesses investing in content marketing. Sure, short posts might be easy to create, but they can never get you the kind of traction juicy long-form content can, as we'll see below.
The question now is: how do you create long-form content? What ingredients go into making a successful long-form piece?
I'll show you the answers - and more - in this post.
In a hurry? Jump into a specific section: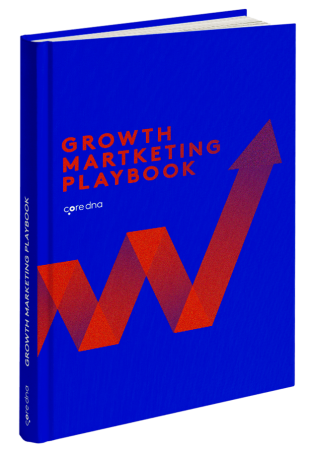 The ultimate growth marketing playbook
The exact 41 strategies we used to grow from 4-figure to 6-figure traffic in one year.
What is Long-form Content & Why Does it Matter?
What makes long-form content can be hard to define.
There's an ongoing arms race among content marketers to create increasingly more in-depth content. What might be called "long-form content" 5 years ago would barely qualify for a long blog post today.
By and large, however, any content piece longer than 4,000 words in length can be called long-form content.
Going by publishing terminology, long-form content is between a short story (under 7,500 words) and a novelette (under 17,500 words) in length.
Obviously, creating a 5,000-word piece of content requires a lot more effort than pumping out 500-word blog posts.
This begs the question: what are the benefits of long-form content? Are the results worth it?
Let's find out.
1. Long-Form Content Gets Better Rankings
The single biggest benefit of long-form content is that it helps you get better rankings.
There's plenty of evidence showing a direct correlation between word count and rankings.
For example, a 2012 study by serpIQ (site no longer available) found that the SERPs are dominated by content longer than 2,000+ words.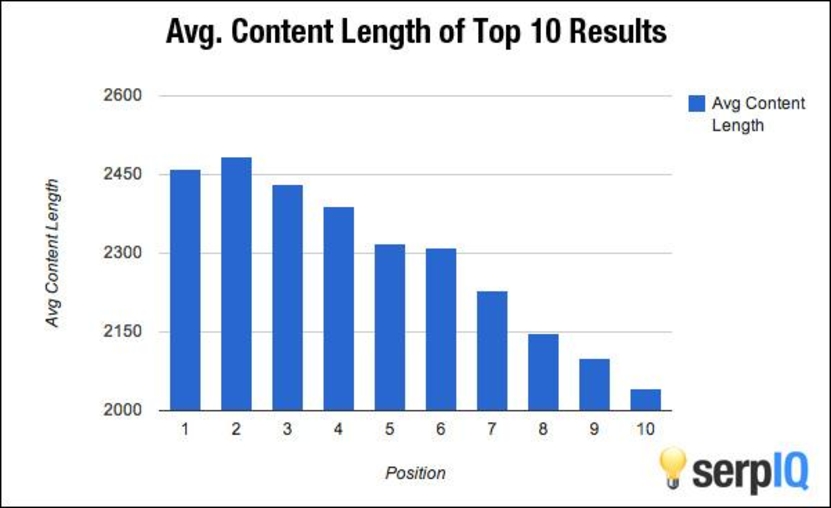 Another study by Backlinko and Clickstream in 2016 found the same results: longer content = better rankings.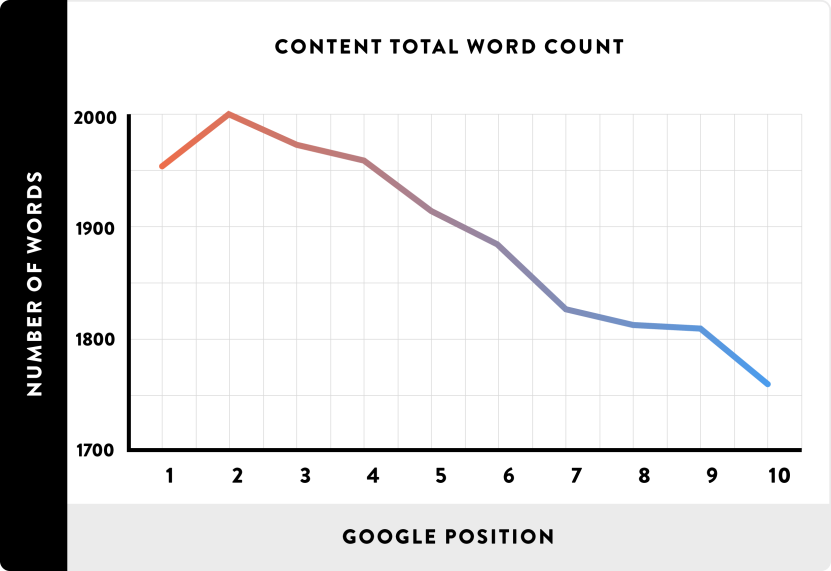 There is a historical reason for this: back in February 2012, Google released a new algorithm update, Google Panda. This update affected nearly 12% of all results and negatively affected sites with "thin content".
As per its quality guidelines to combat a Google Panda penalty, Google asked webmasters to review their sites for objectivity, content quality and authority - all factors somewhat related to the length of the content.
2. Long-Form Content is Seen As More Authoritative
If you wanted to learn how to code an app or build a bookcase, would you trust a 50-page in-depth manual or a 500-word blog post on the topic?
For most, it would be the former.
Longer content is generally seen as more authoritative. In fact, in one study of Wikipedia articles, increasing the length of an article increased its trustworthiness.
According to Backlinko, in-depth, authoritative content also has a direct relation with search engine rankings.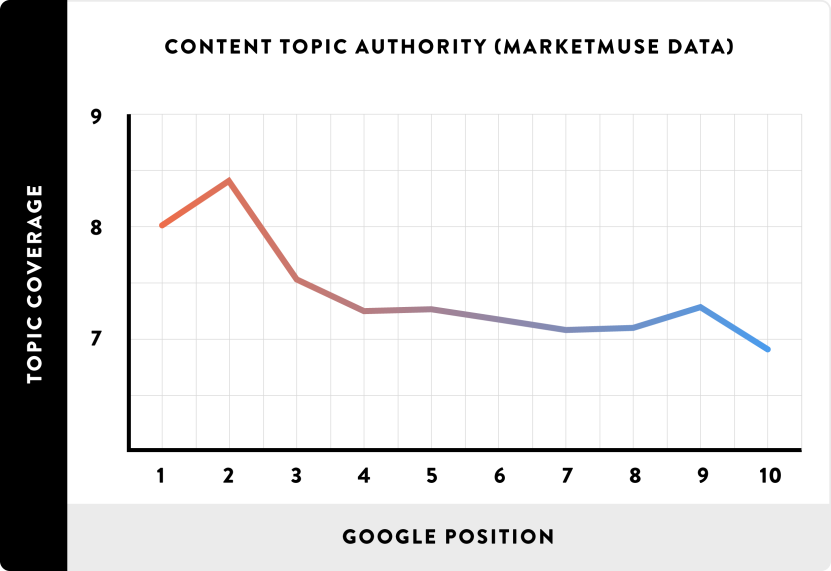 Credibility is one reason why Google itself promotes in-depth articles for certain topics. According to its own research, approximately 10% of searchers are looking for information when they search for a broad topic such as "censorship".
To these people, Google shows a separate block of "In-Depth Articles", like this: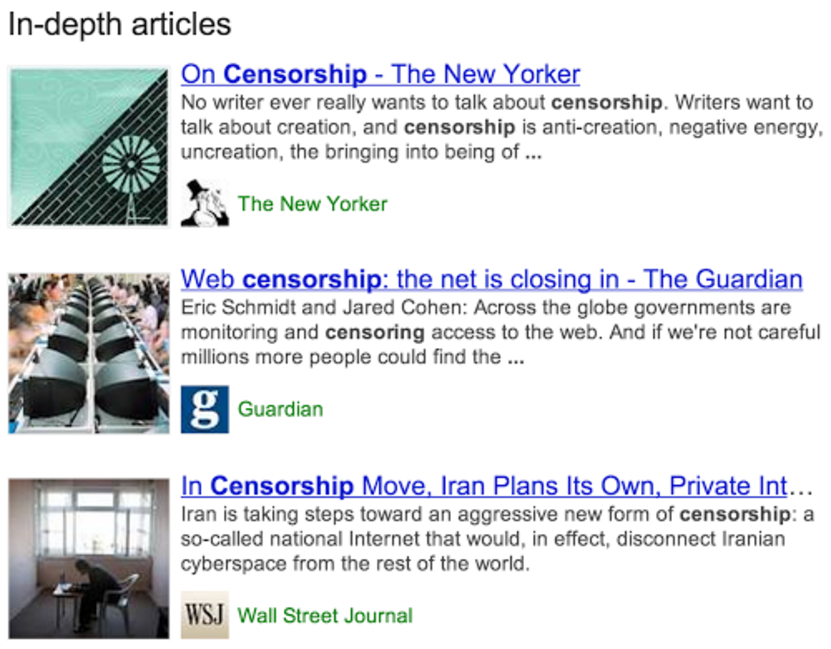 3. Long-Form Content is Evergreen
Yet another benefit of long-form content is that it will continue to get you traffic, shares and rankings months and even years after its creation.
For example, take a look at this "Beginner's Guide to SEO" by Moz. This page originally went live in 2013:

Despite being over 3 years old (a lifetime in marketing), it continues to attract backlinks and traffic. As per Ahrefs, the total number of links to this page has increased consistently over the last year: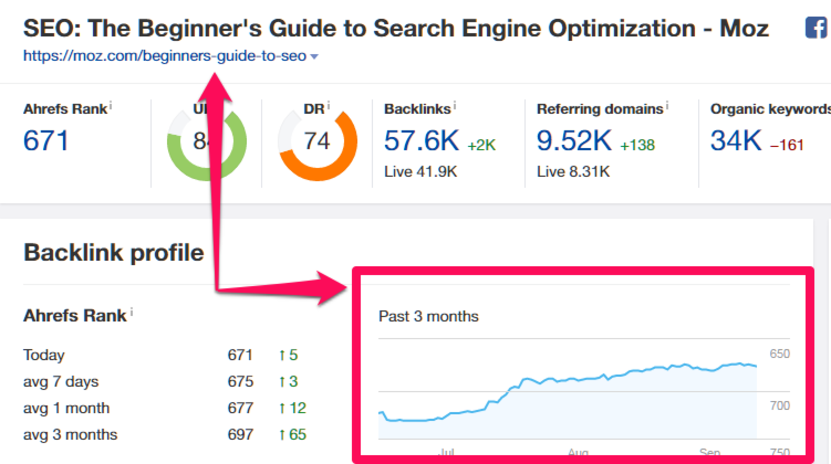 The SerpIQ study mentioned above found that older domains host longer content on average, implying that longer content is more "evergreen".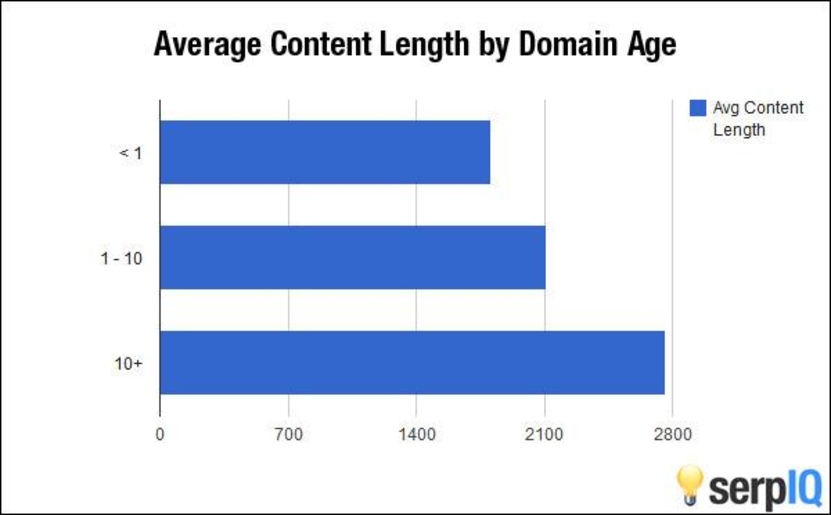 4. Long-Form Content Gets More Shares
This might come as a surprise, but studies show that for legacy publishers, longer content equals more shares. On NYT, for instance, the most shared articles had an average word count of 2012 words: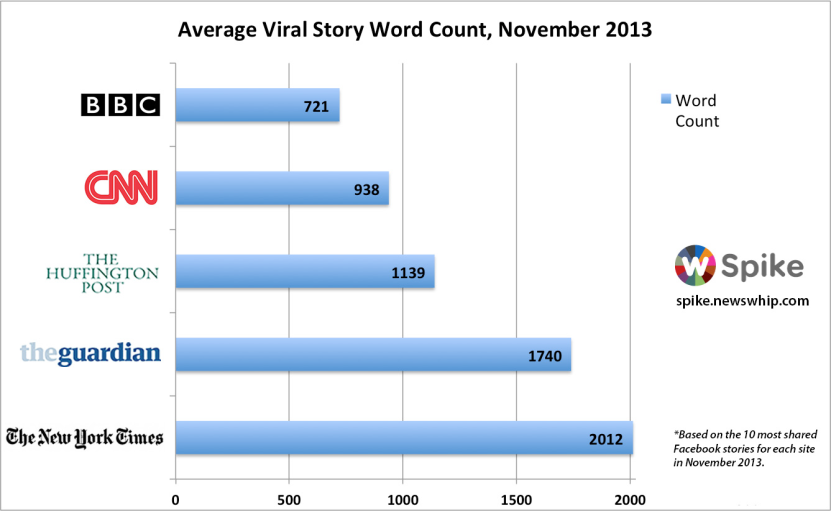 Buzzsumo also found that longer content gets more shares: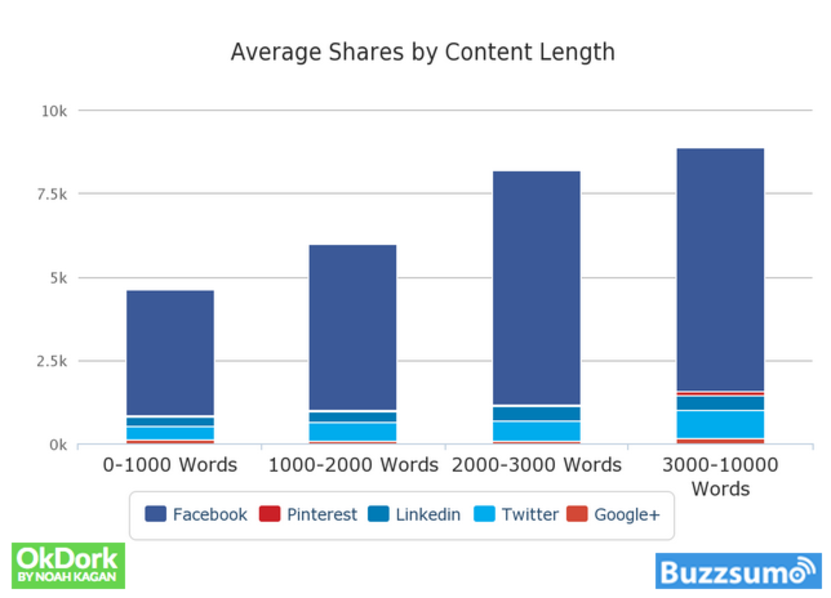 To sum it up, long-form content is simply better, no matter what your end goal is.
How to Create Long-Form Content
Long-form content gets you more shares, links, and better rankings.
But how exactly do you create it? Is there some method to the madness or is it simply about throwing words into your post until you cross the word count threshold?
Turns out, there are a few things you should consider when creating long-form content.
Step #1: Choose The Right Format
The first thing you need to do when creating long-form content is to define a specific goal you want your content to achieve and pick the right format for it.
This will decide the depth and type of content you create.
For example, a study of 100M articles by Buzzsumo found that infographics and list posts get the most shares across social networks: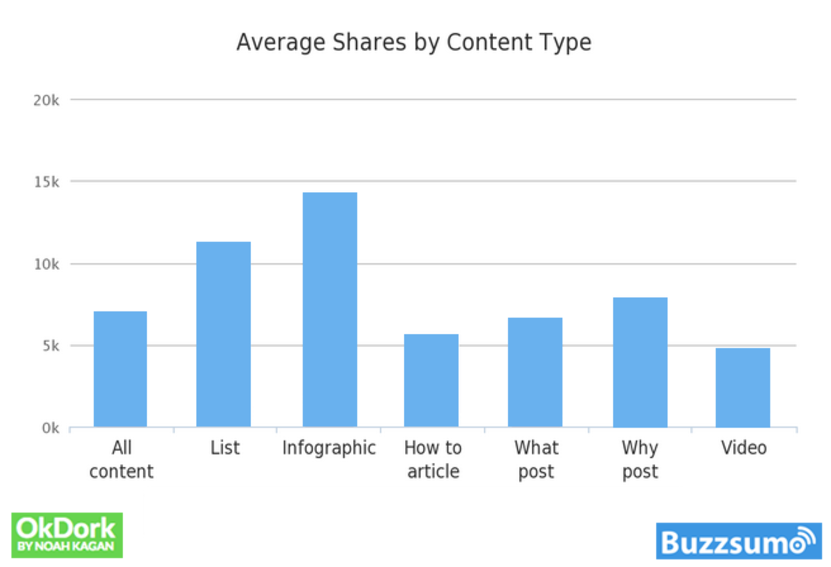 Similarly, one study found that when it comes to backlinks, listicles and posts that answer the question "why" get more links than others: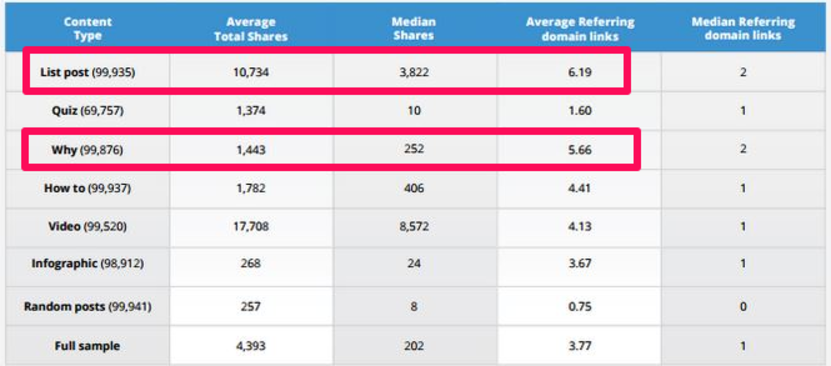 Another study on B2B lead generation found that whitepapers and eBooks perform best when it comes to capturing leads.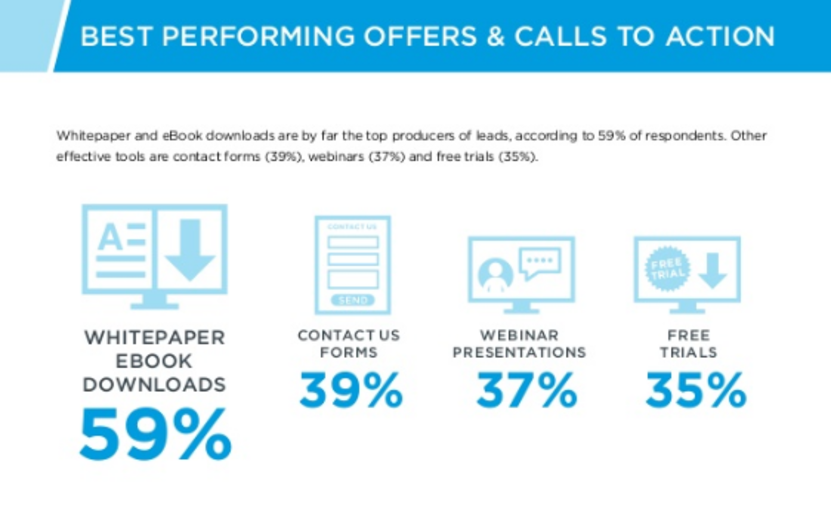 In terms of general influence, one study of B2B tech buyers found that whitepapers, case studies, and product brochures were deemed "most influential".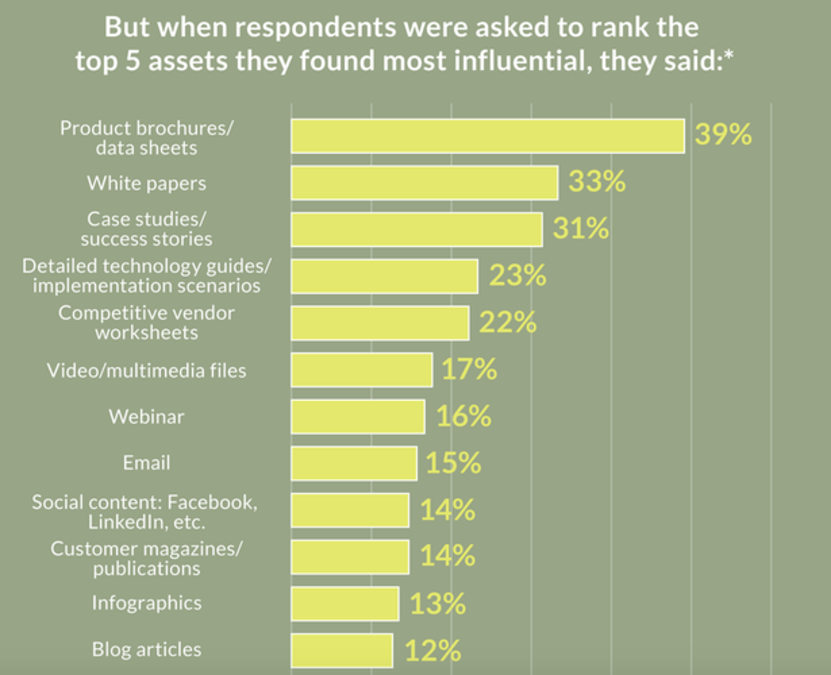 This is why it's crucial that you have a specific goal for each long-form content piece. Depending on this goal, you can choose the content format, style, and depth.
Based on the evidence above, here's what you should know:
● For backlinks: Focus on in-depth "how-to", listicles and "why" style content pieces.
● For shares: Focus on visual content, especially infographics.
● For capturing leads: Focus on gated content (see below) such as eBooks, whitepapers, etc.
● For moving customers down the funnel: Focus on case studies, whitepapers, product brochures and webinars.
Step #2: Select Your Topic
You have a lot of freedom when it comes to selecting a topic for your long-form content piece. You can either go broad (such as "The Beginner's Guide to Content Marketing") or dive deep into a narrow topic ("The Complete Guide to On-Page SEO").
However, since long-form content represents a significant investment, there are a few things you should consider.
A. Pick Evergreen Topics
You don't want to write 5,000 words about a trendy topic that no one will search for in a year's time. Your topic should have a healthy search volume all around the year.
An easy way to figure this out is through Google Trends.
For example, Google Trends shows that the topic "Content Marketing Tips" has a consistent search volume throughout the year. Some topics such as "Halloween Gifts", however, peak only during the season.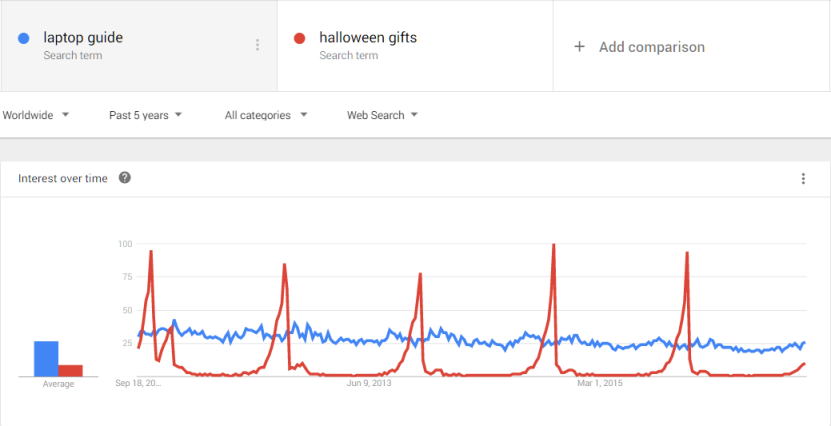 B. Pick The Right Topic For The Funnel Stage
The depth and specificity of your topic will also depend on the stage your buyers are currently in.
For instance, a study of B2B tech buyers found that buyers in the mid-sales phase preferred in-depth technical documents. Those in the initial phase of understanding the problem preferred more general purpose whitepapers: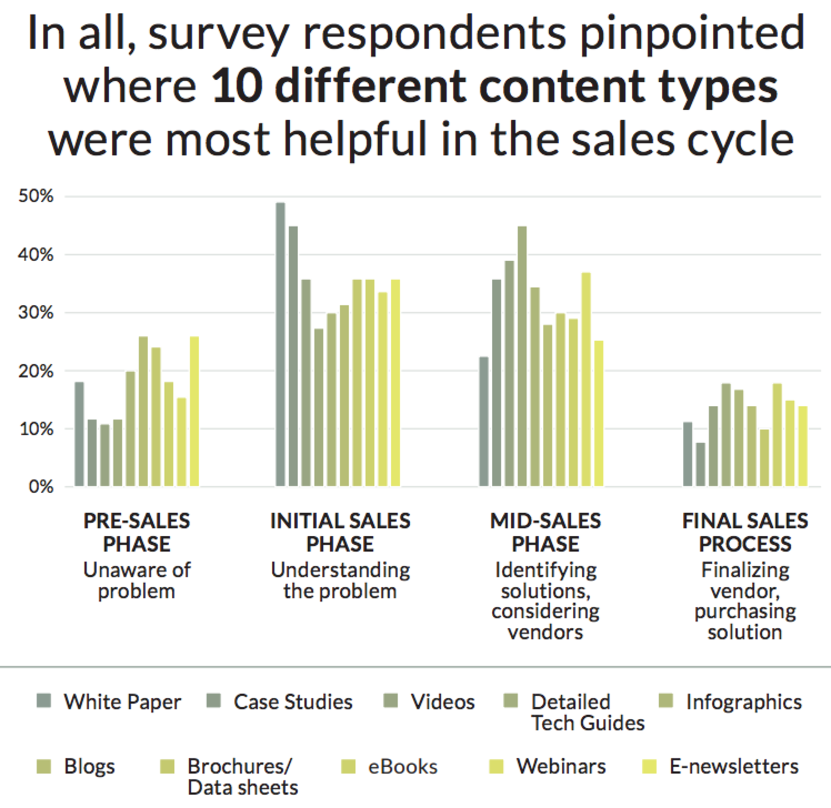 This seems pretty self-explanatory: buyers in the Awareness stage of the journey would rather read a shorter, more accessible article than a 5,000-word technical tome on solving a problem (that would be for the Consideration stage).
Keep this in mind when choosing the specificity and depth of your topic. If you want to attract buyers in the Awareness stage, it's better to go broad ("What kind of laptop should you buy?").
For buyers in later stages of the funnel, go in-depth on a narrow topic (like "What is the difference between DDR3 and DDR4 RAM?").
C. Prioritize Narrow Topics
The competition for broad, high-volume keywords (such as "search engine optimization") can be intense. Creating content that can outrank the existing competitors for such broad topics can be incredibly difficult and time-consuming.
In contrast, narrow topics (such as "Tactics to Improve Checkout Page Conversion Rates") that you already have expertise in can be relatively easy to conquer. While they might not bring in as much traffic as a broad keyword, the traffic will likely be more qualified.
This is particularly true for B2B markets where readers are often looking to learn more advanced ideas and topics.
For instance, according to a study by CMO Council, most B2B buyers consume content to keep themselves updated about new developments. Consequently, their most valued content includes research reports and studies - formats best suited for narrow topics.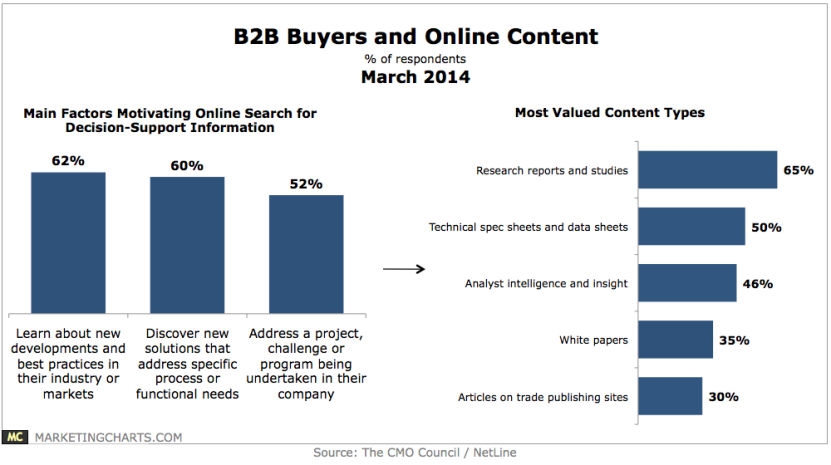 Step #3: Choose Gated or Ungated Content
This one is pretty straightforward:
● Gated content requires readers to sign-up before they can consume the content.
● Ungated content is free for anyone to read without signing up.
Recall Moz's "Beginner's guide to SEO". That's a perfect example of ungated content: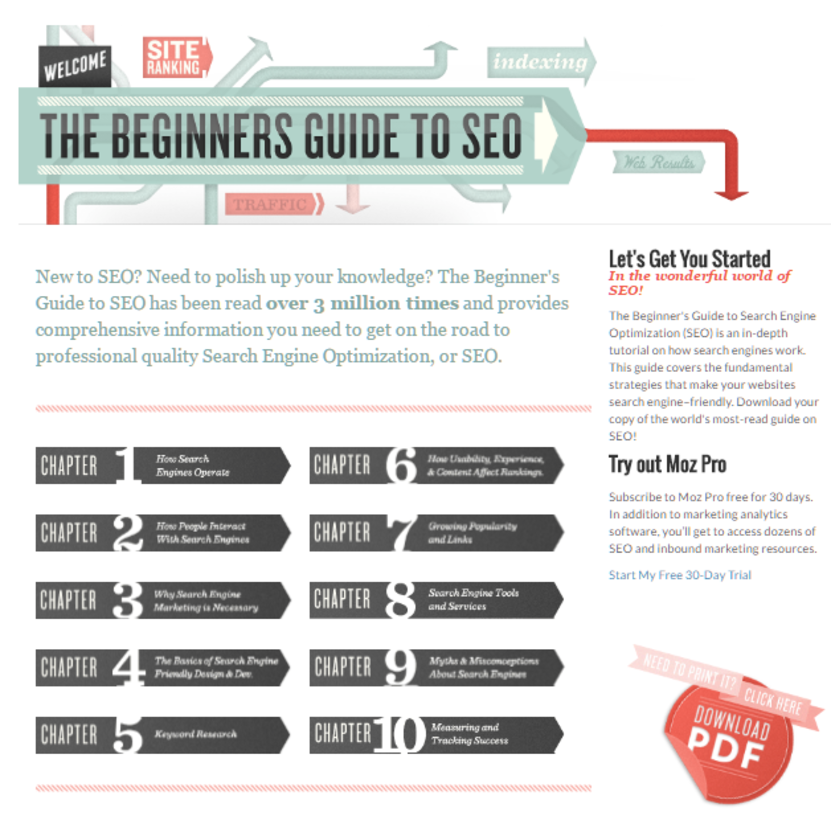 This guide from KlientBoost, on the other hand, is an example of gated content. (Side note: I highly recommend downloading that guide. It's phenomenal!)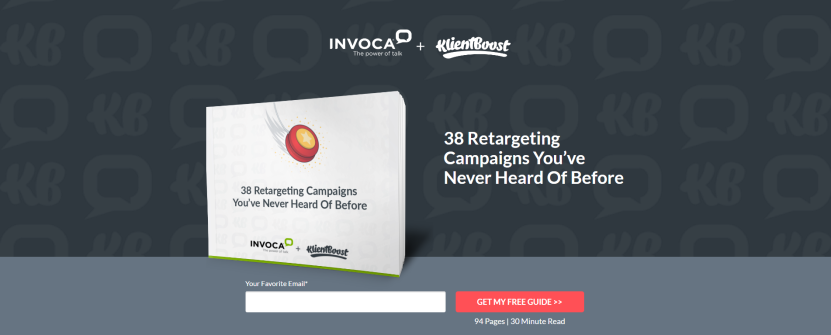 Gated content has found a lot of favor among marketers recently. Drift and Mattermark studied 50 of the fastest growing B2B companies and found that 28% were using gated content, while 16% were offering ungated content.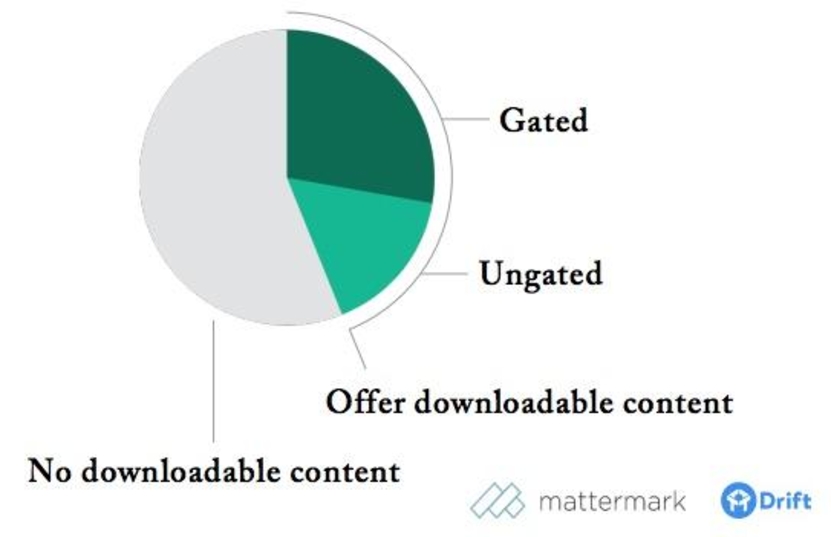 There's also a big gap between what readers want and what marketers offer when it comes to gated content.
One study of IT professionals by Spiceworks found that while marketers were overwhelmingly using content gates for whitepapers, very few IT pros were willing to fill a form to view them: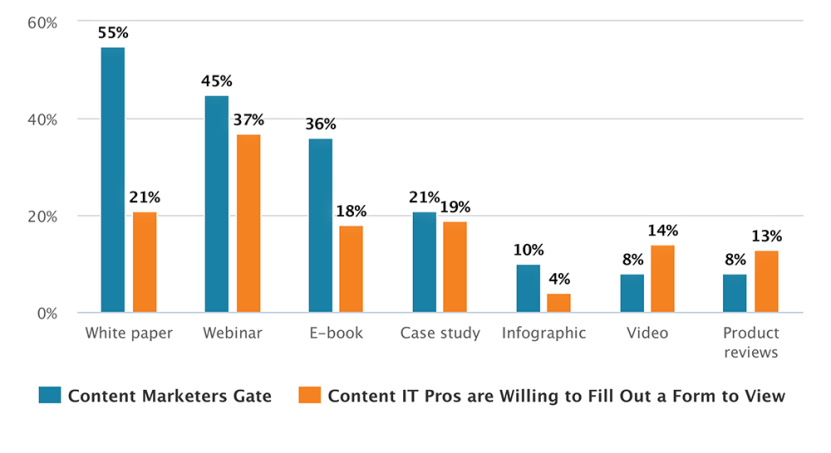 Gated and ungated content both have their pros and cons. Here's what you should know before picking a format:
● SEO: Since gated content requires filling a form to read, search engine spiders can't access it. This means you get fewer SEO benefits from it.
● Leads: Gated content obviously attracts more leads compared to ungated content. However, a lot of readers will also bounce off without signing up.
● Lead quality: Since gated content forces readers to sign-up to view the content, there is a chance readers will enter fake information. As a result, your lead quality might suffer. This can waste a lot of time if you don't have a lead scoring process in place.
Think about this before you decide to gate/ungate your long-form content.
Step #4: Create Content (Obviously...)
Your final step is to create the actual content.
This is easily the hardest step in the entire process. Long-form content can run into several thousand words. Staying focused can be hard when you have to create 5,000+ words of content.
One way to make the process easier is to create a detailed outline.
Start off by creating a broad outline of your content's core sections. Say, if I was to outline this blog post, here's what my broad outline would look like: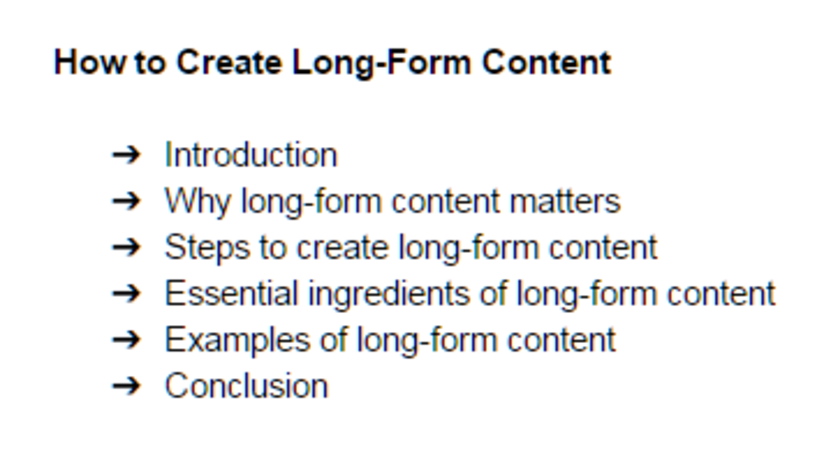 Next, expand each section to include more details: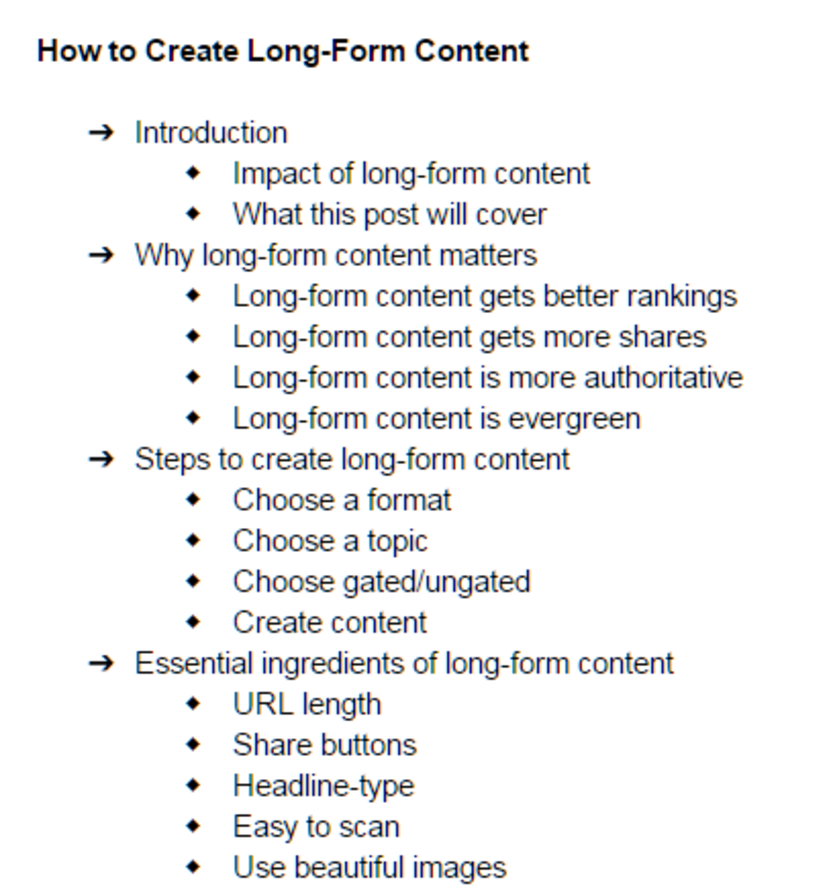 After this, you can choose to expand each point further, or you can dive in and start creating your content. If you have in-house expertise on the topic, you'll find content creation relatively straightforward. Else, you might have to bring in outside experts to improve your content's value proposition.
11 Key Ingredients of Successful Long-Form Content
There are a few key ingredients that help make successful long-form content.
Before you publish your content, make sure that it follows these guidelines:
1. Use Short URLs (That Use Your Keyword)
Although often overlooked, your URL is crucial for success.
Short URLs (especially those with your keyword embedded) can convey to a potential visitor about what your page is about. According to MarketingSherpa, short URLs get clicked 2.5x as much as long URLs.
Another study on on-page SEO factors by Ahrefs found that short URLs tend to rank better in SERPs.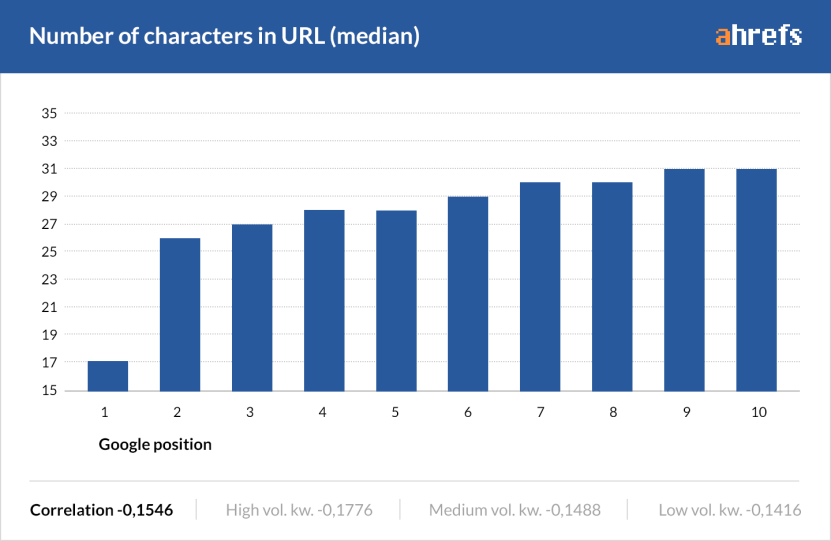 For example, look at this URL by Backlinko:

Even if you use longer URLs inside folders (such as "/blog/"), it's a good idea to make the URLs short and easy to read.
For example, look at the URL for Core dna's post titled "11 Deadliest Content Marketing Mistakes I See People Make":

2. Use "Power Words" in Your Headline AND Writing
Usefulness is an important criteria for long-form content success, but that doesn't mean your content has to be dry and emotionless.
In one study by CoSchedule, emotion-rich headlines get significantly more shares on social media.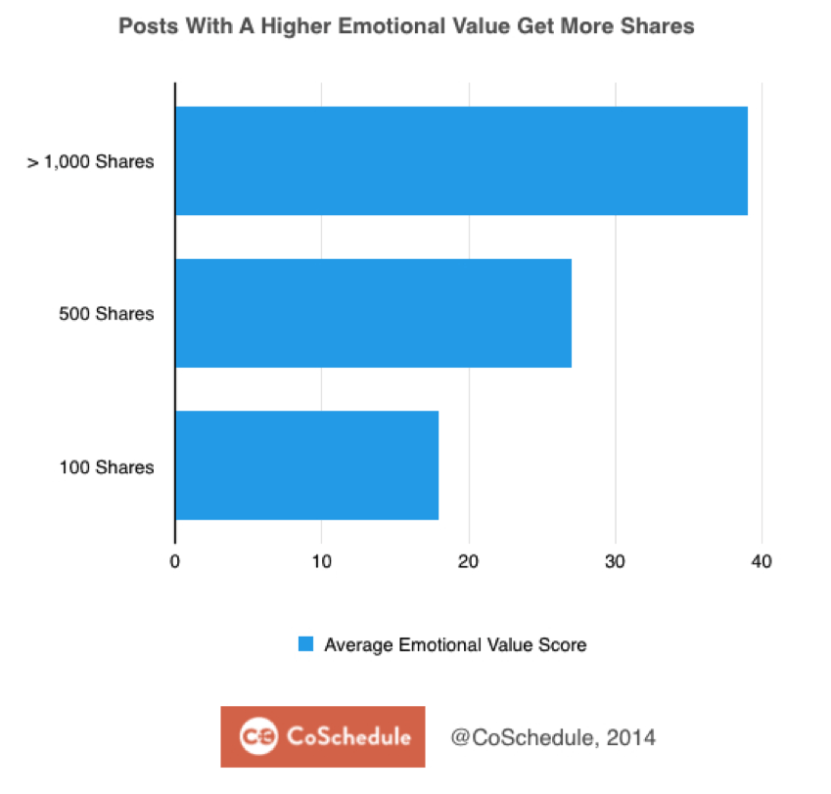 Let me put chart that into words; there is a direct link between the number of emotional words used in a headline and the likelihood it will be shared more than 1,000 times.
This shouldn't be surprising - human brains are hard-wired to respond to emotions.
When it comes to getting more shares, however, not all emotions are made equally. According to Buzzsumo, content that evokes "Awe", "Amusement" and "Joy" lead to higher shares.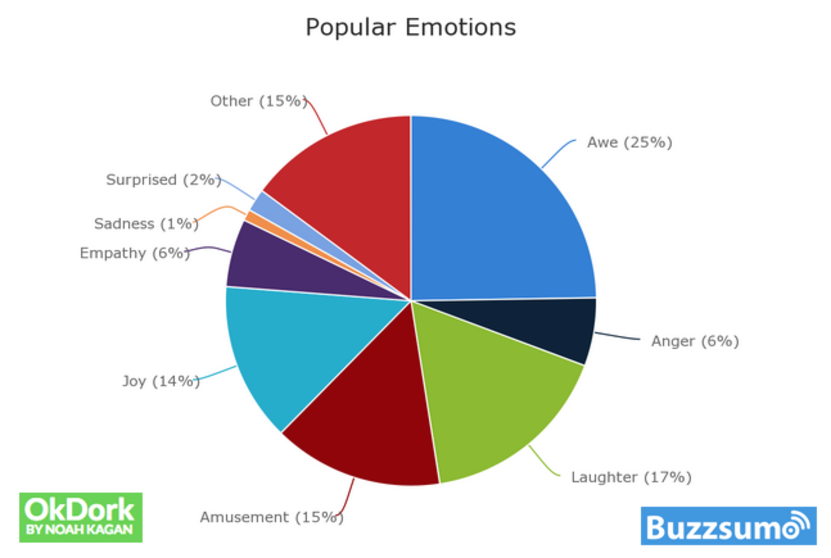 So how can you make your writing more emotion-rich without adding superfluous content?
Easy: through power words.
In copywriting, power words or "trigger words" are emotion-rich words that evoke specific emotions. These are usually words you don't use often in everyday speech (such as "devastating" or "mind-numbing"). This is why they grab the reader's attention in any long-form content piece.
For example, take a look at this article introduction from Jon Morrow of SmartBlogger. Notice the underlined words: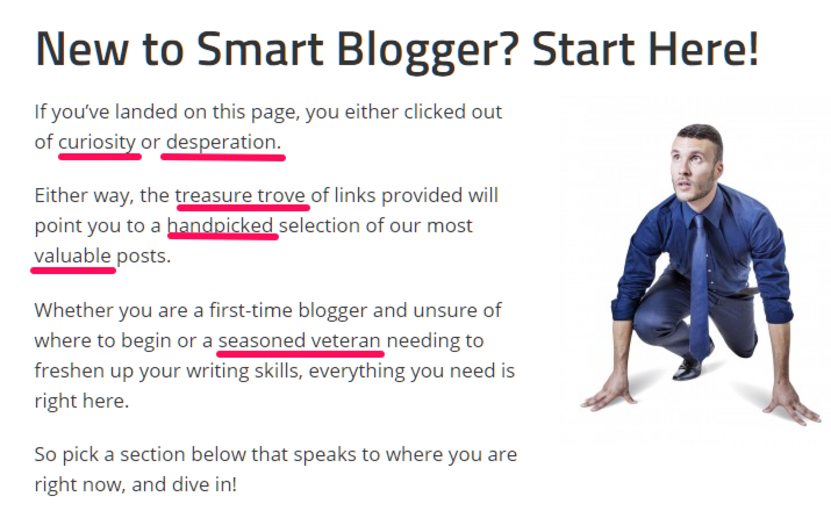 These are all emotion-rich words that amplify the impact of the content.
Here's a massive list of power words to get you started. Try using them in your headlines as well as your content body to increase the emotional impact of your writing.
3. Use (Odd) Numbers in Headlines
Your readers are always looking efficient ways to do things.
Appease to this instinct by using numbers in your headlines. This communicates that content is organized in a logical order, and if they want, they can skip it after reading a few points.
We've already seen that listicles are among the most shared content-types on social media.
According to a research by Conductor, headlines with numbers get far more shares than any other headline-type.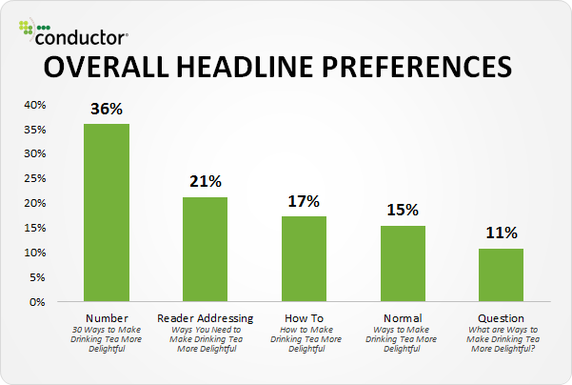 The effect is even more pronounced for female readers: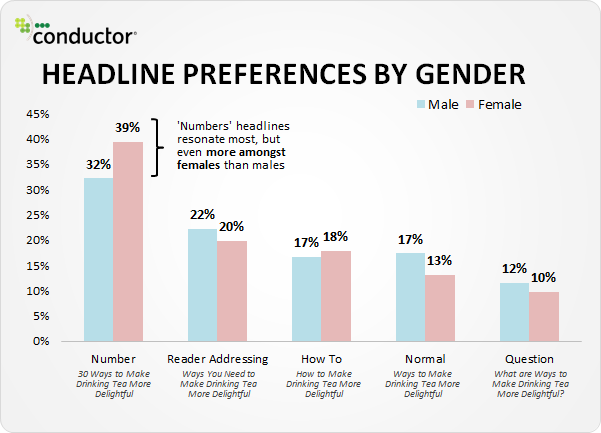 Surprisingly, headlines with odd numbers perform 20% better.
Check out the amount of odd-numbered headlines on BuzzFeed's page: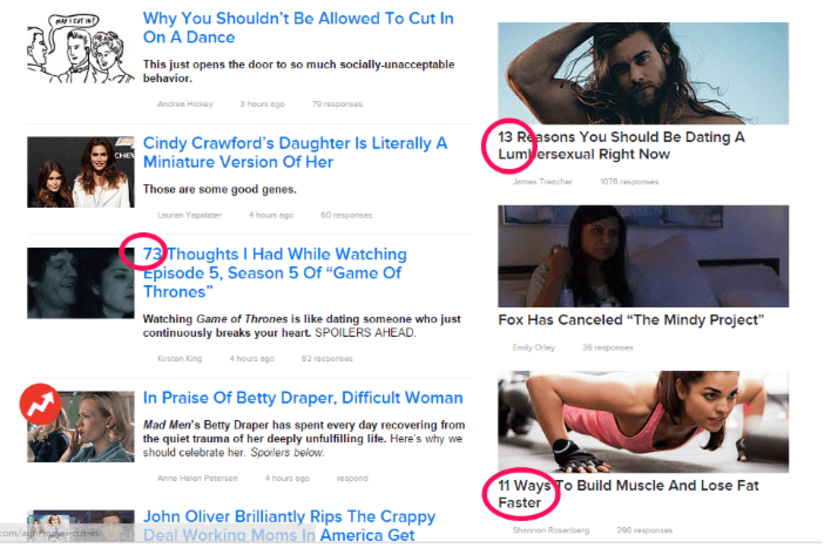 In fact, one researcher analyzed Buzzfeed's headlines and found that most of Buzzfeed's best performing headlines included odd numbers.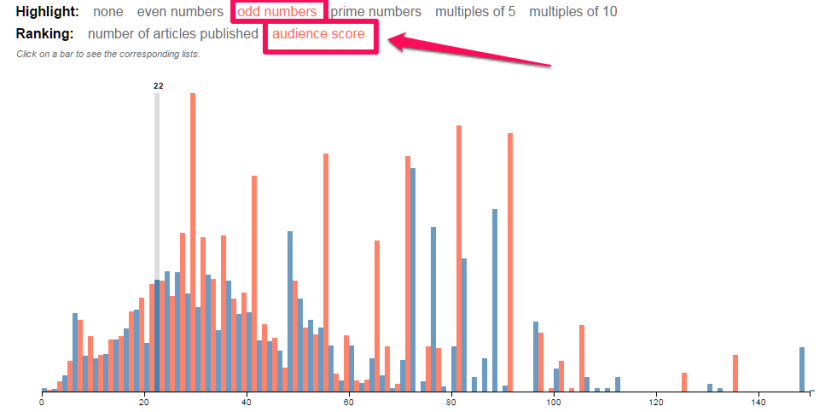 The takeaway: if possible, use numbers in your headlines, and if using numbers, make sure to use odd numbers.
4. Follow Through on What You Promise in Your Headline
"24 Melbourne is The WORST City in The World; #7 is The Absolute Worst"
And the piece goes on and talk about something like this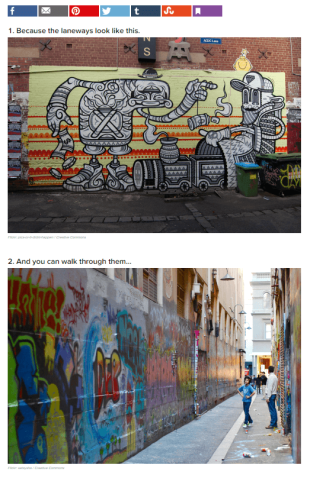 Damn you, Buzzfeed!
Here's a stat for you:
23% of consumers are likely to cease engagement with a brand after being misled by the headline and the actual content delivered.
So, if you're going to make a claim in a headline, you better follow through that claim.
Jason Quey says it best: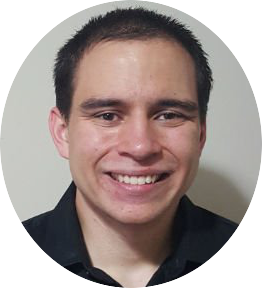 Jason Quey:

"Being in a constant state of anxiety, anticipation, disgust, .... can be crippling. Mind numbing, even.

Headlines and the copy can do that to people. How do you want to treat your readers?

More importantly… Is burning your reader's trust really worth that extra click?"

[via The Storyteller Marketer]
5. Use Floating Share Buttons
If you want your content to be successful, you need more eyes on it.
One way to achieve that is to get more people to share it through social media. The easy way to do so is through easy to use social sharing buttons.
Floating share buttons that scroll as your visitors browse increases social traffic by 27%
Here's how we use floating share buttons: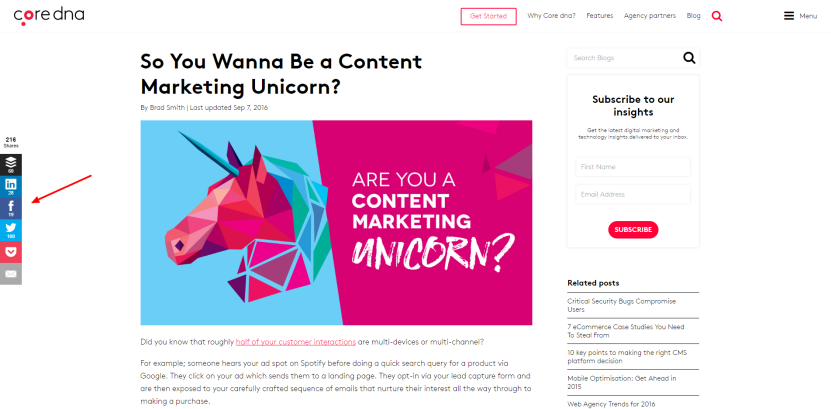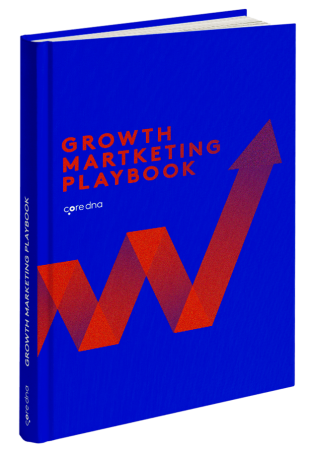 The ultimate growth marketing playbook
The exact 41 strategies we used to grow from 4-figure to 6-figure traffic in one year.
6. Use an Attention-Grabbing Introduction
Keep your introductory sentences short and to the point. This is the first thing readers will see when they land on your page; bombarding them with dense paragraphs will just overwhelm them.
For example, take a look at this paragraph from Backlinko: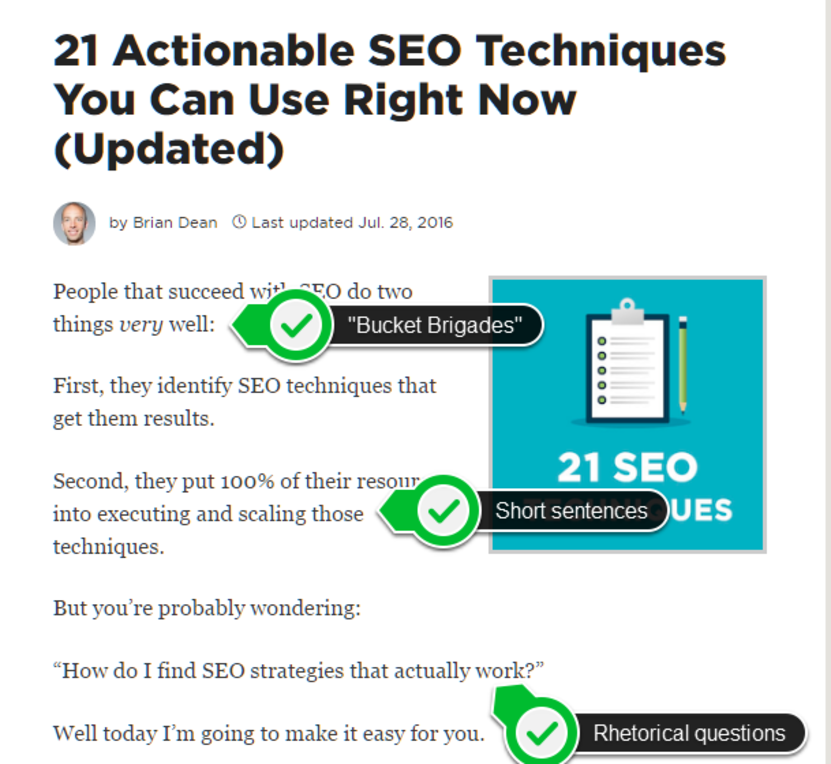 There are three tactics Brian uses to grab attention:
● Bucket Brigades: A copywriting tactic to keep readers interested. Essentially, it involves breaking an argument into smaller points using a colon.
● Short sentences: Brian often uses one-sentence paragraphs. The sentences themselves are between 4-12 words in length.
● Rhetorical questions: Brian uses rhetorical questions frequently in his writing to guide readers and make the content feel more like a conversation.
7. Make Your Content Scannable
Readers don't read online; they scan.
Eye-tracking studies by NNGroup prove this. Readers follow an 'F-shaped' pattern when looking at web pages, scanning down the page quickly.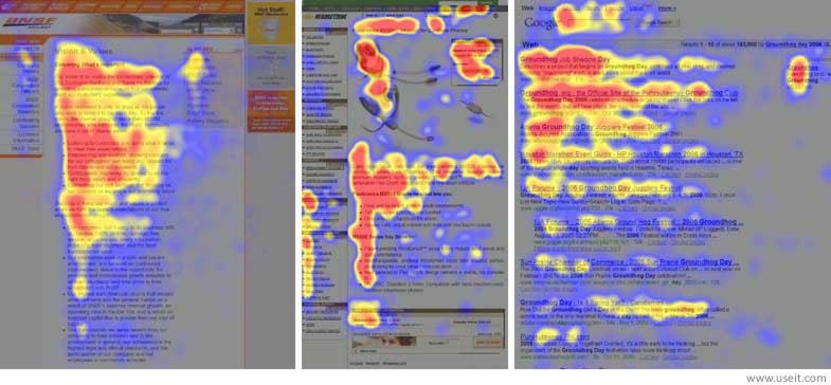 No matter how good your content is, only 20% of your content will actually be read on average.
This is why you need to make your content concise and scannable to ensure readers get all the important information without having to read the entire thing.
This means:
● Short paragraphs
● Short sentences
● Bullet points
● Items in bold
To give you an example, check out an excerpt of this blog post from QuickSprout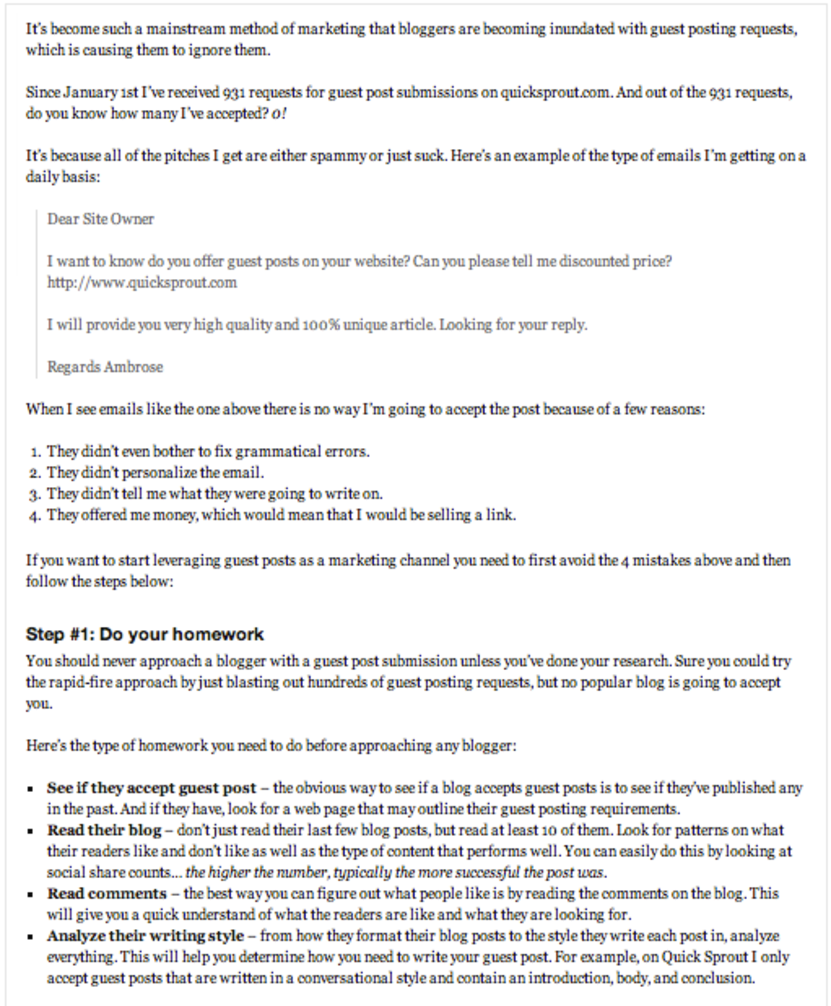 8. Use High-Quality, Relevant Images
It's not enough to tell people what they need to know. You also need to show them.
Your content needs supporting visuals whether they be images, graphics, or charts to perform better.
In fact, research by Backlinko shows that content on the first page of Google contains at least one visual.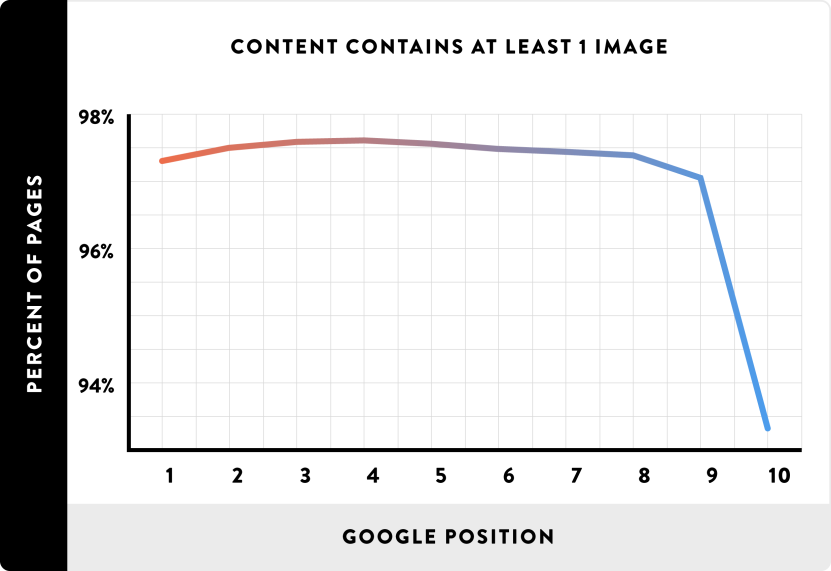 If you want more shares - 121% more shares (on Facebook) - you need to make sure that your visuals are also high quality.
Check how Contently uses a striking image in its content: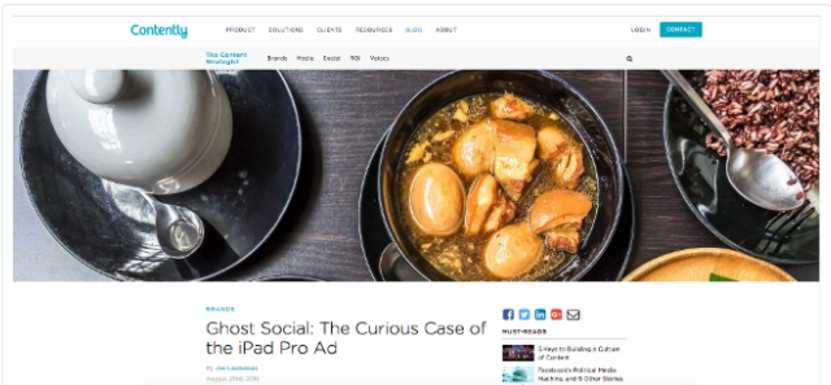 9. Link Out To Relevant Sources
The first rule of Essay Writing 101 is to never make a claim or assertion without backing it up with facts.
Any time you make a statement like "most people believe" or "studies show", include links to data, studies or authoritative sources backing up your claims.
This does two things:
● Increases trustworthiness: Research shows that readers are more likely to trust web pages that reference sources.
● Better for SEO: Google uses the Hilltop algorithm to find relevant documents as part of a larger search algorithm. As per Hilltop, pages that act as "hubs" and link out to a lot of sources are given higher priority. While not significant by itself, linking out to sources can have an effect on your rankings.
10. Embed Interactive Content
One easy way to boost your engagement rate and increase average time on site is to embed interactive media into your content.
This can be anything - an embedded Tweet, YouTube video, Instagram post, poll, quiz, etc. Anything that gets the reader to press a button, click a link or perform an action will increase your engagement rate.
For example, Buzzfeed frequently embeds Instagram and Twitter updates in its posts, instead of using screenshots: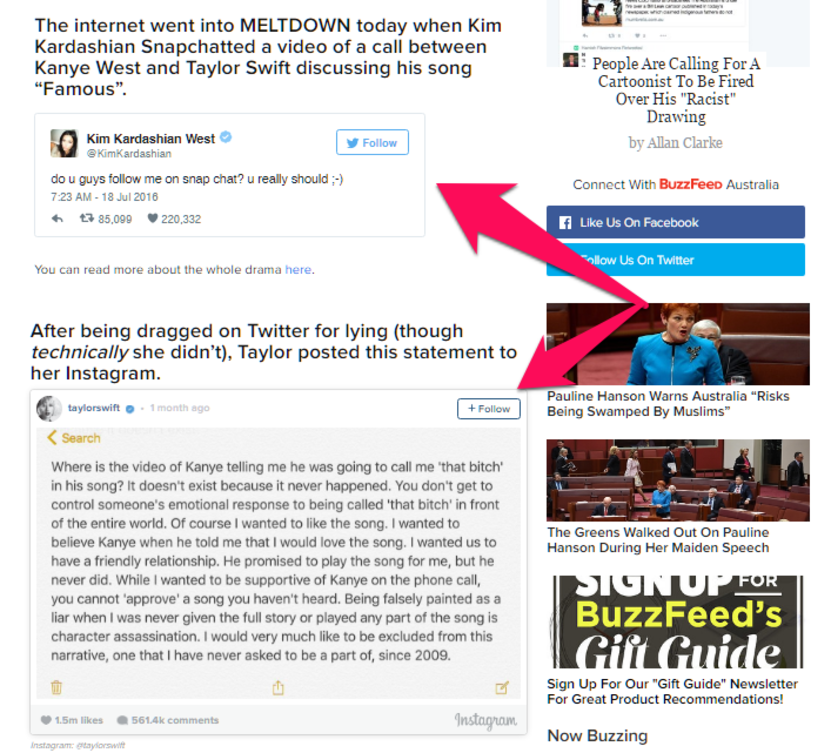 You can do something similar by finding YouTube videos supporting your argument or embedding tweets from influencers in your content.
This makes your content more interactive and encourages clicks - great for boosting your engagement rate. In fact, Demand Metric found interactive content drives 70% more conversions over 'passive content'.
11. Close With a Clear CTA
Every piece of content you create should have a clear call to action.
This can be anything - a question that prompts discussion, a request to share the post, a link to download a file. You don't want to write a 5,000-word post and then make readers wonder what's expected of them.
For example, Backlinko includes a clear CTA with a "can't-miss-it" content upgrade download button: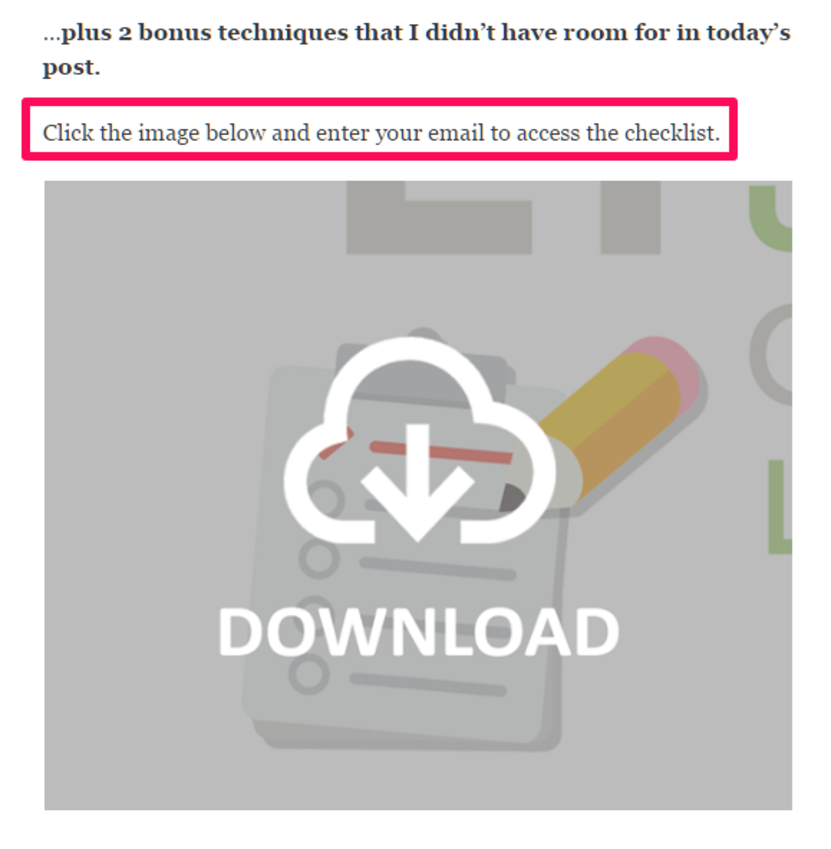 On SmartBlogger, Marsha Stopa includes a clear CTA asking readers to "drop her a note".

As with most CTAs, make sure that your call to action is clear and highly specific.
For instance, if you want more comments, use a CTA like "what do you think? Let us know in the comments". If you want readers to download a content upgrade, use a phrase like "download this cheat-sheet to boost your ROI by 20%".
The good guys at Grow & Convert estimates conversion rates for certain CTA locations:
● Sidebar: 0.5 - 1.5%
● Generic, end-of-post: 0.5 - 1.5%
● Pop-ups: 1 - 8%
● Sliders and bars: 1 - 5%
● Welcome gates: 10 - 25%
● Feature-box: 3 - 9%
● Navbar: varies
For your viewing pleasure, we created this infographic that summarizes all the 11 key ingredients. (Tweet this infographic)

Short vs. Long-Form Content: Which To Use, When, and Why
Before I show you a few examples of stellar long-form content, I want to dispel a few beliefs about short content and how it performs against long-form content.
First off, let's get some facts out of the way:
● Organic traffic drives 64% of all web traffic (2014 study; this figure might have changed in favor of social recently).
● The first 3 results in SERPs get nearly 60% of all organic clicks.
● Long content ranks better in search results, as seen above.
The lesson: If search is a major source of your traffic, focus on creating longer content.
However, the correlation between content length and social shares isn't quite as compelling. While longer content does get more shares, the effect isn't strong enough to warrant longer content for every topic.
Here's the graph again to save you from scrolling up: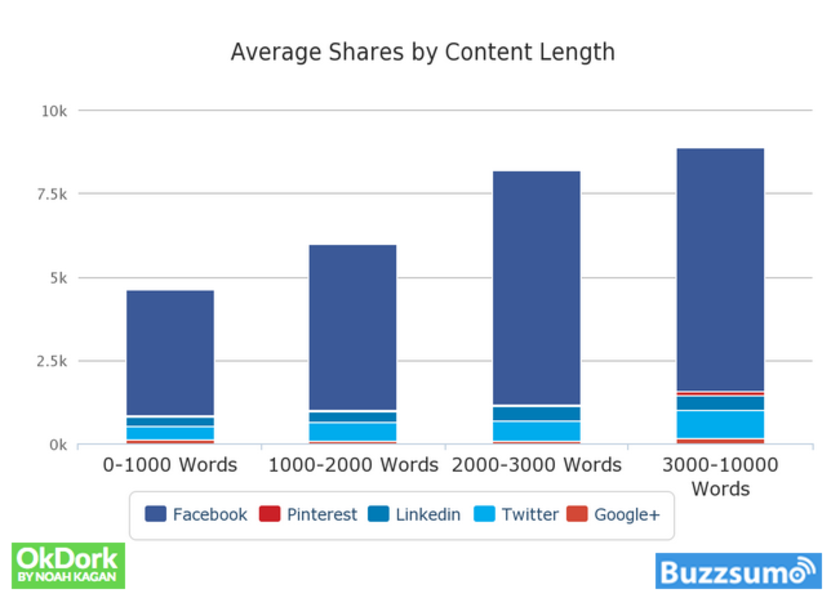 Then there's also the fact of reader fatigue.
A study by Medium shows that reader interest peaks at around 7 minutes. At an average reading speed of 250 words/minute, that comes out to 1750 words.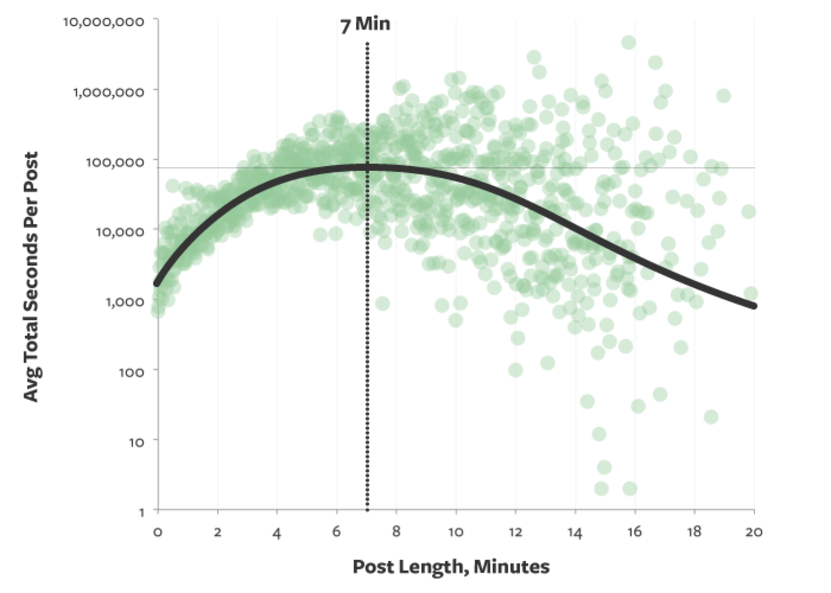 More importantly, Medium shows that when it comes to engagement, the difference between shorter and longer content isn't massive.
There is, however, a massive difference between writing a 5,000-word post and a 500-word post. As Buzzsumo shows, a post between 3,000-10,000 words will get nearly twice as many shares as a post under 1,000 words.
You have to ask yourself: do my budget and time permit me to write 5,000+ word posts consistently? Or would it be better to write 5 x 1,000-word posts?
Understand that there is no one size fits all strategy when it comes to short vs. long-form content. Either (or both) can work depending on your target audience, target topics, and existing distribution platform.
In a nutshell:
● Focus on long-form content if you want better rankings and have no organic distribution network.
● Focus on short-form content if you have a lot of existing social media followers, influencers, etc.
For most businesses, the best strategy would be to mix-up short and long-form content and see what works.
3 Examples of Great Long-Form Content (And Why They Are So Great)
The best way to create stellar long-form content is by following what other people are already doing successfully.
On that note, here are a few great examples of effective long-form content:
Long-Form Content Example 1: The AI Revolution: The Road to Superintelligence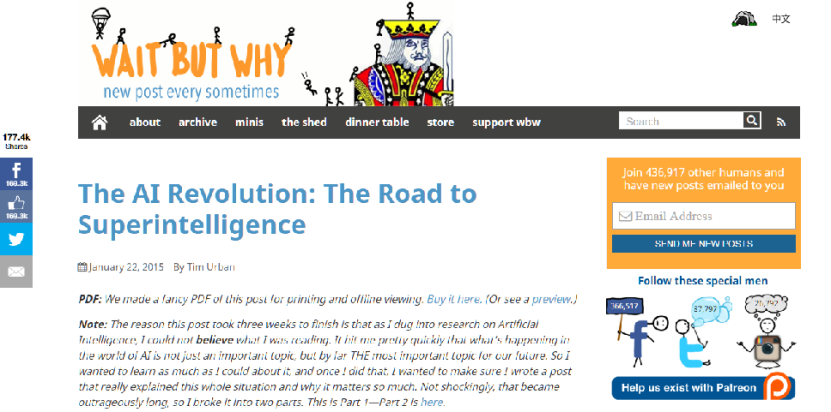 On paper, this article shouldn't work. At over 7,600 words, it is too long and the topic it tackles is nothing close to cats or the internet's latest obsession.
Yet, it has been shared over 177,000 times (not a typo) and helped Tim Urban, the author, land speaking spots on TED.
Although this is non-commercial content, there are a few reasons why it works:
● The writing is easy to read, well-sourced and offers an expert-level understanding of the topic in a beginner-friendly format.
● Frequent use of visuals break the monotony of text and add a dash of humor to an otherwise technical topic.
● The content is long and offers a complete understanding of a complex topic.
(Plus, notice the floating sharing buttons to the left of the page!)
Long-Form Content Example 2: The Advanced Guide to Content Marketing - Quicksprout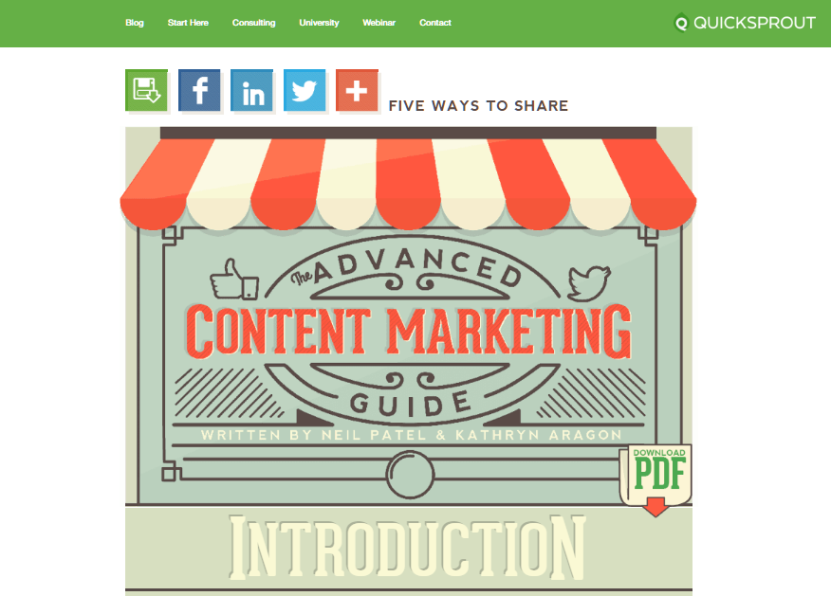 At over 30,000 words, this guide is easily much, much longer than a conventional long-form piece. It also covers too broad a topic - content marketing.
However, the sheer depth and quality of this piece have helped it earn over 3,380 links from nearly 700 domains.
There are a few obvious reasons why this content works:
● It's written from an expert's perspective. Instead of generic tips and ideas you can gather from any post, it offers insight from real-world campaigns and experience.
● The design and formatting make complex ideas easy to scan and follow.
● The content is ungated; a reader can read the entirety of the content without filling a single form.
Long-Form Content Example 3: 21 Actionable SEO Techniques You Can Use Right Now - Backlinko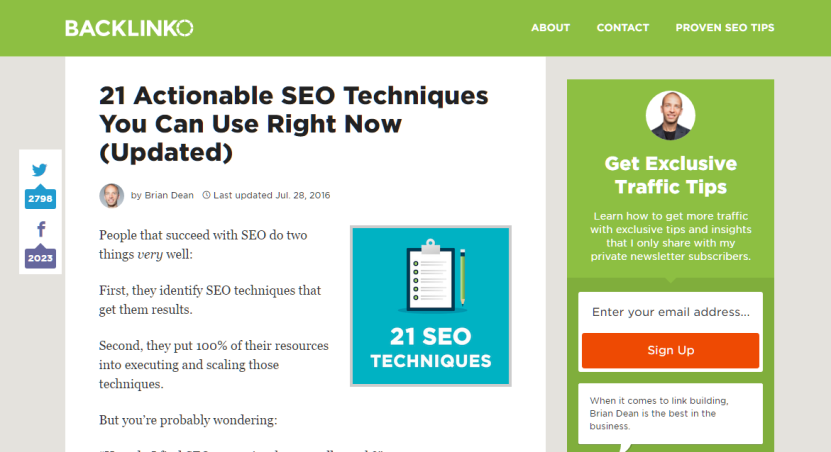 This is the perfect example of long-form content done right. At nearly 4,900 words, it is neither impossibly long (like the Quicksprout piece above), nor short enough to be beaten by competitors.
If you can model your B2B content on this post, you'll have an easy time attracting links and traffic.
Here's what makes it work:
● List format makes the content easy to read (plus, notice the floating sharing buttons)
● Visuals (images, screenshots, etc.) used throughout the post help illustrate complex ideas and break the monotony of text.
● Narrow post topic ("SEO techniques") that allow Brian to show-off his expertise.
As you surf the web, make note of content you've bookmarked or keep visiting from time to time. Ask yourself: what makes these content pieces work? What topic are they tackling? How long is the content?
Once you start doing this, you'll realize that most effective long-form content pieces follow similar formats. If you can follow the same in your posts, you'll see a constant stream of traffic, shares, and backlinks.
Watch video demo
Over to You
Successful long-form content can give your marketing a massive boost when done right. Creating such content, however, requires time, resources and expertise.
Follow the tips and tactics mentioned above to create content that works across industries and audiences.
Here are your next three action steps after reading this post:
● Brainstorm evergreen topic ideas and choose a compatible format
● Create an outline and either write the content or outsource it
● Develop a distribution strategy to promote this content