Multiply Your eCommerce Revenue With Multi-Channel Selling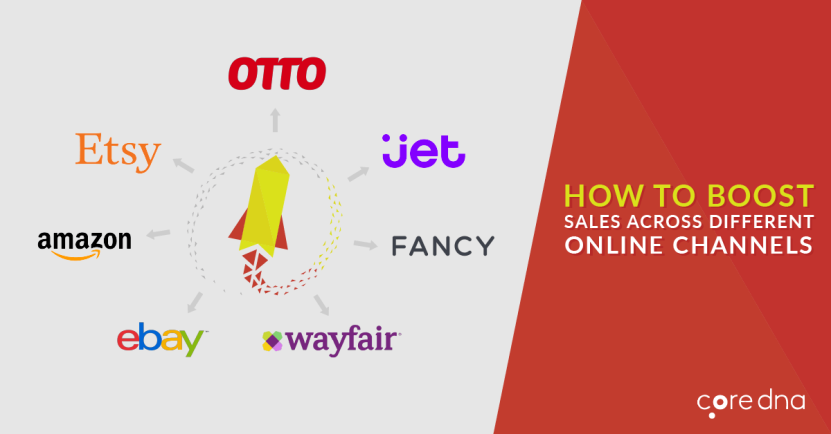 75% of shoppers browse for items online while shopping in stores.
Why?
They're price checking. They're looking to see if they can get it online within a few hours or days at the most.
They're usually not looking at the brand's website, though.
They're looking at Amazon or Otto or Etsy or Wayfair.
Placing products in these places sounds obvious. But there's also some data that supports the extra effort.
In a recent study, inventory management software company Stitch Labs found that retailers who sell on even just two separate online marketplaces see a 190% jump in revenue over those who sell in just one.
SAP confirmed the positives of multi-channel marketplaces.
Of the companies surveyed, almost 75% said that using a multi-channel system has increased sales, 64% said it upped customer loyalty, and 62% said it gave them a competitive advantage.
That said, listing on several multi-channel marketplaces doesn't come without its logistical challenges.
So what makes multi-channel worth the expense? Why is it such a necessity for online retailers?
Why go multi-channel with marketplaces
Multi-channel shoppers shop more. Plain and simple.
Nearly 50% of consumers who engage with their favorite brands on ten or more channels will buy from them at least once a week. That number dips to 21% if they use four or fewer channels.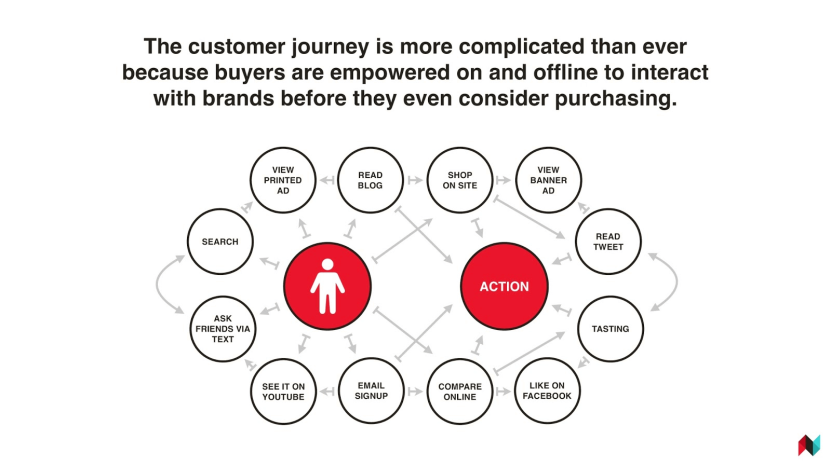 As you expand into additional channels and marketplaces, you'll meet people all along the customer journey who just might need exactly what you're selling.
Here's where it all starts.
30% of product searches begin on Google. While another 44% spill over into Amazon.
Currently, Amazon is home to around 2 million sellers. This single marketplace offers businesses 109 million unique monthly views.
A big chunk of that audience is made up of Millennial shoppers, who spend over $200 billion online each year. 19% of the 80 million U.S. Millennials have an Amazon Prime account.
Because it's awesome.
But broadening your online presence to additional sales channels can do more than just increase your sales numbers.
There are many pros to adding new opportunities and outlets to your sales process.
Get new customers: No one shopper is the same as the next. Some will start their shopping experience with a Google search, some will come straight to your site, and some will use Amazon. If you up your options for buyers to find you, you up the options for buyers to buy from you.
New revenue sources: New buyers means new money. According to Stitch Lab, if an online retailer sells on at least one site in addition to their own, revenue will increase by 38%. Add one more, and that number jumps to 120%.
Reduced barriers to entry: No need to wait for the paint to dry on your new brick-and-mortar store. Setting up the additional channels online is much easier, and much, much cheaper.
Obviously, multi-channel marketplaces can pay off handsomely. If you know how to get started, that is.
How to maximize your multi-channel strategy
Multi-channel selling can be effective, but it's not foolproof.
It takes some organization and coordination to make sure the channels are working to your advantage and keeping your customers happy.
Here are some tips to make that happen.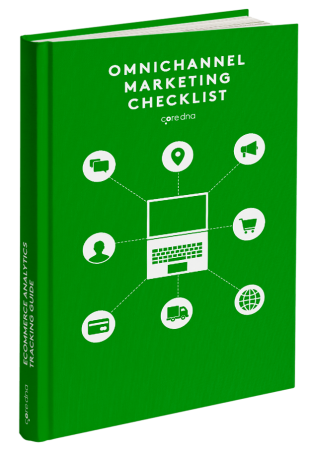 Bonus material: 17-step checklist for omnichannel marketing success


[Multi-channel strategy #1] Start by prioritizing channels
Not all marketplaces are created equal when it comes to what will work best for your brand.
Each one also has their own unique quirks. Each has their own payment terms and inventory-control guidelines.
So choose wisely.
Amazon might be at the head of the pack, but it also comes at a cost.
It's also important to consider which channels you want to use from a variety of angles:
Can your brand still be on message and reach your target customer base?
Is delivery cost-effective?
Do margins and payment-terms work?
Does the volume of customers make up for the first three issues?
For example, wallpaper design and decor company, Walls Need Love, works through this process when deciding on potential new online marketplaces to sell their goods.
Right now, they are on quite a few, including Etsy, Jet, Wayfair, Amazon, and Fancy.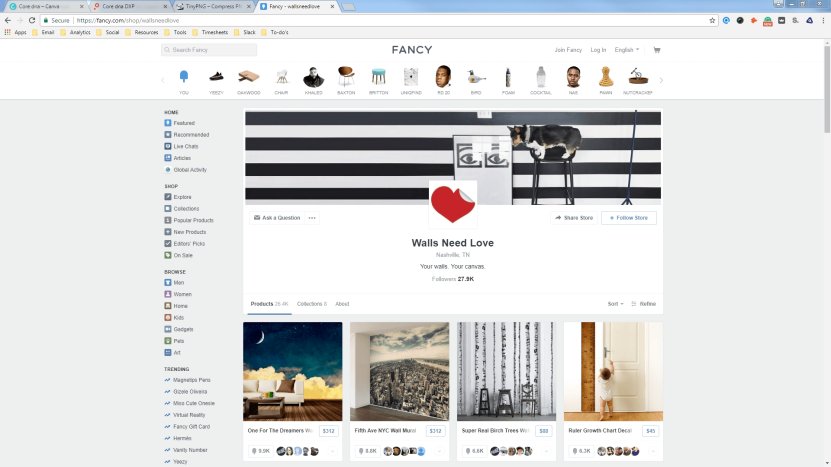 However, they purposefully don't go after some of the big-box retailers.
"There are some that are too big for us right now," said Walls Need Love's VP of Marketing, Elizabeth Moore. "We have to consider whether or not we think they reflect our brand."
Walls Need Love doesn't want to get lost in a sea of products at a big-box retailer. And they can't afford aggressive discounting or payment terms over 45-60 days.
Once you figure out which channels are right for you, spend some time pinpointing the audience on each one.
A better understanding of your customer on each platform will help you plug into what they are looking for, their values, and how they like to make online purchases.
For example:
Is your audience into local, handmade goods? You might go with Etsy.
Do they want quick delivery? Amazon.
[Multi-channel strategy #2] Integrate inventory & operations
With great power, comes great responsibility.
When you add more channels, you have to add more coordination to deal with the logistical challenges.
This starts with constant inventory monitoring. More opportunities for sales means more opportunities to oversell or become short-stocked.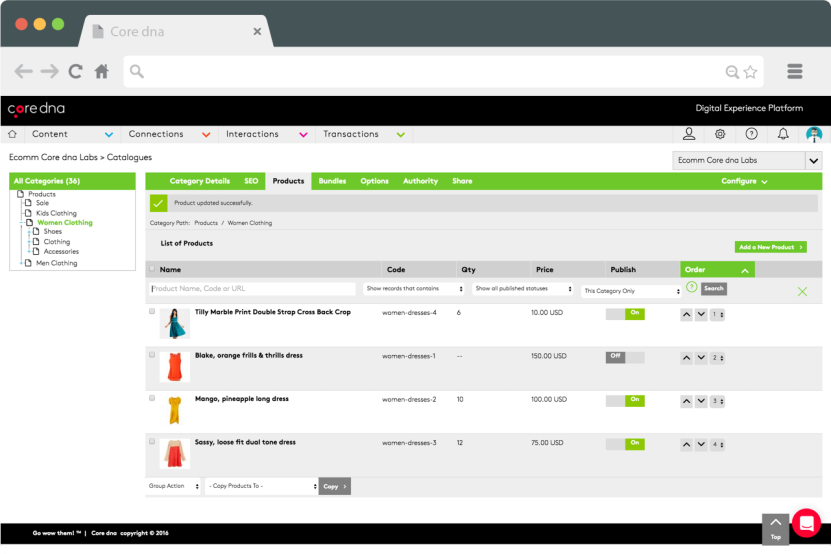 Syncing up inventory helps alleviate these issues by centralizing your operations for all channels. Multi-channel selling software like ChannelAdvisor, Ecomdash, Stitch Labs, and Sellbrite, allows companies to integrate their inventory while also managing accounting, shipping, and fulfillment.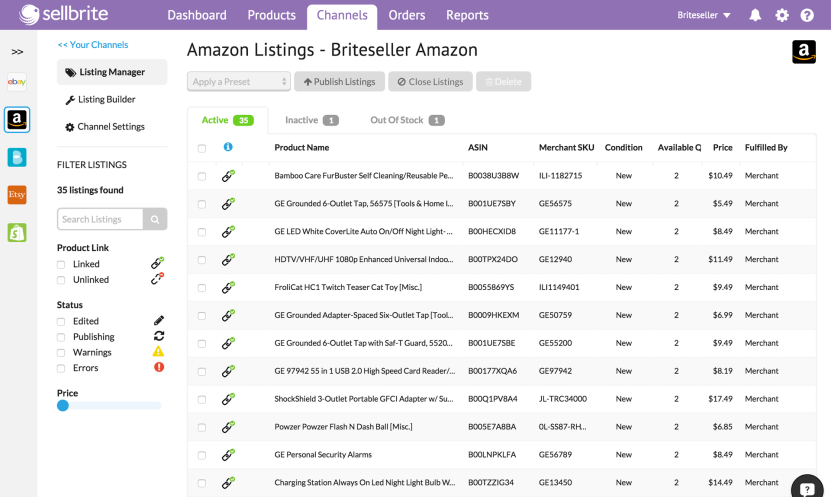 Making sure all your systems are a go are critical to quality customer service, and keeping them, too. The best channels are only as good as the product coordination behind them-- a poor shopping experience could cause a bad rating or review and a loss of loyal customers.
Around the world, businesses lose around $634 billion just by frustrating customers with out-of-stock items. If they go the other way and overstock, they lose $472 billion. This comes out to $1.1 trillion in annual lost revenue, just because of lackluster inventory operations. Selling the same item on multiple channels isn't going to make things any easier, but that doesn't mean you have to shy away from a multi-channel strategy in the name of stable inventory. By using adequate inventory-management systems, you can alleviate these issues and keep all of your customers happy.
Not fully convinced? Here are a few more reasons why it's a good idea:
No more overselling: With constant inventory updates, you know what's in stock in real time. This means, even if two buyers are looking at the same product across different channels, the numbers are accurate.
Managed re-order levels: The software will help come up with how much to reorder and when, and coordinates with the supplier. No more overstocking.
Time & money saver: Managing each site separately while also hoping you've accounted for all inventory can be a time-suck. You could be doing other things, like thinking up new ways to boost your sales.
Less opportunity for human error: Automation and centralized processes means you cut down your chances for something to slip through the cracks.
Access on the go: Inventory-software systems are now more likely to be cloud-based, so you can manage and keep track of sales and product numbers. This will also allow you to make sales offsite, like at a trade show or event.
[Multi-channel strategy #3] Centralize data
Coordinating inventory and logistics starts with centralized-data management.
Running from channel to channel to get this information is a waste of time and opens the door for errors. Instead, all Point-of-Sale data needs to flow back to one foundation.
For example, reporting tools that allow data to be in one place will help you make better decisions on purchasing, which decreases the potential for miscommunication and inventory errors.
"The age of the digital consumer has led to a massive data explosion, leaving a sizable opportunity for retailers," said Wiser Pricing Strategist Nick Dzienny. "The key to making sound decisions based on this data, however, will require accurate information, to begin with. While having a well-cataloged database of product information (like UPCs, model numbers, part numbers, etc.) will greatly impact your repricing experience, making sure you're collecting accurate and organized consumer data will have a similar impact on how you interface and implement the wide range of analytics tools available to retailers today."
Centralizing POS data from several different marketplaces requires one thing: a CMS that integrates seamlessly with each.
Your primary store needs to work across all payment gateways and marketplaces, so data is synced, shipping is a breeze, and the customer experience doesn't become disjointed in the process.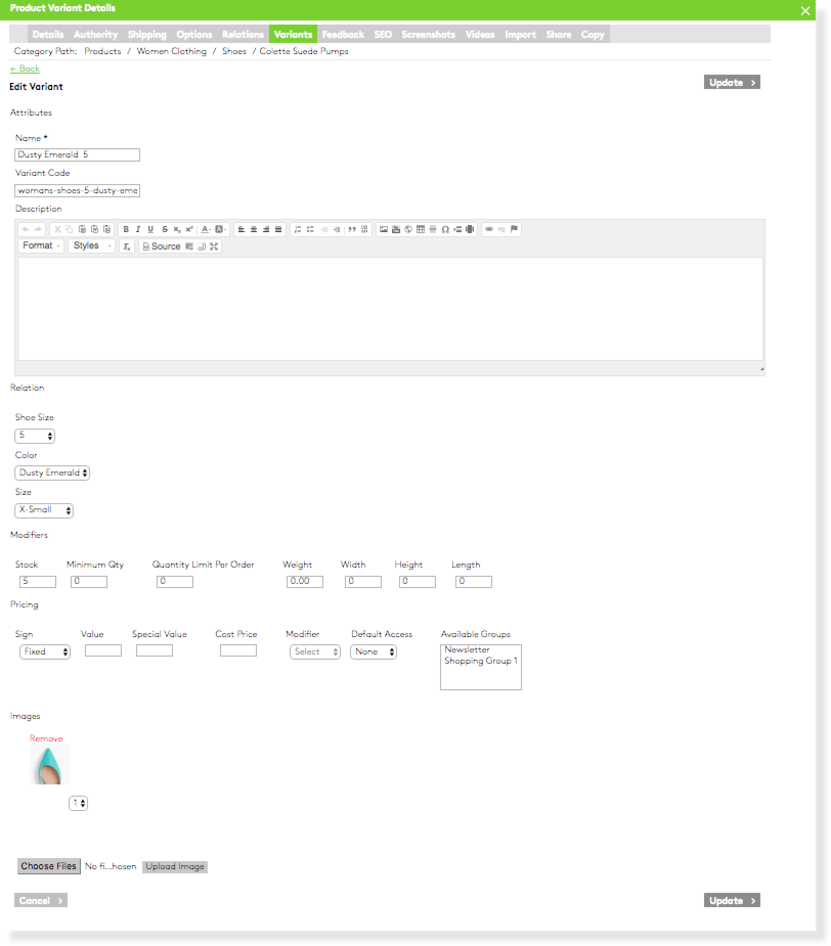 [Multi-channel strategy #4] Optimize marketplaces for sales
Just simply joining marketplaces doesn't mean that sales will materialize overnight.
You'll still need to test, tweak, and optimize to drive results.
For example, Walls Need Love discovered that light and airy posts work best on Pinterest and Instagram. Those posts received the most engagement and interactions that led to sales.
So guess what they did on their marketplaces?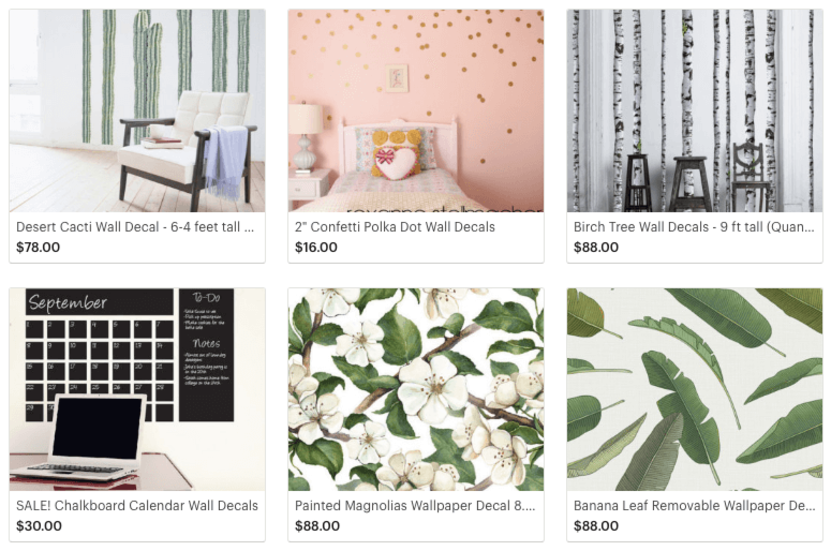 They went with light and airy!
Start with quantitative data, but don't neglect real feedback, either. Data can be wrong, too.
Getting some qualitative, real-people information from your customers should also be a part of your strategy.
This means asking them what they think: surveys, follow-up emails, satisfaction ratings. Combine these findings with the raw numbers to make sure what you're doing is effective.
Google Consumer Surveys allows you to reach new potential customers. Best of all, you only pay based on each completed survey.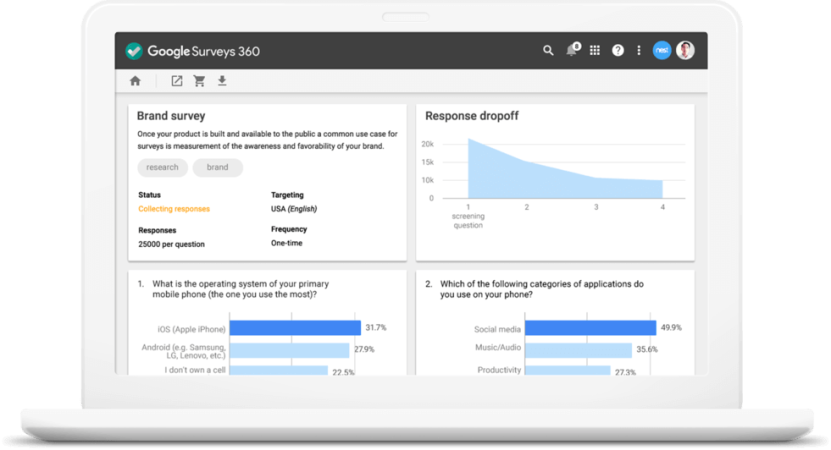 User Testing is most commonly used to test website experiences or software apps. But you can also apply it your marketplace presence.
You can specify your exact customers and get real feedback on why (or why not) your products look appealing next to the competition's products.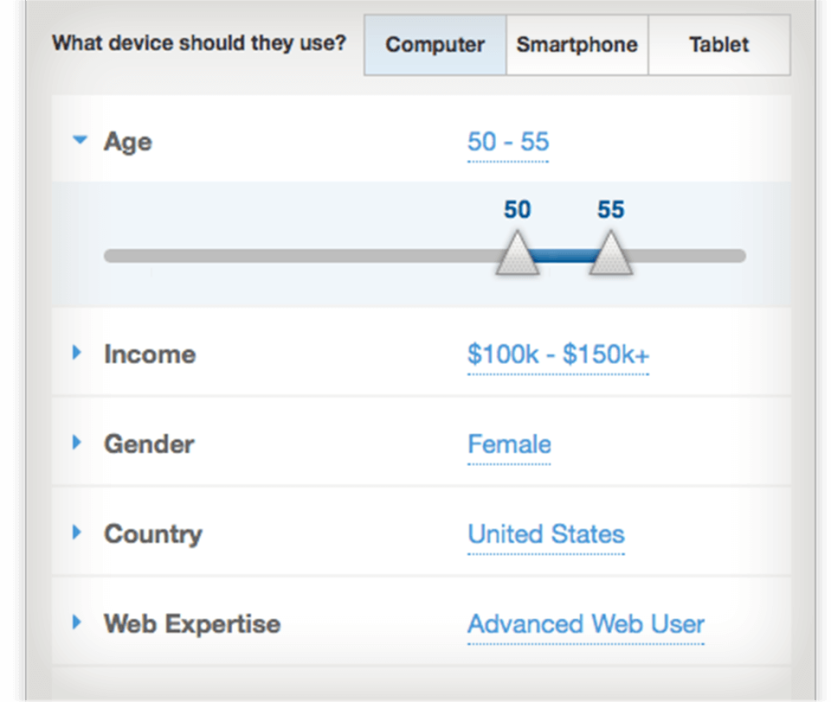 If you already have a small audience, email services like MailChimp can help you segment customer groups through the channel they buy from, or any other indicator you want to use: what they buy, how much they buy, when they buy, etc.
Not only can you use this to gain feedback from these groups, but you can use it to tailor your content to specifically target their buying behavior. Synchronized and targeted multi-channel marketing will enhance the customer experience and aid your sales.
Conclusion
Expanding into multiple online marketplaces may seem overwhelming at first.
There's a lot of moving parts and variables to consider.
Which channels will be best for your brand? What works best for your customers? How can you manage the increased inventory and data needs?
Luckily, with a little management and centralization, you can reap the rewards of multi-channel. You should almost always see higher visibility, a larger customer base, and of course, more sales.
Diversifying selling options is the name of the game these days, not because it's cool or trendy, but because that's how your customers are already shopping.
Giving your customers more opportunities to buy with online marketplaces makes sense and cents.
Marketing isn't just PR or advertising. Marketing is also distribution.
And today, distribution means making your product readily available where people expect to see it.
Like Google Shopping, Amazon, Etsy, Jet, and more.
inline form