How to Run an eCommerce Subscription Service: The Ultimate Guide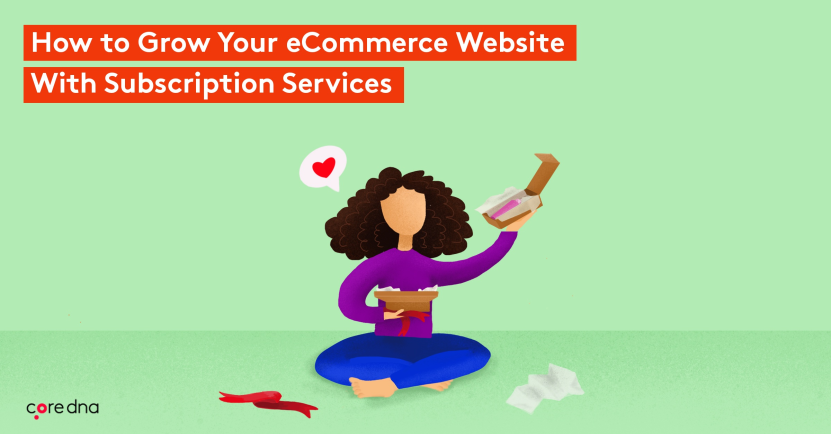 In this post, we're going to dive deep into the ins-and-outs of starting, running, and scaling an eCommerce subscription business.
You'll learn:
How to get started in eCommerce subscription business (on top of your "regular" eCommerce business model)
How to choose the different types of subscription model
How to run and scale an eCommerce subscription business
And lots more
Let's dive right in.
Want to run and scale an eCommerce subscription service? Here's what you'll learn in this article:
What is an eCommerce subscription service?
The eCommerce subscription model is a business model in which a company provides ongoing services on a regular basis in exchange for regular payments from the customer.
The subscription model isn't exactly anything new; many agree the approach dates back to the days of Gutenberg and the printing press.
Even throughout the 20th century, we saw subscription-based services (such as newspapers, magazines, and cable TV) thrive.
But, as we've seen in recent years, the subscription model isn't just for these more "traditional" niches. Nowadays, companies in the fashion, entertainment, and even food industries adopt this approach into their overall operations.
The success many of these companies have experienced as of late is nothing short of staggering. According to data collected by McKinsey in 2018, the largest subscription-based companies generated $2.6 billion in 2016 (as compared to only $57 million in 2011).
This drastic increase can be attributed to the fact that nearly half of all consumers have hopped on the subscription service bandwagon: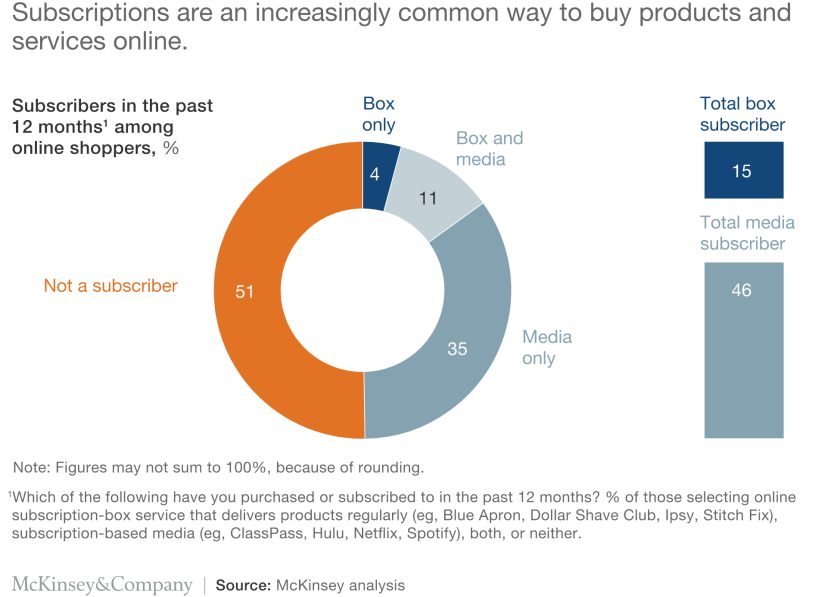 (Consumers are jumping on the subscription service bandwagon)
The 3 most common types of subscription service
As the above graphic hints at, different companies offer different "types" of subscription services based on their industry, target audience, and other such factors.
The most common types of subscription services offered are:
1. Replenishment subscription service
Replenishment subscription services provide regular, recurring deliveries of consumable products to consumers.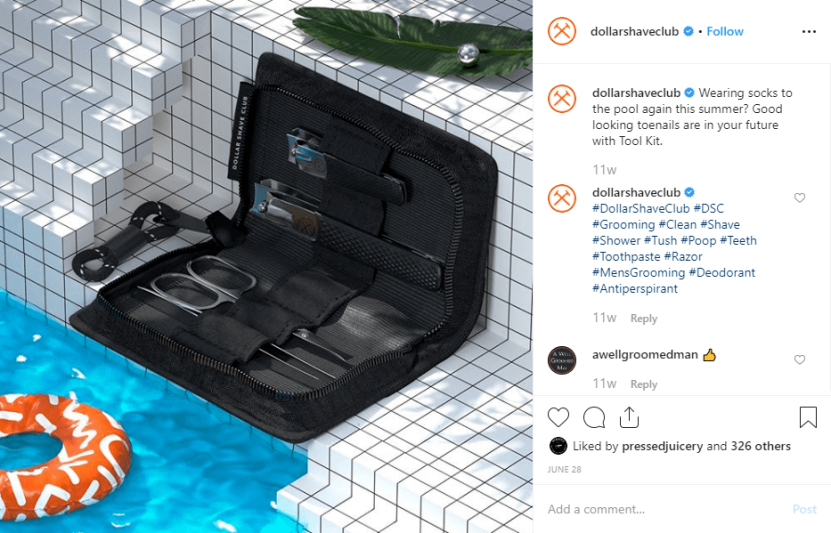 (Replenishment subscription service example; Dollar Shave Club)
Typical products that are offered in this manner include razors, toiletries, and food or groceries. Dollar Shave Club, Amazon Subscribe and Save, and Misfit Market are examples of replenishment-focused subscription services.
2. Curation subscription service
Curation subscription services provide collections of products to individual recipients based on their unique needs and tastes.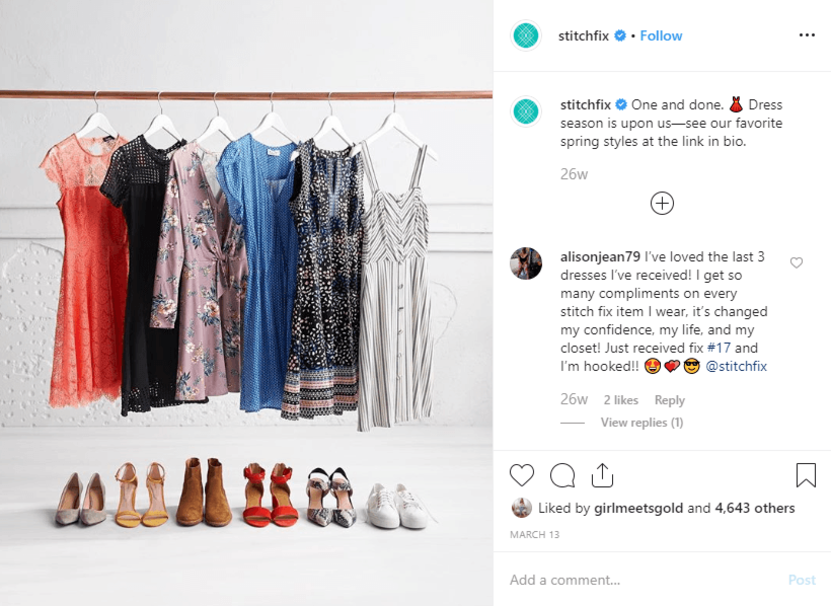 (Curation subscription service example: Stitch Fix)
For example, Stitch Fix sends subscribers a monthly selection of clothing and fashion-related items, while Loot Crate offers toys, games, and gadgets for self-proclaimed "nerds" (Loot Crate's words, not ours).
On-demand entertainment services can also be classified as curation services, as they provide collections of movies and TV shows all in one place for subscribers.
3. Access subscription service
Access subscription services operate in the same way as Costco and other such "warehouse clubs," in that customers must purchase a membership in order to have access to the company's products.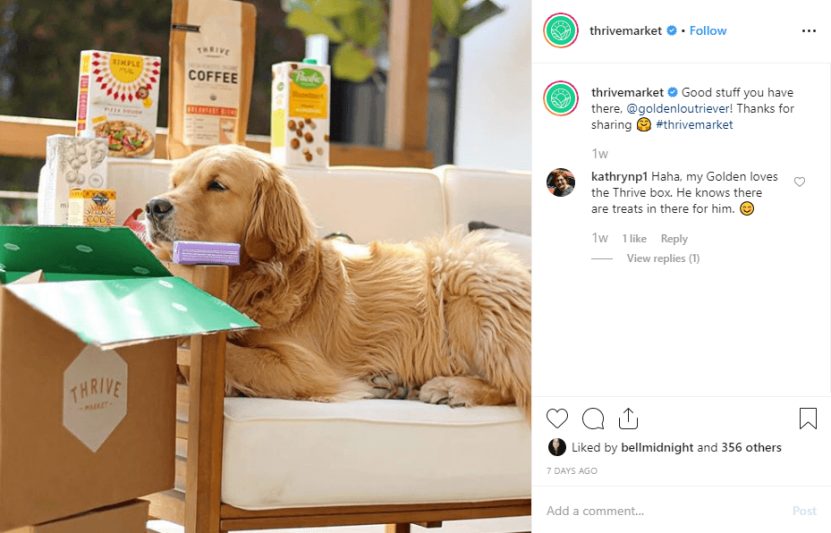 (Access subscription service example: Thrive Market)
Typically, the items being sold are offered at a hefty discount (making the membership worth the price of admission). Thrive Market, which sells natural and organic food products, is an example of an access service.
Again, a variety of factors play into which approach will work best for your company. We'll come back to this in a bit.
First, though, let's discuss the key benefits of developing a subscription-based service into your overall business model.
The benefits of running an eCommerce subscription service
As the revenue numbers we provided earlier show, providing subscription services to your customers can be incredibly beneficial for your business.
1. Increased retention
Firstly, offering a valuable subscription service will increase your ability to retain your customers over time.
Basically, consumers subscribe to such services knowing that they'll continue to receive more and more value from them as time goes on.
For example, Stitch Fix provides clothing items to subscribers based on the individual customer's feedback.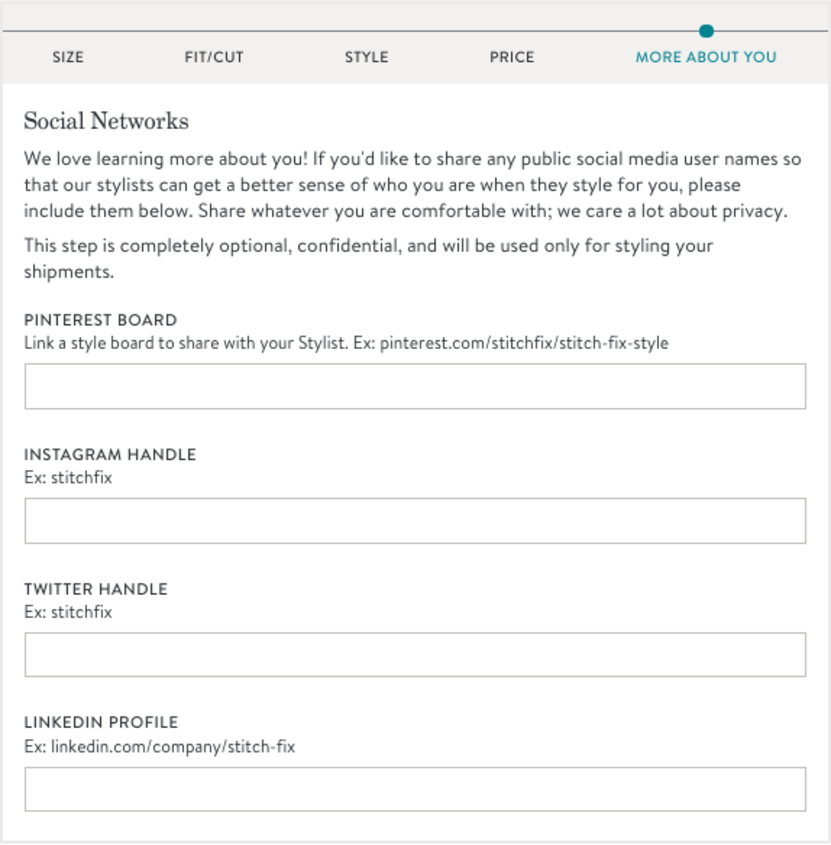 (Stitch Fix's customer onboarding questionnaire)
As the company learns more about the individual through ongoing interactions with them, the suggestions provided become even more specific to the customer's style. In turn, Stitch Fix can continue to increase the value of its offering every month a given customer stays on board.
2. Improved forecasting
Running a subscription service can also improve your ability to forecast future sales and revenue numbers.
You'll likely have those customers who will subscribe to your services for months in advance (e.g., purchasing a year-long subscription upfront); this guarantees you'll have them on board for at least this agreed-upon period of time.
Secondly, though not guaranteed, you'll still be better able to predict how long a given subscriber will stay on board than you might have when offering one-off products or services.
Additionally, you'll also be better able to make predictions related to inventory and fulfillment:
Since many of your customers will likely subscribe for months of your services in advance, you'll have a clearer idea of the minimal amount of product you'll need to have on hand at a certain point in time.
3. More engagement opportunities
Having your customers subscribe to your ongoing services also means you'll have a ton of opportunities to engage with them throughout their subscription period.
For companies that provide ongoing services throughout the month (such as Netflix), these engagement opportunities are obvious.
But, even those who provide more isolated services throughout the subscription period (e.g., scheduled repeat delivery services) will be expected to engage with their subscribers in other ways throughout said period.
4. "Easier" customer relationship management
Finally, getting your customers locked into a subscription means you won't have to worry too much about keeping them on board throughout this time period (as long as you continue to provide value to them, of course).
Because you'll be expending fewer resources on acquisition and retention overall, you'll have more resources on hand to invest in growing your business, overall.
(Note: This isn't to say that managing your relationships with your subscribers isn't vital to the success of your business. We'll get to that in a bit.)
Of course, none of these benefits are inherent when implementing a subscription service into your eCommerce business. In order to experience the level of success the companies we've mentioned thus far have, you need to have a strong and strategic approach to this new initiative.
How to get your eCommerce subscription business started
Whether you already run a more traditional eCommerce business or you've yet to take the first step in doing so, there are a few prerequisites for getting a subscription service up and running.
1. Build subscription-focused customer personas
Your first order of business is to nail down your target customer personas.
Now, this is pretty standard for any form of business: You need to know who you plan on doing business with before you're able to effectively engage with and sell to them. This involves digging into your target audience's demographic, psychographic, and behavioral data.
The key components of a detailed customer persona include the individual's:
"Before" and "After": What changes or improvements are they hoping to make in their lives? How will your service help them make these improvements?
Mindset: How are they approaching the issue or problem at hand? Are they excited or hesitant about finding a solution?
Triggers: What happens in their lives that cues them into the problem they're facing? What causes them to begin seeking a solution?

As we've discussed before on Core dna's blog, your target's psychographic and behavioral information are most important, here.

(Build your eCommerce subscription service persona based on their psychographic profile)

More specifically, you want to gain a better understanding of their need for a subscription-based service, and their propensity to become long-time subscribers to your high-quality service.

So, you'll want to answer questions such as:

Does my target audience currently subscribe to any such services?
How much do they spend on subscription services every month?
How much of their spending budget goes toward subscription services?

Basically, you want to know that the people you're targeting not only have a need for your subscription services, but are also highly likely to take advantage of your offer, as well.

Defining and refining your customer personas requires that you dig into a variety of data sources.

For existing companies, your current customer data should provide a treasure trove of information that can help you enhance your subscription services.

For those just starting their eCommerce subscription business, you'll want to consult consumer-related data from within your industry, as well as from organizations who provide the same "type" of subscription service as your company.

2. Find out what's lacking or missing

In order to succeed in any industry, you need to have a firm grasp of what the industry is "all about."

This is especially true when creating an eCommerce subscription service business.

Think about it like this:

If Stitch Fix's team weren't highly knowledgeable about the fashion industry, there's no way they'd be able to provide high-quality recommendations for their customers.

Similarly, if Thrive Market didn't offer quality food products that are difficult to find elsewhere, the company wouldn't be able to charge a premium for its accessibility fees.

So, while having an in-depth knowledge of your niche is important regardless of how your business operates, such knowledge is imperative to your ability to generate — and keep — a following of paid subscribers over time.

Moreover, understanding your niche involves understanding what's missing from it, as well. To be sure, consumers will always be left wanting in some way—even if they don't realize it themselves.

That said, it's vital that you recognize the things your competitors aren't doing that your target audience want them to — and get laser-focused on bringing this value to them, yourself.

3. Define what makes you different

Going along with the above, you also need to have a clear idea of what your subscription service's unique value proposition is.

That is, you need to know what sets your company apart from all the others in your industry.

Is your actual product or service revolutionary or unique in some valuable way? Do you offer faster delivery or easier returns than your competition? Does your organization champion a charitable cause that your audience is passionate about?

Without a clear USP in mind from the get-go, your brand will have little chance of generating a buzz amongst your target audience.

More to our purposes, you need to have a clear rationale for implementing a subscription model in the first place. How do your customers stand to benefit from this approach as opposed to if you were to go the more traditional route?

(Note: Only after you can clearly answer this question should you even consider creating a subscription-based service in the first place.)

As McKinsey's report explains, this overarching value depends on the type of service you plan on providing:

Replenishment services offer the convenience of regularly-scheduled deliveries, and allow customers to save money on each order
Curation services offer laser-targeted product suggestions, and provide variety to customers with each new shipment
Access services provide products that are difficult (or nearly impossible) for consumers to find elsewhere

In addition to competing with traditional companies in your niche, you'll also likely be competing against other subscription-based services, as well.

With that in mind, you'll also need to know how you plan on differentiating your services from those already in existence. As we mentioned earlier, this involves developing additional services and experiences for your subscribers to take advantage of throughout their lifetime with your company.

For example, Thrive Market donates a portion of every annual subscription fee it receives to feeding low-income individuals and families.

(Thrive Market donates a portion of every subscription fee it gets | Source)

While going above and beyond your competitors in some way is, of course, the key to dominating your industry, you also need to know how to communicate this value to your customers, as well.

(Truth be told, the difference between the top-performing company and its lesser-known counterparts in any industry is often that the top-performer knows how to sell its services more effectively.)

As Lifehacker points out in an article comparing Dollar Shave Club to Harry's, DSC focuses on selling a wider variety of products, while Harry's provides more flexible subscription options. In turn, each company is able to attract subscribers looking for those specific values in a razor delivery service.

If you can provide something of value that no other service in your niche can—and communicate this value to your audience—you'll be well on your way to creating a successful eCommerce subscription business.

4. Choose a subscription model for your business

Taking your customer personas, your niche, and your USP into consideration, the final preparatory step is to figure out which type of subscription service to offer your audience.

Note that you probably won't have to "choose" which type to focus on by this point. Rather, based on everything we've discussed thus far, the decision will have already been made for you.

For example, if you offer consumable products that your target customers need on a regular basis, offering a replenishment-focused service is the clear path to take.

That said, the "choice" actually comes into play when defining the above factors. In other words, if you've already determined which type of service to offer before moving forward with the initiative, you'll likely have done so with a clear audience, niche, and USP in mind.

In that case, your goal will be to objectively assess the validity of your approach—which will in turn tell you whether your business idea is viable in the first place.

5. Add a subscription service to existing operations

If you already run a successful eCommerce company using the traditional model, you may be thinking about adding a subscription service into your overall operations.

This is definitely doable.

In fact, many companies (such as Gillette) have begun providing subscription services in addition to their existing offerings.

(Gillette's subscription box service | Source)

When making this leap, the same process as above applies—but you'll want to get ultra-specific and brutally honest with regard to your overall goals for doing so.

Above all else, it's vital that your main reason for creating a subscription service is to provide additional value to your overall customer experience.

In other words, you don't want to make the leap simply because other companies in your niche are doing so, or because subscription services are currently making waves in the eCommerce world.

(To be fair, this all factors into your overall decision...but they aren't the only reasons you'd consider creating a subscription service).

Furthermore, you'll need to ensure that adding a subscription-based service to your operations won't detract from the value you provide your existing customers.

Basically, your "main" offering should remain intact (as long as it's proven to be successful), with your subscription services acting as an additional value proposition for those within your customer base who choose to take advantage of it.

Finally, the additional value you're providing needs to be crystal clear to your existing customer base, as well as your new target audience members. It's not just that you need to provide this added value—it's that you need to communicate this value in a way that matters to your customers.

The last thing you want is for your customers to think you jumped on the subscription bandwagon just to squeeze some extra money out of them (without providing anything in return).

As for the steps to take when adding a subscription business to your existing operations:

Download, install, and set up the applicable subscription-focused plugins offered by your eCommerce platform
Create pages for your website and other on-site content specifically focused on your subscription service
Develop and deliver pre-launch offers to your existing customers, incentivizing them to not only subscribe to your service but also get others in their network to hop on board, too
Once your subscription service goes live, it's back to basics: Testing, tweaking, and improving your services and customer experience as necessary

Download this eCommerce subscription playbook

The only playbook you need to create, run, manage, and scale your eCommerce subscription business.

Key challenges to anticipate when creating an eCommerce subscription service

As is the case with any business-related initiative, there are a number of inherent challenges to developing a subscription service for your eCommerce business.

The first step to dealing with these obstacles in a productive and effective manner is knowing what they are, and how they may come about in your specific experience.

1. No differentiation with other subscription company

As we discussed in the previous section, if your subscription service doesn't stand out from your competitors' offerings in some meaningful and valuable way, your initiative probably isn't going to be all that successful.

And, with subscription services becoming more common in a variety of industries, simply offering a subscription service isn't going to be enough to differentiate yourself from the competition.

So, the question then becomes:

How exactly do you create an eCommerce subscription service whose value is clearly leaps and bounds ahead of other companies in your niche?

The obvious first step, here, is to ensure your subscription-related products and services are top-notch. This, of course, is non-negotiable: No matter what "extras" you provide your customers, they won't matter if your baseline offer isn't all that valuable to them.

Once you've perfected your baseline offering, you then want to determine how you can add value to your customer's experience in a variety of ways.

A few examples:

A fashion-focused brand might provide guides for creating outfits and accessorizing
A food and produce-based company might include recipes involving the products being delivered
A hobbyist subscription service might include guides on how to get the most use out of the included products

Moreover, you can also differentiate your brand by championing a cause that may or may not relate directly to your niche.

As we said earlier, Thrive Market donates non-perishable food items to those most in need; similarly, Loot Crate donates portions of their earnings to the Arnold Palmer Children's Hospital.

(Loot Crate donates portions of their earnings to the Arnold Palmer Children's Hospital | Source)

Key takeaway

It's essential to have a clear idea of why, exactly, your target customers will choose to do business with your brand instead of your competitors. Figure this out, and you'll have no trouble building a massive following of loyal subscribers.

2. Subscription fatigue

Once more:

Subscription services are all the rage by today's standards, with 49% of consumers using at least one subscription service at any given time.

Ironically, the more subscription services a given customer belongs to, the less likely they are to try out a new one. It's essentially a case of "so many subscription services, so little time" (or so little money, as the case may be).

Additionally, you may run into issues in which your long-time customers unsubscribe from your service simply because they've decided to cut down on the amount of services they subscribe to.

In either case, it's not so much that the customer doesn't want to subscribe to your services; it's that they don't want to subscribe to any new services, at all.

The thing is, that probably isn't true. Rather, it's likely more accurate to say that the subscription services they've used in the past no longer provide the same value they once did.

Key takeaway

You need to be sure that your offering is irresistible to your audience, to the point that subscription fatigue simply doesn't factor into their purchasing decision.

Prove that your service is worth the price of admission, and even the most fatigued consumers will continue to stick around to see what else you have up your sleeve.

3. Managing business processes

In looking at the actual processes involved in running an eCommerce subscription business, there's no doubt that a lot can go wrong at any given time.

A few examples:

A loyal customer might forget to change their payment info after receiving a new credit card
An unhappy customer may forget to unsubscribe before their membership automatically renews for the month
Inventory levels may not match up with an influx of subscriptions

...the list goes on.

Key takeaway

While automation, AI, and machine learning have enabled companies to take a more "hands-off" approach to many of these issues, this technology is nowhere near perfect (not yet, at least).

(One of our clients uses our Hooks system to create a new incident report in Oracle Service Cloud based on submitted form data with contact lookup)

Though using these and other such tools is part of getting your business up and running like a finely-tuned machine, overreliance on them can certainly lead to major issues for your company.

Best practices for running an eCommerce subscription service

So far, we've talked about how to get your eCommerce subscription business off the ground, as well as how to avoid some of the common pitfalls such businesses often encounter.

Now, let's take a look at some of the more granular tactics you can take to ensure your business continues to thrive well into the future.

1. Tie model and pricing to business goals

Earlier, we discussed the importance of choosing the right type of subscription business to offer, based on what "makes sense" for your audience and your value proposition.

But, it's also important to ensure your choice of subscription model will generate substantial revenue for your business.

Remember:

You're not just creating a subscription-based business "because it seems like it'll be good for business." Rather, you want to know exactly how it will help your business grow both immediately and in the long run.

There are a number of factors to consider here, such as pricing your offers to ensure sustainability and profitability, or developing tiers of service to increase retention and LTV.

For example, Ipsy offers three different pricing options to subscribers, depending on their preferences:

(Ipsy offers different pricing options | Source)

By offering multiple tiers of service and pricing and tying these price points to your ultimate business goals you'll be able to increase the amount of subscribers you generate—and maximize the amount of revenue you generate from them, as well.

2. Incentivize advanced payment and auto-renewals

Which sounds better for your business:

Getting a customer to commit to a one-month subscription of your service, or getting them to commit to a six-month subscription?

Yea...we thought so.

Of course, not all of your potential customers will be willing to commit to a long-term subscription—unless they have good reason to do so.

Which is where incentives come in.

(Birchbox incentives longer commitments | Source)

Birchbox, for example, provides multiple discounts for customers that commit to a six- or twelve-month subscription. Doing some quick math, opting for the year-long plan will save subscribers $24 — which equates to almost two full months of free service for the customer.

Basically, Birchbox spends an extra $24 to generate one year-long subscription — but saves a ton in terms of acquisition and retention costs over the course of that year in doing so.

Needless to say, it's a small price to pay to ensure a given customer will stay on board for at least the next year.

3. Take an omnichannel approach

The other side of retaining subscribers over an elongated period of time is that they've retained your services for this same time period.

That said, it's vital that you provide value to your customers throughout their subscription period in a variety of ways. The key to being able to do so is to adopt an omnichannel approach to marketing to and engaging with your customers.

We've talked about best practices for omnichannel marketing before. While that article goes much deeper than we have room to do here, the overall message is this:

Figure out where your customers spend time both on- and offline, then focus on developing a strong, branded presence on these platforms. The goal is to inject your brand into your subscribers' lives whenever and wherever you have value to provide them.

(The customer journey is more complicated than ever | Source)

Simply put:

The more positive experiences you provide your subscribers, the better your chances of keeping them on board become. If you can "wow" them at every turn, they'll have ever reason to continue doing business with you month after month.

4. Keep an eye on KPIs and customer data

For subscription-based businesses, there are a number of metrics that you absolutely need to keep track of at all times.

The main KPIs to keep in mind are:

Monthly Recurring Revenue
Customer Acquisition Costs and Acquisition Recovery Time
Customer Lifetime Value
Churn Rate

(A snapshot of Core dna's Core eCommerce dashboard)

Analyzed in conjunction with your business goals and pricing tiers, these metrics will give you a clear idea of whether you're on the right track...or if adjustments need to be made.

In addition to this quantitative data, you also want to collect qualitative data on your subscribers' experiences with your brand over time.

This will allow you to cater to your individual customers in a more targeted and efficient manner (which is the purpose of offering subscription services in the first place).

Secondly, it will enable you to trace changes in your customers' satisfaction levels to the above-mentioned metrics.

In doing so, you'll know what needs to be done to better serve your subscribers and make further strides toward your business goals.

5. Choose the right eCommerce platform

A fully-functional eCommerce platform is vital to your ability to run a subscription service.

Luckily, there are a number of such platforms on the market today, each with their own strengths and weaknesses.

(Magento vs Shopify vs Core dna)

We've already broken down everything you need to know about choosing an eCommerce platform in the past.

Still, let's quickly go through everything your subscription-based business needs from an eCommerce platform:

Simple to set-up and intuitive user interface

The entire point of using a third-party eCommerce platform is so that you won't have to spend time on the technical aspects of running an online subscription service.

So, you'll want to ensure your eCommerce platform of choice allows for a quick-and-easy setup — and proves to be just as user-friendly as time goes on.

Backing up a bit, you'll want to find a solution that allows you to easily add a subscription option on top of your traditional eCommerce site (or vice-versa, as the case may be).

This is important for scaling purposes — which we'll discuss in a moment.

In addition to providing an intuitive UI, your chosen provider should also offer a variety of supplementary services and experiences, such as:

A comprehensive, hands-on onboarding process
Additional documentation to further your ability to use the platform
Ongoing, proactive support

Scale as you grow

The eCommerce platform you choose should be able to cater to your business' needs as it continues to grow.

Most well-known eCommerce platforms offer tiered levels of service, with varying pricing models attached to each tier. You'll want to look for the one whose tiers match both the current and future needs of your business.

It's also worth thinking about the platform provider's reputation, overall. Basically, you want to be sure that the provider you stick with will continue to evolve its services as time goes on.

In either case, longevity is the goal. You don't want to commit to a specific provider today, only to realize six months down the line that you need more from your eCommerce solution.

Find a platform that will grow with your business, and it'll be one less thing to worry about as time goes on.

In-depth reporting & analytics

Optimizing the various aspects of your business ultimately comes down to tracking and taking action on data.

That said, you need to find the eCommerce platform that provides as robust a collection of data as possible.

This includes:

Customer-facing data
Service and support team performance
Marketing and sales results
And, of course, financial reports

(A quick overview of your recent orders in Core dna's Core eCommerce module)

It's simple:

More data = more evidence to use when making improvements.

Look for the eCommerce platform that makes finding and using this data a cinch.

Robust security

Your chosen eCommerce platform must ensure the security of your business, as well as of your customers.

Most well-known eCommerce platforms do offer PCI and GDPR compliance. For the most part, it's not a matter of whether or not your platform is secure; rather, it's how this security is implemented and addressed.

(How Tivoli Audio handles their customers information | Source)

In both cases, you'll want to be able to provide your customers with further information regarding your website's security compliances.

This will keep them more informed of their options, and provide reassurance that their data is safe with your company.

The option to choose your preferred payment gateways

Payment gateways are what enable your customers' payments to be processed.

But, as we've recently discussed, not all payment gateways are the same. And your customers might prefer to use certain gateways over others.

(Some of the payment gateways integrated in Core dna)

That said, you need to ensure your eCommerce platform of choice offers the payment gateways your customers prefer. You don't want to lose business simply because your customers literally can't pay you.

Scheduled payment options for your customers

Depending on a variety of factors, you may want to offer your customers a variety of options regarding payment scheduling.

In some cases, you'll want to offer monthly or yearly recurring plans; in others, you might offer weekly or fortnightly options. Certain businesses might even allow their customers to set up daily recurring payments.

So, you need to be sure your eCommerce platform of choice allows you to provide the options your customers want to have when doing business with your company.

User-friendly dunning process

Subscription services live and die by their recurring revenue.

Of course, consumers miss payments for a variety of reasons. And they don't exactly love being reminded of upcoming or late payments, either.

What you need is an eCommerce platform that allows you to shoot out quick, friendly reminders to your customers when their payment comes due.

(A Hook action in Core dna to send a friendly reminder for upcoming payment)

Not only will this allow you to keep your subscribers on-track for their next payment cycle, but it will also give you an opportunity to engage with them in a productive — and surprisingly pleasant — way.

Omnichannel experience via APIs

Providing an omnichannel experience to your customers is essential by today's standards.

The most efficient way to do so is to work with a headless, device-agnostic eCommerce platform.

(Multiple sites and stores on multiple devices; all in one platform)

This ensures the information from your website is communicated to your audience in the most efficient and user-friendly way possible.

What's more, with a headless platform, you only need to create your content and templates once — and can let the platform's APIs handle the presentation.

Seamless integration with your current and future tech stack

Your eCommerce business, of course, relies heavily on technology as it is.

And, as your business grows, so too will your need for even more tools and software.

It is vital that your current tech stack AND any future tech stack integrate seamlessly with your eCommerce platform of choice.

Whether we're talking tax and accounting software, logistics tools, or CRM databases, you need to ensure the information held within syncs with your eCommerce platform with absolutely no friction.

(Our Hooks system literally allows you to integrate with ANY tool and platform)

Behavioral triggers and hooks

In addition to syncing with your other tools, your eCommerce platform should also work with them.

That is, you want to find an eCommerce platform that allows you to enable behavioral triggers that spur your other tools into action.

For example:

If a visitor abandons their shopping cart, you might have a re-engagement email automatically sent to them the following day.

(A Hook action in Core dna to send a cart abandonment email)

With powerful and laser-focused behavioral triggers in place, you'll be able to maximize the efficiency of your various tools — optimizing your processes along the way.

Engaging email marketing campaign options

Email is one of the most versatile ways to market your brand today.

So it only makes sense that you find an eCommerce solution that allows you to create a variety of emails for a variety of purposes.

Segmented personalization

Your customers crave personalization.

So you need to find an eCommerce platform that allows you to give it to them.

Look for platforms that allow you to:

Segmented subscription options

This is a big one for subscription-based eCommerce businesses:

Your eCommerce platform needs to let you provide varying offers to your multiple audiences:

You may want to be able to offer tiered levels of services
Or provide discounts to those who make more intensive commitments

(Core dna's User Group app allows you to automatically segment users based on their behaviors and interests)

It's all about reaching different customers at their level — and ultimately bringing them up to VIP status.

Trial management processes

For subscription-based eCommerce companies, offering trial periods is a must.

Make sure your eCommerce platform's functionality is flexible on this end. You want to be able to tweak your trial period offer to optimize your onboarding process and maximize retention.

Loyalty programs and retention campaigns

Your eCommerce platform of choice has to enable you to reward your loyal customers in some way.

From a simple points-to-cash system, to a more robust loyalty program, you want to be able to offer your best customers "a lil something" to keep them around longer.

Coupons and discounts

Offering discounts to your customers is a no-brainer.

It keeps them happy — and coming back for more.

So, you need to be sure your chosen eCommerce platform will allow you to deliver coupons, rebates, and other offers to your customers both on-site and via email.

(You can assign each user with in-store credit in Core dna, which will automatically apply in check-out and reduce the outstanding payment amount)

watch video demo

Conclusion

Okay, we went over a lot here.

And, we're hoping that you now have a pretty good idea of what goes into creating a killer subscription-based eCommerce business:

Identifying your audience
Diving deep into your niche
Defining your value proposition
Determining which subscription model to use
Bringing it all together to provide a solid customer experience

But look:

It won't happen overnight. And it doesn't have to.

But you do have to start somewhere.

inline form