What is Cart Abandonment? 10 Strategies For Dealing With Abandoned Cart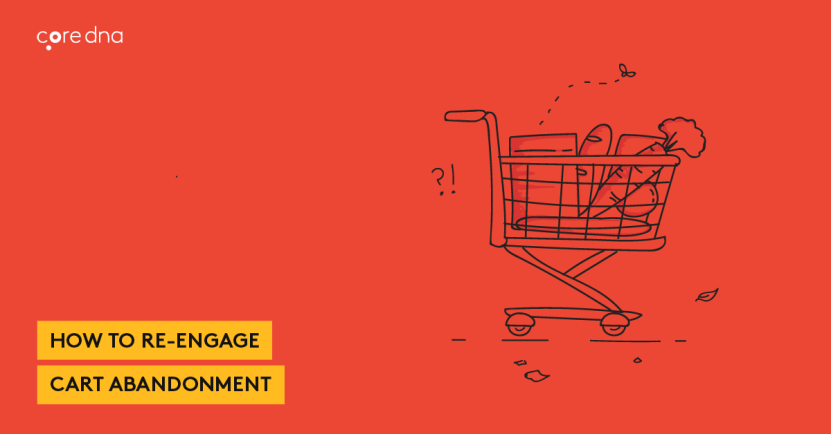 The purpose of owning an eCommerce store is to sell merchandise. Unfortunately, many users abandon the idea of purchasing your products at the bottom of the funnel.
However, there are strategies that can help you recover these lost shoppers.
We will explain how reviews, for example, are a great strategy of how to re-engage users that abandoned their carts, using Casper as an example. Stats have shown that adding reviews to your site can boost conversions up to 76%.
We will also discuss other strategies such as using targeted ads and creating a sense of urgency. Then, provide more valuable examples of top eCommerce players like Amazon and Target implementing them.
Read on to find out how you can put the needs of your shoppers first to re-engage cart abandoners.
In a hurry? Here's what you'll find in this article:
The ultimate guide to growing and scaling an eCommerce business
What is cart abandonment (and how it can impact your eCommerce business)?
Cart abandonment occurs when a visitor to your eCommerce website adds one or more items to their shopping cart, but end up leaving your site without completing their order.
Of course, this isn't all that great for your business: Not only do you miss out on a potential sale, but you also miss out on a chance to provide major value to the lost customer, as well.
Unfortunately, cart abandonment is all too common in the world of eCommerce. According to Statista, the average cart abandonment rate in all eCommerce industries is 79.17%.
Abandonment rates for specific industries are shown below: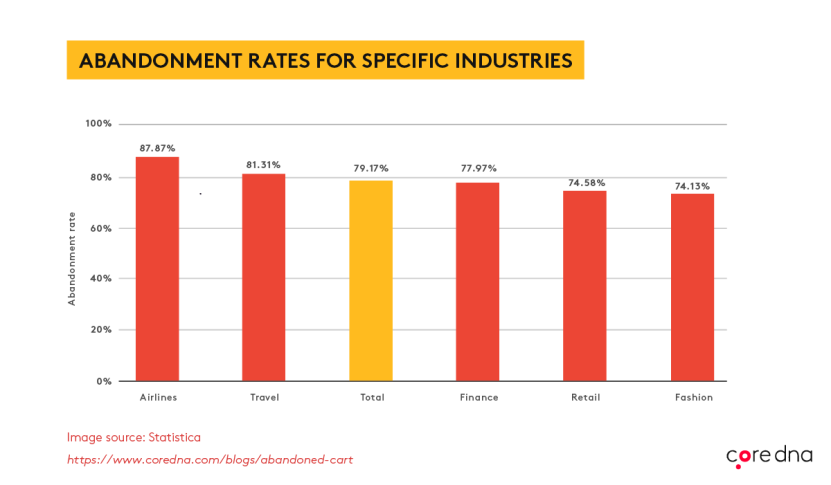 (Cart abandonment stats for specific industry | Source)
While it's not exactly possible to nail down the exact cost of cart abandonment to the eCommerce industry, many estimate that it leads to a staggering $18 billion in missed sales every year for all online stores combined. Factor in the amount of time, energy, and resources invested into these failed ventures, and even that $18 billion mark starts to sound a bit generous.
At any rate, the point is that cart abandonment can be highly detrimental to your company's bottom line, and can cause both your acquisition and retention costs to skyrocket.
That is, if you're not prepared to deal with cart abandonment when it occurs—and even beforehand.
On that note, let's first discuss what you can do to keep your customers from abandoning their carts in the first place.
5 key reasons consumers abandon their shopping carts (and what you can do about it)
Realistically speaking, there are an infinite number of reasons consumers abandon their carts—so it'd be truly impossible for you to tackle all of them.
(In fact, as we'll discuss later on, many of these reasons have absolutely nothing to do with your company, at all.)
That being said, you absolutely do want to take note of the most common reasons your customers might leave your site without completing their order—and start working to ensure your audience never have the following complaints about their online experience with your brand.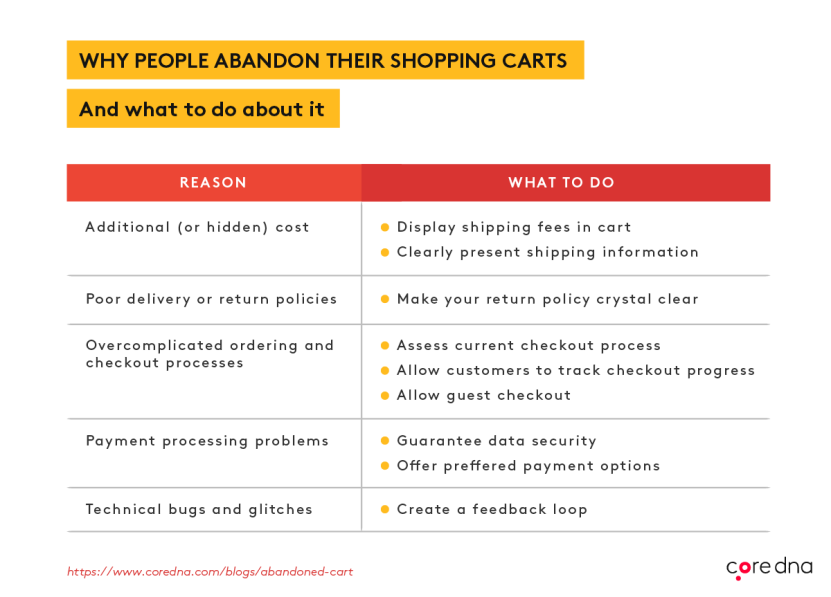 1. Additional (or hidden) costs
Without a doubt, the most common reason online consumers give for abandoning their shopping carts involved being charged additional fees at checkout.
According to a survey by the Baymard Institute, 55% of respondents cite exorbitant shipping, tax, and other extra fees as their reason for leaving an order unconfirmed. Similarly, 63% of respondents to a survey by Statista specifically blame high shipping costs for a recent cart abandonment on their part.
Now, in getting to the root cause of the issue, the clear solution in an ideal is to decrease the cost of these fees for your customers.
But we don't live in an ideal world, and you can't just lower these fees without wreaking havoc on your bottom line. After all, you aren't charging these extra fees just to make some extra cash — you include them to offset the cost of fulfillment and other such processes.
So, the best (realistic) approach is to take a step back and see what you can do to further streamline your logistical processes. Since it will then cost less for you to fulfill your customers' orders, you can decrease — and potentially eliminate — the additional service charges that may have been a major source of your cart abandonment issues.
Another complaint consumers often have in this area is that companies often keep these additional fees hidden until visitors get right up to the point of converting. Even in cases where the additional fees aren't all that expensive, the sticker shock experienced at this point can be enough to drive most individuals away.
So, if you do need to tack on service-related fees to your customers' orders, be sure to communicate this information upfront.
What to do: Display fees in cart
In the interest of being transparent about the true cost of a potential order, you should include any additional fees in the initial total you present your customers.
Clothing company Threadless includes an estimated shipping fee immediately after you've added an item to your cart: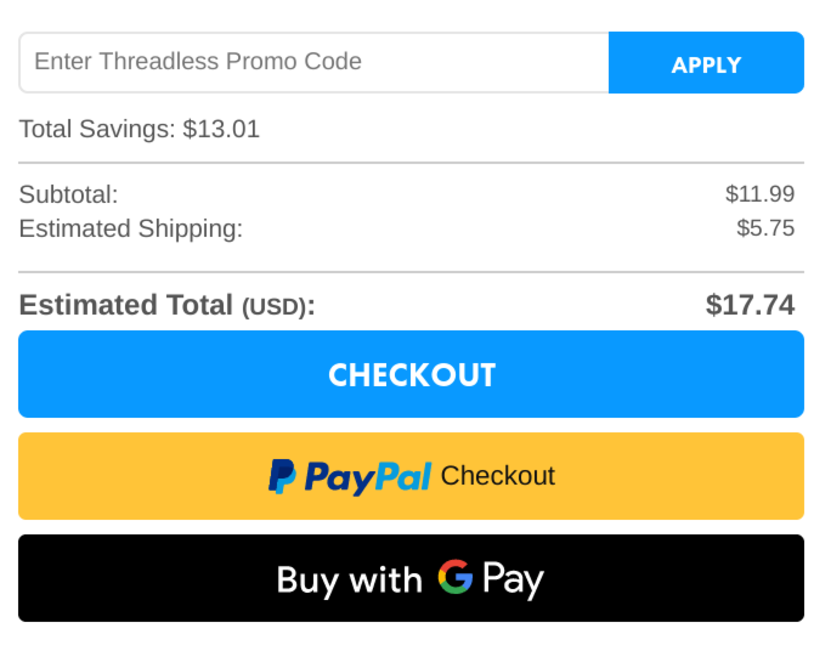 You can also include shipping information on your product pages, as well as throughout your sites (via header or footer, slide-in notification, or banner).

And, you should also make your entire shipping policy accessible somewhere on your site, like ThinkCrucial does here: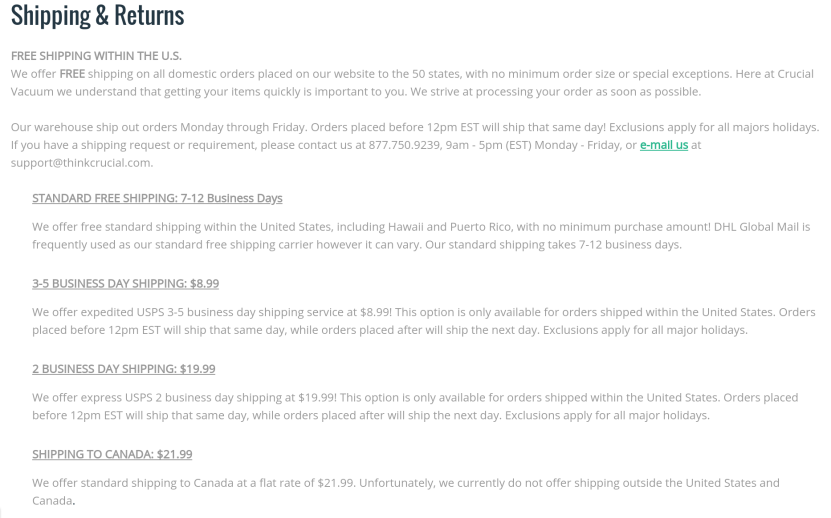 The bottom line is this:
No customer wants to spend more money on shipping and other additional fees.
At the same time, though, most businesses can't afford to give the customer exactly what they want — especially in this regard.
The best-case scenario here is you figure out a way to cut costs for both your customer and your company without sacrificing quality of service (in this case, delivery). At the very least, you need to be open and honest with your customers in explaining what the additional costs actually are, and how these added funds allow you to better serve your audience.
2. Poor delivery or return policies
You are providing a streamlined delivery process to your customers, right?
It doesn't matter if a brand offers cheap or free shipping if the customer can't even be sure when (or if) they'll ever receive their order. Case in point, 36% of Statista's respondents, and 18% of Baymard's, said that they will abandon a virtual shopping cart if it will take too long for their order to be delivered.
It's also worth mentioning that over 1 in 10 consumers, according to Baymard, have abandoned a cart due to a company's poor returns policy, as well.
Yes, offering ultra-liberal returns policies was once seen as a major selling point for eCommerce companies. Unfortunately, trends such as "serial returning" have made it nearly impossible for such policies to exist without being abused; leading brands to implement returns policies that are much too strict in the eyes of the modern consumer.
What to do: Make your return policy crystal clear
In either case, your goal should be to find that "happy-medium" in which your terms are seen as acceptable by your customers and your processes don't break the bank.
And, as we discussed in the previous section, you also need to be sure your audience knows exactly what to expect when ordering from or returning to your company.
Whether it's extremely simple and liberal: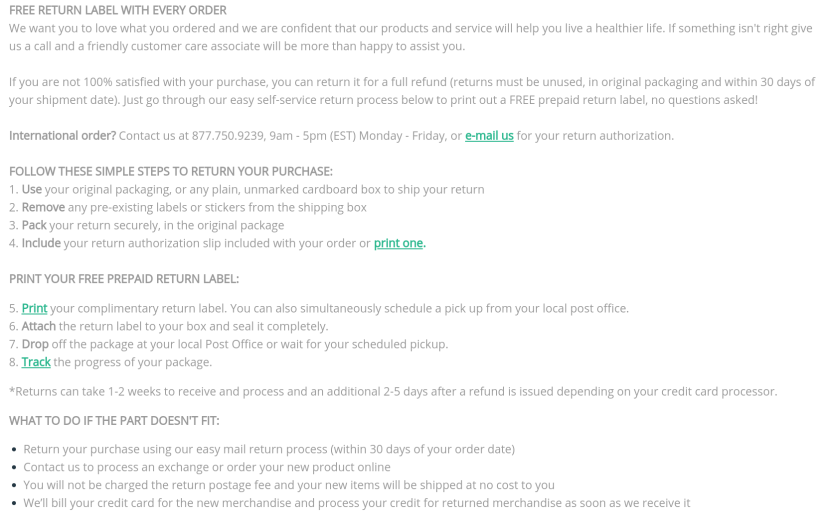 … a bit more complex and strict.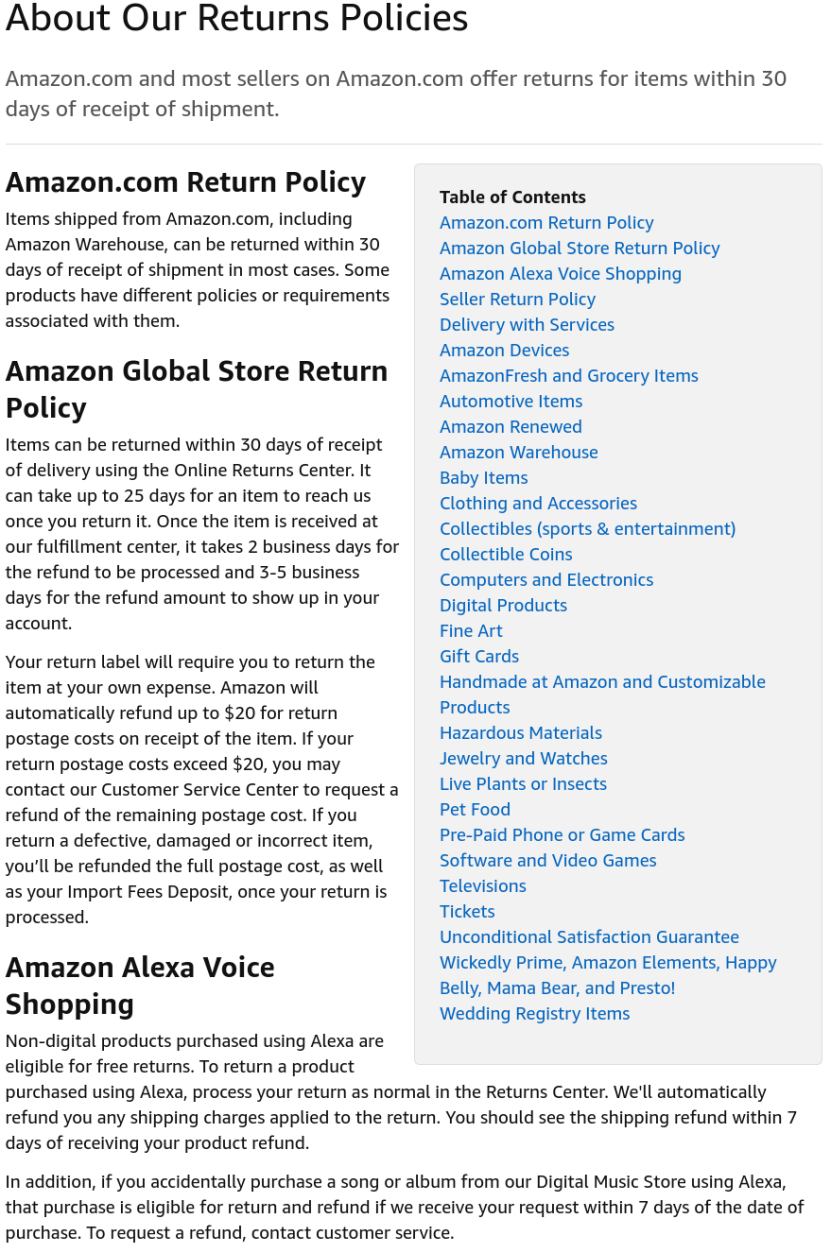 … Or if it falls somewhere in the middle: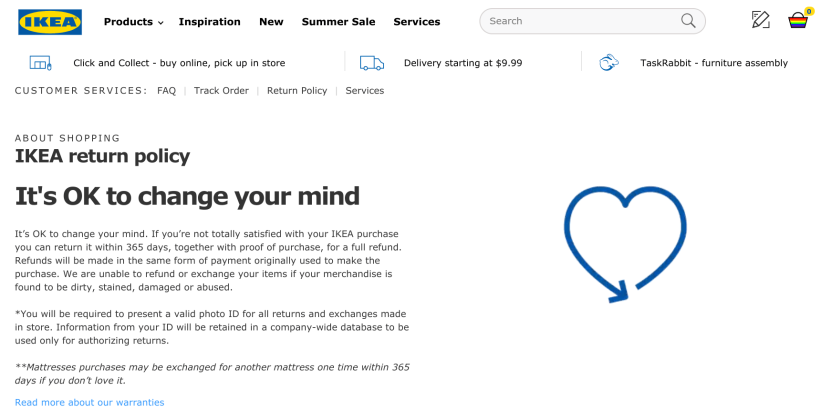 ...you need to ensure your returns policy makes sense to—and is accepted by—your target audience.
3. Overcomplicated ordering and checkout processes
Another area which typically causes a fair amount of cart abandonment is in the complexity of a brand's ordering and checkout processes.
Overall, respondents to Baymard's survey made it crystal clear:
If it's too difficult or frustrating to get to the point of order confirmation, more than 1 in every 4 visitors will abandon their cart.
Additionally, 37% said they abandoned their cart because they did not wish to register an account with the company in question.
Statista's respondents tell a similar story, albeit with a different focus:
Nearly 1 in 3 said they've abandoned a cart after being asked to re-enter their credit card data, while 25% did so after being asked to re-enter their contact and shipping information.
What to do: Assess your current processes
As we discussed in the previous section, your first order of business is to look at the processes you have in place, and think about whether or not they're as logical and streamlined as they could be.
Your customer's path to purchase should be straight, clear, and completely free of obstacles — otherwise, most of them will likely head for a company that provides a better route.
What to do: Allow customers to track their progress
Along with that, you also need to ensure your potential customers know that their path to purchase is clear and logical. A simple progress bar can let your visitors know exactly what they'll need to do to complete their purchase — and guarantee there won't be any surprises for them in the process.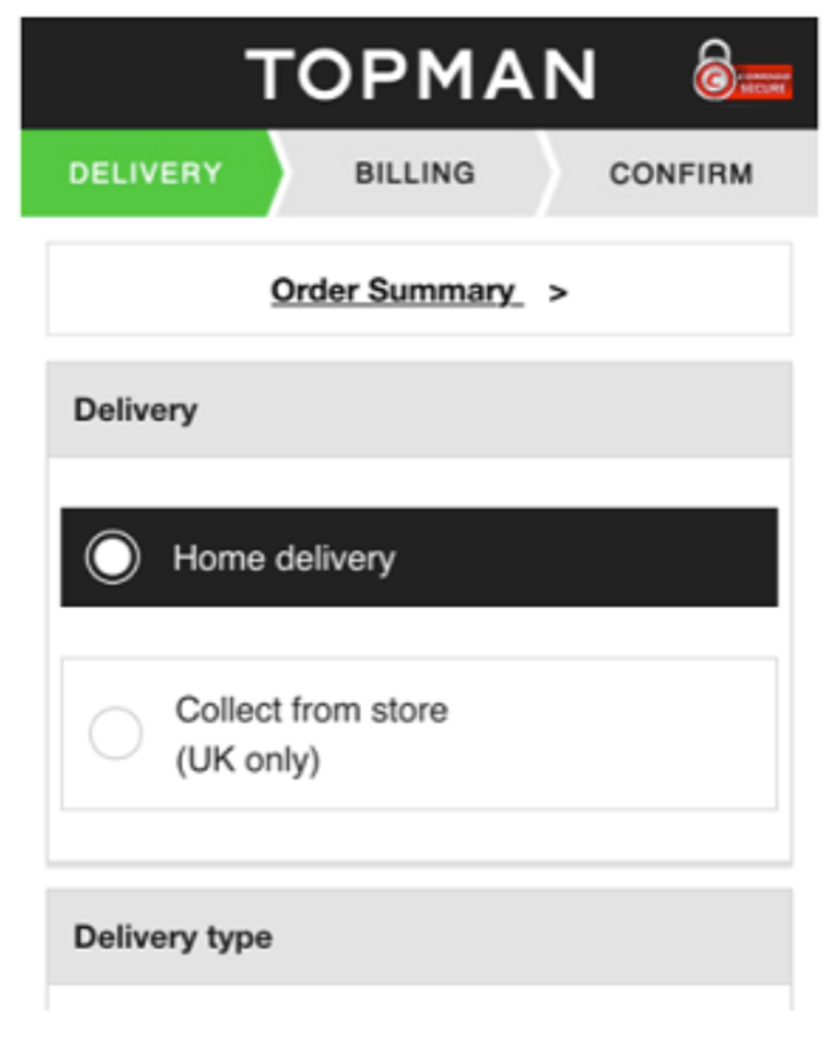 What to do: Allow guest checkout
Finally, it's vital that you allow your visitors to make purchases without signing up for an account with your store.
While it would be ideal for a first-time customer to also register for your mailing list (and thus, allow you to engage further with them), the safer play is to let them make their initial purchase in a way they're comfortable with.
When you consider the alternative is potentially alienating your nearly-converted prospects before they've even made a first purchase, it's pretty clear that allowing them to check out as guests is a small price to pay to get them to convert.
4. Payment processing problems
Once a potential customer gets to your checkout page, all that needs to happen is for them to confirm their payment, and for the payment to be processed on your end.
But there are still a number of roadblocks that could pop up at this 11th hour, so to speak.
First of all, your potential customer might choose to abandon their purchase simply because they don't feel comfortable submitting their personal info to your site (this was the case for 17% of Baymard's survey respondents).
What to do: Guarantee data security
To combat this, you can communicate the security of your website by presenting trust badges throughout your site (and by backing up these claims with top-of-the-line security measures).
What to do: Offer preferred payment options
Secondly, about 8% of consumers report abandoning their cart at the moment before conversion because the company didn't offer their preferred method of payment. While this doesn't necessarily mean you need to accept all modern payment methods, you should be sure to offer the options that are most popular among your target audience.
5. Technical bugs and glitches
Finally, we can't overlook the fact that, for the eCommerce consumer, their entire experience happens digitally.
And, no matter how advanced technology becomes, there will always come times when technical errors (of many kinds) will interrupt the flow of this experience for a given visitor.
Needless to say, if the problem interferes too heavily with the visitor's overall experience, they're almost certainly not going to want to continue on with their purchase. Baymard found that 17% of consumers will give up immediately if the site they're browsing crashes, freezes, or otherwise becomes unusable.
But, your site doesn't have to completely shut down on your visitors for them to abandon their carts; even minor glitches can cause them to navigate away from the checkout page. For example, nearly 50% of Statista's respondents claimed they've abandoned a shopping cart because the discount code they planned on using didn't work.
(Yes, there are many reasons why such a code might not work — but we can definitely include instances in which a legitimate discount code didn't register correctly on-site, here.)
At any rate, the point is this:
If your eCommerce website isn't fully-functional and 99.9% bug-free, nothing else you provide your customers matters much at all. Simply put, if they can't engage with your eCommerce company via your website, they simply won't be able to do so at all.
10 strategies for dealing with cart abandonment
Though we just discussed at length the many things you can do to stop cart abandonment before it happens, the truth is that avoiding it completely is simply not possible.
Like we said earlier, cart abandonment happens for a wide variety of reasons—and it isn't always your fault. Many times, potential customers will abandon their carts for reasons that have absolutely nothing to do with your company.
Perhaps they were simply browsing around and accidentally added an item to their cart without intending to purchase it. Maybe they intend to add more to their cart later, and simply needed to get back to work. Or, their toddler could have just spilled milk all over the cat again.
For our current purposes, it really doesn't matter why a visitor left your site without completing their order. All that matters is that it happened—and now your main goal is to get these cart abandoners back on track toward conversion.
Rather than passively hoping these prospects will come back on their own, you need to be the one to reach out and re-engage with them as soon as possible. Whether you do so via email, push notification, chatbot, or any other digital means of communication, there are ten fundamental keys to winning back cart abandoners.
1. Remind them what they left and be specific with your value propositions
You're not the only thing on your customer's mind, you know.
They probably visited a dozen other eCommerce sites around the time they decided to check yours out. They might have even left some of these other websites without going through with their purchase — leaving a number of abandoned carts in their path.
We say all this to tell you that there's a pretty good chance your cart abandoners don't even remember being on your site in the first place. Like we said, they're busy people with a lot on their minds; you can't blame them for not remembering each and every website they've been to in the last few days.
What this means for your re-engagement initiatives is you need to be super specific when reaching out to your cart abandoners. You'll need to remind them:
Who you are
What you offer
What the customer had done on your site
Take a look at how Winc does all this in a single email:

Dyson takes things a step further, providing information about their delivery, returns, and other processes within their re-engagement email: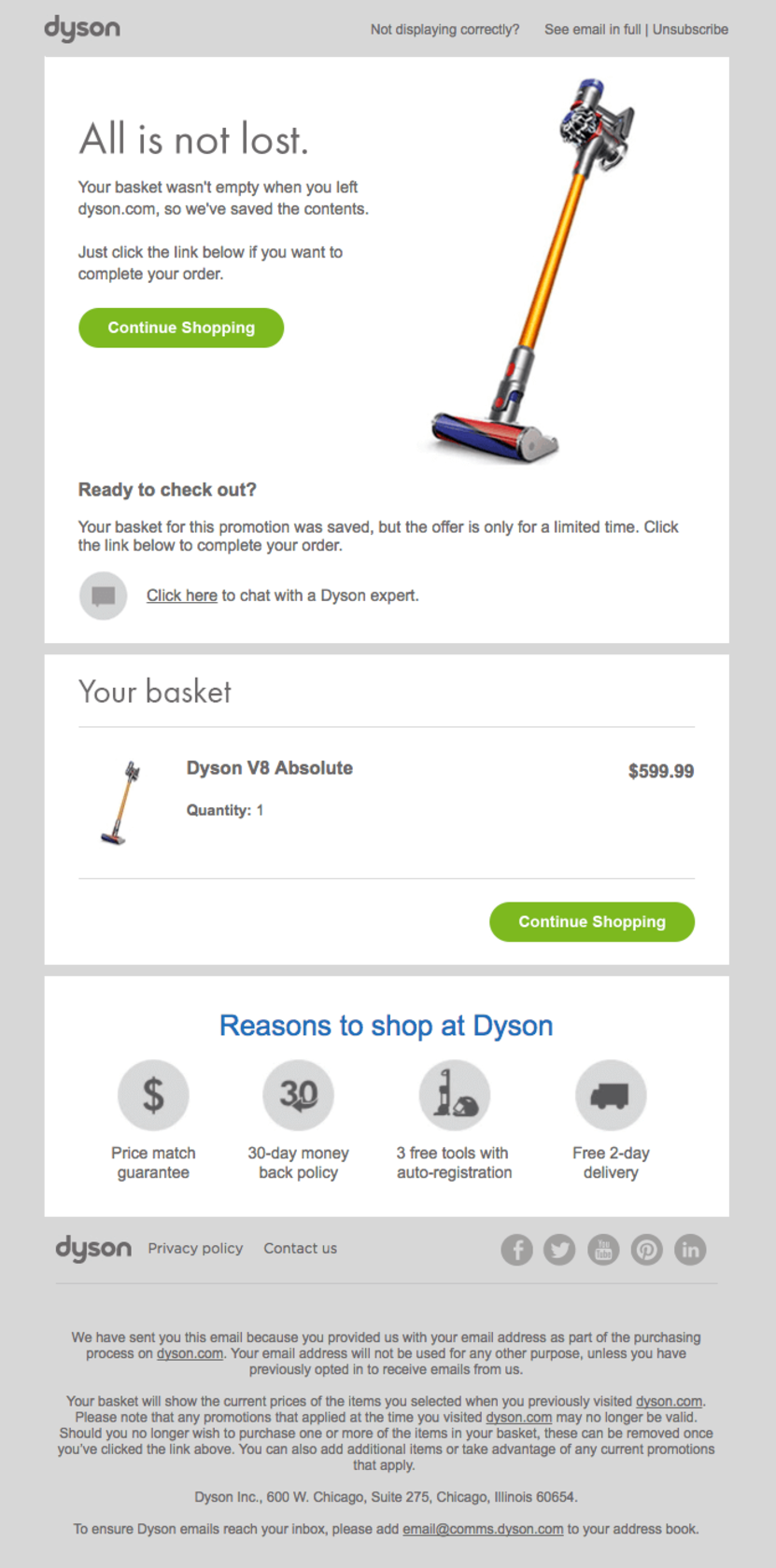 Finally, you'll also want to be specific with regard to how long the offer in your email stands. For example, TipsyElves will send its cart abandoners this email: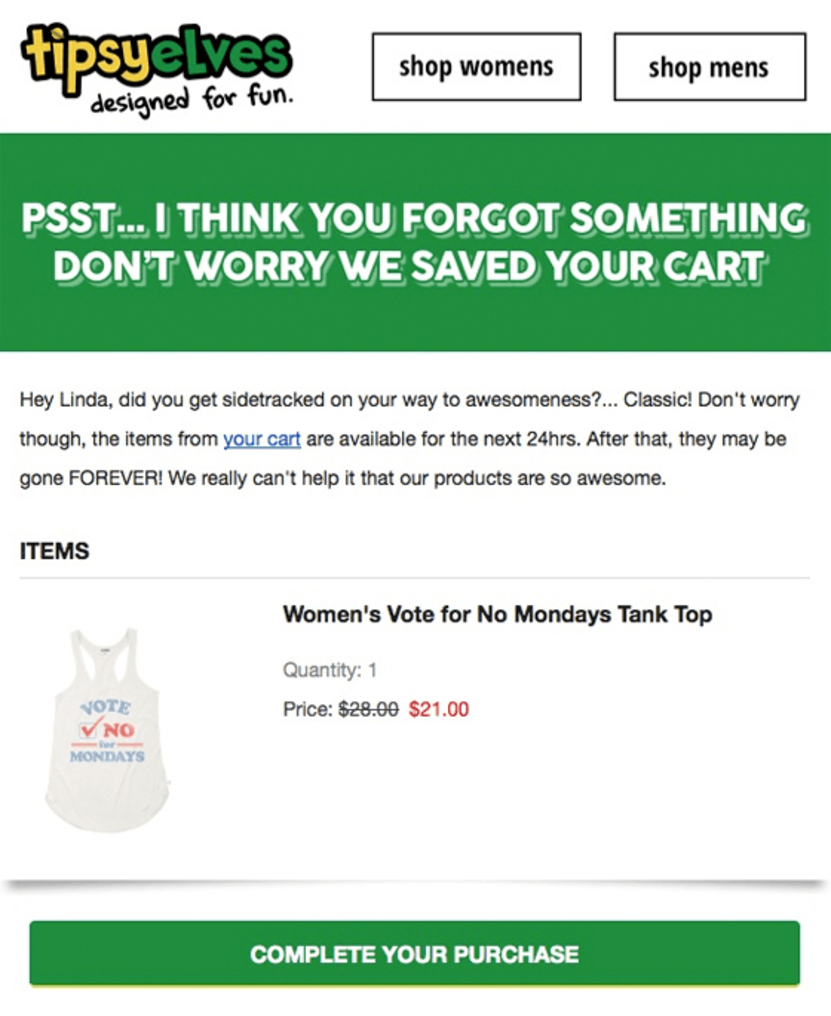 ...followed by this one soon after to those who didn't re-engage the first time: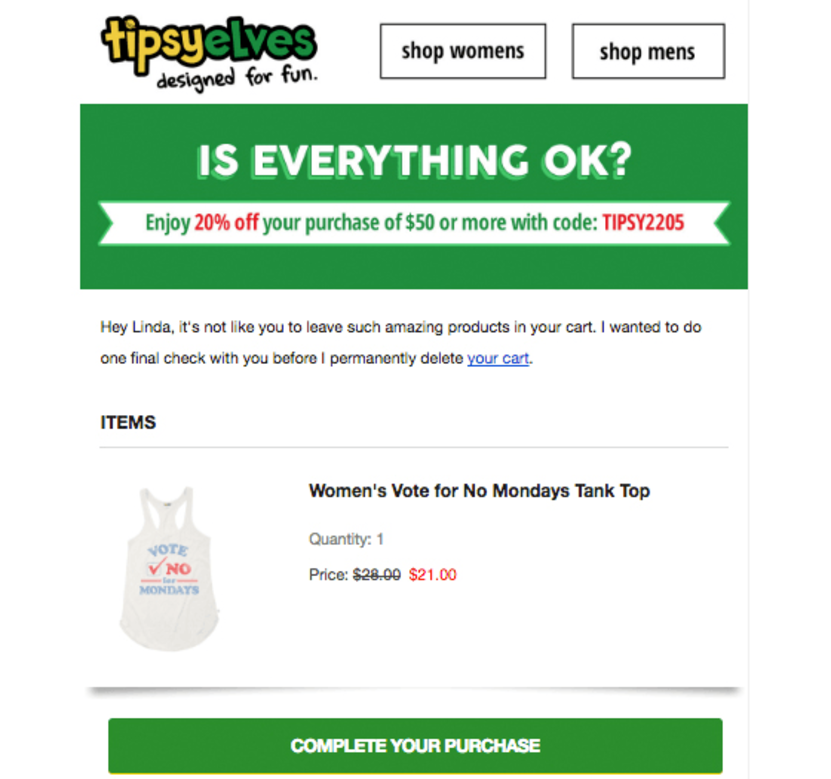 In being specific and limited in their offer, the brand creates a sense of urgency that, ideally, gets a decent amount of their cart abandoners to get back on-site and complete their orders.
2. Time your re-engagement messages right
Getting your re-engagement messages in front of your cart abandoners at the right time is crucial to your overall initiative.
However, cart abandonment emails are a bit different than most other types of communication (e.g., newsletters, transactional emails, etc.), in that your target customer probably won't be expecting them at all — let alone at a specific time.
(Again, chances are your brand isn't the first thing on their mind.)
While your recipients won't exactly be expecting to hear from you after a specific instance of cart abandonment, they likely will have some expectations when it comes to re-engagement messages overall.
That is:
If you send these messages too soon after abandonment, you'll come off as desperate. But, if you send them too late, the recipient will have already lost interest.
Now, there's no universal "right" way to time these re-engagement messages. To time your outreach in a way that best re-engages your audience, you'll need to consider factors such as:
The frequency of your correspondences with your audience
The average length of your sales cycle
The value of the potential order
That said, many eCommerce companies begin with a general schedule as follows (with email being the most common method of delivery):
Message #1 is sent within 24 hours of the cart being abandoned
If the individual doesn't re-engage and convert, Message #2 is sent anywhere from 24 to 48 hours after the first one
Message #3 is optional, but is typically sent up to 48 hours after Message #2
Again, this is merely a rough guide to get you started. Once you begin seeing results from your re-engagement campaigns, you'll be able to fine-tune your timing based on what you've found works best for your audience.
3. Provide an end-to-end customer experience
A bit earlier, we said that, to a certain degree, it doesn't matter why an individual abandoned their cart — only that they did so.
To be sure, this does apply when talking about those who leave your site through no fault of your own. For the most part, this is who you're targeting with your re-engagement messages: those who would have completed their purchase had something not distracted them on their end.
For those who abandoned their cart for one (or more) of the reasons we mentioned earlier (i.e., shipping policies, etc.), you're going to need to do more than just remind them that they have a full cart. They know their cart is full; they probably wanted to buy whatever is in it, but were — for whatever reason — unable to do so.
It's up to you to:
Figure out what the problem was
Help them solve the issue and finalize their purchase
Ensure no other customer faces the same issue moving forward
However, you're not going to do all this in that exact order.
Rather, you want to come out of the gate offering your general support services in case the individual had problems placing their order. This can be as simple as providing contact information within your re-engagement messages: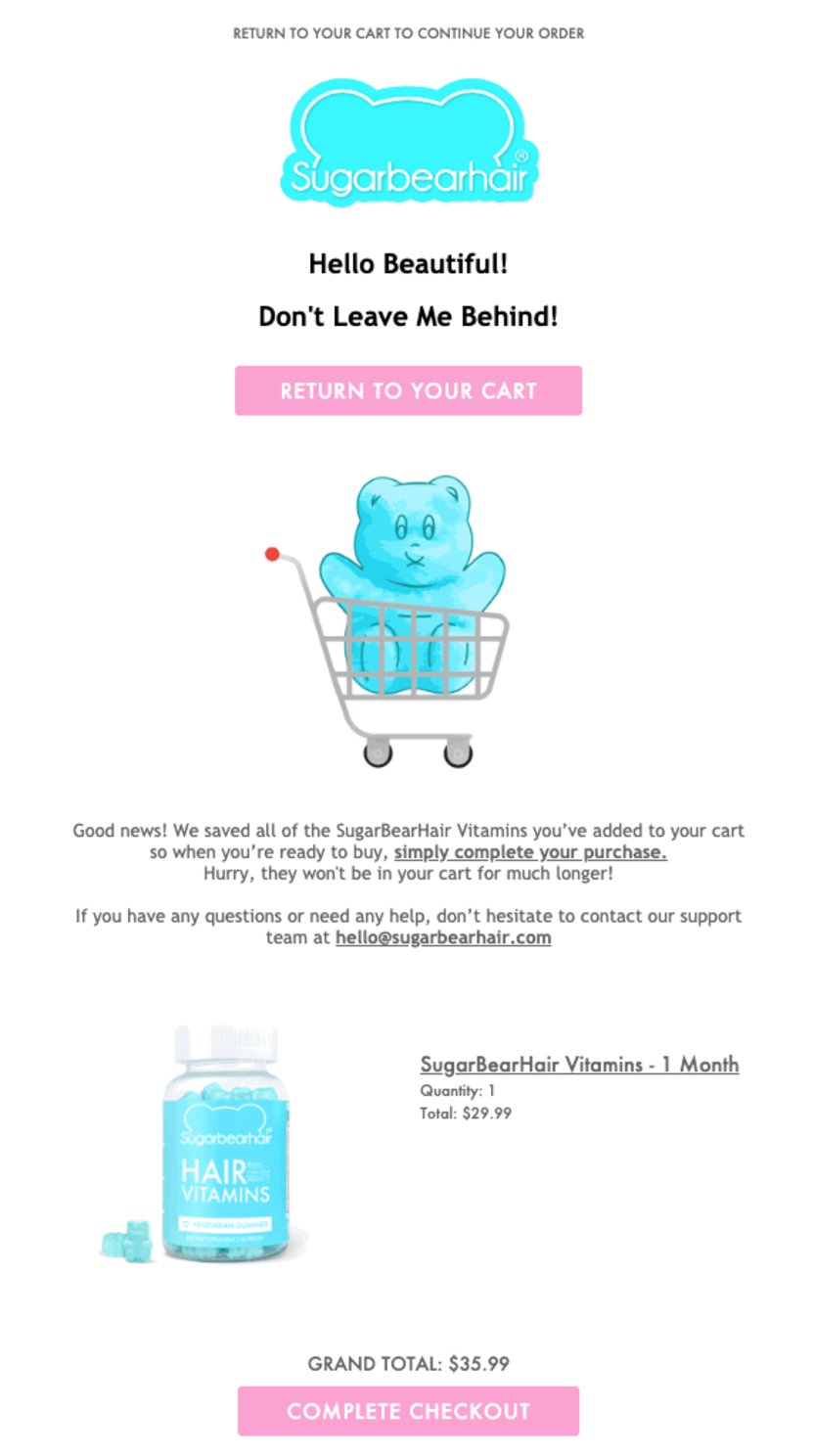 By offering this assistance, you actually kill two birds with one stone:
One, you allow the individual to complete their transaction as originally planned — while avoiding the frustration that initially caused them to abandon their cart.
Secondly, you gather vital information that will allow you to make improvements to your website and overall processes.
Now, let's say you send a re-engagement message to a given cart abandoner and they respond and convert immediately. While this is all well and good, the fact is it would still have been better if they simply convert from the get-go.
So, again, you'll want to dig deeper into why they actually abandoned their cart in the first place. This shouldn't be all that in-depth, but should quickly allow your "saved" customer the chance to make their voice heard.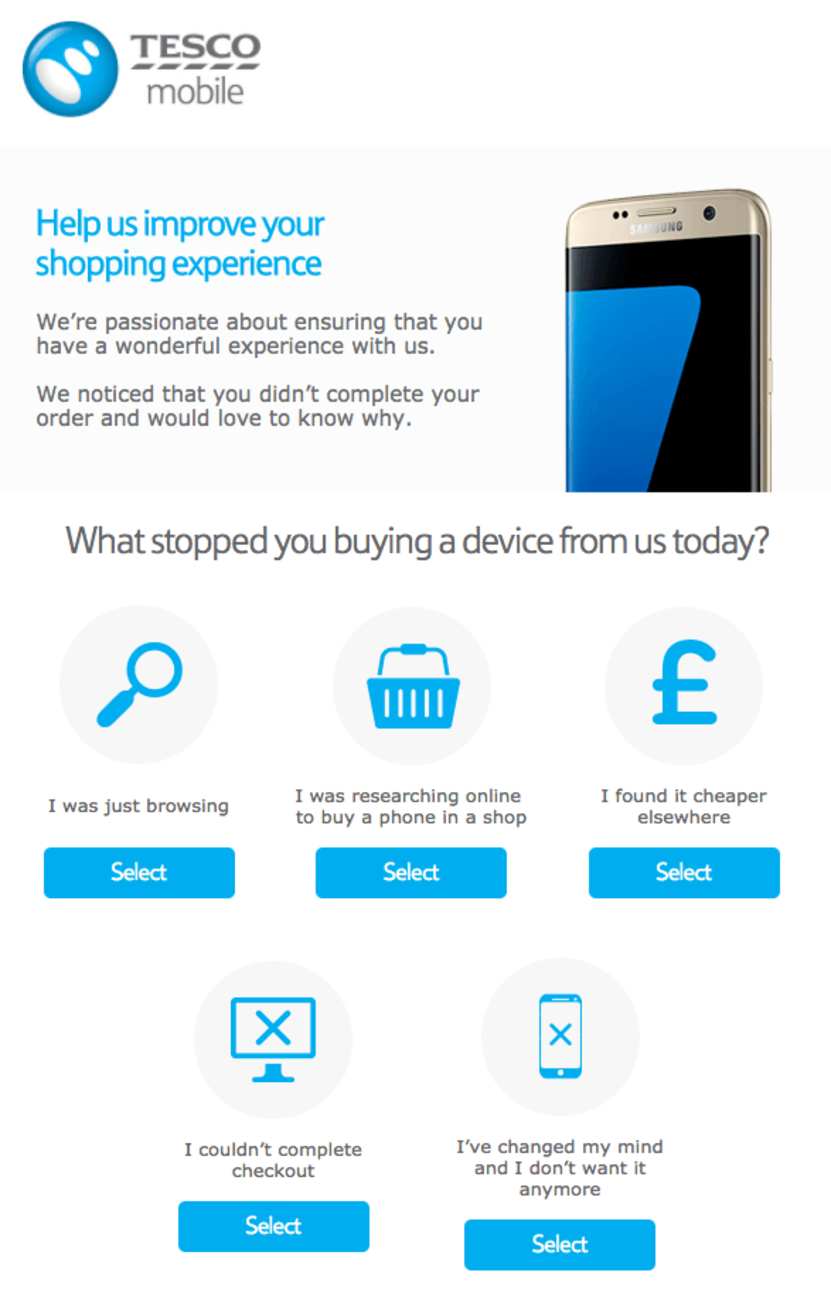 With this information in mind, you can get to work on improving your customer experience not just for this individual, but for all of your online audience.
4. Offer a price beat pledge
Many companies have offered a price match pledge. AminoZ offers to beat the prices of any product by 10%.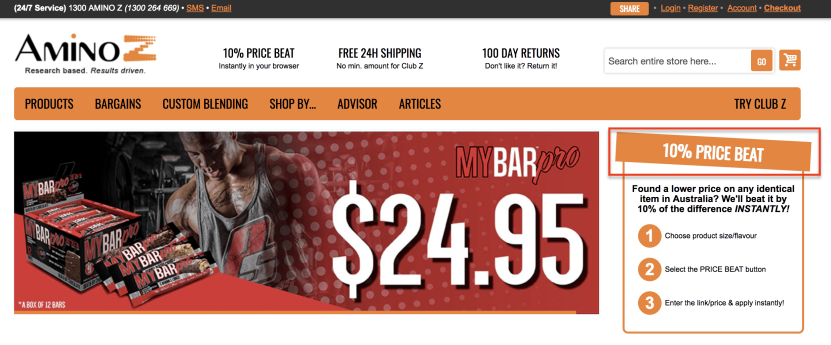 A price beat pledge is a simple psychological trick that can be the difference between a customer abandoning their cart or completing the purchase. It offers them a sense of security.
Make your price beat pledge clear, and be sure to list some of your competitors.
Some companies also offer price-match. This is also a great strategy if you are only able to lower the prices of your merchandise by a certain amount.
Here's an example of Best Buy's price match pledge:
"At the time of sale, we price match all local retail competitors (including their online prices) and we price match produces shipped from and sold by Amazon.com, BHPhotoVideo.com, Crutchfield.com. Dell.com, HP.com, Newegg.com and TigerDirect.com."
And you can find their price match guarantee on their website.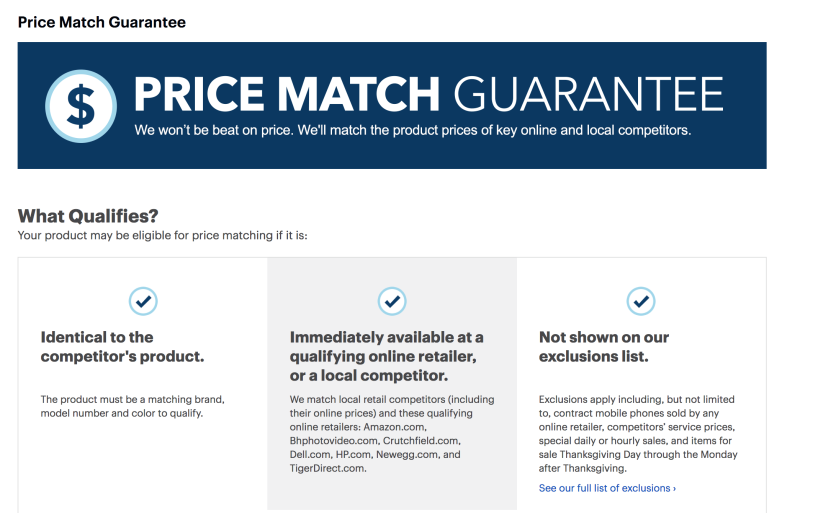 5. Handle specific objections with exit-intent popup
Everyone uses exit-intent popups these days. Why? Because they're an awesome way to re-engage customers.
A lot of online retailers implement exit popups. They pop up on a website's users screen just as they're about to click away.
What is its purpose? To have one last try at convincing them to make a purchase.
For re-engaging cart abandonment, you need to handle their objections. To do this, take a look at your analytics to find out why users are generally abandoning their carts. If it's down to shipping costs, offer free shipping. If it's because they're still not sure about the product itself, use your exit popup to list the various ways your product will come in handy for them.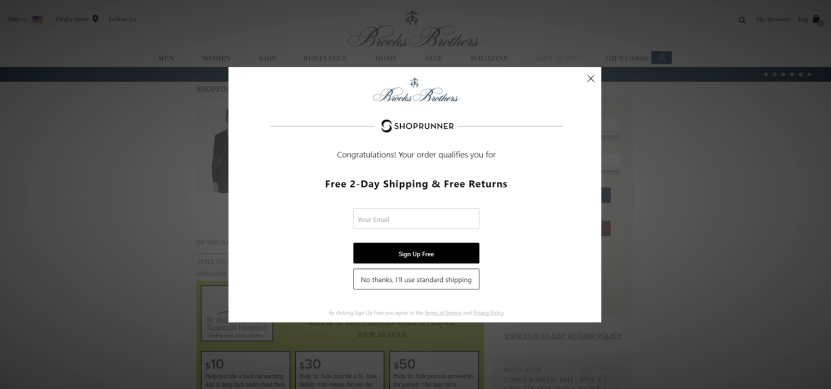 (Use exit-intent popups to handle specific objections | Source)
6. Show verified "Does anyone else like it" product reviews
Without product reviews, few people will trust your brand. If they've never heard of you, or they've never seen anybody raving about your products, why would they put their faith in your company?
Imagine it: A customer has put an item in their cart but then has second thoughts. "Does anyone else like it?" they ask themselves. They check for reviews and … nothing.
Product reviews create trust and credibility, with stats showing that 84% of us trust online reviews.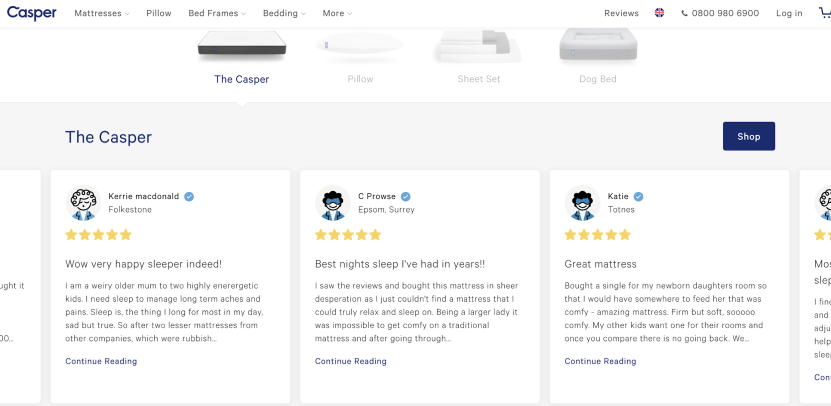 (Everyone seems to like Casper's mattress |Source)
To get reviews, all you need to do is reach out to your customers a few days after they've bought from you. Ask them if they're happy with their purchase, and if they are would they like to leave a review? To increase the chances of receiving a review, provide a little help by giving direction. Just like in the email below.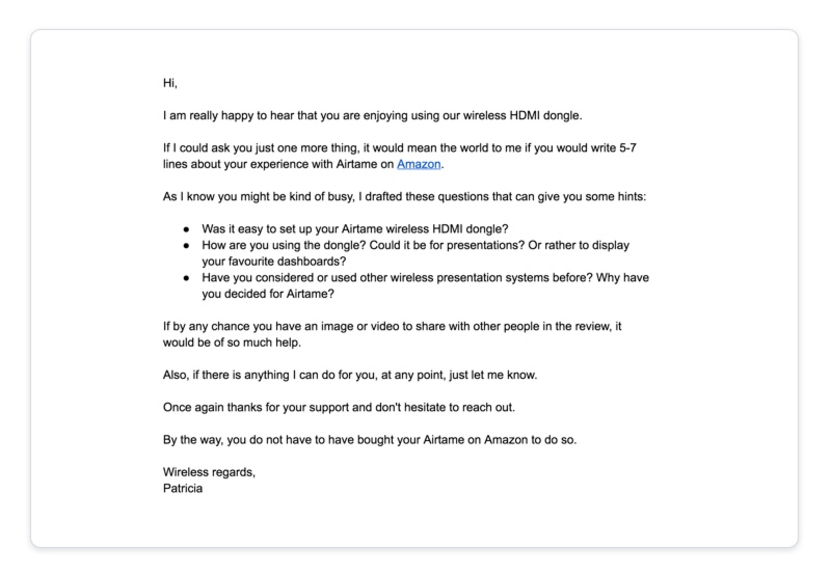 7. Create a sense of urgency
One of the tried-and-trusted methods marketers have of encouraging customers to complete a purchase is creating a sense of urgency.
Urgency creates a fear of missing out. This can be done by adding a countdown timer to your website. Amazon implement this strategy - if a customer wants X product by X date, they have to "order within 10 hours 18 mins."
Another strategy is to let your customers know when a product is running out of stock. If you display that there are just "1 left in stock," you're creating a sense of scarcity that compels people to act there and then. They don't want to miss out.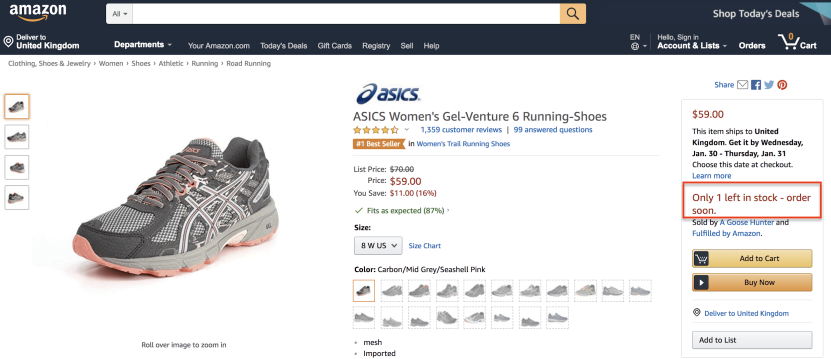 (Showing how many products left in stock is the easiest way to create a sense of urgency | Source)
8. Turn your returns policy into a conversion machine
You'll find that most of your customers won't return an item. But seeing that you offer a quality returns policy overcomes one more obstacle that customers have. Namely, the fear that they can't return an item. If a customer arrives at the cart and then realizes they won't able to return their items if they're unsuitable, there's a high chance they'll bail out.
A quality returns policy also tells your customers that you're confident in your products.
It's important that you create a quality returns policy that helps you stand out from the crowd. To this end, you need to give your customers what they want. According to research, for example, 51% of consumers want free shipping returns.
(89% would shop again after a positive returns experience)
Make sure that your quality returns policy is clear, and consider offering multi-channel returning. Make sure it is accessible by placing it in the footer of your website.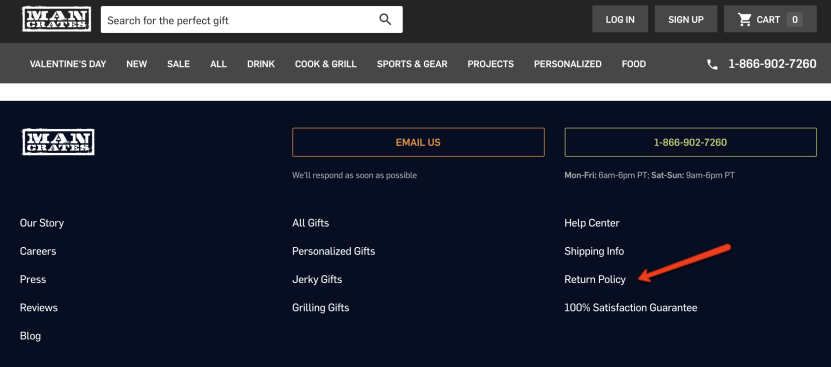 (Make it easy for your visitors to access your returns policy | Source)
9. Tap into lost shoppers with targeted ads
Targeted ads allow you to re-target lost shoppers. Specifically, by using Facebook's dynamic product ads, your cart abandoners will see the products they almost bought on Facebook and Instagram. Don't forget to make the most of tools to help you.
There are numerous kinds of targeted ads you can create, and you should check your analytics to learn more about your customers and why they've abandoned their carts.
Here are a few strategies on how you can use targeted ads to re-engage cart abandoners:
Direct shoppers to your brick and mortar store
If you're doing this, you'll need your customer's demographics, and you should use geo-targeting to send customers to their nearest store.
Why do this? Because studies have shown that customers like to research online but buy offline.
Offer free shipping
One of the biggest reasons customers abandon their carts is unexpected shipping costs. Retarget prospects with ads that promise free shipping to bring them back.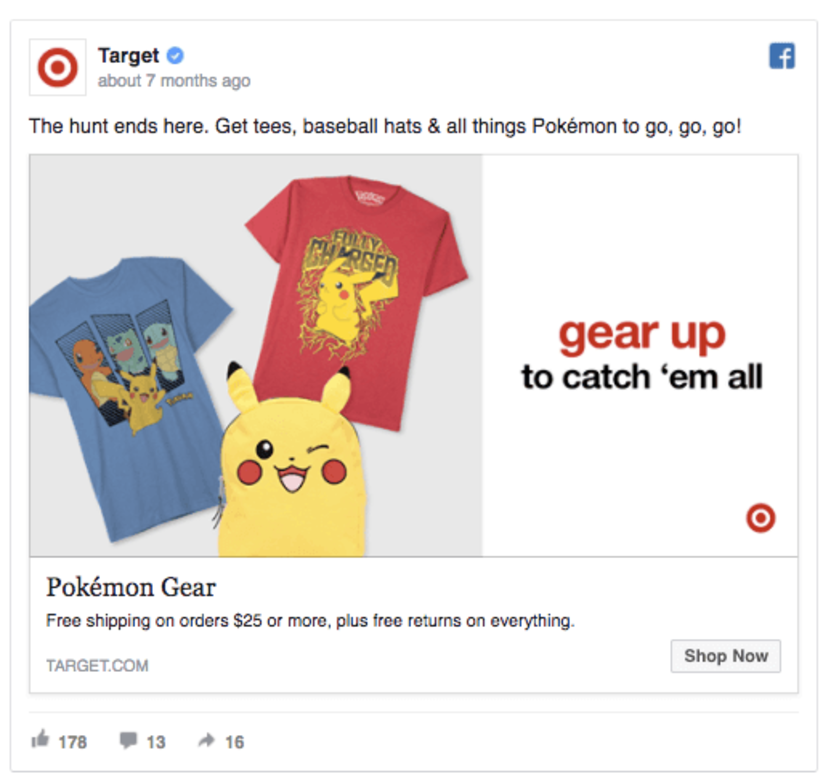 (Retarget abandoners with free shipping offer | Source)
Offer digital coupons and discounts
Who doesn't like a coupon or a discount?
The thing with a digital coupon is that you need to nail the copy so that prospects are engaged. Check the example below. The copy is cute, direct and clear.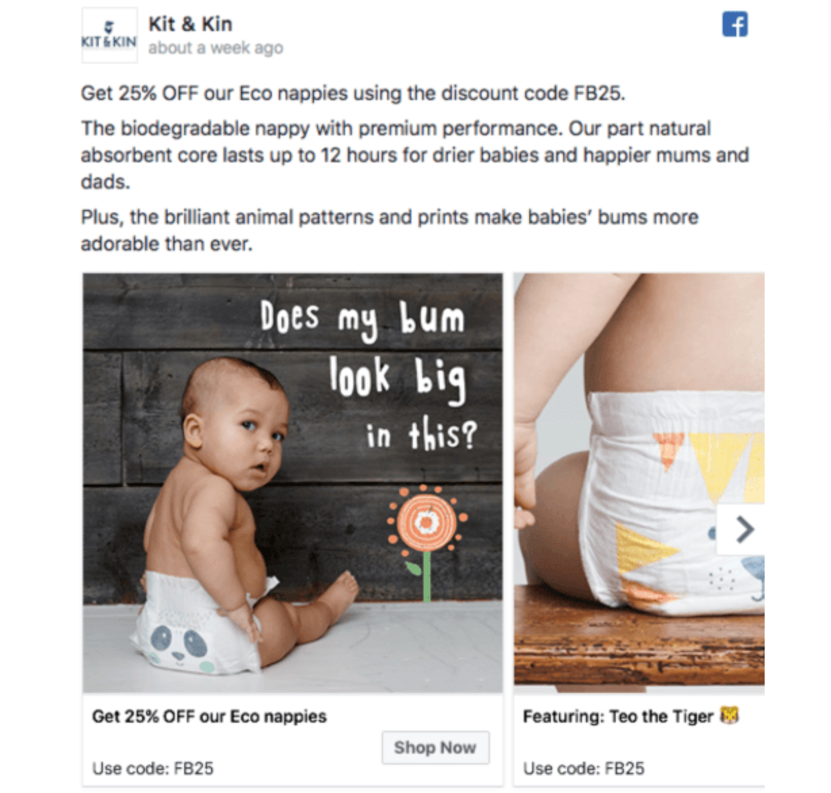 (Make sure your coupons are direct, concise, and clear | Source)
It's also a good idea to add a touch of personalization to your digital coupon ads. Show your customers the item(s) they left in their carts, and show them other items they might like too. It's this kind of personalization that builds trust.
Show videos that provide social proof
You should also look to create targeted ads that show others using your product. Indeed, 70% of Americans shoppers say they'll complete a purchase if they see it in user-generated content. To this end, you'll need to contact satisfied customers and politely ask them if they'll create a short video of them using your product.
10. A/B test these on your shopping cart page
How do you know what's actually working and what isn't if you don't perform an A/B test?
An A/B test is when you test two different versions of the same page. Each time you perform a test, only make one change. In this way, you can see if the change has had any effect on your abandoned cart rate.
Payment methods
For example, you might find that offering different payment options, such as a POS card reader, reduces abandoned carts. Test one version of your page that has the POS card reader as a payment option against a version of your page that doesn't have the card reader as a payment option, and see if adding the card reader has had a positive effect on your abandoned cart rates.
Coupon fields
Is it necessary to present coupon code fields or would your conversion rates be improved if the option to select and deselect the coupon field was available?
Adding a security seal
Adding a trust and security seal to your shopping cart page actually works. Why wouldn't it work? Well, some customers might feel uneasy at the sight of a trust and security seal, as it reminds them that they're about to give away their private info over the internet. Test this.
The ultimate guide to growing and scaling an eCommerce business
Ascertain the problem; then solve it
As I've discussed, there's always a reason why a customer abandons their cart. As long as you know the why, you can put into action ways to bring them back into the game. Cover the bases by exploring your options, and put together a comprehensive plan that allows you to recapture as many 'lost' prospects as possible.
Want to learn more about Core dna's commerce platform?