10 Proven Ways to Increase Audience Engagement on Your eCommerce Website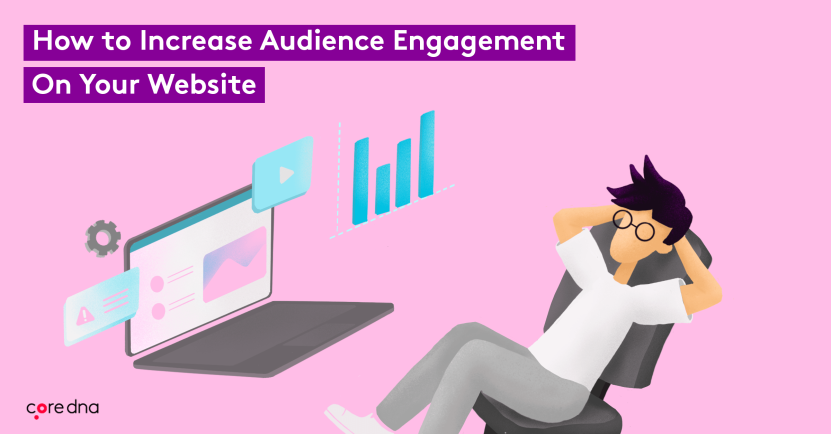 Imagine you're a potential customer for a moment.
You go to your website, search for products, add items to your cart, and even make a purchase.
The process is simple and straightforward, right?
But what if it wasn't?
Sometimes, despite your best efforts, your website experience can leave much to be desired. Users can't find what they're looking for. They get confused. They drop off at checkout. They get bored and go elsewhere.
When this happens, you can lose out on potential customers.
So, it's important to ask yourself questions like:
Is it easy for visitors to find the products they're looking for? Is the checkout process simple? Do users get customer support when they need it?
As an eCommerce business owner, you may forget to put yourself in your customer's shoes once in a while. But considering the questions above – and doing your best to resolve any on-site issues – will do much to help you create a more user-friendly experience for your customers.
But UX isn't just about how users feel when they visit your site. It also plays a huge role in how they engage with your site and, ultimately, if they end up buying your products.
Read on to learn what role engagement has to play in increasing website conversions – plus 10 ways to improve your own site.
In a hurry? Here's what you'll learn in this article:


What is website engagement and why it matters?
"Website engagement" isn't just a fluffy term having to do with how users feel when they visit your site. It's also a way to measure how users interact with your site, what actions they take on your site, and whether they ultimately end up converting into a paying customer.
Every website owner – eCommerce or not – should be aware of their website engagement metrics and actively work to improve them over time.
Here are some reasons why website engagement matters:
1. Users make quick judgments about your site
A few studies have found that you have about 50 milliseconds to make a good impression. Make it count!
2. A slow site loses customers
One source found that slow-loading websites cost retailers over $2 billion in lost sales each year.
3. Return customers can make a huge difference
88% of online consumers are unlikely to return to a website after a bad experience.
4. Mobile search is huge
Many consumers search for and buy products from their mobile device and 53% of mobile sites are abandoned due to slow load time. So make sure your site is optimized for mobile devices.
In the end, website engagement really affects how long users stay on your site and whether they end up buying your products. You could improve your conversions by 30% or more just by implementing some of the website engagement tips below.
10 simple ways to make your eCommerce website more engaging for users
There's a new wave of eCommerce business owners who are looking to amp up their website engagement with UX.
If you're interested in learning how to engage users on your website and skyrocket your online sales, dig into these 10 smart website engagement strategies:
1. Make sure your site follows a logical structure and have enough whitespace

(Make sure your site follow a logical structure and have enough whitespace)
How items or images are placed on the page can play a huge role in how users engage with your site.
When items are too close together, your design can look busy and the effect can be overwhelming for users. Additionally, it can make it difficult for potential customers to scan through the products you offer.
Visual hierarchy is a science that involves organizing visual elements in such a way that is pleasing to the eye and helps website visitors find what they are looking for.
It has to do with following natural eye movement patterns and putting website elements in the right places – where they are most likely to get noticed by users.
Visual hierarchy best practices
In laying out your website banner images, content blocks, product images, call-to-action-buttons, etc., it's worth following visual hierarchy best practices, like:
1. Size
Larger elements attract the eye first. Make your most important elements – like your tagline and banner image – larger than the other website elements.
2. Contrast
Contrasting colors catch the eye more than less-contrasting colors. Make sure important text and images don't fade into the background by adding contrast to these elements.
3. Whitespace
Avoid clutter by adding whitespace between images and text. This is especially true for your Category pages where products are prone to looking cluttered.
2. Optimize your site speed & responsiveness
Have you ever gone to a website, just to get frustrated by a slow-as-molasses load time? If so, you likely turned right around and went to another website instead.
Similarly, if your eCommerce website is slow, potential customers may take their business elsewhere. Beyond that, site speed is an important Google ranking factor when it comes to attracting organic traffic to your site.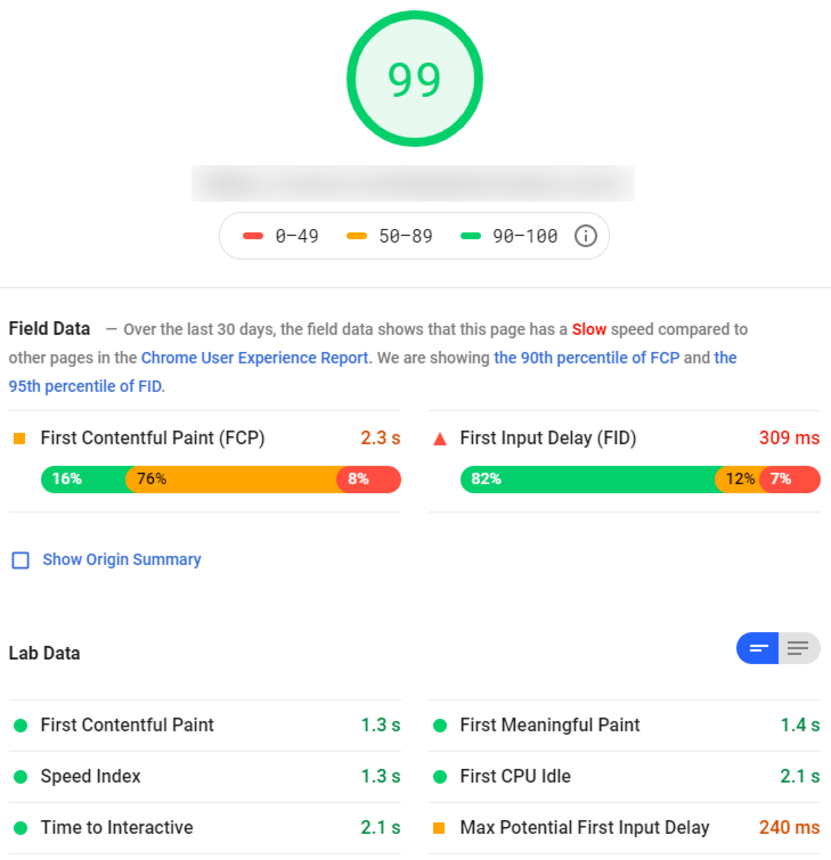 (One of our client's PageSpeed score)
Therefore, one of the first moves you make in upping your website engagement should be optimizing your site speed and responsiveness.
How to check your site speed
To check your site speed, you can set up eCommerce analytics tracking to generate your site speed metrics. As a general rule, your site should load in 3 seconds or less, but, the faster the better.
If your website is slow on desktop and/or on mobile, you may be losing out on potential customers. To prevent this from happening, you should work with a developer or your chosen eCommerce platform to speed up your site and optimize it for mobile.
How to improve your site speed
Is your site slow? Here are some ways to increase your site speed:
Compress files and images: Try to reduce the size of your CSS, HTML, and JavaScript files to smaller than 150 bytes.
Avoid and minimize the use of render-blocking JavaScript: This will help browsers render the page faster.
Reduce URL redirects: Each time a page redirects to another page on your site, the user faces additional time. Try to avoid creating too many redirects on your site by limiting redirects to a 1:1 URL path.
Optimize images: You can use CSS to create an optimized template for images that you use often on your site. Make sure to use the right file type and that images aren't larger than they need to be. Plugins like WP Smush for WordPress or tools like tinypng.com can help you compress these images.
Fun fact:
Core dna platform uses
Kraken
to compress images losslessly on the way in. Our
digital experience platform (DXP)
allows front-end developers to resize these images based on the template that they use and we cache images for speed so they're only generated infrequently.
3. Use a straightforward & logical content/page structure
Like the visual elements on your site, your content should be organized in a user-friendly way as well.
In particular, your site navigation, drop-downs, and checkout process should be straightforward.
What's the most natural and concise way to organize these elements? If users go here, where are they likely to go next?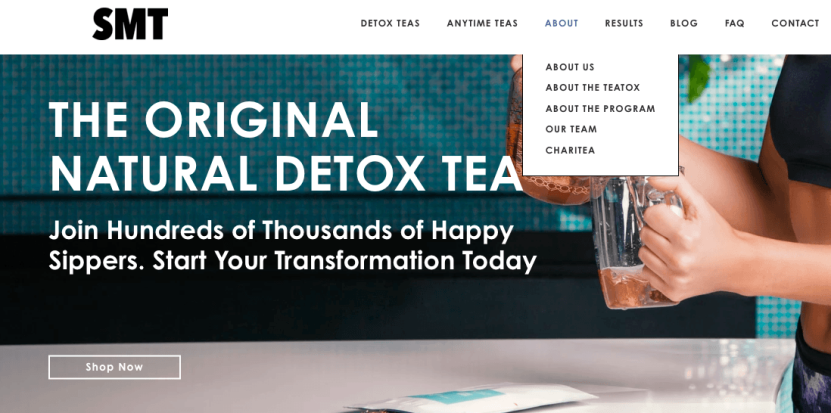 (What's the next logical content?)
This is not the time to be "quirky" by using confusing navigation text. Make your main nav as simple as possible. Same with the checkout process; users add the item to their cart, enter their information, confirm the purchase, and go to a confirmation page. Easy-peasy.
Doing so will:
Prevent users from getting confused on your site, and
Reduce the chances of them dropping off during the checkout process.
4. Use different content types
Don't let your site content go stale. If you limit your eCommerce content to written content and product photos, you're missing out on opportunities to boost engagement and sales.
Using diverse types of content like infographics, videos, charts, and even GIFs has been proven to increase website engagement and traffic.
For example, you can post a product review video on your website, publish it to YouTube, and share it across social media. That way, you can generate organic traffic, YouTube traffic, and social media traffic with just a single piece of content.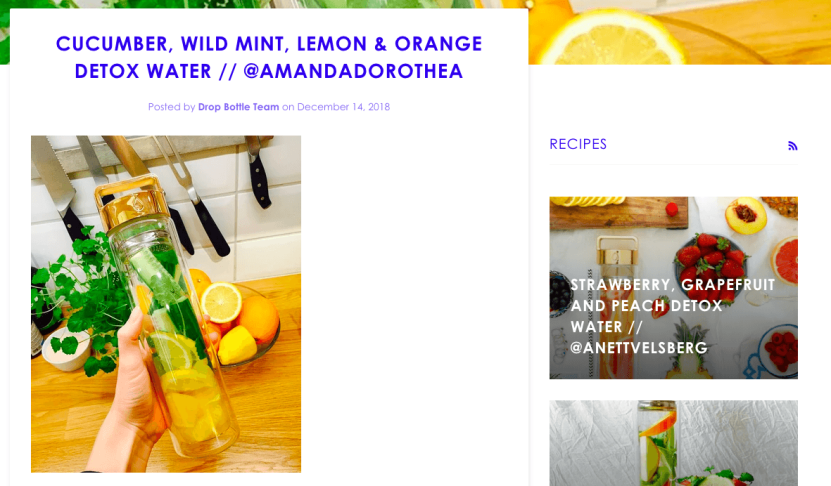 (Use images, GIFs, videos, etc. to spice up your content format)
Add images and even videos to your product pages to give them a 360-degree look of your product and the different ways to use your products (or how other people are using them)
Want to mix up your content to boost engagement? Here are some other content ideas:
Downloadable ebooks
Custom-designed infographics
High-quality photography
GIFs
Interactive quizzes
User-generated content
Product review videos
Expert interviews
Webinars
Courses or tutorials
Repurposed Facebook Live videos
Charts and graphs
5. Add internal links & suggested products
Adding internal links to other pages and products on your site is a great way to encourage customers to add more items to their cart.
By including other "Products You May Like…" or "People Also Bought…" internal links, you could have customers adding one or more products to their shopping cart.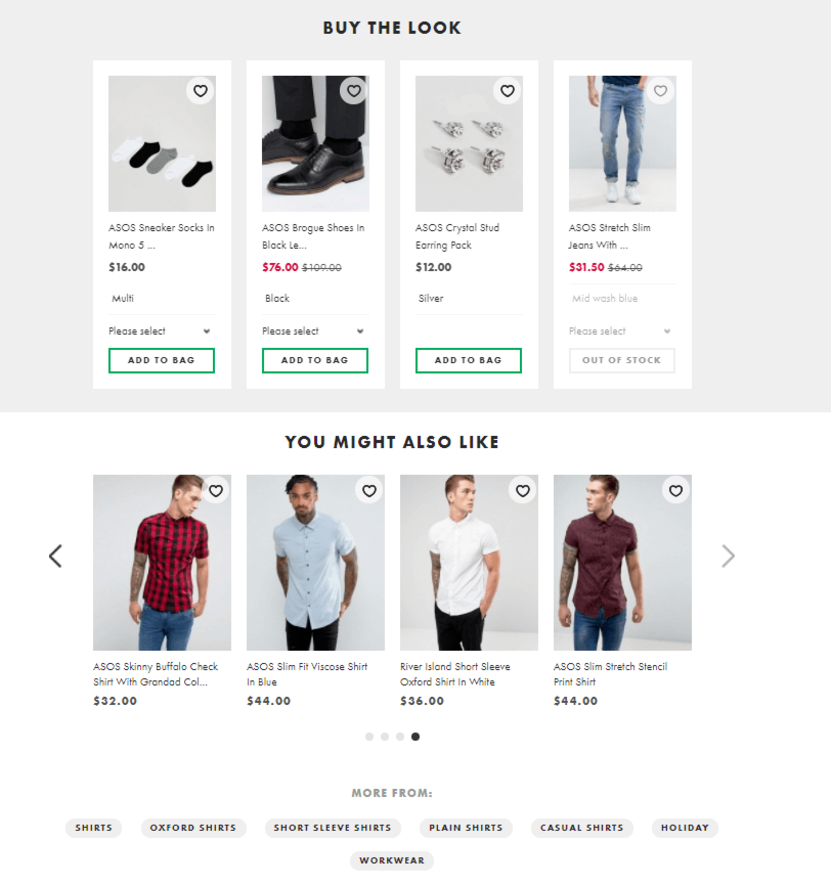 (ASOS' suggested products section)
Beyond that, adding internal links makes your eCommerce site easier to crawl by search engines. That means they are better able to understand your site structure and are more likely to rank your site, increasing your chances of generating organic traffic.
6. Add content upgrades
Content upgrades are a great way to capture potential customers who may not be quite ready to buy. You can snag their email address and market to them until they are ready to make a purchase.
Discounts are one popular content upgrade for eCommerce sites, but there are many others.
For example, you could provide a free "buyers guide" to your latest products, an informative ebook, a video of an exclusive interview with an industry expert, or even an interactive quiz.
The key is to provide something your potential customers will find value in – something they are willing to hand their email addresses over for.
Here are some potential content upgrades you could add to your site:
Opt-in to join free email course
Downloadable ebook or how-to guide
Exclusive expert interview
Free templates
Yearly holiday product guide
Sign up to receive a free tester product
Free trial of new product
Access to a webinar
7. Use clear, concise, and compelling CTAs that match the buyer's journey
The calls-to-action you add to your content should match the "temperature" of your audience, and make it super clear what action you want users to take.
For instance, adding a "Buy Product" button to a blog post may seem a bit aggressive, but a "Learn More" CTA may be appropriate.
Similarly, you can add buttons like "See Reviews" or "Add to Cart" of your product pages, as these are super helpful and tell users exactly what they can or should do next.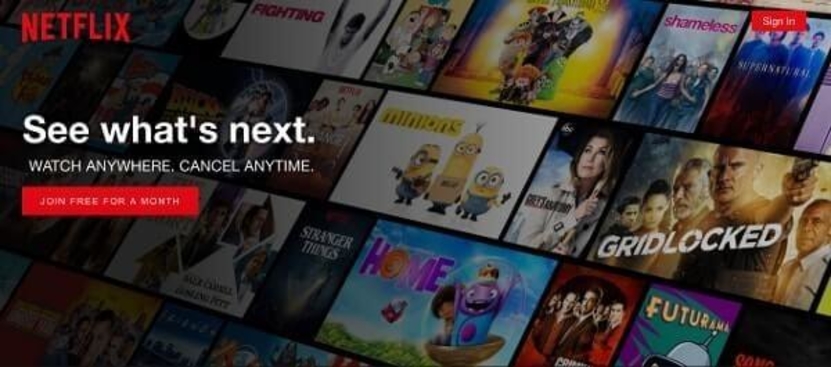 (Your CTA should finish the sentence: "I want to…")
Here's how to come up with clear and compelling CTAs:
Align with the right stage of your sales funnel
Use the terms your audience is using.
Use concise wording to tell users what to do next
Should direct users to a relevant page on your site (e.g. a product page vs a generic Contact page)
Are bold, easy to see, and easy to click
Should be used throughout the page so users have multiple opportunities to convert
Avoid "quirky" language like "Let's Geddit" or "Fo' Sho'!", as these can lead to confusion
8. Enable interactive site search
Even if you have a straightforward site navigation structure, it can still be difficult for users to find what they're looking for.
That's why you should always have site search enabled so users can find products without having to dig around on your site.
You can even level up your site search functions by adding interactive search, autocomplete, or faceted search to predict what users are searching for and make suggestions for related products. That way, even if a user is looking for a product that you don't offer, you can direct them to similar products on your site.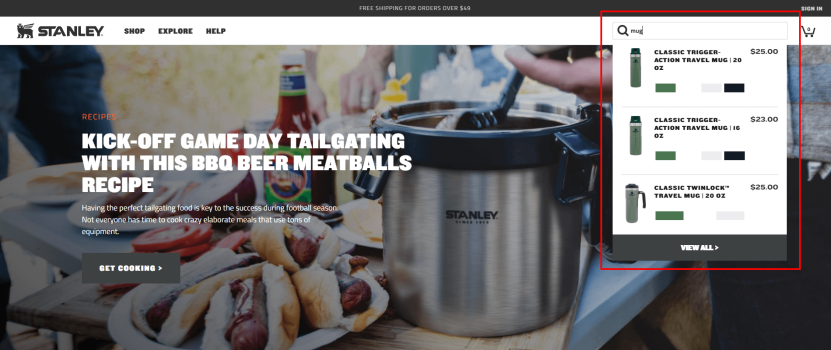 (Stanley-PMI's interactive site search)
Optimize your site search by following these best practices:
Include autocomplete to help users find products even if they don't know the exact name
Allow search for misspellings of words/products
Use AI and merchandising to suggest similar products to users to maximize sales
Make sure search box is visible on all types of devices
Include images, videos, and text results
Turn frequently asked questions into a stand-alone FAQ page
9. Create custom 404 pages
On the same vein as tip #8, creating custom 404 pages is another way to direct users to related content if they aren't able to find what they are looking for on your site.
For instance, sometimes you may remove an item from your stock and this will result in a 404 page. Instead of having a page that says "Oops. This page is no longer here.", you can direct users to similar pages or products.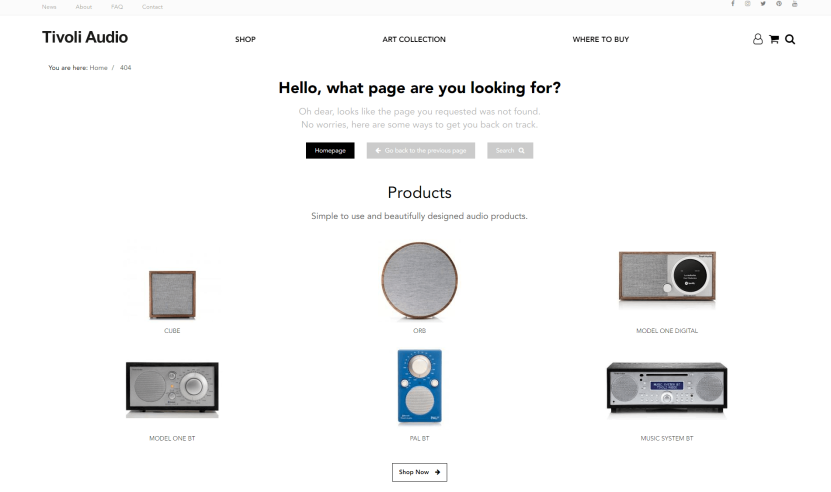 (Tivoli Audio's 404 page moves users down the funnel)
Here are some ideas to for your 404 page:
Directing users product category page that's in line with what they were searching for
Adding a search box so they can look for a different post or product
Adding a list of "Products You May Also Like" to encourage them to make a similar purchase
Including a video that reviews a similar product with a CTA to purchase that product instead
Just because you don't have the exact product they are looking for doesn't mean you can't still make a sale. Use every opportunity to direct users to similar products they may also enjoy.
10. Integrate live chats & chatbots
Websites glitch out, users get frustrated, the checkout page freezes, and other things can go awry. These mini disasters can be resolved quickly when you provide one-click-away customer support when and where they need it.
Again, leaving users to spend loads of time searching your site for support does not create a positive user experience. Instead, you can provide convenient resources to help them resolve their issues and get them to buy, fast.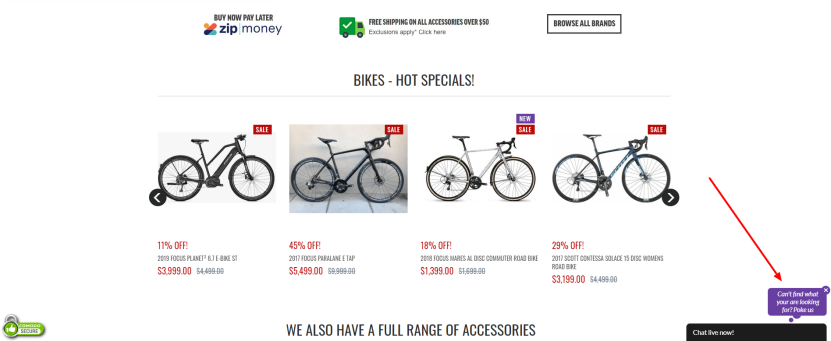 (Use live chat and chatbots to eliminate bounces)
You're able to provide 24/7 customer service, keeping customers happy
You can personify your brand by giving a "face" to customer support
You reduce customer stress by getting them the help they need right away
You can avoid the typical problems of human customer support (impatient, sassiness, etc.)
You make the customer service process smooth and simple – for you and your customers
You cut out that dreaded interactive voice response (aka "robot voice") and instead make customers feel heard
Not only will enabling live chat lead to happy users, but it decreases your chances of losing customers due to common frustrations. You can help them navigate the checkout process with ease, and even ask for a positive review in the process.
Keep visitors engaged and boost online sales, fast
By just implementing some of these website engagement tips, you can significantly improve customer satisfaction and increase sales on your eCommerce website.
There's no reason why your site should be stale, confusing, or unresponsive. It can be dynamic, helpful, easy to navigate, and set up like a sales-generating machine.
Remember to use these 10 strategies to keep users engaged and improve conversions on your website, naturally:
Make sure your site loads quickly; less than 3 seconds is ideal
Create a design hierarchy to keep users visually engaged
Organize your content effectively to help users find what they're looking for
Mix up your content to keep visitors interested (and wanting to share your content)
Add internal links and suggest related products to maximize sales
Include content upgrades to capture leads and market to them later
Use concise CTAs to compel users to take action
Optimize site search to avoid confusion and direct users to additional products
Customize your 404 pages to keep users on your site
Utilize chatbots to get users the help they need, fast.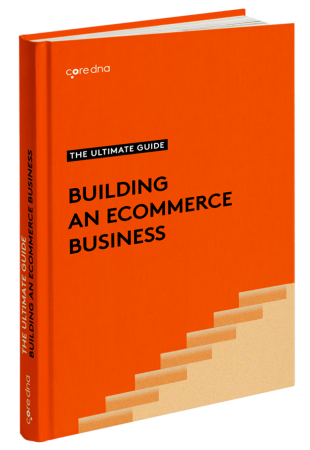 The ultimate guide to growing & scaling an eCommerce business
Everything we've learned throughout our 18+ years journey in a 30,000-word PDF guide.