Why Your eCommerce Needs an Omnichannel Strategy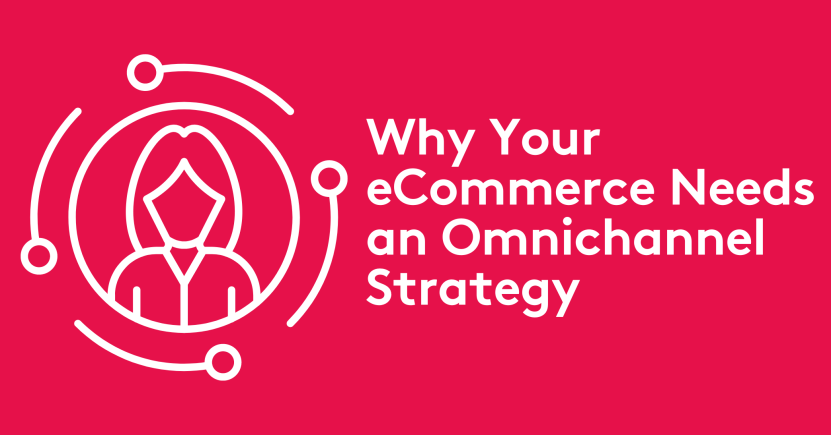 More than ever, customers dictate where and how they want to shop, whether in-person, online, on their phone, or using an Amazon Echo and they expect the experience to be seamless no matter what device or platform they're on.
Thriving in this new era requires brands to embrace an omnichannel eCommerce strategy. If you're ready to embrace omnichannel eCommerce, this guide will set you on the path to success.
Key Takeaways
Customers demand a seamless shopping experience across all devices and platforms
Omnichannel helps brands better understand customers and drive sales
There is no one-size-fits-all approach to omnichannel eCommerce.
Build a strategy that works for your business.
A flexible eCommerce platform will provide all the features you need to compete in today's market.
On this page:
What is Omnichannel eCommerce?
Omnichannel eCommerce is a sales approach leveraging multiple channels to provide customers with a unified, seamless experience across all channels, whether from a mobile phone, in-store kiosks, or voice assistant. This approach to eCommerce is more critical than ever in the digital age because it connects the shopping experience for customers on every channel, not just a few.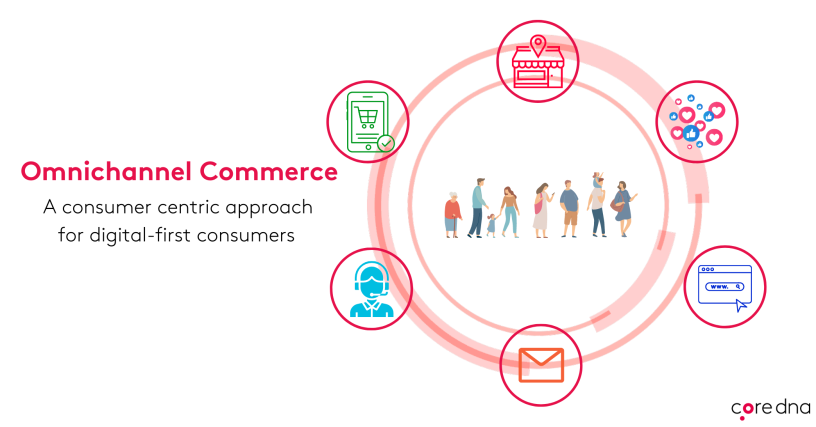 Why is omnichannel important for eCommerce?
In today's world, consumers expect retailers to provide an omni-channel experience. Brands should offer products across all channels, whether in store, on mobile, online or on social media, allowing customers to buy anytime, anywhere, and on any device.
Flexible shopping experience: With a cohesive shopping experience woven throughout all channels and devices, customers can shop with you anytime they want, anywhere they want.
The rise of social commerce: Social commerce is the next big thing in eCommerce. It's turning social media channels such as Facebook, TikTok and Instagram into digital storefronts. Social commerce platforms have been shown to have higher conversion rates than other types of e-commerce platforms.
Personalization: Customers expect to have a tailored eCommerce experience, showing them relevant brands, products, and deals. An omnichannel strategy allows you to collect more customer data to better understand how they shop and deliver a more personalized experience, which is essential to creating loyal shoppers.
Advantages of an omnichannel eCommerce strategy
A solid omnichannel eCommerce strategy offers several benefits that can make your brand more competitive. These advantages include the following:
Increase sales and eCommerce traffic
Creating an eCommerce infrastructure that extends across all devices and channels might seem daunting, but it's well worth the effort. An omnichannel approach allows more customers to find you using their device and channel of choice, increasing eCommerce traffic and, ultimately, converting sales. Customers that have a quality experience with brands are more likely to become repeat shoppers and spend more time on their websites.
With an omnichannel eCommerce platform, you can guarantee your brand messaging remains consistent across all channels. Omnichannel eCommerce breaks down siloes where outdated messaging can hide, ensuring you deliver only the most up-to-date and accurate information to customers regardless of where they interact with your brand.
Enhance the customer experience
Customers have more channels at their disposal than ever before. A customer placing an order with their Amazon Echo deserves as seamless an experience as shopping on their desktop. Using an omnichannel marketplace for your business gives you the power to build engaging product and content pages to create a world-class customer experience no matter where customers shop.
Data is the secret to gaining a competitive advantage and earning new and repeat customers in the digital age. An omnichannel strategy allows you to track how your customers interact with your brand across different channels, making it easier for you to deliver a more personalized experience. You can rely on the data to create better-curated content to attract new customers and encourage loyal customers to shop more with you again.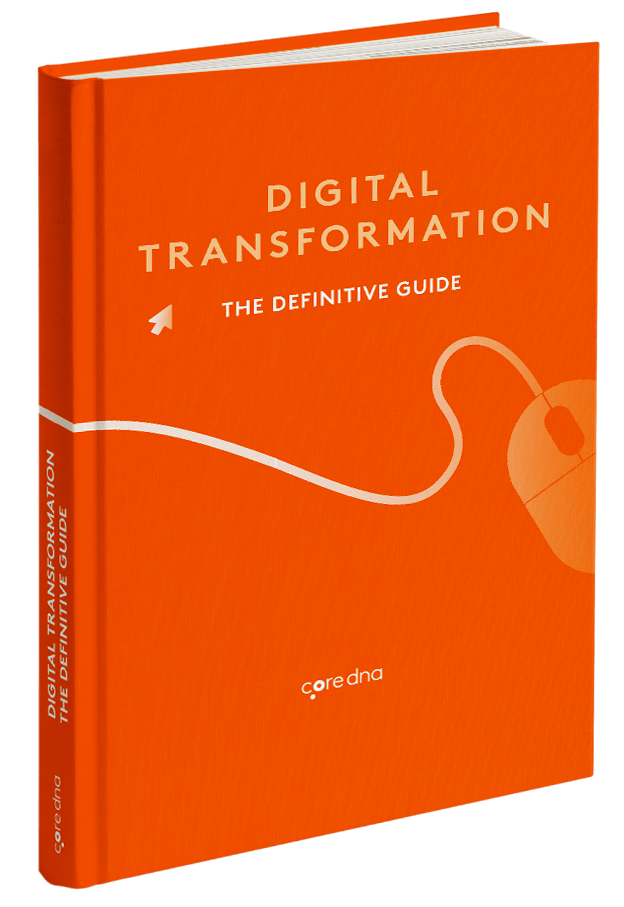 Digital transformation: The definitive guide
Everything you need to know about digital transformation, PLUS a bonus digital transformation sheet that we use internally to track chart vs effort tasks.
How to create an omnichannel strategy for your business
Now that we understand omnichannel eCommerce, let's explore how to create a robust omnichannel strategy.
Create a customer journey map
The better you understand your customers, the easier it will be to alleviate their pain points when shopping with you and convert them into sales. The first step in creating your omnichannel strategy begins mapping the journey your target customers take when interacting with your company. Identify every stage of your customer's shopping behavior, from interest to purchase.
Creating a customer map allows you to do the following:

Deliver high-quality customer service across channels and at every stage of their shopping experience.
Create targeted marketing and ad content for each channel.
Adjust the shopping experience as necessary based on customer pain points.
Engage with customers during each touchpoint in their journey, improving their experience and increasing conversions.
Engage your customer with authentic content
Once you understand your audience(s), you can create targeted content to drive them to your eCommerce marketplace. This requires developing a brand voice that will help you stand out and helps you achieve your goals by connecting with your audience. Whether it's a text message with a coupon for loyal customers or a reminder email about an abandoned purchase, all your brand content should be linked to the customer map, reaching them at the right time on their journey.
This year, mobile eCommerce or mcommerce sales in the United States are projected to surpass 430 billion U.S. dollars, almost double the number from 2019. The numbers don't lie: you are putting your business at a massive disadvantage if you're omnichannel eCommerce strategy doesn't prioritize mobile functionality. You want shoppers visiting your website from their phone to have an optimal, intuitive experience so they can shop quickly and easily.
Prioritize customer service
Finding and connecting with your customers is only half the battle. You still need to ensure they can find, buy, and receive what they need. Supply chain disruptions, inventory issues, and delivery delays all affect how customers perceive your brand, even if some of these factors are out of your control.
Your omnichannel strategy must account for customer service resources everywhere your customers engage with your business. Leverage tools such as live chat options, chatbots for simple questions, and FAQ pages to help customers resolve issues fast. Building resources like these throughout the customer journey can build loyalty and improve how consumers perceive your business.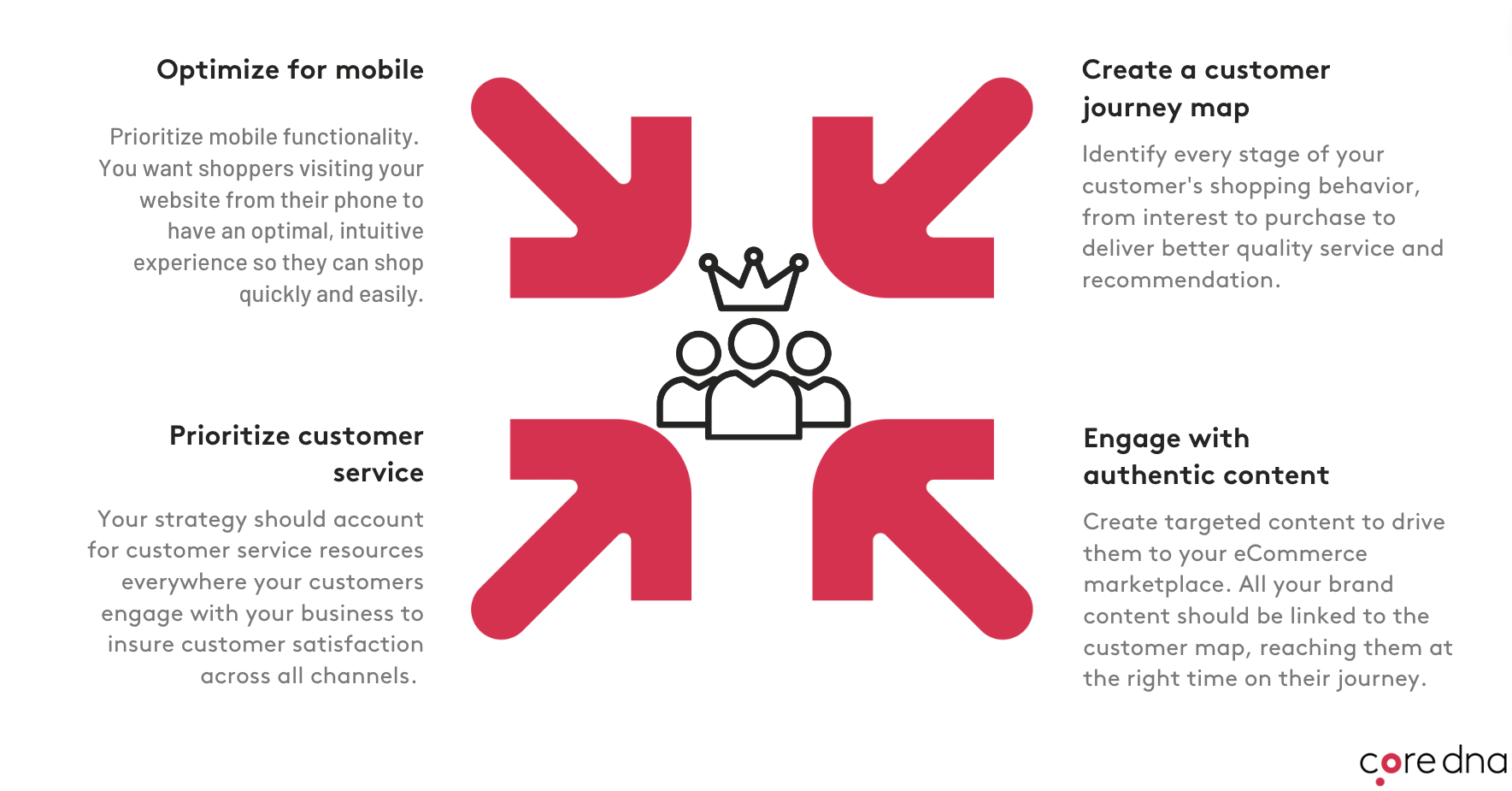 Data is the key to unlocking the potential of your omnichannel eCommerce strategy. Integrate data from all your channels to understand how your content is performing, how customers are reaching your marketplace, and what their experience is like once they're there. Use your analytics to continuously improve the customer journey and find new audiences whenever possible.
If you're referencing your data regularly, you will likely realize that some channels are better for selling than others. Omnichannel doesn't mean you have to sell products directly to customers on every channel.
Understand what you're customers on each channel are looking for and customize your content to fit their preferences. How you message followers on Instagram will likely differ from how you communicate with email subscribers. Knowing how to message appropriately to each audience is critical for omnichannel success.
Choosing an omnichannel eCommerce platform
To execute your omnichannel strategy, you will need an eCommerce platform that genuinely compliments your business. The type of platform you choose should depend on factors such as the size of your business, your website design, the type of content you expect to create, and how soon your want to launch, among others.
The right omnichannel eCommerce software can make or break your efforts before they begin. Here are some options to consider:
Core dna
At Core dna, our cloud-based digital experience platform (DXP) helps businesses improve their customer experiences, be more efficient in their operations, reduce their costs, and improve their scalability and security posture.
Our approach to eCommerce gives us the unique ability to bridge content and commerce, allowing you to take a modern approach to create and distributing content. With Core dna, you don't have to worry about switching systems or installing plugins. We provide all the tools you will need to create personalized and unique eCommerce experiences integrated into one place.
Composable commerce
Composable commerce allows you to build a faster, more flexible site with third-party software components. By leveraging unique eCommerce components for different needs, you can adjust to changing markets and customer needs more efficiently.
Software-as-a-Service (Saas)
SaaS vendors are a good option if you don't have the budget for the composable approach or the internal resources to design a website with Core dna. A quality omnichannel commerce Saas platform should run all channels, from social media to in-store kiosks and mobile stores. They are a great option if you're looking to set up your omnichannel eCommerce effort quickly because they often integrate with e-commerce platforms, retail management systems, ERP systems, and marketing software.
Awesome Omnichannel eCommerce examples
Since we've given you a lot to think about, we hope to send you some inspiration. Here are some of our favorite examples of excellent omnichannel eCommerce in action:
Printemps
The famous french department store founded in 1865 shows all of us that you are never too old for omnichannel. For the opening of their 1st international store in NYC, le Printemps has created a web3 virtual store to reinforce its strategy of a global omnichannel platform.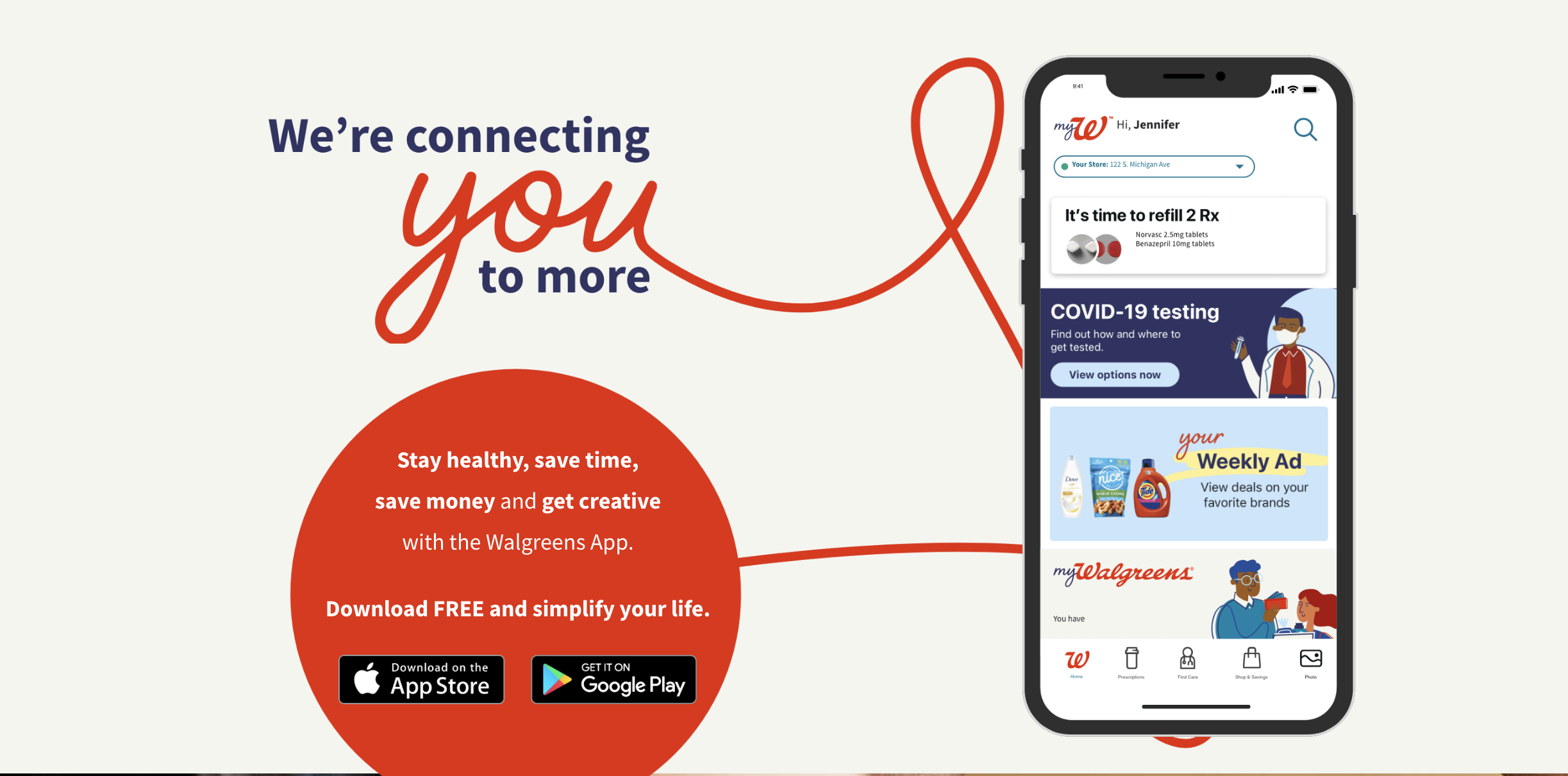 Walgreen mobile app
The retail pharmaceutical giant earned its place by creating an app that allows users to manage their pharmacy prescriptions, fill out rapid refill requests, find product deals, and order items from a nearby store. It's a fantastic example of how optimizing for a mobile shopping experience can improve the customer's overall experience with a brand.


Lush
#Lushlabapp is the new addition to the Lush store experience. An app that serves as the primary source of product information and in-store interaction. Customers can scan the bath bombs with their mobile phones to reveal all the ingredients, properties and benefits and see them dissolve in water. By adding the dissolving video, Lush adds another level of immersion and connection with the bath bombs.
Scale your eCommerce business with our guide below 👇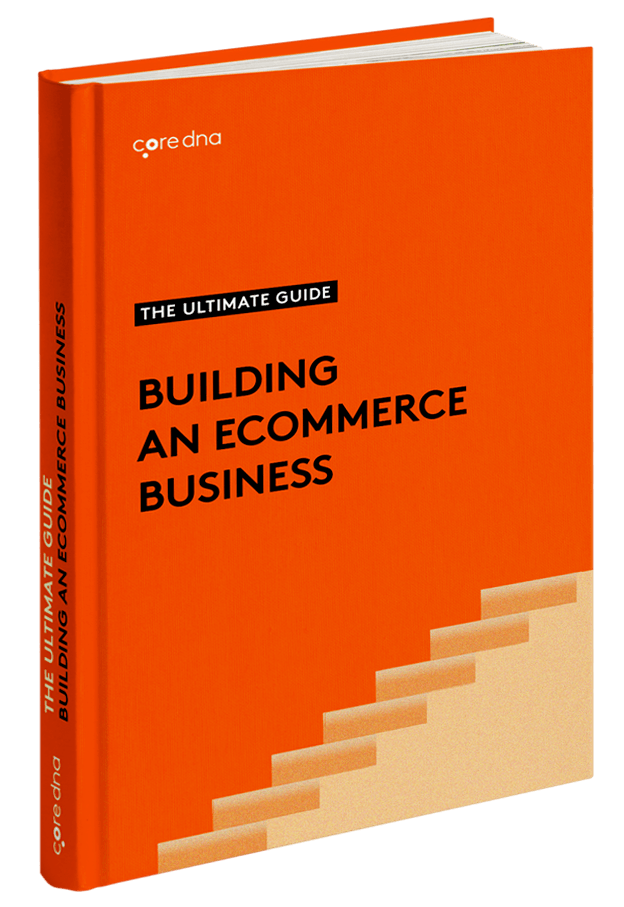 The ultimate guide to growing & scaling an eCommerce business
Everything we've learned throughout our 18+ years journey in a 30,000-word PDF guide.
Related questions
B2B eCommerce solutions make doing business easier. From simplifying customer engagement, increasing sales, and reaching new markets, leading B2B merchants are diving into eCommerce head-first...
Read more benefits below:
[Read more]
You sure can. Global brands trust Core dna to build and operate eCommerce websites in multiple regions and continents. Our eCommerce feature set includes everything from inventory management to detailed analytics.
See Core dna's eCommerce features.
[Read more]
This depends on the traditional platform. With a headless CMS, the key difference is its ability to create different content types and then make that content available through an application programming interface (API).
If a traditional CMS is able to process API requests it can be integrated with a headless platform. If it's not then programmers will need to process the API requests outside of the traditional CMS, through the use of javascript in the display of the website.
Understanding what a traditional CMS is
A monolithic or traditional cms is a content management system that stores all of its content in a single database. This means that all of your content, including pages, posts, comments, and media, are stored in one place. A monolithic cms is best suited for small websites with relatively simple content structures. If you have a large website with complex content, you may want to consider a different type of content management system.
Understanding what a headless CMS is
A Headless Content Management System (CMS) enables users to manage and store content without the need for a graphical user interface (GUI). A headless CMS is often used in conjunction with a "front-end" website or application that provides a GUI for end users.
You can learn more about headless vs monolithic in this guide:
What is a headless CMS
The difference between headless vs traditional CMS
What is a decoupled CMS
Headless vs decoupled CMS
Things to consider when choosing a headless CMS
Headless CMS case studies
Schedule a one-to-one consultation with your product specialist
Here's what you can expect:
Walkthrough: An introduction of the Core dna platform
Analysis: Personalized recommendations based on your business needs.
Case studies: How other businesses have used Core dna to scale more efficiently
[Read more]
Exchanging goods or services for money across country lines comes with a host of regulatory measures and technical considerations, regardless of whether you're doing business face-to-face or online. There are also important environmental and cultural differences that will influence the way that you present your offerings to local consumers.

Core dna is setup to enable your team to think globally and act locally, meaning we have international domains and international payments with different personalization features to help you scale.
We created a blog post where we share eight considerations that you should keep in mind as you develop your plan for going from domestic provider to international distributor. Read more about scaling your eCommerce globally.
[Read more]
According to Ecommerce Guide, nearly all retail growth in the US at present is driven by eCommerce — a trend which looks set to continue into the foreseeable future.
Dominant eCommerce brands like Amazon and Walmart understood the importance of utilizing the best eCommerce website design practice to enable a good customer experience.
And in order for your brand to deliver the same customer experience through your eCommerce platform, you need to make sure your site meets certain requirements.
So to help you prepare your eCommerce website, we've compiled a comprehensive checklist (with 36 items) that have been categorized into the following categories:
Site-wide
Homepage
Product Listing & Category Pages
Product Pages
Cart Page
Checkout Page(s)
[Read more]
After calculating your B2B eCommerce business model and metrics, you can use a SaaS to build your eCommerce business. Check out these guides below on how to fabricate your eCommerce empire written by the experts:
[Read more]
This could be your biggest challenge yet. The B2B buying process is going digital. The right platform can help improve efficiency while enabling you to run your business online. The best B2B platforms will cover everything from enforcing best practices, consolidating data, bridging the divide between buyer and seller, invoicing, ordering, and information collection.
Not sure what makes a good B2B eCommerce platform? When selecting the technology you need for your online B2B business, consider the following:
[Read more]