Benefits of Digital Experience Platforms for Modern Businesses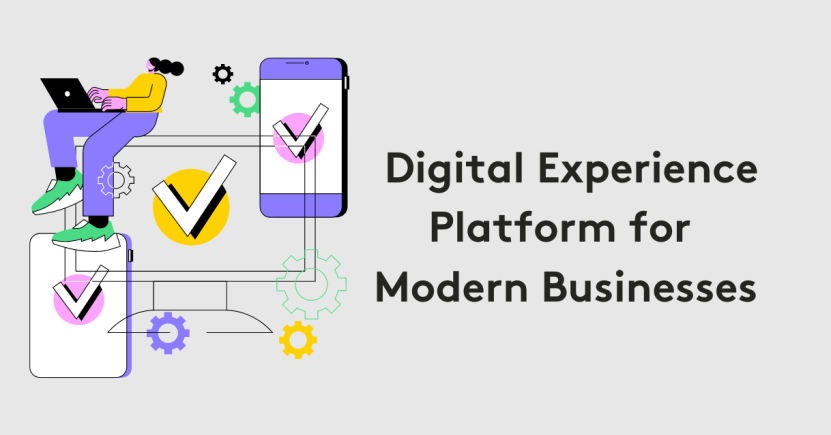 Digital transformation has redefined the way businesses approach every aspect of their operations. One of the key changes it has brought about is regarding customer experience, expectations about which have multiplied in terms of both substance and quality. Even advanced content management systems (CMS) are no longer enough to meet the digital customer experience that modern businesses crave.
It's a trend that has paved the way for digital experience platforms.
Key takeaways
Digital experience platforms is giving business the right tools to combine content and create coherent customer experiences across multiple channels.
A CMS is based on a siloed framework in the form of a repository, where data - such as metadata, content, images, and other assets - are stacked.
A digital experience platform leverages API to connects all the data in a seamless format for uninterrupted access and visibility.
What is a digital experience platform (DXP)?
A digital experience platform or DXP refers to a type of enterprise software that helps companies deliver optimal customer experience.
DXPs can have various forms depending on the objective and functional complexity required, from a single solution to a combination of solutions working in tandem. Essentially, a DXP is the foundation of a company's digitization endeavors, which can open the horizons to digitizing multiple aspects - from business operations to insight gathering.
What is headless DXP?
A digital experience platform that enables digital content management and delivery without deploying a graphical user interface (GUI) is called a headless DXP. It bifurcates the stack between the front-end layer of the presentation and the content management system at the backend. It is, therefore, able to provide you with more flexibility in content delivery.
What is the difference between DXP and CMS?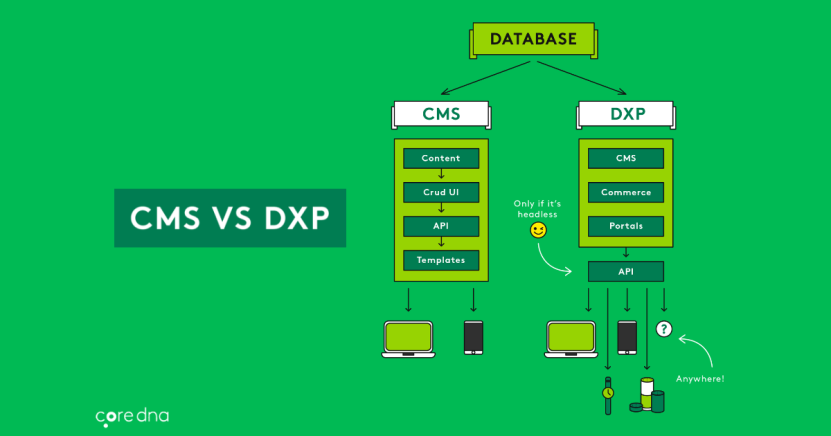 The difference between a CMS and a DXP is that a content management system (CMS) provides collaborative flexibility, allowing various users to work simultaneously on a single piece of content. The drawback here is that it is based on a siloed framework in the form of a repository, where data - such as metadata, content, images, and other assets - are stacked. A digital experience platform redefines this paradigm by connecting every collateral in a seamless format for uninterrupted access and visibility. A DXP's integrated architecture makes it a popular solution for businesses keen on providing optimal customer experiences.
Of late, more advanced CMS solutions have been developed to replace some of the drawbacks of conventional CMS. But even those aren't enough to keep up with growing customer expectations in terms of their digital experience. That has resulted in the emergence of digital experience platforms to fill the gap. Their popularity is because they are far better equipped to provide contextual and customized customer experiences (CX).
Given their limitations, businesses want more than just a CMS to provide personalized digital customer experiences. A DXP can be a one-stop solution that provides omnichannel customer experiences. Be it applications, websites, or portals, DXPs provide applicability in every major area of digital transformation. Centered around the core objective of customer experience, DXPs are far better equipped to provide contextualized digital experiences.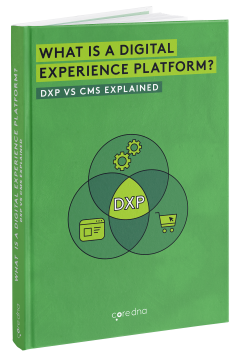 Digital Experience Platform (DXP) vs CMS
Digital Experience Platform helps you increase your customers' satisfaction. Offering an omnichannel experience is mandatory to ensure your customers can interact with your brand wherever they are.
How DXPs differ from older data systems
A digital experience platform leverages APIs and other communication tools to provide contextualized customer experiences. It contains the entire framework required to compose, manage, deliver, and optimize a unified customer experience. Put another way, a DXP takes all the capabilities of a traditional CMS and blends it with a new and open framework.
In terms of customer interaction, a digital experience platform amplifies audience engagement across various digital touchpoints. Its framework covers everything from content management to web based analytics and mobile support. This elevates the overall digital customerdi experience through practices such as user persona creation, user journey mapping, and customer data-based designing. A Digital experience platform is a cohesive platform that can even be bifurcated for local and remote applications.
Why do companies need a digital experience platform?
Digital transformation has made customer experience a key enabler for businesses. This has led to businesses shifting from a product-centric focus to a customer-centric approach. The widespread adoption of DXPs explains this trend. Here's why your business, too, needs a digital experience platform:
Provide enhanced multi channel experiences: Digital penetration in our lives has led to the exponential growth of digital touchpoints across all digital channels. Offering a consistent customer experience is, therefore, imperative. DXPs enable companies to offer consistent customer experiences across multiple channels and formats.
Data-driven insights for customer engagement: Digital experience platforms help you focus better on your audience as they track interactions across diverse digital touchpoints and fetch customer data for deeper insights. This data is key to understanding customer behavior and identifying loopholes to optimize digital journeys. In the long run, DXPs allow you to know your customers better and enjoy higher customer loyalty rates.
Personalized digital experiences: DXPs shatter data silos native to CMS platforms to enable collaboration between various business areas. This allows better responsiveness and a higher level of personalization to manage digital experiences.
The benefits of using a DXP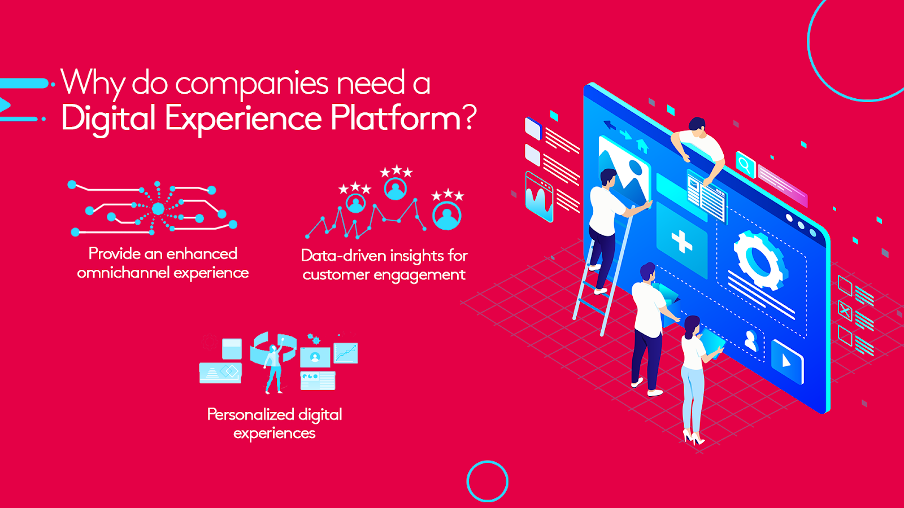 Businesses are increasingly desperate to differentiate themselves in crowded marketplaces by providing standout customer experience journeys. A DXP provides several direct and indirect benefits to that end. Let's check out the most important of them.
Consistency across digital touchpoints: Customers like to access content on a wide variety of platforms and through multiple stationary and mobile devices. For businesses, the challenge inherent in that is maintaining consistency of brand voice, tone, and tenor across those platforms. A DXP enables you to create content in a centralized location and export it easily across platforms.

Insight-driven experience personalization: Digital savvy customers abhor mass-produced content. Not only is it easily ignored and forgotten, but it also takes a bite out of your reputation every time that happens. A DXP lets you create memorable digital experiences based on unique insights into individual customer needs and expectations.

Time-to-market acceleration: Time-to-market is key in developing competitive advantages in any industry. Data collected by a DXP makes businesses more agile in identifying trends and changing customer preferences. This helps shorten the time between ideation and execution and accelerates the development of new products and initiatives.

Data security, privacy, and compliance: A DXP affords advanced control over brand assets and business workflows without compromising on ease of accessibility. They also enable optimal compliance with relevant statutory guidelines, laws, and standards. As a result, most companies can remain agile while operating in digitally responsible environments.
As you can see from the points above, a robust DXP can be transformative in all areas of a company's operation.
Digital experience platform features & capabilities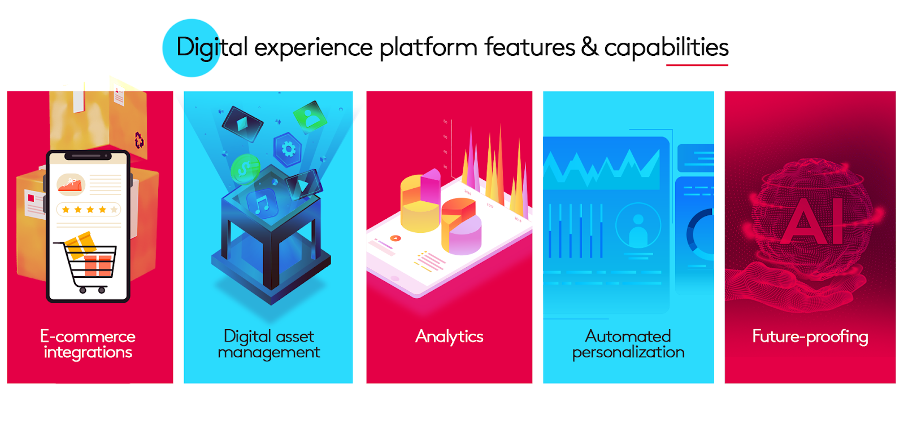 The priority in choosing a digital experience platform is evaluating how it aligns with your specific business needs and objectives. Here are some of the key features and capabilities you should look for:
E-commerce integrations: A major chunk of e-commerce revenue comes from ads, and your DXP must be an effective enabler in this regard. It should also cover the basics of e-commerce operations such as integrated payment gateways, inventory management, chatbot, and customer service within the platform.

Digital asset management: Along with providing a database for content and digital assets, your DXP should allow easy access to this database. It should be seamlessly integrated (preferably on the cloud, given the low downtime and high scalability) across all your digital channels for publication and monitoring.

Analytics: Customer data is just numbers unless translated and presented in an easy-to-understand format. Your DXP must enable high data transparency through AI-powered analytical tools. This will help you spot and predict patterns and trends in your data and allow you to make better and more informed decisions.

Automated personalization: Brand recognition and brand recall are two of the most sought-after values that businesses crave. Personalization is a great way to achieve them easily. Your DXP should be able to monitor and analyze user behavior to offer them automated personalized experiences whenever they interact with your brand.

Future-proofing: Though most digital experience platforms are highly advanced and backed by AI, it's still difficult to predict what the future holds. Your DXP should, therefore, be easily adaptable and based on integrated architecture so that it can accommodate new trends and core technologies as they arrive.
Moving from CMS to DXP
Digital experience platforms come into play when global organizations have to focus on multiple marketing channels for a set of audiences. Since there is a substantial volume of users involved, it isn't easy to provide customers with customized experiences. A DXP solves this challenge by integrating various APIs and tools for behavior analytics, heatmaps, and beyond.
DXPs further enhance their value proposition by offering everything that a CMS can do, but with a new integrated and comprehensive approach. They are not bound by the siloed architecture of a traditional CMS. Rather, DXPs offer comprehensive views and deeper insights. So if you're finally ready to make that switch, here are some things to keep in mind before upgrading:
Evaluate your current website and CMS: You should identify the features of your CMS and understand which ones are important for you. Based on your experience, you can also make a list of 'nice-to-haves' in your DXP. If you're using APIs, be sure to understand how the upgrade may impact its functionality.

Finding a DXP provider: Now that you know what you need, you can compare DXP providers and choose the one that meets all your requirements, including analytics, personalization, and marketing automation.
Pro tip: Check the provider's reviews on websites like Trustpilot and G2.
Start the migration: Once you've zeroed down on a DXP provider, it's time to start moving over! If you've an IT department in your company, they might be able to manage this migration. If not, we recommend using a trusted third-party service provider. Before giving them the job, you should ensure they've experience with CMS to DXP upgrades.
Validate the upgrade: Once the upgrade is done, you should ensure that all your content assets have been moved over and that all the functions of the DXP are working fine. If you're unsure about how to set up a particular tool, you should set up a call with the DXP provider.
While switching from a CMS that you've used for long to a new software might be terrifying, the upgrade can help you improve your digital customer experience.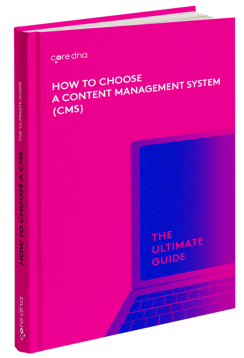 Guide: How to Choose the Right CMS: The Definitive Guide
The only guide you need to choosing the right CMS platform to help drive business growth.
Modern DXP architecture
Competent digital experience platforms require a meticulous approach. They need the right framework for DXP integration and foundational features. This combination can then work seamlessly with each other to deliver content and a highly optimized digital customer experience across the entire user journey.
A DXP comprises various layers, out of which three are the most common and of utmost importance:
The experience layer

the management layer

The infrastructure layer
DXP stack
Here's a look at the stack of digital experience platforms:
Monolithic: Legacy content management systems lie at the core of a monolithic digital experience platform and essentially manage its digital experiences. Monolithic DXPs belong to a category of legacy systems catering to almost all the needs of an organization. Their all-in-one architecture is difficult to work with as it contains more features than required.

Composable DXP: Composable DXP is a type of digital experience platform that lets companies choose the best core technologies to be integrated with a content management system. Composable DXPs are made up of a headless content management system.
Hybrid DXP: The most advanced of them all, a hybrid digital experience platform offers in-built integration capabilities. Built with a headless CMS at its core, a hybrid DXP offers a headless CMS's flexibility while offering the intuitiveness of a legacy CMS.
Core dna - a partner for a complete DXP
Providing customized digital experiences can be especially challenging when companies in saturated markets are competing for the same eyeballs.
We are at a time when legacy systems are still functional behind us, and Artificial Intelligence is staring at us from the front. This confluence of evolving technologies requires innovations such as digital experience platforms. They are unavoidable for any company that wants to have an omnichannel presence and customer-focused insights.
At Core dna, we create solutions that form the connection between content, commerce, and your customers. Our advanced cloud platform includes auto-scaling, caching, and content delivery networks (CDNs).
We provide more than 26 updates a year for patching, security updates, and new features - all from a customer-driven approach. Our advanced DXP solution allows marketing teams to create promotions, competitions, and marketing campaigns that help you convert more visitors.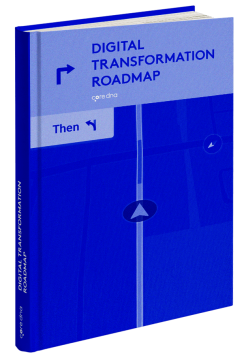 Digital Transformation Roadmap
10 steps to a successful digital transformation.
A platform that balances marketing and IT needs.
A Digital experience platform or DXP allows brands to deliver personalized content based on customer's digital footprint.
Core dna has been developed to meet the demands of both developers and marketers. We work to provide developers the most flexible platform, while ensuring marketers have a user-friendly technology that enables them to be in control of their digital assets.
This would allow them to create relevant experiences for customers based on what they've been viewing or interacting with in the past. For example, if you like hockey then we can send you a link to buy tickets for an upcoming game; if you're looking for recipes then we can send you some ideas based on the ingredients that you have in your fridge at home right now. The possibilities are endless!
We want to help businesses succeed by providing them with the tools they need to engage with their customers on a personal level and make them feel like they're talking directly with someone who understands what they're going through in their lives at that moment in time! It's all about building trust and creating deep relationships based on shared interests and common goals!
Schedule a one-to-one consultation with your product specialist
Here's what you can expect:
Walkthrough: An introduction of the Core dna platform
Analysis: Personalized recommendations based on your business needs.
Case studies: How other businesses have used Core dna to scale more efficiently
A DXP or Digital experience platform is a central technogical foundation to be built upon and to support the entire, continuous customer life cycle across all digital channels.
From one platform, one login, brands and business can manage content, assets, and interactions across multiple different channels.
It allows multichannel delivery via APIs of digital interactions across all touchpoints, including Iot, AR/VR, digital assistants and kiosks.
It helps efficiently and effectively create, store, publish and optimize content for any channel – whether it's a website,
mobile app, or social media page.
It's a platform where business and IT with various skills and responsibilities work together towards the common goal of customer experience improvement.
It helps tracks user behavior on your websites, monitor key performance indicators (KPIs) in real time.
It integrates with your tech stack for increased personalization and engagement with customers, and gather
customer insights from data analytics.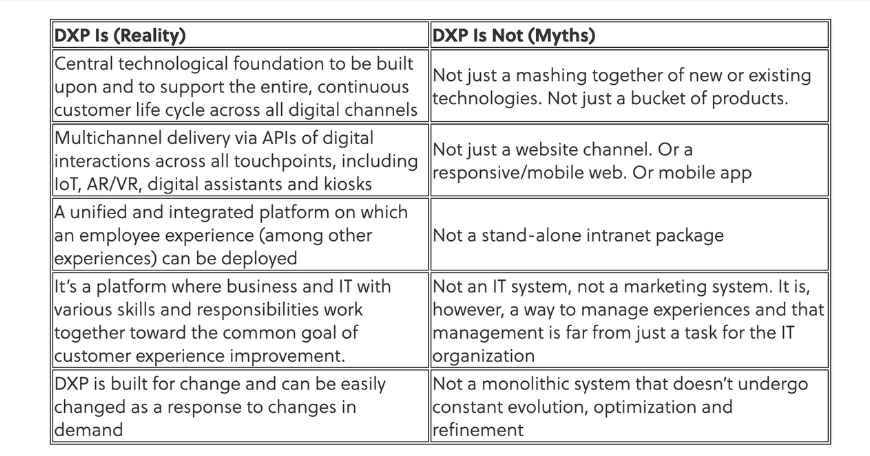 Gartner defines a digital experience platform (DXP) as, "an integrated set of technologies, based on a common platform, that provides a broad range of audiences with consistent, secure and personalized access to information and applications across many digital touchpoints. Organizations use DXPs to build, deploy and continually improve websites, portals, mobile and other digital experiences."
An enterprise DXP gives a brand the tools it needs to manage the presentation layer of their digital presence. All great DXPs combine integration and aggregation, content management, personalization, collaboration, workflow management, analytics, multichannel support as well as search and navigation.
Schedule a Free Demo Today!
Here's what you can expect:
Walkthrough: An introduction to the Core dna platform.
Access to a free trial: Free trial access to the platform to test all the features.