What Is A Digital Experience Platform? DXP vs CMS Explained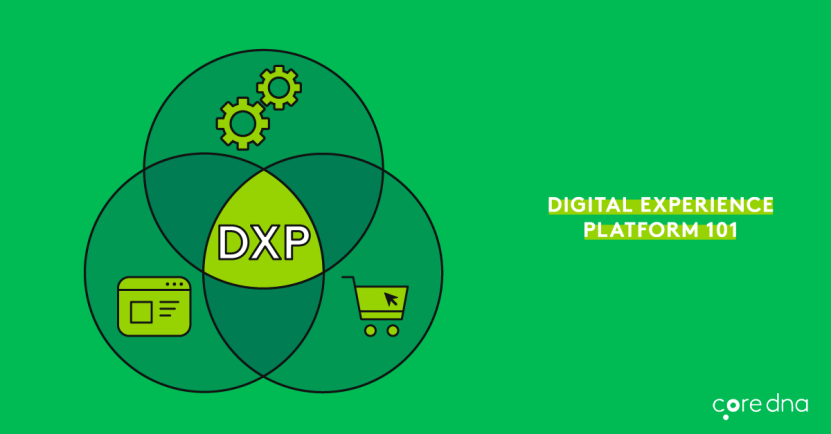 The web content management space is no stranger to acronyms. In fact, whenever a new acronym emerges, there's a temptation to label it as just another fading buzzword and ignore it completely.
But the acronym 'DXP', which stands for Digital Experience Platform, has survived that buzzword phase and is now considered a permanent part of the web content management landscape.
In this article, we take a look at the roots of this acronym, how it compares with traditional CMSs, and how Digital Experience Platforms (DXP) are now transforming customer experiences.
Not sure what a Digital Experience Platform (DXP) is? Here's what you'll find in this article: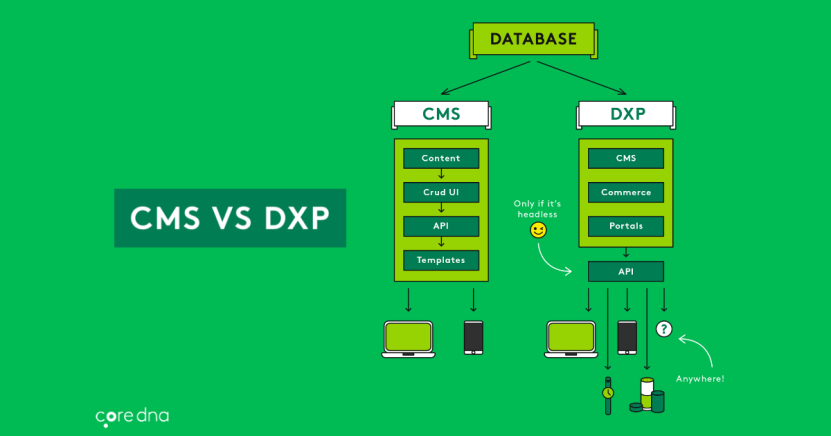 What is a Content Management System (CMS)?
Content Management Systems, also known as a CMS, help organizations and individuals manage, create, and track content — typically just for their website(s) and application(s). This content can take the form of several different media types including, images, video, and written content. Typically, your CMS makes up the backend of your site, which will then push your content to the front-end that your visitor sees.
A CMS also provides version control and management, multiple user access, and make it easier to keep your global voice and image consistent across multiple online outposts. Classic content management systems are still able to serve the needs of brands that primarily publish content across desktop and mobile devices.
But, as the needs of content personalization and omnichannel marketing have risen, so have the demands from your CMS. Some CMS are able to offer content personalization rules and management across multiple devices. But typically this need will be filled with other forms of software, which only increases the amount of time to push out new content and adds more moving pieces to your marketing technology stack.
What is a Digital Experience Platform (DXP)?
Digital Experience Platforms (DXP) have grown out of the limitations posed by CMS in regards to crafting and managing in-depth customer experiences. Since DXP has come into being off the back of the classic CMS there is going to be some overlap between the two, in terms of content creation and asset management.
When asked about the differences between a CMS and a DXP, Forrester's Mark Grannan gave a comprehensive answer:
"Web CMS is critical for developing, managing and optimizing web, mobile, and other content-based experiences...Whereas some critics considered web CMS solutions 'bloated' a few years ago, we think times have changed. API-first architecture and cloud deployments are reshaping the packaging of digital capabilities into more granular tools that can be assembled on demand."
A DXP is equipped to handle content and asset management on a large scale. For example, with a DXP you're able to sync, manage, and push content across verticals likes web, kiosks, billboards, customer portals, IoT devices, and more.
Plus, a robust DXP will be able to help brands launch eCommerce projects, establish intranets and manage multiple microsites with multitenancy — with ease. A traditional CMS, on the other hand, would struggle to do all of that without significant investment and development time.
Tweet This: A DXP goes a step further than a CMS by helping a brand produce digital experiences through websites, apps, portals, IoT devices and more.
A user's digital experience needs to be consistent across both pre and post-sale environments. The lifecycle isn't complete once your customer walks through your doors, or orders something online. Your customer experience has now evolved into a full-fledged relationship, which a DXP can help you manage every step of the way.
Why you need a Digital Experience Platform (DXP)
Okay, so a DXP goes a step further than a CMS — but what does that mean for the growth of your business? Well, beyond making it easier to build out an omnichannel customer experience, a DXP helps by:
1.Building relationships
It's engineered with the chief goal of helping you build a meaningful relationship with your audience throughout the entire customer lifecycle.
2.Organizing omnichannel experiences
Ability to reach and deliver content to multiple devices including mobile, desktop, IoT devices, social media, email inboxes, and more.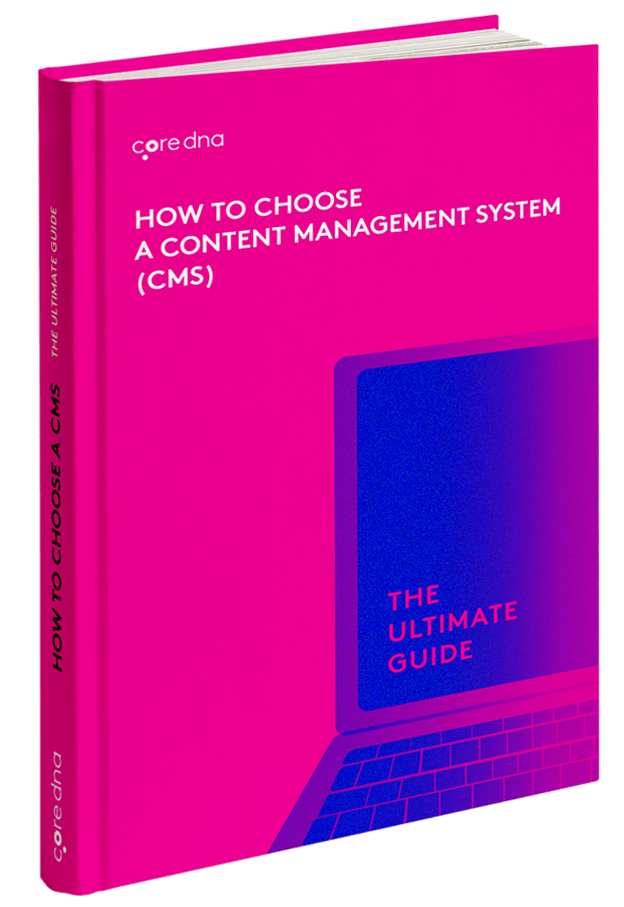 How to Choose a CMS: The Ultimate Guide (With Bonus Checklist To Ask Your Vendor)
The definitive guide to choosing the right CMS for your business plus bonus questions and checklist to ask your CMS vendor.
3.Enhanced integrations
Can integrate with existing and new data to optimize content and layouts on the fly to suit your unique customer needs.
4.Multi-touchpoint management
Address customer needs across varying points of the customer journey, from awareness to conversion, to long-term customer.
With a CMS you'll have limited access for customer experience personalization on the fly, as it's more connected towards a public facing website, instead of a myriad of different platforms and devices.
Overall, whether or not your brand is ready to make the transition to a DXP depends upon the goals of your marketing. If you're in a niche that relies on high levels of customer personalization in order to compete or stand out, then upgrading to a DXP will probably be a good idea.
Comparing 4 Digital Experience Platforms (DXP)
Choosing a digital experience platform, you'll want to start out by familiarizing yourself with market leaders and challengers. Below, we've compared four DXP vendors for you to go away and do your research on.
| 1.Liferay DXP | Pros | Cons |
| --- | --- | --- |
| The Liferay Digital Experience Platform is an open-source, cloud-ready framework for building custom digital solutions. The platform is best for enterprises that need to deliver dynamic portals for employees, customers, or partners. | The Liferay platform makes it easier to create dynamic enterprise-grade portals. Beyond that, the platform has many applications and tools in the form of portlets out of the box that enables further customization. | Many Liferay customers complain about its lack of user-friendly documentation despite a large and active open-source community. This makes implementations and integrations slower for internal development teams. |
| 2.IBM Experience Manager | Pros | Cons |
| The IBM Digital Experience Platform is a combination of its IBM Digital Experience Manager and its Watson Content Hub. The platform is best for enterprises that need to manage and publish content to a multitude of devices. | The IBM DXP has many personalization features out of the box for creating highly engaging customers experiences. The tools are user-friendly and deeply customizable for managing dynamic content. | Many commonly used features like deploying new tasks or installing new nodes are not built into the platform, so implementation can take a long time. From a content authoring standpoint, changing templates is difficult and time-consuming. |
| 3.Adobe Experience Manager | Pros | Cons |
| The Adobe Experience Manager combines digital asset management with content management to deliver personalized experiences to market fast. The platform is best for global companies that have multiple websites for different brands or regions. | Adobe's digital experience platform makes managing large volumes of content across multiple sites easier with drag-and-drop components, multisite live copy features, and features that support content repurposing. It's also seamless to integrate with other products from the vendor such as Adobe Analytics. | Many users complain that the platform is complicated to use, citing an inconsistent UI/UX. That's often the case because many of the technologies within Adobe AEM (and the wider Adobe software landscape) were integrated after following Adobe's acquisition and amalgamation of third-party software. |
| 4. Core dna DXP | Pros | Cons |
| The Core dna platform is a headless CMS and digital experience platform that's built for innovative digital teams who want agile vendor support, the ability to scale up and down quickly, as well as regular software upgrades behind the scenes. | Core dna's all-in-one DXP has the ability to deliver websites, eCommerce site, intranets, portals, single-page applications, progressive web apps, and digital communities out of the box. Core dna has the tooling necessary to build complex, content-rich websites in a matter of weeks. Everything is one place, seamlessly integrated with CRMs, ERPs, payment gateways, and other external systems. | In comparison to other vendors, Core dna has a small number of implementation agency partners for customers to choose from. However, the Core dna team regularly supports implementations and new projects for existing Core dna customers. |
It's all in the experience
Your customer experience not only needs to feel effortless on behalf of your customer, but you also need to be able to easily tailor and scale the customer experience across channels and continents. That's where a DXP outdoes a CMS.
Having a DXP underpinning your web presence allows you to create and monitor all of the different streams of information you're pushing out, all while ensuring you're delivering timely messages based on real-time user feedback and data.
Sure, personalization with a traditional CMS is doable, but the work required to not only create, push, and manage content, but adding segmenting and tagging will be incredibly time-consuming. Overall, a CMS can allow you to segment and create content based upon user groups, but it's going to be more difficult to narrow in on one-to-one customer personalized you can get by using a DXP.
Today we live in a world that's more connected than ever. From IoT devices to smartphones and desktops, wearables, VR devices, and more, your marketing and content need to reach your customers where they're at — no matter their device.
As a brand looking to meet the ever-changing needs of your audience using a DXP will soon become a necessity. A digital experience platform will help you create a customer experience that's united across multiple devices and platforms, without a complex and confusing management process on your end.
Oh, and if you're now wondering what Software as a Service (SaaS) means, we've got you covered there, too.
Download this guide as a PDF