eCommerce Live Chat: To Live Chat or Not to Live Chat?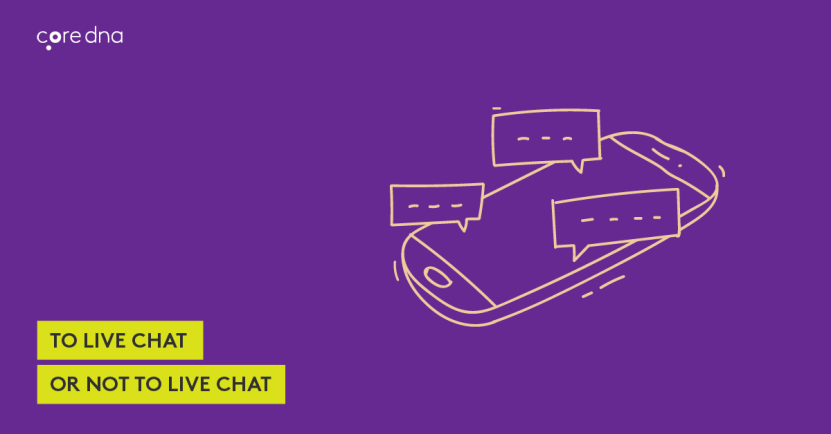 More and more online shops have that little speech bubble in the bottom right corner that pops up and allows you to have a chat with customer service, ask questions and opinions without having to leave the page you are currently browsing. Is this a good thing? Should you include it on your site?
While every business is different, the sales pressures and questions you're asking yourself are shared by many. That can be a good thing because it means the benefits and pains of live chat that others experienced are the perfect guides for you.
So, let's review some of the big wins and potential failures (you can avoid) that live chat provides to help you figure out if this growing customer service option is right for your business.
In a hurry? Here are all the reasons why you should (or shouldn't) install a live chat on your eCommerce website.
The utlimate guide to growing and scaling an ecommerce business
Good #1: Live chat can increase conversions
We'll start with the thing most people are here for: live chat support can boost your revenue when it is done right. It has significant potential to increase your sales in a couple of ways. First, you can get more conversions from new leads and visitors. Second, you can stop people from abandoning your site or shopping cart by answering questions on every page of your site. And third, you can turn those existing customers into repeat buyers.
Here are three stats you'll want to burn into your brain to back up those points when you bring them to leadership:
Forrester study: Live chat can increase your conversion rate by 40%.
FurstPerson study: Up to 77% of people won't buy from a site that doesn't have a live chat.
eMarketer study: 63% of customers are more likely to return to a website if it has live chat support, and 62% are more likely to make a repeat purchase.
Live chat gives people a chance to ask questions without interrupting the sales process. They don't wait or get put on hold, they're not hunting all around your website for information, and they aren't navigating away from your sales page. It's just a click, a (hopefully) non-intrusive window, and the potential for an answer to their concern in a matter of minutes.
Getting live chat right is a reliable way to improve your capabilities.
Good #2: Live chat typically cuts support costs
A live chat support agent can handle more customers at once than other customer service representatives, helping you keep costs down while not impacting service levels. They're able to chat and reach out in ways that give customers a chance to find a page or read an answer and then — without interrupting the first or putting them on hold — quickly respond to a query by a second person.
A Telus study notes that chat agents can handle up to six simultaneous customers, and many software packages allow them to escalate more complex needs to technical experts without disrupting the flow of the conversation. Estimates from that report and others find agents on chat can handle each contact faster and solve issues more thoroughly the first time, making costs about half of you'd expect with telephone support.
And, because you live in a technological golden age, there are companies like Connect First that combine chat, phone, and text message support all in a single piece of software. That means you can add chat or build out a whole new support model without increasing what you spend with third parties. Plus, resolving issues is faster when it's all under one roof.
Good #3: Live chat satisfies customer expectations
Think about it from the angle of an Amazon customer and their increasing demands.. They want things done right and right now, with no packages taking more than a couple of days to arrive and everything in the box 100% correct and easy to open and enjoy.
It turns out customer service is facing the same demands.
Your customers are going to give you less time to respond to a question or solve an issue before they walk. Partially that's because technology and communication make instant responses seem effortless. Another reason is that we are all facing increased competition, which means customers can get almost the same options from someone else with a single search.
Some things make our business (and yours) unique, but the customer isn't going to give them much weight if we're not solving their immediate pain point.
The best news for chat is that you can address concerns in real-time and get people the help they want. Plus, you keep them on your web page, giving you a better chance at conversion.
A live chat lets you address questions in a couple of minutes, as opposed to the thirty-ish minutes of a phone call or the hours and hours of response time for email and some social media. Reports on social media service can get a little all-over-the-place because there are a ton of service requests that just end up being people shouting into the void.
Kayako has an interesting study that also shows live chat remains the preferred support tool for 41% of your customers. The demand for it increases as your customer base gets younger.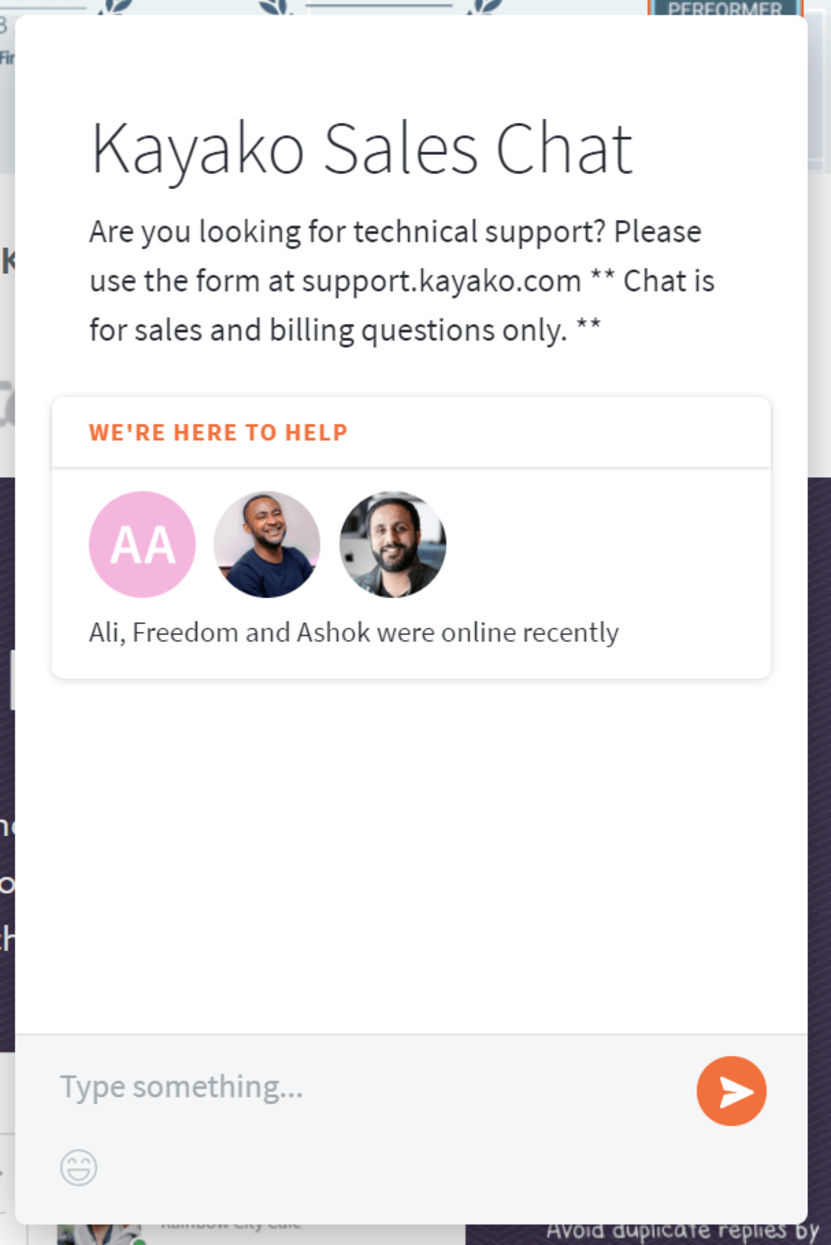 We also like how they do their own live chat because it sets up expectations before we've typed anything at all.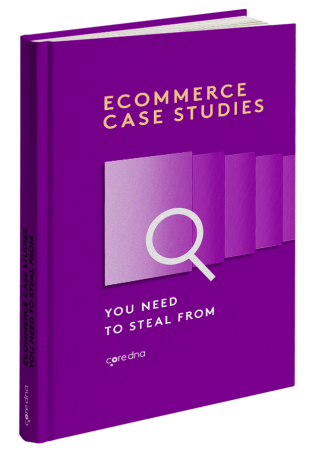 Save this guide: eCommerce case studies you need to steal from
Learn from these 19 eCommerce case studies to see what problems they identified and how they implemented simple solutions to increase sales.


Good #4: Live chat answers complex questions in the depth we want
You have customers with all kinds of different needs, from basic support and help making a purchase to those trying to get refunds or searching for missing packages. You might even have industry-specific conditions and questions that you need a very specific answer to, such as what metals are used in your jewelry or what ingredients are in your snackfoods.
Customers with very specific questions will demand a thoughtful and detailed response. Others may just be struggling to find out your shipping fee and are happy with a brief answer. Live chat gives you a chance to address both customers with appropriate consideration and answers.
Think about the growing trend of farm-to-table foods. Some people (like your customers who ask very technical questions) will want to know where their fish was caught and how it made its way to their plate. They ask for the complete picture. Others might just ask if the fish is fresh and are satisfied when you tell them when it was caught.
A great live chat example of this comes from ExpressVPN, which is well-known in the industry for having very responsive, 24/7 chat operators. In the VPN world, security is paramount. So, we asked their help a simple question and got a simple response.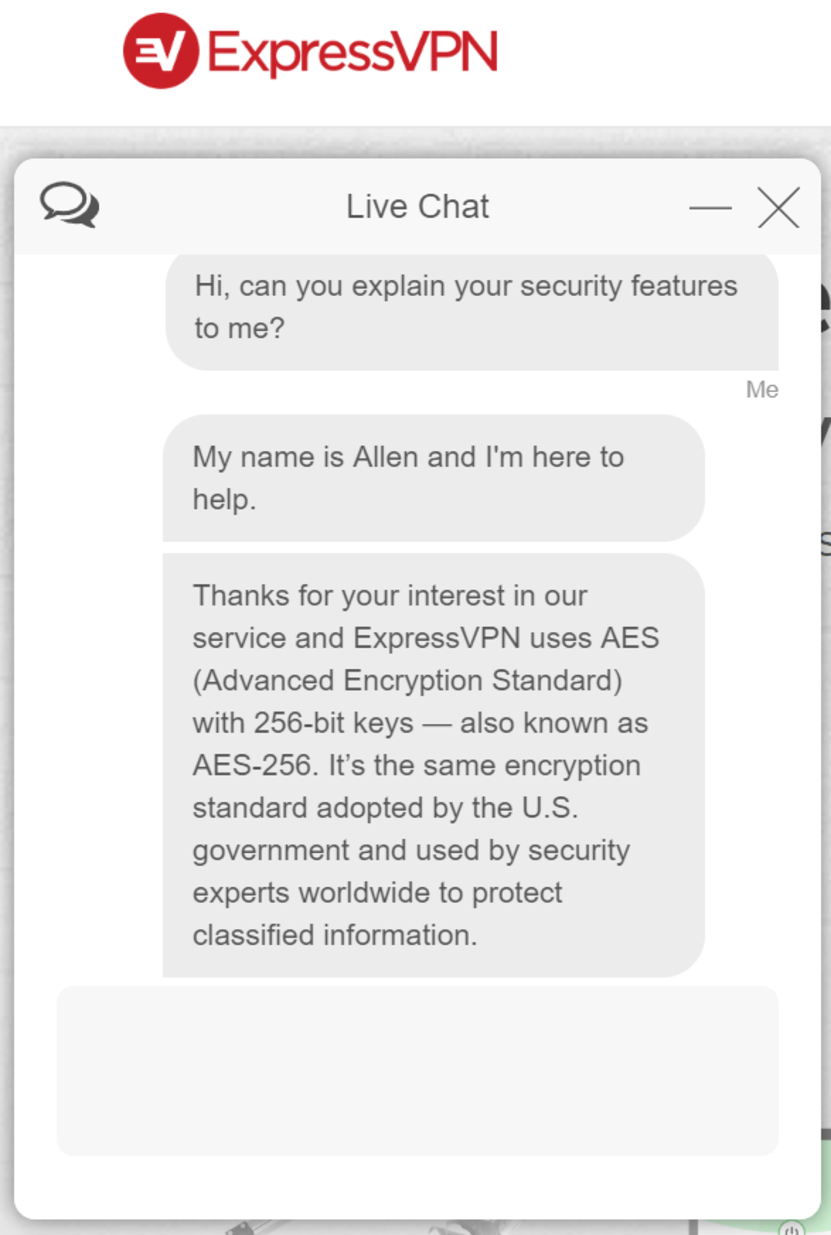 They gave us a short answer using the proper terms, but since the language of the question was generic, we were given the example that it is a security standard used by the U.S. government. When starting a chat with a different agent that asked about the specifics of AES-256, we got a much more technical answer that was far too long to screenshot.
Bad #1: Waiting for an immediate response
We expect live chat to be fast, responsive, and helpful. Unfortunately, it isn't always the case. A 2017 study found that 38% of consumers feel their live chat experiences are not good enough, and that goes up to 43% for B2B buyers.
Why don't they like live chat? Because major delays can mean it doesn't' feel very "live" or much like a conversation. The average wait time to get a question answered can be nearly three minutes, and that same study found 21% of live chat support requests are never answered.
Pro tip: Chat is a helpful thing if you can live up to expectations. That means having enough agents to respond immediately or an automated platform that can field basic questions and then hand complex issues off to agents. The second tip is to put hours on your chat window, so you immediately temper visitor expectations — plus many live chat software solutions are smart enough to hide the chat popup when it's not available.
Bad #2: Unhelpful live chat scripts make us go crazy
How many times do you want to ask the same question to a representative or a robot? We'd guess your answer is: 1.
Generic scripted responses to an issue can be frustrating in any context. For live chat, it is sometimes more annoying because there's a delay between the typing, reading, and checking.
Chats can have fantastic context when done right. A customer can give plenty of detail or copy-and-paste photos or error messages to speed up the problem. When done wrong, they just give us poorly worded FAQ responses that don't address our question. It increases the steps we have to take to get a legitimate answer, often needing to wait for the system to escalate an issue.
What's worse is that an unhelpful script can make the customer repeat themselves over and over again. Bots that aren't well programmed may need a question asked just right, while a chat rep with a poor understanding of your product (or an inadequate knowledge base to use) might not know things well enough for us to solve an issue.
Pro tip: We understand that templates and scripts are designed to save time and get our answers more quickly. However, you'll need to work with your agents, company, or bot developer to ensure they have a semantic understanding of your business and the questions people ask. The more leeway you can give the customer to ask their question — and it is easier and easier to introduce with modern technology — the happier they'll be.
Bad #3: You tricked me
Live chat can be amazing at answering questions or getting us un-stuck. We see it show up everywhere and many of us come to expect it (see the Good #3 above). However, that comes with risks.
When we were doing some research on companies with amazing and terrible chat services, we landed on a HubSpot article and got a small notice on the bottom of our screen that looked a lot like a chat box.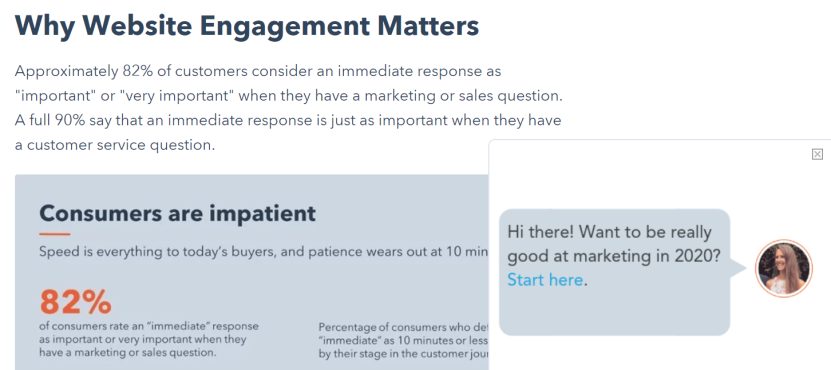 Its message was extremely relevant to what we were reading about giving people an immediate response or even predicting questions.
So, we clicked.
Instead of having the chat box open up and allow us to ask a question about their pitch, it jumped to a landing page for a course they offer. Clicking on any of these items took us to a video that was locked, and the unlocking mechanism was broken.
It was a rabbit hole that ultimately went nowhere we wanted to go. Plus, there was no actual live chat for us to ask for help. All we ended up doing was closing a few extra windows.
Pro tip: To prevent this, we'd say make sure your ads and promos don't look like customer service. It can be frustrating. It's also frustrating when a site with content or sales items is busted, so test everything thoroughly when you try to innovate.
Bad #4: Live chat can get creepy
When pouring through all the data on live chat, the pros and cons above are pretty easy to see across different websites and with customer expectations. But then, something surprised us. We landed on an eCommerce site that had its chat automatically pop up and ask if we needed help.
A simple click sent us to a form where we could ask anything and get connected to a live agent for help. Typically, not a bad idea or execution.
But here's where things got creepy: it automatically called us by the name and company of someone else in our household. We had never been to the site before and didn't make any eCommerce purchases for that business using this computer.
Somewhere along the way, things got linked, and the chat pulled in data it could access to try and personalize our experience. However, it had no actual idea who we were before it tried. The gamble might have paid if it got things right, but the misstep sent us away from that website immediately (plus a lot of clearing of cache, web and form history, and more).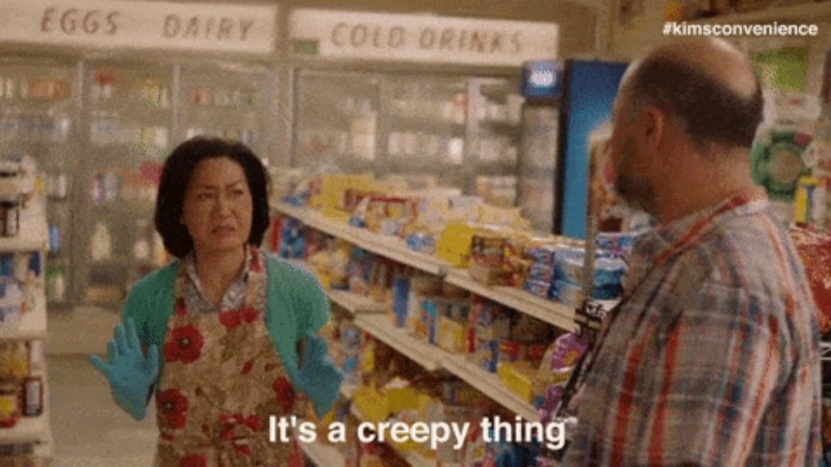 (Source)
Pro tip: This all could have been avoided by simply asking us our name first. We expect conversations to do that, whether it's at a physical store location or in a live chat window.
Is live chat the right channel for you?
Reframe the live chat question like this and you'll be in your best position to answer it and provide it if needed: is live chat right for your customers?
If it solves their pain points and helps them buy, then you're most likely going to benefit. If your customers aren't asking a lot of questions or you have something so complex you generally need sales calls and demos, then you might not necessarily require a live chat.
When customers want immediate support, it makes sense. That support can even be scheduling a phone call or demo if you've noticed that past leads struggled with your forms or other requests. When your sales cycle happens on the website with minimal interactions and touchpoints before someone takes the first big step — adding things to a cart, requesting a demo, asking a question — live chat is one of the better ways to be ready and waiting to help your customer and land the sale.
The caveat is that you've got to do it right and avoid the issues that make hurriedly click away. If you're looking for some live chat (or chatbot) platforms, here are a few to consider:
The utlimate guide to growing and scaling an ecommerce business