Intranet CMS: A Guide to Choosing Intranet Software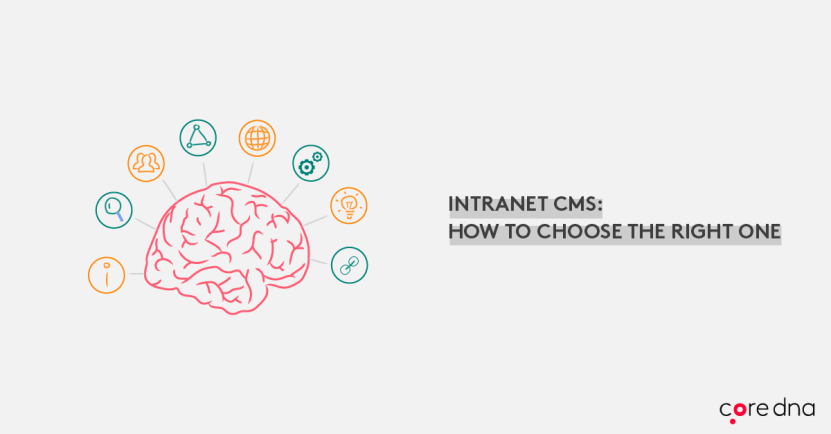 Almost every company has an intranet — even the companies that claim otherwise. It may not be a unified system, but an internal, private network will certainly exist in some shape or form, usually patched together by the likes of Gmail, Google Drive, Slack, and Hubspot.
But for ambitious companies looking to streamline their costs and improve their employee experience (EX), an intranet CMS may be a superior alternative to a patch-work intranet.
Want to learn more about intranet CMS? Jump into a specific section: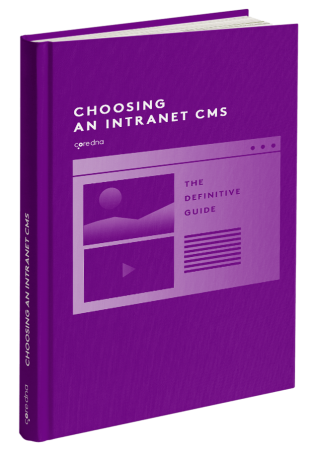 Looking for an intranet CMS? Download this guide
Everything you need to know about choosing an intranet CMS with 23 bonus questions you need to ask your intranet vendor.
What is an intranet (and how does it impact the employee experience?)
An intranet is a private network built for the purpose of facilitating internal communication, collaboration, and synergy. As such, an intranet plays a key role in the health of your employee experience, also known as EX.
What's the employee experience, you ask? Well, it's like the customer experience — you know, that absolutely crucial dimension of every B2C brand, particularly eCommerce brands — except in the context of your employees instead of your customers.
A survey by Deloitte revealed that 80 percent of executives rate EX as important. The problem is, only 59 percent of the respondents feel that their company are either not ready or somewhat ready to address the challenges associated with delivering EX.
It is important to note that EX refers to how an employee perceives your organization. This includes everything from their working conditions, salary, training opportunities, and their individual relationships with other members of staff.
As you can image, your intranet can either make or break your employee experience — which is why you should be considering an intranet CMS.
What is an intranet CMS?
A CMS (Content Management System) is a platform that is used to create, publish and manage a website. In the case of an intranet content management system, you're dealing with software that can build, deploy, and manage your intranet ecosystem.
In other words, your employees won't need to leverage 7 different technologies just to share documents and track project progress. Instead, all their communications can be housed under one, unified portal — otherwise known as an intranet platform.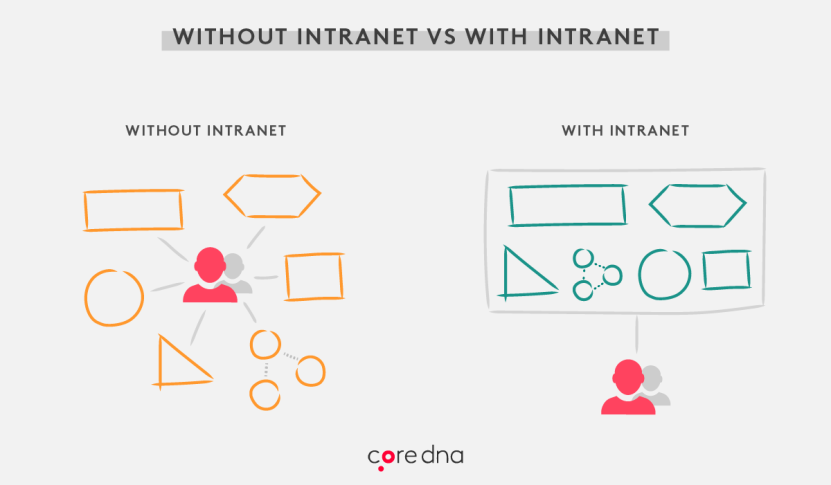 Best use cases of intranet CMS
Intranet CMS platforms have a number of uses. In this section, we take a look at some of the best use cases for using an intranet CMS.
[Intranet use case #1] Employee portal
Perhaps the most popular use case of the intranet CMS platform is to create an employee portal. An employee portal, sometimes called an enterprise portal, is a secure site that enables employees to easily share and discuss information within your company. It enables employees to stay connected and keep up-to-date with the latest events and news.
With employee portals, staff can access certain information, including their personal records such as salary and staff benefits. Plus, they also have access to calendars and other employee information.
[Intranet use case #2] Employee onboarding
Employee onboarding refers to a process in which new recruits acquire the necessary knowledge, skills, behaviors to become an effective member of the organization.
A good employee onboarding platform will have engaging content such as video and induction documentation. It will also take the new employee on a journey to reach certain milestones such as length of service.
[Intranet use case #3] Management and executive portal
Besides using an Intranet CMS for employees, you can also create one for management and executives. Both management and executive need to have a consolidated view of data and tasks that is happening right across the organization. Modern intranet systems can also combine and consolidate multiple workflows, including having approvals on a personalized feed - this prevents a manager from having to access separate systems since everything is in one place.
Management portals also allow management to retrieve data from multiple systems on a single user interface.
[Intranet use case #4] Collaboration
Collaborating through an intranet CMS is achieved by integrating social elements, tools (like Slack) and shared workspaces. Intranet CMS platforms can also allow collaboration to take place between different departments and offices located in different parts of the world, and can even be used with remote workers.
The benefits of collaborating via an intranet CMS platform helps to reduce cost, improve interdepartmental relations, promote better working practices and also allow for more transparency in the organization.
Further research by Deloitte indicates that companies that prioritize collaboration are twice as likely to be profitable and twice as likely to outgrow their competitors.
[Intranet use case #5] Student portal
Creating a student portal with an intranet CMS provides better "brand forward" online experiences, and a more agile and web-friendly approach that works with back-office systems and legacy application systems. Plus, it also provides better support for the delivery of engaging content.
Many colleges and university today operate multiple siloed systems like CRMs, ERPs, student information systems, learning management systems, staff and lecturer directories, and general updates about the university or college itself.
A modern intranet CMS can help to centralize all of these systems, making it easier to manage, and provide a seamless experience.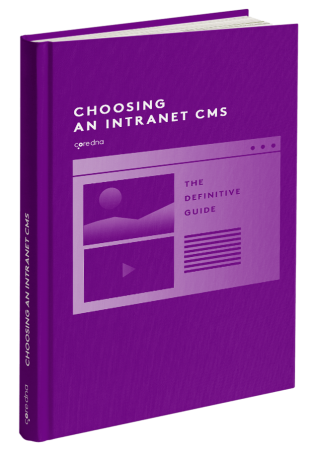 Looking for an intranet CMS? Download this guide
Everything you need to know about choosing an intranet CMS with 23 bonus questions you need to ask your intranet vendor.
Choosing an intranet platform: 12 key features to look out for
When choosing the right intranet CMS platform, there are some things that you must consider. You need to look out for the following key features. We've split this into two categories: deal breakers and preferences.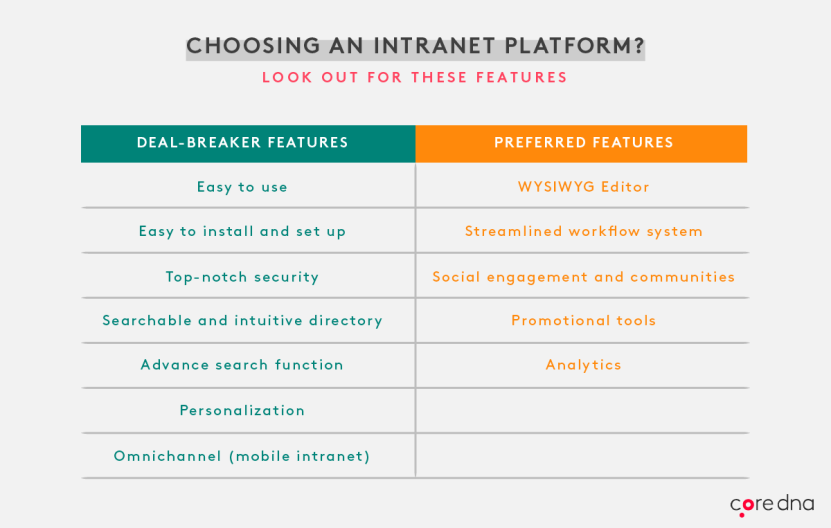 [Must-have feature #1] Must be easy to use
This is an obvious one, but users, whether they may be staff, managers, or even students, must be able to navigate around the system intuitively. This will encourage users to use the portal more and will help to keep training costs down to a minimum.
[Must-have feature #2] Must be easy to install
The best intranet CMS solutions shouldn't require much technical assistance to set up. The average user should be able to get up and running without much effort.
[Must-have feature #3] Must be secure
Nothing is more important than your company's security. It is definitely not worth compromising in this area and exposing your intranet site to external hackers.
[Must-have feature #4] Must have an intuitive directory
A searchable and intuitive directory that contains all the relevant details like contact information and photos can help employees to connect with each other and build their network. Just ensure your directory automatically synchronizes with key HR and contact data.
[Must-have feature #5] Must have an advanced search feature
Providing your users with the relevant search tools will enable them to find out what they need quickly and efficiently. This ensures employees are not wasting their time on ineffective searching.
[Must-have feature #6] Must have personalization feature
An intranet system that features personalization enables you to dynamically deliver content to different groups of employees. This allows the user to view content that is relevant to their role, function, and location.
[Must-have feature #7] Must be omnichannel
Omnichannel capability allows for intranet access for all employees to those who aren't deskbound. Users can access the intranet on their personal devices so that they can flexibly work and complete their tasks.
[Nice-to-have feature #8] WYSIWYG editor
Enables content creators and editors to easily create and publish content without requiring any technical skills.
[Nice-to-have feature #9] Streamlined workflow
Besides having an easy-to-use editor, a streamlined workflow system can ensure content is approved in a timely manner and also ensures that the content maintains its relevance.
[Nice-to-have feature #10] Social engagement and community features
Having a feature that enables employees to like, share, comment, and rate content allows employees to have a voice. And it also helps to drive employee engagement and makes the employee feel they are a part of a company culture.
[Nice-to-have feature #11] Tools to advance
Most employees want to progress in a company. Intranets can be used to promote job opportunities and share tips on how they can achieve future success. For larger organizations, they can hold webinars for career advancement and professional development.
[Nice-to-have feature #12] Analytics
Tracking the performance of your intranet can enable you to monitor areas which require improvements. These tweaks can improve engagement, user visits, and searchability.
SaaS intranet CMS vs on-premise intranet CMS
Before we go into the various intranet platform options, let's take a look at the two types of intranet CMS solution on the market; SaaS (Software as a Service) and on-premise.
Both options have their pros and cons, and your choice should largely depend on the needs and objectives of your business.
On-premise intranet CMS
An on-premise intranet CMS solution is distributed under a licensing agreement that allows for the codebase to be used and modified by the general public, without incurring a cost. This means that the piece of software can be updated and iterated by a developer anywhere around the world.
While open source certainly has its advantages since it is free to use and promotes the principles of self-governance, it's not all rainbows and sunshine. Since open source codebase is available to pretty much everyone, it tends to be an easy target for rogue developers who want to deploy malicious coding for the sake of it.
SaaS intranet CMS
A SaaS intranet CMS solution is where you pay a monthly subscription in exchange for a license of using a proprietary software that you access via the cloud.
As it is a proprietary software, the codebase is not shared with anyone in the public domain, only to those who are authorized to look after the software can access it. The authorized users are also responsible for maintaining and keeping the system up-to-date, leaving the paying consumer to be only concerned about using the software.
4 popular intranet CMS options
When it comes to choosing your intranet CMS provider, you're not limited for choice as the marketplace is brimmed with a diverse range of quality providers. Below, we take a look at some of the popular options.
1. Sharepoint
SharePoint is known for being Microsoft's intranet CMS offering. As you'd expect, SharePoint has that familiar Microsoft feel to it — it's clean, but it's also on the clunky side.
The benefits of Sitepoint include a good interface for uploading and downloading documents, and it can easily integrate with the most recent versions of Microsoft Office. It also boasts a host of customization options to meet your requirements.
The downside though is that SharePoint will require a substantial amount of technical expertise just to set up your intranet site - slowing down your time-to-market in the process. In addition, your average employee will not find it easy to use - some organizations have even struggled to utilize features beyond document management.
As far as pricing goes, enterprise plans range between from $10.00 and $20.00 per user, per month for SharePoint Online. For on-premise, you're looking at roughly $7,000 per server.
2. WordPress
While very popular with bloggers, very few know that WordPress has the capability to be used as an intranet CMS. The open source CMS platform has a very easy-to-use front-end template and editor, with media support built-in. Users can add an array of features and functionalities through WordPress's extensive plugin directory.
That said, the main drawbacks to WordPress, with it being an open source system, is security and how maintenance-heavy the platform is. WordPress has been plagued with security breaches, with SQL injections and cyberattacks occurring in the past. While some of these have been addressed with recent updates, it is the user's responsibility in ensuring these updates are installed in a timely manner.
As far as pricing goes, WordPress is technically free. However, you'll have to hunt for your own hosting provider, which won't be free, but also won't be too expensive. The real cost of WordPress comes in the ongoing maintenance it needs to stop it from breaking or becoming vulnerable to cyber attack. We have previously discussed these WordPress drawbacks, and how they can add to your total cost of ownership (TCO).
3. Drupal
Another option that is well known in the intranet CMS world is Drupal, which follows a similar model to WordPress. The open-source platform also provides users with a plethora of plugins and add-ons for extending the features and functionalities available out-of-the-box. The latest version of Drupal is notably more user-friendly and has a strong community of developers to provide support and assistance with troubleshooting and general operational issues.
However, Drupal does suffer from the same disadvantages as WordPress. Drupal encountered many major security breaches, with the most recent one happening in May 2018.
Like WordPress, Drupal is free and open source, so it won't cost you anything to download and install. And again, your hosting fees will probably be minimal. However, Drupal needs just as much maintenance, and even closer supervision when it comes to protecting against malware and cyber attack — just check Drupal's patchy security record if you don't believe us. Again, these hidden costs can stack up very easily.
4. Core dna
Through Core dna's intranet platform, companies can share documents, track project progression, allocate tasks, and finally keep everything under one, secure, digital roof.
The best part? Core dna is a SaaS CMS, meaning it's totally cloud-based, with no versions to upgrade between. The Core dna team handles all the technical back-end stuff, while your company leveraged cutting-edge intranet software to collaborate and grow. And that's all there is to it.
There is a monthly fee, but it's a small price to pay for predictable costs, secure servers, 24/7 support, and having all maintenance issues handled for you in the background.
In fact, Core dna is more than just an intranet platform, it's a headless digital experience platform that helps brands including SEEK and Tivoli Audio solve internal and external experiences.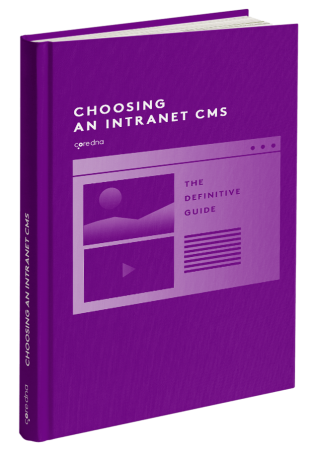 Looking for an intranet CMS? Download this guide
Everything you need to know about choosing an intranet CMS with 23 bonus questions you need to ask your intranet vendor.
Future-proof your intranet
An intranet that works for today is great — and a platform like WordPress will give you exactly that. But an intranet that boasts APIs and integrations while also serving as a headless CMS? Now that's an intranet that's ready for anything.
See what Core dna's intranet platform can do for your company.