How to Build an Empowering Digital Workplace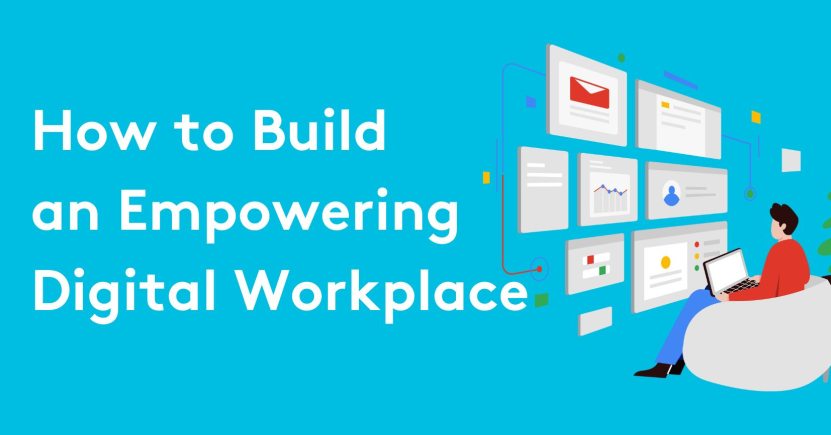 As technology keeps evolving, how we work changes right along with it. The most innovative companies recognize that creating a robust digital workplaceis the key to remaining competitive. Adopting digital technology will ensures your employees have access to platforms where they can learn new skills, work more productively and find new and innovative solutions for your customers.
Key takeaways
A digital workplace requires collaboration, innovation, and engagement.
Employers should provide the training and resources to help employees develop vital digital skills.
Using innovative technologies to automate mundane tasks allows employees to focus on more productive activities.
Establishing digital policies and protocols ensures employees use digital tools securely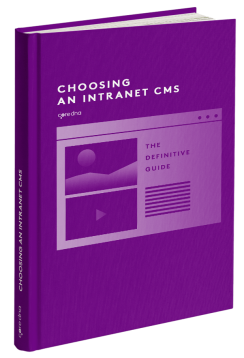 Intranet CMS: The Ultimate Guide
The ultimate guide to choosing the best CMS for your intranet
Building an empowering digital workplace
Think of the digital workplace as an ecosystem made up of the tools and technologies that enable organizations to collaborate and communicate more effectively. These platforms not only allow us to provide better customer service, but they remove the mundane tasks that can cause employees to become disengaged. Even the most traditional workplaces are embracing digital transformation by adopting cloud-based applications, artificial intelligence, automation, and virtual reality.
One technology that sits at the heart of a digital workplace strategy is the content management system (CMS). A CMS is essential to building an employee intranet that would be the heart of a digital work culture.
As more employees work remotely, businesses are required to offer a platform where employees can find information that concerns them: company news, health benefits, retirement plans, contracts, performance reviews etc..
Gartner has reported that over 90% of businesses are engaged in some form of digital initiative, highlighting just how big a priority the digital workplace is today.
And, while they can be expensive to implement at first, digital tools are proven to reduce costs and enhance productivity.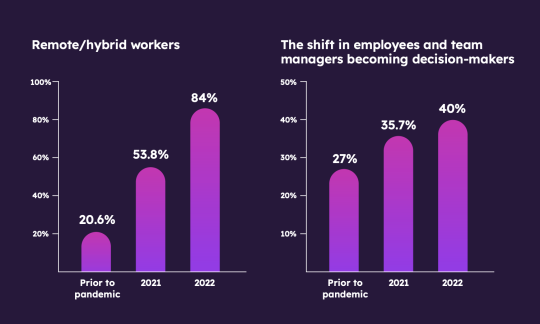 Companies creating this sort of culture are attractive to employees, making it easier to hire and retain great talent. Employees are always looking to upskill, and are likelier to stay with a company that provides them with resources and opportunities to develop their digital capabilities.
Central to building a digital workplace is an intranet, a private, secure network that enables employees to access internal resources, collaborate, and communicate with each other. A well-designed intranet works as a knowledge sharing platform and helps establish a unified digital workplace where employees can access and share content quickly and easily.
81% of employees state that switching between applications negatively impacts their productivity, highlighting just how valuable a CMS can be.
Content management platforms such as Core dna can serve as a stand-alone intranets. They provide organizations with a single digital space to manage all content, collaborate on documents, and create a secure environment for content storage.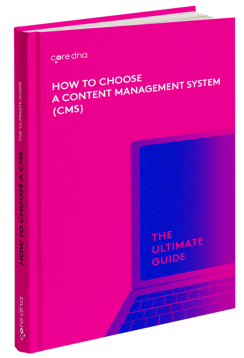 Guide: How to Choose the Right CMS: The Definitive Guide
The only guide you need to choosing the right CMS platform to help drive business growth.
CMSs serve as excellent intranets for the following reasons:
User experience (UX): CMSs are designed to be intuitive and make it easy for employees to manage their documents.
Collaboration and productivity: Employees can share and work together on company documents via the centralized CMS platform. It can also serve as a platform for creating and publishing webpages and other digital content, such as news and announcements.
Security: CMSs have strict safety standards that make it easy to store and manage documents. Access to this content can be restricted to employees only, making it a safe intranet environment.
Customized intranets usually require a specialized team of IT specialists to maintain them. Regular users would only be able to modify the content after they had received authorization and training. For this reason, many companies choose the more flexible and agile CMS-based intranet for their employees.
Selecting your tools
96% of workers use up to 15 tools every day for work! Considering how disruptive that can be to their productivity, you want to find a platform that meets as many of their needs as possible.
It's essential to hear directly from your employees to determine what they need from technology. Building digital workplace if about increasing your employee satisfaction at work which will positively impact your customer experience.
Below is our quick step-by-step instruction to help you determine what technology your teams need and what solutions to choose.
Assess your current processes and determine which areas can be improved with technology.
Research the digital tools and services and identify those that meet your needs.
Consider the cost of implementation and maintenance for each tool.
Evaluate whether your team can easily adopt the tool.
Assess the security features of the tool
Consider the scalability to ensure it can accommodate your organization as it grows
Analyze the data the tool can provide and determine whether it can help improve processes.
Test the tool with a small group of users to get feedback and ensure it meets expectations.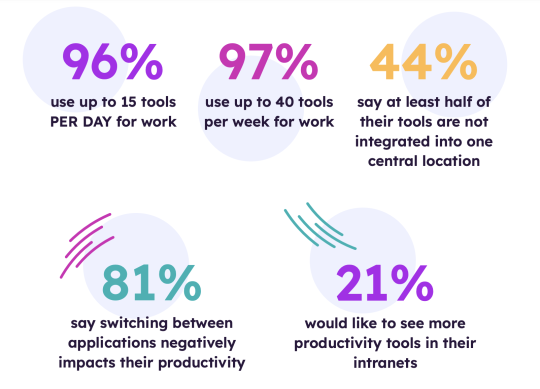 Prioritzing usability
The user experience should be prioritized when creating a digital workplace that employees feel empowered using. It is not just customer-facing websites and applications that should have a great UX but employees too.
As companies continue to transition to a digital format, it is likely that employees will expect a smooth experience. The intranet should be the core portal for employees to use to access the digital workplace.
Therefore, it is essential to keep the intranet up to date with new content, integrations, and applications to ensure the organization remains connected. This is especially important as remote working becomes more and more popular.
At its core, your intranet's user interface should be user-friendly and easy to navigate, allowing employees to quickly and easily access the information and resources they need. User experience (UX) is essential to create an enjoyable and efficient work environment. According to a survey from Akumina, nearly 70% of survey respondents said a UI/UX refresh would make it easier for them to use their intranet.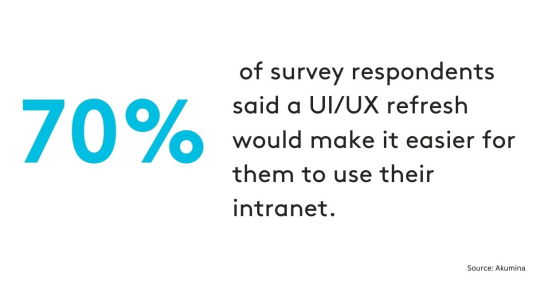 UX can help reduce stress and frustration, increase productivity, and make employees feel more connected to their work. It can also help improve communication among teams and make it easier to find and access the information they need.
Employees want ntuitive and efficient platforms to help them do their work. A report from Akumina showed that over 20% of respondents want more productivity tools integrated into their company intranet.
Here are a few examples of how some of the world's most innovative companies have prioritized creating digital work environments:
Porsche established the Porsche Consulting Innovation Labs to drive innovation through technologies such as big data, machine learning, blockchain, and IoT.
Since 2018, Keller Williams real estate company declared itself a technology company specializing in real estate. Its embrace of technology went as far as introducing KW Command, a new CRM platform that allows agents to customize how they run their businesses.
Schneider Electric opened the first smart factory in the United States by revamping a 1950s facility. The result? Vastly improved productivity while decreasing energy costs by 30%.
A note on security
We can't discuss building a digital work environment without leaving room to focus on security. Businesses store tremendous amounts of sensitive data from customers and employees. Data breaches and cyberattacks are everyday threats that can have serious implications for businesses, including reputation damage, financial losses, and the threat of legal action.
Most cyber-attacks are aimed at small and medium businesses, but the number of security breaches in enterprises is rising. There was an increase in attacks on enterprises of over 27% in 2021. Implementing security measures such as authentication, encryption, access control, and patch management is essential for keeping businesses online.
A virtual private network (VPN) allows users to securely access your organization's private internal network remotely from anywhere in the world. As more organizations increase their remote workforce, this is hugely important to make that devices connecting to your network do so from a secure connection. VPNs make it possible to protect data by ensuring only the appropriate personnel can access the network. Moreover, a VPN can help organizations protect the privacy of their staff and customers, as well as safeguard their internal data.
The other fundamental part of your cybersecurity initiatives is SSL (Secure Sockets Layer) encryption, a technology that encrypts data sent over the internet. SSL protects sensitive data from being intercepted and read by unauthorized parties. Data such as login credentials, customer data, and financial records can devastate your company when accessed by malicious actors.
Building a digital work environment can help keep your business competitive amidst today's digitization and globalizing landscape. Take advantage of the latest technologies to streamline processes, improve productivity, and increase employee engagement while creating a more flexible and collaborative environment.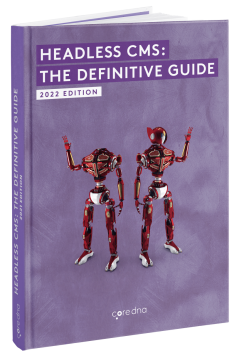 Headless CMS: The Definitive Guide
Core dna Headless CMS guide gives you all the information about the different types of content management systems out there. We highlight the difference between headless and decoupled and give you the framework to choose what solution is best for your business.