5 Digital Merchandising Strategies with Proven Results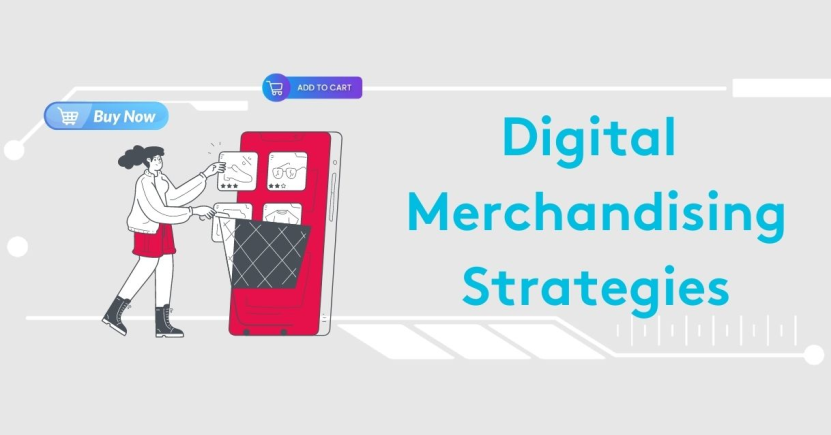 Selling online has become an art and many brands are turning to digital merchandising to master just that. Digital merchandising should be an integral part of any eCommerce strategy as it helps link the design aspect of your website to its business goals: what the best product placement is, how customers behave and how to personalize experience.
Read on to learn more about how to create a successful digital merchandising strategy to attract more customers and increase sales.
Key takeaways
Digital merchandising connects your website design to your business goals.
Digital merchandising helps you increased sales, improve customer experience, reduce costs.
Data is king to help you understand your customers and their expectations.
48% of website users judge a website by its design.
Social proof is more important than ever as people are looking for relatable images.
Should eCommerce Brands Be Investing In Digital Merchandising?
Humans are highly visual creatures and given that it takes us about 50 milliseconds to form a decision about a website, digital merchandising should be a priority for every business.
If you need more concrete reasons, some of the benefits of digital merchandising include:
Increased sales: The right product presentation can increase sales and encourage users to buy more than they intended initially.
Improved customer experience: A positive user experience makes customers want to return again and again — not just for themselves, but for friends and family too! This improves word-of-mouth marketing and increases brand loyalty too.
Reduced costs: Improving your website's conversion rate reduces costs as you spend less on advertising but still get more visitors who convert into customers.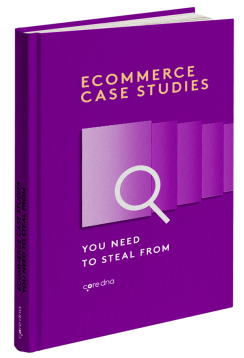 19 eCommerce Case Studies to Double Your Sales
19 eCommerce case studies you need to learn from.
How to Create a Successful Digital Merchandising Strategy
Here are a few things you should do to kick off your digital merchandising strategy:
Use Data and Insights to Drive Better Results
To get the most out of your digital merchandising strategy, start by identifying your customer personas and then collecting data on their online shopping behavior. It's important to understand where your customers are spending their time online. This will help you understand what they like, where they shop, what they buy and when they buy it.
You can then use this information to optimize your marketing efforts so that they have the best chance of reaching the right people at the right time with the right message at exactly the right price point. If you don't already have this data, it's worth investing in tools like Google Analytics or Facebook Ads, so you can track where people are clicking and what they're viewing on your website.
Optimize Your Website Across All Devices
The user experience of your website can make or break a potential customer's decision to make a purchase, so make sure your website's search function is accurate, up-to-date, and easy to use. In fact, when asked what factors most influenced their opinion of a company's legitimacy, 48% of respondents said site design. No one likes feeling as though they are shopping on a website that is slow, old, and prone to crashing at any time.
Also, make sure that every part of your site looks good. Make it simple for customers to browse your products and purchase with a layout that is both aesthetically pleasing and functional. Try to make everything as simple as possible for your customers by minimizing the number of clicks they have to make to complete a purchase and improving the site's search functionality.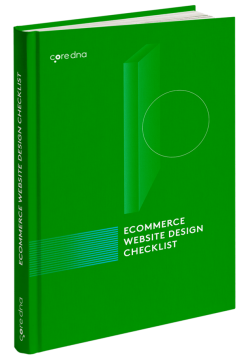 The Ultimate Guide to Building the Perfect eCommerce Website
17-step checklist for omnichannel marketing success.
Aesthetically Display Your Product With Visual Merchandising
When it comes to online shopping, a picture is worth a thousand words, if not more. Customers will be more invested in your product and more likely to make a purchase if you provide them with high-quality images, videos, and virtual tours of your products. In addition to these high-quality online displays, be sure to include clear descriptions that address any concerns a buyer may have prior to making a purchase, including those pertaining to the product's size, material, color, and so on.
Understand the Role of Social Proof
Marketers use "social proof" to entice customers to follow suit after observing the behavior of those who have already done so. Customers who are on the fence about buying your products will typically research the opinions of others before making a final purchase choice. Seeing hundreds and thousands of good reviews and online posts about a product you're interested in makes for a strong case and influences buying, doesn't it?
So how can you leverage social media proof?
Share testimonials from other customers
Display awards for products or services
Take part in social media interactions (such as answering questions or sharing reviews) about your products or services
Social proof is a potent tool for online retailers, helping to build consumer loyalty and confidence in the brand.
Digital Merchandising Best Practices and Examples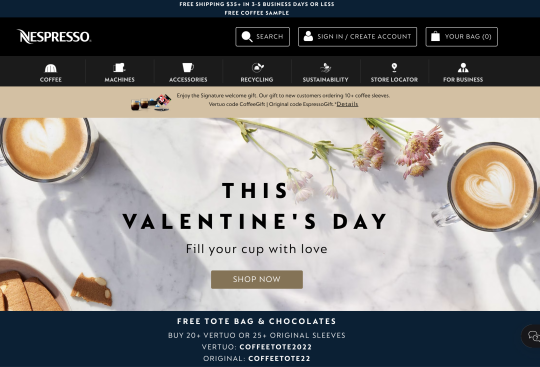 Make Your Homepage Eye Catching - Nespresso
The homepage is usually where most customers will end up on your website first, so you want to give them a good first impression. Research shows that design accounts for 94% of users' initial impressions of a website. Use large images, graphics, videos, and any other media to enhance your visual merchandising efforts, catch the eye of your target audience, and establish a good first impression. Think about the layout, collaborate with designers who can make a basic yet interesting landing page, and don't forget to make it responsive.
Retailers such as Nespresso, use this tactic by placing an attractive hero image on their front page detailing their most current collection with a catchy CTA and a small banner with their latest deal. Customers can click the shop now button to see their latest offerings.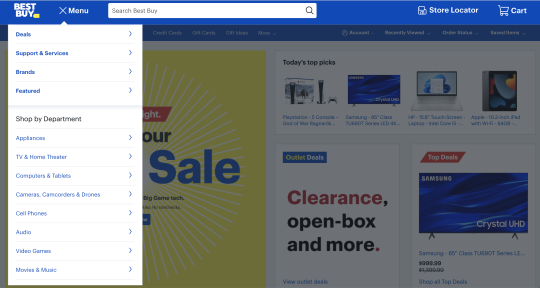 Make Sure The Webpage is Easy to Navigate - Best Buy
A customer's decision to stay or go will be largely based on how they feel about the site's design. Poor navigation and design, according to 37% of users, is the top reason they leave a website. It is important to investigate strategies to enhance your website's navigation to make it as easy as possible to use. Best Buy sells many electronics. Therefore their navigation is extensive. However, Best Buy's navigation is well-organized despite having so many products.
For your own website, think about the features of your website menu, such as the blog and contact information. Verify each updated function on as many devices as possible. This guarantees that visitors view your site as you meant them to and aren't turned off by an awkward design.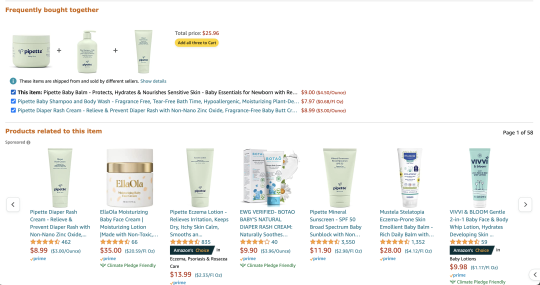 Prioritize Personalized Experiences - Amazon
Personalized experiences create loyalty among your customers by showing them that you care about what they want, need, and expect from your store. The data shows this to be true, with 91% of customers saying they are more inclined to buy from a company that offers personalized product recommendations.
Recommendations influence buying and can increase sales and customer engagement by presenting relevant and personalized products to shoppers. They can also help shoppers discover new products they may be interested in, making it easier for them to find what they are looking for.
When discussing customization, we have to talk about Amazon. As a result of having access to so much information, Amazon excels at behavioral targeting, predictive modeling, and contextually relevant marketing with their highly effective "frequently bought together" and "customers who bought this item also bought" suggestions.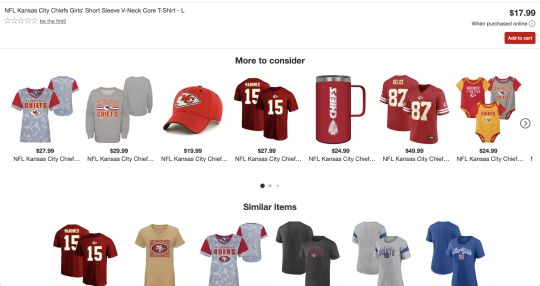 Take Advantage of Cross-Selling - Target
Just because you aren't there with the customer doesn't mean you can't take the opportunity to cross-sell! The shopping cart is the perfect spot to make recommendations based on what the customer is already buying.
Take Target's "Frequently also added" items that show up in the cart when a customer is checking out. eCommerce stores can use the real-time information provided by a customer's shopping cart to upsell relevant products to them at just the right time, such as while the client is reviewing their order to double-check the quantity, price, and delivery information.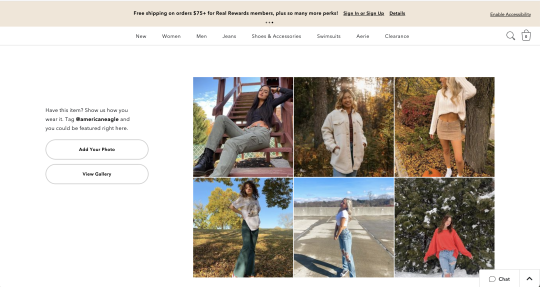 Use User-Generated Content As Social Proof - American Eagle
Remember what we said about social proof? Take advantage of user-generated content to bolster credibility and authenticity; UGC encourages consumers to trust your brand. You can also use it to expose your products to new customers you may not have been able to reach before.
Including a space for customer-uploaded photographs in the product reviews section is one approach to displaying UGC to buyers. In addition, you can highlight your satisfied customers on the product page and include UGC across your business's social media page.
American Eagle Outfitters takes advantage of all of these techniques by displaying customer-uploaded images on their product pages and highlighting UGC on their social media pages.
Despite the constant evolution of the eCommerce landscape, it is undeniable that digital merchandising stands as a paramount method for enhancing the credibility of your brand, fostering engagement with customers, driving traffic to your website, and ultimately converting browsers into buyers.
In the face of the explosive growth of eCommerce businesses, implementing a sound digital merchandising strategy serves as a vital differentiator, setting you apart from the growing number of other online retailers.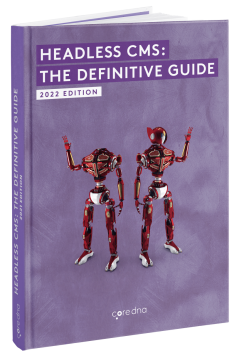 Headless CMS: The Definitive Guide
Core dna Headless CMS guide gives you all the information about the different types of content management systems out there. We highlight the difference between headless and decoupled and give you the framework to choose what solution is best for your business.