How to Choose an Enterprise eCommerce Solution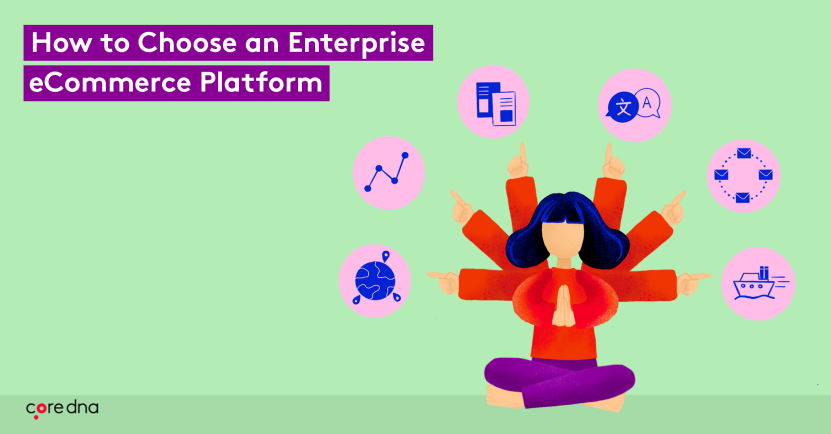 "Can we rebuild our checkout process to make it faster?"
"Can we integrate our store with our CRM system?"
"Is our technology stack—which powers our entire operation — working with us, or against us?"
If these questions sound familiar, you've probably wondered about how well your enterprise eCommerce software is serving you today, and how well equipped it is to serve you tomorrow.
An enterprise eCommerce platform needs to handle a myriad of tasks, from rendering product catalogs to managing orders to connecting with third-party systems. The complexity of these tasks is compounded when you factor in large order volumes, multiple currencies, and different languages.
Your eCommerce software is the glue that holds your company together, and if it's struggling to keep up today, just think of how far behind your brand will fall tomorrow. After all, consumers are expecting more complex and engaging customer experiences by the day.
So, how can you select an enterprise eCommerce software that's ready to grow with your company today, tomorrow, and beyond?
Looking for an enterprise eCommerce platform? Here's what you'll find in this article: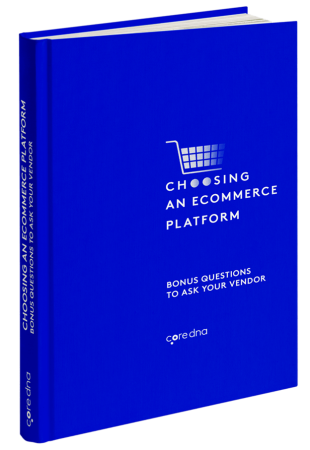 Download this guide: How to choose an eCommerce platform (bonus checklist to ask your vendor)
The definitive guide to choosing the right eCommerce platform for your business.
Hold on...What IS an enterprise business?
Nearly any business can be classified as an enterprise in a general sense, but not every business needs an 'enterprise-grade' eCommerce platform. Some companies meet the stricter definition of the term enterprise company, a definition that generally includes:
A company that offers more than one kind of product or service
A company that has annual revenues exceeding $7.5 million.
A company that pools its financial and technical resources among its departments.
A company that has its own marketing team or department.
A company that has multiple brands (and likely a global presence).
If you tick most of these boxes, read on.
What do we mean by 'Enterprise eCommerce Platform'?
In a nutshell, enterprise eCommerce platforms let enterprise businesses sell their products online. That's not to say smaller companies can't use these platforms, but enterprise-grade software typically has additional features than standard, off-the-shelf eCommerce solutions that's ideal for enterprise-level business.
While some enterprise eCommerce platforms are delivered as software packages, today's major platforms are cloud-based - simplifying, or even eliminating, the software installation and upgrade requirements. The higher price tag of enterprise eCommerce software comes with important features, let's look at those now.
What are some enterprise eCommerce features?
Every major eCommerce platform has basic online retail features, right? But, enterprise businesses need more capabilities like:
Managing multiple product categories from numerous stores for customers in various locations.
Integration with other systems throughout the company such as accounting, inventory, and customer relationship management (CRM) systems.
The ability to track a customer's previous purchases and recommend other items based on their purchasing history.
Scalability to meet the likely high traffic demands of an enterprise level business.
If you think you'll need some of these features, we'll get into how to choose which platform next.
How to choose an enterprise commerce platform
If you're looking for your first enterprise eCommerce platform, the options can be overwhelming. If you've got an existing one already, finding a platform that you can migrate to can be even more daunting.
Modern enterprise eCommerce solutions come with many great features, but they usually require substantial effort to install, integrate, and learn to use effectively. Deployment, integration with third-party systems, and configuring products all take time. And that's not even taking into the upfront and ongoing monetary costs.
That's why choosing the right enterprise eCommerce platform is crucial for enterprise businesses. You've got to make sure you talk to the right people first.
1. Are you B2B, B2C, or DTC?
Many eCommerce platforms cater to a specific customer base, so you'll want to look at solutions that are either geared towards B2B, B2C, or D2C. Alternatively, you'll want a solution that works equally well with all three business models — and you can figure that out by asking the vendor to show you how their software has worked with various eCommerce models.
And don't underestimate the difference here. In the B2B space, for instance, transactions take longer and often require more managed company accounts and communication between the seller and the buyer before orders are placed.
When it comes to B2C and D2C eCommerce on the other hand, the buying process is often faster and less communication heavy. Many B2C eCommerce platforms lack the features necessary to foster long-term business relationships that B2B enterprises required such as corporate accounts, request for quotes, split shipping, multi-level user access, and deep integration with a CRM.
2. Ask your stakeholders
It's not easy to choose an enterprise eCommerce platform, so don't do it alone. You should involve several departments in the decision-making process. The IT team, for example, needs to make sure the software can integrate with critical systems.
The marketing team, on the other hand, will need to ensure the platform has the personalization and merchandising features to meet their requirements.
Each department will have its own requirements, so you need decision-makers from every team involved. Later on, we've listed some key questions to ask stakeholders.
3. Decide between SaaS, IaaS, PaaS
You now know what enterprise eCommerce platforms are, but how do you get and deploy the software? Most of today's solutions are cloud-based, but there are a few different service models:
Software as a Service (SaaS)
Infrastructure as a Service (IaaS)
Platform as a Service (PaaS)
Each of these software delivery models has its advantages and disadvantages, which you should consider when choosing an enterprise eCommerce software solution.
| Software as a Service (SaaS) | Pros | Cons |
| --- | --- | --- |
| Software as a Service (SaaS) allows you to access data from any web-enabled device. Each SaaS vendor will host and maintain your databases and application code in exchange for a monthly or annual subscription fee. | Lower startup costs: Since the SaaS pricing model is subscription-based, you don't need to invest in hardware or infrastructure to get started. | Dependence on connectivity: On the other side of the coin, you can't access the SaaS enterprise eCommerce software if your internet connection goes down. |
| | Less maintenance: The SaaS vendor handles all the initial setup tasks, the platform launch, and any software upgrades as they become available. | Security issues: SaaS vendors often host multiple clients on a server, so a security issue with one client can leave you vulnerable to attack. |
| | Ease of access: A SaaS platform allows you to access the system through a web browser, so you can make any changes needed from anywhere and see the results immediately. | Lack of internal control: You're trading convenience and accessibility for internal control. The SaaS vendor determines when upgrades and maintenance tasks occur. |
| Infrastructure as a Service (SaaS) | Pros | Cons |
| Infrastructure as a Service (IaaS) is the collection of hardware and software infrastructure that a cloud provider offers, including databases, storage space, and networking capabilities. You can set up infrastructure through the provider, and they'll manage and maintain it. | Strong internal controls: Unlike SaaS solutions, IaaS gives you more control over the infrastructure of enterprise eCommerce solutions. | Buying vs. renting: You may see an improved return on investment (ROI) in the long term by building infrastructure in-house, rather than paying the subscription fee for IaaS. |
| | Enhanced flexibility and scalability: An IaaS solution you can maintain your current infrastructure and the cloud provider handles the tasks of scaling to meet demand. | Time-consuming setup: You're responsible for installing operating systems, database management systems, and payment processing systems on the server, which can be time-consuming and lead to delays in launch. |
| | Lower startup costs: You can launch and maintain enterprise eCommerce platforms remotely, without the additional cost of maintaining the infrastructure on-premises. | Clients manage upgrades: You're also on the hook for any system upgrades. Without dedicated personnel or financial resources for these upgrades, this can be a problem. |
| | | International support is limited for things like customs clearance, tax requirements, and other foreign regulatory compliance. |
| Platform as a Service (PaaS) | Pros | Cons |
| A Platform as a Service (PaaS) provider establishes an environment that you can use to install your own software applications and databases. The PaaS provider offers critical services, such as hosting, while you'll have to deploy the eCommerce software yourself. | Powerful development environment: Of all the cloud computing models, PaaS offers developers the most autonomy. Enterprises that have the brainpower and creativity in their IT group can benefit from the PaaS setting. | Dependence on platform: If you implement an enterprise eCommerce solution for one platform (e.g.. Linux) and the PaaS provider switches to another (e.g. Windows), then you could lose out on the hours of work you've put into the project. |
| | Fast testing and implementation: The PaaS environment allows developers ample opportunity to test and implement their enterprise eCommerce solutions, which can lead to faster time to market with a more robust platform. | Limited scalability control: PaaS systems are often the most difficult to scale to meet a business's changing needs, so you could end up paying more than necessary, or the vendor may not be able to meet your higher demands. |
| | No compatibility issues: You have to handle the implementation of the enterprise eCommerce system on to the PaaS provider's server, so you can resolve any compatibility issues between the server and the platform immediately. | Cloud compatibility: While developers may employ their on-site resources to create a custom enterprise eCommerce solution, some of the capabilities may not work in a cloud computing environment. |
| | | Many companies complain the developer sandbox is slow and customizing the APIs is complicated. |
4. Ask the right questions
With businesses depending on so many systems these days, an enterprise eCommerce solution does not stand alone. Every stakeholder needs to have their questions answered before selecting a platform that's right for your business. Here are some questions you should consider for different stakeholders.
Marketing & business questions
How can we create a customized user experience that reflects our brand?
How will we set up our online product catalog? Can it handle multiple product categories?
How will we set up promotions and discounts for customers?
Can the solution track previous purchases and recommend other items based on purchasing history?
How can we use this solution to increase our search engine visibility?
Is there a dedicated account manager and other critical support in place?
Will this solution fit our budget, in terms of both up-front costs and future fees?
Does this solution have the capabilities we need, both now and in the future?
Will this solution deliver a positive return on investment?
Technology questions
How will we import our data (e.g. products, categories, customer purchasing history)?
How will this solution meet our future needs?
What level of support will we need to launch and maintain this solution?
How will this solution integrate with our other software (e.g. CMS, accounting, CRM)?
How will this system work with our payment processor?
How can we make this solution secure, while still allowing access to those who need it?
Can this solution scale to meet our traffic demands?
5. Know your Total Cost of Ownership (TCO)
The TCO can have a dramatic impact on the success of a replatforming, but many companies fail to predict the full costs of a new platform from the initial implementation to ongoing expenses. For the implementation, you need to factor in many expenses like consulting fees, development costs, and many other costs just to get the platform running. After the implementation, you'll still have many recurring costs like licensing, hosting, support retainers, and more. You need to consider how these will affect the TCO before you make a platform decision.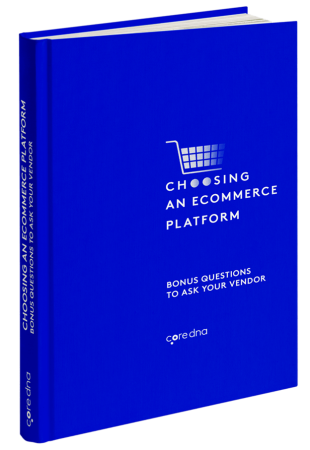 Download this guide: How to choose an eCommerce platform (bonus checklist to ask your vendor)
The definitive guide to choosing the right eCommerce platform for your business.
Best enterprise eCommerce software platforms: 2021 edition (pros and cons)
In recent years, many leading software vendors have jumped into the market for B2B eCommerce platforms, from the largest software companies to small startups. With so many products on the market, you should take a closer look at what each provider has to offer.
While there are a few large companies that dominate the market share for enterprise eCommerce software, that doesn't mean you should discount smaller vendors. Often, small vendors can adapt to changing requirements faster and offer a more personal service than the large software providers. So, here are some of the best eCommerce platforms we'll be comparing in this article:
Magento Commerce
Shopify Plus
Salesforce Commerce Cloud
SAP Hybris
Oracle ATG Web Commerce
IBM Websphere Commerce
Core dna
| Magento Commerce | Pros | Cons |
| --- | --- | --- |
| Magento Commerce (the enterprise edition) has support for both on-premise and cloud-based deployments, and is part of the trusted Adobe Experience Cloud brand. (Side note: Check out this article before using Adobe Magento 2 Migration: Is it Worth The Effort?) | Wide range of third-party extensions available on its marketplace. | Expensive maintenance and support requirements means greater dependence on developers and IT. |
| | Enterprise-grade features including detailed inventory and multi-store management. | Magento's migration issues remain, with customers forced to undergo costly and difficult migrations once every few years. |
| | Largest developer communities in the eCommerce space, so you can count on support from a wide array of sources and fast answers to your questions. | Many enterprises with a lot of data complain that the platform is slow and buggy at-scale. |
| Shopify Plus | Pros | Cons |
| Shopify is an eCommerce platform that's hosted, or a SaaS, that gives you everything you need to get a store up and running. | A straightforward eCommerce website builder that makes it incredibly easy to get started. | Themes and templates available are much fewer than other platforms like Magento, limiting the designs you can come up with. |
| | Support for over 70 payment gateways. | Add-on apps and features are limited compared to many open-source options that give full customization. |
| | Built-in SEO capabilities. | Capabilities may be limited and adding additional functionality may create complexity in the long run as your online store grows. |
| | | International support is limited for things like customs clearance, tax requirements, and other foreign regulatory compliance. |
| Salesforce Commerce Cloud | Pros | Cons |
| Formerly known as Demandware, Salesforce Commerce Cloud offers a SaaS-based solution built with the demands of enterprise B2C retailers in mind. | Not responsible for maintenance and upgrade tasks, nor do you need to worry about scalability to meet changing demands. | Lack of an expert community of developers to offer support to new users. |
| | Tools to make AI-driven personalization easier. | Few agency partners to assist with development and integrations. |
| | | Upsells to other solutions within the Salesforce portfolio are frequent (and costly). |
| | | Many companies complain the developer sandbox is slow and customizing the APIs is complicated. |
| SAP Hybris | Pros | Cons |
| SAP Hybris is adaptable for on-premise or cloud installations, and is ideal for businesses with a large international presence. (Side note: Check out this article before using SAP Commerce Cloud) | Capabilities for multi-brand and international retailers. | With SAP Commerce, you're still responsible for development, maintenance and upgrades. |
| | Native support for displaying catalogs, pricing, and quotes specific to each specific customer or market segment. | This level of flexibility also comes with a much higher cost of ownership than most of the competition. |
| | One of the most adaptable solutions on the market. | Many companies complain about the poor analytics and reporting capabilities. |
| Oracle ATG Web Commerce | Pros | Cons |
| With names like Games Workshop, CVS, and AutoZone using the platform, ATG has become an industry leader in B2C enterprise eCommerce solutions. | Big data features that give you the tools needed to analyze customer behavior and study purchasing trends. | Some ATG clients have reported concerns about a high total cost of ownership, which may be an issue for budget-conscious retailers. |
| | Many flexible omnichannel and multisite capabilities that enterprises need. | Limited availability of implementation partners contributes to higher costs. |
| | | Many users experience freezes, crashes, and other bugs when using the system because it's large and unwieldy. |
| IBM Websphere Commerce | Pros | Cons |
| IBM Websphere is the go-to enterprise eCommerce solution for large retailers, with more than 60% of its clients reporting annual revenues exceeding $100 million. With four product editions, solutions available for on-premise, SaaS or cloud deployment. | One of the most flexible platforms in the industry, with built-in support for many complex business needs. | Developers will often need to invest time in custom front-end development and resolving difficulties around integrating various software platforms. |
| | Excellent customer support under the IBM brand. | With IBM selling Websphere, the future of the product is uncertain. |
| | | Many companies find the implementation more time-consuming and costly than expected. |
| Core dna | Pros | Cons |
| Core dna is a digital experience platform (DXP) that brings together powerful content management and eCommerce features. | Headless architecture lets marketers reach wider audiences on a multitude of digital channels. | Additional development of Core dna as a platform is controlled by Core dna, and not by your own in-house development team. |
| | As a SaaS solution, Core dna has a fixed monthly cost, and you don't need to worry about any upgrades or maintenance. | |
| | Every feature is native to the platform, so the complexity or even risk of conflicting plugins and modules is eliminated as your online store grows. | |
| | Proven in B2B, B2C, and DTC environments. | |
Communication is key
With so many factors to consider and so much on the line, the choice between so many products in the marketplace can often be tricky. Communicating with your stakeholders and asking a long list of questions to all potential vendors is the key to choosing the best enterprise eCommerce software for your company.
inline form