Here's Why You Need a Hybrid B2B & B2C eCommerce Platform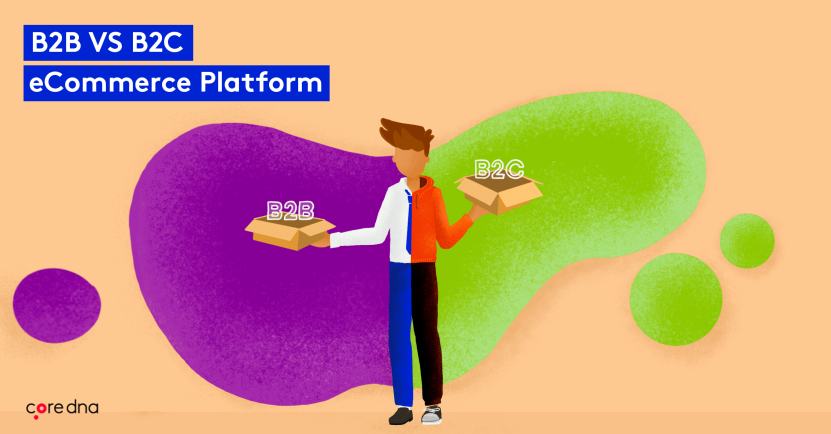 There's been a dramatic shift in eCommerce, with companies forming strategies to target both B2C and B2B with their products and services.
While some B2C companies are targeting businesses with their products, even more common is B2B companies selling direct to consumer (DTC). That's because in the next five years, 81% of consumers plan to shop from direct to consumer brands. The lines are blurring and merchants can't easily be categorized into just a B2B or B2C company anymore.
The problem online merchants are facing is that eCommerce platforms are often sufficient for selling to only businesses or only consumers, but not both.
The separate platforms these brands are using for each type of market can't efficiently handle an all-encompassing strategy. That's why brands need a fully-featured hybrid eCommerce solution that lets them manage B2B and B2C commerce from one dashboard.
Want to learn more about B2B & B2C eCommerce platform? Here's what you'll find in this article: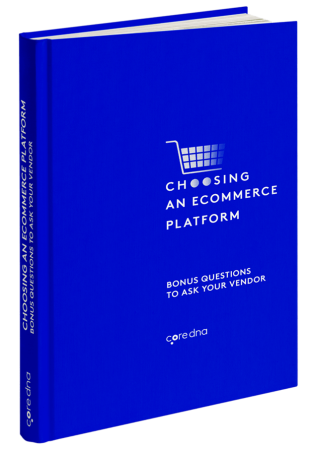 Choosing an eCommerce platform?
Download our definitive guide to choosing the right eCommerce platform. Plus bonus questions to ask your vendor.
B2C vs. B2B eCommerce
At the most basic level, B2C companies sell to consumers while B2B companies sell to businesses. Let's look more closely at each strategy, and the key differences between them.
What is B2C eCommerce?
Business-to-consumer (B2C) means selling to individual customers. The sales process, therefore, is focused on the needs of a single customer and moving prospects from initial interest to purchase is relatively straightforward. Sales cycles are shorter and more emotionally driven.
What is B2B eCommerce?
Business-to-business (B2B) means selling to businesses. Businesses have multiple stakeholders, compliance requirements, and many other factors that make the sales processes more complicated. Sales cycles are longer and driven by logic and rationality.
What's the difference between B2C & B2B eCommerce?
The differences in target markets and key decision-makers - an individual or an entire business - leads to different business strategies and technological needs.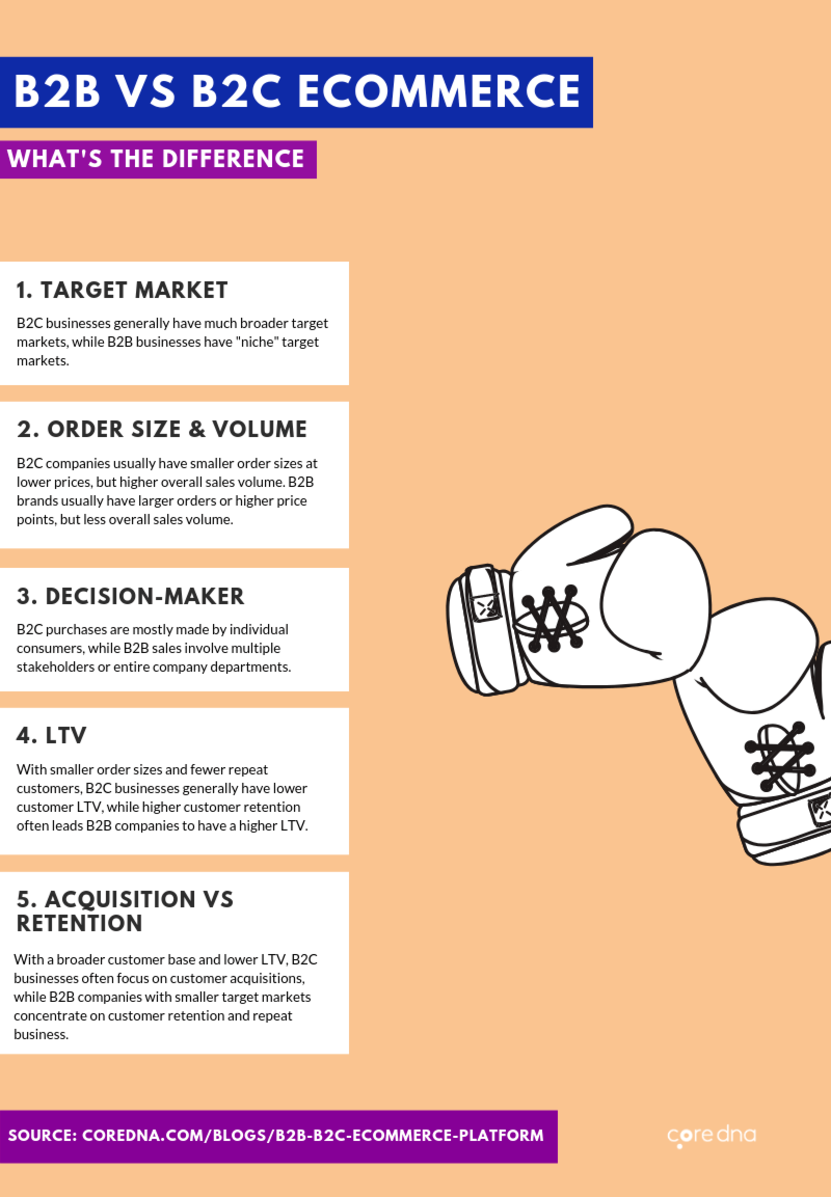 (5 basic differences of B2B vs B2C eCommerce)
1. Target market
B2C businesses generally have much broader target markets, while B2B businesses have "niche" target markets.
2. Order size & volume
B2C companies usually have smaller order sizes at lower prices, but higher overall sales volume. B2B brands usually have larger orders or higher price points, but less overall sales volume.
3. Decision-maker
B2C purchases are mostly made by individual consumers, while B2B sales involve multiple stakeholders or entire company departments.
4. Customer Lifetime Value (LTV)
With smaller order sizes and fewer repeat customers, B2C businesses generally have lower customer LTV, while higher customer retention often leads B2B companies to have a higher LTV.
5. Customer acquisition vs. retention
With a broader customer base and lower LTV, B2C businesses often focus on customer acquisitions, while B2B companies with smaller target markets concentrate on customer retention and repeat business.
The features expected from B2C and B2B eCommerce platforms
These differences in business strategies and target markets are reflected in the essential features required from eCommerce platforms by each type of merchant. Let's look at the key features B2C and B2B platforms typically include out of the box.
1. The user interface
A B2C eCommerce platform needs a straightforward buying process for consumers like intuitive site navigation, streamlined customer checkout, and the ability for customers to search product catalogs easily.
B2B software needs sophisticated features like user permissions, order management systems, account pricing, and business credit options.
2. The personalization of content
B2C companies need highly relevant and personalized experiences that appeal to consumer's interests, while B2B brands need features that tailor content and access to specific user roles like managers or purchasers.
3. The checkout process
B2C eCommerce platforms need the ability to checkout as a guest or create accounts with minimal hassle, while B2B companies need functionality for multiple accounts, budgeting, compliance, and other requirements for business customers.
4. The overall customer experience
B2C brands need to deliver a user-friendly and seamless customer experience across a variety of touchpoints, while B2B companies need to enable the business decision-making process.
But targeting both markets doesn't need to be hard
If you're a B2B company looking to branch out into B2C, or vice-versa, the idea of managing two separate platforms is overwhelming.
The problem is that you know you need the previously mentioned features to compete in both types of markets. Two platforms seems like the only solution — but it's not. That's why you should consider a hybrid eCommerce platform.
What is a hybrid eCommerce platform?
A hybrid eCommerce platform has the essential features to meet the needs of both B2C and B2B markets from within the same platform.
While separate platforms for each market works for some companies, there are enormous benefits to a hybrid solution that combines the best of both worlds. You can cater to both types of markets while reusing content and data across touchpoints, and analyze customer trends - all from a single dashboard.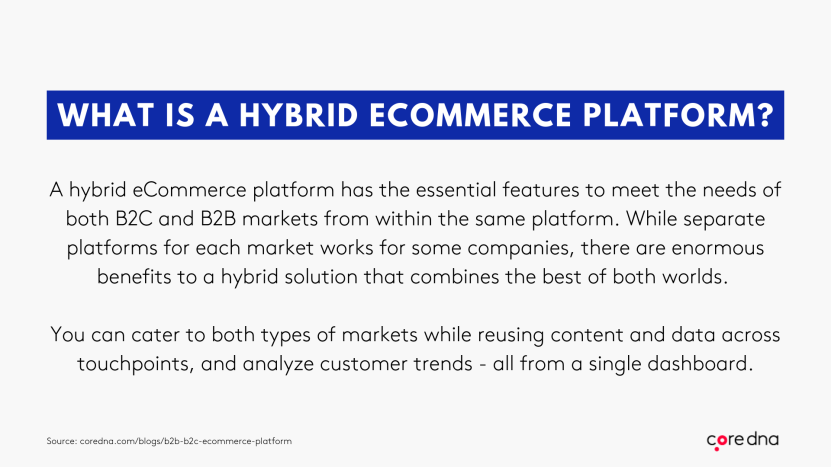 (Hybrid eCommerce platform: The solution to B2B vs B2C eCommerce platform)
Hybrid eCommerce platform features: Why a hybrid platform is the next generation of eCommerce solution?
Here's a breakdown of why a hybrid eCommerce platform works best: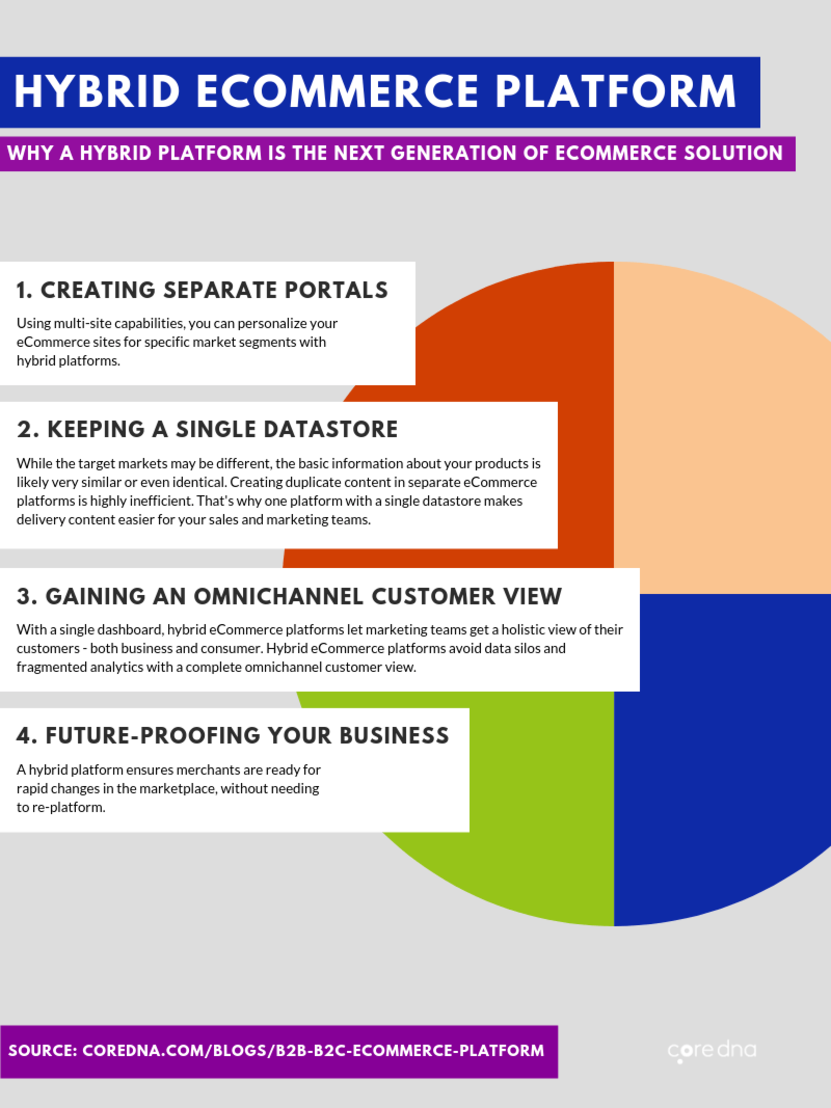 (The end of B2B vs B2C eCommerce platform argument)
1. Creating separate portals
A hybrid platform is capable of configuring many separate customer portals. Having multiple eCommerce interfaces is critical for DTC strategies because pricing can vary dramatically.
While pricing may be fixed for consumers, the price for business customers is often negotiated based on purchase volume, length of the business relationship, and many other factors.
Using multi-site capabilities, you can personalize your eCommerce sites for specific market segments with hybrid platforms.
2. Keeping a single datastore
While the target markets may be different, the basic information about your products is likely very similar or even identical.
Creating duplicate content in separate eCommerce platforms is highly inefficient. That's why one platform with a single datastore makes delivery content easier for your sales and marketing teams.
Avoid the nightmare of maintaining two or more product catalogues with a hybrid eCommerce platform.
3. Gaining an omnichannel customer view
With a single dashboard, hybrid eCommerce platforms let marketing teams get a holistic view of their customers - both business and consumer.
In the digital era, it's critical to track interacts across all touchpoints and applications to garner insights into the customer buying process.
Hybrid eCommerce platforms avoid data silos and fragmented analytics with a complete omnichannel customer view.
4. Future-proofing your business
The lines between B2B and B2C eCommerce are blurring. It's not just B2B moving into DTC, but many consumer-oriented brands are moving towards selling to businesses.
A hybrid platform ensures merchants are ready for rapid changes in the marketplace, without needing to re-platform.
You have the flexibility to shift sales strategies knowing that your technology will facilitate eCommerce for both types of markets. Don't let your eCommerce platform get in the way of digital adaptability - now or in the future.
Watch video demo
Don't let your eCommerce platform hold you back
Your eCommerce platform should enable you to reach whichever markets make sense without holding you back.
A hybrid eCommerce platform will let your marketing team form strategies that appeal to multiple market segments — from B2B to B2C — and you'll have the tech features to back them up. You'll have a greater understanding of your target markets, more streamlined content workflows, and future proof your business for new strategies that emerge.
Core dna, for example, has hybrid capabilities to build excellent customer experiences for both businesses and consumers. The platform lets you build content-rich eCommerce sites for consumers while meeting the unique requirements posed by business customers. Core dna is ready to fuel your eCommerce DTC strategy.