Multi-site eCommerce: Why You Need It And How to Manage It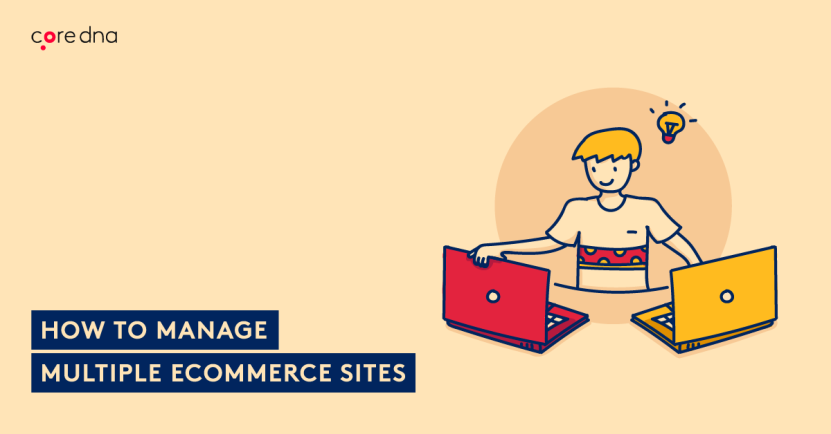 When many online businesses build their eCommerce sites, they typically take a "one-size-fits-all" approach where they have one store that addresses the needs of all their customers. While this approach may be convenient for the vendors, since they only need to manage one site, the strategy may not work with all of the vendor's potential customers.
If eCommerce brands do not cater to the needs of different audience segments, the vendor will miss out on potential sales. But, if the eCommerce brands opt to invest in creating multiple stores, each tailored to a specific audience group, they stand to gain a better chance of expanding their reach.
In a hurry? Here's what you'll find in this article: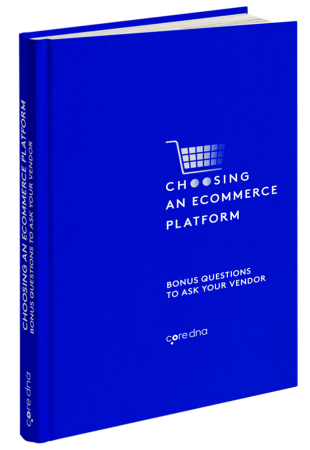 Download this guide: How to choose an eCommerce platform
The definitive guide to choosing the right eCommerce platform for your business.
What is multi-site eCommerce retail?
The implementation of multiple online stores can help vendors enhance their interaction with their current customers, as well as allowing them to penetrate markets that had previously been inaccessible. Some of the ways that multi-site eCommerce sites can accomplish these goals include:
1. Going direct to consumer (D2C)
A manufacturer pivoting away from partnering with retailers, and towards interacting with the end consumer, has a stark need for a multi-store eCommerce solution. For each of the regions it operates in, the manufacturer will need a digital presence to meet local demand, collect data, host sales, and everything else requires to successfully go direct to consumer.
2. Brand separation
Another reason for a multi-store approach is so that large companies operating under multiple brand names can create separate stores around each individual brand—while using just one platform.
For instance, the historic manufacturing brand Pacific Market International (PMI) leveraged Core dna to bring their three separate brands, Slant, Aladdin, and Stanley, under one digital roof. By streamlining the processes, they were able to benefit from all of Core dna's eCommerce and content management features across all of their stores, which were separate, yet united.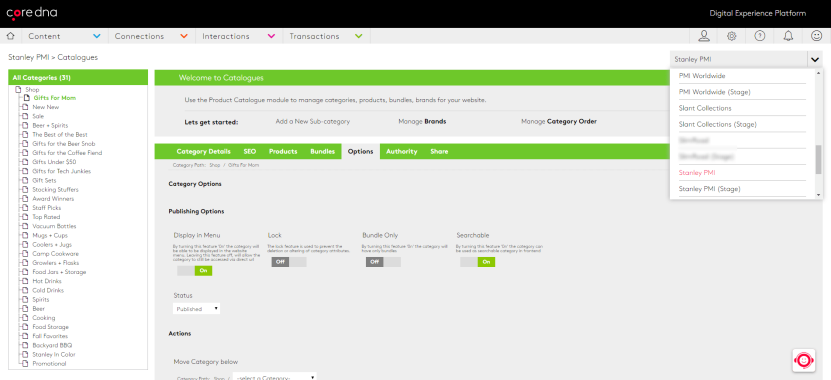 (Everything is managed under one roof)
Stanley was also able to dip its toe into the international space by getting their sites translated without using any other platform. Ultimately, Stanley-PMI was able to re-focus their energy and cash on growth, as their technology stack was familiar and consistent for all three brands, and they could all be managed centrally.
3. Expanding into international markets
While catering to customers in their own language is a necessity in international eCommerce, some countries that share a language may also have different demands. This is due to cultural differences.
Tivoli Audio, another Core dna customer, presents a good example of a brand leveraging multiple stores to enter new regions and countries.
Their previous Magento-powered sites were difficult to manage and separate at local levels. For instance, when one site went down, they all went down. After migrating to Core dna, Tivoli Audio was able to manage each site individually and incorporate different languages, products, and payment options depending on which regions the site was serving. Yet at the same time, the company was able to keep things like site design and navigation consistent—due to all the sites being centrally managed.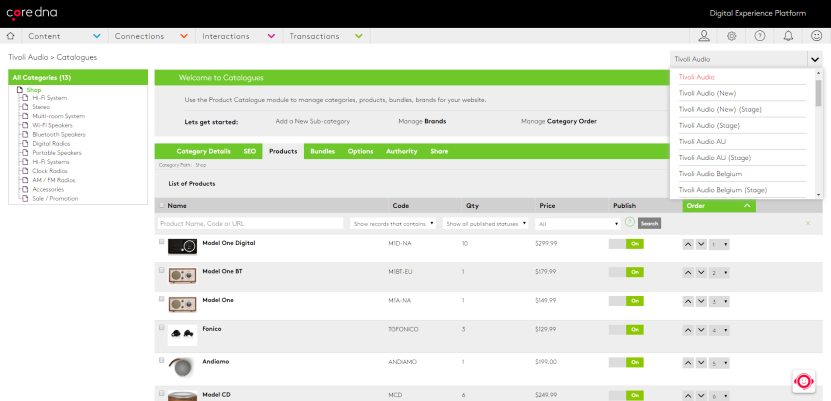 (Tivoli Audio manage all of their international sites in one roof)
Like Stanley, this solid framework gave Tivoli Audio the stability to scale their sites. They were also able to go to partners and give them a platform that could report sales the way they needed them to, not to have a distributor in a country using another third-party software.
The main advantage for Tivoli Audio was that they were able to set up and pay for their foundations once, and then scale it into new regions knowing that the framework is correct and consistent.
4. Different customer types
When a vendor deals with both B2B and B2C clients, that vendor will need to develop different online stores for each of those audiences. Pricing, availability, and payment terms may differ widely between the two, so each store would need to handle those differences.
One notable business that deals with both client bases is UK-based Currys PC World. They operate separate online stores, that sell similar products.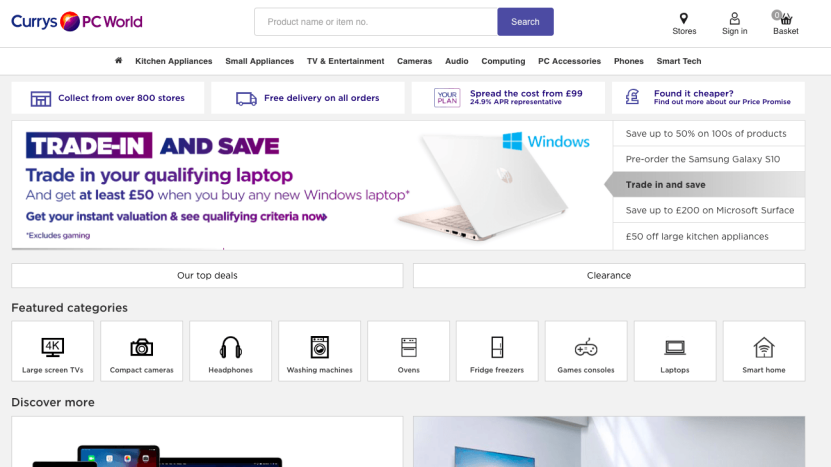 (Curry PC World's B2C eCommerce site | Source)
As you can see from the above, the content on Currys' B2C online store is focused on helping the customer get personal appliances and electronics.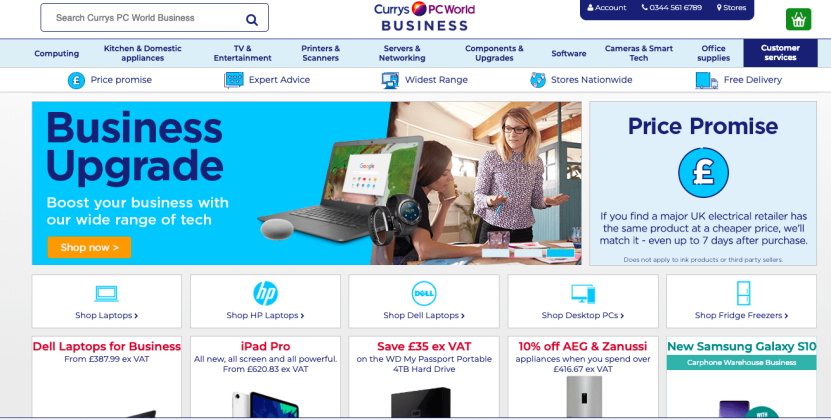 (Curry PC World's B2B eCommerce site | Source)
And the same goes for the B2B site.
The challenges of multi-store eCommerce
The creation, development, and management of multiple online stores can be a difficult set of processes. Vendors must deal with different brands, different customers, different inventories, and even different languages as they develop their online eCommerce sites. Other challenges can include: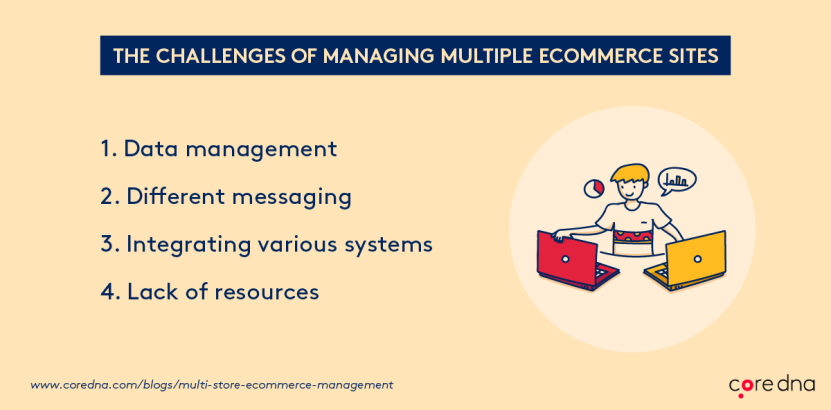 1. Data management
With multiple inventories, multiple customer databases, and multiple ordering systems to manage, the tasks involved in keeping the data for multiple online stores up to date and consistent can pose a significant challenge.
2. Different brand messaging
When a vendor is running more than one online store with the same or similar brands, brand managers have to ensure that the brand's messages stay consistent across every store and across multiple portals, such as laptops, tablets, and smartphones.
3. Integrating various systems
From inventory to payment processing, the processes involved in managing an online store must also include integrating various systems to ensure that they work together smoothly. When a vendor operates multiple stores, the challenges of integrating these systems can also increase.
4. Lack of resources
The cure to the problems listed above can also create a problem of its own, as vendors try to stretch their resources to manage multiple stores. The effort needed to keep each store up to date can eat up valuable time, money, and man-hours.
How to manage multiple eCommerce sites
Vendors should treat the development of each online store as if it were the only one they had in operation. At the same time, vendors must also view each online store as a tool in their overall business strategy. Some of the steps that vendors can take to attack both of these issues include: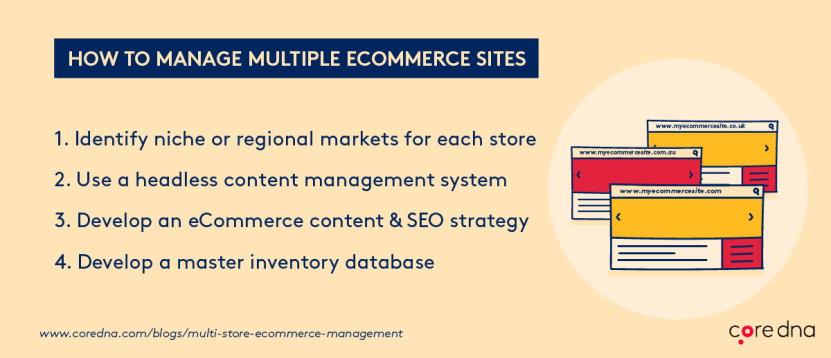 1. Identify niche or regional markets for each store
Vendors who develop stores that seek to fill the needs of niche markets can often see an increase in brand loyalty, which means higher rates of returning customers. Niche marketing can refer to targetting a specific market that either lives in a specific area, earns a specific income or has certain eclectic tastes.
2. Use a headless content management system
A headless content management system (CMS) ensures that a vendor's content will be consistent across multiple platforms and devices, including devices like Amazon Echo and Google Home. As a side note, a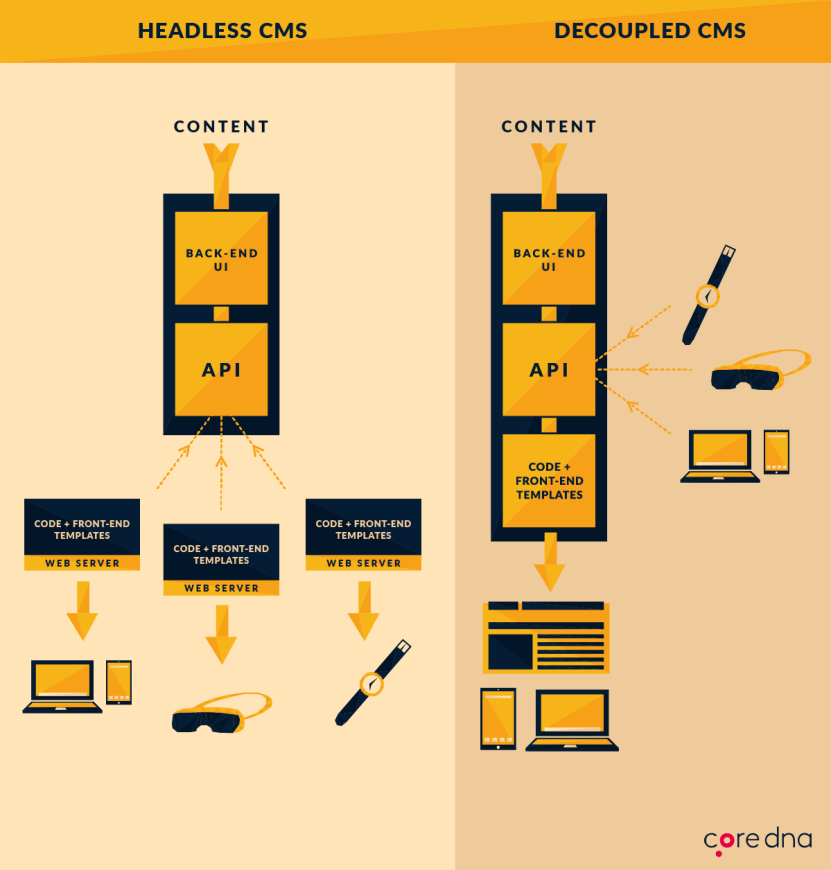 (The difference between headless and decoupled CMS)
And since headless commerce is starting to gain traction, based on the forecasted voice commerce revenues of $40 billion in the US alone expected in 2022, it is now crucial for brands to invest in a headless CMS platform and integrate eCommerce capabilities into it.
Core dna provides a SaaS-based decoupled headless CMS that come with a multitude of eCommerce features built-in. The platform lets online sellers create personalized online shopping experiences for customers in each target market. And Core dna's multi-tenant features allows vendors to manage multiple stores, while the WYSIWYG content management system allows marketers to create consistent messages across all platforms.
3. Develop an eCommerce content & SEO strategy
Managing search engine optimization (SEO) for multiple online stores is a huge challenge. You have to think about how you can optimize titles tags, header tags, meta description and so on for every online store. When you got a handful of stores, let's say two or three, it is just about manageable, but when you have hundreds, even thousands, of sites, it is extremely time-consuming to try and optimize each of these sites.
Stanley-PMI, which uses Core dna as its global eCommerce solution, has implemented a robust content marketing strategy to bolster its SEO efforts. The flask and outdoor gear retailer writes blog posts on topics ranging from evergreen topics like "Tips For Planning An Epic Outdoor Adventure With Friends"...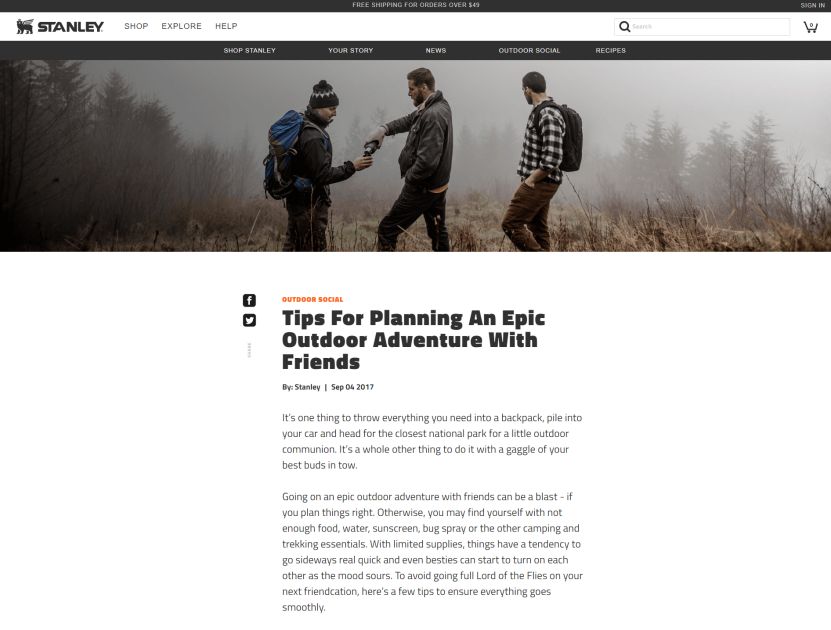 (Stanley-PMI's evergreen content)
… to a product-specific article like "Old Stanley VS New Stanley: What's Really Changed In The Unbreakable Bottle?".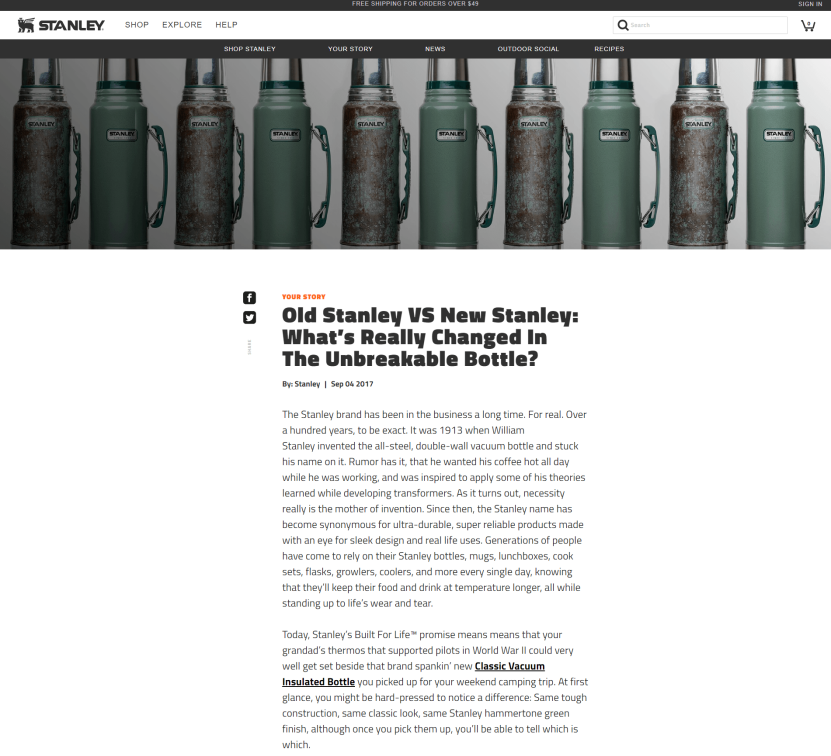 (Stanley PMI's product-specific content)
This content, combined with the built-in SEO tools found in Core dna (including customizable URLs, image optimization to canonical tags, and auto-generated Open Graph tags), have helped Stanley PMI boost organic traffic. So much so, that 75.72% of all the company's traffic comes from search engines.
4. Develop a master inventory database
A major issue surrounding the development of multiple online stores involves maintaining inventory databases. When you're having to deal with separate inventories, stock level discrepancies are bound to happen. For example, if you have two sites selling the same product, you are going to have to manually reconcile each inventory, and they are not reconciled at regular intervals, you risk having inaccurate stock levels.
A single master copy of the inventory database can save time and effort, while also avoiding problems with customers expecting an item that is no longer in stock.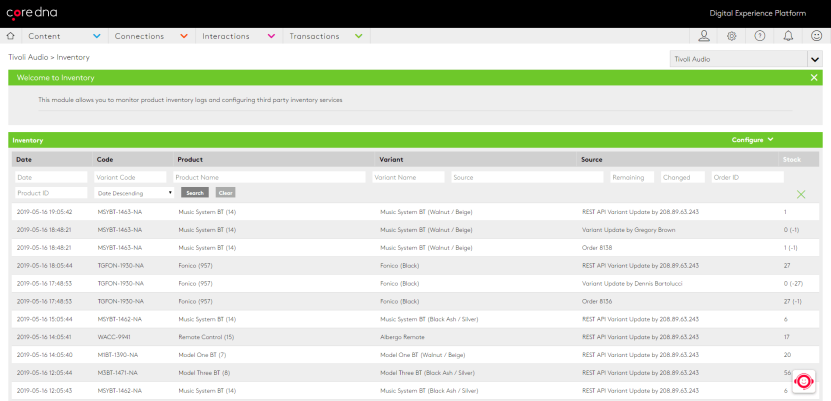 (How Tivoli Audio manages their inventory)
Core dna gives vendors the ability to control and manage multiple stores from a single dashboard. Vendors can create multiple stores to cater to any audience of their choosing.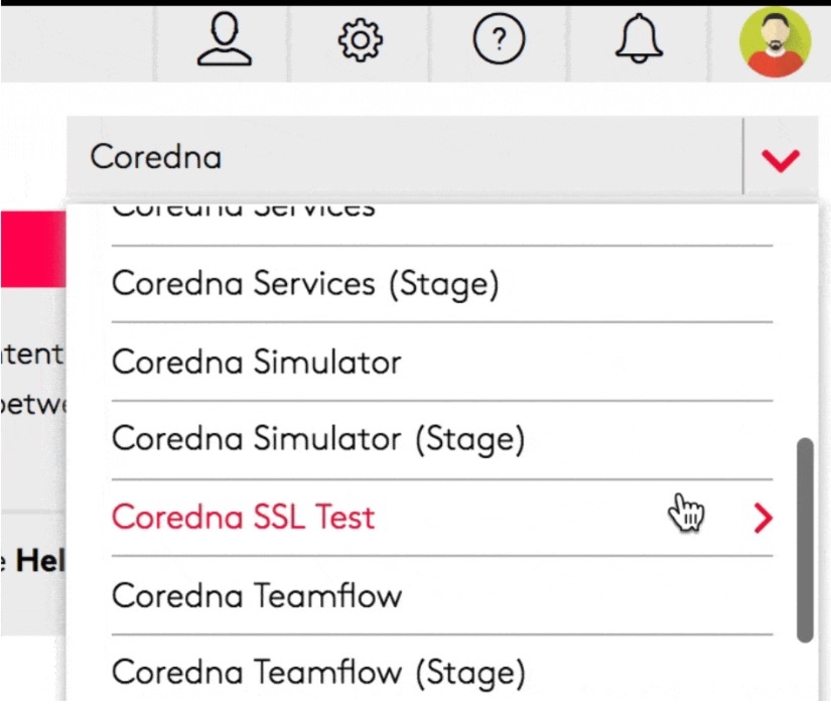 Core dna also allows vendors to track sales metrics from each store to determine which ones are meeting expectations.
Watch video demo
A multi-site eCommerce platform is a key to international growth
Whether you're serving different regions or managing several brands, entering international markets requires a multi-store eCommerce platform.
As we've demonstrated above, multi-store management helps brands stay relevant in local markets, separate their brands, and simultaneously manage their entire eCommerce ecosystem from the same dashboard.
International eCommerce brands such as Tivoli Audio and Randys world wide are leveraging Core dna as their multi-store eCommerce solution, taking advantage of our SaaS infrastructure, headless commerce capabilities, industry-leading hands-on customer support, and 80+ web content management and eCommerce features.