D2C for Manufacturing: 8 Strategies for Success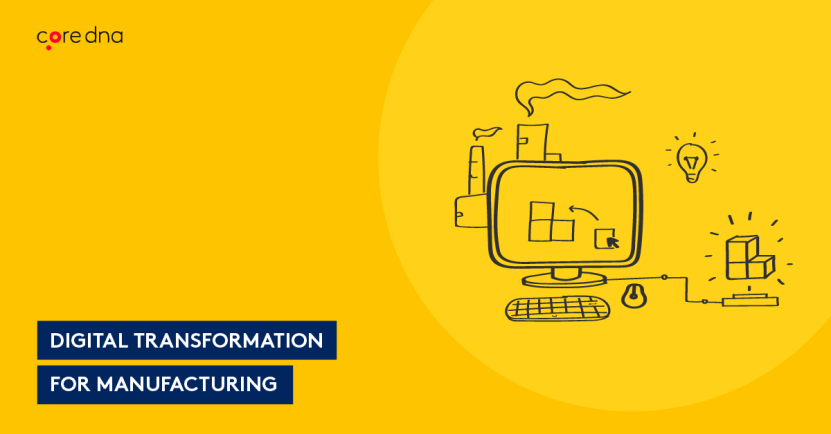 Manufacturing companies are peering through the window of opportunity. The internet — and more to the point, the availability of easy-to-use content management and eCommerce platforms — is empowering manufacturers to sell directly to consumers.
The decision to digitally transform your manufacturing brand, and the way it engages with the end consumer, is bold, and certainly not without challenges. The potential payoff is significant however. But where to begin?
In this article, we share eight proven digital transformation strategies to help you get started. But first things first, why transform your business model by going direct to consumer?
In a hurry? Here's how manufacturers can start selling directly to consumers:
< class="toc">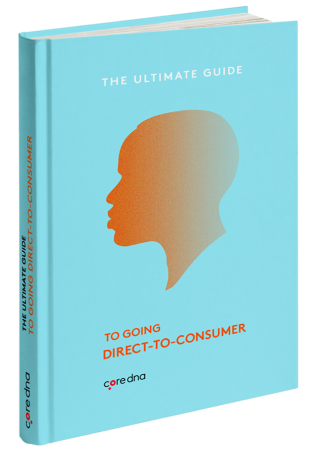 How to take your business direct to consumer in 2022: The ultimate guide
Strategies, insights, and tips on how to start and scale a direct-to-consumer business.
Why going direct to consumer (D2C) should drive your digital transformation goals
Consumers have become more connected than ever before. Today's digital technology is everywhere, making our lives easier, but also raising the bar in unexpected ways. And with that, consumer expectations and behaviors have drastically changed as a result. Just take a look at the smart wearable market, which is expected to achieve a $25 billion evaluation this year.
Wearable technologies, such as the latest Apple Watch, have enabled consumers to access their messages, make phone calls, use Siri, and eventually, make purchases through those devices.
We are also noticing consumers want convenience and they want instant access to goods and services. And for manufacturing brands, today's Internet provides them with the ability to go direct-to-consumer (D2C), and skip the middleman altogether.
Going D2C has a multitude of benefits. You gain the opportunity to engage directly with your consumers, get a better understanding of their needs, and deliver a tailored and personalized experience. And by cutting out the middleman completely, you can provide competitive pricing and develop an innovative marketing strategy that could disrupt the big boys of any industry.
One notable example of a successful D2C brand that comes to mind is the Stanley, the century-old thermos manufacturer turned retailer.
But to achieve this level of success, there are certain strategies that you must follow.
8 strategies (and steps) manufacturers need to take to achieve direct to consumer (D2C) success
While there are many ways to get started in becoming a D2C brand, you first need to set the foundations. It doesn't happen overnight, and you need to implement a carefully thought out plan. And the following steps and strategies below will help.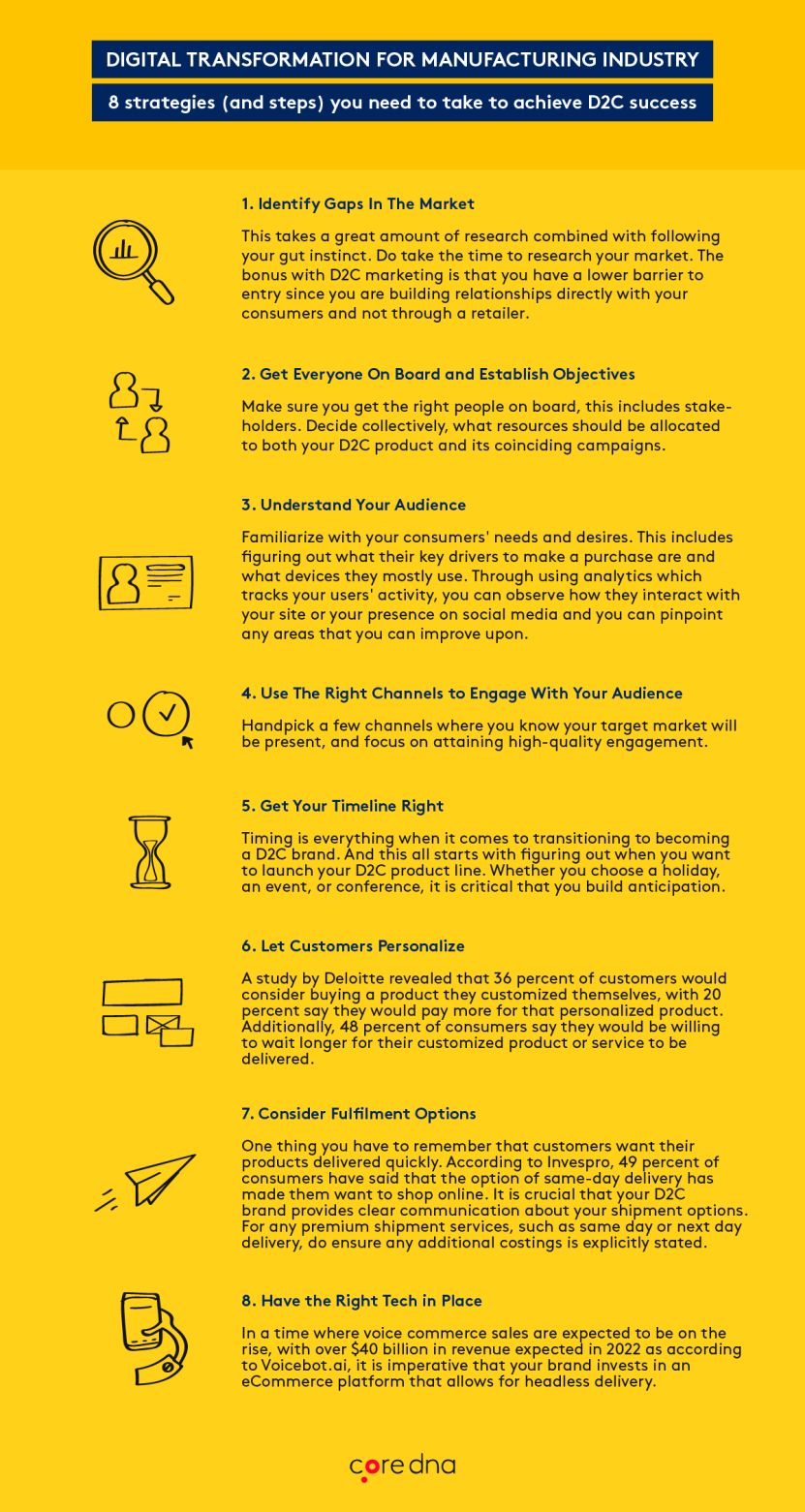 1. Identify gaps in the market
Before you embark on your D2C journey, you need to first identify a gap in the market. This takes a great amount of research combined with following your gut instinct.
Coming back to the Dollar Shave Club, the founders noticed that the conventional cartridge razor market was over-priced. And they also noticed that the latest "state-of-the-art" cartridge razor models had unnecessary tech like vibrating handles and way too many blades.
With their monthly subscription offering, Dollar Shave Club saw an opening to provide affordable high-quality blades in a market that was suffering from having to pay for expensive blades
Another D2C brand that saw the perfect opportunity is Casper. The mattress firm saw that the whole experience for shopping for a mattress was "overwhelming". Consumers had to go through so many mattress options such as spring, foam, gel, soft, firm, and semi-firm just to find the perfect mattress.
Casper squashed away this frustrating process by introducing a single mattress that was perfect for anyone. And in promoting their product, and their brand, they focused their marketing efforts in two places, New York City and Los Angeles. And they leveraged many big names like Kylie Jenner to promote their product on social media.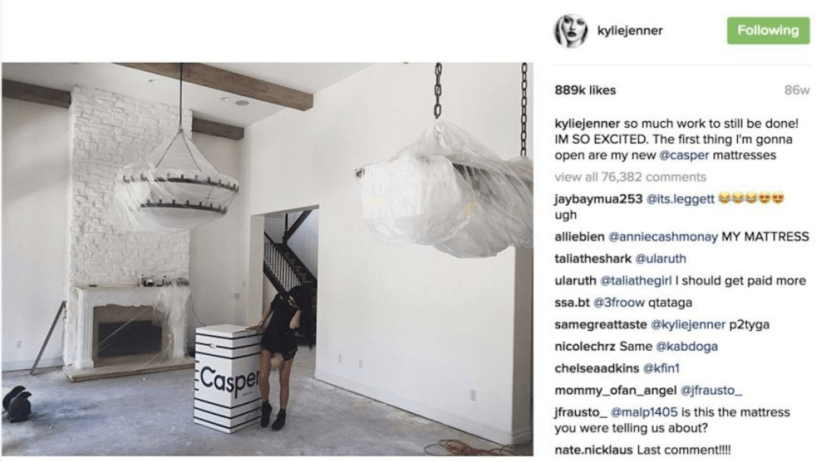 (Casper leveraged big-name celebs like Kylie Jenner)
Do take the time to research your market. The bonus with D2C marketing is that you have a lower barrier to entry since you are building relationships directly with your consumers and not through a retailer.
2. Get everyone on board and establish objectives
For any digital transformation, including D2C, you need to embrace a new mindset. Your manufacturing brand will no longer be creating your products to fulfill orders by the retailer, you will be creating products in an effort to try and get them fulfilled to your customers.
Of course, brands who already have contracts or partnerships with retailers shouldn't cut their ties straightaway. Instead, brands should leverage the D2C channel to supplement their existing revenue streams.
That said, when going down the D2C route, you need to ensure you have defined your objectives and get the right people on board, this includes stakeholders. You need to decide, collectively, what resources should be allocated to both your D2C product and its coinciding campaigns.
You also need to decide on what your objectives are for this transformation. Are you going down the D2C route to:
Test out a new product or service?
Explore your eCommerce options?
Get a better understanding of your customers?
Or make yourself more competitive?
That last point was the obvious choice for Gillette when they launched Gillette On Demand to compete with the likes of Dollar Shave Club and Harry's.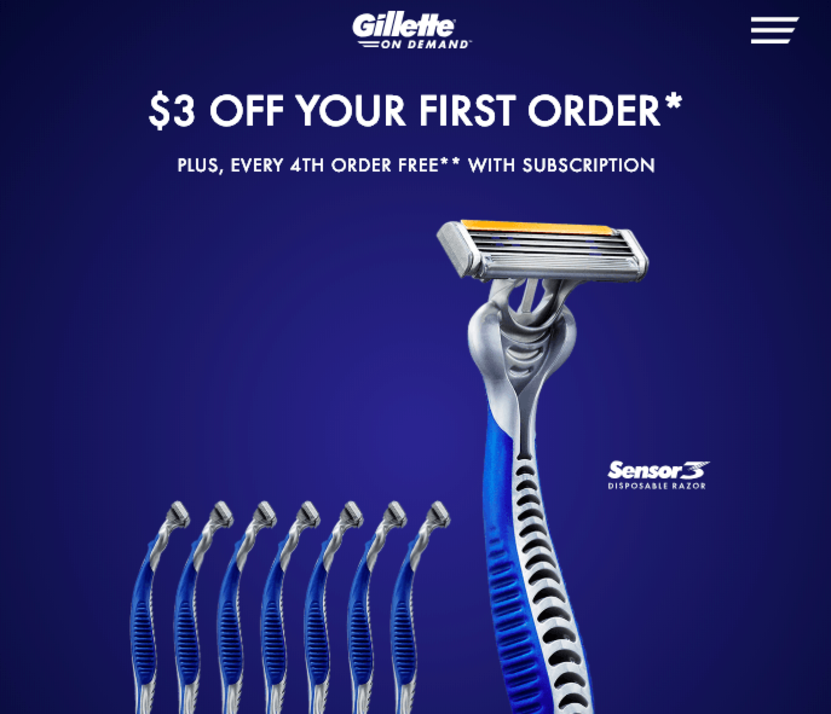 3. Understand your audience
In addition to identifying gaps in your market, it also helps to familiarize with your consumers' needs and desires. This includes figuring out what their key drivers to make a purchase are and what devices they mostly use.
It might be a bit difficult to understand your audience at first, but the benefit of going to D2C, as we have already mentioned, is that you get the opportunity to get a better understanding of your consumers.
Through using analytics which tracks your users' activity, you can observe how they interact with your site or your presence on social media and you can pinpoint any areas that you can improve upon.
Eyewear firm Warby Parker had a business model that delivered multiple pairs of glasses to their customers for them to try, taking the hassle of shopping for eyeglasses away. On delivering this model, they noticed their consumers were taking pictures and videos of their glasses and sharing them with friends via social media for a second opinion.
When they saw that, they tried to encourage their customers to post their images on social media with the hashtag #warbyhometryon with the incentive of pairing them with their online stylist. This tactic proved to be very popular, with HubSpot reporting in April 2018 that there are over 58,800 videos appearing under the search term "warby parker try on".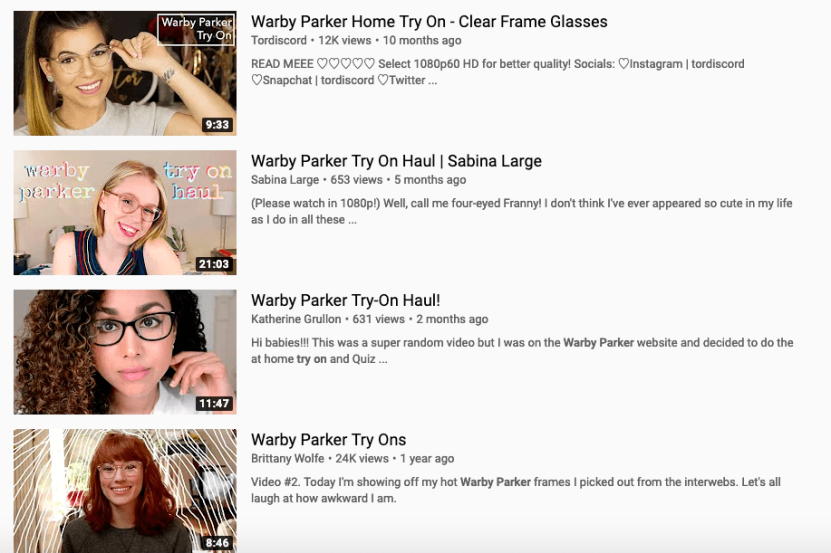 Warby Parker also found that consumers who shared content were 50% more likely to make a purchase. It pays to know your customer.
4. Use the right channels to engage with your audience
Your target market may be scattered across different channels, but to get the highest ROI, you need to figure out where most of your target market is on the digital space. It is actually unwise to utilize every channel that is available in an effort to promote your brand. You could risk wasting a lot of time and money since most of those channels won't give you the desired ROI.
Instead, handpick a few channels where you know your target market will be present, and focus on attaining high-quality engagement.
Beauty brand Glossier utilized a blog-first approach. Founder Emily Weiss started her blog, Gloss, in 2010 while she was interning at Vogue magazine. As her blog grew in popularity, where she was hitting 1.5 million unique views per month, Weiss decided to take the plunge and launch her own product range in 2014.
After launching her product range, Weiss continues to use her blog to engage with customers. In fact, Weiss's blog has played a fundamental role in helping to see her product line grow by 600% year-on-year.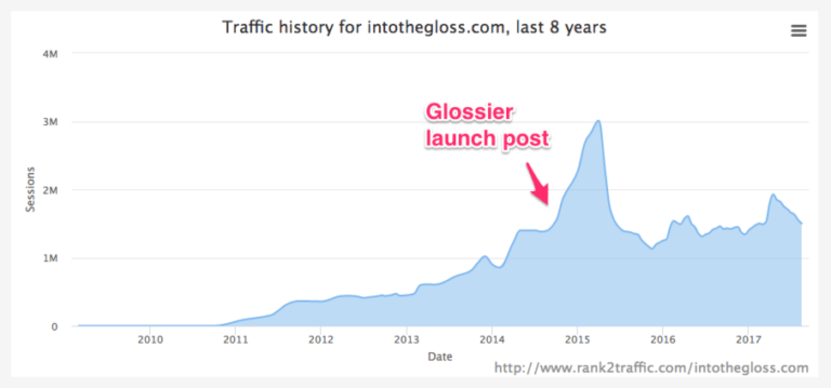 (Glossier's blog-first approach | Source)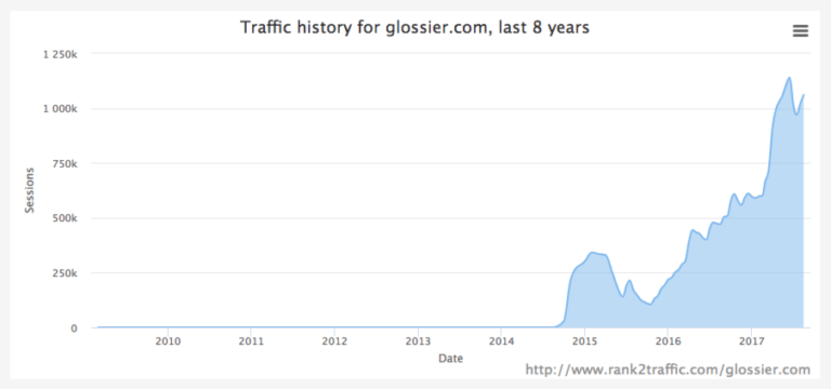 (Glossier's traffic trend | Source)
Glossier CTO, Bryan Mahoney told Digiday that people who read the blog were 40% more likely to buy products from the Glossier range.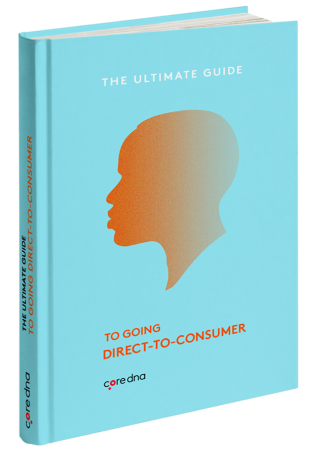 How to take your business direct to consumer in 2022: The ultimate guide
Strategies, insights, and tips on how to start and scale a direct-to-consumer business.
5. Get your timeline right
Timing is everything when it comes to transitioning to becoming a D2C brand. And this all starts with figuring out when you want to launch your D2C product line. Whether you choose a holiday, an event, or conference, it is critical that you build anticipation.
When Dollar Shave Club launched with their infamous - and hilarious - video, they notified several publications that were targeted to the male demographic, like Thrillist and Uncrate, of their promotional video by giving them early access. Dollar Shave Club also spent $10,000 promoting the video on social media which helped the video go viral.
Cookie brand Oreo chose to mark their centenary back in 2015 with a holiday-focused D2C campaign that let customers create their own customized Oreo packaging by letting them choose their own color scheme.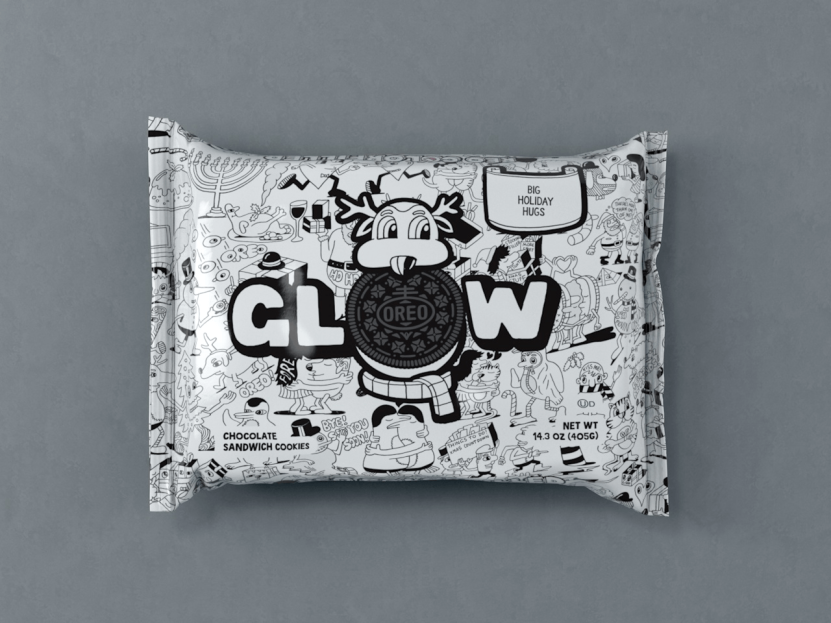 (Customize your own Oreo packaging – Before | Source)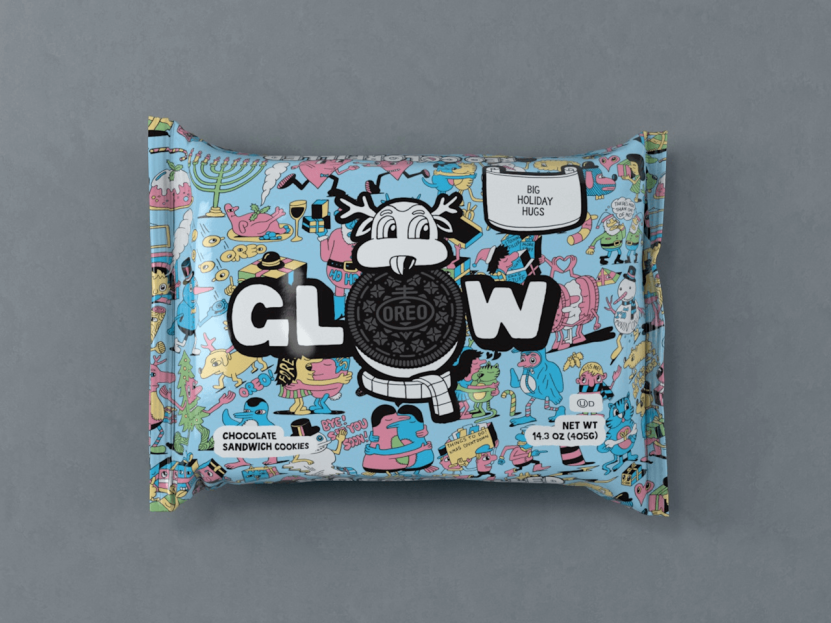 (Customize your own Oreo packaging – After | Source)
And speaking of customization…
6. Let customers personalize
One of the main reasons why Oreo's campaign was so successful was that it allowed customers make something which was unique to them.
A study by Deloitte revealed that 36% of customers would consider buying a product they customized themselves, with 20% say they would pay more for that personalized product.
Additionally, 48% of consumers say they would be willing to wait longer for their customized product or service to be delivered.
Another brand that took advantage of this strategy was Nike. They provided their customers with the ability to create their own pair of Nike shoes. Consumers could pick a design and then customize it to their liking.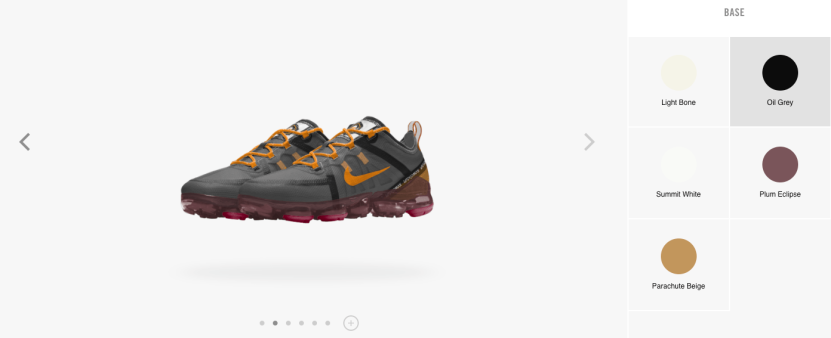 (Personalize your Nike shoes | Source)
This particular D2C strategy has helped Nike raise their D2C sales from 22% of their total sales in 2014 to 30% in 2015.
7. Consider fulfilment options
If you are serious about going D2C, one major aspect that you need to look into is how you are going to deliver your product directly to the consumer. This is crucial since it is the only way your digital transformation strategy will come to life.
One thing you have to remember that customers want their products delivered quickly. According to Invespro, 51% of retailers provide same-day delivery, and 65% are looking to provide this service within the next two years. But more importantly, 49% of consumers have said that the option of same-day delivery has made them want to shop online. This coincides with the current consumer demand for wanting things instantaneously.
Of course, same-day delivery may not be an option for all D2C brands, as it depends on a number of factors such as stock, resource availability, and the time it takes to create a customized product for the customer. But the sooner you deliver your product, the better.
Casper partnered with logistics firm UPS to deliver its mattress products to its customers. And for added reassurance, they provide free shipping and returns, along with a 100-night trial.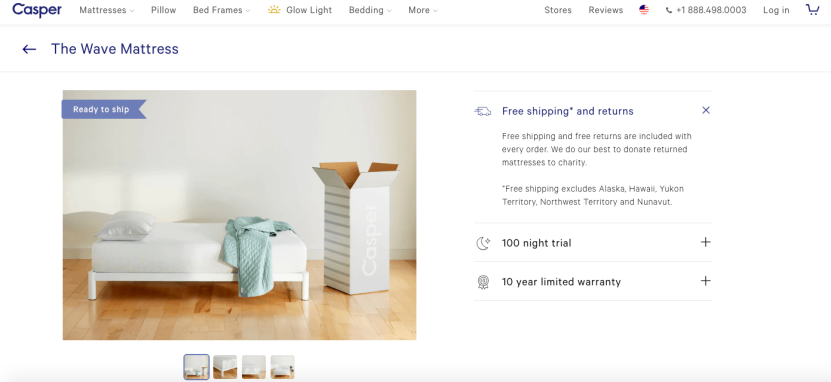 (Casper's fulfilment strategy)
It is crucial that your D2C brand provides clear communication about your shipment options. For any premium shipment services, such as same day or next day delivery, do ensure any additional costings is explicitly stated.
8. Have the right tech in place
And finally, to ensure a successful transformation, you need to have the right tech in place that supports your D2C eCommerce activities from taking payments, managing your inventory, and creating digital experiences which help to sell your products online.
While traditional eCommerce platforms like Magento and Shopify have been around for quite some time, and have established a large user base, these platforms do have some limitations. For one, these platforms can only deliver your online D2C store via web-based applications.
In a time where voice commerce sales are expected to be on the rise, with over $40 billion in revenue expected in 2022 as according to Voicebot.ai, it is imperative that your brand invests in an eCommerce platform that allows for headless delivery.
Core dna is a decoupled SaaS CMS that specializes in eCommerce. The platform is able to handle millions of orders with 99.95% uptime and also provides both digital experience management and eCommerce content management via a single platform. It is compatible with multiple payment gateways including Paypal, Stripe, credit/debit card, checks, and money orders.
Plus, Core dna provides out-of-the-box access to FedEx and UPS while taking care of calculating the shipping rate.
Your digital transformation starts with the tech
By following the strategies above, your digital transformation will get off to the right start. While identifying the gaps in the market, understanding your audience, and getting on everyone board are essential strategies you must take, you also need the right tech in place.
Core dna provides you with a comprehensive eCommerce platform that allows you to engage with your consumers through a multitude of devices, which is crucial if you want your D2C brand to thrive in the IoT-era.
For more information on how Core dna can assist with your digital transformation, please get in touch with us today.
Watch video demo