How to Optimize Your eCommerce Site For Voice Search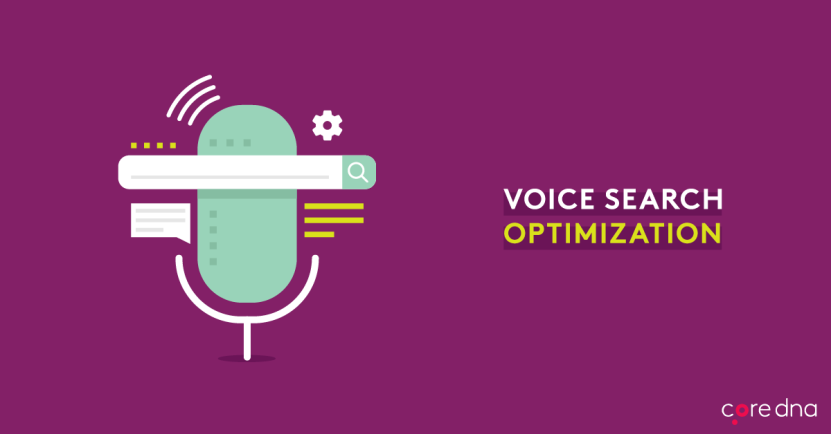 Congratulations, you made it into an era where it's perfectly acceptable to have full-blown conversation with an inanimate object and expect a response. We live in interesting times.
Voice search is rapidly gaining popularity, and if you're an eCommerce entrepreneur or executive looking to make marketing decisions that count in the long-term growth; read on.
eCommerce growth hacks to boost your revenue
The rise of voice search
Voice search refers to using spoken language as the medium of interaction with search engines, rather than typing text into a search box. This involves talking into a digital assistant such as Amazon Echo, Microsoft's Cortana, Apple's Siri, or Google Home.
It's important to note that it is not just specialized devices that offer voice search capabilities. Digital assistants are installed in all contemporary smartphones. You have a digital assistant in your pocket, right now. But how far has this trend really gone? Is it necessary to reconfigure our eCommerce marketing strategies to take this new search methodology into account?
Why don't we let the statistics answer that question for you. Here are 5 fast facts that will give you quick insight into this ballooning trend:
As you will read in just about any post related to this topic, by the year 2020, 50 percent of all internet searches will be done using voice search
According to a study by OC&C Strategy Consultants, 55 percent of all households in the United States will own a smart speaker by 2022
The same study predicts that voice shopping is predicted to grow to $40 billion in 2022
Voicebot reports 1 in 4 shoppers used voice assistants for their holiday shopping in 2017
According to Alpine.AI, in January 2018, the frequency of voice searches was expected to be in the realm of 1 billion a month.
As you can see, not focusing on voice search will be detrimental. It is alarming that marketers have not paid much heed to this growing trend. In fact, the numbers show that 62 percent of marketers have no plan to take voice search into account.
The best way to get a competitive edge is to start preparing as soon as possible. But how?
Here's a quick list of all the voice search SEO tips:
7 ways to optimize an eCommerce site for voice search
[Voice search tip #1] Be a Google zero hero
What is better than being number one on Google? The answer is beating the number one entry. How do you achieve this? By becoming one of Google's featured snippets - otherwise known as "position zero". There is a variety of rich snippets to potentially aim for, as Yoast outlines here.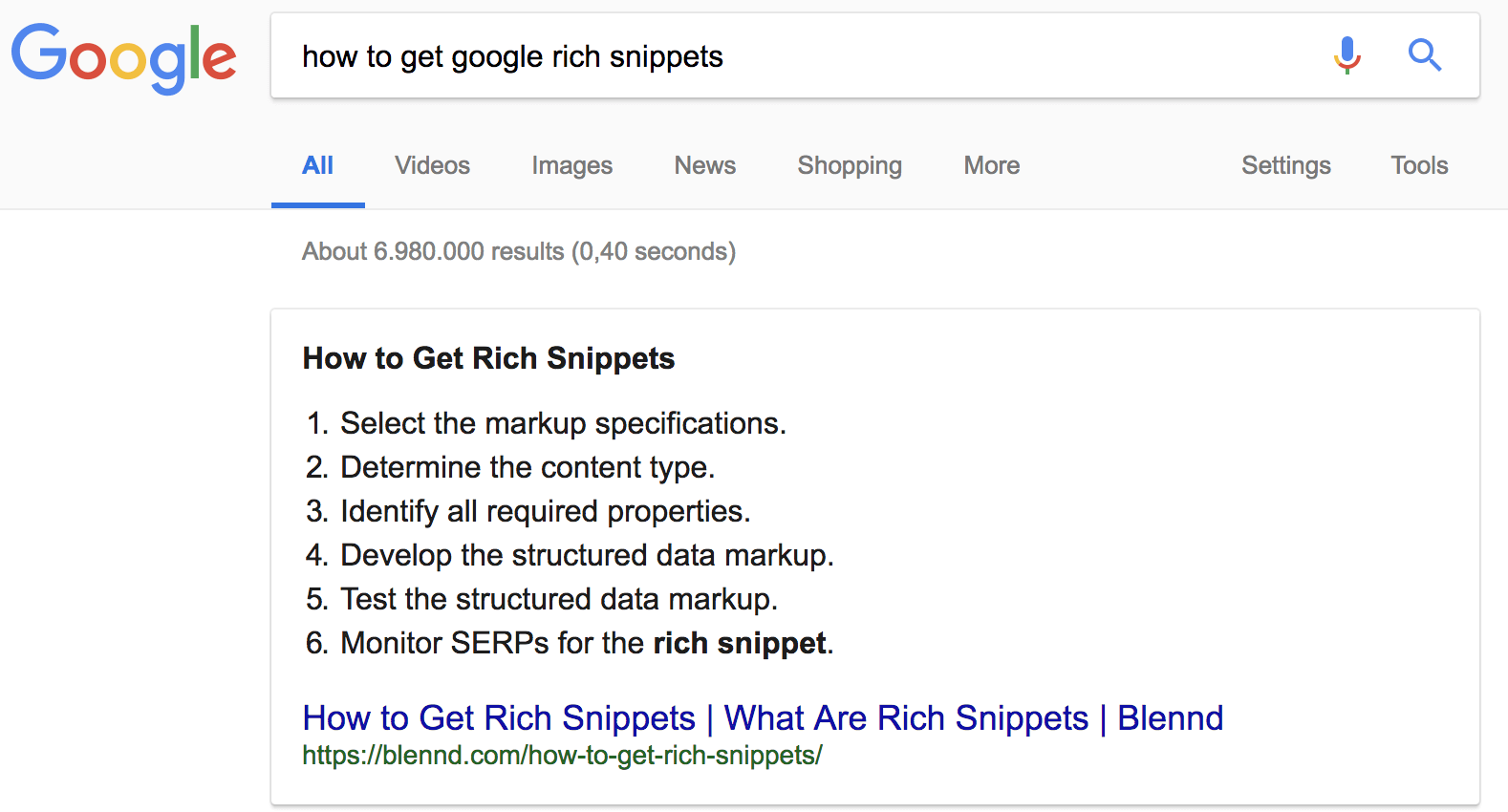 When it comes to voice search, position zero is more important than ever. Being placed in this coveted spot means that Google rates your answer as the best – which means it will read your answer out to voice searchers. Yours, and nobody else's. However, there is no guaranteed blueprint for success here: Google has been typically vague about saying how.
There are indeed eCommerce front-runners who have done extensive experimentation with featured snippets. Marcelo De Vivo outlines some of her tactics in this article for Forbes, which includes optimising FAQ pages and word count (40-50 words), and using clear paragraphs, numbered lists, bullets, and tables.
Actionable takeaway
: For top-level awareness content in particular, focus on answering questions. Optimize your content for position zero with a short introduction of 40-50 words, and use tables or bullet points where possible. Look at the range of
Google's rich snippets
and optimize your products and/or static content with the correct markup.
[Voice search tip #2] Understand that we don't speak-search the way we type-search
This may sound obvious, but it is vital to understand this difference in order to compete in a voice-activated eCommerce world. The move towards voice search optimization requires a philosophical shift when it comes to content creation and product categorization.
At the core of this shift is that we have to start treating search like a conversation, rather than a correspondence between a directory and an inquirer. Voice search signals a behavioural shift when it comes to how we interact with our devices. As absurd as this may be to some, more and more, we are conversing with our devices as if they are human beings.
This means that rather than a searcher typing in the query, "weather Timbuktu", we will ask our digital assistant something like, "Siri, what will the weather be like in Timbuktu tomorrow?"
How do you make allowances for this? If you haven't been doing so already, think of your content like a conversation with the searcher, because in the context of voice search, it truly is. It is this simple - you are answering a question that they are asking. Know too that there are certain linguistic patterns that will apply to the majority of queries. One such example is that voice search queries are longer than text queries. This is where you can use long-tail keywords.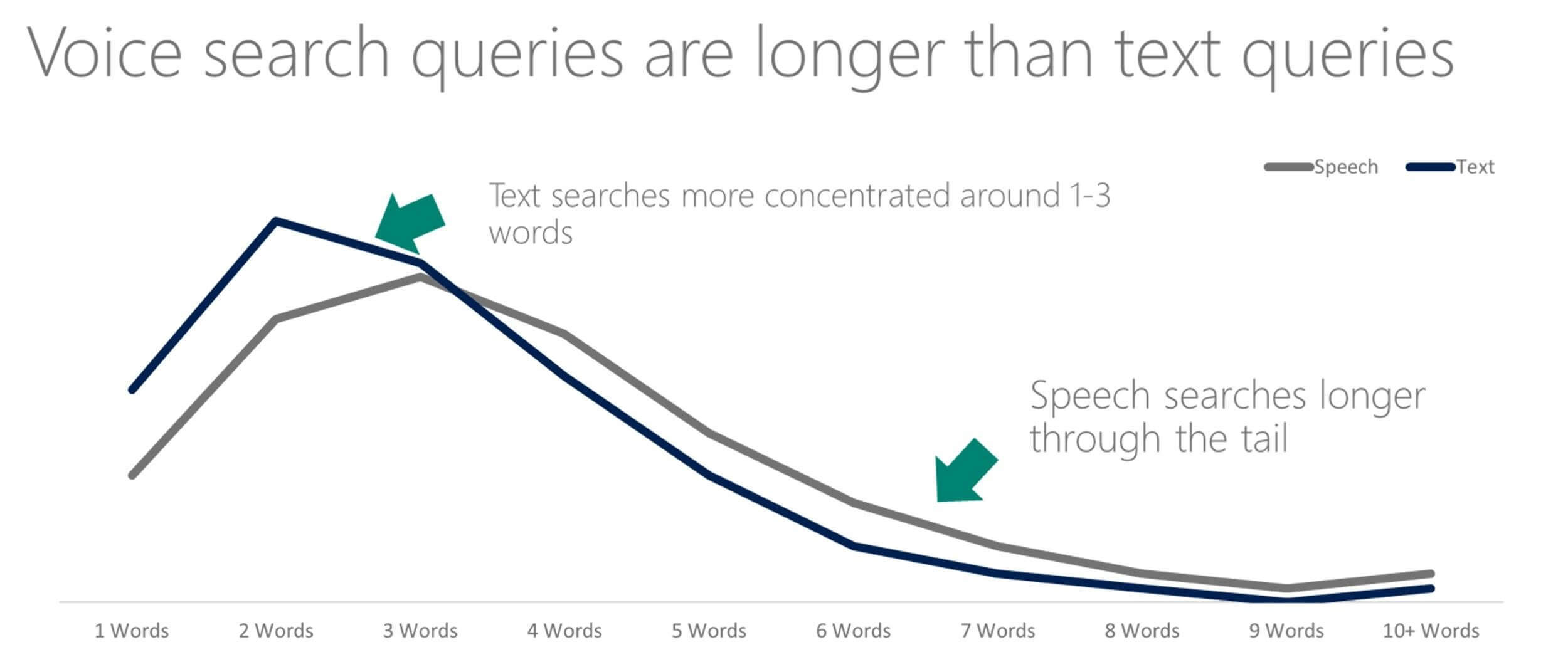 (Source: AdShark)
Actionable takeaway: Don't be afraid to strike a conversational tone in blog content and your product descriptions.
[Voice search tip #3] Answer questions clearly and concisely
When it comes to keyword research, a strategy that tends towards voice search has to be focused on questions. As we now know, your voice searchers are not going to be typing in "50s bridesmaids dresses London," they're going to be asking Cortana a question like, "Where can I get a 50s style bridesmaid dresses in London?" - and they'll probably be asking this question of their digital assistant before consulting their bridesmaids.
Your job is to respond by focusing on trigger words as much as on relevant buzzwords. Ask how, what, when, and where? This is exactly what your users will be doing. Trigger words are key, and focusing on keywords shouldn't be the primary core to voice search optimization.
Actionable takeaway: Structure your keyword research around questions and answers, rather than on single keywords or key phrases. Your competitor research must also take this into account.
[Voice search tip #4] Choose semantic strategy over a keyword-based strategy
Simply put, semantics is the study of how language creates meaning. When it comes to the world of search, a semantic strategy is one that takes into account the context of a searcher's query, rather than only relying on the exact words that are included in the search.
Search engines are attempting to make their responses to queries more human-like than ever before. They want to understand why someone is asking what they are asking and customize their responses as specifically as possible. The desired result is that an interaction with a search engine should feel like a conversation with another person. They do this through programming their algorithms to do things like concept match and take synonyms into account.
What bearing does this have on your SEO strategy? The most important implication is that you have no choice but to provide value when you create content. You have to answer the questions being asked rather than merely ensure you configure sentences with the right keywords.
Actionable takeaway: Mix up terminology to provide a more varied set of keywords and phrases, covering all the relevant (genuinely relevant!) ways of asking a question. Keep it natural.
[Voice search tip #5] Know thy customer
Of course, understanding your customer is Marketing 101. In the world of voice search optimization, however, this has never been so urgent. Remember the part about voice search being a conversation? You have to know who is on the other end of the dialogue to respond.
Detailed customer research is paramount. This means defining your target audience carefully and methodically, incorporating a customer journey map into your marketing strategy. Understand pain points, habits, problems they need to solve, and the methods they embrace to solve them.
Actionable takeaway: One thing which is relevant to almost every customer who makes use of voice search - they're often on the move. They're conversing with a digital assistant on-the-go or busy in the house. What does this mean? You guessed it: optimize your site for mobile.
[Voice search tip #6] Structure your site according to the emerging user journey
The journey of a user brought by voice search may be different to the patterns you've seen prior. Google is widely tipped to add voice search metrics to Analytics, and although this process has been slow it is very much demanded by webmasters. Monitor this as details are released.
Consider the behaviour of voice searchers and take this into account when planning your ideal user journey. eCommerce entrepreneurs are acutely aware of friction, and abandoned carts are a constant battle. Voice searchers must enjoy a seamless journey, much like mobile, tablet, and desktop users. Think about how to structure content, in order to drive people from voice query interest to conversion - and beyond.
Actionable takeaway:
Create Google Analytics goals and
track the behaviour of your site visitors
. On a monthly basis, check whether there are any marked changes in customer interactions. When Google finally launches the voice search metrics, get involved as soon as possible!
[Voice Search Tip #7] Think local
According to Search Engine Watch, mobile voice-related searches are three times more likely to be locally-based in comparison to their text counterparts. This is a dream for eCommerce store owners, particularly if they also have a bricks-and-mortar aspect to their businesses. This is your opportunity to craft content that caters to a local audience. Once you crack the local market, you'll find it easier to scale your strategy across states and borders.
Actionable takeaway: Bring a local focus to your content, and consider expanding the catalogue to include locally-sourced products. Back it up with local blog content and location landing pages.
Voice search is here… Are you ready?
As we talk our way into the future, the convenience of speaking directly to a search engine will become more commonplace. It is already acceptable to ask for a device to play your favorite song, or to tell you what year Attila the Hun died — but with voice commerce sales reaching $1.8 billion last year, with a forecasted value of $40 billion by 2022, voice search optimization for the world of eCommerce is quickly becoming a necessity rather than a luxury.
This fundamental shift in consumer behavior will continue, especially as the technology improves and the big players continue to invest in the development of IoT devices. The only question is, are you ready to truly optimize your eCommerce site in order to outrank your competition?
Want to see how high-growth eCommerce companies use Core dna's commerce platform? Let's chat.