What is a Headless CMS?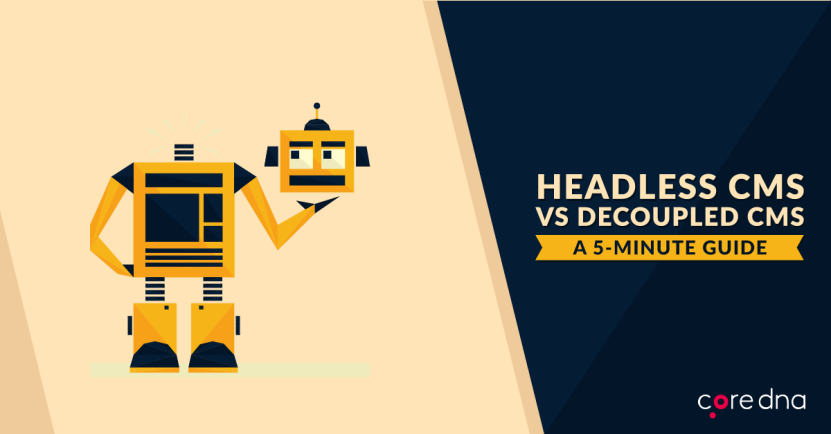 The headless content management (CMS) space has gained traction in recent years, leading to the renewed excitement around a content management model that can help brands handle the relentless number of emerging devices and channels. Old debates about the relevance of headless content management have reignited. But with new jargon, comes new levels of confusion. So, let's break it down.
On this page:
So, what is a headless CMS?
A headless content management system (CMS) is a back-end only content management system (CMS) built without a front-end presentational layer.
A headless CMS delivers your content as data that can be consumed by any number of front-end applications or devices, meaning it is fully omnichannel. This flexibility gives content creators the freedom to build any kind of digital experience they can imagine, without being limited by the CMS.
By getting rid of the front-end delivery layer, your CMS is suddenly a content-only data source. It produces content and then sits there. Waiting.
This is because there is no default "head". Front-end developers are free to build as many heads as they like…To retrieve the content for each channel - mobile apps, voice assistants, display screens, websites, sms and many more - the headless CMS responds to API calls.
A headless CMS is perfect for businesses that need to deliver content to multiple devices or platforms, or who want to build their own unique front-end experiences. With a headless CMS, there's no need to worry about compatibility issues or being locked into a specific platform – you can easily create custom experiences for any situation.
What is a decoupled CMS?
Consider headless content management as a sub-set of decoupled content management (as decoupled CMS is headless, and then some).
A decoupled CMS (a.k.a. hybrid CMS), has your content managed separately and is front-end agnostic, just like a headless CMS. Yet, it has front-end delivery tools in the box, like templates for you.
The difference is that the back-end and front-end are not "coupled" to each other through a database like with a traditional CMS. Instead, the front-end and back-end communicate to each other through calls to an API.
So, remember when we chopped the "head" off a traditional CMS to make it headless? Well, imagine the same here, except keeping the head. It's not attached to the main body as with a traditional CMS - but you aren't totally left to your own devices when it comes to front-end delivery, like with a headless CMS, either.
How is Core dna CMS work?
Core dna is a unified content management system that allows flexible structuring of content using reusable layouts and components. It provides a centralized interface to create, edit and organize content in a composable way.
Content is structured using flexible and reusable layouts and components
Layouts and components can be customized and composed to create any content structure
Content like pages, blogs, products etc. is managed through the admin interface
Users can create, edit and organize content into hierarchies and sections
Flexible templates allow customizing the look and feel of different content types
Global and reusable components can be created and applied across content
Menus, forms and other elements are easily managed from the CMS
Content is delivered through the headless API or traditional presentation layer
Regular updates from Core DNA keep the CMS modern and optimized
Advanced features like workflows and integrations extend content capabilities
Why is Core dna's global components approach game-changing?
Global components are an important feature of Core dna's content management system. This approach to content creation allows content to be managed more efficiently. Global components are designed to give flexibility to content creators as they can be managed individually or across the platform.
They can be created once and reused across multiple pages, avoiding duplication.
If a global component needs updating, it only needs to be changed in one central place rather than on each individual page.
It improves consistency, as the same styling/markup will be applied wherever that component is used.
Managing content is simplified for elements that are reused frequently, like headers, footers etc.
Global components can be easily enabled or disabled sitewide from a central location.
It reduces maintenance efforts long-term as changes don't need to be made in multiple places.
How does ADOTG uses Core dna to manage their content.
ADOTG ( A Day On The Green) has been trusting Core dna for years to manage their content. With the new release, ADOTG took their content management to a new level allowing for scheduled page updates and making the whole process more efficient. These are the main features used by ADOTG to manage their music touring website:
- Real-time API integrations
ADOTG has API integrations with both their marketing tech stack and ticket sales system allowing them to have comprehensive data across all systems and giving them the tools to create seamless and enjoyable experiences for their attendees.
Core dna solution: Core dna new approach to automation integrates an advanced webhook system and the largest API catalog to connect all your tech stack efficiently.
- Content scheduling and duplication
Due to the nature of ADOTG business - music and touring - content needs to be updated or published at odd hours and changes can happen last minute. The homepage is also the billboard for all upcoming events so it needs to constantly be up-to-date with what is happening.
Core dna solution: Core dna page structure within the CMS allows each component in the page to be treating individually meaning that a page can be published today and component within that page can be schedule to appear a day, week or at any scheduled time after. For ADOTG this means that elements can be added to a pages likenew lineups, event details, and supporting automatically at midnight or 5 am without any need for manual intervention
"We feel like we've got the Rolls Royce of websites" - Hasan Huseyin, National Marketing Manager
Decoupled vs Headless Content Management: Pros and Cons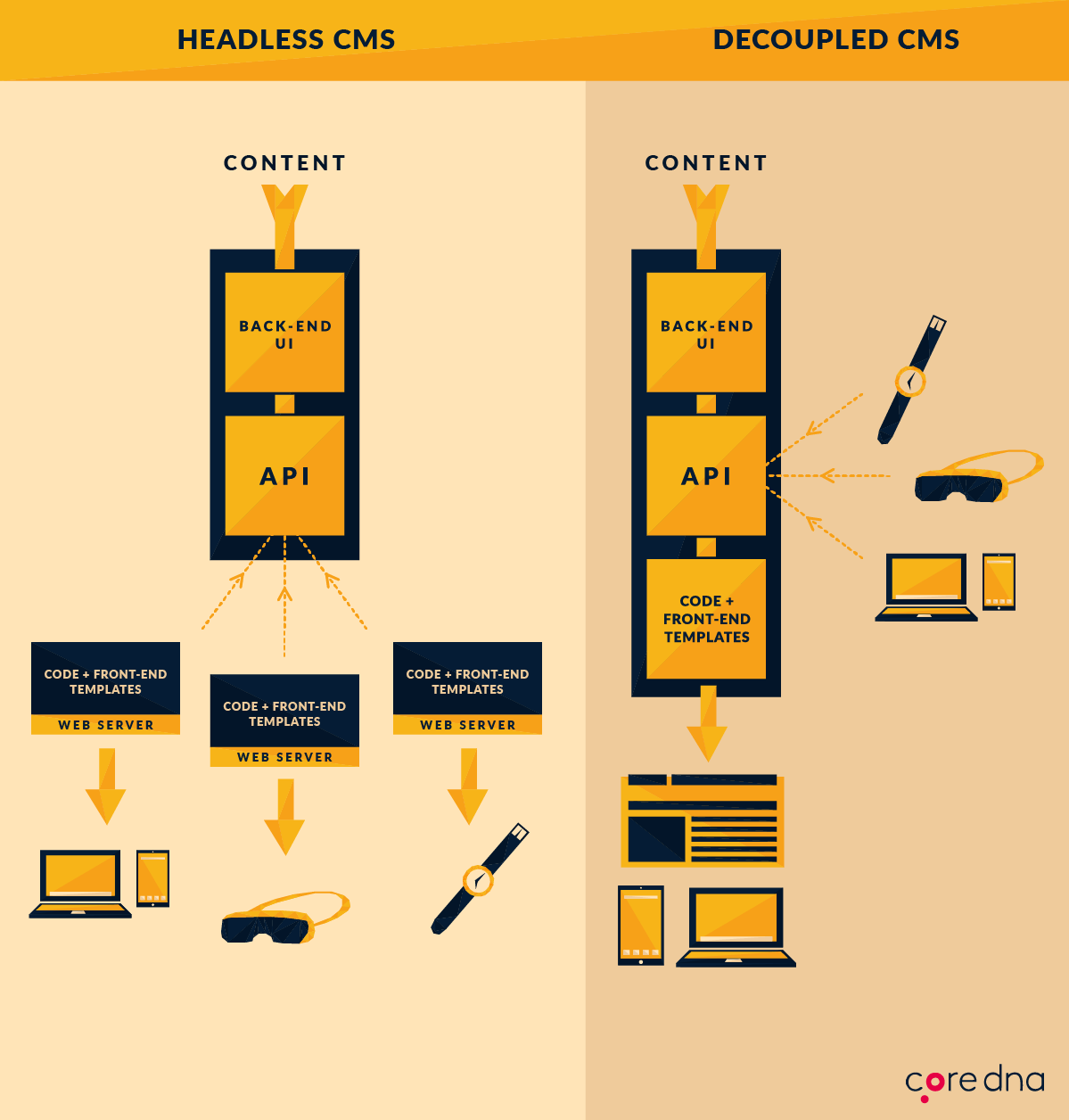 (Decoupled vs Headless Content Management)




Advantages of a headless platform
1. Front-end agnostic
A headless or decoupled CMS is front-end framework agnostic. That means you can publish content on any device or channel via API calls. Plus, front-end developers are free to use their favorite frameworks and tools.
2. APIs
Application Programming Interfaces (APIs) enable two technologies to speak to each other. Both use APIs to connect and communicate with other softwares and channels, allowing for content delivery. But that's not all. APIs can also be used to send data from those channels, devices, and touchpoints back for processing, analysis, and re-distribution.
3. Future-proof
APIs aren't just ready to talk to any existing software or device, they're prepared to speak to any new device or channel that emerges in 2019 and beyond. Thus, your content will remain future-proof, no matter what innovative device next hits the market.
Disadvantages of a headless CMS
1. No fun for marketers
Robbed of WYSIWYG editing, blogging functionalities and other user-friendly features, marketers, in particular, are left out in the cold until their development team sees to their needs. This isn't typically a problem for decoupled.
2. A fragmented tech stack
Removing the 'head' simply means having to hunt for further technologies to replace it. This can entail building front-end solutions in-house, or deploying existing third-party tools to plug the gap. Either way, it could get costly both monetarily and through time spent—not to mention difficult to manage. This problem can be partially alleviated with a decoupled CMS, which will bring those marketer-friendly features right back.
3. No content previews
If you do manage to get your marketers back on track by drafting in third-party tools, they still won't be able to efficiently use a headless CMS, as they won't be able to easily preview content before it goes live.
Advantages of a decoupled CMS
1. All the benefits of a headless CMS
Decoupled gives you the same advantages you'd get with a headless CMS — and more.
2. Optional front-end templates
A decoupled CMS will likely provide you with templates to help launch sites/pages quickly &to give your developers a start on front-end presentation layers they wish to build.
3. All the tools marketers love
A decoupled CMS doesn't just give marketers their templates back, it also provides WYSIWYG editing, content previews & additional content publishing tools.
Why headless and why now?
Let's circle back to the comment I made earlier about the headless space gaining traction. The reason for the surge in the hype surrounding this species of content management (& by definition, decoupled content management) is because multi-channel publishing is increasing in complexity.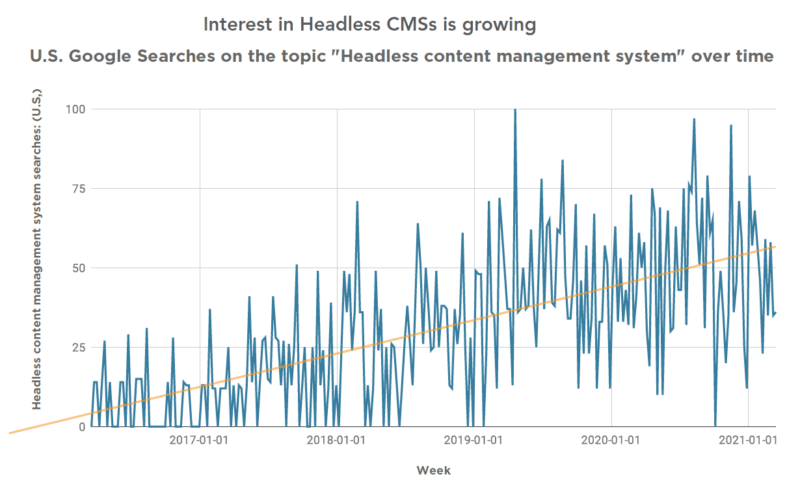 As we move deeper into the era of IoT, publishing to a handful of channels is no longer cutting the mustard. Large brands want the power to publish their content anywhere — because new channels and devices are popping up faster than you can say Content-as-a-Service. Speaking of which…
What's API-first and a headless API?
When headless CMS platforms touts themselves as being API-first or API-driven, it's referring to the fact that they use APIs to deliver content. An API-first platform is essentially a synonym for either type of CMS.
Headless APIs (sometimes called Content API or REST API) are particularly useful for pushing content to a native app, such as an Android or iOS app. It can even be used to deliver content to commerce systems, such as a POS and voice-activated applications.
With a Headless API, you can specify content types & fragments that you want to push to the device or touchpoint of your choice.
What does front-end agnostic mean?
The term agnostic in the world of computing refers to a piece of software that is "compatible with many types of platform or operating system", according to Oxford Dictionaries.
Again, we're dealing with a synonymous term for any content management system. Because APIs are involved, the front-end delivery layer could be anything you desire, from a smartwatch screen to a virtual reality headset, thus making your content front-end agnostic.
With a headless CMS, developers create their own front-end presentation layers in line with the device they're trying to send content to.
A Decoupled platform is also front-end agnostic. They do provide a set of front-end templates and editing tools for building web applications out-of-the-box. You also have the option to create your custom front-end presentation layers to work outside of the framework laid out by the vendor.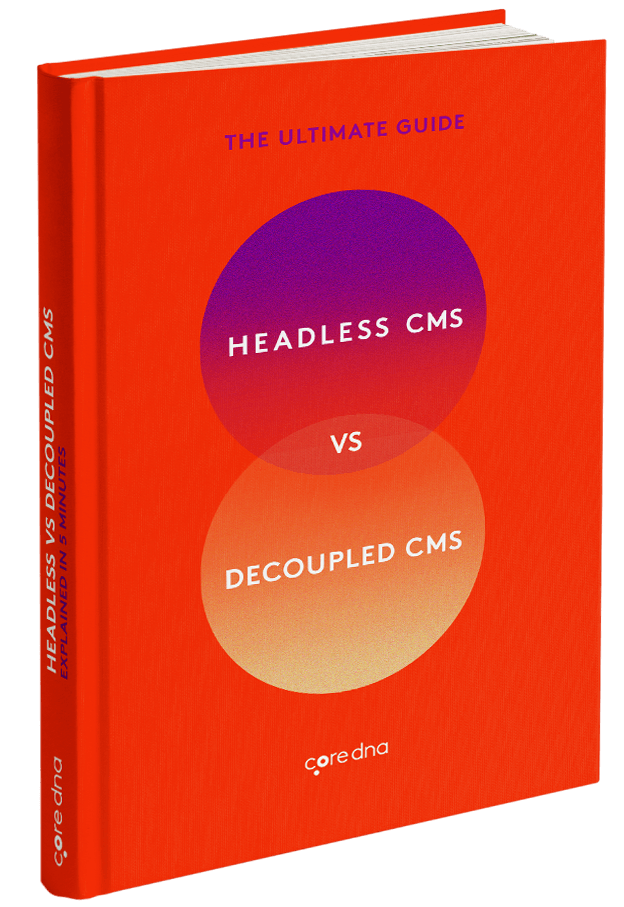 Download our Headless CMS guide
Find out how a headless CMS can transform how you think about web content, the difference between headless vs traditional CMS, things to consider when choosing a headless CMS, and many more.