Is Wordpress The Right Solution For You?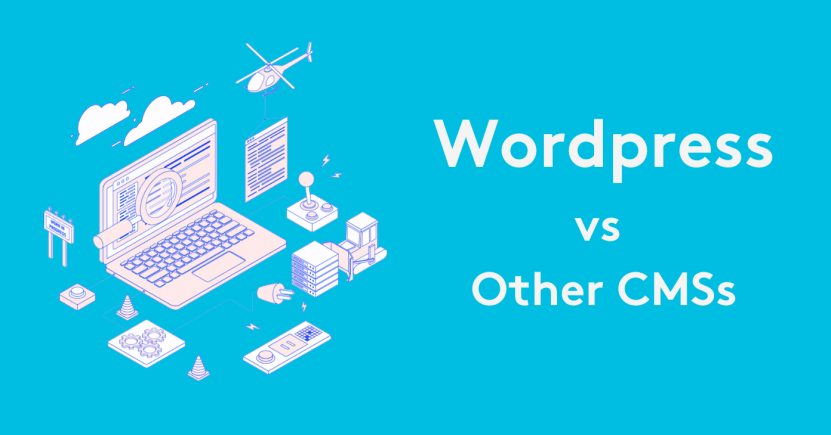 WordPress is easily the most popular website builder and content management system out there. It's been around for quite a while and remains the top go-to tool used in building websites for businesses, organizations, and individuals around the world.
A list of notable WordPress websites include Time Magazine, Sony Music, Vogue, TechCrunch, TED Blog, WIRED, Skype, Yelp, Facebook Newsroom, Evernote, and Flicker, among many more.
This article dives into the features of the WordPress content management system (CMS) that make it so popular among users and website developers. We'll also touch upon some of its limitations to help you pick the right CMS solution for your business.
Key takeaways
Wordpress is a great solution for simple websites.
The more complexity - plugins - you add to Wordpress, the more vulnerable your website is.
For mid-sized and entreprise businesses, wordpress might not be the best option out there.
Proprietary CMSs are more secure, more reliable and more scalable.
Putting security first will serve your business in the long run.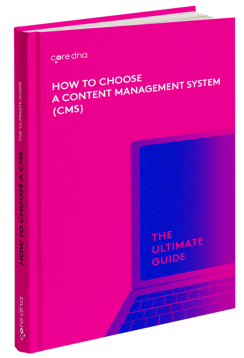 Guide: How to Choose the Right CMS: The Definitive Guide
The only guide you need to choosing the right CMS platform to help drive business growth.
43% of the websites are built on Wordpress
Launched in 2003, WordPress was initially created as an easy-to-use blog publishing system.
However, it has long outgrown that identity by evolving into a free, flexible, and open-source content management system with wide applicability.
Today, WordPress can be used to host, build, and manage websites of all kinds.
With such a diverse range of applications, it's little wonder that WordPress currently hosts nearly half the world's websites!
Since WordPress is an open-source platform, anyone can use and modify it based on their requirements. It's built on the scripting language Hypertext Preprocessor (PHP) and uses a MySQL database to store content.
Wordpress is a customizable platform with thousands of themes, templates, and plugins to refine its functionality and appearance as long as your business is not one of a kind.
Although you don't need a background in coding to build a WordPress website, developers can still bring their considerable skills to bear on the platform and create unique and distinctive websites.
Why is WordPress so popular?
The biggest reason WordPress is so popular globally is its ease-of-use factor. The no-code tools and intuitive interface allows even beginners to build and publish fully-functional and attractive websites.
WordPress is also a highly flexible platform. That means it offers a wide variety of options in terms of themes and external integrations that can be used to create a distinctive online presence.
The best thing about WordPress? It's free! This makes it highly accessible to people from students to large multinationals and everyone in between.
The Advantages of WordPress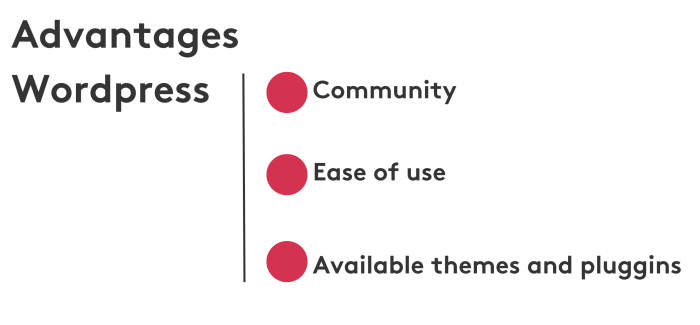 WordPress offers a wide range of advantages to its users. Here's a look at some of the key benefits of using WordPress:
Benefits of using WordPress
Thanks to its popularity, everyone who uses WordPress automatically becomes part of a large and thriving user community. Members share knowledge and support each other whenever necessary. The WordPress community is famous for its welcoming and helpful online forums, groups, and digital meetups, where users can connect, share ideas, problem-solve, and exchange tips and tricks to build better websites.
WordPress is easy to use, even for beginners. Its intuitive interface and simple design make it effortless to create and manage content without the need for any coding knowledge. All you have to do is download a theme, upload your content, and add the features you want to your website.
Abundance of plugins and themes
WordPress hosts thousands of themes and plugins that you can download and add to your website to enhance its functionality and appearance. This means there are enough options available to ensure your website has its unique identity and personality.


Limitations of WordPress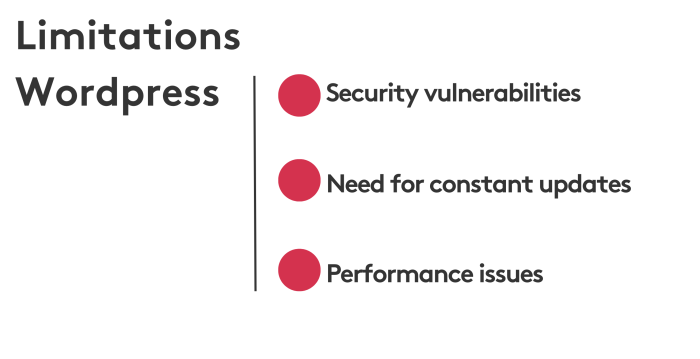 Like any other platform, although WordPress is a powerful and popular tool, it has some limitations you should be aware of. Here are some of the main limitations of WordPress:
Drawbacks of using WordPress
As an open-source platform that relies on themes and wordpress plugins developed by other users and third-party developers, Wordpress can be uniquely vulnerable to hacking and other cybersecurity threats.
These tools may contain bugs, malware, and malicious code. Users need to be vigilant about keeping their WordPress site up-to-date using security measures like strong passwords and two-factor authentication.
Last month only there were 2 big vulnerabilities caused by a WordPress plugin with over 600,000 active installations, patched the CSRF vulnerability and An Elementor Contact Form Builder plugin XSS vulnerability affected up to 200,000 WordPress websites.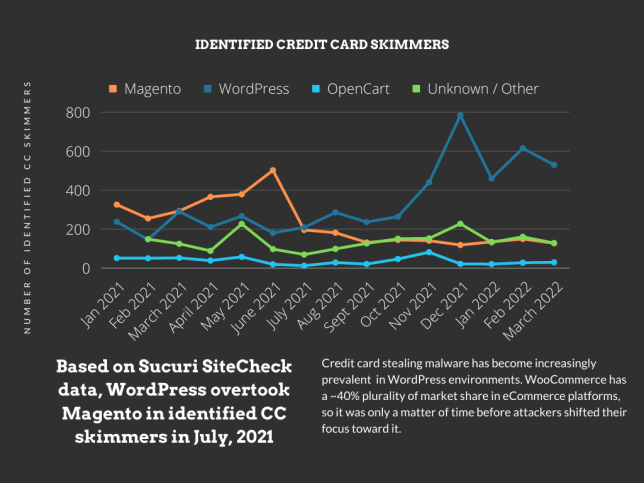 Need for ongoing maintenance and updates
A WordPress site requires regular updates to maintain security, performance, and functionality of your web pages.
These updates can include security patches, bug fixes, and new features, and they are all essential to keep your website running smoothly and securely. Failure to keep your WordPress installation up-to-date can leave your site vulnerable to delays or security breaches.

Potential performance issues
WordPress can be resource-intensive, and poorly optimized websites can experience slow load times and other performance issues for your web pages.
This can be especially true for large or complex websites with plenty of multimedia content.
While plugins are a great way to add functionality to your website, not all wordpress plugins are compatible with each other or with the latest version of WordPress. This can cause compatibility issues that can be challenging to resolve.
Understanding Content Management Systems
A content management system or CMS is a software that allows users to create and manage a website without coding it.
In other words, technically unskilled users can bank on an effective CMS to manage their website content through a simple and intuitive interface.
A content management system allows you to add pages, images, text, video, and other elements to your website using simple drag-and-drop features.
They help you add better and more relevant content to your website as it evolves in look and structure. It's much easier than having to write HTML, CSS, or JavaScript code to add these elements.
In the past, creating and managing a website was a rather complicated process that required specialized technical skills.
The significance of content management system in the digital world derives from the fact that they have democratized the web, allowing anyone to create and publish content without being an expert in web development.
Content management system and eCommerce platforms like WordPress, Core dna, HubSpot, WooCommerce, Shopify, Site core and many more have also made it easier to create and manage websites.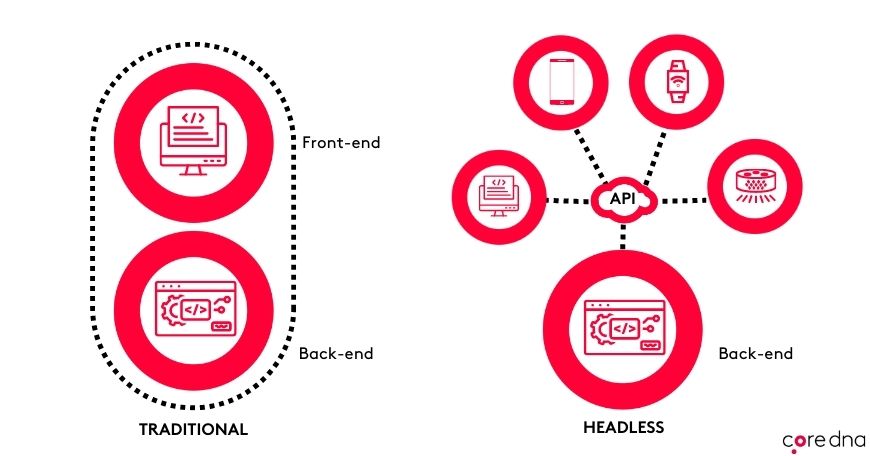 When you think about it, websites with multiple pages, multimedia content, and dynamic functionalities aren't that easy to maintain. All these elements can require entire in-house IT teams for upkeep and back-end support.
A CMS like Wordpress definitely reduces this level of complexity to a few mouse clicks and drag-and-drop features.
The software takes care of everything else, especially the underlying software infrastructure that every website is built upon.
Today, when the internet is both ubiquitous and inescapable in every industry and walk of life, operating high-quality websites is an absolute must.
With a CMS, the effort required to keep them running is substantially reduced.
CMS for large businesses with more complex needs
The first thing any business owner wonders about when considering a content management system CMS is often its scalability. The frequent question is - will the CMS allow your website to evolve and grow as your business grows?
For a while now, scalability is widely considered WordPress's Achilles heel. While the platform is great for small and medium-sized businesses, larger organizations may find WordPress insufficient to handle their need for complexity and speed.
Before we delve into the specific ways in which WordPress might not be suitable for an enterprise-level website, let's understand what large businesses need from their CMS.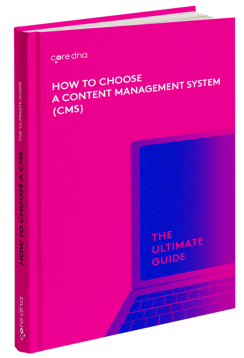 Guide: How to Choose the Right CMS: The Definitive Guide
The only guide you need to choosing the right CMS platform to help drive business growth.
Content management systems considerations for complex structures
There are a few features big businesses look for in their CMS. The following are chief among them.
An enterprise-level CMS should be able to handle a large amount of content and traffic. Let's say your marketing content goes viral and your website receives a sudden spike in traffic. Your servers should be able to handle that load without crashing. In addition, the CMS should be capable of supporting multiple websites, domains, and languages.
Any CMS you choose must be secure and able to protect sensitive data, including customer information, financial data, and intellectual property. Open-source CMS can be especially prone to cyber-attacks, while commercial and closed-source software is generally considered safer.
Did you know that 25% of visitors will abandon a website that takes more than 4 seconds to load? Page load speeds can seriously impact a company's conversion rate. Any large business needs its CMS to guarantee fast uploading to avoid high bounce rates. Websites that are weighed down by crowded databases, unoptimized images, or heavy themes are unlikely to satisfy customer expectations.
Large businesses often require a CMS that can integrate with other systems. That includes systems related to customer relationship management (CRM), enterprise resource planning (ERP), and marketing automation platforms. It should also be able to seamlessly integrate with third-party plugins without eroding performance.
An effective CMS should allow for extensive customization to meet the specific requirements of a business, including the ability to add custom fields, templates, and workflows.
A reliable support system is essential for any enterprise CMS. Large companies will look for a CMS with 24/7 technical support, documentation, onboarding, training, and community support.
Examples where WordPress may not be the ideal solution
So how does WordPress websites fare on the features listed above?
When it comes to scalability, speed, security, and seamless integration, WordPress comes up short, especially when compared with proprietary CMS.
If you are looking to create an enterprise-level website or a custom software solution, WordPress might not be the right choice for you.
Bogged down by heavy plugins, poor quality hosting, and unused CSS and JavaScript code, WordPress websites are often too slow and sluggish compared to other commercial content management system websites.
Plus, its propensity to attract cyber-attacks makes WordPress a less-than-ideal choice for large businesses.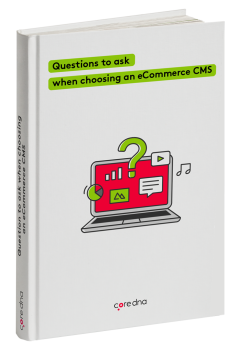 Guide: Content management system blueprint for eCommerce
An eCommerce CMS blueprint that asks the right questions to ensure your make the best decision when choosing your eCommerce content management software.
Selecting the Right CMS for your Business
Given the many factors we've considered so far, choosing the right CMS for your business can be challenging. More so given the wide variety of options available on the market.
You can trust us when we say that there are several amazing CMS out there. All you need to do is narrow down your options according to your objectives.
Consider your requirements when deciding on content management systems
Think about the type of content you want to create, the level of customization you need, the size of your team, and the budget you have set aside for a website. That will help you choose a CMS that is perfect for your requirements.
Similarly, consider the objectives you want to achieve through your website. Do you want a website that should be able to cater to large volumes of traffic? Or is your goal to improve your social mentions? Alternatively, you could be keen on successfully positioning yourself as an authoritative voice or resource in your industry.
Thinking about your objectives and how your choice of CMS will affect them is the right way to go.
Importance of partnering with a reliable CMS provider
Working with a reliable CMS provider and engaging professional services for its implementation and management is paramount for the success of your website. A competent CMS provider will be able to extend the expertise of their team of experts to your benefit, helping you make informed decisions and avoid common pitfalls.
Additionally, a good CMS provider will offer the flexibility and customization that you might not find on free and open-source platforms. They will be able to provide support and maintenance services to ensure that your CMS is always running smoothly and issues are promptly resolved.
Get the CMS that works for you
Before choosing a CMS platform, consider your goals, needs, and budget. Ask yourself what features and functionalities are important to you and how much you are willing to spend.
With Core dna, you get a reliable and efficient CMS platform that offers a wide range of features at a competitive price.
Our CMS platform is designed to scale with your business and support your changing needs.
With endless customization possibilities, Core dna allows your website to integrate seamlessly with other internal systems while offering native solutions for all the essentials: search engine optimization, shopping cart, payment solutions and much more.
We understand that your CMS platform is crucial for business success. That's why our dedicated customer service team is always at hand to help you with technical advice, documentation, training, and community support.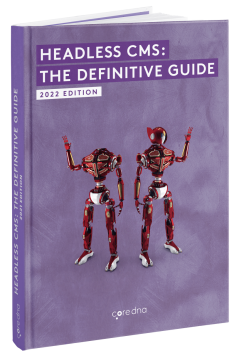 Headless CMS: The Definitive Guide
Core dna Headless CMS guide gives you all the information about the different types of content management systems out there. We highlight the difference between headless and decoupled and give you the framework to choose what solution is best for your business.