Curated List of The Top 5 eCommerce Startups in 2023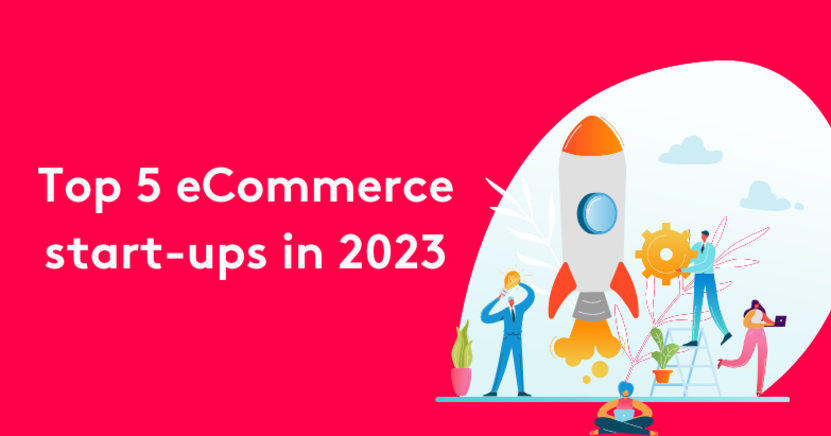 Startups in the highly competitive eCommerce space are stepping up their game to capture consumer attention and market share.
Their drive to develop innovations has revolutionized the online shopping experience, disrupting the market and helping them rake in millions of dollars.
In this article, we'll introduce you to the top eCommerce startups that have generated more than $5 million in revenue and uncover the secrets of their success.
What's trending among eCommerce companies?
Several trends are currently driving the growth and success of eCommerce startups. Primary among them are:
Mobile commerce:
A recent survey by Pew Research Center found that 92% of Americans aged 32 to 49 shop online using smartphones, while only 71% log on to a computer for the same purpose.
The overwhelming popularity of mobile phones has created opportunities for eCommerce startups to develop mobile-friendly websites and apps that make it easy for customers to purchase products on the go.
Social commerce
Social commerce involves the integration of social media and eCommerce platforms.
This concept is gaining popularity because it seamlessly blends social exchanges with eCommerce transactions through a single path to purchase.
The social commerce industry is set to revolutionize how consumers shop and grow to a massive $1.25 trillion valuation by 2025.
Artificial intelligence:
Many eCommerce startups are leveraging AI and personalization technologies to provide customized shopping experiences for their customers.
AI is also helping eCommerce companies gain market intelligence and improve talent acquisition and retention.
Sustainability:
Consumers are becoming increasingly concerned about the environmental impact of their purchases.;
According to a survey by MasterCard, 62% of consumers now find it more important than before that companies behave in a more sustainable and eco-friendly way.
As a result, many eCommerce startups are focusing on sustainability to drive consumer interest and engagement.
Guide: eCommerce Trends 2023
37-pages of the latest eCommerce & marketing strategies to succeed in the upcoming year!
From the rise of mobile shopping apps to the growth of social commerce and augmented reality experiences, there are many different ways that people shop today.
Top 5 eCommerce startups in 2023
Let's now take a look at the top five eCommerce start-ups that redefine online shopping with their cutting-edge technology and unique eCommerce business strategies.
From robotics to wellness startup, these eCommerce businesses are making waves across industries and shaking the status quo.
1. Klarna: Revolutionizing online payments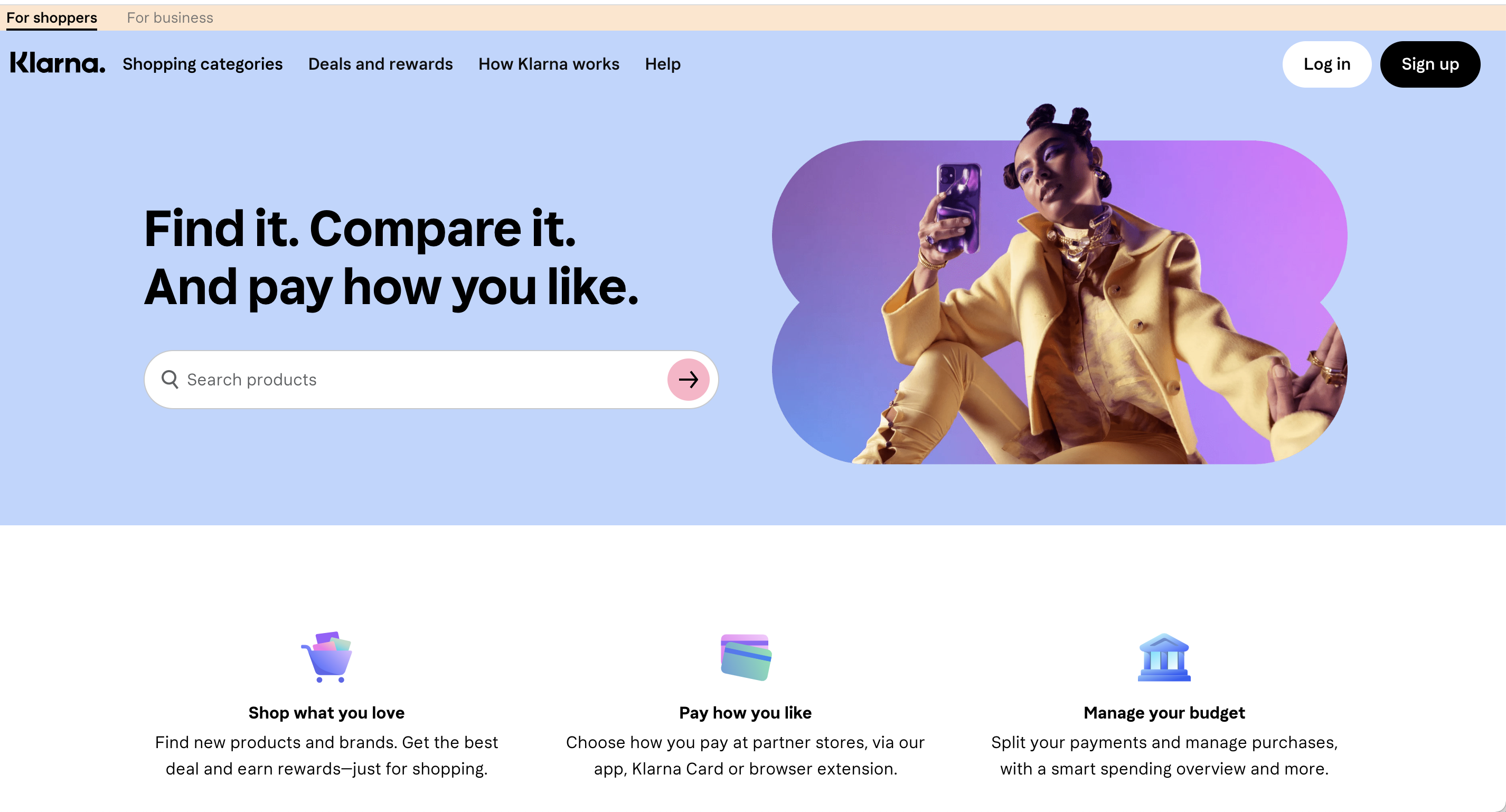 About Klarna
Klarna is a Swedish fintech company offering diverse payment solutions to online shoppers and online retailers.
Its innovative services have garnered a devoted following, particularly among the younger demographic who seek flexible ways to pay for eCommerce purchases from different brands.
How did it acquire funding?
In 2010, Klarna raised $9.2 million in a funding round led by Sequoia Capital, a leading venture capital firm.
>n 2011, the company raised another $155 million in a financing round led by General Atlantic. In 2019, the company announced a $460 million equity raise at a post-money valuation of $5.5 billion, with investors like Dragoneer and Blackrock Holdings coming on board.
The following year, Klarna raised another $650 million in an equity funding round led by Silver Lake and GIC. In 2021, the Swedish company announced new equity funding of $639 million at a post-money valuation of $45.6 billion, making it the highest-valued private fintech in Europe and the second-highest worldwide.
However, in July 2022, amidst tougher market conditions, Klarna raised $800 million at a valuation of $6.7 billion (i.e., a 85% drop in valuation).




What makes Klarna successful?
Addressing consumer needs through BNPL: Klarna addresses a common consumer need - the lack of access to immediate cash. Klarna's buy-now-pay-later (BNPL) model allows consumers to make purchases and pay for them over time, usually in interest-free installments.
Strong merchant partnerships:By partnering with popular retailers and e-commerce platforms, Klarna has increased its visibility and expanded its customer base. Merchants benefit from partnering with Klarna because it offers their customers an additional payment option, leading to increased sales and an improved customer experience.
2. Cazoo: Online marketplace transforming the car-buying experience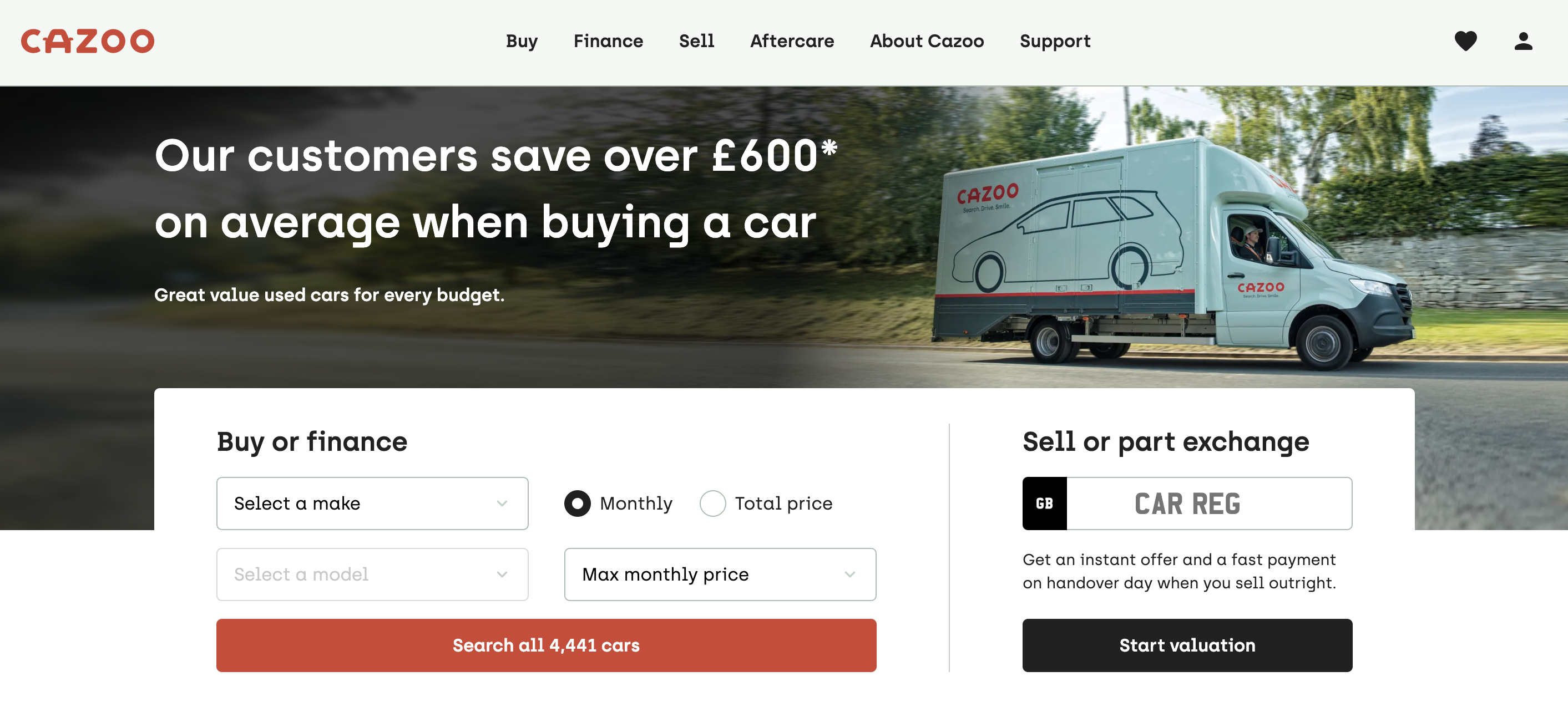 About Cazoo
Cazoo is a rapidly growing eCommerce startup that is revolutionizing how people buy cars online.
Founded in 2018, this online business has quickly established itself as a major player in the automotive industry by providing a seamless digital car-buying experience.
Their online marketplace offers a wide selection of high-quality used cars and various financing options.
How did it acquire funding?
Cazoo raised $30 million in its seed round from investors like Stride.VC and Entrée Capital.
This was followed by a Series A funding round led by General Catalyst and Mubadala Capital in 2019, which raised $31 million.
In March 2020, the company raised a hefty $116 million in a Series D funding round led by the venture capital firm D1 Capital Partners and saw participation from investors such as General Catalyst and Mubadala Capital, among others.
In June 2020, Cazoo raised a further $31 million in a Series D round led by Fidelity Investments and BlackRock.
This was followed by another round of Series D funding in October 2020, which brought in another $311 million.
In February 2022, Cazoo raised $630 million in Series E funding spearheaded by Viking Global Investors, bringing the total funding to $1.19 billion.




What makes Cazoo successful?
Easy to sell and buy: With a user-friendly eCommerce website and app, customers can easily browse the company's wide selection of vehicles, compare prices, and make purchases with just a few clicks. Selling a car on Cazoo is equally simple, as the ecommerce platform offers free valuations and covers all the necessary paperwork.

Great pricing for the vehicles: Cazoo offers excellent prices on its vehicles that are often lower than those at traditional car dealerships. By operating solely as an online retailer, Cazoo eliminates many overhead costs associated with brick-and-mortar dealerships, allowing it to pass its savings on to customers.

Exceptional inspection, delivery, and return policies: Before any vehicle is listed on the site, it undergoes a rigorous inspection to ensure it meets Cazoo's high standards for quality and safety. Once a car is purchased, Cazoo offers free delivery, with the option to return the vehicle within seven days for a refund. This way Cazoo can build a strong trust bond with the customers and convince online skeptics.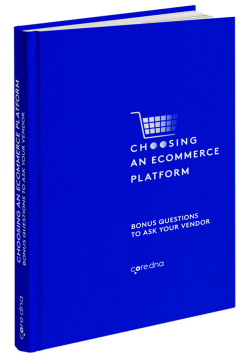 Guide: Choosing an eCommerce Platform
Definitive guide to choosing an eCommerce platform.
3. Brandless: The wellness platform for conscious consumers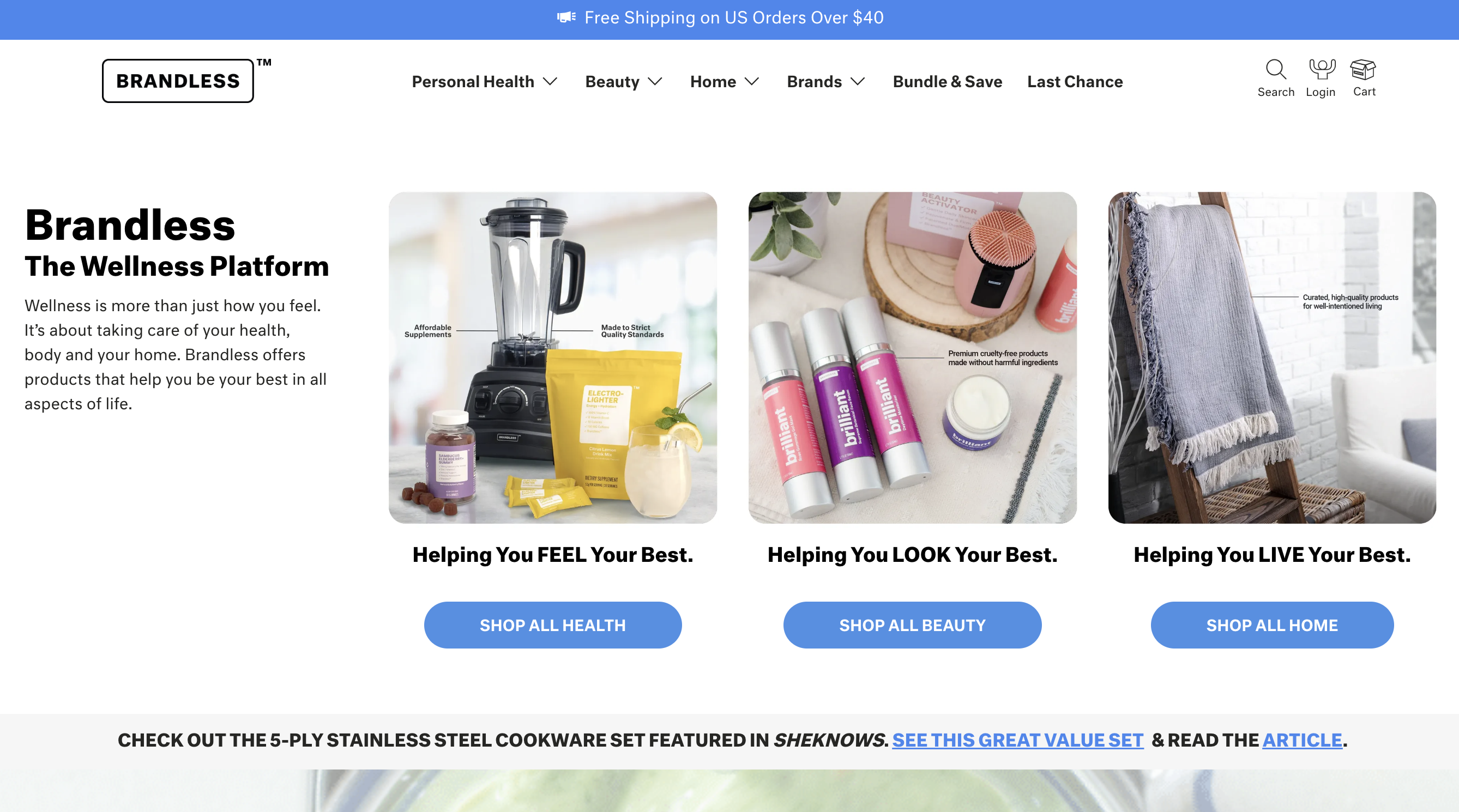 About Brandless
Brandless was launched its online store in 2017 to provide consumers with high-quality, ethically-sourced, and affordable products.
As an exclusively online retailer, the company sold a range of household and personal care items, all free from the branding that typically adds to the cost of similar products.
However, Brandless announced in February 2020 that it was ceasing operations and shutting down its website.
In 2021, Brandless was acquired by the private equity fund Sycamore Partners and relaunched as a wellness platform for conscious consumers.
The new Brandless eCommerce platform offers a curated selection of products from various brands that meet the company's quality, sustainability, and ethical sourcing standards.
How did it acquire funding?
Brandless raised $50 million in venture capital from New Enterprise Associates, Google Ventures, and others, followed by a further $16 million in cash infusion led by Redpoint Ventures in November 2016.
In May 2019, the eCommerce business raised $240 million in Series C funding, allowing it to expand its product offerings and marketing efforts rapidly.
After the company's closure, Sycamore Partners acquired the Brandless brand and relaunched it as a wellness platform for conscious consumers.
The company raised $118 million in debt and equity in August 2021, one of the largest funding rounds ever for a company led by a female CEO.
What makes Brandless successful?
Curated product selection: The company carefully selected its products and ingredients with a strong emphasis on sustainability, health, and transparency.

Marketing to a strong community: Brandless built a strong community of conscious consumers interested in healthy and sustainable living. The company leveraged social media and other channels to connect with its audience and sustain brand loyalty.

Affordable pricing: Brandless priced its products at $3 or less, significantly lower than comparable products from other brands. By eliminating the costs of branding, advertising, and marketing, the company could offer high-quality products at an affordable price point.
4. Snackpass: The Mobile Takeout Platform for Gen Z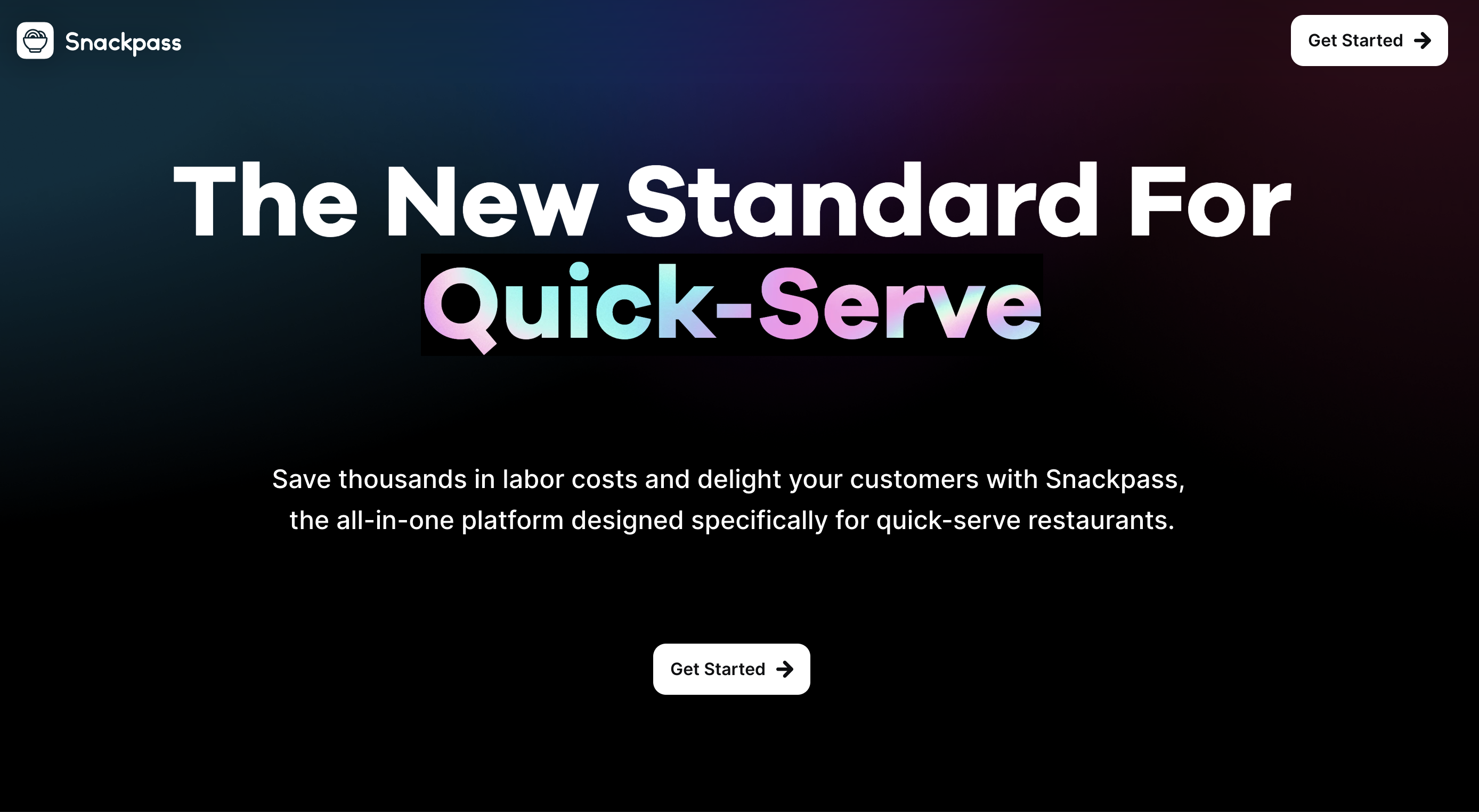 About Snackpass
Snackpass is a mobile app-based food ordering platform that targets the younger generation, particularly Gen Z.
The app allows users to place and pay for orders from local restaurants, coffee shops, and other food and beverage establishments.
Unlike other food delivery platforms, Snackpass is focused on takeout or pick-up orders and does not offer delivery services.
How did it acquire funding?
The company's first funding round was in January 2018, shortly after its founding. It raised $100,000 in seed funding from investors, including Y Combinator.
This was followed by a second round of seed funding in May 2018, through which it raised $2 million.
In December 2019, Snackpass raised $21 million in a Series A funding round led by Andreessen Horowitz, with participation from First Round Capital and Y Combinator.
In June 2021, Snackpass raised $70 million in a Series B funding round with participation from Andreessen Horowitz and General Catalyst, among others.
This brought its total funding to $93.1 million.
What makes Snackpass successful?
Robust social features: Snackpass allows users to order and gift food to their friends, and its platform integrates social media with food ordering. This feature has helped Snackpass differentiate itself from other food delivery apps and made it more popular among younger users.

Rewards program: Snackpass offers a loyalty program that rewards users with discounts and free items for repeat orders and referrals. Additionally, the app has features that allow customers to skip long lines. It also has gamification elements built into the app to make the experience more engaging and enjoyable for users.
5. Misty Robotics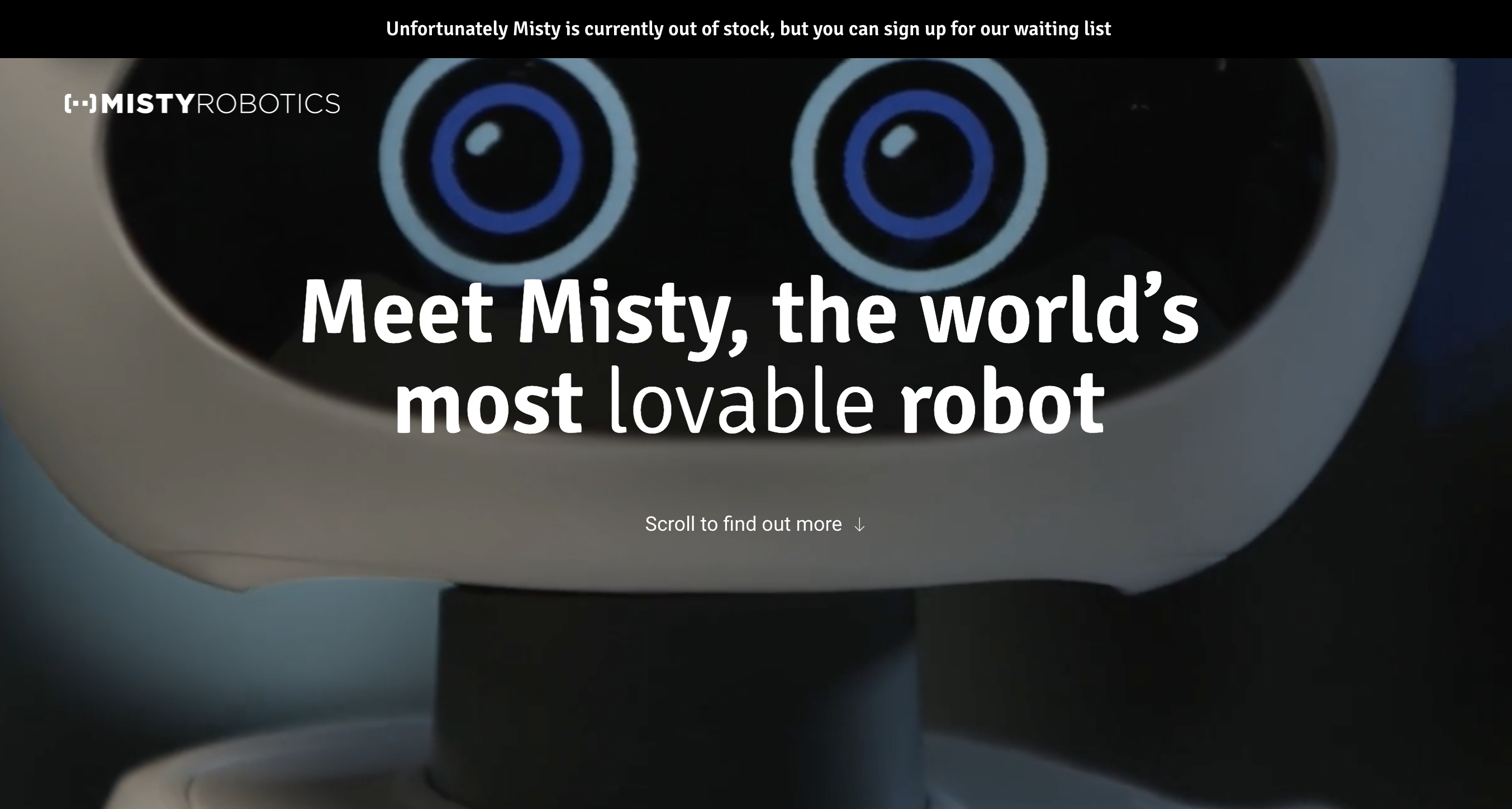 About Misty Robotics
Misty Robotics is an innovative e-commerce startup that develops sophisticated robots for personal and professional use.
Founded in 2017, the company is headquartered in Boulder, Colorado, and has quickly established itself as a leader in robotics.
Misty Robotics is committed to developing robots that are user-friendly, reasonably priced, and flexible in their applications.
Its mission is to democratize the use of robotics technology.
How did it acquire funding?
The company's initial funding was raised through a crowdfunding campaign on the Kickstarter website.
That brought in just under $1 million from backers interested in its vision for creating advanced robots for personal use.
In 2018, the company raised $11.5 million in a Series A funding round led by Venrock.
This was followed by two more rounds of Series A funding that raised $11 million in December 2018 and $2.2 million in January 2020.
What makes Misty Robotics successful?
Advanced robot with social features: Misty Robotics products are designed to be highly interactive and engaging, with the ability to see, speak, touch, move, and emote. This makes the robots more relatable and personable.

Open-source, programmable, and expandable: The robots are built on an open-source platform, meaning users can modify and customize the robots to suit their specific needs. The robots are also programmable in JavaScript and Python, allowing users to create new skills and extend their capabilities.

Creation of a developer community: Misty Robotics has invested in building and maintaining a strong developer community, which has been instrumental in driving the evolution of the company's products. The community provides feedback on the robots' features and functionalities and contributes to the development of new skills and applications.
What's common between these successful eCommerce startups?
While you are likely to find many common things between these startups such as strong leadership and ability to pivot, here are some of the most important metrics of success:
Address consumer pain points
All five companies discussed above have identified and addressed specific customers pain points their respective markets.
Cazoo, for instance, simplified the process of buying and selling used cars, while Brandless focused on providing quality and affordable products for conscious consumers.
Innovative business model
Each of these startups has introduced innovative business models that challenge traditional industry practices.
For example, Snackpass integrated social media and rewards programs into its eCommerce platform to engage its target audience, while Misty Robotics embraced open-source technology to empower users to increase the functionality of its robots.
Use of technology
Another common denominator of these companies is their leveraging of technology to improve offerings and user experiences.
Cazoo uses data and analytics to provide personalized recommendations to customers, while Klarna has implemented cutting-edge technology to minimize the risk of online fraud.
Strong branding and marketing
Each platform has invested in building a solid brand through focused marketing to target audiences.
Cazoo created a distinctive brand identity through its emphasis on transparency and convenience, while Snackpass built a strong social media presence and leveraged user-generated content to reach its target audience.
An eCommerce platform built for innovation
eCommerce businesses can create new opportunities and disrupt traditional industry practices by prioritizing customer needs and leveraging technology to develop innovative solutions.
These top eCommerce startups offer valuable lessons and insights for entrepreneurs and businesses looking to enter the eCommerce space.
Position your business for success in the competitive eCommerce landscape by following in their footsteps and staying updated with changing market demands.
Innovate your way to a redefined eCommerce startup experience!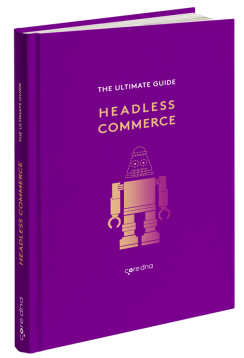 Headless Commerce: The Ultimate Guide
To stay competitive in today market, an omnichannel experience is mandatory and can only be achieved with a headless platform. With Core dna decoupled solution, you get the best of both worlds: A headless commerce with content preview and templates for a faster time to market.