The Top Social Commerce Trends 2023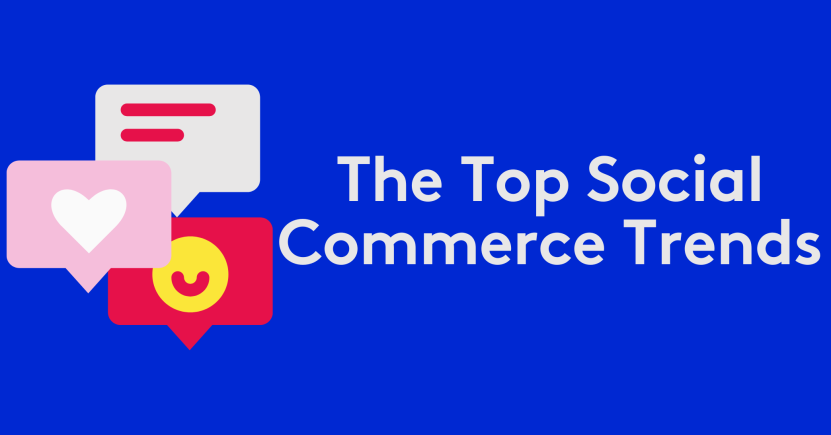 Companies like Meta and TikTok have long understood that social media created an unprecedented opportunity for brands to better reach customers, new and old while opening fresh revenue streams. As a result, social commerce is gaining unstoppable momentum, with global sales forecasted to reach over $2 trillion by 2026.
With more tools than ever at their disposal, it's up to retailers to capitalize on social commerce trends by authentically catering to followers. Those who do will be poised to ride this ever-growing wave and reap the benefits, but success requires brands to understand the upcoming trends driving social commerce.
Key Takeaways
Social shopping sales are predicted to more than triple by 2026, reaching over $2.9 trillion.
TikTok is the most popular channel for social commerce sales
Following new social media platforms will be pivotal to brand success
Know your audience: different demographics prefer different types of social media
On this page:
The state of social commerce
More brands are beginning to understand the significance of omnichannel commerce to their success. Many consumers are happy to shop in-store but will also compare prices online and across social media platforms.
27% of shoppers begin their search for products on Facebook. With social media channels playing an increasingly important role in consumers' online product searches, retailers are using these platforms to convert sales.
Today social commerce is present across the social media ecosystem. This includes Facebook Shops, the TikTok shopping suite, and commerce channels across Instagram and Pinterest, with new platforms inevitable on the horizon. Social commerce functions in the following ways: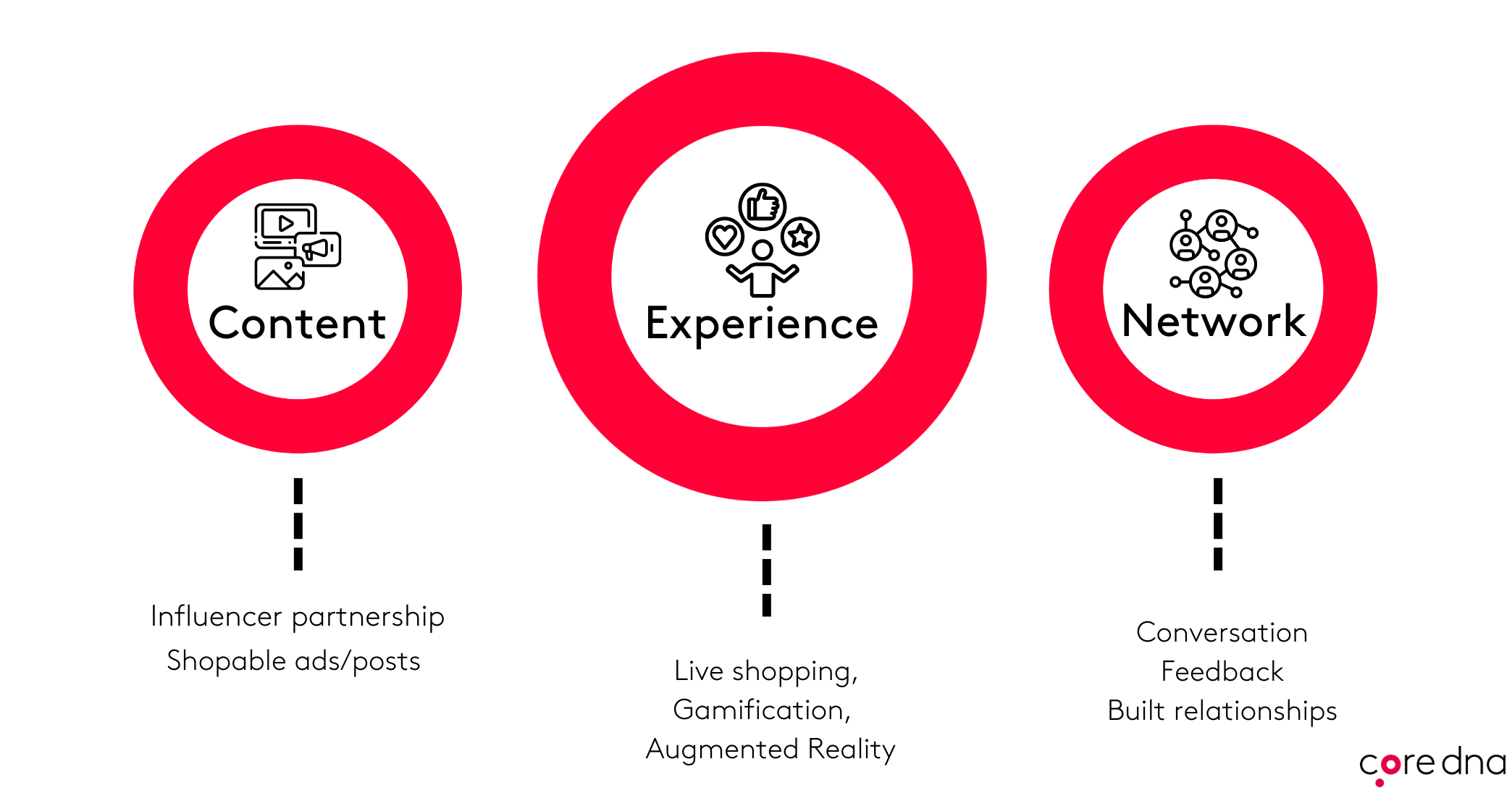 Content: Brands create content to engage customers regarding a product and drive them to in-app stores or shoppable paid ads. Alternatively, brands partner with influencers to share shoppable posts with their network of followers.
For example, an influencer can tag products in their Instagram Stories and drive users directly to the in-app product page on the brand's profile.
Experiences: Social commerce experiences typically fall into three categories: livestreaming, gamification, and augmented reality. On platforms such as Twitch, livestreaming has blended with eCommerce to deliver live shopping.
With this interactive social commerce experience, brands can promote products, and shoppers can buy directly through the platform. McKinsey reports real time shopping conversion rates of around , which is ten times higher than conventional e-commerce.
Network: Social commerce is allowing smaller businesses to increase their customer base. They can start conversations with their network, share feedback on product or services and build a powerful relationship with their users.
This two way relationship increases customers' retention by offering better customer service and helping brand understand their users on a deeper level.
Social commerce is changing the retail game more than any other eCommerce trend. It's significantly expanding the reach of small businesses, allowing them to compete against larger brands. As companies big and small look ahead to the new year, capitalizing on the tremendous opportunity social commerce provides will be critical to success.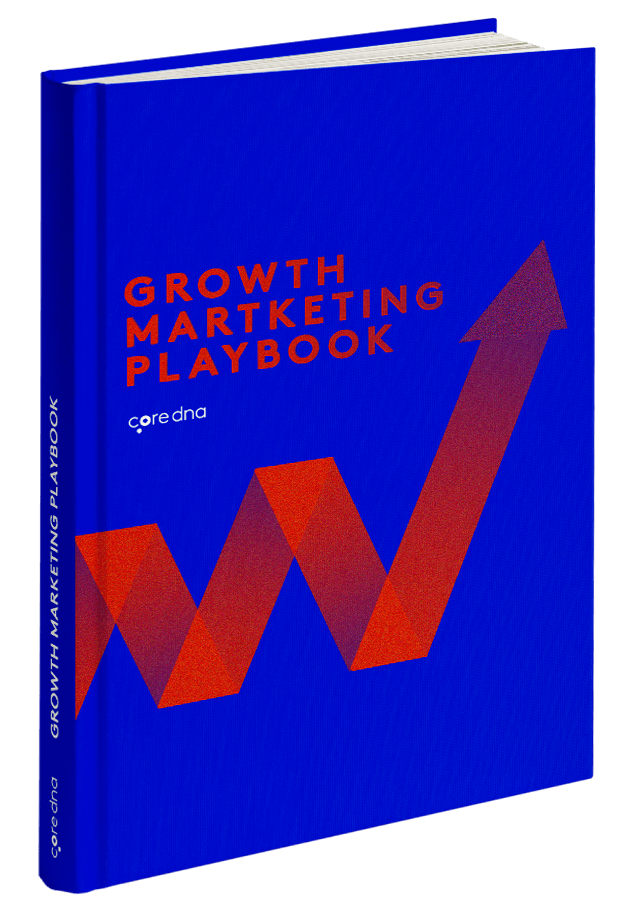 The ultimate growth marketing playbook
The exact 41 strategies we used to grow from 4-figure to 6-figure traffic in one year.


The future of social commerce across platforms
Integrating social commerce strategies will be crucial for businesses as they look to grow in the next few years. To do so, companies must understand what makes each platform unique and how they can leverage them to drive sales.
Facebook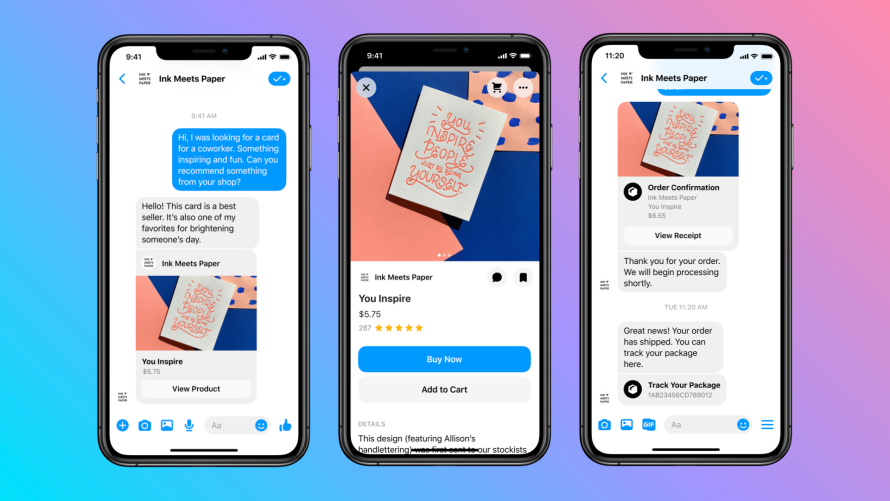 Facebook Shops came about during the pandemic as an online storefront for business Facebook pages. The Shops feature allows businesses to upload products, tag them in posts and initiate transactions from Facebook. Still, while Shops is a valuable tool for B2C transactions, companies can't overlook the importance of nurturing their Facebook business page.
Facebook Business is essential for educating and engaging potential customers. While you can weave in sales and promotions to your Facebook content, it's most helpful in building trust with followers and turning them into loyal, long-term customers.
Instagram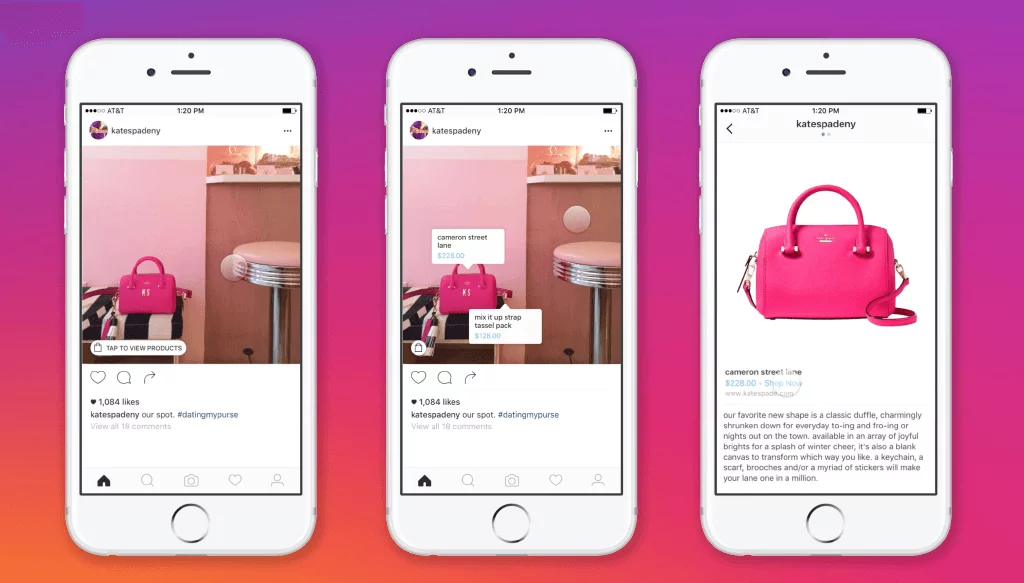 Last year, a survey from Instagram revealed 44% of people on the platform use features like product tags and the Shop tab every week to shop. With consumers relying on Instagram to find products significantly, brands need to use it to their advantage. That means showing off your new product arrivals, sales, bestsellers, and seasonal items.
TikTok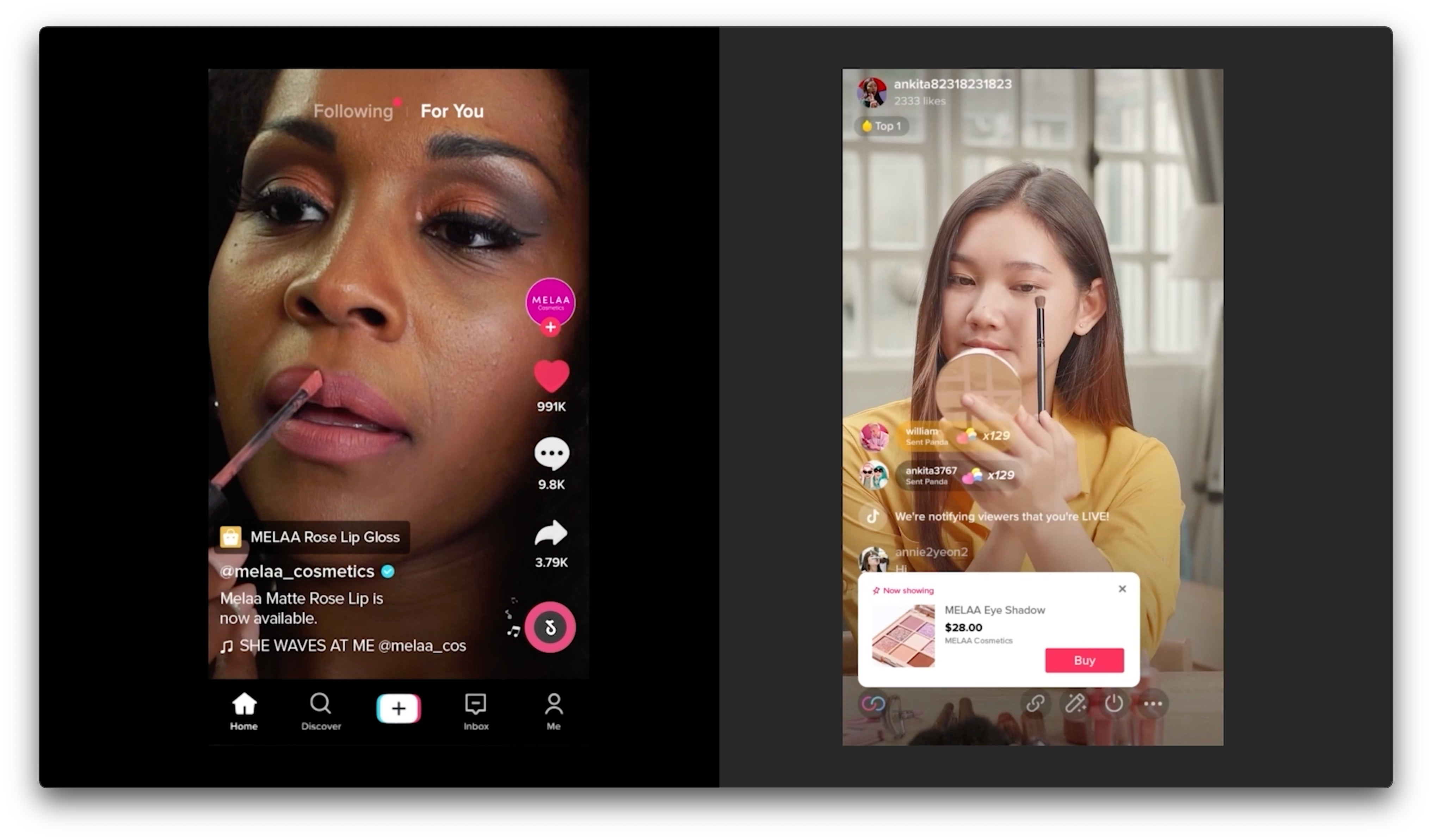 With 48% of consumers ready to make purchases directly through TikTok, fewer platforms are more responsible for the success of social commerce. TikTok's algorithm effectively shows users videos that match their interests, allowing brands to slide in with targeted products.
Partnering with influencers to create videos featuring your products is a great way to engage customers and either drive users to their website or to complete transactions directly through TikTok shopping.
Specifically, brands can run TikTok campaigns with Shopping Ads, which are customizable depending on your business needs. These ad options include:
For-you Feed Ads: Because the "For You" page shows users content based on their interests, ads on this page get the most attention.
Swipeable Ads: Create detailed product ads that allow your audience to select multiple options with a gallery display.
Other Ads:Segment your target audience(s) based on demographics and create customized ads to reach them. While these require a deep understanding of your customers, it's an effective way to appeal to their preferences.
Finally, TikTok Live Shopping is a valuable resource for creators and influencers gaining popularity. It allows sellers to feature and link products in live sessions, so customers to shop directly from the video stream.
Pinterest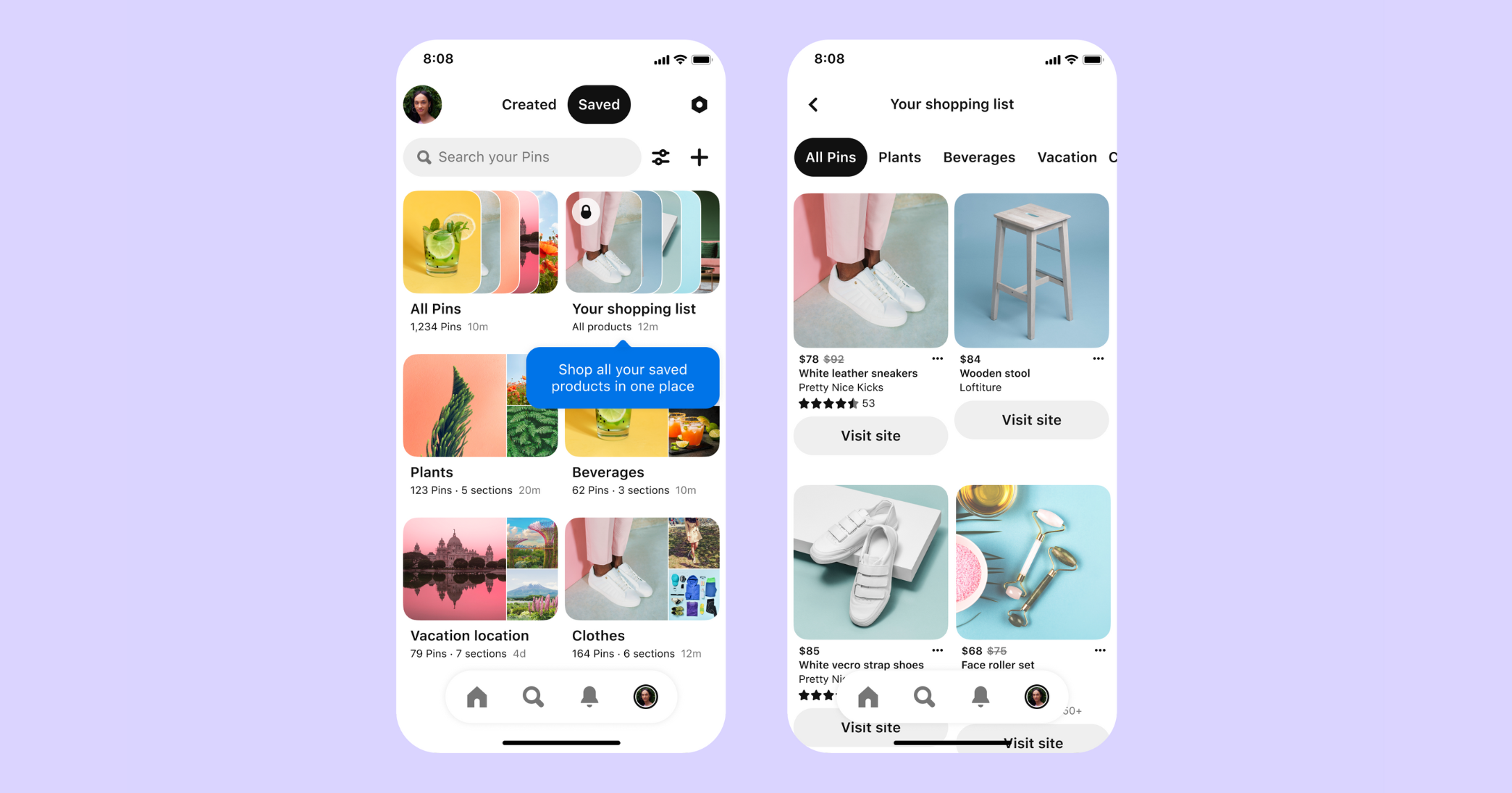 Although a relative newcomer, Pinterest is a natural fit for the social commerce game. Pinterest boasts over 250 million active monthly users, making it an ideal resource for tapping new customers. It also includes cutting-edge functionality, such as the Try On for Home Decor feature, which allows Pinners to use augmented reality (AR) to see how a furniture item would look in their space.
Combining the ability to reach customers with hyper-targeted interests, cutting-edge features, and the ease of selling directly through the platform, retailers should integrate Pinterest into their social commerce initiatives.
YouTube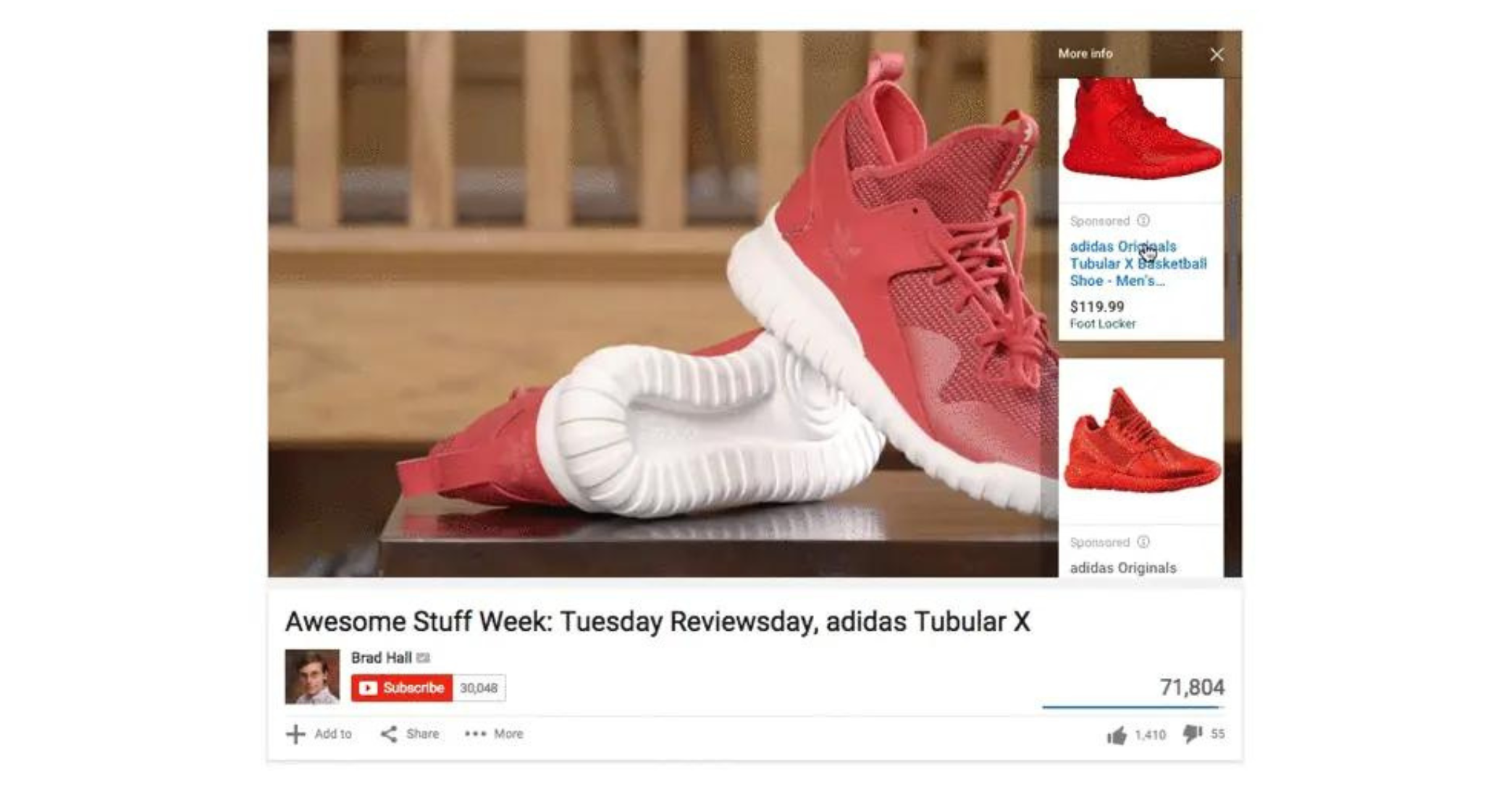 As live shopping experiences become increasingly popular, it's no surprise YouTube is finding ways to take hold of social commerce.
The video-sharing titan is testing a feature that will allow shoppers to click on a shopping cart icon embedded in the video, allowing them to make purchases without leaving the platform. Considering YouTube has over two billion monthly users, brands should expect to jump on this new service in a big way as it rolls out.
How to create a successful social commerce strategy
As technology advances and social channels roll out new features, there are a few sure-fire ways brands can thrive in the social commerce environment. Here are six critical tips to help brands thrive amidst the rise of social commerce:
Focus on customer experience
The customer needs to live at the heart of all your social commerce decisions. That means delivering targeted, personalized content with clear calls-to-action (CTAs). If a customer feels you are showing them irrelevant or not helpful content, they'll be quick to unfollow your business. Creating a detailed buyer persona and customer journey map is essential to your social commerce marketing and sales strategies.
Take advantage of mobile shopping apps
With every social media platform weaving in social commerce functionality, it's time to leverage these tools and grow your sales. They will become more important for finding and staying connected with customers as user bases grow across the social media landscape.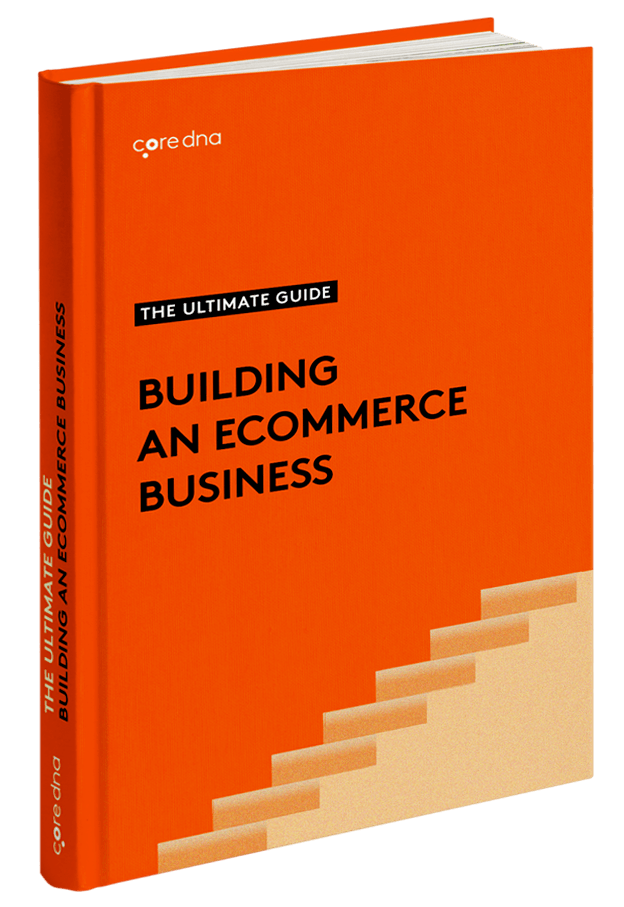 The ultimate guide to growing & scaling an eCommerce business
Everything we've learned throughout our 18+ years journey in a 30,000-word PDF guide.
Video ads will be used more often
Don't be left behind Live video commerce is already ubiquitous in Asia and is poised to take over new markets. YouTube is rolling out in-platform shopping options and live shopping is proliferating across TikTok and Instagram. Brands that understand how to use video to engage and convert customers will lead the way into the next stage of social commerce.
Have the right strategy to work with creators and influencers
Brands no longer have to rely solely on their network of followers to secure sales on social media. Leveraging a healthy mix of influencers and user-generated content via videos and hashtag challenges is an effective way to find new customers and maintain engagement across the social media landscape.
Ride the live shopping wave
Just as cable TV had the shopping channel, social media is seeing a rise in online merchants integrating live commerce into their marketing efforts. More consumers are turning to social media to research and find product recommendations from brands and influencers they trust, opening the door for live shopping, a powerful new social commerce tool.
Use omnichannel to bridge the brick-and-mortar and online world
Although social commerce presents tremendous opportunity, it is only one part of the larger marketing ecosystem. Consumers today demand a seamless, omnichannel experience from brands. Whether in-store, on mobile, online, or social media, customers want the flexibility to buy anytime, anywhere, and on any device.
Examples of social commerce brands
Of course, there is no one-size-fits-all solution to social commerce. What works for an electronics company won't necessarily work for a company selling artisanal candles. Every company should understand how to use influencers, user-generated content, and well-placed social media marketing strategy across all channels. Let's take a look at a few excellent examples of brands that thrive in the age of social commerce:
Brands that use customers as brand ambassadors on social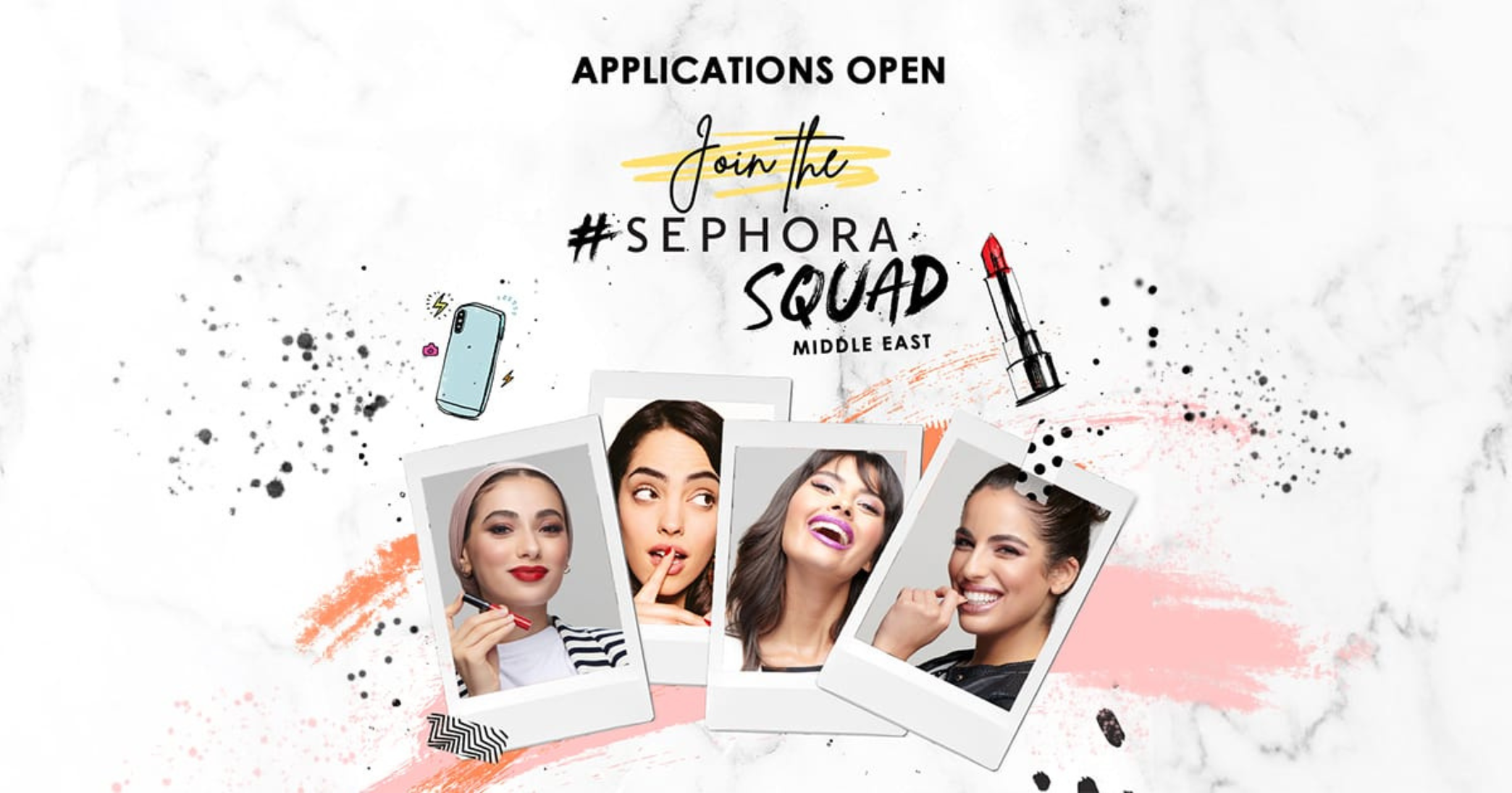 Ever heard of the #SephoraSquad The beauty retailer has created an army of brand ambassadors thanks to its influencer program. These brand ambassadors receive peer and professional coaching, content and networking opportunities, product collaborations, and early access to products at Sephora in exchange for content support on their platforms.
Brands that succeeded in live shopping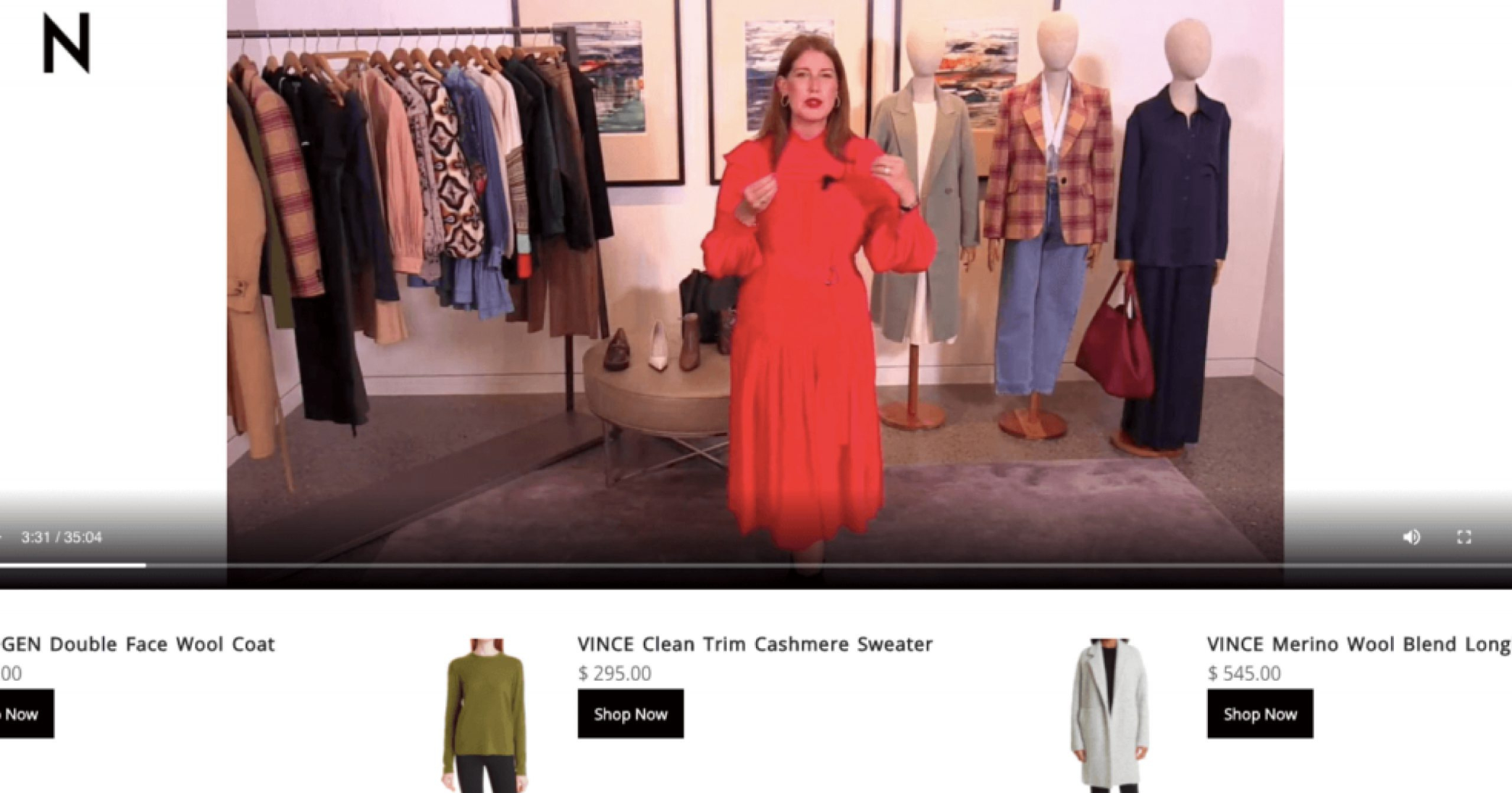 Welcome to Nordstrom Live, the retailer's dedicated live shopping website. Since it launched in 2021, the channel has hosted dozens of live shopping events centered around themes that resonate with customers, including skincare advice, holiday outfits, and gift guides.
Brands with an AR store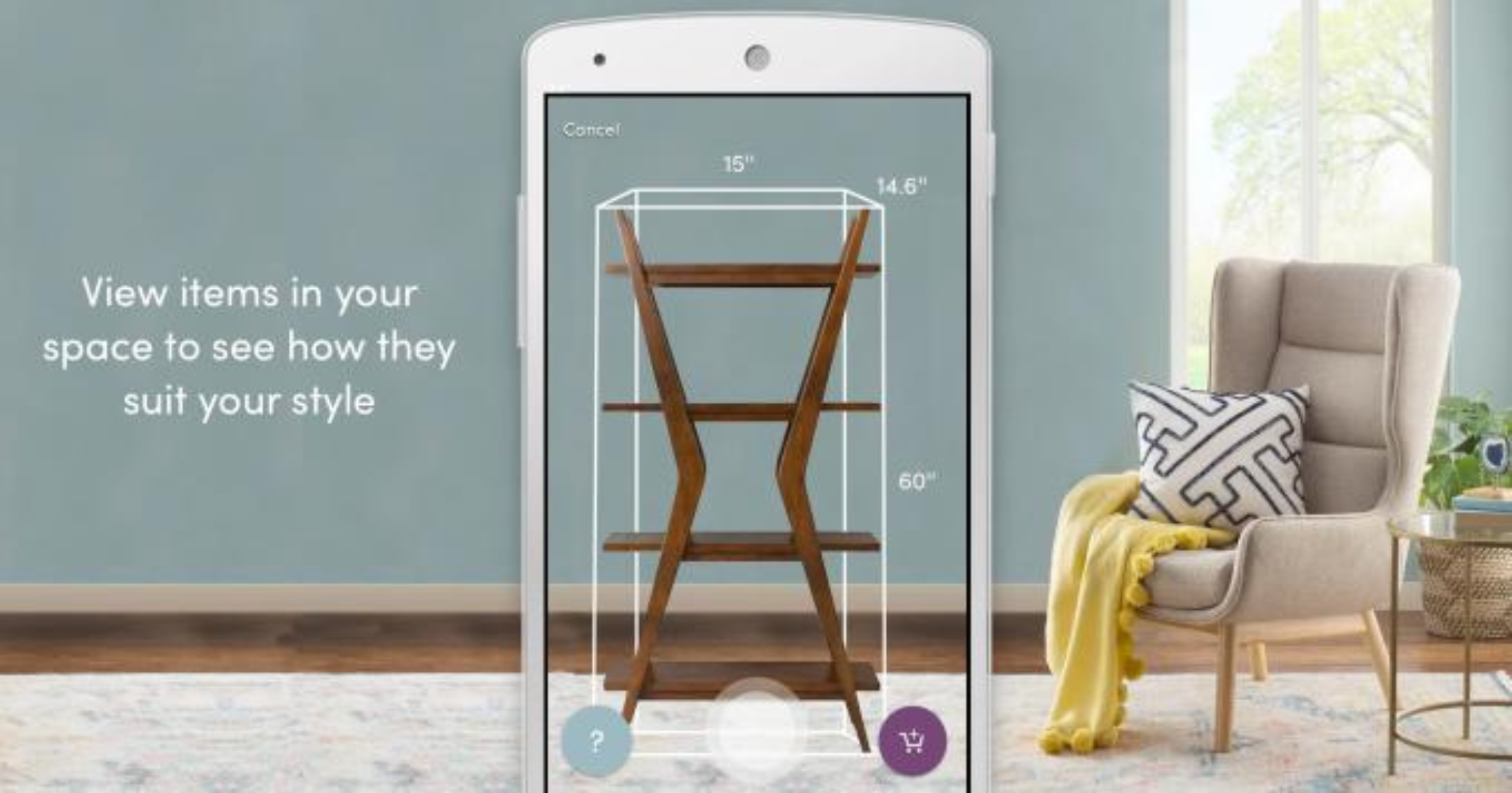 Few purchases are more disappointing than buying furniture only to have it arrive and not fit your space. Online furniture retailer Wayfair has been at the forefront of interactive social commerce for years thanks to its "Try-Before-You-Buy" AR tool. By overlaying digital images onto real-world imagery, customers see how items fit in their space before buying.
Brands with shoppable posts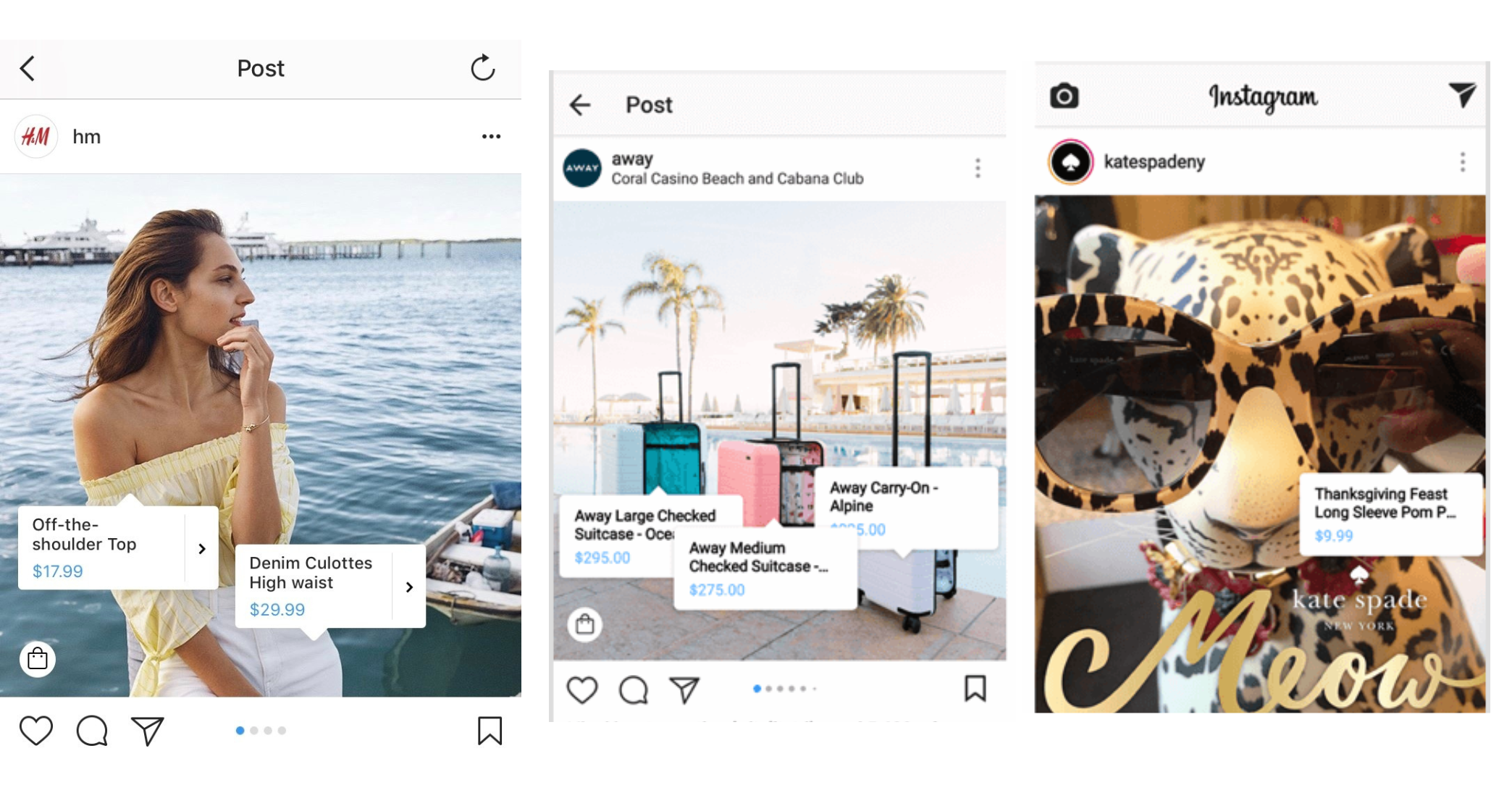 Shoppable ads on platforms like Instagram and Facebook are usually based on the products and categories a user has already viewed. Few do it better than H&M, which has turned its social channels into an authentic digital storefront, using attractive imagery to create shoppable content.
Executing your social commerce strategy requires an eCommerce platform that genuinely compliments your business. With the explosion of video and interactive content, you need a platform to support your efforts and keep your digital storefront in front of your target audience. Rely on omnichannel eCommerce software that can handle your business needs and ensure your customers have a seamless experience.
Schedule a one-to-one consultation with our team
Here's what you can expect:
Walkthrough: An introduction of the Core dna platform
Analysis: Personalized recommendations based on your business needs.
Case studies: How other businesses have used Core dna to scale more efficiently
Related questions
Exchanging goods or services for money across country lines comes with a host of regulatory measures and technical considerations, regardless of whether you're doing business face-to-face or online. There are also important environmental and cultural differences that will influence the way that you present your offerings to local consumers.

Core dna is setup to enable your team to think globally and act locally, meaning we have international domains and international payments with different personalization features to help you scale.
We created a blog post where we share eight considerations that you should keep in mind as you develop your plan for going from domestic provider to international distributor. Read more about scaling your eCommerce globally.
[Read more]