Artificial intelligence in eCommerce - Everything you need to know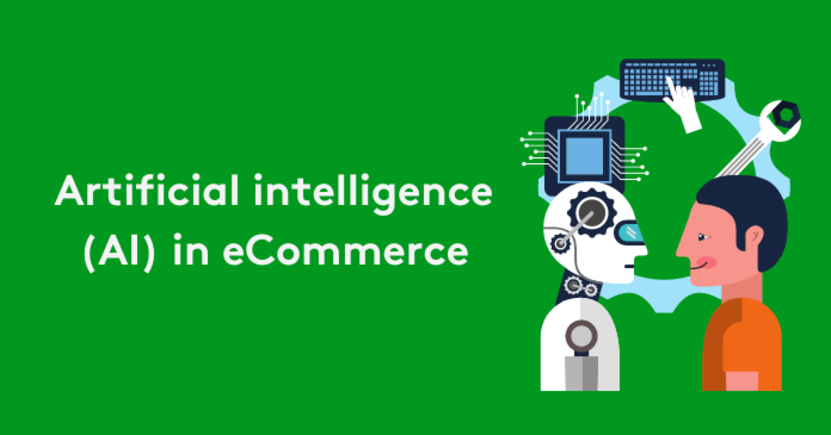 How is Artificial Intelligence changing eCommerce?
Artificial intelligence (AI) has been around for years now. From our virtual assistants to autocorrect and the facial recognition software we use to access our phones, there are plenty of daily instances where we encounter AI technology.
And yet, seemingly overnight, all anybody can talk about is artificial intelligence. It doesn't matter your industry or profession, everyone has a hot take about the impending impact of AI.
Of course, the world of eCommerce is no exception. In fact, retailers have been using a well-known form of AI for years: chatbots.
Chatbots are now a nearly ubiquitous customer service tool and are great for answering frequently asked questions and helping consumers track purchases.
The reality is that as retailers have seen digital commerce sales skyrocket over the last few years, they've continued investing in solutions that ensure a quality customer experience.
35% of companies are already using AI, and another 42% of companies are looking at new ways to implement this technology down the line.
So, with all the chatter about how artificial intelligence will change eCommerce, one has to wonder what that will actually look like.
In this article, we'll examine how AI is changing eCommerce, use cases, the benefits of this technology, and how you can integrate it into your strategy.
Key takeaways
AI can help eCommerce businesses become more customer centric
Machine learning and AI can help retailers improve product selection and user experience
Consumer demands for personalization are driving AI-supported eCommerce
Artificial intelligence can help the eCommerce industry create a new level of personalization across multiple devices.
Artificial intelligence can helps eCommerce businesses determine the right price for goods and service
Guide: eCommerce Trends 2023
37-pages of the latest eCommerce & marketing strategies to succeed in the upcoming year!
From the rise of mobile shopping apps to the growth of social commerce and augmented reality experiences, there are many different ways that people shop today.
eCommerce industry in the age of Artificial intelligence (ai)
If you have any doubt whether artificial intelligence will bring significant change to the eCommerce industry, it's time to put them to rest.
Projections show that by 2032, the eCommerce AI market will reach $45.72 billion, demonstrating retailers' growing appetite for artificial intelligence tools. Several trends are driving the need for intelligent, data-driven solutions, which include:
Personalization: Customers want relevant content from brands, and they want it to be consistent across all their devices and digital channels. Retailers need to know where, when, and how the audiences are shopping and how to respond as behaviors evolve. aggregating the customer data needed for a personalized shopping experience can be achieved with artificial intelligence.

New devices and channels: Consumers can now shop from anywhere at any time and on more devices than ever. Omnichannel strategies are mandatory for retailers who need to reach users on their computers, mobile devices, in-store kiosks, and virtual reality headsets while sharing content across email, social media, websites, and more.

Logistics: With consumers shopping online and getting products shipped to their homes, they're expecting deliveries faster than ever. More stores are becoming hyper-local fulfillment centers to complete same-day deliveries, requiring retailers to optimize supply chain operations.
With eCommerce sales increasing every year, retailers are investing more heavily in the necessary infrastructure to keep up with demand.
That, in turn, is driving rapid innovation in the industry, introducing new machine learning and AI salutations that can help retailers improve product selection and user experience while optimizing logistics.
How artificial intelligence is used in e-commerce?




More targeted marketing and advertising for online shoppers
Thanks to advances in AI and machine learning, retailers can now customize content to better reach shoppers and potential customers.
By analyzing big data from purchase histories and other customer interactions, you can zero in on what your customers want and deliver the message that will resonate most.
For example, Microsoft's new search advertising solution helps any eCommerce business target shoppers based on their browsing categories, utilizing keywords to boost campaign bids.
Better operational efficiency
Automation is an excellent example of practical artificial intelligence in eCommerce. Digital businesses turn to automation to accomplish the repetitive tasks that are essential to the operations of an online store. Artificial intelligence allows eCommerce businesses to automate product recommendations, loyalty discounts, customer support, and more.
Better customer data
Thanks to clickstream analytics, retailers can see how visitors behave on their websites, including what links or items they click on most frequently and what pages they click through on their way to making a purchase. Using algorithms to analyze this data helps businesses improve sales strategies and identify opportunities to increase sales by making it easier for customers to find popular products.
Increasing sales
Not only does artificial intelligence in eCommerce helps you understand and adapt to how your customers behave digitally, but it can also encourage conversions by automating follow-up abandoned cart inquiries. You can also use chatbots to guide customers toward specific products or services or notify them of ongoing deals and sales.
Optimized pricing
For most of history, businesses used their instinct or manually calculated the cost of supply and demand to determine the price of their products and services.
As enterprises collect tremendous amounts of data in the digital age, they can now use algorithms to predict how altering the cost of an item can influence demand.
Using this data, along with an automated understanding of external factors like economic conditions and competitor pricing, businesses can automatically adjust pricing at any time to drive sales.
Supply chain efficiency
The covid-19 pandemic sent the demand for retail delivery through the roof, with many businesses forced to find partners to make it happen.
Grocery retailers, for example, had to partner with marketplace providers such as DoorDash, Instacart, and Uber to ensure perishable products made it to customers within a few hours.
In the last few years, global supply chain disruptions have intermittently wracked the retail industry, further pushing retailers to find ways to address the constant demands on eCommerce fulfillment.
It doesn't matter whether you're a business-to-business (B2B), business-to-consumer (B2C), or direct-to-consumer (DTC) company, a seamless delivery experience is essential to ensuring customer satisfaction.
When woven into a retailer's warehouse management system, artificial intelligence can analyze trends to optimize fulfillment processes.
More eCommerce players rely on artificial intelligence to help forecast demand, control inventory levels, schedule maintenance, and prevent failures that can delay customer deliveries.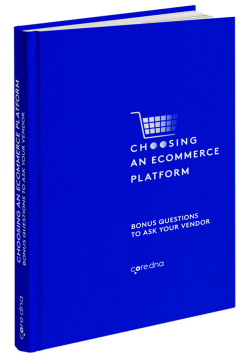 Guide: Choosing an eCommerce Platform
Definitive guide to choosing an eCommerce platform.
How to Integrate Artificial Intelligence (ai) Into Your eCommerce business
With global eCommerce sales projected to reach $6.4 trillion this year, it's time to put your eCommerce business data to use and leverage artificial intelligence.
Customer-centric search
eCommerce companies are well acquainted with how difficult and sometimes expensive it is to drive site traffic.
Your efforts can even seem vain if the results are not there or that bounce rate is too high. That is where artificial intelligence comes in.
AI search improves the customer experience by providing better results for customer queries. It is no longer about pre-templated keywords, AI search understands natural language; hence providing a better search results for the long tail queries we all ask Google.
As Agolia states it in its article, keyword and vector search together are truly a case of 1+1 = 3. Together, they improve both search precision and recall by delivering more accurate results with a more representative, or complete, set of products from your catalog.
AI-powered site search not only improves network latency — it uses dynamically generated product listing pages (PLPs) to show customers the most relevant content to them.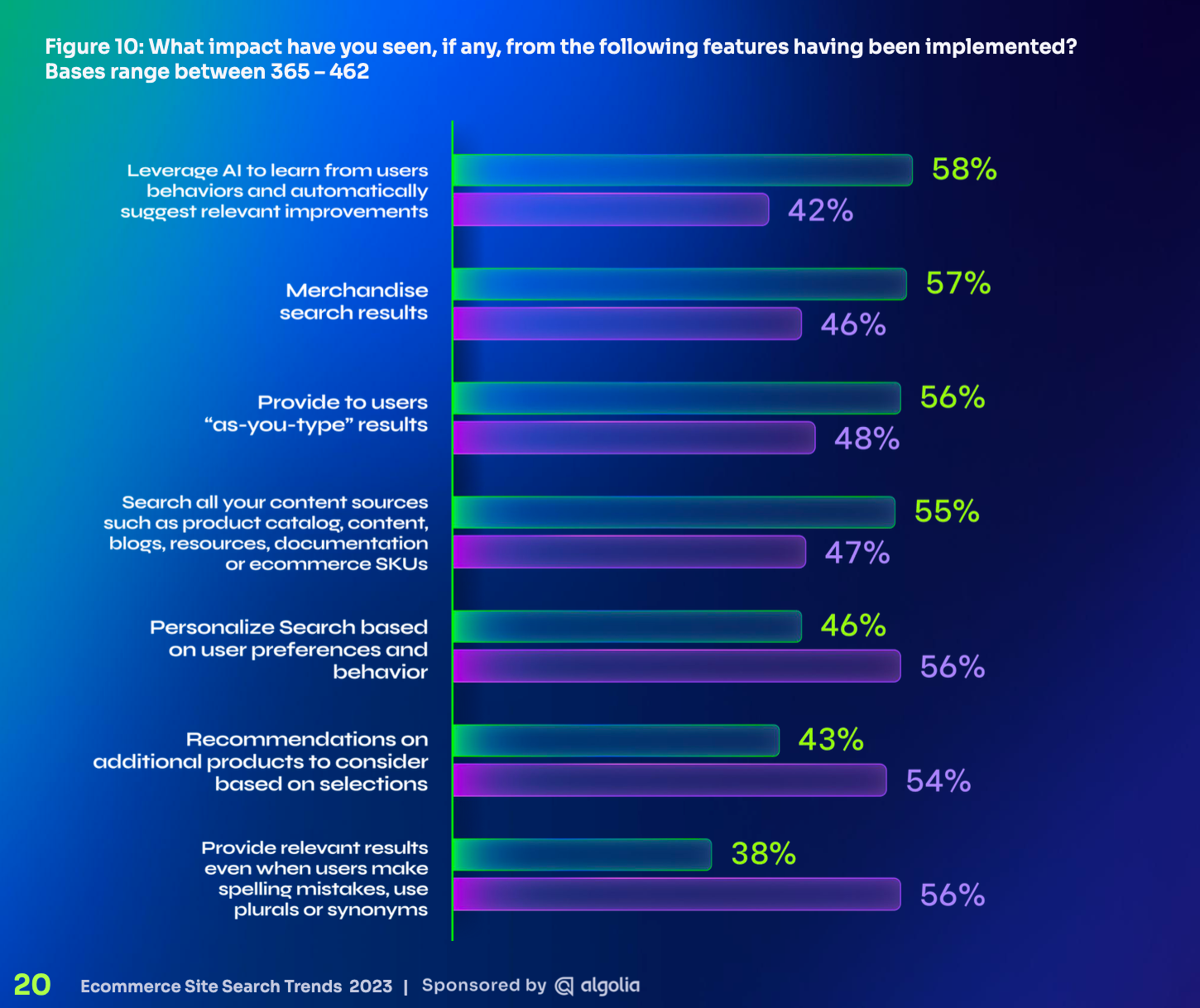 Voice Search
As a constant trend in eCommerce and with the rise of voice assistants such as Alexa or Google home or even SIRI, Voice search has become a convenient way for consumers to look for product and services without having to stop doing other tasks and type into a screen.
This means that eCommerce businesses that optimize their websites for voice search are likely to see increased traffic and sales. Just remember that more than one in four people use voice search on their mobile device.
Also online businesses optimizing for voice search can see an improvement in their website's search engine rankings, as search engines like Google are increasingly prioritizing voice search results.
Visual Search
Artificial intelligence powered visual search offers numerous benefits for online shopping.
Thanks to this technology, online customers can now find products simply by uploading an image instead of typing a query that might not align with the eCommerce site keywords.
This saves time and effort, and can lead to a more satisfying online shopping experience. AI visual search can help reduce the number of returns and exchanges, as shoppers are more likely to find products that meet their expectations when using this technology.
Asos - an online fashion giant has introduced visual search a few years ago under the name "style match". It allows online shoppers to use their devices in a way that is natural and contextual to how they live their lives.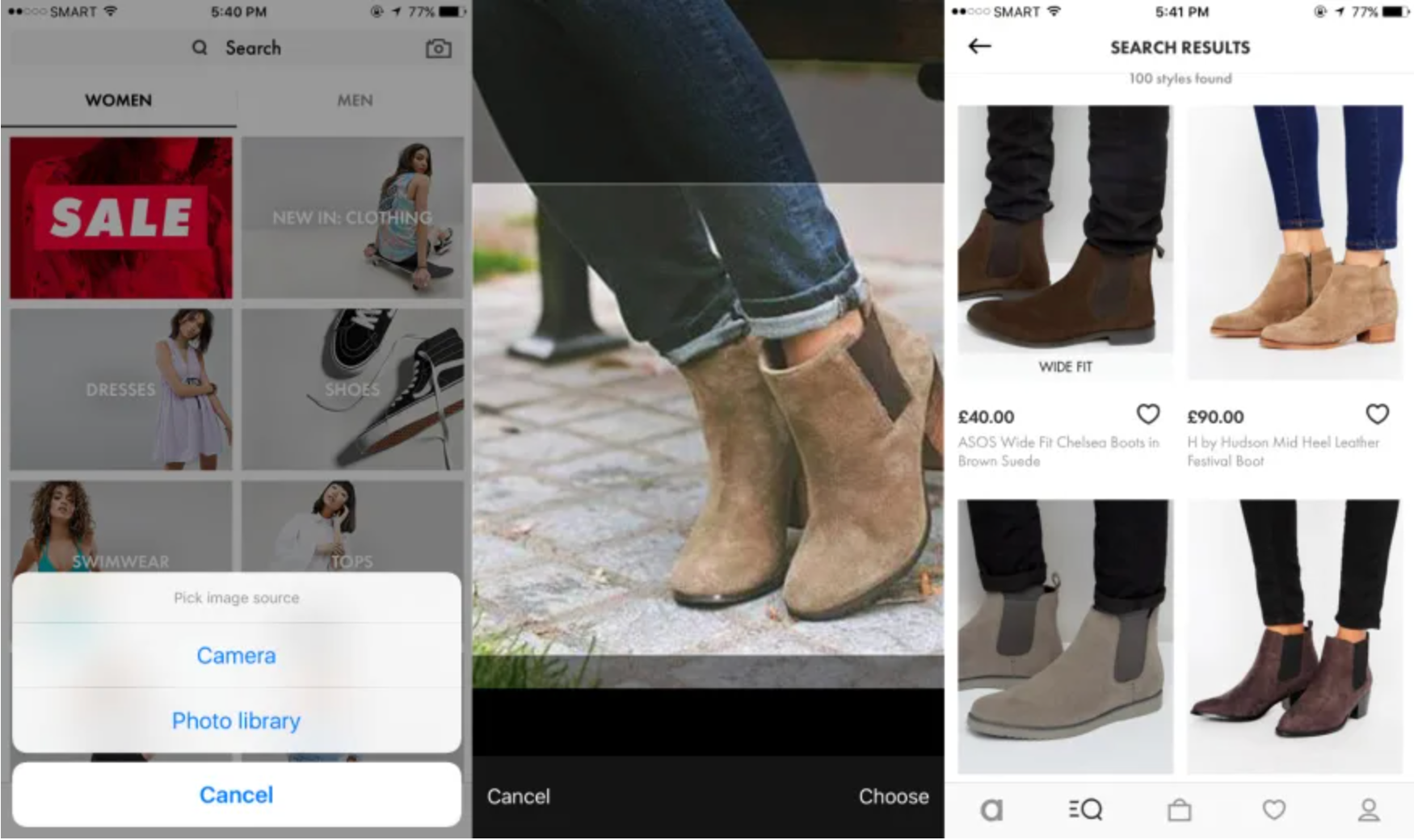 Intelligent Product Recommendations with Artificial intelligence
Integrating an AI-powered recommender system helps eliminates the challenge of picking the right products to recommend to customers.
This system analyzes all customer and visitor data to make decisions that can help you boost your eCommerce business.
It's a practical way to improve the customer experience, save time by eliminating the need to recommend products manually, and boost sales by targeting the right customer with the best product.
A Personalized Customer Experience with Artificial Intelligence eCommerce.
The secret to creating a genuinely optimal customer experience is to put user data to use. For example, you can use an artificial intelligence email writer to create personalized messages.
Depending on the application you use, you can set the artificial intelligence to use a casual or formal tone.
It's an excellent way to capture your brand's voice while sending customer-specific content that shows them you understand their preferences.
Natural Language Processing with AI
One of the best well-known use cases of artificial intelligence in eCommerce, chatbots are an excellent way to provide a personal touch to your costumes.
AI-powered chatbots offer instant customer service and support, helping customers find products, answer questions, and check the status of an order.
Chatbots use NLP and machine learning algorithms to contextualize and understand customer questions.
Product photography with AI
Thanks to the proliferation of AI image generation tools, you can now prepare a lot of product images quickly to use on your website.
You can maintain a library of product imagery that will help you diversify your content without investing in a studio, photographer, and editing services.
Booth.ai is just one of the platforms that allows eCommerce businesses to create pro quality product photography with artificial intelligence.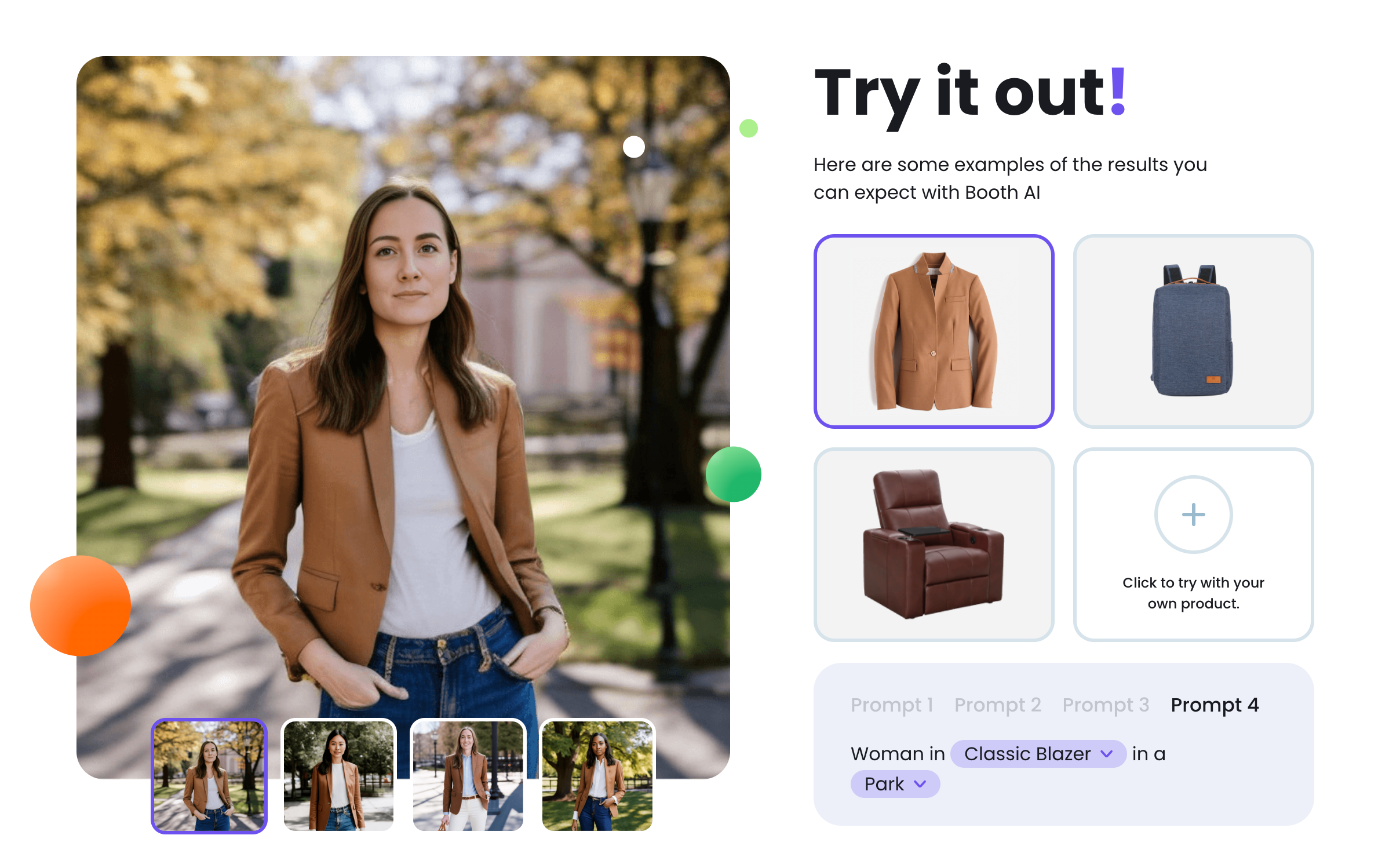 Smart pricing with Artificial Intelligence
Having the right customer data can be valuable when going for price optimization and revenue management. Machine learning (ML) can simplifies both tasks and makes them more efficient.
Companies can better understand the present situation of their market, make adjustments as needed, and optimize their possibilities to increase revenue by processing data through dynamic pricing algorithms.
Fulfillment optimization
AI technology can create a more efficient sales process, keep order processing fast, accurate, and competitive and utilize data to ensure smarter and faster inbound logistics, inventory replenishment, picking and packing, returns, facility/tools management, and workflows.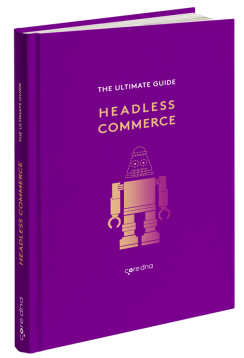 Headless Commerce: The Ultimate Guide
To stay competitive in today market, an omnichannel experience is mandatory and can only be achieved with a headless platform. With Core dna decoupled solution, you get the best of both worlds: A headless commerce with content preview and templates for a faster time to market.
What are the examples of artificial intelligence in e-commerce?
If you're running a successful eCommerce business, chances are you already rely on some artificial intelligence and machine learning in your business. To better understand the practical applications of this technology in eCommerce, here are a few examples of how businesses are using it.
Chatbots
As discussed above, chatbots are widely used in retail in beyond. They make it easy to offer 24/7 customer support, both online and over the phone.
As these tools continue amassing and contextualizing, they're able to give increasingly sophisticated responses to customers. This means they can actually appear more conversational and human-like and offer more personalized information for each customer.
Customer Relationship Management (CRM) software
Thanks to artificial intelligence, Customer Relationship Management (CRM) platforms are more efficient than ever. This software can quickly analyze customer data to understand their behavior and buying habits. With a modern CRM, you can tailor your engagements from customer to customer, improving conversion rates and freeing up your sales team to focus on higher-value tasks.
The Internet of Things (IoT)
Hoping to give your customers location-specific offers? Thanks to IoT technology, you can more easily blend brick-and-mortar shopping with eCommerce.
Using IoT sensors and RFID tags, you can keep track of your inventory in real time, which is increasingly important as consumers make online purchases from local stores.
With IoT, customers get the most up-to-date information about what items are in stock near them.
Writing Product descriptions with ChatGPT
Artificial intelligence solutions like ChatGPT make writing product descriptions for your digital storefront simpler than ever.
This is a valuable perk when you need to create definitions for dozens and hundreds of products in your inventory.
Now you can automate the process, saving time and money while ensuring customers get the same accurate information about your offerings.
Video content with Artificial intelligence
Consumers watch more video content every year, putting pressure on brands to create engaging videos to attract a wider audience.
With a tool like Smartzer, you can actually use AI-powered video platforms to create interactive and shoppable videos. This is hugely valuable for creating live shopping events and social commerce content.
AI-powered eCommerce is already a reality for many retailers. As more solutions enter the market and become more sophisticated, brands that fail to adapt and adopt this technology will be left behind.
It's perhaps the most effective way to wield your customer and business data to grow your eCommerce business, improve the customer experience, and future-proof your company in a rapidly changing industry.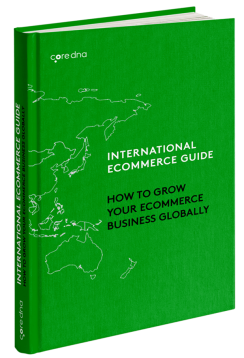 Guide to Building an International eCommerce Business
An 11-step formula to enter international markets.