A Complete Guide to Optimizing Your eCommerce Sales Funnel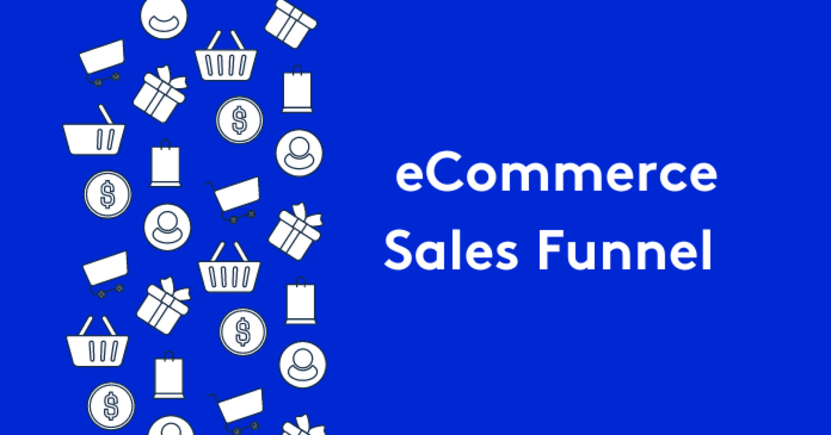 Here's a question that's fundamental to any eCommerce site: How do you get potential customers from A (initial contact with your brand) to B (closing the sale)?
The short answer is - with an optimized eCommerce sales funnels.
If you're ready to optimize your eCommerce sales funnel, you're in the right place.
Key takeaways
Boosting sales by converting potential customers into paying customers and increasing sales and revenue.
Improving the customer experience by simplifying the buying process and reducing friction. This leads to more satisfied customers more likely to become repeat customers.
Reducing card abandonment by streamlining the checkout process and encouraging customers to complete the purchase.
Increasing the average order value by incentivizing customers to buy additional products or upgraded versions of your goods or services.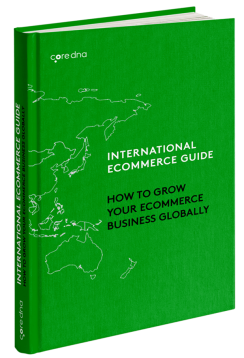 Guide to Building an International eCommerce Business
An 11-step formula to enter international markets.
Understanding the eCommerce conversion Funnel
A sales funnel or conversion funnel is the customer's journey visitors follow from the moment they learn about your products to the point at which they make a purchase.
The eCommerce conversion funnel aims to guide the customer smoothly through the buying process and increase the likelihood of a sale.
It typically consists of four stages:
Awareness
This is the first stage of the sales funnel. The customer becomes aware of your brand and product through exposure to your marketing channels. This is the top of the funnel, where marketers focus on generating brand awareness and maximizing your eCommerce site traffic.
That is typically achieved through social media ads, email marketing, and search engine marketing.
To take an example of awareness-building, Glossier is a beauty brand that has leveraged social media and influencer marketing to generate product awareness.
It has a strong Instagram presence of over 2.7 million followers and has partnered with influencers to generate consumer interest in its offerings.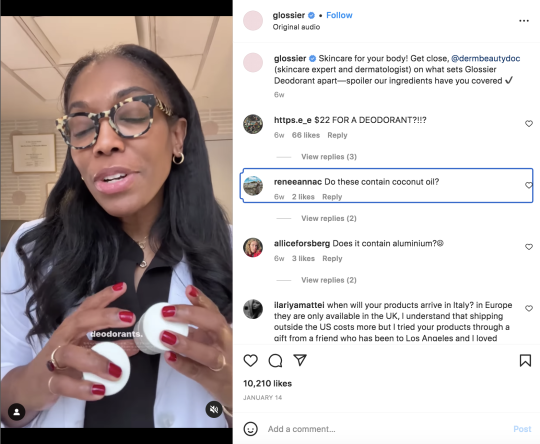 Another example of a brand that has created an effective top-of-the-funnel strategy is Dollar Shave Club, a subscription-based service that delivers razors and grooming products to its customers.
The brand uses clever video marketing to generate awareness about its offerings and engage with target audiences.

Interest
Once your offerings interest a potential customer, they will spend time learning more about them. This could involve researching your brand and products, comparing them with alternatives in the market, and reading reviews to determine if they are right for them.
The 'Interest' stage aims to deepen your brand's engagement with potential customers and move them closer to purchasing your goods or services.
Examples of interest-generating activities include running remarketing ads that target website visitors who did not make a purchase.
To move visitors down you eCommerce conversion funnel, you can offer product demos or trials to highlight the advantages of your products, and set up and manage your brand profile on third-party review sites like Yelp and Google.
The Swedish streaming giant Spotify allows users to try its premium service for free and see if they like it. This builds added interest in the service and helps convert free users into paying subscribers.

Personal care and beauty products brand Sephora also does a great job at this stage of the conversion funnel.
It features product reviews on its website, using social proof to encourage users to make a buy.
The Sephora website and app offer personalized product recommendations based on a customer's purchase history and browsing behavior.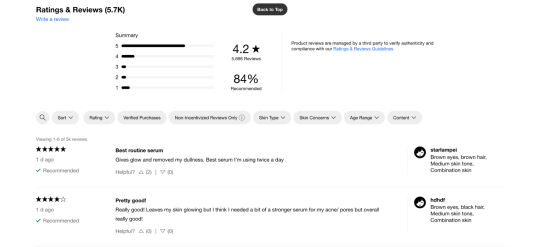 Decision
At this point of the conversion funnel, the customer has decided to purchase one or more of your products. They have added the product to their shopping cart and are ready to proceed to checkout.
During the decision stage, brands need to provide potential customers with relevant information and incentives necessary to overcome any remaining reservations.
To help website visitors in their customer journey and their purchase decisions, you can offer them limited-time deals and similar promotions to create a sense of urgency, making them more likely to buy your products.
Just in case that doesn't happen the first time around, you can also send abandoned cart emails to customers reminding them of items they have left on their virtual shopping carts.
One example of a business making effective 'Decision' stage interventions is Walmart, which uses limited-time offers to incentivize customers to make a purchase. It regularly offers discounts, free shipping, and other promotions to encourage customers to act quickly.

Amazon relies on cart abandonment emails to remind customers of the products they were interested in, nudging them to return to the website to complete the purchase.
The platform also offers many support options to answer any last-minute queries that the customer might have.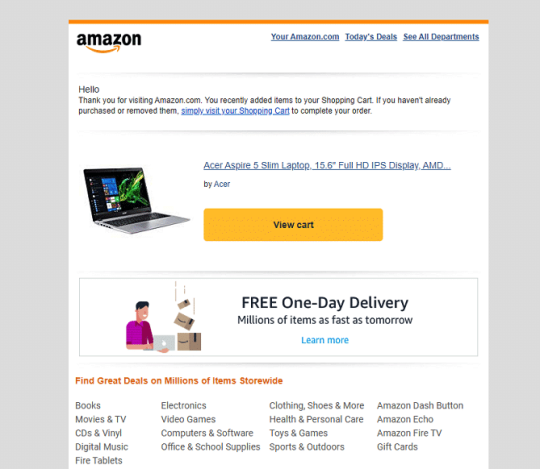 Action
This is the final stage of the sales funnel, where the customer completes the transaction and becomes a paying customer.
Strategies brands can use to encourage customers to take 'Action' include providing a straightforward checkout process and follow-up support to encourage repeat purchases and build loyalty.
Online fashion and cosmetics retailer ASOS focuses on the end of the eCommerce conversion funnel by offering customers multiple payment and shopping options to make the process of purchasing as convenient as possible.
The company also provides follow-up emails with shipping updates and delivery details, creating a great and well-rounded shopping experience.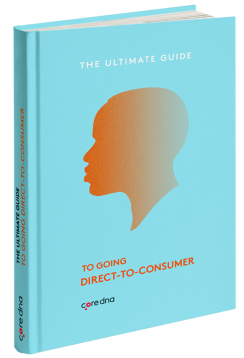 Going Direct-to-Consumer: The Definitive Guide
The definitive guide to going direct to consumer.
Another example of action trigger in the sales funnel is loyalty programs. They can be an effective way to create repeat customers.
Merchandise retailer Target offers a loyalty program called Target Circle, which provides members with attractive discounts, exclusive offers, and free shipping.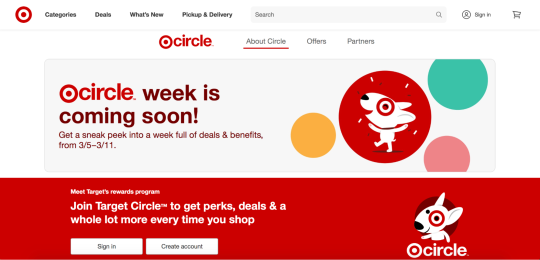 How to fine-tune Your eCommerce sales funnel
Fine-tuning your eCommerce conversion funnel means optimizing it for effectiveness at every stage of the process.
Doing this creatively, based on market-driven insights, can make a substantial difference to the performance of your online store and increase conversions. Here are some surefire steps to optimize your e-commerce sales funnel:
Simplify the Checkout Process
Make sure your checkout process is convenient, easy to navigate, and optimized for mobile devices.
You can simplify and streamline your checkout process by removing unnecessary steps and minimizing the required form fields.
The objective here is to enable a purchase with the fewest clicks possible.
Craft the perfect customer journey
When a potential customer clicks on an ad about a certain product listed on your eCommerce site, make sure they get redirected to the right product page instead of the home page.
Product pages should be informative and persuasive, with clear descriptions, high-quality images, and user reviews.
You can also include product videos and interactive features like 360-degree views to help customers make informed decisions and reduce the likelihood of returns.
Use Upselling and Cross-Selling
Techniques like upselling and cross-selling can encourage your website visitors across different stages of their customer journey to spend more on your website.
Offering customers complementary products or more expensive variants during the checkout process can result in increased order values.
You can also suggest products the customer may like after they've made an initial purchase.
The best way to retain customers is by making them feel valued and inspiring long-term brand loyalty.
Send follow-up emails to thank them for their business, provide regular shipping updates, and encourage them to leave reviews.
You can offer additional incentives for repeat purchases, such as loyalty points, discounts, or free shipping as a way to improve customer engagement and lay the foundations of lasting brand loyalty.
Implement Effective Email Marketing
Email marketing campaigns are proven to boost lead generation and drive return purchases.
They also provide valuable data about customer habits that you can use to drive more sales.
For example, if a customer purchases the same product every month, you can email them an attractive subscription offer. Other ideas include offering birthday discounts or anniversary benefits through customized emails.
eCommerce opens so many new doors for brands to increase their average cart value.
The after sell upsell opportunity is a great way to make target customers while they are on a purchasing mindset.
This is a simple strategy: after a customer has placed an order, before the confirmation screen, you immediately showcase offers that they can't refuse - It is crucial that the offers are irresistible for the strategy to be effective.
Measuring and Analyzing Sales Funnel Performance
Tracking the performance of your e-commerce sales funnel periodically is essential to identify areas of improvement and optimization along the customer journey.
Performance measuring and analysis are made easy with analytics tools.
These can help identify bottlenecks and make targeted improvements to your website, marketing efforts, product pages, checkout process, and follow-up emails.
Here are some key metrics that can help you evaluate your eCommerce conversion funnel's performance:
Website Traffic: This is the number website visitors in a given period.

Bounce Rate: This measures the percentage of visitors who leave your website after viewing only one page.

Add-to-Cart Rate: This tracks the percentage of visitors who add a product to their cart after viewing it.

Cart Abandonment Rate: This is a measure of the percentage of visitors who leave your website after adding items to their cart, but before completing the checkout process.

Conversion Rate: This is the percentage of visitors who purchase a product or service on your website. Conversion rate is important as it allows you to track the customer journey of customers and understand what works and how to replicate it.

Average Order Value: This measures the average amount each customer spends per order. This metric is important to understand how much you can spend on marketing to be profitable.
Guide: eCommerce Trends 2023
37-pages of the latest eCommerce & marketing strategies to succeed in the upcoming year!
From the rise of mobile shopping apps to the growth of social commerce and augmented reality experiences, there are many different ways that people shop today.
Schedule a Free Demo Today!
Here's what you can expect:
Walkthrough: An introduction to the Core dna platform.
Access to a free trial: Free trial access to the platform to test all the features.