Mobile Commerce Trends and Strategies for 2023
Mobile commerce, also known as mcommerce, is the process of buying and selling products or services using a mobile device, such as a smartphone or tablet. In recent years, there has been a dramatic increase in the number of people using their mobile devices to shop online. This trend is only expected to continue: by 2025 - mobile commerce will make up 44% of all e-commerce sales in the US.
In this article, we'll talk about the mobile shopping trends how to build a strong m-commerce strategy.
Key Takeaways
Mobile commerce is reshaping eCommerce.
Meet your customers where they are.
Optimize your checkout experience.
Voice search is gaining grounds.
On this page:
Trends in the m-commerce world
Responsive mobile design
According to a survey by Deloitte, consumers spend more time on their phones than on any other device—including computers, TVs, or tablets.
Creating mobile-friendly sites are mandatory for all eCommerce businesses. People expect to be able to find information quickly and easily on their mobile devices, and if your website isn't designed with this in mind, you're likely to lose out on potential customers.
Responsive design can help you improve your search engine ranking. Google and other search engines favor mobile-friendly websites, so if you want to attract more visitors to your site, responsive design is a must.
Social commerce
With the rise of social networks eCommerce platforms such as Instagram shops, Pinterest shopping features and more, businesses are capitalizing on the social commerce trend by displaying their products and services on these channels. By creating engaging content and using influencers marketing to reach a wider audience, social commerce is here to stay.
Its popularity is due, in part, to the fact that it allows businesses and consumers to connect with each other in a more informal setting. Social media has also given rise to a new breed of customer: the empowered shopper.
These shoppers are highly informed and use platforms like Twitter, Facebook, and Yelp to research brands and products before making a purchase. As a result, businesses must adapt their strategies if they want to stay ahead of the curve in this rapidly changing landscape.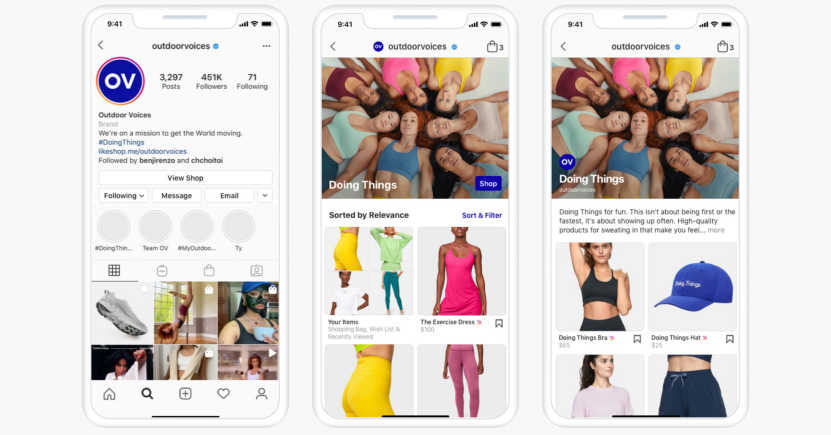 One-click checkout
One-click checkout is one of the easiest ways to get started in mobile commerce. It's a simple concept: customers can buy products online with one click. No more typing in a credit card number and shipping address every time they want to make an online purchase.
Bolt is a new checkout solution on the market offering one-click checkout. It promises to be faster and more user-friendly than traditional methods. 93% of Bolt online retailers have had cross-network purchases with a conversion increase of 63%.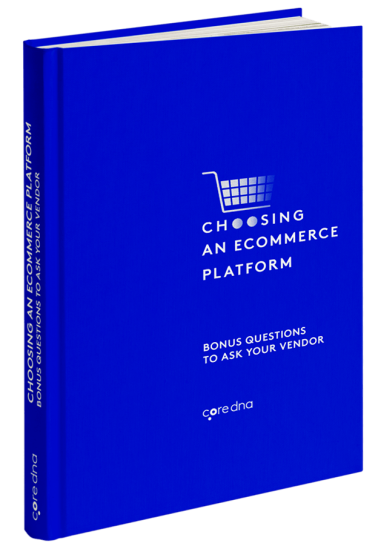 Choosing an eCommerce platform?
Download our definitive guide to choosing the right eCommerce platform. Plus bonus questions to ask your vendor.
Zero-party data
What is zero-party data? This term refers to customer data that is consent-fully gathered by businesses through direct interactions with their customers. Zero-party data presents an opportunity for companies to collect first-party data from their customers in a more privacy-conscious way.
How can businesses gather zero-party data?
Customers should be able to easily opt in to sharing their data with you.
Collect data through interactions with your customers: customer surveys, customer service interactions, or loyalty programs.
Use the data you collect to improve the customer experience with tailor content and offers.
Voice search
Voice search is a method of searching the internet using a voice command. Mobile eCommerce should embrace the voice search as more and more customers are using voice search to find what they want.
Businesses who voice optimize their eCommerce site can provide a better customer experience and reach more shoppers. The researchers at Juniper Research predict that by 2023, annual revenue from voice commerce will exceed $80 billion.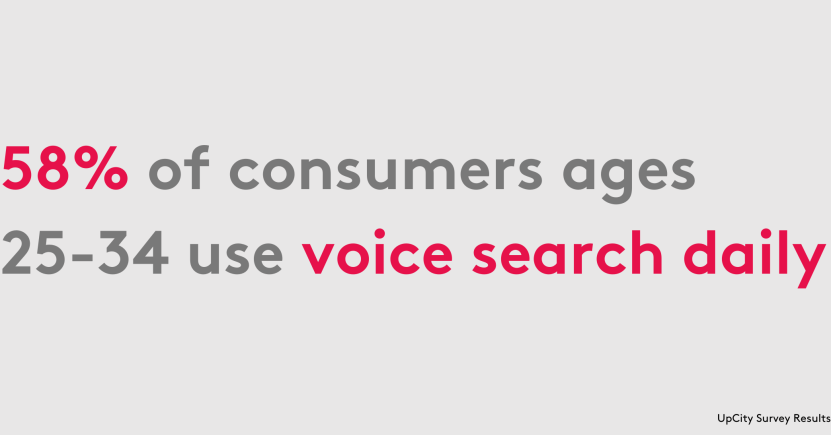 How to build a strong mobile commerce strategy
Here are a few tips to get you started on building your mobile commerce strategy:
The key to making the most of your customers' shopping time is being there for them at every step of the buying process, not just at the end. To do this, you must identify the moments that matter for your business and craft an appropriate blend of content, channel, and approach.
The success or failure of a mobile app can hinge on the company's choice of content management system (CMS). A good CMS helps you easily produce, organize, and push out material to your mobile apps.
Design with mobile in mind
You'll need a user-friendly and straightforward layout to win over prospective clients and turn them into loyal patrons via a mobile device. Remember that mobile phone users are frequently multitasking, so design attention-grabbing call-to-action (CTA) elements and provide easy product discovery tools like search fields and drop-down menus.
Use visuals instead of words to evoke emotion in your customers. Also, reduce the file size of your images to improve your site's load time and move up in the search engine results page (SERP).
Optimize customer service
Your customers should be able to ask questions and receive answers through the same channel they use to shop. This is why you should make use of chat systems that are optimized for mobile use. This allows customers to ask frequently asked questions via chat and receive an automated response, reducing the time agents need to spend per call.
Streamline the checkout process
A larger percentage of mobile shoppers abandon their carts. You can avoid this by facilitating convenient payment methods, like one-click purchases and instant sign-in. Also, ensure that you're using automatic completion of billing information. As a result, customers won't have to enter it every time they make a purchase.
Improving the checkout experience is always a good idea, whether we're talking about mobile commerce or desktop shopping.
Take advantage of push notifications
Having a native app installed on users' devices has many advantages, one of which is the ability to push alerts directly to the user's home screen, where they can be seen at their convenience. Compared to an email or retargeting banner, these alerts have a greater impact and are delivered instantly.
In today's mobile world, marketing messaging needs to be delivered where consumers are engaging: on their smartphones. A recent study found that 70% of consumers say they would rather receive ads and promotions via text message than any other type of communication. This provides a big opportunity for businesses to reach out and connect with customers through mobile marketing.
Top eCommerce solutions to built a mobile app
Core dna
Core dna is a digital experience platform that offers all the solutions you need for your ecommerce, marketing, and content management. We offer an extensive set of features and integrations to make your life easier. It's a beautifully engineered solution that makes it easy for marketers and developers to do all of their work in one place.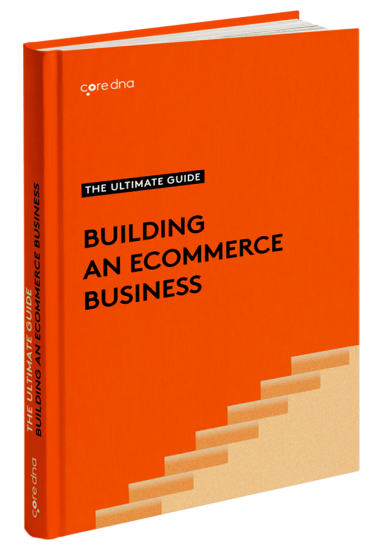 The ultimate guide to growing & scaling an eCommerce business
Everything we've learned throughout our 18+ years journey in a 30,000-word PDF guide.
Contentful
Contentful's UI and modifiable APIs make data easy to send to any number of mobile apps. When editors make changes to content in one place, Contentful pushes those changes out to all of their platforms at once.
dotCMS
DotCMS is an open-source option that can be hosted locally or in the cloud and features an edition that can be downloaded for free. For even more features, enterprise plans are also available.
Examples of successful mobile commerce strategies
Need some inspiration? Start here.
Amazon
Amazon is the biggest internet retailer in the US. Their responsive and mobile-friendly layout is a big reason for their success. Most notably, their checkout process is simple. Also, potential customers will be more satisfied with the customer experience if they can shorten their purchase process.
Take, for example, the Amazon smartphone homepage. The search bar is prominent, and all buttons are tap-friendly. In addition, predictive text input speeds up the search process.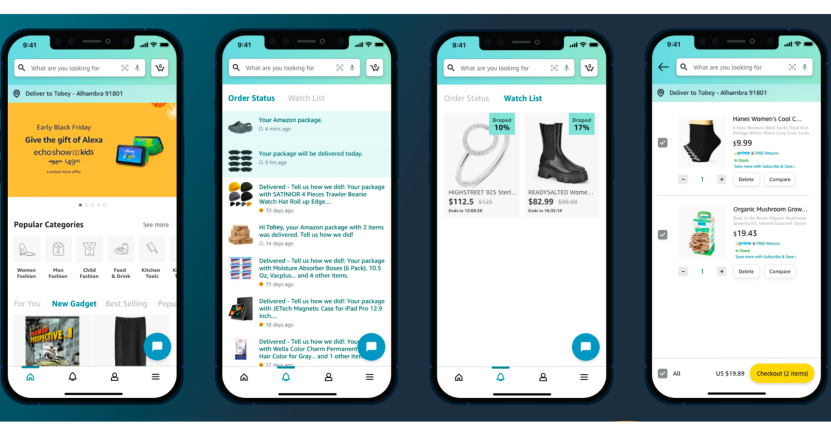 Nike
Nike's website starts with an ad for the e-commerce app, which encourages mobile interaction with the brand. However, customers will still have a streamlined experience with the website.
Nike's mobile e-commerce site uses extensive product filters, which are necessary for such a vast choice of products. Users browse and learn about products without website copy via icons, buttons, and shapes. Lines suggest scrolling visuals instead of dots. Product information collection is intuitive and fun despite the extra effort.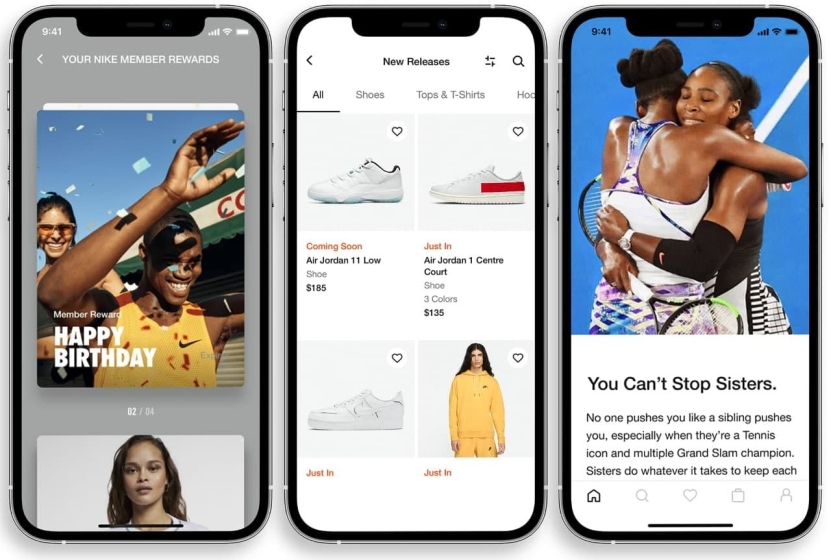 Sephora
The iconic Sephora cosmetics business has entered the digital sphere with a game-changing first for the industry. Customers can virtually "try on" Sephora's products with the help of a Virtual Artist by scanning their faces using the app.
This was in addition to its Color IQ technology from 2012, which guides women to the best foundation, concealer, and lip color. This type of engagement keeps customers' attention longer.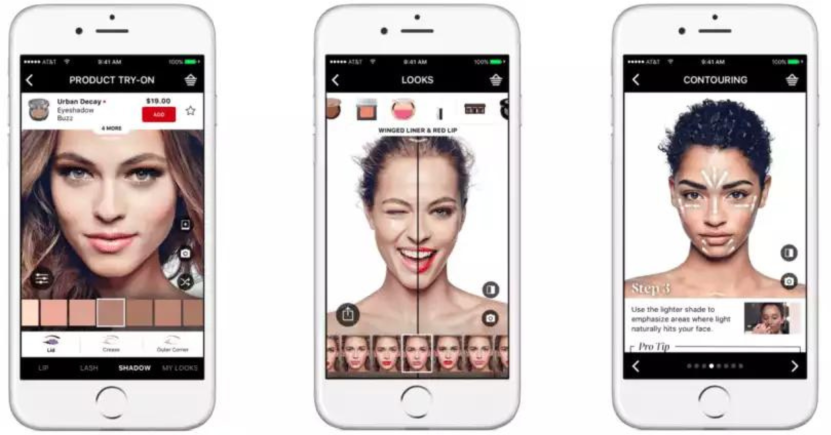 Mobile commerce is the future of e-commerce
Mobile commerce is on the rise, and it's hard to ignore analysts' predictions. eMarketer predicted in their Morning Brew report that by 2025, mobile commerce sales will have increased by more than 100%, reaching $700 billion.
Use these trends and tips to get started with your mobile commerce strategy today to be ahead of the game.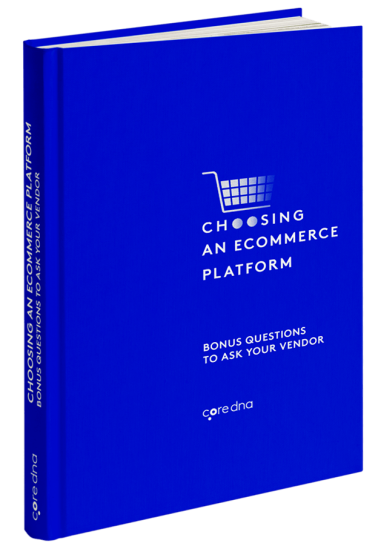 Choosing an eCommerce platform?
Download our definitive guide to choosing the right eCommerce platform. Plus bonus questions to ask your vendor.