Here's Why Your Marketing Tech Stack Is (Probably) Letting You Down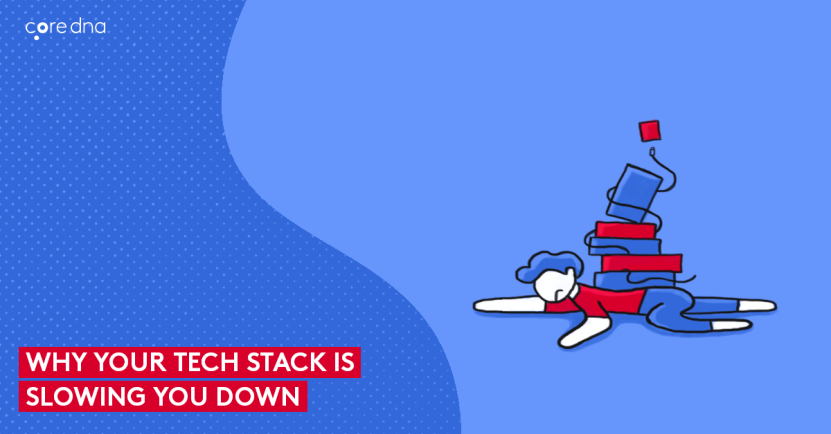 Have you ever taken the time to count up the cost of all the different SaaS solutions your business uses?
Norman Rohr, SVP of Marketing & Communications at Uberall, did. His 'back of an envelope' calculation shows how much your average small-to-mid-sized business could be spending, and it might surprise you:
Salesforce enterprise licenses can run up to $130 per month and user
Sales productivity tools such as Cirrus Insight or Yesware cost ~$10 per month and user
Reporting tools such as InsightSquared, Quip or Analytics studio add another $50 - 100 per month and user
Electronic signature tools such as DocuSign cost ~$25 per month and user
Sales productivity add-ons such as LinkedIn Sales Navigator or Sales Loft cost ~$100 per month and user
And further industry-specific extensions will all have their fixed fees, not to mention data security, backup, maintenance, support, training fees, and charges
We're talking around at least $500 per month per user. That's a LOT.
But, if your tech stack is saving you money overall, it must be worth the investment, right? After all, what's $500 on top of a 6-figure salary?
That's the sales pitch from your typical SaaS provider, but it's not as straightforward as that. How can you really quantify the productivity gains provided by your tech stack, when they're so subtle, and there's a multitude of factors at play?
With so many SaaS companies out there, solutions are proliferating within businesses at a rate that's unsustainable.
Employees with corporate credit cards tend to use whatever tools they've gotten used to over the years and startups culture of trust and empowerment (which we're big proponents of, by the way) should shoulder some of the blame for these wasted resources.
In a hurry? Here's how to find the right marketing technology stack for your business:
Download this guide as a PDF
Your tools don't talk to each other
Your tech stack is all the tools and technologies that allow your organization to do what it does best. But, when it comes to curating the optimal tech stack it's definitely not a case of "the more, the merrier." Having too many tools causes misalignment across departments, especially when they're unable to talk to each other!
Often, you'll find that each department has amassed a tech stack that functions fine in isolation, but these narrowly-framed stacks centered around department-specific tasks don't interact well - the result: inefficiency and fragmentation.
Your money could be better spent elsewhere
The amount of money spent on each tool per user is pretty low, so costs often fly under the radar.
But, when you take the stack as a whole, adding up all the subscriptions and fixed fees, it soon becomes clear that money is being squandered.
This is money that you could be spending on marketing, hiring, R&D, and generally growing your business, which is the aim of the game, after all.
There's too much overlap between services
Employees tend to buy SaaS tools for one specific feature that they need at the time. But often, this task could be handled just as well by an existing tool.
This impulse buying contributes to a bloated stack, with loads of overlapping features, that's crying out to be trimmed down into a cheaper, more streamlined, configuration.
The prevalence of subscription pricing models doesn't help either. Employees sign up for services they use once, forgetting to cancel contracts at the end of a project. And, managers regularly fail to amend user numbers when an employee leaves a company. The clock keeps running and more and more money flows down the drain.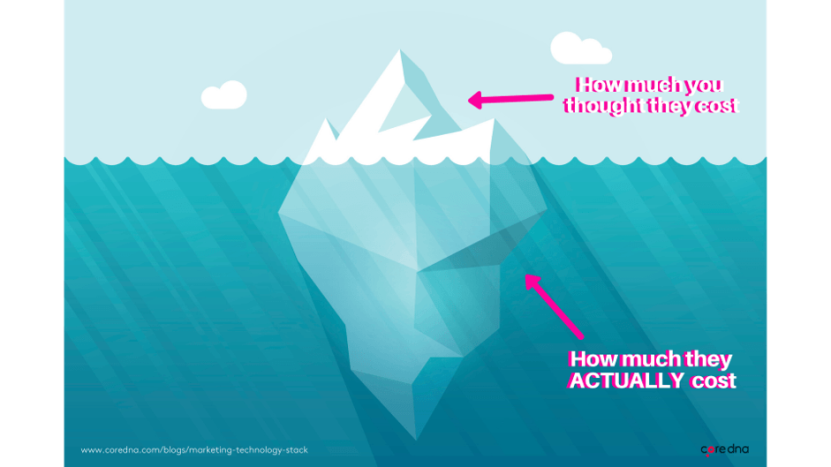 (The Iceberg Marketing Technology Stack)
WHY choosing the right tech stack matters
The benefits of building the optimal stack are clear:
Faster speed to market
Scaling your marketing efforts
Running an all-in-one ecosystem rather than operating in silos
The ability to share data and collaborate effectively
The capability to offer your customers rich, personalized experiences
Yet, founders and CEOs are having a hard time picking the right tech stacks for their businesses. And it's partly due to the vast array of solutions on the market. There are over 7,000 MarTech vendors alone!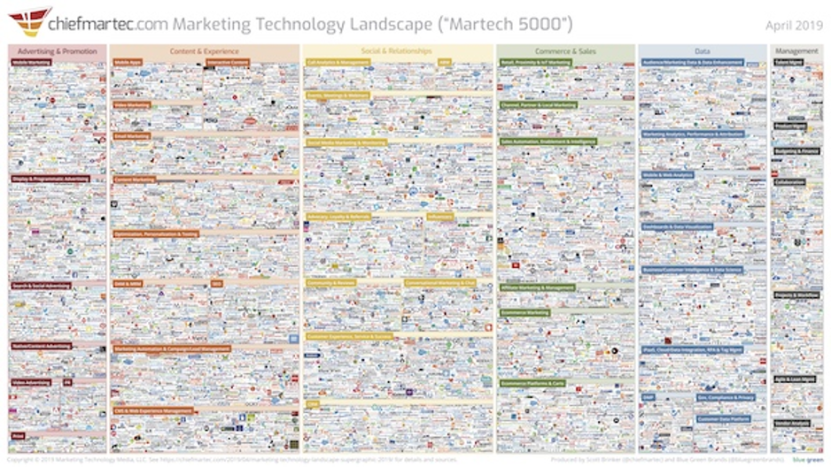 HOW to choose the right tech stack for you and your business
Here's a 10-step process of choosing the right technology stack for your company: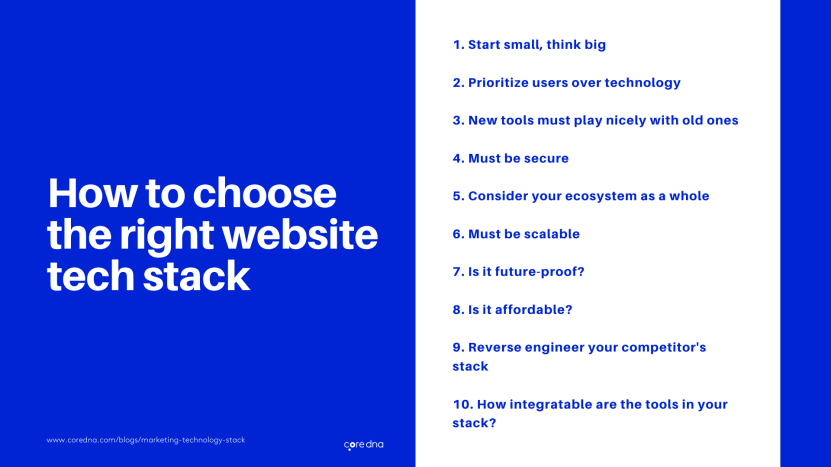 1. Start small, think big
It's tempting to dive into the SaaS market and start picking out tools like a kid in a candy store. But you should start small and stay agile. Invest in the most stripped-back, basic suite of tools possible, using each one to its full capacity before layering anything else on top.
2. Prioritize users over technology
Your technology should work for your users, not the other way around. It doesn't matter if a particular tool boasts a more impressive list of features if they're not the features your employees want to use!
Think about how users operate:
Do they work more on a desktop or a phone?
Do they work in an office or remotely?
Do they serve a large number of small customers or a small number of large customers?
3. Will your new tools play nicely with your old ones
Consider ease of migration if you have large databases that may need to be moved over to a new solution, as well as compatibility with on-premise solutions.
4. Will your tech stack be secure
Security is a big issue when it comes to SaaS tools. After all, you're effectively 'sharing' your company's most sensitive information with a third party. Consider SSO (Single Sign-On), which lets users log into several related systems with a single ID and password. And, check for CCPA and GDPR compliance.
5. Consider your ecosystem as a whole
Your company is an ecosystem composed of people and tools. How does your tech stack integrate with the other tools you're running? And, how are employees interacting with the tools and their wider communities?
6. Optimize for scalability
Will it scale? Can you bail? These are the questions you need to ask. It's no use training everyone up on a tool that you'll outgrow within a year. Conversely, make sure you can make a swift exit from any solution that's no longer effective or affordable.
7. Is it future-proof?
Your tech stack needs to be flexible and customizable if your business is to keep up with the competition. You want to be able to take advantage of technology trends as they happen, and that means using tools that offer regular updates.
8. Is it affordable?
Check the pricing structure of your solutions. Costs that seem cheap initially can ramp up massively as your organization grows.
9. Reverse engineer your competitor's stack
Before committing to any solution, you need to do your due diligence, and that means finding out what your competition is using. We use Builtwith to track our competitors' and prospects' tech.
10. How integratable are the tools in your stack?
The tools in your stack should integrate perfectly with one another. And with all the other systems within your organization. Pick solutions developed with an API-first approach. These can easily be replaced if a better (or more economical) solution hits the market.
The tech stack WE use at Core dna
As you can imagine, being a technology company, we're obsessed with the plethora of tools on the market. It's our job, after all!
Our tech stack has been carefully curated and refined over the past 20 years, and we're delighted to share with you the stack that currently powers Core dna, along with a few other tools we like...
What do we use for sales?
1. Talkroute
For making business calls from desktops and phones.
2. Sharpspring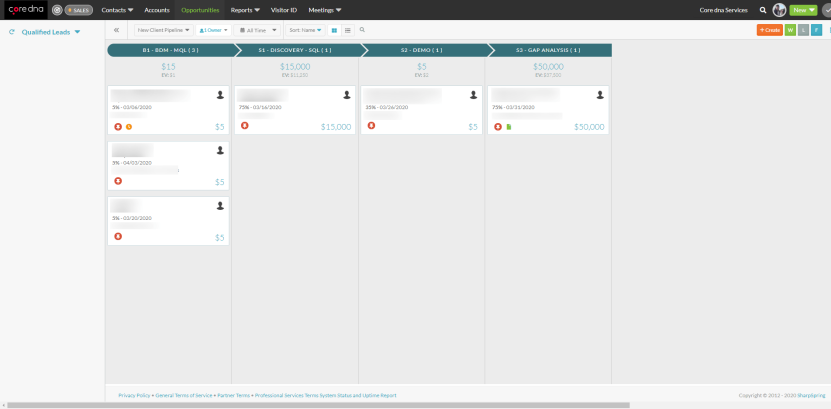 For CRM, tracking pipelines and opportunities, and nurturing lead.
3. LinkedIn Sales Navigator
For research and email outreach.
4. GSuite
For email and organizing data.
Price: $12 per user a month
Website: GSuite
What do we use for marketing?
1. Ahrefs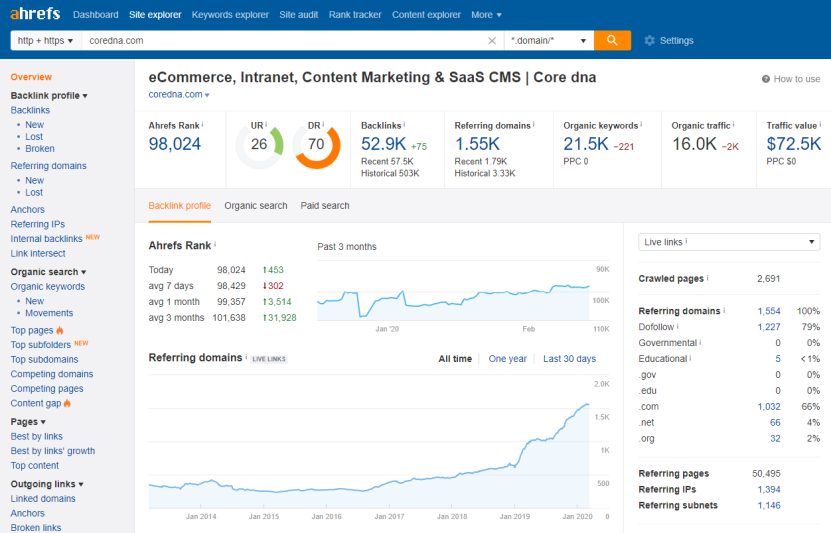 For site audits, to find new keywords and topics, and to track page ranks.
Price: $99 - $999 a month
Website: Ahrefs
2. Drift
For chatbot.
Price: $400 - $1,500 a month
Website: Drift
3. Frase
For AI chat; it searches our whole site to answer queries.
Price: $39.99 - $199.99 a month
Website: Frase.io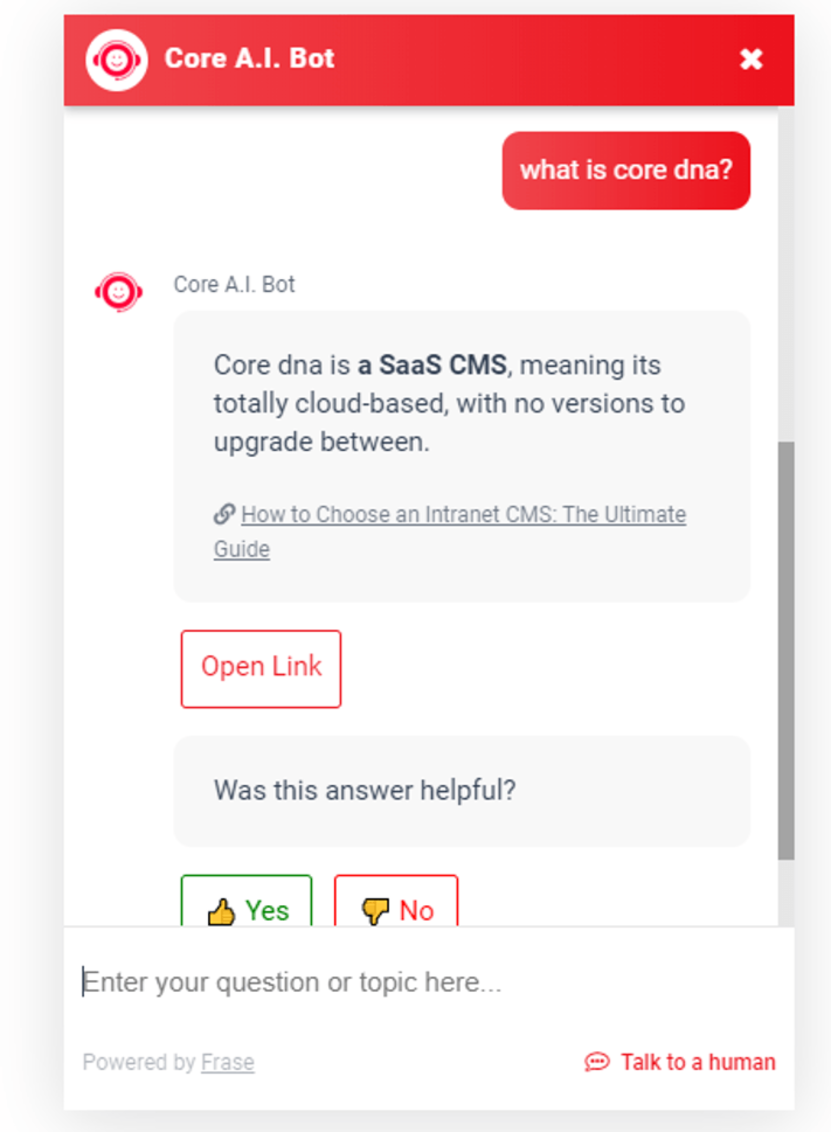 4. Google Search Console
For measuring our site's performance.
5. Google Analytics
Also, for measuring the site's performance
6. Core dna
For an all-in-one content hub, obviously. We can easily change our landing pages by simply choosing which template we want to use and the order of each content block.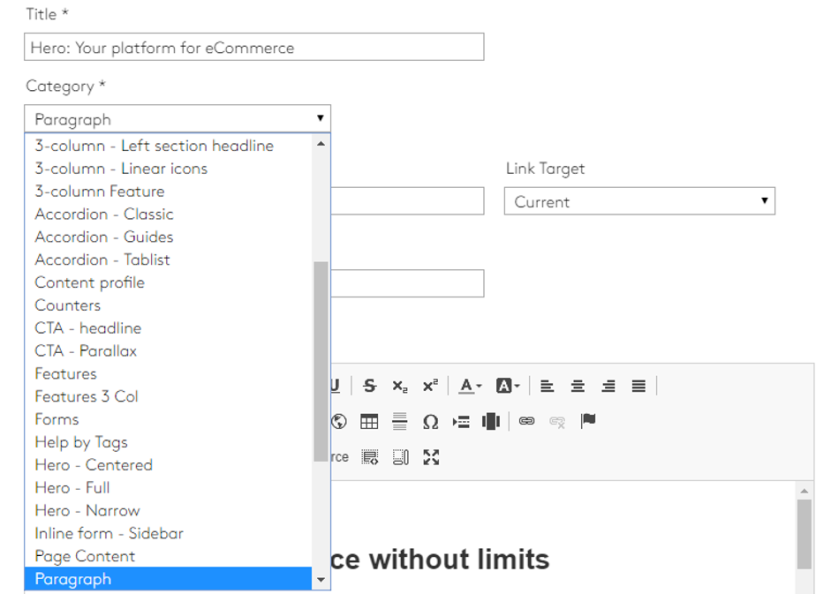 The order: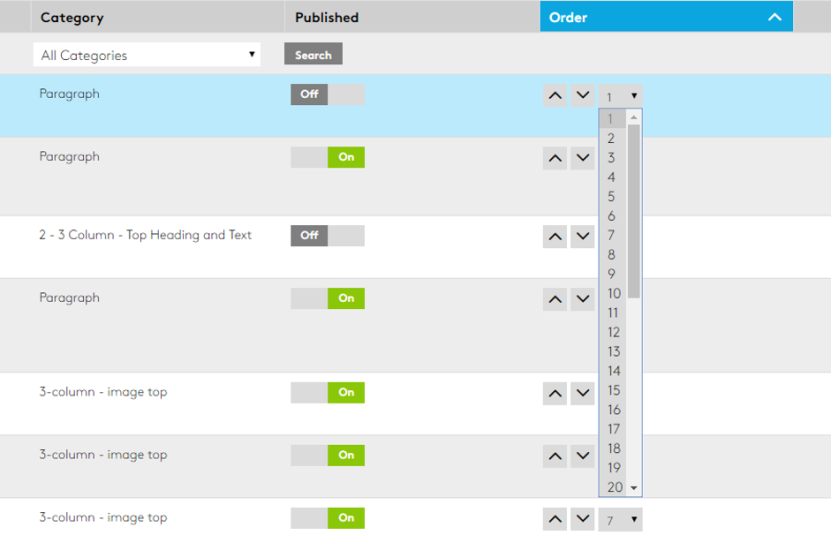 7. Google Data Studio
For pulling together data from Sharpspring, Google Search Console, Google Analytics, and Core dna to track our website engagements (e.g., blog posts conversion rates, landing page conversion rates, blog posts that are under 100 pageviews, pages that are ranking between 7-15 for their search terms, etc.). We then use this data to provide insights to the marketing team.
What do we use for front-end development?
1. DocRaptor
For converting HTML, JS, and CSS into PDFs and Excel files.
Price: $15 - $1,000+ a month
Website: DocRaptor
2. JetBrains
For software development tools used by our developers.
Price: $349 - $649 per license a year
Website: JetBrains
What do we use for back-end development?
1. Dyn
Our dynamic DNS provider.
Price: $55 a year
Website: Dyn
2. Tideways
For insights into PHP application performance.
Price: $89 - $429 per application a month
Website: Tideways
3. Opsgenie
For incident management
Price: $9 - $29 per user a month
Website: Opsgenie
4. Bitbucket
For version control hosting and reviewing code.
Price: $0 - $6 per user a month
Website: Bitbucket
5. Status.io
For incident tracking.
7.
For compressing and optimizing images.
Price: $5 - $39 a month
Website:
8. Vultr
For cloud servers.
Price: $2.50 - $640 a month
Website: Vultr
9. Amazon Web Service (AWS)
For various cloud-computing services.
10. APNIC
For administering IP addresses.
Price: $1,180 - $1,994 a month + $500 sign-up fee
Website: APNIC
11. Stackpath
For CDN (Content Delivery Network) and WAF (Web Application Firewall).
Price: $20 - $2,000 a month
Website: Stackpath
12. Graylog
For event logging.
Price: Free for the open source version
Website: Graylog
What do we use for management?
1. Core Teams
For storing and collaborating on content ideas, and tracking projects and tasks (part of the Core dna platform)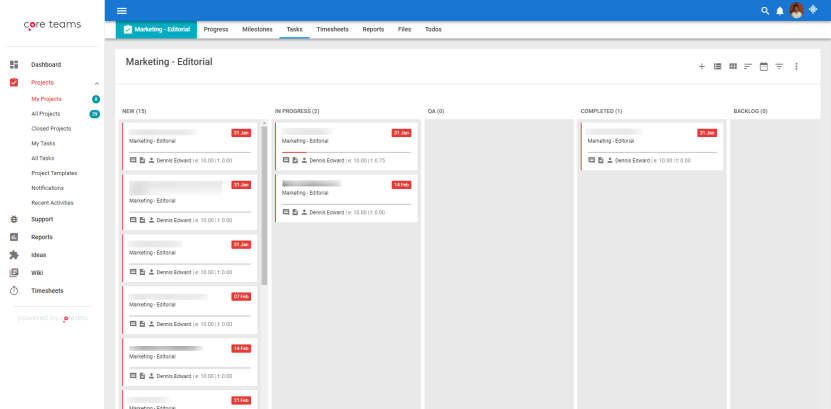 2. PandaDoc
For user agreements and contracts.
Price: $49 per user a month
Website: PandaDoc
What do we use for communication and collaboration?
1. Slack
For tracking our lead activities. Every time someone submits a demo inquiry or downloads a content upgrade, our CMS (Core dna) sends a "hook trigger" to Slack
The hook trigger:

The Slack notification: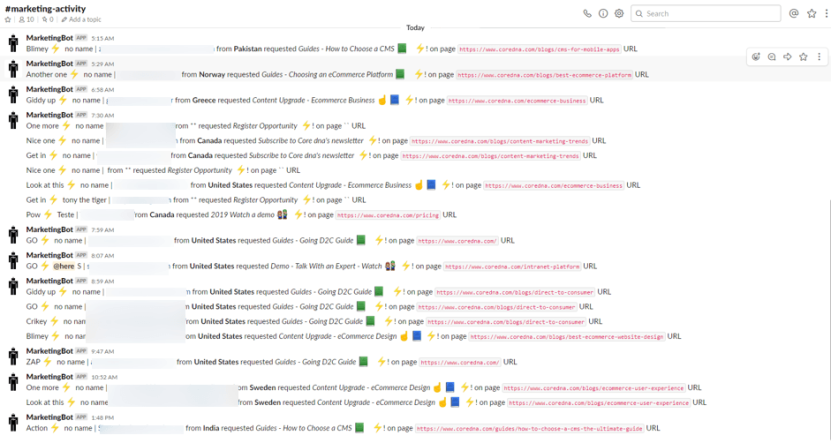 Price: $6+ per user a month
Website: Slack
2. Zoom
For video conferencing.
Price: $14.99 - $19.99 per user a month
Website: Zoom
3. Bonusly
For employee recognition and awards.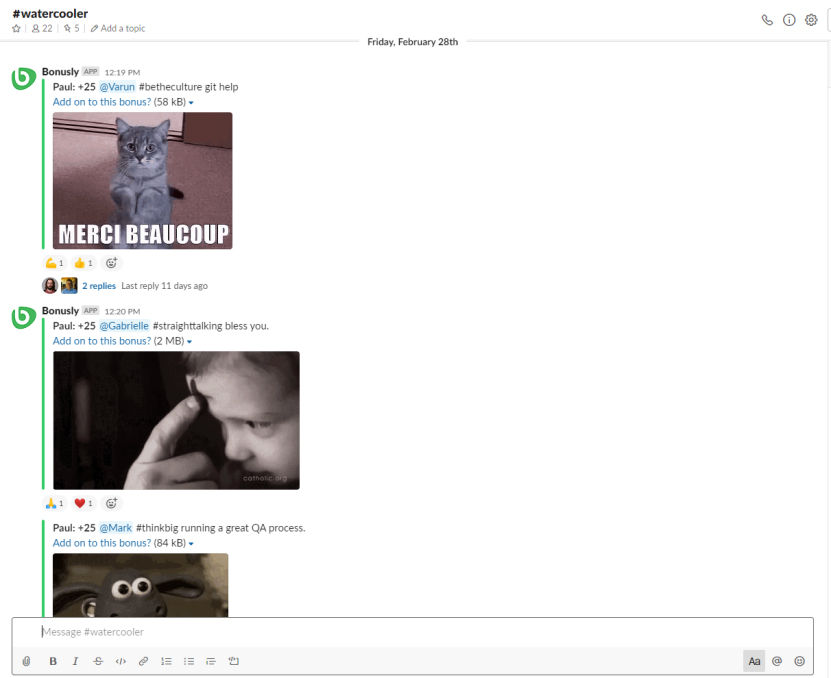 Price: $3+ per user
Website: Bonusly
Download this guide as a PDF