How to Choose the Right Multi-Location Enterprise CMS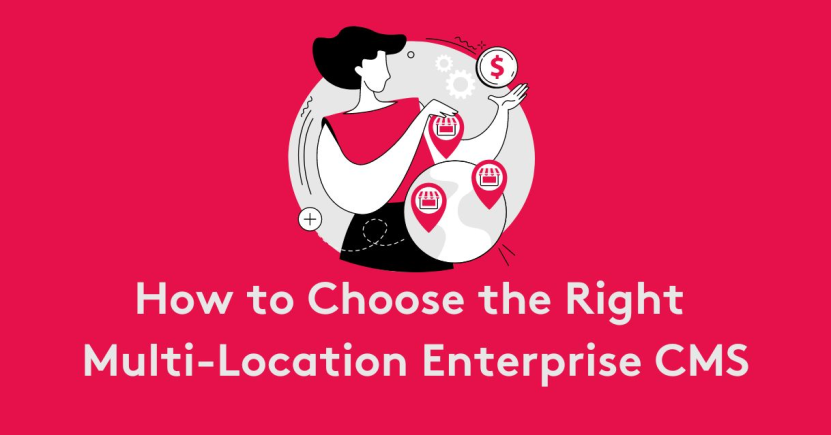 What's the best content management system for a company with multiple sites? Web development for multi-location or multi sites enterprises and businesses comprises of franchises is more complicated than your standard website.
Countless sites, from personal blogs to startups and eCommerce stores, rely on traditional content management systems like WordPress to manage their content. However, that's not necessarily the best option for businesses with multiple locations.
Key takeaways
WordPress and other traditional CMS providers are great for smaller businesses but lack the enterprise-grade functionality necessary for companies with multiple locations.
Hybrid CMSs allow multi site management by eliminating content, data, and organizational silos so enterprises can serve omnichannel content specific to each location.
A multi-location enterprise needs a CMS allows it to manage multiple sites and languages from one centralized dashboard.
A hybrid CMS is the only option for enterprises with significant technical, security, and scalability requirements.
What is a CMS?
A content management system (CMS) is the software individuals and businesses use to create, manage, and edit website content. With a CMS, you can upload, arrange, and modify everything from text to videos and images on your website all through one system. Traditional CMS platforms like WordPress require little to no technical knowledge to use and allow people with no web development experience to collaborate on a website.
CMS technology is extremely popular because of its usability. But not only is a CMS easy to operate, but it also provides a comprehensive view of your entire site. This makes it simple to monitor and manage all content, including scheduling content ahead of time.
Of course, like all software, there is no one-size-fits-all CMS. One CMS platform might work well for a personal blog but not have the functionality and tools to support a large company. As businesses grow, open new locations, and gain more customers, their needs become more complex.
For large enterprises, we recommend a hybrid CMS, which marries the usability of traditional platforms with the flexibility and scalability necessary to run omnichannel content for several locations.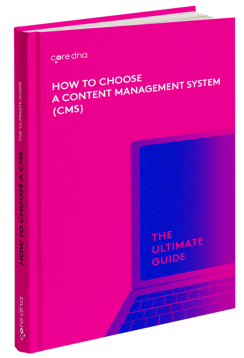 Guide: How to Choose the Right CMS: The Definitive Guide
The only guide you need to choosing the right CMS platform to help drive business growth.
What Content Management System for Multi-Location Enterprises?
Large, multi-location companies such as a franchise have unique needs when it comes to their corporate website. Having one central platform to manage multiple sites, locations, and languages can help you keep better control of your digital presence and have better reporting.
With the right CMS, a multi location enterprise can easily build location-specific micro-sites making it easier to maintain online brand consistency and location-specific information and deals. Being a business with many location is challenging; franchisees need a certain level of independence while also ensuring security and brand consistency don't suffer as a result.
Enterprises should use a CMS that enables multi site management while consolidating data into one centralized platform. This allows franchisees and satellite locations the opportunity create location-specific content while ensuring you can publish content across your corporate channels (social media, newsletters, corporate website, etc.).
Key Features of a Good CMS for Multi-Location Enterprises
One of the most significant implications facing omnichannel content is the rise of Internet-of-Things technology. Customers are now connected on several digital outlets beyond just mobile phones and computers. To reach a wider audience, brands need to be able to deliver content to everything digital: assistant devices, virtual reality goggles, retail kiosks, wearable devices and more.
The ever-increasing number of channels for reaching customers adds another dimension of complexity for updating content in a traditional CMS, especially for multi-location enterprises. Not only does a traditional CMS limit businesses' ability to create micro-sites for each location, it requires individual content changes for every single channel when making updates in the system.
A hybrid CMS, on the other hand, can update content across all channels instantly, or just the channels of your choice. This is hugely valuable for businesses with multiple franchise locations which that each target a slightly different market.
A hybrid CMS, like Core dna, offering a franchise application makes it easy to give each location its own content with location-specific news, blogs and e-commerce. All locations can be managed from the same dashboard, while enabling each location's marketing director to manage their own content well. The results is better brand consistency and more personalized content for customers and prospect.
Core dna's micro-sites feature allow you to manage multiple websites with a similar content base in a single interface. As soon as micro-sites are enabled, multiple homepages can be created and assigned to environments, allowing a shared content space but distinct templates as defined by the environment.
Guide: eCommerce Trends 2023
37-pages of the latest eCommerce & marketing strategies to succeed in the upcoming year!
From the rise of mobile shopping apps to the growth of social commerce and augmented reality experiences, there are many different ways that people shop today.
Here is a quick list of some critical features multi-location enterprises should look for in a CMS platform:
Data Centralization: Any platform you choose should allow you to manage content, images, and other digital assets in one centralized location and deliver them to any channel.
Customization: A hybrid CMS gives the flexibility to create customizable, omnichannel experiences through websites, apps, portals, IoT devices and more. Enterprises need a platform offering rich experiences and customizations for users and admins, which most traditional CMS providers can't deliver.
Templates and Themes: Many enterprise-grade CMS platforms require advanced technical skills. If you're selecting a CMS that franchise managers or location-specific markets will use, you don't want to select a platform they can't use. Instead, you want a platform that makes it easy to manage and optimize content across multiple channels.
Scalability and Performance: Website speed and performance cannot be overlooked. Any enterprise-grade CMS you select should feature auto-scaling, component-level caching, global CDN network, and parallel processing with service workers.
Location-Specific User Management and Access Control: An enterprise can have hundreds of websites for different brands, global regions, or product lines. Large companies require a CMS with multi-site management to ensure all micro-sites follow compliance standards and create a consistent overall message. Corporate can use a hybrid CMS to control who can build, view, and edit every website from a single interface.
Integration with Other Systems and Platforms: If you're an eCommerce business, your website will have more substantial needs than the average company's. Any eCommerce business needs a CMS compatible with inventory and payment processing tools.
Multiple languages Support: An enterprise-grade CMS should allow a multi-location company to manage micro-sites individually while incorporating different languages, products, and payment options specific to the regions the site is serving while still having global components that can easily be copied and transferred across the different websites.
Analytics and Reporting: Whether you are a small business or a large multinational enterprise, you need the ability to track and analyze the traffic to your website. Your CMS should use sophisticated marketing parameters to track how visitors find their site and how they use it once they're there. This is essential for businesses that want to optimize their online marketing and advertising efforts.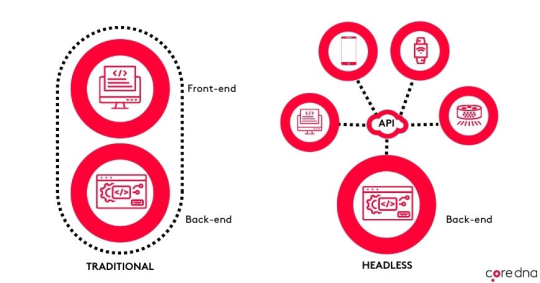 Considerations When Selecting a CMS
Now that you know what CMS features are specifically helpful for a multi-location/ multiple sites enterprise, there are other factors to consider when selecting a provider. Again, there is no one solution fits all, and every business has unique needs. Here are a few things to think about as you research CMS options:
Budget and Resource Availability: The question of cost is always the first consideration. Traditional CMS platforms are often more cost-efficient and require less technical skills to manage. However, they often don't have the scalability and integration capabilities larger enterprises need. If your company has developers on staff, investing in a hybrid CMS will provide the flexibility and functionality your business needs.
User-Friendly and Easy to Use: A hybrid CMS is the best of both worlds. It offers the flexibility of headless, while also giving access to templates you can use when needed, hence limiting the need for developers help.
Technical Requirements and Integration Capabilities: The larger the company, the more complex its digital ecosystem is. Enterprises need a CMS that can be used with Application Programming Interfaces (APIs) to seamlessly get and send content between third-party systems.
Support and Maintenance: Large enterprises don't have the luxury of dealing with website downtime. The support offered by your CMS provider should be top priority.
Security: Businesses collect a lot of customer data, and it must remain protected. Considering how common data breaches are, you want a platform with robust security measures that allows you to encrypt the appropriate data and control who has access to it. You should aim to partner with a CMS provider that follows leading security practices like web application firewalls and load balancing to ensure the reliability and security your team needs.
For the reasons we listed above, a hybrid CMS is the best option for multi-location enterprises. It offers the most comprehensive list of features to help brands with multiple locations manage and distribute content in all their markets in the easiest way possible.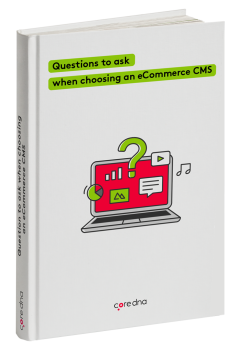 Guide: Content management system blueprint for eCommerce
An eCommerce CMS blueprint that asks the right questions to ensure your make the best decision when choosing your eCommerce content management software.